Good morning! Breakfast on the go is hard if you're gluten free… and dairy free… and low FODMAP! Luckily my meal prep breakfast frittata is the perfect mobile meal.
I'm such a fan of meal prep and if you've got allergies or intolerances, you really should be too. Bringing your own 'safe' food out with you can feel like a necessity, rather than a choice and that's not a liberating feeling. But when the food you bring with you is this good… I'd never choose anything else over my meal prep breakfast frittata!
That's why I had to share my frittata recipe here and in my latest vlog. It's super easy to throw together on a Sunday afternoon, then slice it up and then enjoy it anywhere in the world (bonus points if there's an element of danger involved) for the rest of the week.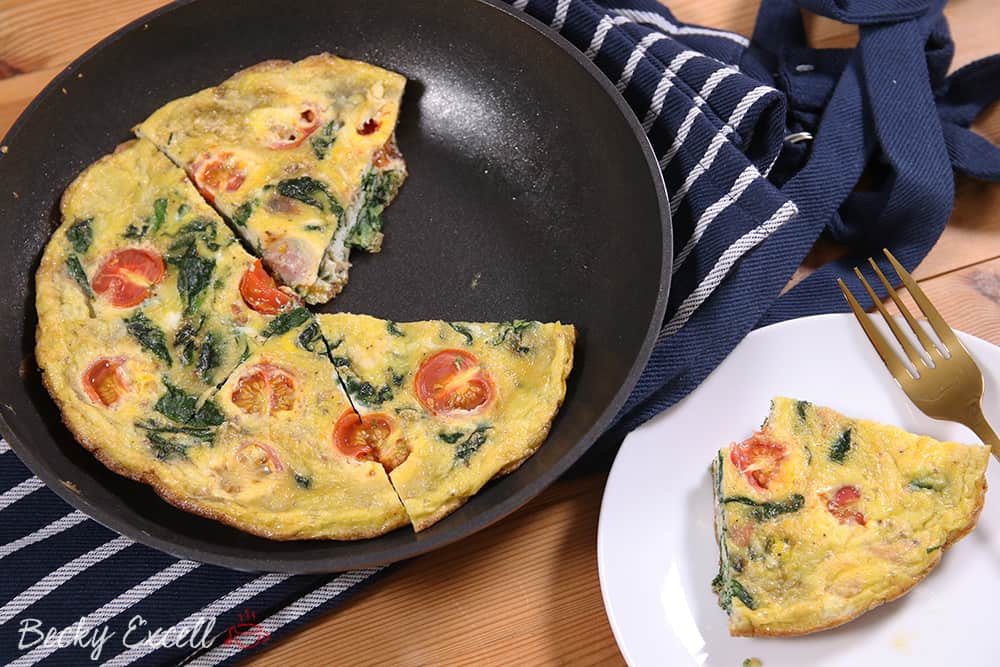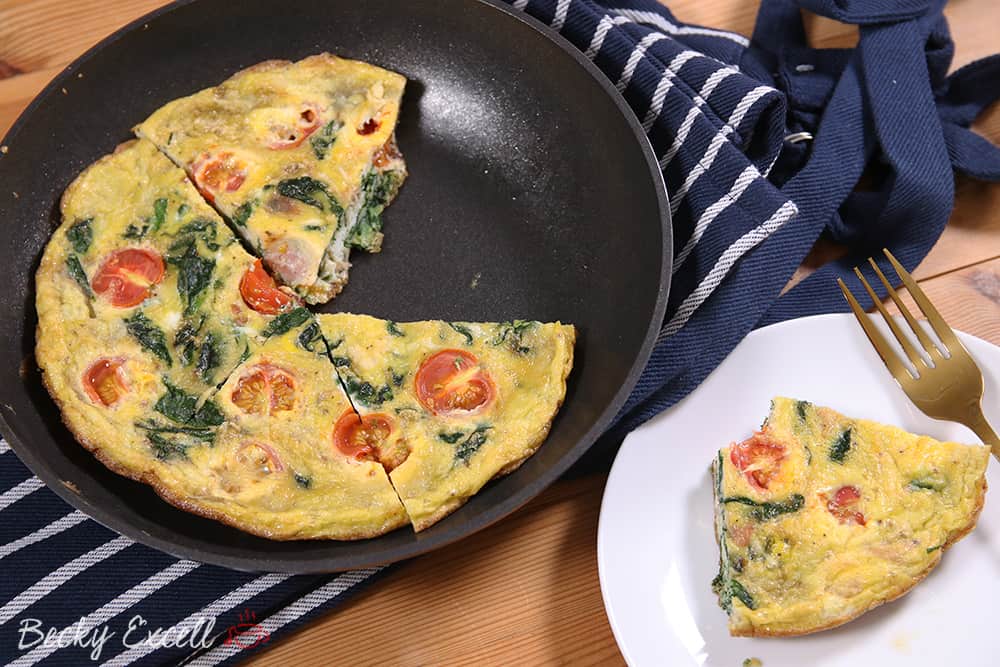 I really struggle when it comes to gluten free breakfast options on the go. There's a ton of gluten free breakfast granola/cereal bars these days, but they're usually not low FODMAP. When I'm at home, I usually just eat cereal, but sadly it's just totally impractical to eat cereal whilst out and about.
I mean, do I really have to carry around separate cereal and milk? How do I keep the milk nice and cold? And what the hell do I do with the spoon afterwards?! I cannot even begin to deal with a wet spoon rattling around in a lunchbox all day. Well, forget the spoons and milk, ladies and gents, because my meal prep breakfast frittata recipe is your new go-to breakfast. If that's ok with you, that is.
If I had to describe it, it's quite simply a flavour-packed slice of sunshine in the morning. It's sort of like a kick-ass omelette to go, or a healthy, hearty slice of a full-English. Oh and trust me when I say this: it tastes even better cold.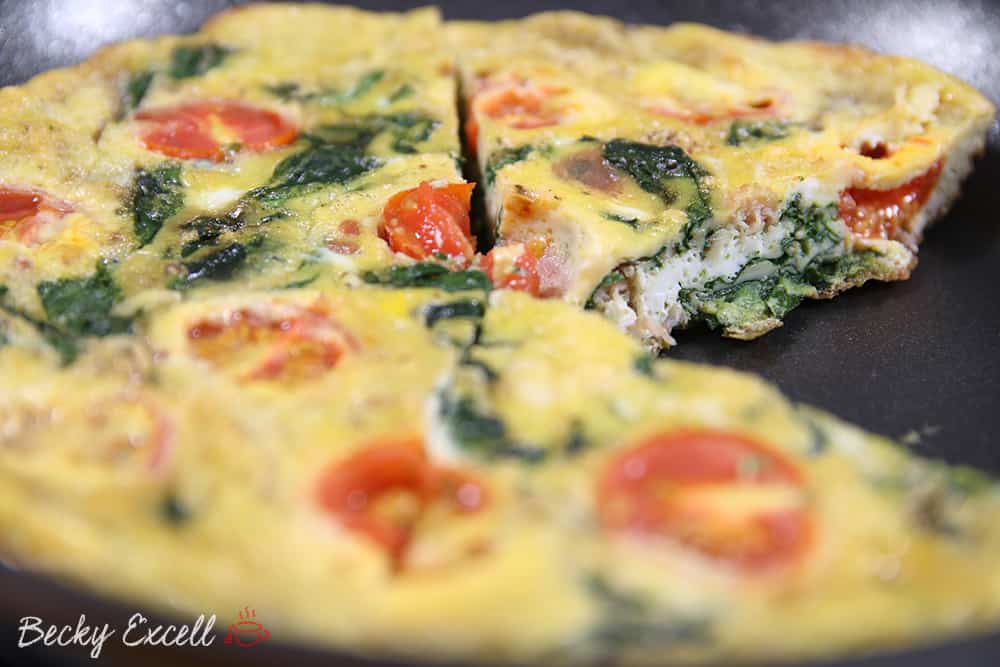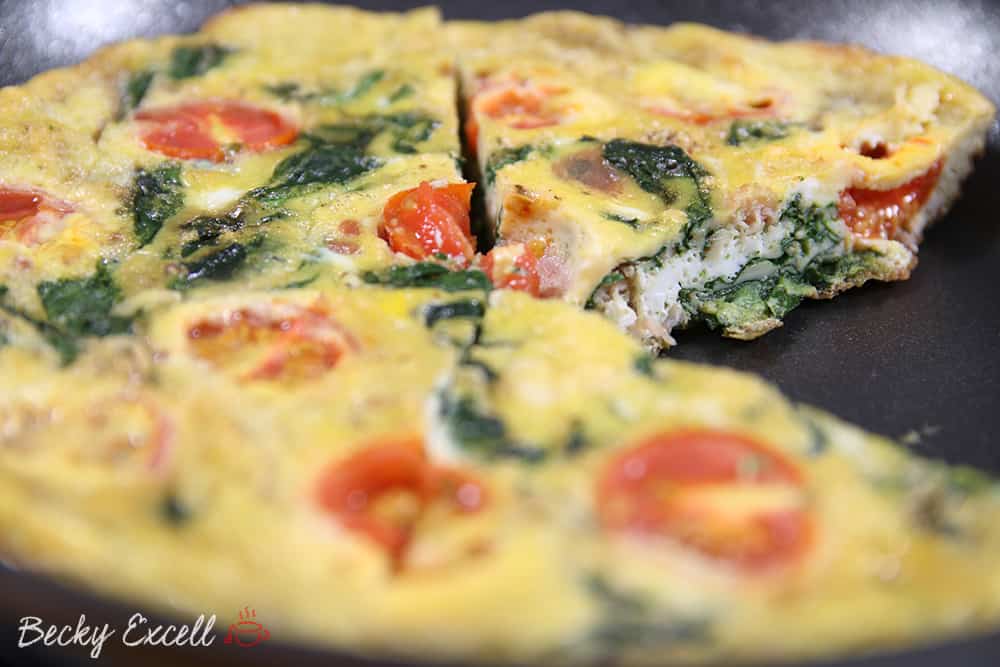 Meal prep is an absolute life saver when you've avoiding so many things like I am. Since both Mark and I don't eat gluten and dairy between us (and garlic/onion too) we're pretty much 100% reliant on making our own food at home.
Being out and about or at work obviously removes the possibility of making food as and when we need it. Then, the likelihood that we can find food out and about on a whim is extremely unlikely. It's just totally not worth the gamble of hoping to find safe food for us to eat and leaving it up to chance. This is already starting to sound stressful to me as I type it!
That's why our rule is to either research somewhere safe to eat beforehand, or meal prep instead. Anything else is just asking for trouble! To be quite honest, bringing a slice of my meal prep breakfast frittata is a hell of a lot less stressful anyway. It just removes one less worry out of the day and that's a-ok by me.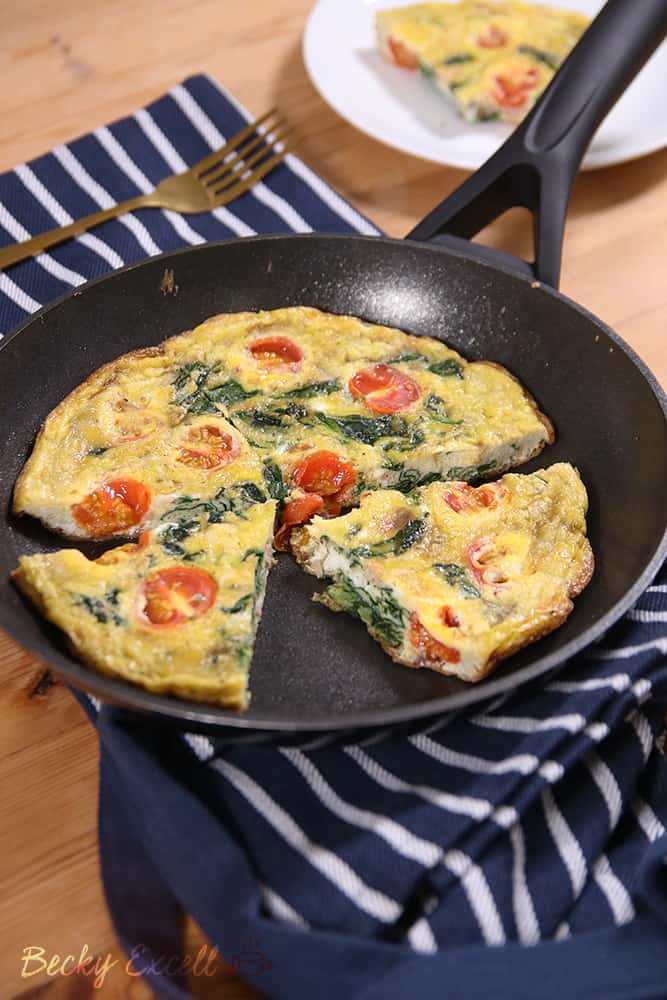 So I decided to throw wilted spinach, cherry tomatoes and slices of prosciutto ham into my meal prep breakfast frittata. I really wanted to make a breakfast that'd brighten your day, not just in it's nutritious ingredients, but also in its vibrant colours. There's a whole party going on my frittata!
I did debate using bacon instead of prosciutto ham to go for more of an English breakfast vibe, but the light, thin slices of prosciutto are a little less overpowering and balances better overall. You really can go wild with what you put in yours though, like in my smoked salmon florentine mini frittata recipe. Ok, it's not that wild, but it is for me!
Anyway, enough waffle, more frittata! Here's the recipe…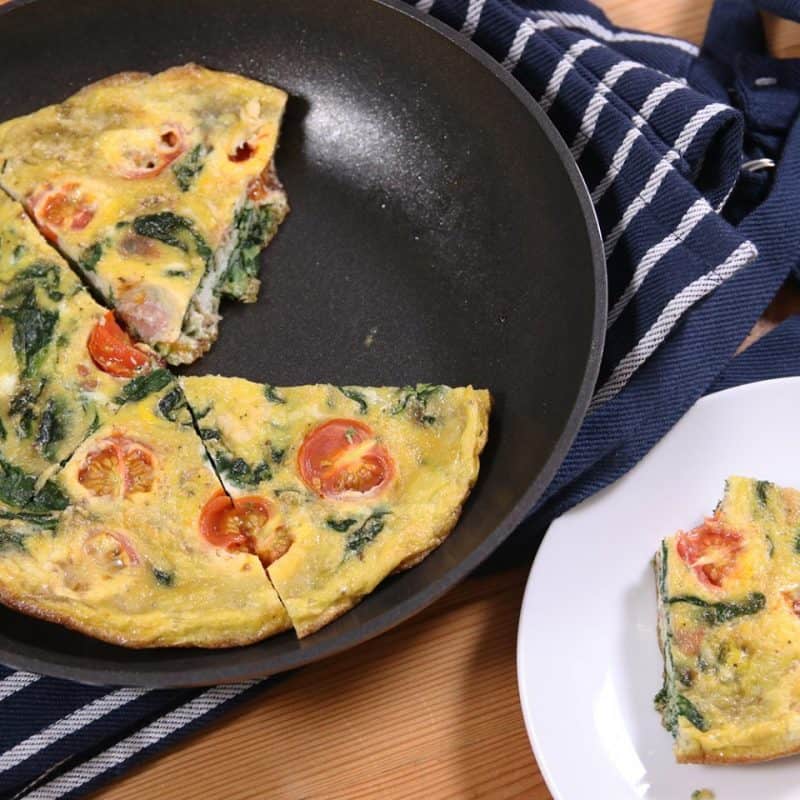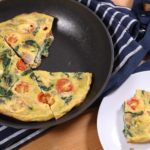 Low FODMAP Frittata
A delicious breakfast or brunch option to eat straight away or on the go. Enjoy hot or cold. This is something I often meal prep for the week ahead.
Ingredients
2 handful fresh spinach

8 eggs

2 slices of prosciutto or ham

6 cherry tomatoes

oil for frying
Instructions
Wilt your spinach in a pan and put to one side.

Crack 8 eggs into a jug and beat together.

Tear your prosciutto into pieces and add to your jug.

Add your spinach to the jug and mix once more.

Season with a little salt and pepper.

Pour into a preheated frying pan with a little oil and allow to cook for about 5 minutes on a medium heat.

Your frittata should start to look a little cooked around the edges but still be pretty uncooked on top. At this point place your frittata in a preheated grill for another 5 minutes or until completely cooked on top.

Remove from the grill and slice into pieces in the pan.

You can eat this hot or cold. If you are going to eat it immediately, serve it up alongside any accompaniments. Otherwise allow it to go cold and keep it in the fridge (When I am meal prepping I put slices ready in tupperware boxes for the week ahead).
Notes
* Frittatas are so so versatile. You can really put whatever you like in (whatever is in your fridge that you need to use up!).
Thanks so much for checking out my meal prep breakfast frittata recipe! Don't forget to check out my vlog if you wanna see me throw one together. It really is super simple to make and I hope this recipe makes eating on the go a little less stressful for you!
Did you try this recipe? Any questions? Please do let me know by leaving a comment below or on Facebook / Twitter / Instagram!
Thanks for reading and have a great day,
Becky xxx
Oh and don't forget to pin this for later!