If you've never had a gluten free chocolate lava cake before, prepare yourself for some serious #foodporn photos! You won't believe that this recipe is entirely dairy free and low FODMAP too.
My gluten free chocolate lava cake recipe took a little bit of perfecting to get the most oozing, gooey, eruption of 100% dairy free chocolate possible, but I've finally done it! It's so incredibly simple to make, but everyone will think you're a star baker. It's also incredibly easy to make vegan, result!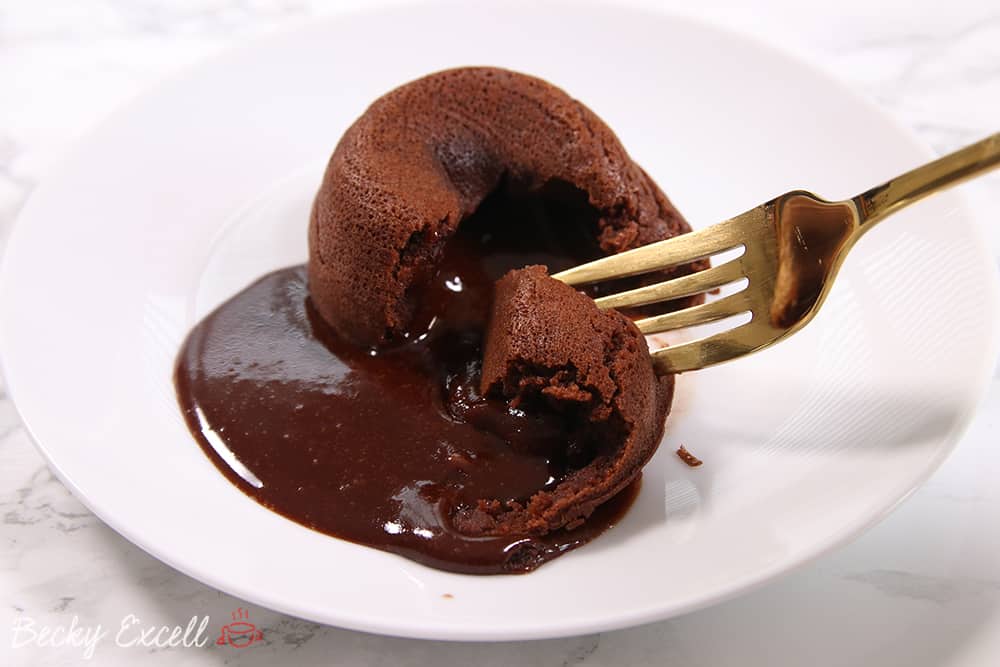 If you're like me, you probably spend half of your time on Facebook watching recipe videos of beautiful desserts for several hours at time. Then you think 'I'm going to make that when I get home later' but quickly forget and start watching a video of a cat instead. Isn't technology great?
But that's not really the main problem for me! The problem is that 99.9% of the recipe videos I watch on Facebook aren't gluten free, dairy free or low FODMAP whatsoever. I do sometimes wonder why I'm even watching them (but that obviously doesn't stop me!)
This time, I decided to make my own version of a Facebook recipe video classic, a gluten free chocolate lava cake.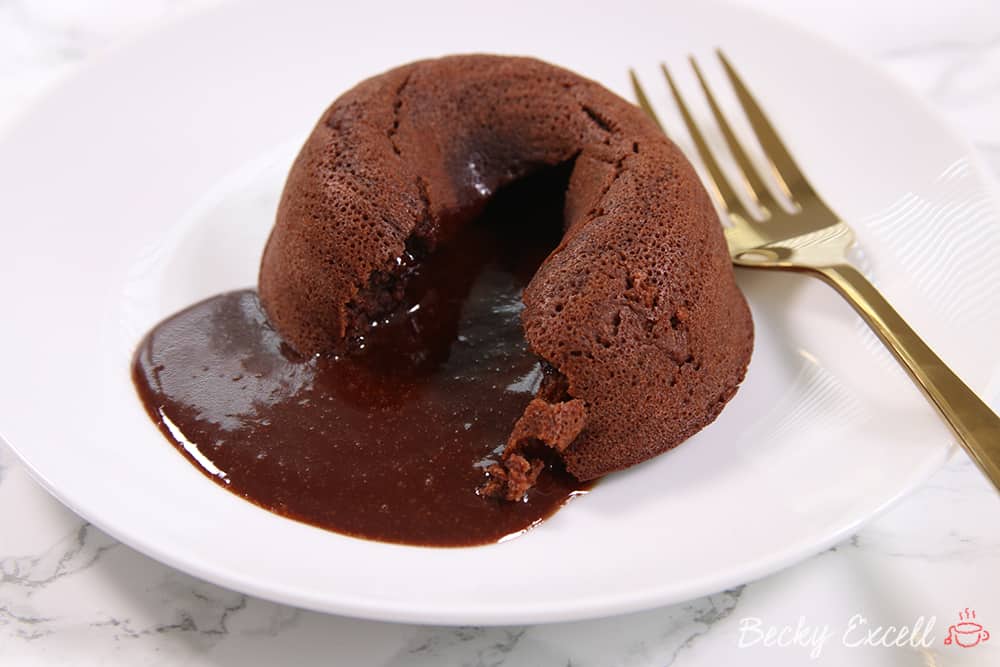 I've actually decided to dedicate my Facebook page to making recipe videos for those of us who are gluten free, dairy free and low FODMAP. I'm proud to be one of the few people on Facebook making these types of video, so if you haven't liked my page already, click here and go and bloody do so!
Are you back from my Facebook page yet? Good, because we haven't even got to the recipe yet! My gluten free chocolate lava cake recipe really is so quick to throw together, the only hard part is nailing the cooking time.
But if you read on, I'll let you know how to get it right every time! Here's my top tips…
Basically, if you under-bake your gluten free chocolate lava cake, it won't be able to hold all the moisture in the centre and it'll probably just collapse when you remove it from the pudding basin. Though it's definitely still edible and tastes amazing, you get minus points for presentation!
If you over-bake it, you'll get much less 'lava' than you'd like and it'll just be a delicious chocolate sponge with a gooey centre. Not bad, but not perfect. So what's the secret to a perfect lava cake?
Obviously this varies from oven to oven, but at 200C (fan) for 9-10 minutes, mine come out perfect every time. It may take a few attempts, but you'll eventually find that sweet spot with your oven where the cake holds perfectly and is filled with tons of lava.
You'll know when you've got it right because it will literally spill out onto the plate when you cut it open. Here's one more crucial tip too…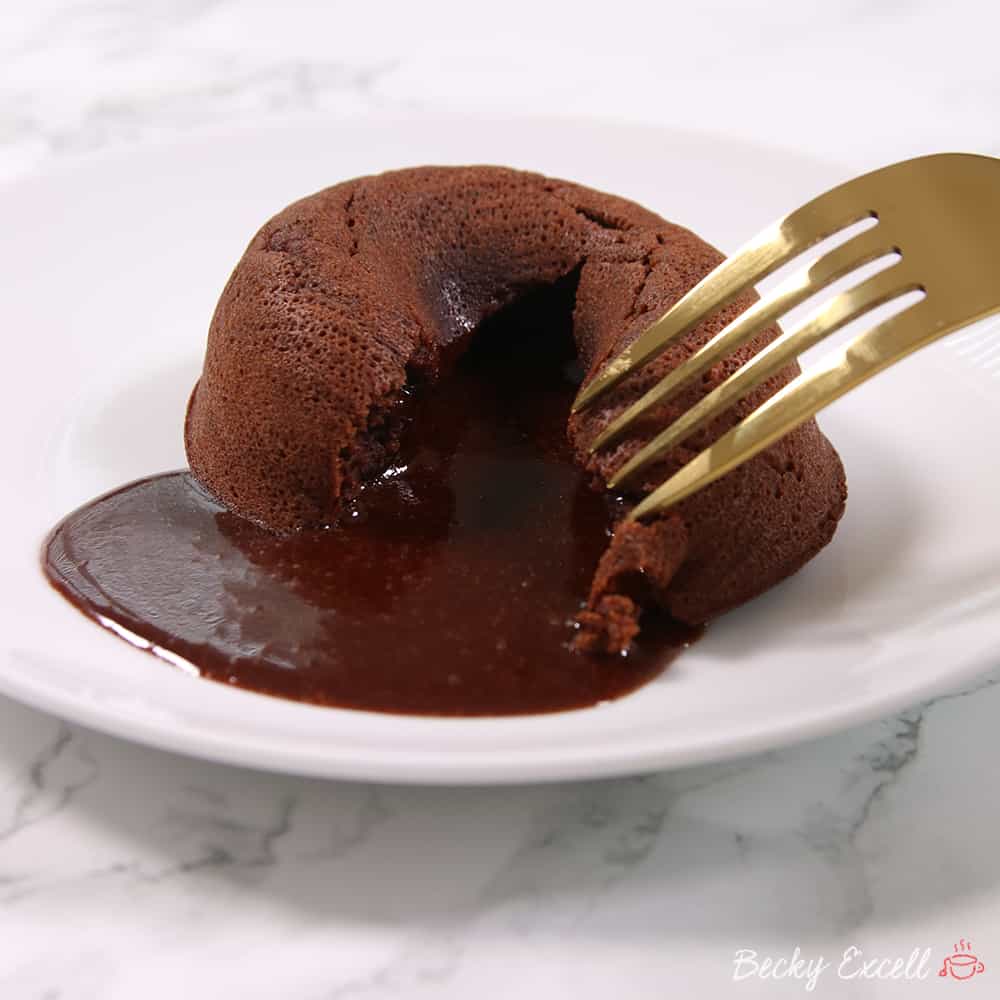 I'd really recommend using non-stick teflon mini pudding basins for my gluten free chocolate lava cake recipe too. I tried this using ceramic ramekins and they always stick a lot more than non-stick pudding basins.
If they stick, you then have to go through the precarious task of trying to run a knife around the edge of the ramekin (bearing in mind that this cake is basically a bomb full of chocolate waiting to erupt!) Not the most relaxing experience I can assure you!
Now that you're an expert on getting the perfect gluten free chocolate lava cake bake every time, here's the recipe. Don't forget to watch the video on Facebook to see the final result too.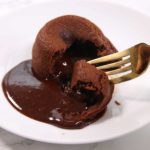 Gluten Free Chocolate Lava Cakes
My gluten free chocolate lava cake recipe is so easy to make and exploding with chocolate! You won't believe it's 100% dairy free and low FODMAP.
Ingredients
100g dark dairy free chocolate

100g dairy free spread

50g gluten free plain flour

150g light soft brown sugar

3 large eggs

(egg replacer can be used here to make this vegan very easily)

1/2 tsp vanilla extract
Instructions
Preheat your oven to 200C.

Prepare your mini baking pudding basins. Just spread a little dairy free spread over the bottom and sides.

Put your chocolate and dairy free spread in a microwaveable bowl. Microwave carefully until fully melted (I do mine on a mid heat and check/stir every 20 seconds or so to ensure the chocolate doesn't burn). You could also melt it on the hob in a bain-marie if you prefer. Once melted allow your mixture to cool for about 10 minutes.

Thoroughly mix in your brown sugar using a spoon or spatula.

Add your eggs one at a time. Mixing completely inbetween each one.

Mix in your vanilla extract and finally finish by stiring in your gluten free plain flour.

Pour your mixture into your mini baking pudding basins, about 2/3 full.

Place in the centre of your preheated oven for 9-10 minutes.

Remove from the oven (the edges and top should be slightly firm but the centre softer and squidgy!)

Turn each pudding out onto a serving plate (I put my plate on top of the pudding basin and then turn it over before lifting it off to reveal the lava cake)

Serve straight away on their own or maybe with a little ice cream!
Notes
* Of course if you don't need to make this dairy free you can use butter instead of dairy free spread and any dark chocolate you like. It's up to you 🙂
* I definitely recommend using mini pudding moulds, made from the same material as a baking sheet. The non stick helps massively as the puddings just slide out beautifully.
* Timing is really important and I know ovens vary. For me 9-10 minutes is perfect. A little over or under might work for you too. Plus it depends how firm or oozing you want your lava cake to be!
*You can definitely make this vegan using an egg replacer for the eggs too. This has been tried and tested by many people now and it works a treat!
Thanks so much for checking out my gluten free chocolate lava cake recipe, it's such a fun recipe to bake! The moment you cut one open and all that glossy, rich chocolate begins flowing out is a definite high-five moment.
Did you try this recipe? Any questions? Please do let me know by leaving a comment below or on Facebook / Twitter / Instagram!
Thanks for reading and happy baking,
Becky xxx
Oh and don't forget to pin this for later!