My gluten free Teriyaki chicken stir fry recipe is the perfect healthy fast-food with undeniably authentic flavour. Of course, it's dairy free and low FODMAP too.
Today I've tag teamed with the lovely folks at Crabbie's to bring you my gluten free Teriyaki chicken stir fry recipe. Just like their famous ginger beer, this recipe is spicy with a warming kick of ginger. But that's no surprise, because there's Crabbie's alcoholic ginger beer in the Teriyaki sauce!
Now this is going to sound totally made up (I promise it's not!) but when I was making my gluten free Teriyaki chicken stir fry a few days ago, a delivery driver knocked on the door.
No, we haven't reached the made up part yet, it all sounds pretty plausible to me so far. Anyway, he dropped off something for Mark and as he was signing for the package he said "your food smells absolutely lovely by the way, bye!" and it just totally made my day.
So as I'm probably totally biased when I say this recipe is awesome, please take the words of our local DPD driver as proof! What a legend. Anyway, onto what inspired the recipe that clearly… delivers!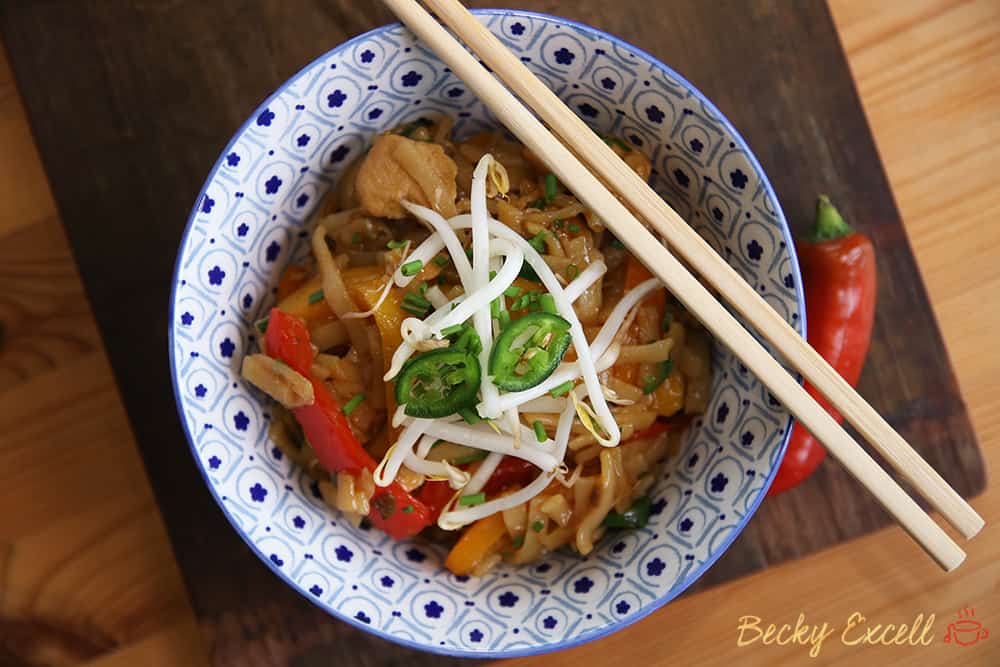 Mark and I have a notebook in the kitchen where we write down all the recipes we cook at home on a weekly(ish) basis. In this slightly tatty, holy grail of gluten free, dairy free and low FODMAP recipes, I found the inspiration for my gluten free Teriyaki chicken stir fry.
In our notebook, there's a recipe that Mark wrote down for a really authentic gluten free Teriyaki sauce. Mark grew up on far-eastern flavours over many visits to Malaysia to see his extended family and cooking with his Mum at home. So in our house, any Asian flavours are his responsibility!
Being the lucky gal that I am, he always tries to adapt those recipes to be gluten free and low FODMAP so I can enjoy them too! They all reside in our notebook and I can assure you, they're all to die for.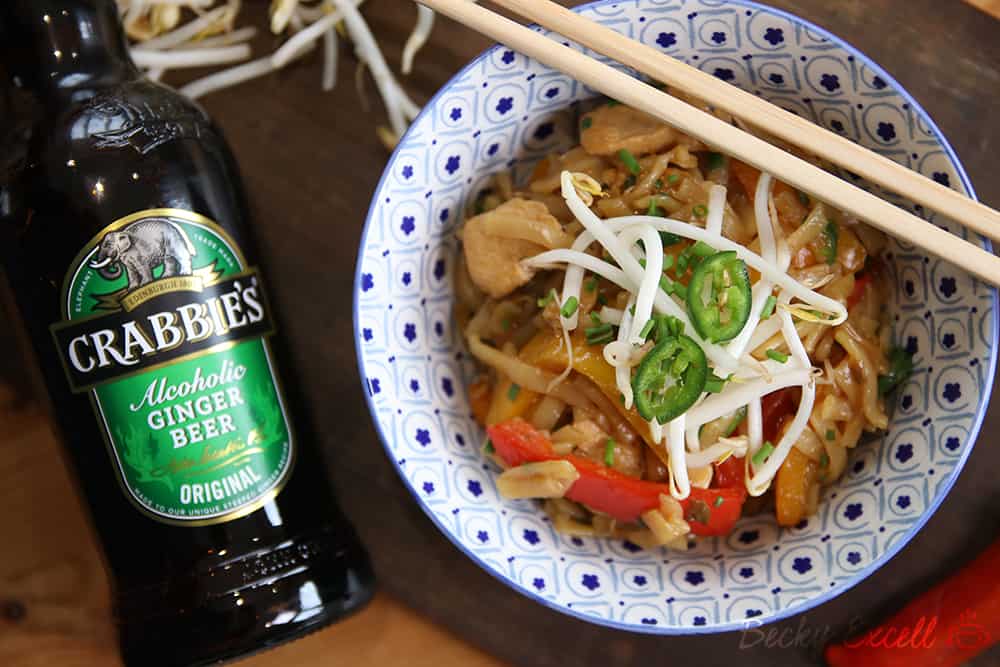 We usually use the Teriyaki sauce recipe to marinate salmon and chicken during BBQ season, but I knew it could be the star of it's own dish! My gluten free Teriyaki chicken stir fry was created that day, with a delivery driver as my witness.
Of course, the key to any good Teriyaki recipe is a beautiful balance of ginger, soy sauce and sticky sweetness. So what better place to start than with a Crabbie's ginger beer? Instead of using ground ginger and water, I used a touch of ginger beer to bring this dish alive.
Just like ginger beer, it adds a subtle fiery kick which works so well in a Teriyaki sauce. It got the thumbs up from Mark, so I think it might just be worth enough to go in the notebook on its own merit!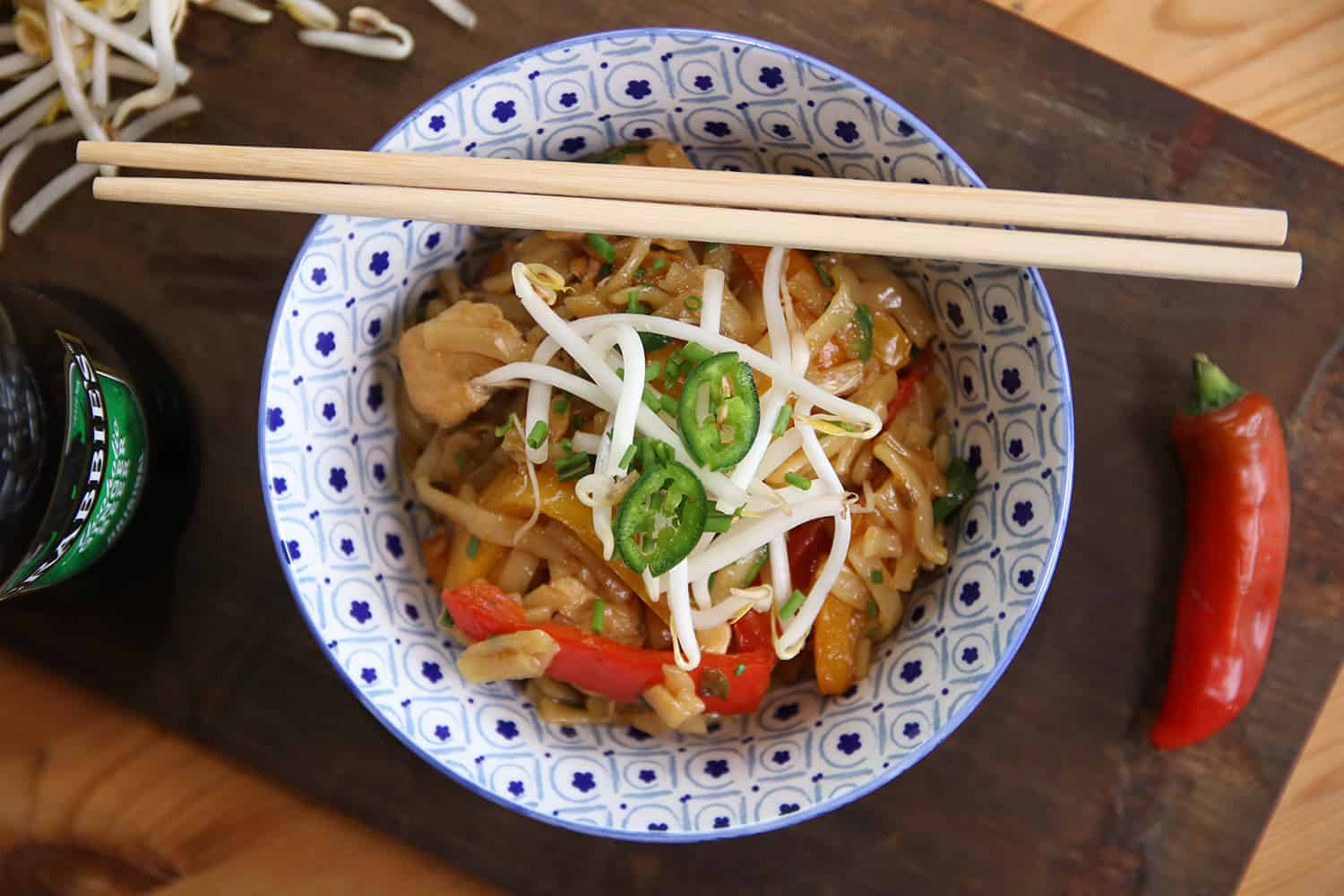 It goes without saying that, like with any stir fry, this meal is so simple and quick to rustle up in a hurry. A good stir fry needs strong flavours, crunchy veg/beansprouts and lots of colour and I promise that my gluten free Teriyaki chicken stir fry has all that and more. The 'more' being Crabbie's ginger beer of course!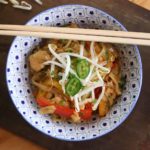 Gluten Free Teriyaki Chicken Stir Fry Recipe
My gluten free teriyaki chicken stir fry is the perfect week night meal. It's super quick to make and has a real authentic kick thanks for the edition of Crabbies Ginger Beer!
Ingredients
60ml gluten free soy sauce

200ml Crabbies Original gluten free ginger beer

2 tbsp brown sugar

2 tbsp cornflour

mixed with 4 tbsp water

1 red pepper

1 orange pepper, 1 yellow pepper, sliced

2 handfuls of beansprouts

green chilli

finely sliced (optional and as much as you like depending on how hot you want it!)

2 chicken breasts

ours weighed around 300g combined

garlic infused olive oil

for frying

300g gluten free ribbon rice noodles

I use the Amoy ones

handful of fresh chives

finely chopped
Instructions
Make your teriyaki sauce first. Mix together your gluten free soy sauce, ginger beer brown sugar and cornflour in a jug. Put this to one side.

Add a little oil to a wok and start frying up your peppers and green chilli until they soften slightly.

Chop your chicken into thin pieces and add these to your wok too.

Once your chicken is sealed add in your noodles and stir to combine.

Make sure your wok is on a high heat and then pour in your teriyaki sauce and mix thoroughly. It should reduce down and thicken fairly quickly due to the cornflour and the sticky brown sugar!

Add in a couple of handfuls of beansprouts and some freshly chopped chives, cook for a further couple of minutes (ensure your chicken is cooked).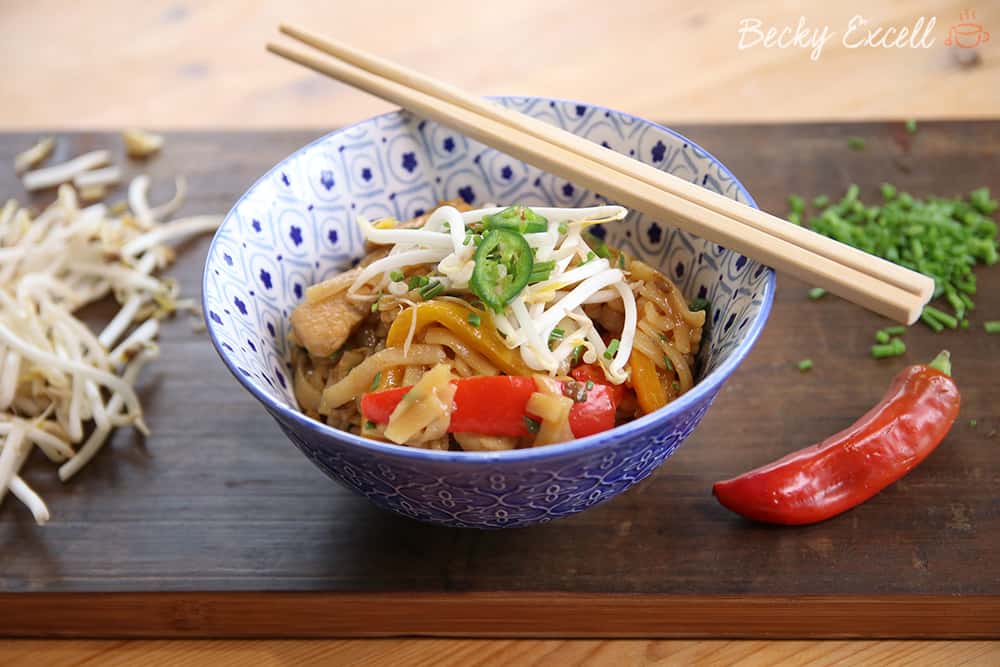 Thanks so much for checking out my gluten free Teriyaki chicken stir fry recipe and thanks to Crabbie's for making it possible! You can pick up some a bottle (or three!) of Crabbie's from your local Tesco, Sainsbury's, Asda and Morrisons. Obviously it's great in a stir fry due to it's deep, deliciously spicy flavour but also their Scottish Raspberry variety is the perfect Friday night drink.
Did you try this recipe? Any questions? Have you ever tried Crabbie's alcoholic ginger beer before? Does your delivery driver compliment your cooking? Please do let me know by leaving a comment below or on Facebook / Twitter / Instagram!
Thanks for reading,
Becky xxx
This is a sponsored recipe with Crabbie's Ginger Beer.
Oh and don't forget to pin this for later!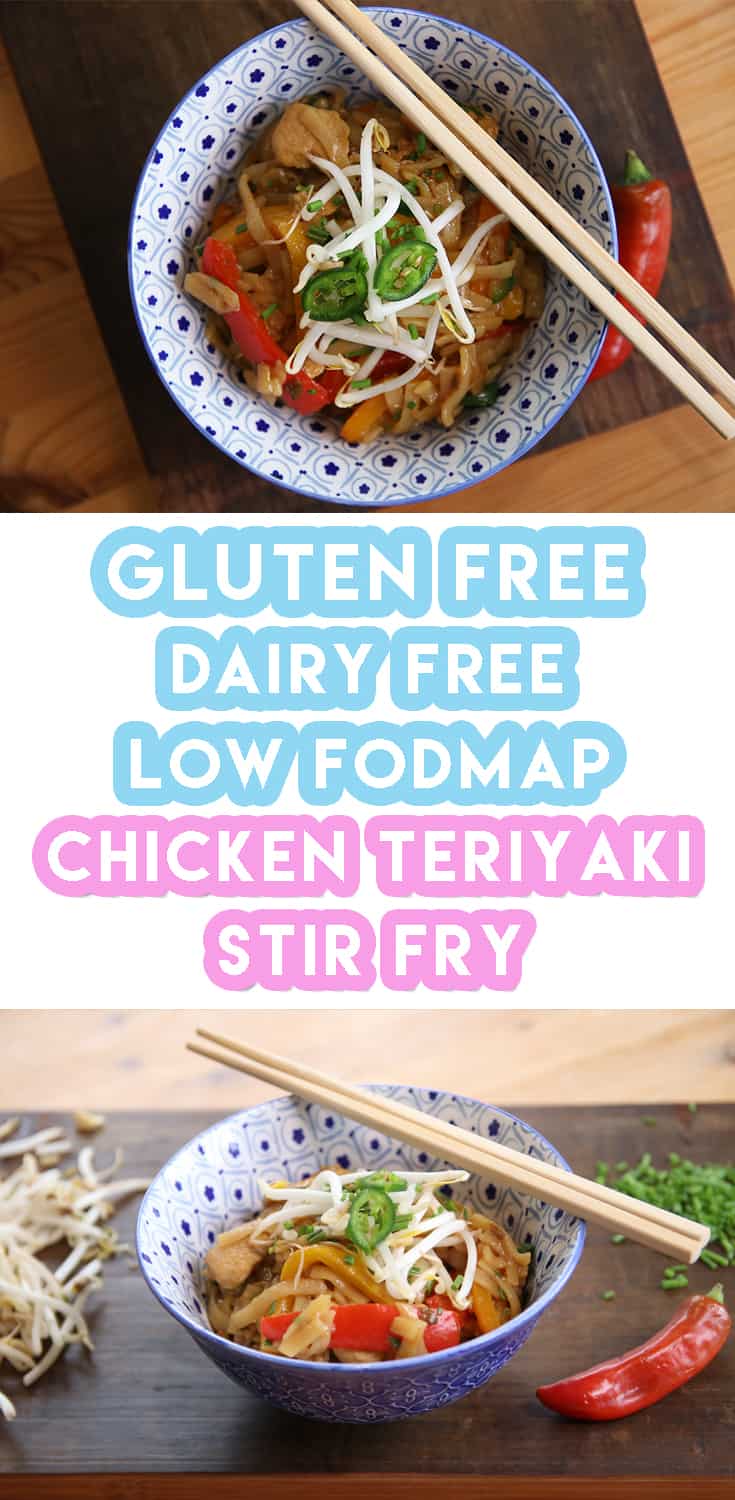 Comments