Nothing says home like a hearty portion of my gluten free chicken stew and dumplings. This recipe is dairy free and low FODMAP too.
My gluten free chicken stew and dumplings recipe was the first thing that came to mind when my Pressure King Pro arrived last week. Mark and I have wanted a pressure cooker or slow cooker ever since we moved into our new house… and now we have both!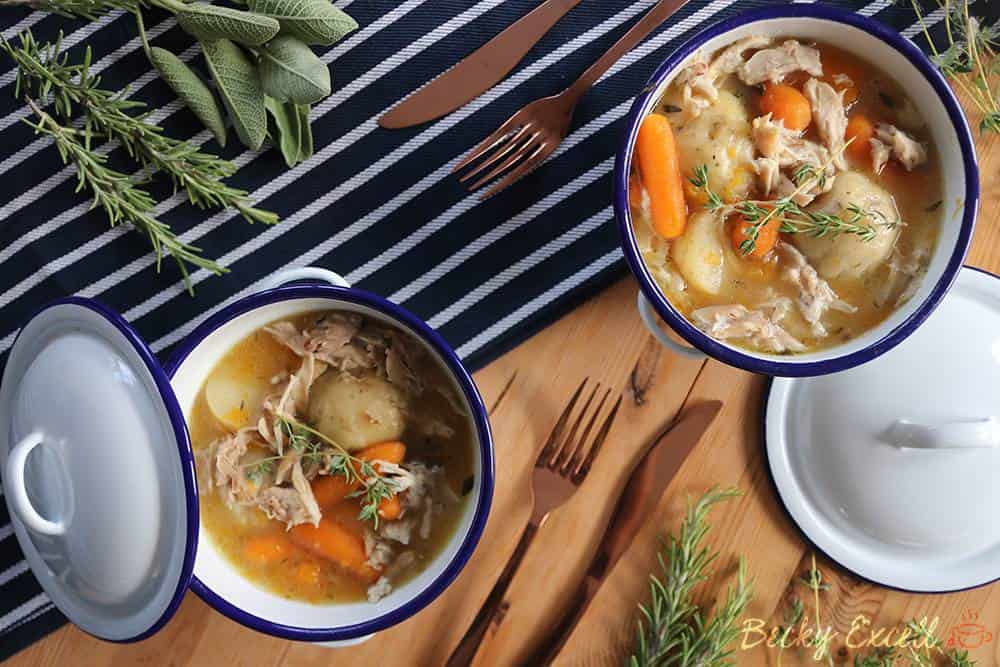 A good ol' hearty portion of stew and dumplings has been a staple in my Mum and Dad's household since forever. It's sad to think that it's been literally 8+ years since I've had a portion.
Sadly, it was yet another meal off the menu for me because of my gluten intolerance. It's a real homely meal that you never really see served in restaurants (and certainly never gluten free either). That's why I decided to make gluten free chicken stew and dumplings recipe for you all to enjoy. Pressure cookers at the ready!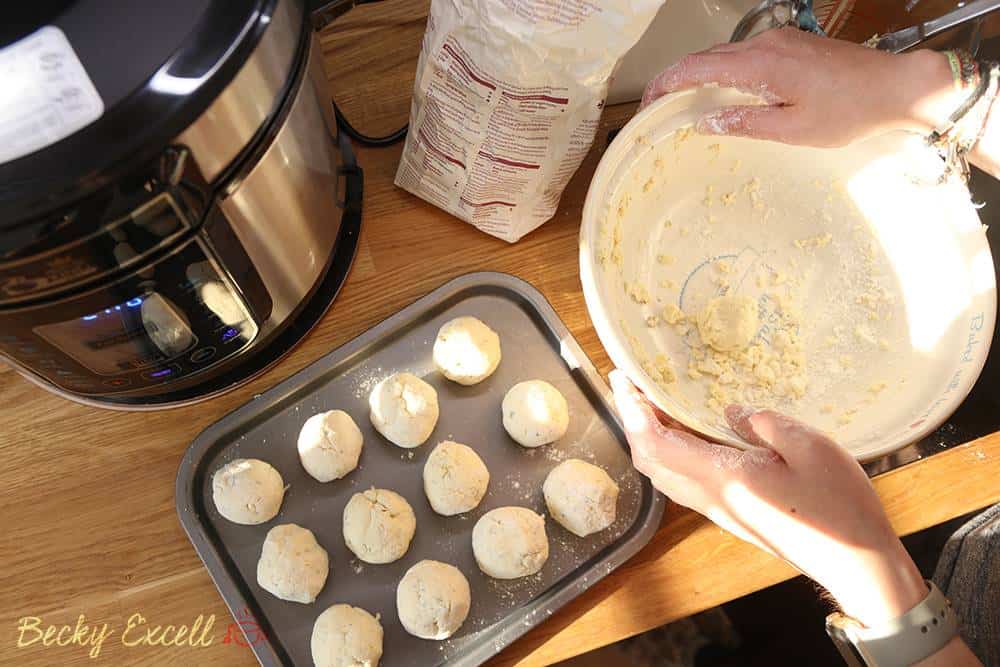 So, what took me so long to recreate my gluten free chicken stew and dumplings recipe? Well, most of 2017 has been a frantic balance between my job and my blog, so we generally always opt for quick, convenient meals. Anything sub-30 minutes is a-ok by us! Ordinarily this recipe certainly wouldn't fall under that category.
Without a pressure cooker, you're looking at a 40 minute cook in the oven after adding chicken, stock and veg with a further 25-30 minutes after the dumplings are added. That's 1 hour and 5 minutes cooking time in total in case you don't have a calculator (or you just hate maths).
I would say good things come to those who wait, but since The Pressure King Pro cooks everything super fast, there's actually no need to wait!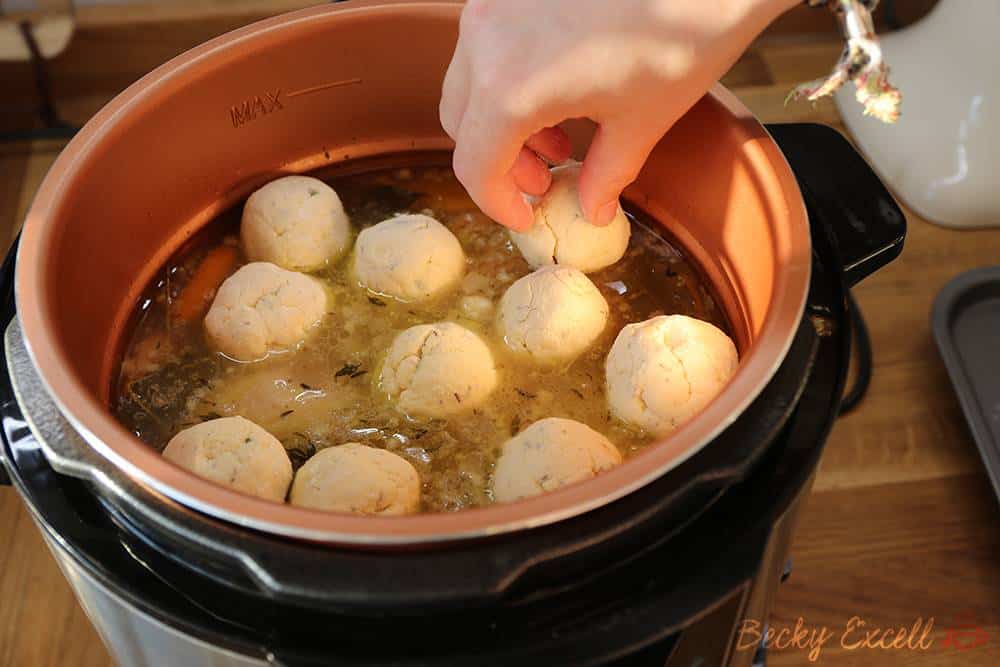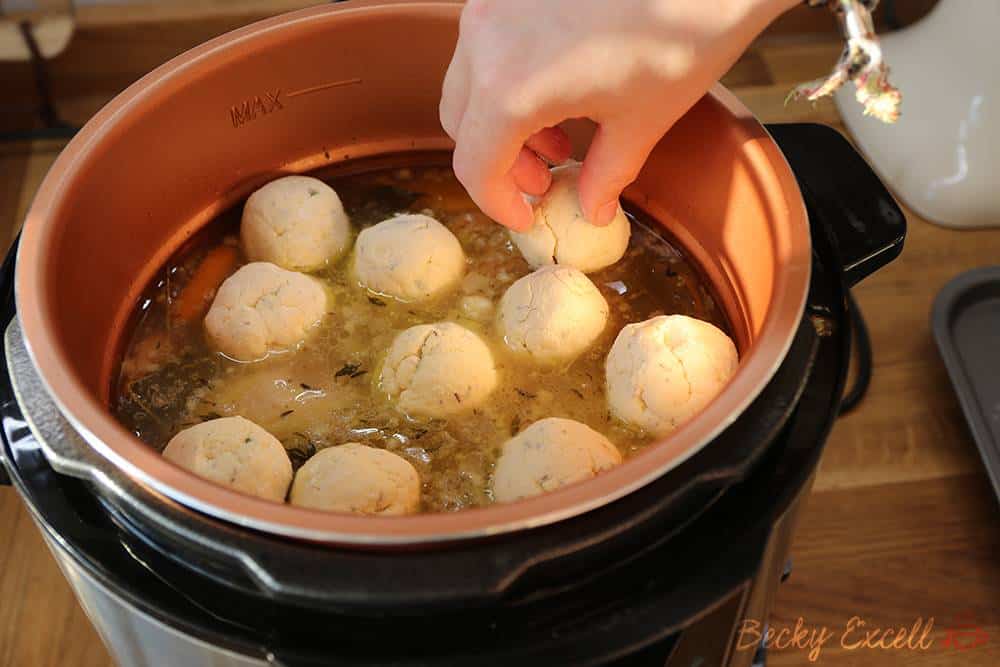 So you're making this recipe with the Pressure King Pro? Lucky you! You're looking at a 25 minute cook time and then only 5 minutes once you've added the gluten free dumplings. Never did I think I would call my gluten free chicken stew and dumplings recipe fast food!
Apart from making my amazing gluten free chicken stew and dumplings in less than half the time it would usually take, there's also half the amount of washing up to do afterwards. All you've got to wash up is the copper-coloured inner pan and you're done. Now I certainly won't argue with that!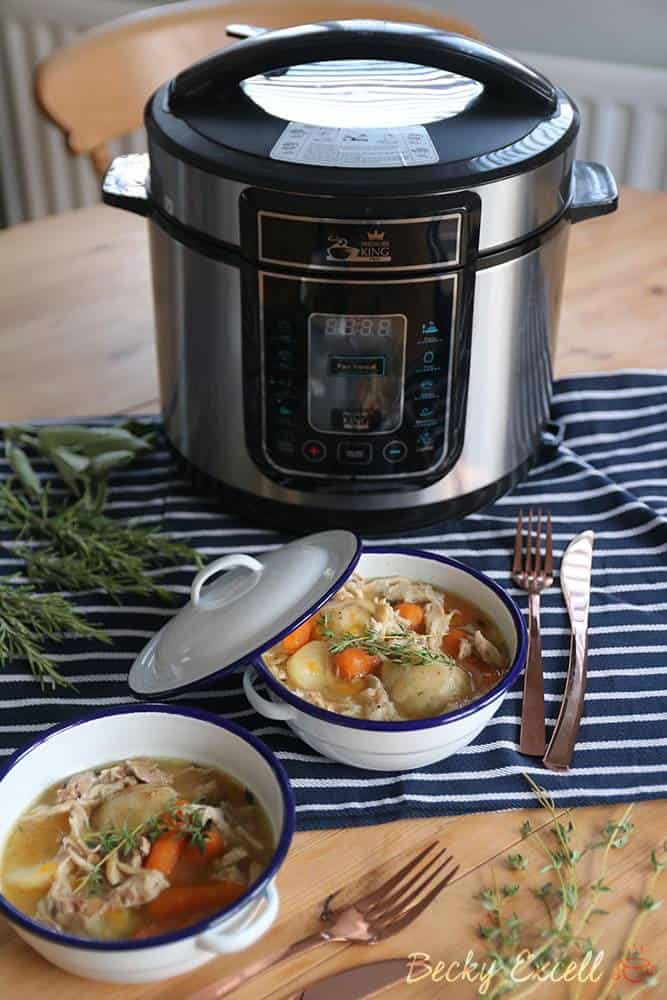 Once I've piled in my fresh veg, chicken stock and chicken thighs and set the pressure cooker to stew, that's when I start creating my gluten free dumplings. The 25 minutes stewing time is more than enough time to do this at a relaxed pace.
Traditionally, dumplings are made with suet but most brands of suet actually contain wheat flour, sadly. Suet can also make quite dense dumplings, whereas mine are a little lighter and fluffier in texture.
Of course my gluten free dumplings can be placed in any stew recipe you wish. If you use the Pressure King Pro it's a bonus that they take just the 5 minutes, but if you are cooking them in your oven, I would recommend adding them for the last 20 minutes of the stew's cooking time.
Once you've made your dumplings, you need to release the pressure by opening the pressure valve (preferably with oven gloves!) and then remove the lid to pop them in. Twist the lid back into place and stew for a further 5 minutes and your gluten free chicken stew and dumplings is ready to serve.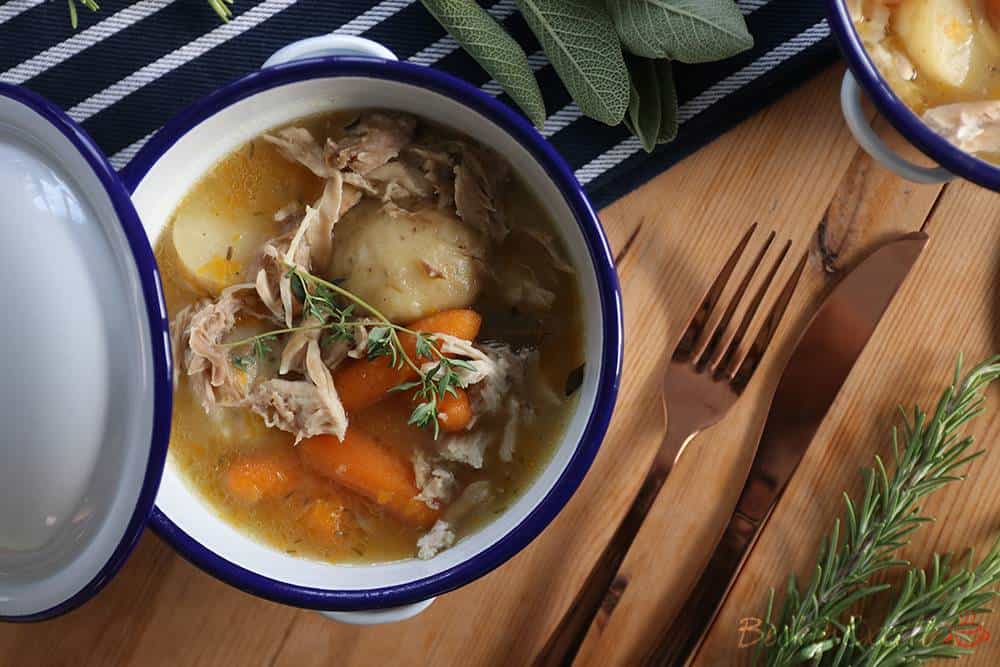 So, a pressure cooker is super-fast but how easy is The Pressure King Pro to use? Well, it powers on at the twist of the lid and it's simply a case of choosing your cooking setting and then… that's it.
Mark and I were seriously baffled as to where the 'start' button was, but it turns out that you don't even need one! It immediately kicks into life and starts building pressure for a few minutes, then the timer starts ticking down.
To say it's easy to use is an understatement. But of course, everything I've said so far is pretty irrelevant if the end results aren't fit for a (pressure) king. So how did my recipe turn out?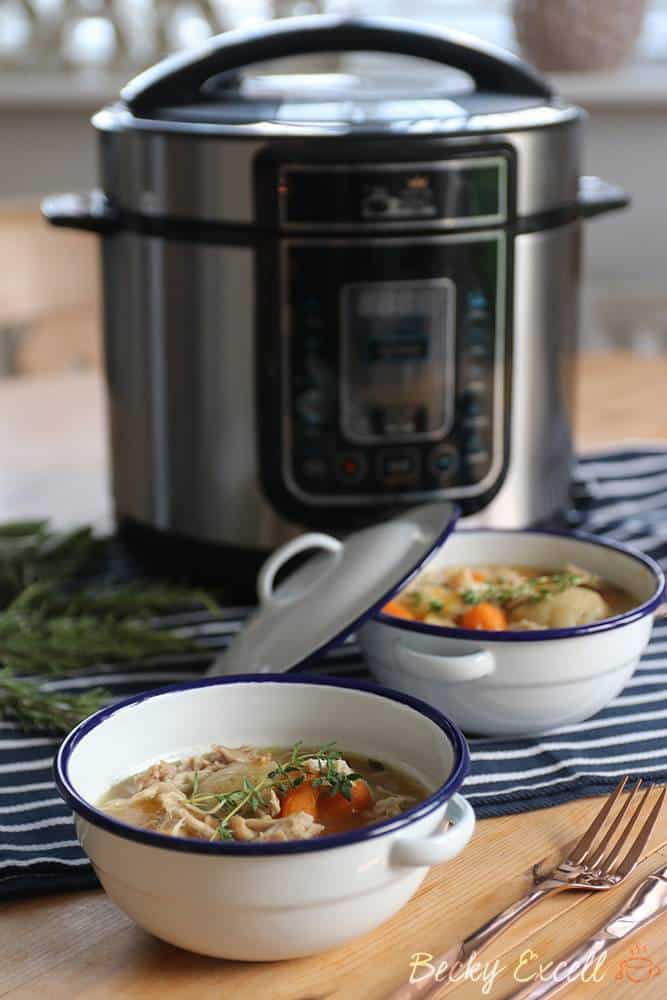 The results were absolutely unreal. Everything came out perfectly cooked, steaming hot and smelling absolutely divine, just like it used to smell at my parent's house all those years ago.
The chicken is so juicy and tender that it just falls off the bone and there's so much warmth of flavour in that broth. Needless to say, the dumplings were cooked to perfection and they taste even better than I remember. Yes, it was worth the 8 year wait!
But there's only so much I can rant and rave about my gluten free chicken stew and dumplings recipe. I think we'd both agree that you simply have to try it for yourself, so get busy with the recipe below. Enjoy!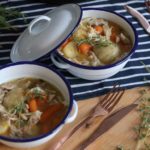 Gluten free chicken stew and dumplings recipe (dairy free low FODMAP)
My gluten free chicken stew and dumplings recipe using my Pressure King Pro. The dumplings are to die for!
Ingredients
For the stew
3 chicken thighs

skin on with the bone

240g new potatoes

halved

240g chantenay carrots

or standard carrots chopped

240g butternut squash

chopped

800ml chicken stock

if low FODMAP ensure your stock is! Make your own or use a low FODMAP stock

3 bay leaves

fresh thyme

salt & pepper

a little oil

if browning the chicken first
For the dumplings
125g gluten free self raising flour

70g dairy free hard margarine

cold and chopped

2 tbsp dried herbs

I used a mix of thyme, rosemary and sage

75ml water
Instructions
(This first step is optional & only necessary if you have the time!) Press the browning function and add your oil. Add your chicken thighs and cook for 3 minutes on each side until they start to colour. You don't need to put the lid on for this. Once done press cancel.

Next add all your veggies (potatoes, carrots and squash in my case - you could use different root veg if you prefer).

Pour in your chicken stock, add bay leaves, a few sprigs of fresh thyme and season with salt & pepper.

Put your lid on, close the pressure release valve and press stew. Stew for 25 minutes.

Whilst your stew is on, make your gluten free dumplings. Rub your dairy free margarine into your flour until it becomes almost breadcrumb like.

Add your dried herbs to the mixture.

Next add your water and mix together to form a dough. Cover your hands in a little gluten free flour and bring the dough together and make balls just slightly smaller than dumpling size (they will swell up a bit).

Once 25 minutes stewing is up press cancel. Open the pressure release valve (with oven gloves on!) and remove the lid. Add your dumplings to the stew evenly on top. Put the lid back on, close the pressure valve and press stew for a final 5 minutes.

The stew should now be ready so again, open the pressure valve to release any steam, remove the lid and serve up into bowls.
Notes
* We usually just eat our stew like this, you could add some greens on the side to go with it if you'd like.
* If you like a slightly thicker stew you can add a little flour mixed with water to the stew before you shut the lid. (I tend to use corn flour but any gluten free flour will help)
* the dumplings are a recipe by themselves. If you wish to cook them within a stew not made in a Pressure King Pro, I would recommend adding them to the stew 20 minutes before the end of cooking as they would need about 20 minutes to cook without the pressure.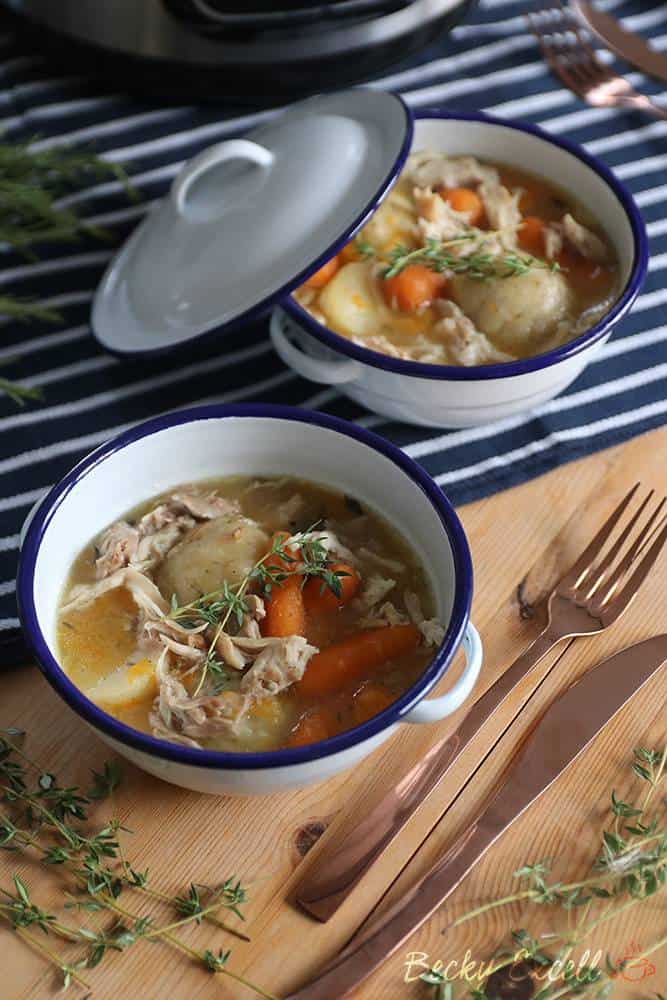 Thanks so much for checking out my gluten free chicken stew and dumplings recipe! Thanks so much to High Street TV and Pressure King Pro for giving me the chance to create this beautiful recipe for them too. You can grab your very own Pressure King Pro off of their website and in a whole host of other retailers.
How long has it been since you've had stew and dumplings? What did you think of my recipe? Are you an avid pressure cooker fan like I am? Let me know by leaving a comment below or on Facebook / Twitter / Instagram.
Thanks for reading,
Becky xxx
Oh and don't forget to pin this before you leave!