Gluten free baked lemon cheesecake is my ultimate comfort food. But why should Mark miss out just because of lactose intolerance? That's intolerable! Luckily I made this recipe 100% lactose free and low FODMAP too.
This gluten free baked lemon cheesecake recipe is way overdue. My boyfriend is lactose intolerant and sadly hasn't had a 'real' cheesecake in years and years. So I decided that enough was enough. Let him eat (cheese) cake!
For my classic (non-lactose free) version, head over to my gluten free lemon cheesecake recipe post here.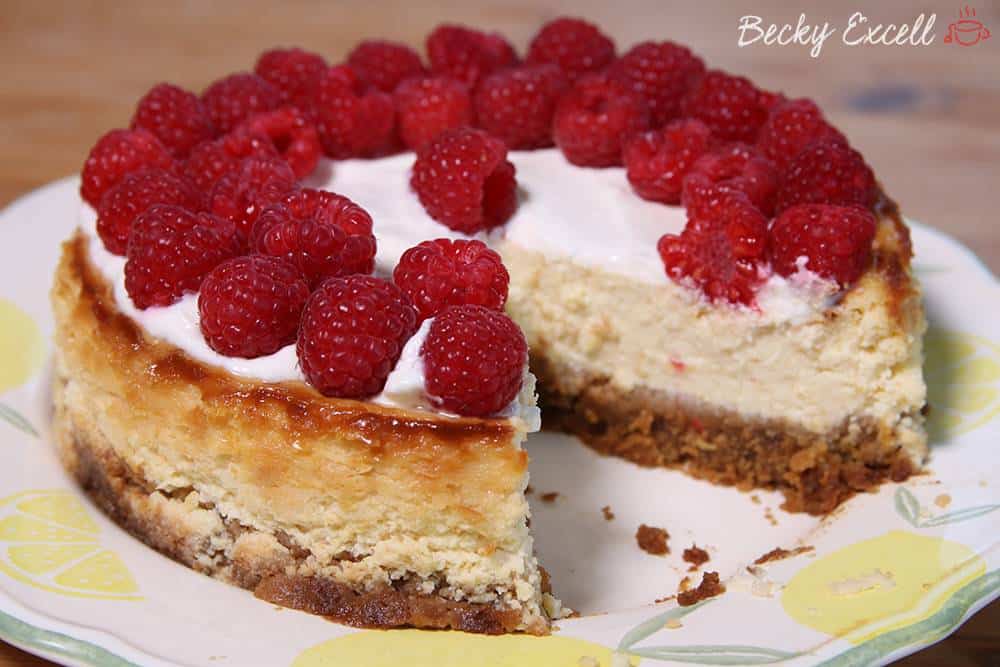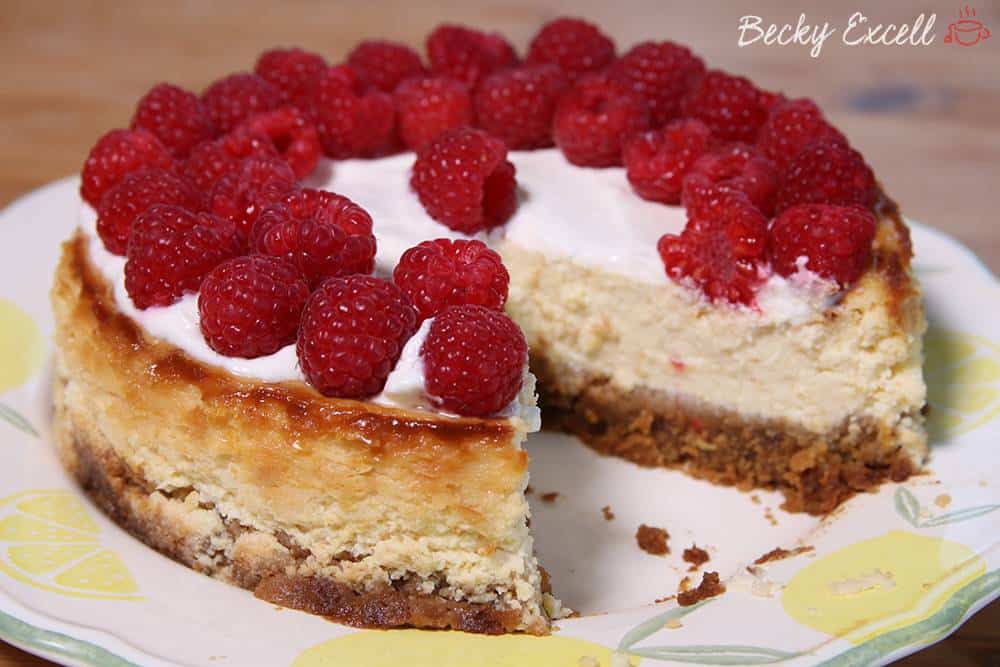 But it wasn't that easy of course – I couldn't simply buy him a slice of lactose free cheesecake from anywhere.
At the best of times, Mark has to awkwardly pretend he's a vegan just so he can sneak in and eat their delicious cakes and bakes. Vegans don't use any dairy in food, so he's right at home with them. Until they inevitably find out he's an impostor of course.
You just don't see lactose free desserts (or any meal for that matter) when you're out in restaurants, or in the supermarkets in the UK. It was time to get my apron on in an almost superhero-like fashion (in the kitchen I'm often known as 'Blunder Woman') and make something lactose free and beautiful.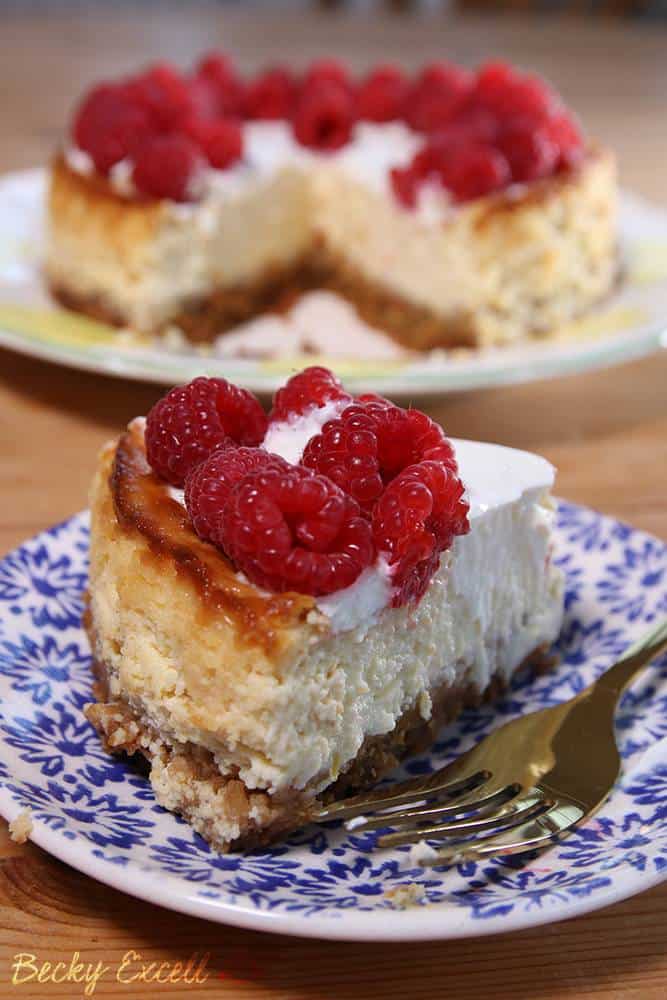 But where do you really start with a cheesecake? Baked or not baked? Real dairy or dairy free? Healthy or indulgent? Well, since Mark's last real cheesecake experience was before we even met, I thought I'd try and make this recipe as close to the real deal as possible. Lactose free dairy it is then!
I then decided to go with baked. My gluten free baked cheese cake recipe was inspired by a beaut of a baked cheesecake which I tried at a Tesco press event last week. It had lashings of cream cheese, a sweet citrus flavour, with a lovely, buttery biscuit base. Buttery, buttery biscuit base.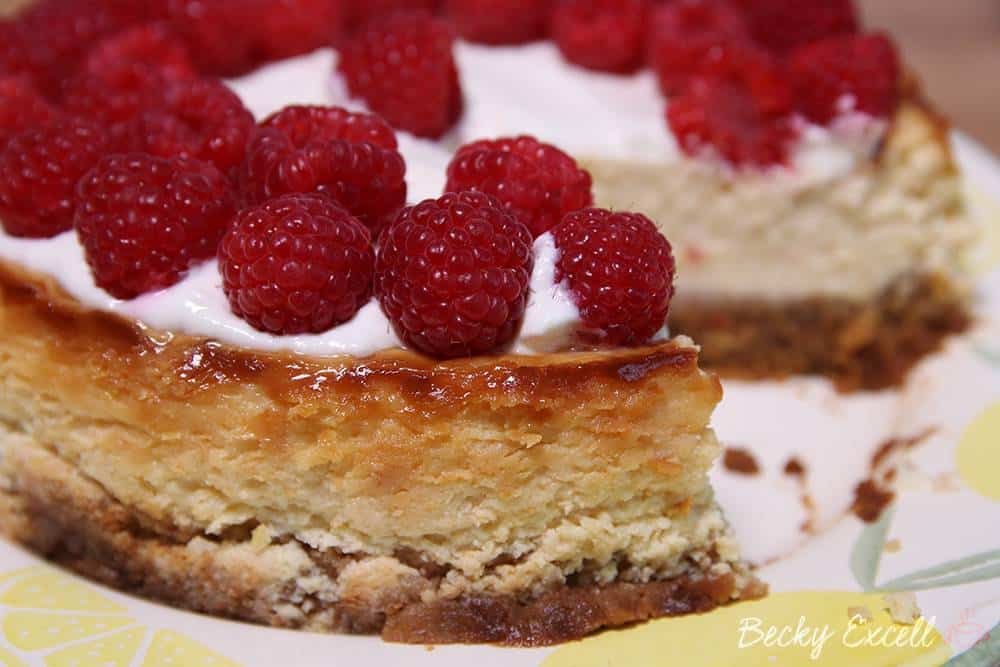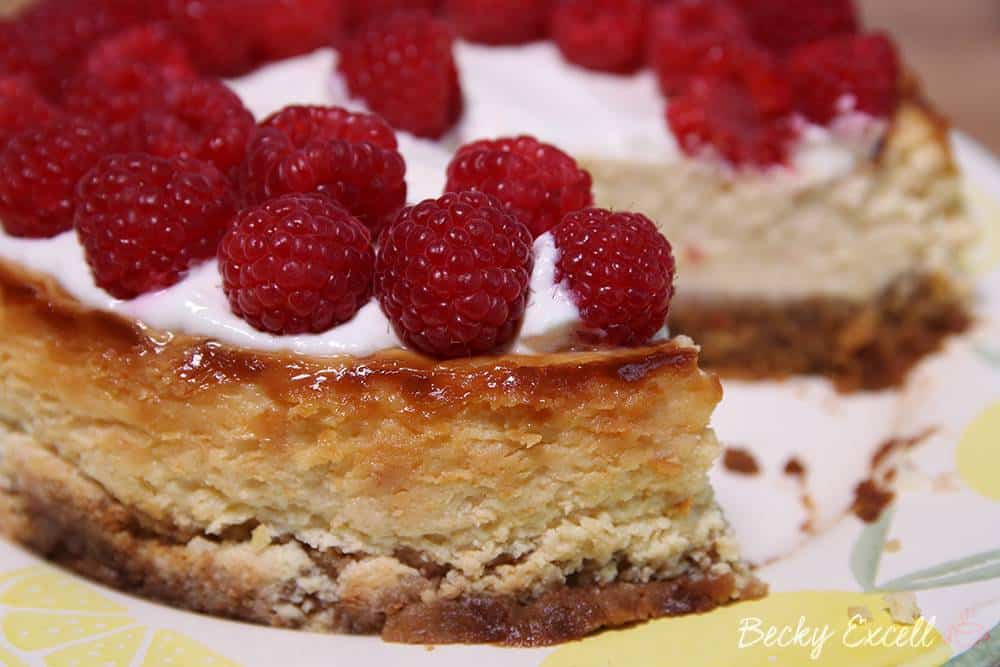 Of course, 2017 has been an amazing year for lactose free products (namely thanks to Tesco) which have made my life and this recipe a whole lot easier. Whilst there's a lot of dairy free and vegan cheese substitutes out there, there's nothing quite like real dairy, lactose free products.
They essentially are the exact same ingredient too, without the lactose (now if only they could do the same for gluten free bread!) This recipe uses lactose free mascarpone, creme fraiche and greek yoghurt. Of course, if you're not avoiding lactose, feel free to use the regular counterparts instead.
I really wanted my gluten free baked lemon cheesecake to be as close to a 'real' cheesecake as possible. Mark will be the first to tell you that it certainly does! Who needs gluten or lactose anyway? Oh, and its low FODMAP too of course.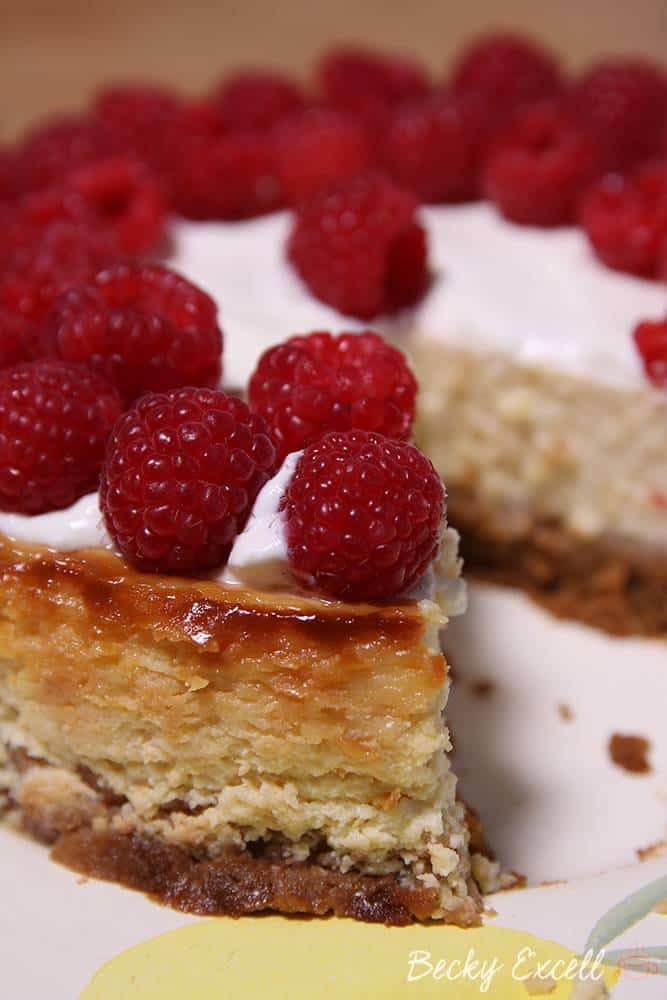 Here's a few of my quick tips to get you on the road to success with your first gluten free baked lemon cheesecake. Make sure you don't bash your gluten free biscuits so much that they're a fine dust. You still want a bit of a bite to your base, so a few larger chunks are recommended!
I personally make it my mission to also give my cheesecakes a good start in life and for that, they'll need all the base they can get. For me, the buttery base is the best part! So of course, this recipe has a healthy sized based too – try it and let me know what you think!
You don't need anything electrical to beat the lactose free cheese mixture either, I simply used a hand whisk to achieve a nice, thick consistency. Of course, if you'd prefer, an electric whisk is perfect for the job too. No bonus points for using both – that's just creating more washing up.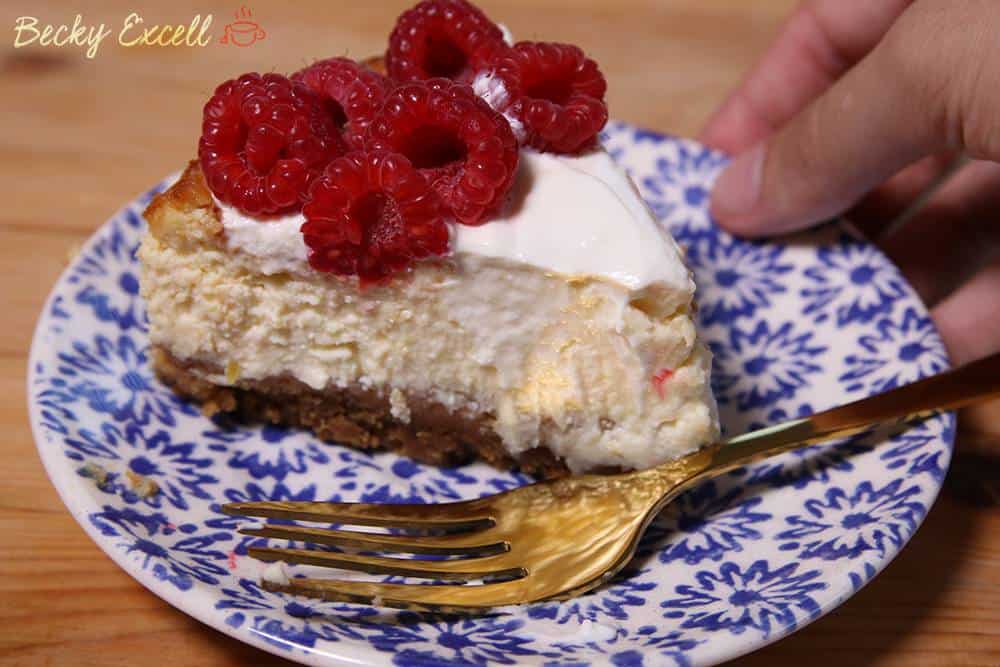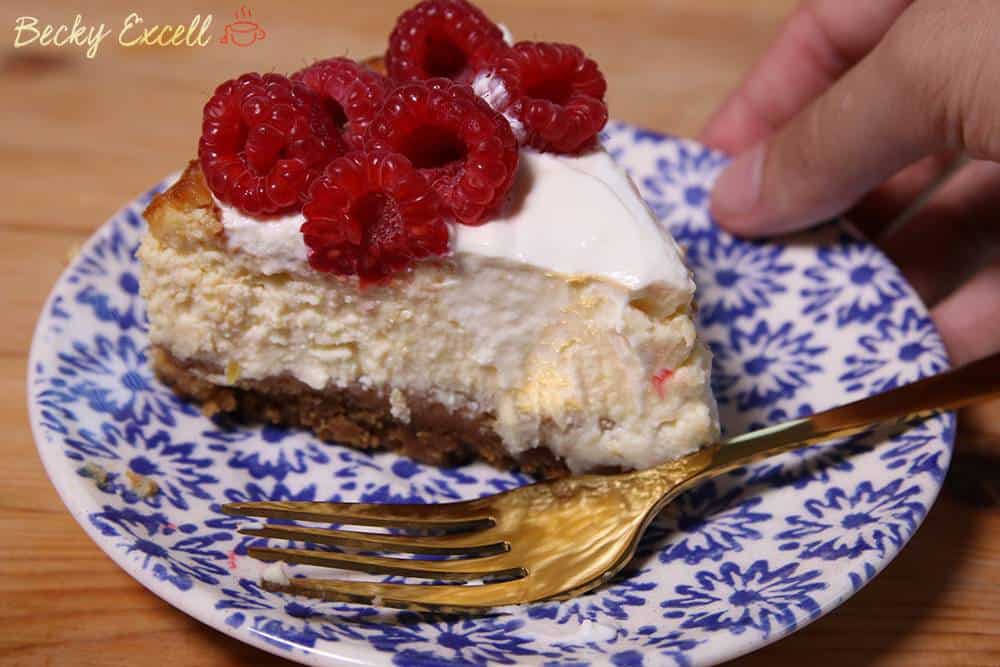 Anyway, here's my gluten free baked lemon cheesecake recipe. I say this all the time, but this recipe really is super simple with wonderful results. I say this a lot because if anything was too complicated, I probably wouldn't even be able to make it in the first place!
Needless to say, Mark totally fell in love with this cheesecake and he rated it 'I think I might eat the entire thing in one go' out of ten. Here's the recipe!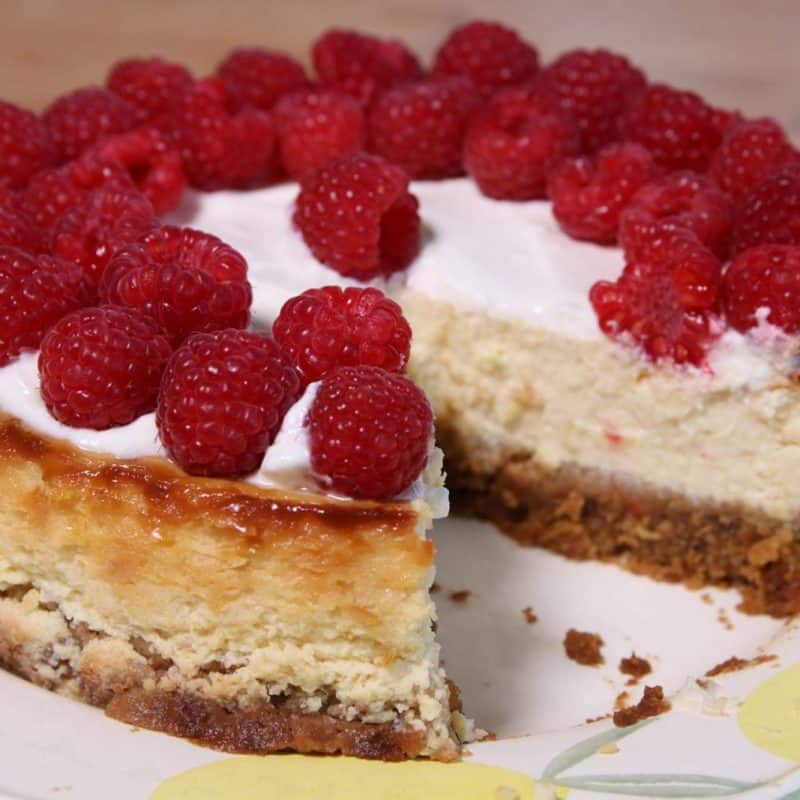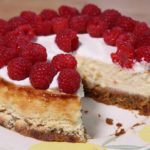 Gluten Free Baked Lemon Cheesecake Recipe
Ingredients
180g gluten free digestive biscuits

180g gluten free ginger biscuits

80g dairy free / lactose free spread

melted

500g lactose free mascarpone

I use 2 250g tubs from Tesco

3 large eggs

250g lactose free crème fraîche

I get mine from Tesco

140g of caster sugar

4 lemons

zest of 4 and the juice of 2 1/2

lactose free greek yoghurt

optional for the topping

fresh raspberries

for the topping
Instructions
Preheat your oven to 160C/180C/320F.

Place your digestives and ginger biscuits in a sealed bag and crush. I use a rolling pin to do this.

Pour your crushed biscuits into a bowl and add your melted spread. Mix together so the biscuits get coated.

Spoon/pour your crushed biscuits into a loose bottom circular tin and press down firmly to level.

Place in the oven for about 12-15 minutes until the base is a little more golden.

Whilst your base is baking you can make your filling. Place your mascarpone, eggs, crème fraîche, caster sugar, lemon zest and juice into a large bowl and mix together thoroughly until combined and smooth.

Pour the mixture on top of your base and return it to the oven for around 1 hour. It will look beautiful and golden when it comes out.

Allow to cool completely before placing in the fridge for a short while to chill.

Once it has chilled, remove from fridge and remove the cheesecake from it's tin.

If you want to add a topping then now it's time to spread a small amount of lactose free greek yoghurt over the top and them finish by placing fresh raspberries on top of that!

Serve up and store in the fridge!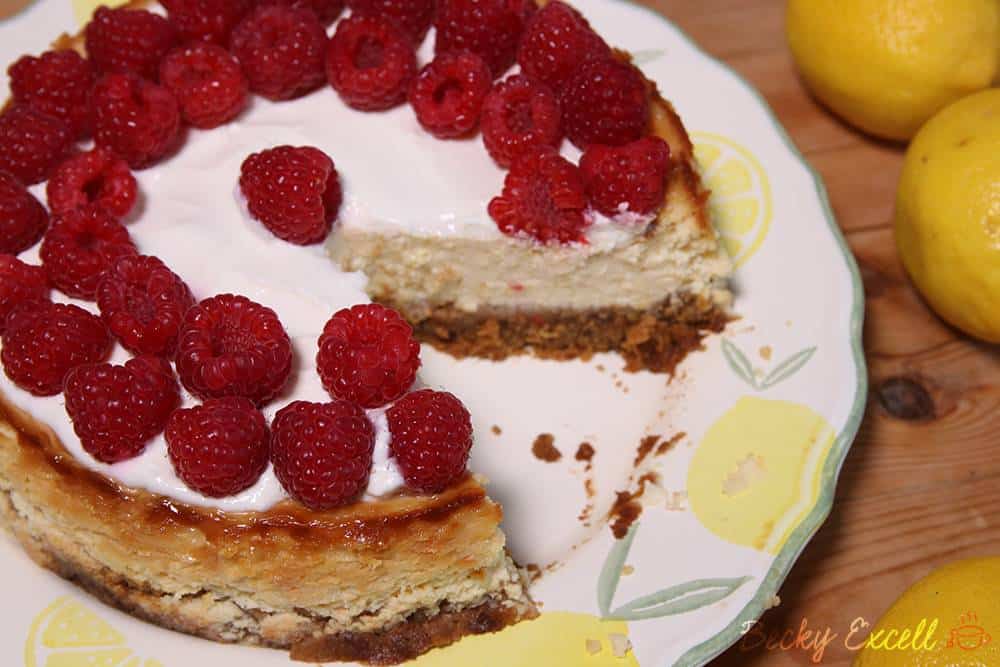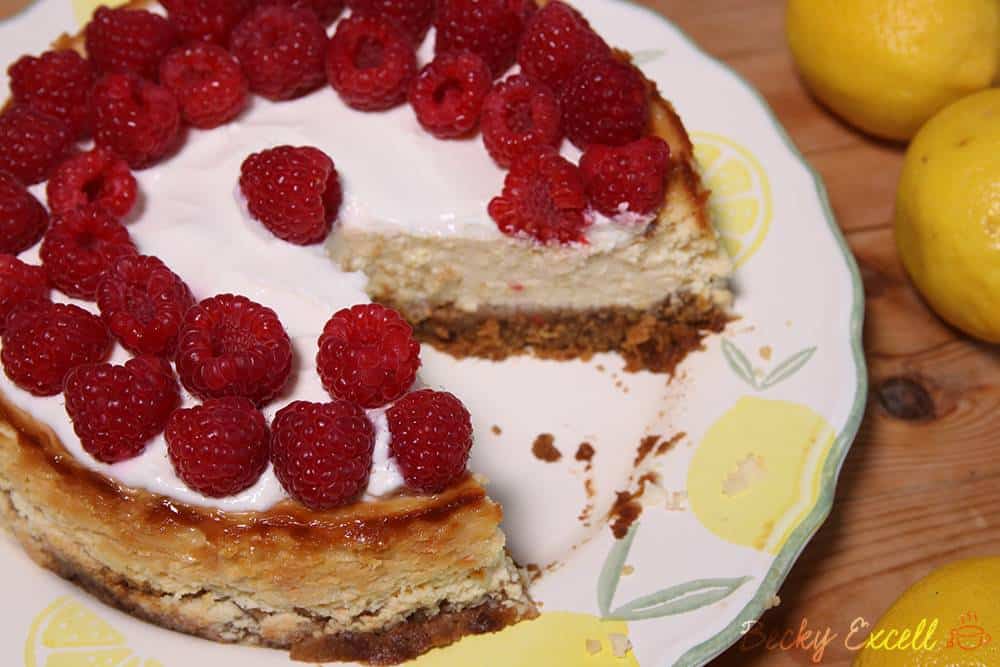 Thanks so much for checking out my gluten free baked lemon cheesecake recipe! If you'd like more lactose free recipes on the blog then just let me know. I'm really falling in love with using these mind-blowing new lactose free products.
Did you try this recipe? Any questions? Do you wish there was more lactose free recipes on my blog? Let me know by leaving a comment below or on Facebook / Twitter / Instagram.
Thanks for reading and happy baking,
Becky xxx
Oh and don't forget to pin this before you leave!