There's nothing better than a fresh fruit dessert in the summertime. Call me old fashioned, but you just can't beat an Eton mess!
Dessert in summer can be a little tricky for me. A lot of my go-to desserts don't sound half as appealing to me on a hot, stuffy day. I'm a gluten free apple crumble fresh-out-the-oven-with-hot-custard kinda gal usually. But that definitely doesn't sound as appealing when my house feels like I'm in an actual oven already! Behold Eton mess!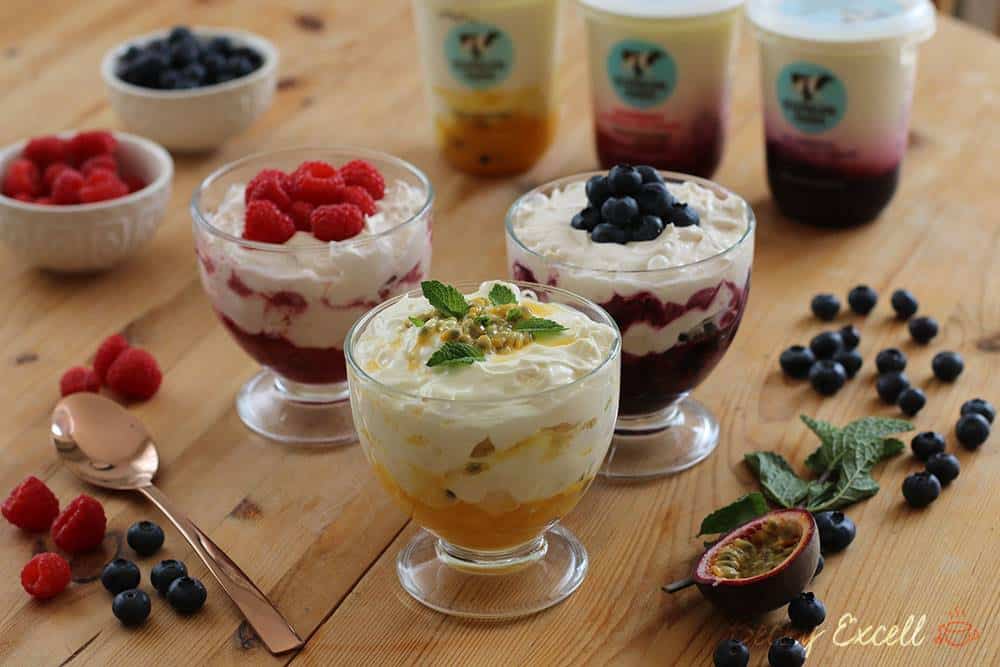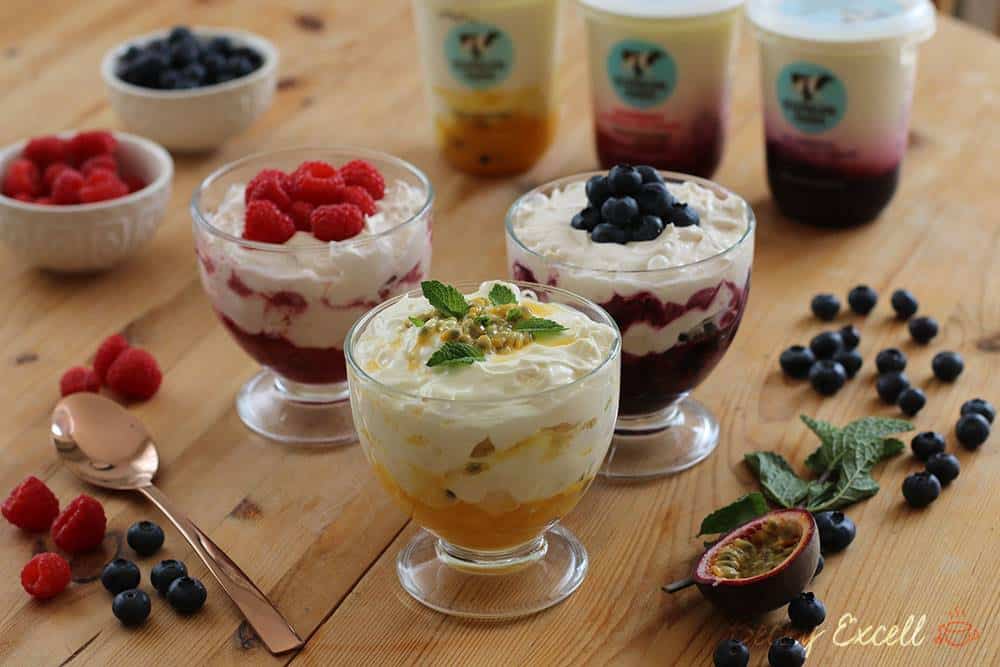 There's no denying that an Eton mess just has that light, cooling appeal that's just so simple to put together, yet with show-stopping results. It's my go-to summer dessert without a doubt for when family come to visit. I often lay all of the ingredients out on the dinner table and let my guests assemble their own Eton mess. It's so much fun and gets everyone of all ages involved!
Myself and Mark have really got into going berry picking this summer, namely fresh raspberries and blueberries. For me, nothing says British summertime more than freshly picked berries! So the fact that you can cram an Eton mess with tons of seasonal berries only further heightens its summertime appeal. But I couldn't just stop there, I went beyond British summertime and landed in tropical territory! To finish my trio, I created a tropical Eton Mess with fresh pineapple and passion-fruit too. Any one of these three variations is just pure sunshine in a dessert bowl for me!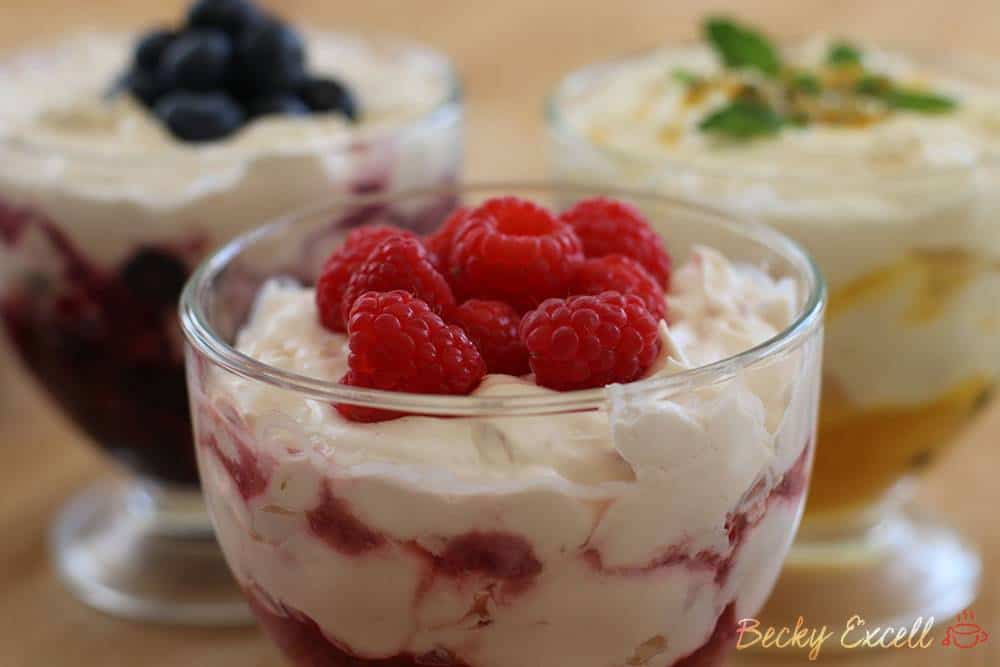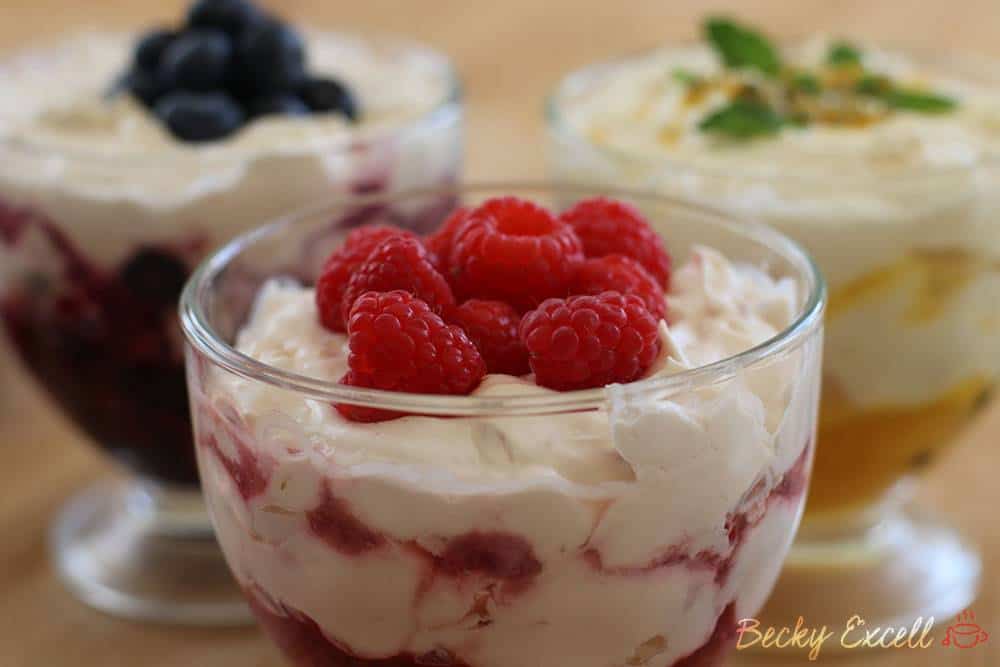 The inspiration for my trio of Eton Mess came directly from Glenilen Farm's wonderful natural live yoghurt with fruit compote. I'd seen them in Whole Foods in Kensington earlier this week and I just thought they looked so incredibly fresh and vibrant in the chiller. The colours were so bright and contrasting, yet looked so natural simultaneously. So of course, when they got in touch and asked me to create a recipe for them, I couldn't say no!
As the Glenilen Farm yoghurts just looked so attractive sitting all in a row in Whole Foods, I tried to preserve their fruity visual appeal in the appearance of my Eton mess trio. Did I do a good job?! If you're serving these up to guests, I'd highly recommend serving them up in some sort of glass dessert bowl where you can see each layer in all their glory. The layers you create in an Eton mess are just too good to hide!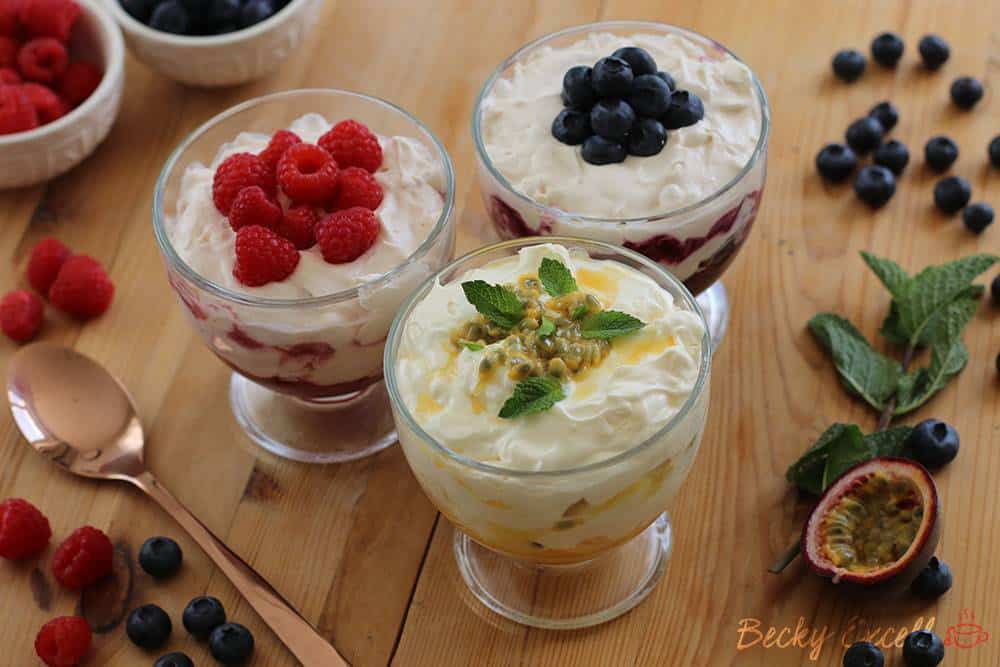 My Eton mess recipe works with all kinds of fruit, so I've made it 3 different ways. A raspberry Eton mess, a blueberry Eton mess and a tropical Eton mess. Take your pick! Making your own meringue isn't integral to this recipe but it's really fun if you've got the time to do so. There's nothing like seeing fluffy cloud turn into a majestic meringue, right in front of your eyes!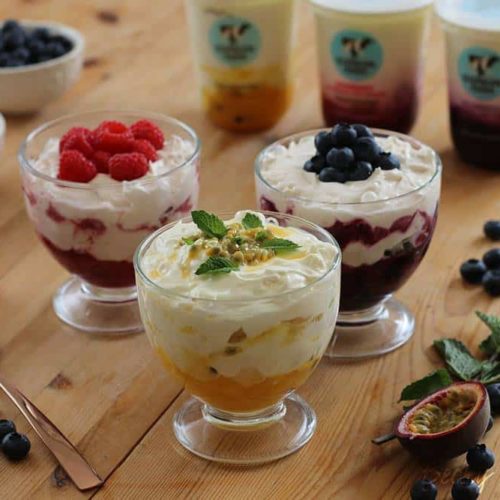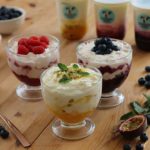 Eton Mess - Raspberry, Blueberry and Tropical
My Eton Mess recipe is simple and delicious. I use yoghurt as well as cream to give an amazing flavour. Raspberry, blueberry and tropical Eton mess, take your pick!
Ingredients
175g golden caster sugar

if making the meringue

3 large egg whites

if making the meringue

readymade meringues

if you aren't making your own

300ml double cream

fresh raspberries

for the raspberry Eton mess!

fresh blueberries

for the blueberry Eton mess!

fresh passionfruit

for the tropical Eton mess!

fresh pineapple

for the tropical Eton mess!

fresh mint leaves

for the tropical Eton mess!

Glenilen Farm Raspberry and Natural Live Yoghurt

Glenilen Farm Blueberry and Natural Live Yoghurt

Glenilen Farm Mango & Passionfruit and Natural Live Yoghurt
Instructions
You can use ready made meringues if you wish. However if you want to make your own, preheat the oven to 140c.

Whisk your egg whites until soft peaks form.

Gradually, add your caster sugar one tablespoon at a time, keep whisking.

Keep whisking until you have stiff glossy peaks.

Spoon your mixture onto baking paper on a baking sheet, leaving a gap between each spoonful.

Bake in the centre of your oven for 1 hour, then turn your oven off and leave to cool completely with the door slightly open. Leave for as long as you can (overnight is ideal, but not essential, just until cold)

You can now gently crush your meringue into pieces ready for assembling your Eton mess.

Next separate your yoghurt and compote and add your a few tablespoons of the compote to the bottom of your dessert dish.

Whip your double cream until it thickens slightly, but don't overwhip.

Stir in a few tablespoons of your natural yoghurt to the cream.

Mix in some of your crushed meringue to the cream. Now your ready to continue layering.

Add a layer of your fresh fruit on top of the compote. (Raspberry for raspberry, blueberry for blueberry and pineapple for tropical!)

Add a little crushed meringue on top of the fruit.

Spoon over your cream, yoghurt and meringue mixture. Pause half way and drizzle a little compote and add a few additional pieces of fresh fruit.

Spoon over the rest of your cream, yoghurt and meringue mixture.

Top with fresh fruit. (For my tropical Eton mess I used fresh passionfruit and a few mint leaves.

Keep refrigerated until serving. Best served straight away.
Notes
This recipe shows you how to make all 3 Eton mess flavours.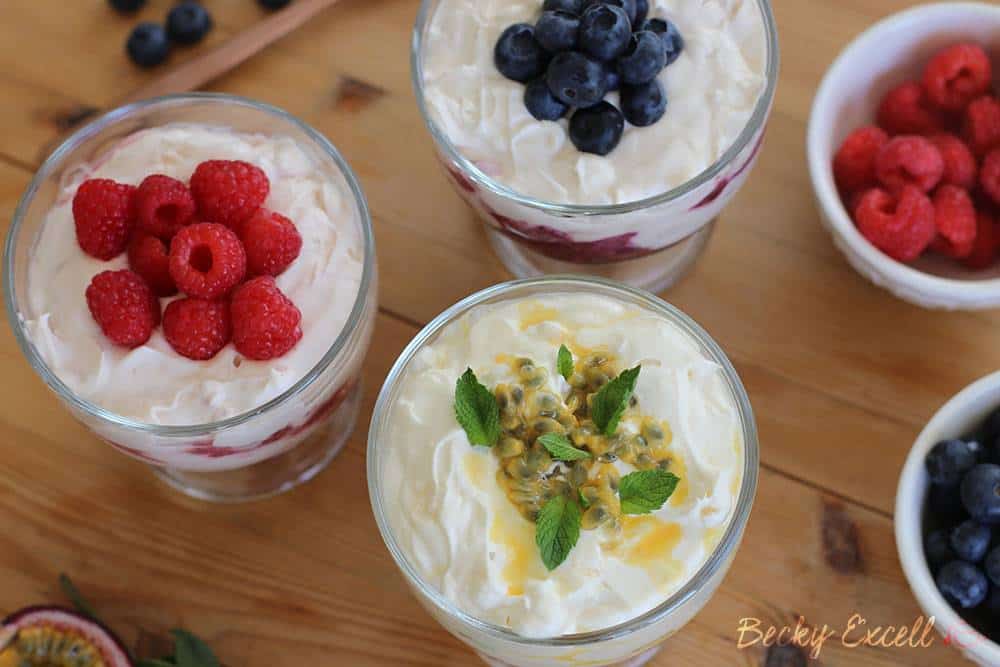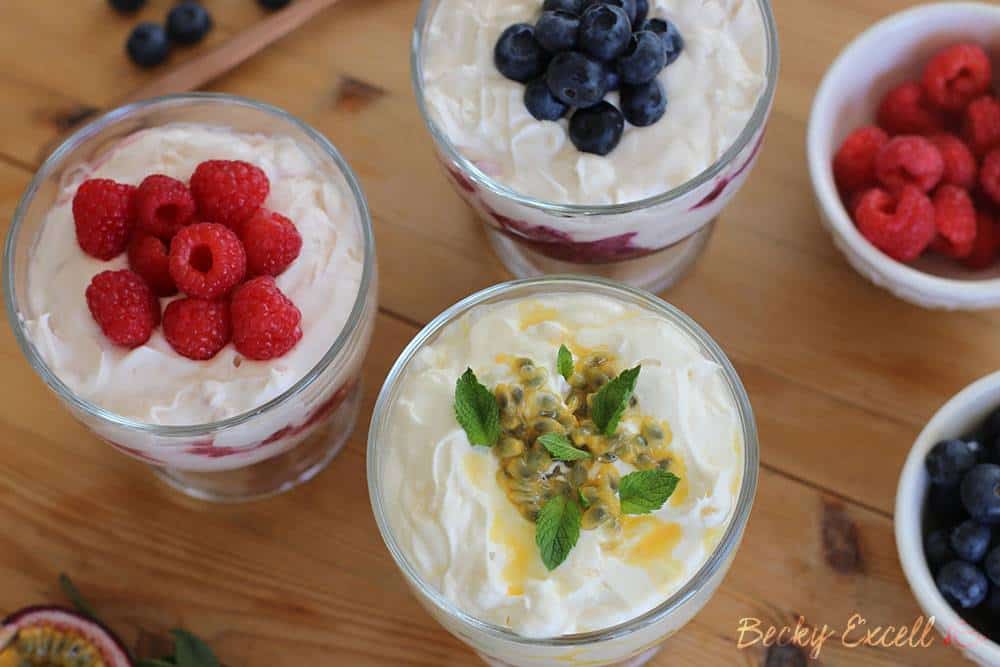 See? Super simple, yet it looks great, tastes great and it's just the perfect dessert on a summer's eve. The Glenilen Farm yoghurt is so intense and thick and works absolutely beautifully when whisked into double cream. The fresh fruit and the compote from the yoghurt is a match made in heaven and the crunch of the freshly baked meringue is out of this world.
It's just an added bonus that natural live yoghurt like Glenilen Farm's yoghurt is packed full of good bacteria that's essential for my often poorly stomach! Any natural source of probiotics gets the thumbs up from me, especially when it tastes this good.
As I mentioned you can grab Glenilen Farm yoghurts in Whole Foods, but also on Ocado and in Waitrose and Sainsbury's.
What's your favourite twist on an Eton mess? I absolutely love the addition of fresh fruit compote and natural live yoghurt as a subtle spin on a traditional Eton mess. What's your favourite summertime dessert? Let me know by leaving a comment below or by getting in touch on Facebook or Twitter.
Thanks for reading,
Becky xxx
This post is sponsored by Glenilen Farm.

Oh, and don't forget to pin this before you leave!