I feel like too often us gluten free folk miss out on cheesecake, so I thought I would put a stop to that and come up with my very own recipe. These mini gluten free blueberry cheesecakes has a delicious oat base which you won't be able to get enough of!
In my opinion cheesecake is the ultimate dessert. It always has been and it always will be. I used to always order cheesecake as a dessert at restaurants and at Christmas we would have a selection of cheesecakes after our main. However, since going gluten free the amount of cheesecake I have eaten has dropped dramatically. Yes there are gluten free cheesecakes (very) occasionally available when eating out but certainly not enough for my liking. Once upon a time I was actually offered a gluten free cheesecake and ended up being served the top of a cheesecake in a bowl whilst everyone else got a proper dessert. I was not impressed. I guess I'll be making my own then!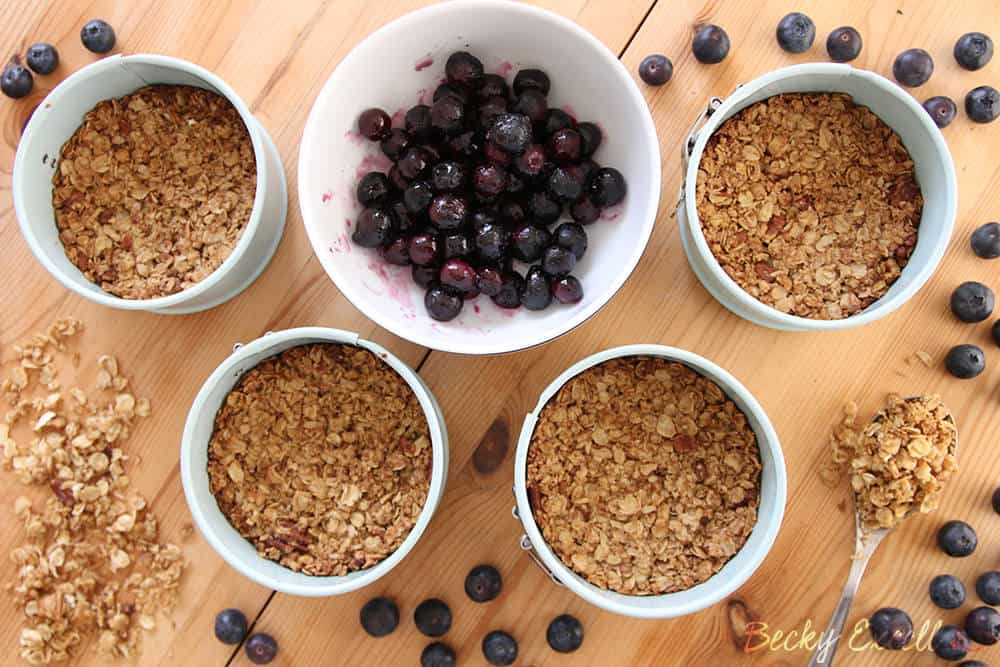 For me a cheesecake has to be rich and indulgent, as well as being gluten free. Obviously when I make a gluten free cheesecake the most important thing is the base – I've been scarred for life by being served just cheesecake topping without a base. Instead of opting for that very standard biscuit base, my base of choice is one made from gluten free oats – it's almost flapjack like. I've always been a massive fan of oats and am trying more and more to incorporate gluten free oats into my diet – I used to eat porridge all the time! I've only more recently realised though that gluten free oats can be used in so many different ways to enhance recipes – think beyond the porridge bowl I say!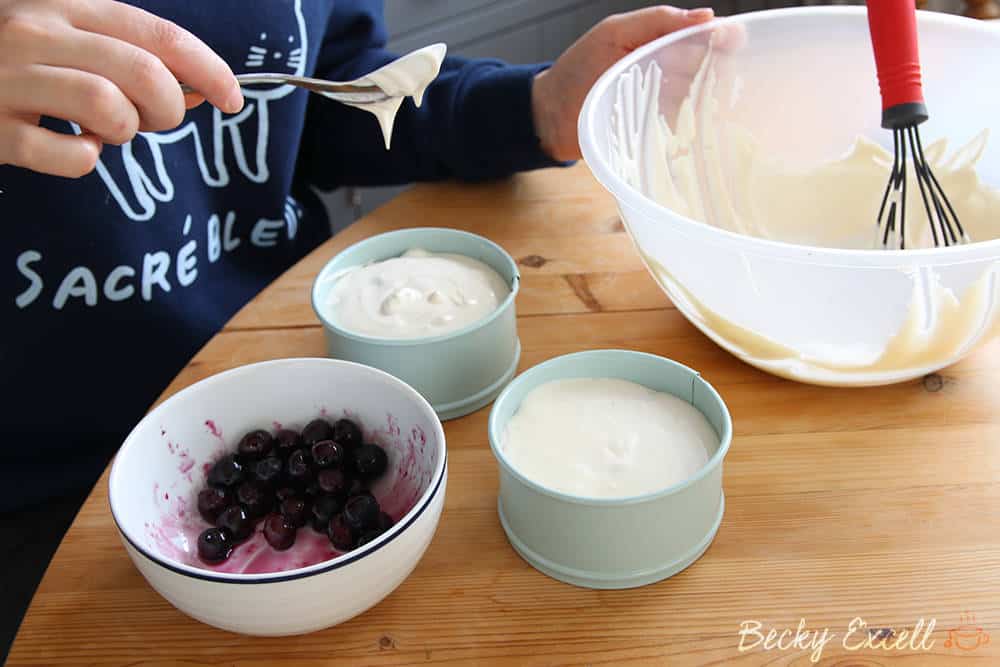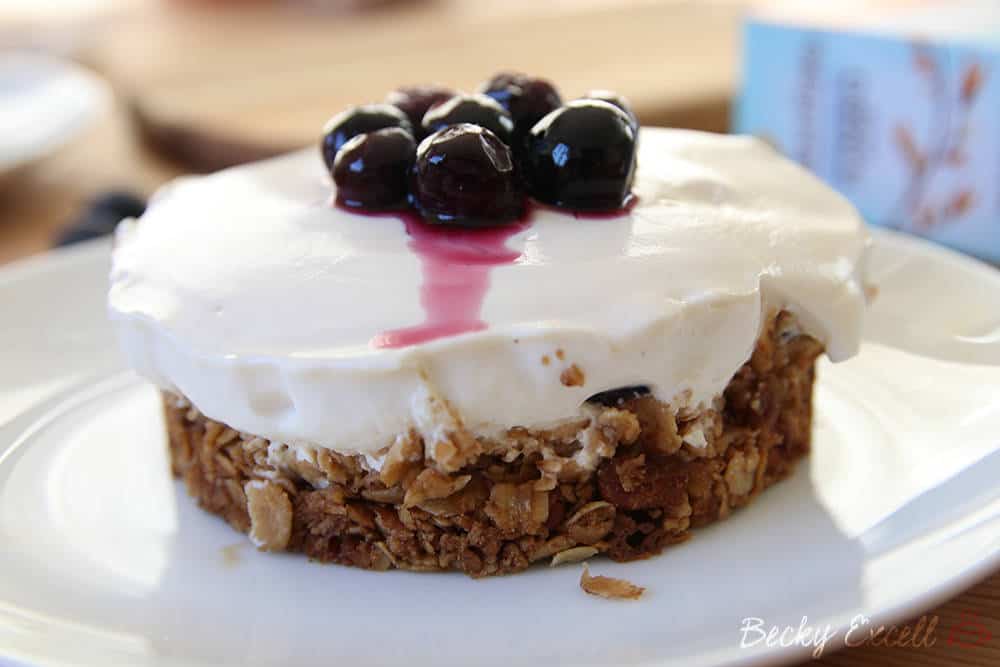 You know a good cheesecake base when it tastes amazing on it's own and this base certainly does. However with the cheesecake topping it really is the ticket. I made my cheesecake topping from lactose free ingredients (lactose free cream cheese and lactose free cream), but you could certainly use dairy free ingredients too (I've tried soya based cream cheeses which work very well).
I'm a fruity cheesecake kind of girl, I've never been into chocolate cheesecakes, for me you cannot beat fruit to keep it fresh, light and simple. Blueberries work really well in a cheesecake, I love mixing them into the cheesecake topping and then each mouthful is enhanced by a surprise burst of blueberry flavour.
Oh & one final thing before I unleash my delicious gluten free blueberry cheesecake recipe onto you is that this is a no bake cheesecake. I have been brought up with no bake cheesecakes. I've only tried a baked cheesecake a handful of times and although they taste pretty darn good… nothing beats a no bake cheesecake in my opinion. What do you think?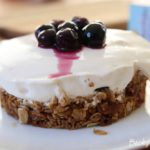 Mini Blueberry Cheesecakes (Gluten Free & Lactose Free)
Ingredients
For the base
210g gluten free oats

60g pecan nuts

finely chopped

85g brown sugar

75g hard margarine

melted (I use Stork which is both lactose and dairy free)

1 tsp ground ginger
For the cheesecake topping
600g lactose free cream cheese

250ml lactose free cream

the thicker the better, though I end up just using single!

3 tbsp lemon juice

100g icing sugar

150g blueberries

40g caster sugar

additional fresh blueberries for topping
Instructions
Preheat your oven to 180C

Combine all your ingredients for the base and mix well.

Firmly press down your mix into your spring form tins. I like mine to be a really thick base, around 3cm.

Bake in the oven for about 15 minutes, until golden. Then allow to completely cool.

Whilst your bases are cooling you can start on your cheesecake topping. Firstly the blueberries, place caster sugar and 1.5 tbsp on water in a saucepan. Allow the sugar to dissolve and then add your blueberries for a couple of minutes to simmer.

Strain your blueberries and allow to cool completely before using.

Thoroughly mix together your cream cheese, cream, lemon juice and icing sugar.

Stir in your completely cool blueberries (you don't have to heat up your blueberries if you don't want to - you could just use fresh ripe blueberries here).

Spoon your mixture over the bases and chill in the fridge, the top should be firm when you remove it (overnight is ideal).

Just before serving, remove from fridge and carefully release the cheesecakes from their tins. Optionally you can add some fresh blueberries to finish.

Eat straight away, enjoy!
Recipe Notes
You will also need 4 mini circular spring form tins.
So there you have it, my gluten free and lactose free mini blueberry cheesecake recipe! Honestly if you haven't tried an oat based cheesecake, this recipe will make you wonder why you haven't. Plus it's so simple to make! Everyone has oats in their cupboard because they are so versatile and this just shows off another string to the humble oat's bow. If you have made an oat based cheesecake before I'd love to hear from you, I'm sure there are loads of ways to do it, so any other recipe suggestions would be much appreciated.. I'd love to make a baked cheesecake with an oaty base as well… I feel like I just need more cheesecake in my life! I also was just thinking how this oat base would actually be the perfect base for so many other desserts too… banoffee pie for example, give it a try.. or I will!
Anyway please let me know if you do try my mini blueberry cheesecake recipe out. Just drop a comment below or on Facebook, Twitter or Instagram.
Thanks for reading,
Becky xxx
Comments