So many of you have asked me to create more recipes based around lunch and brunch ideas, so here's one of my all time faves: Welsh Rarebit with Parma Ham using Newburn Bakehouse by Warburton's white sourdough artisan cob.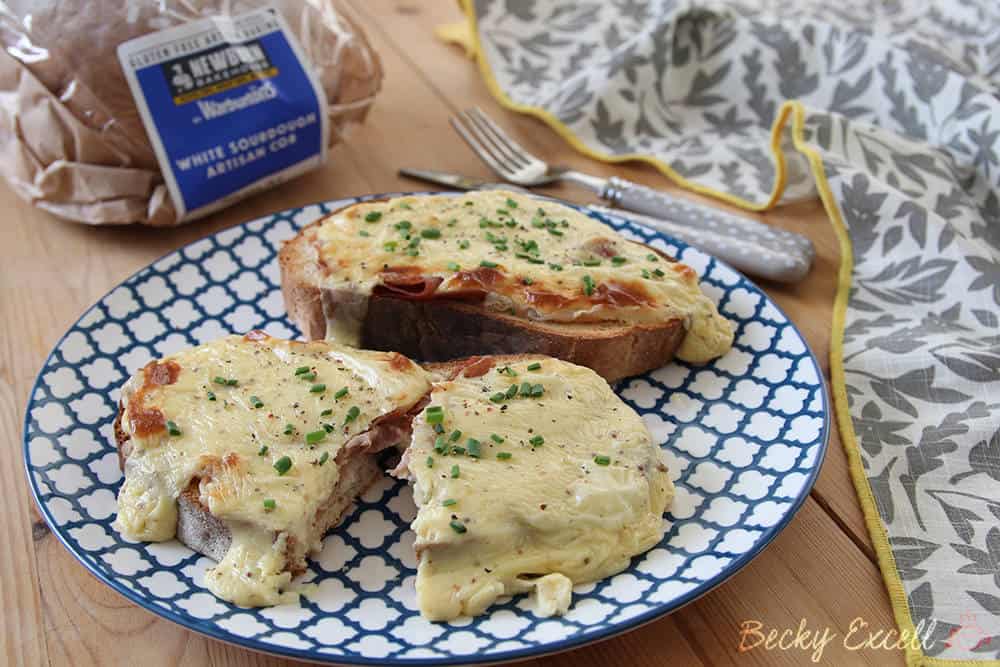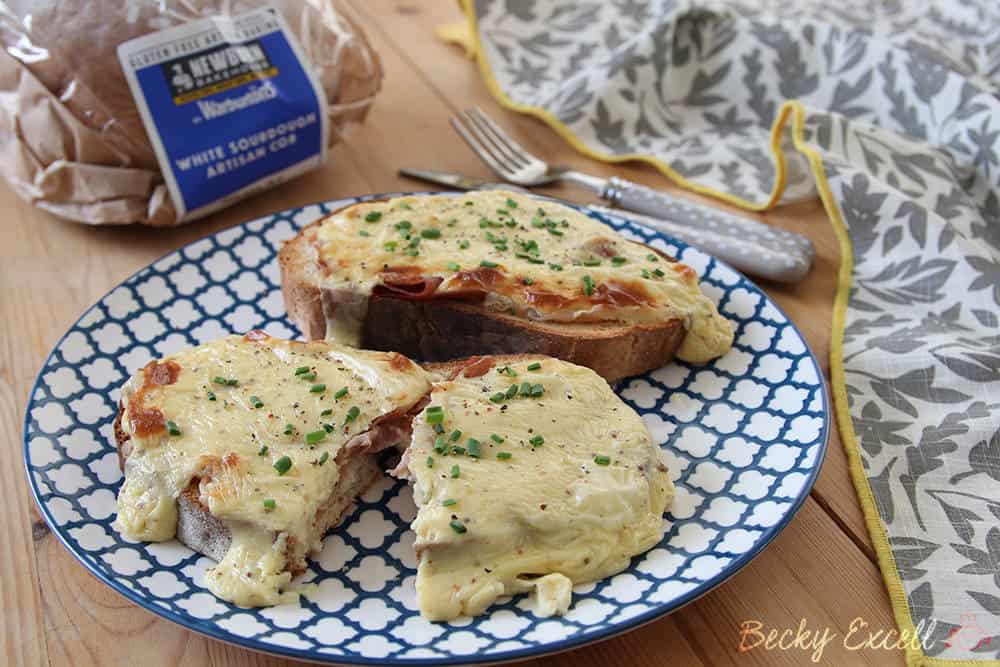 If you're not familiar with Welsh Rarebit, it's as iconic to Wales as Haggis is to Scotland. Take two fresh slices of bread, lightly grill them, and top with a wonderful warm layer of oozing, hot cheese sauce. It's such a simplistic dish that has so much to give and I've even added a few twists of my own to the Welsh classic. Not only that, but it's also gluten free and lactose free!
When it comes to gluten free bread, Newburn Bakehouse goes the extra mile to produce something special and a little bit out of the ordinary. Also, everything is produced in a dedicated 100% gluten free, wheat free and milk free bakery near Newcastle and each loaf is hand finished. It's hard to find the kind of passion and innovation that Newburn Bakehouse has when it comes to gluten free bread and it undoubtedly shines through in every loaf I've ever bought. That's why I was so over the moon when Newburn Bakehouse got in contact and offered me the chance to try their latest loaf, the white sourdough artisan cob.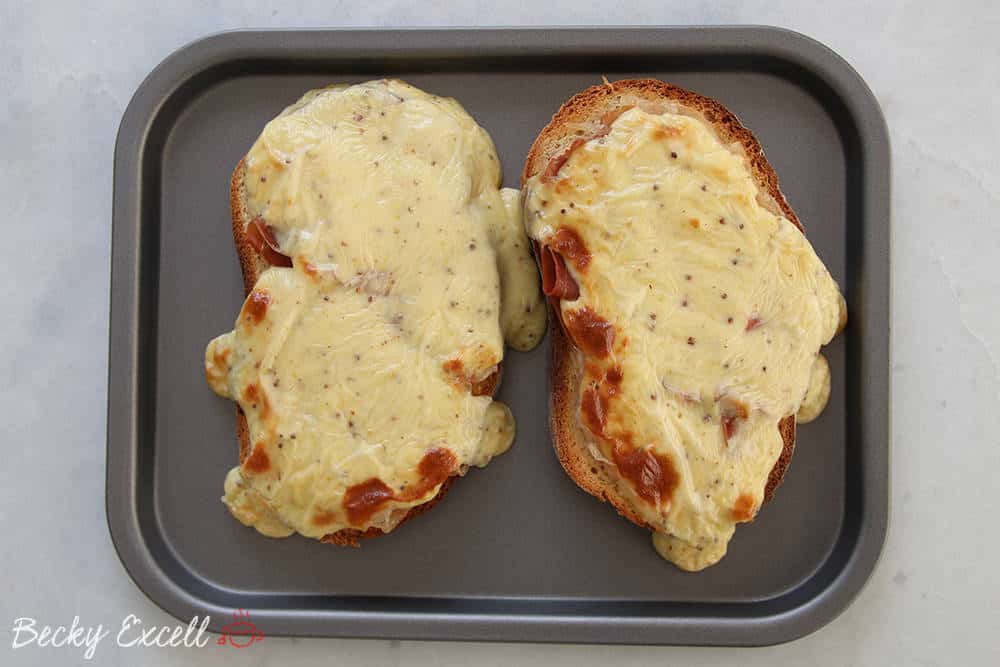 It comes unsliced which is a luxury you don't often get with gluten free bread. Not only does this help to keep the whole loaf fresh, but it also allows you to be able to create lovely, thick slices when needed, like with my Welsh Rarebit. The white sourdough cob toasts like an absolute dream and for sandwiches, the texture inside is so incredibly light and fluffy. It's so easy to forget sometimes that this is actually gluten free bread. I think we're all quite predisposed to dry, crumbly bread that's about 30% smaller than a normal loaf… that's why it's so refreshing to see Newburn Bakehouse fly the flag for better gluten free bread.
Making Welsh Rarebit is so simple and making it gluten free and lactose free is just as simple and quick too. It's literally a matter of finding the gluten free loaf of your life (sorry, I'll go easy on the bread puns) and having a little gluten free plain flour on hand. I used lactose free cheese so Mark could enjoy it too and he totally loved the bread as much as his usual Warburtons loaf! We're obsessed with parma ham and prosciutto too and we think that it compliments the classic Welsh Rarebit cheese sauce so incredibly well. It's not mandatory, but it definitely is magnificent!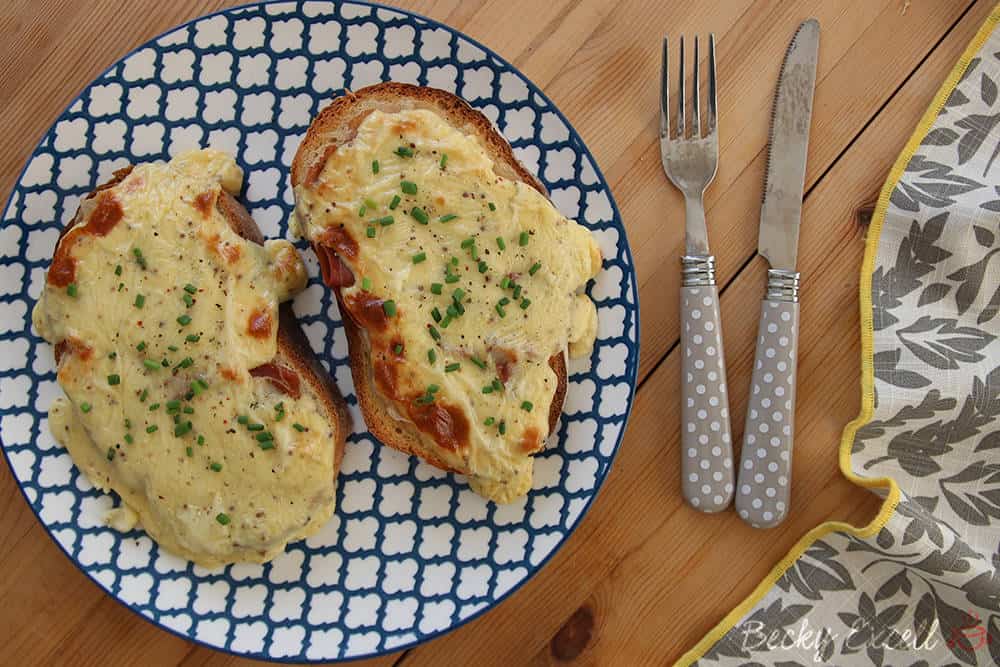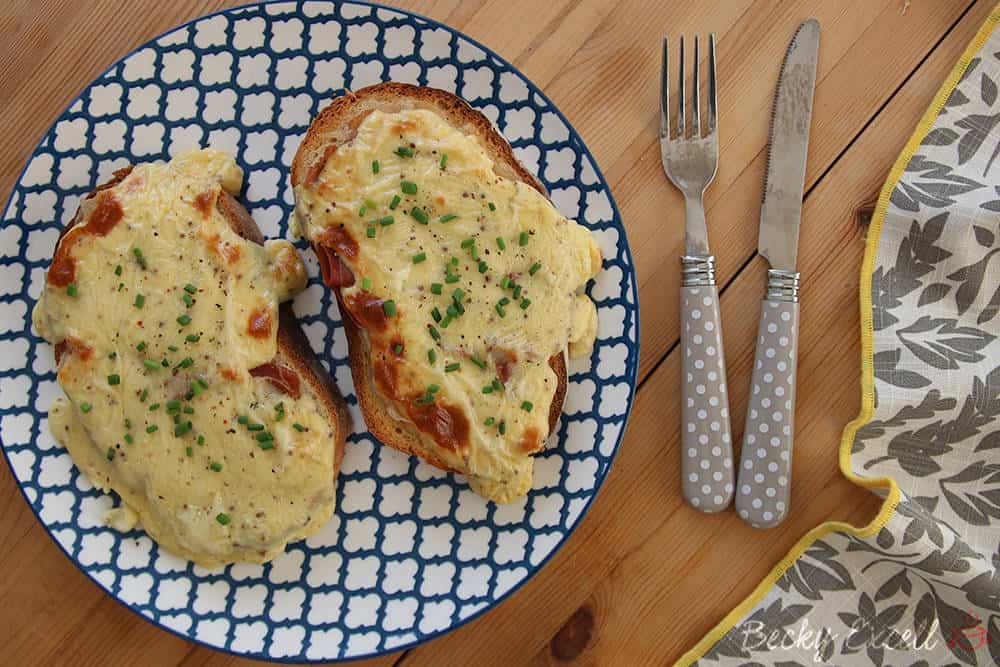 Here's a few tips for making the perfect gluten free and lactose free Welsh Rarebit: as I said, make sure you slice your bread nice and thick. That's why I couldn't go for anything other than a Newburn Bakehouse artisan loaf too. It helps to avoid the bread losing its initial toastiness (and going soggy) by preventing it from absorbing too much cheese sauce. Secondly, once your gluten free bread is toasted and your cheese sauce is added, make sure you put it under the grill for a further few minutes and allow the cheese to brown a little. Trust me, you'll thank me later!
Finally, a few fresh chives work wonders as a finishing touch. Cheese and onion is one of my favourite flavour combinations and the chives give you exactly that! If you're veggie, feel free to leave out the parma ham, or I'd recommend a few sauteed mushrooms on top too. That's why I love simple dishes like Welsh Rarebit, they're so easy to adapt and transform into amazing variations that suit everyone! Anyway, without further ado, let's get to the recipe…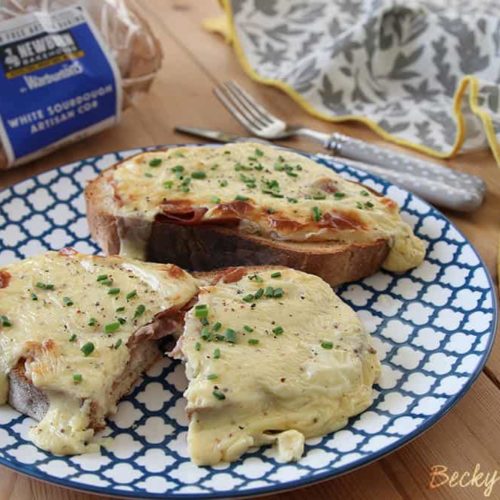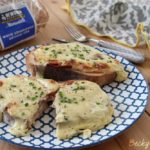 Gluten Free Welsh Rarebit with Palma Ham (Lactose Free)
Ingredients
2 - 3 thick slices of gluten free bread

I use Newburn Bakehouse White Sourdough Artisan Cob

10g lactose free spread

10g gluten free plain flour

60ml lactose free milk

110g lactose free cheese

1/2 tbsp wholegrain mustard

1 medium egg

1 packet of Parma ham slices

Fresh chives

chopped

Salt & pepper
Instructions
Thickly slice a couple of slices of your gluten free bread.

Grill lightly on both sides, until golden. (Unless you have a massively wide toaster... then you can toast them!)

To make the cheese sauce, firstly melt your spread over a low heat.

Add your gluten free flour and mix in for just under 1 minute.

Remove the pan from the heat and gradually add the milk, continuously stirring until smooth.

Return your pan to the heat to boil for 1 minute and stir in your mustard and cheese.

Remove from the heat and mix in your beaten egg. Keep mixing as eventually it will turn into a delicious cheesey sauce!

Layer your Parma ham onto your golden bread and top with your cheese sauce mixture.

Place of a baking tray and grill until your cheese starts to brown slightly.

Sprinkle on some freshly chopped chives.

Season with salt and pepper.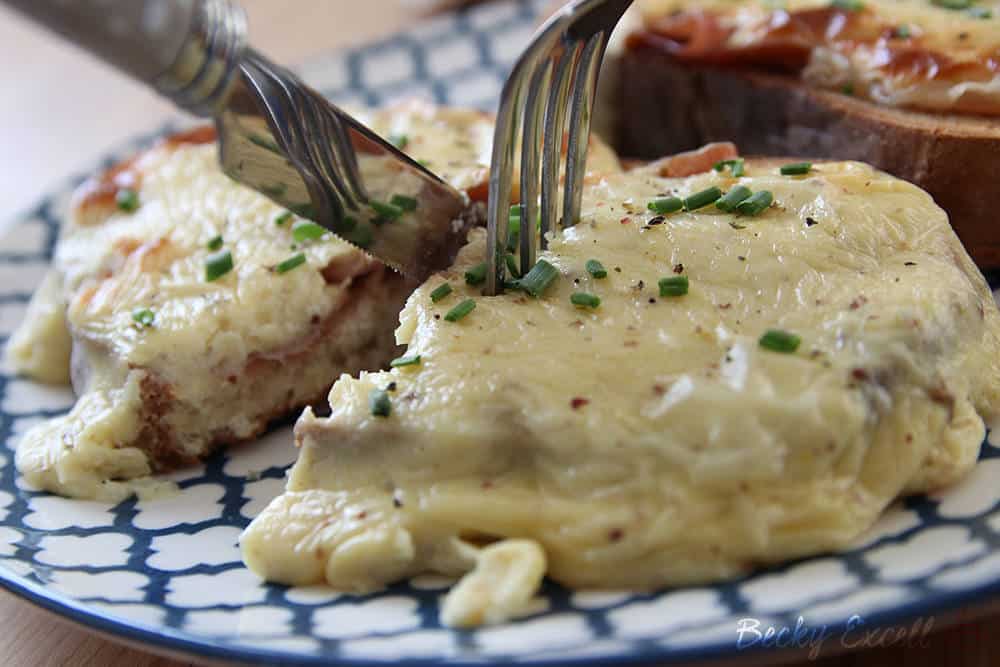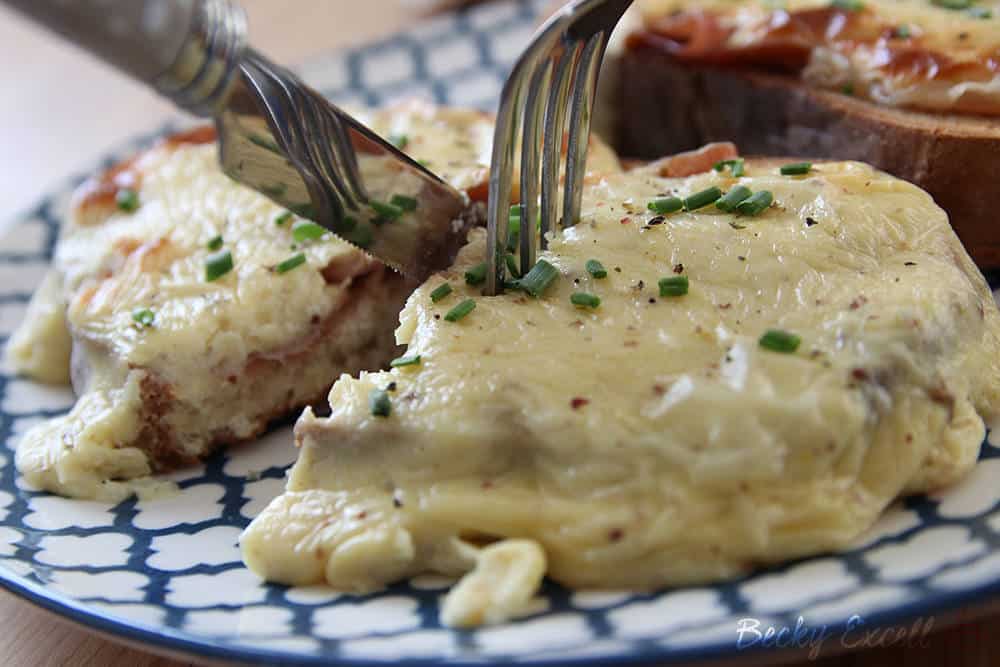 So that's it for my gluten free and lactose Welsh Rarebit recipe using the Newburn Bakehouse white sourdough artisan cob! It's one of our favourite go to meals for brunch or lunch and on days where I've eaten out for a big lunch, this is my ideal dinner. I think Mark and I both thought that Welsh Rarebit would be off the menu forever, but it's easy to forget that you can adapt anything to be allergen friendly if you put your mind to it!
If you tried my Welsh Rarebit recipe, then please let me know what you thought by leaving me a comment below! What's your favourite loaf by Newburn Bakehouse? If you haven't tried the white sourdough artisan cob, then give it a go and let me know! You can also get in touch on Facebook or Twitter if you've got any questions, or even if you just want to let me know your thoughts on what makes the perfect Welsh Rarebit.
The full Newburn Bakehouse Artisan range consists of:
Classic White Artisan Loaf
White Sourdough Artisan Cob
Seeded Sourdough Artisan Boule
Breakfast Artisan Cob
Artisan Tiger Loaf
Thanks for reading,
Becky xxx
This is a sponsored post in partnership with Newburn Bakehouse by Warburtons.
Oh and don't forget to pin this before you leave!