Gluten free ferrero rocher are something I could never of dreamed of… so I decided to make my own! They are so easy and simple to make and don't even require an oven. (Oh, and they are also dairy free and vegan too!)
Something I have missed SO much over the past few years has definitely been Ferrero Rocher. When I was younger my parents would buy some at Christmas time and tell us they wouldn't be opened until Christmas Day. I would search for them & if I ever found out where they hid them I would sneak one or two (thinking they wouldn't notice!). Basically Ferrero Rocher are just the ultimate treat and such a delicious childhood memory of mine. So I couldn't help but attempt to make my very own gluten free ferrero rocher recipe (I also made them be dairy free & vegan ferrero rocher) & I must say I believe it turned out pretty darn awesome!
This recipe is super simple to create and for Mark & I (both of who can no longer eat ferrero rocher) it's perfect. Dairy free ferrero rocher and gluten free ferrero rocher all in one? Yes please.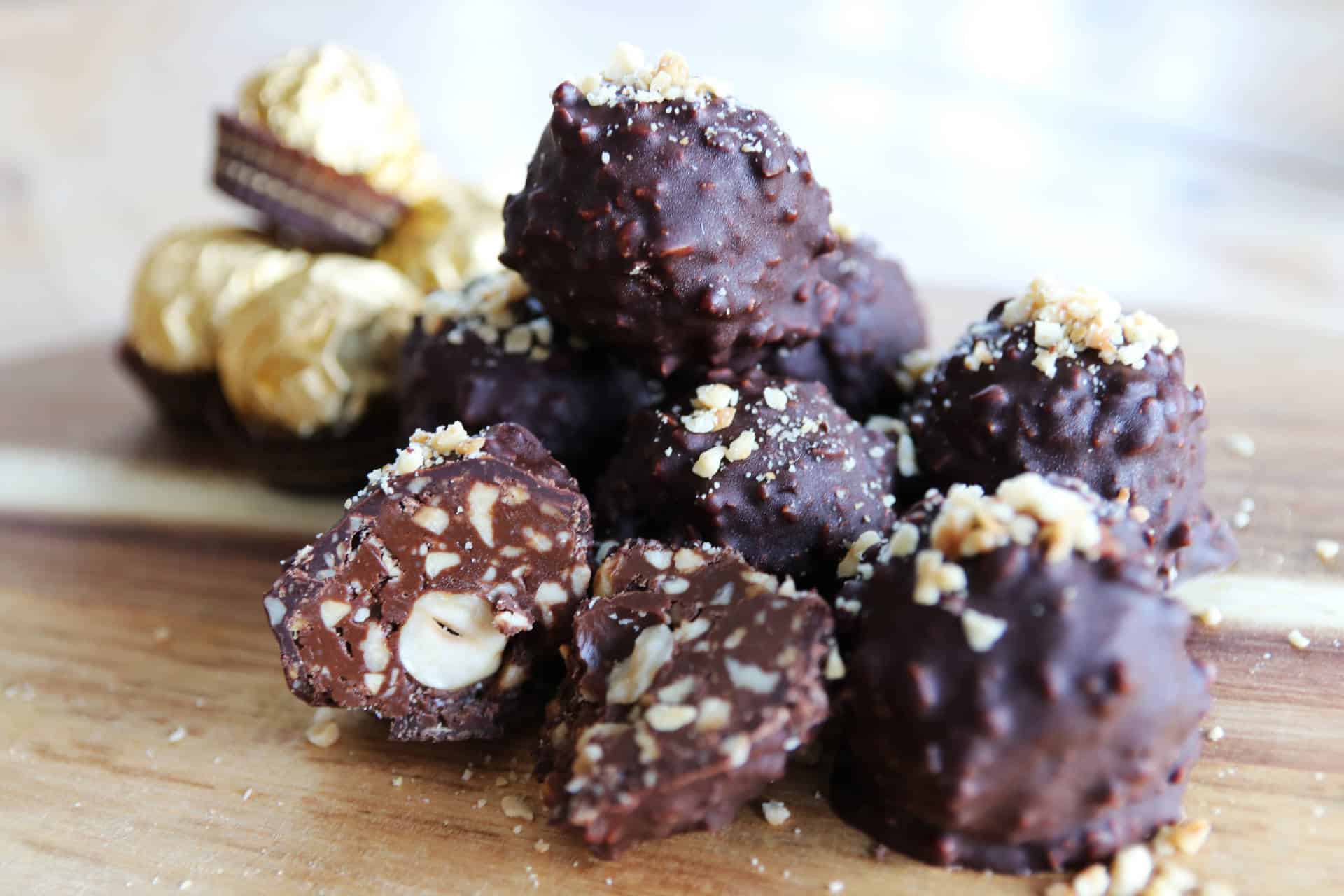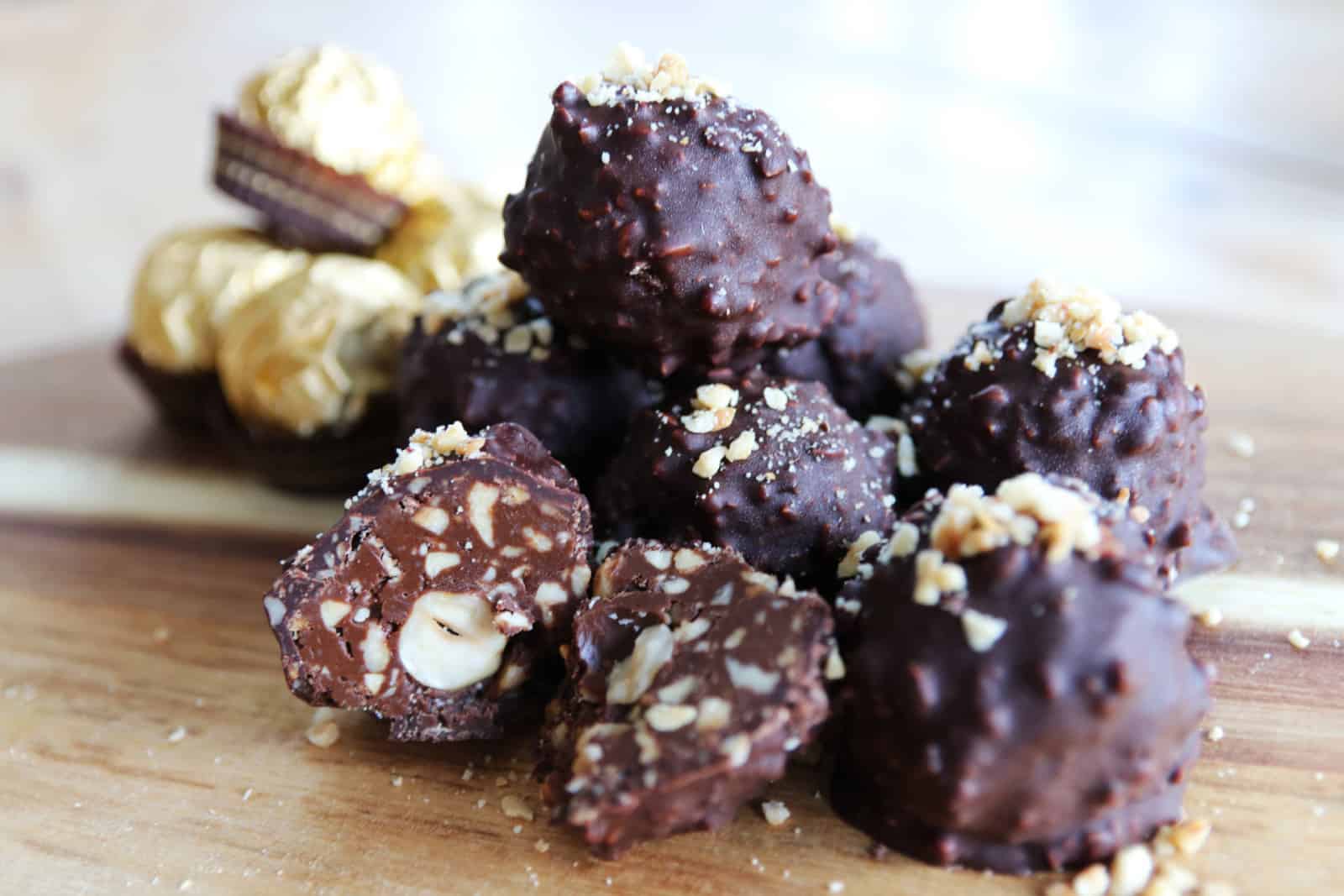 There are very few ingredients involved in this recipe and I swear down these are actually better than your standard ferrero rocher. If you want to make these gluten free ferrero rocher exactly like mine then I recommend using my gluten free, dairy free, healthy vegan nutella recipe with it as well. Click here if you want to check it out, it only has a handful of ingredients, tastes 100 times better than regular nutella and is entirely refined sugar free. It's perfect on toast, with other desserts or just off the spoon too! If you don't have a chance to create homemade vegan nutella, no worries though, this recipe will work just fine with any chocolate spread that you are able to eat (for us it needs to be gluten free & dairy free – make sure you check all the ingredients if you do use shop bought).
For me these are best served chilled from the fridge, they can be enjoyed anytime of day just like a regular ferrero rocher. I imagine they'd look great on a table as an after dinner treat. Anyway lets stop the waffle and show you this super amazing vegan, dairy free & gluten free ferrero rocher. I love them, I hope you will too.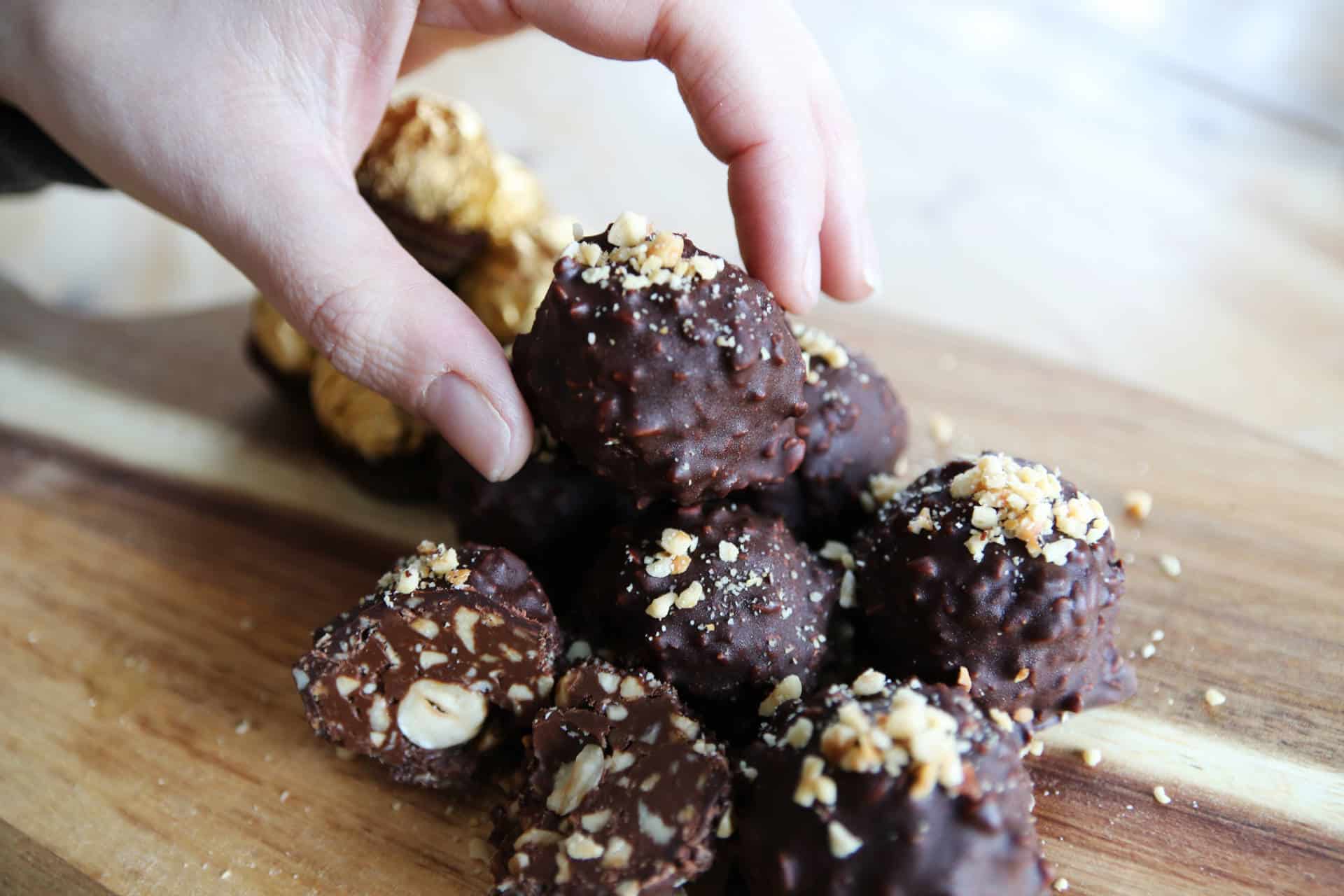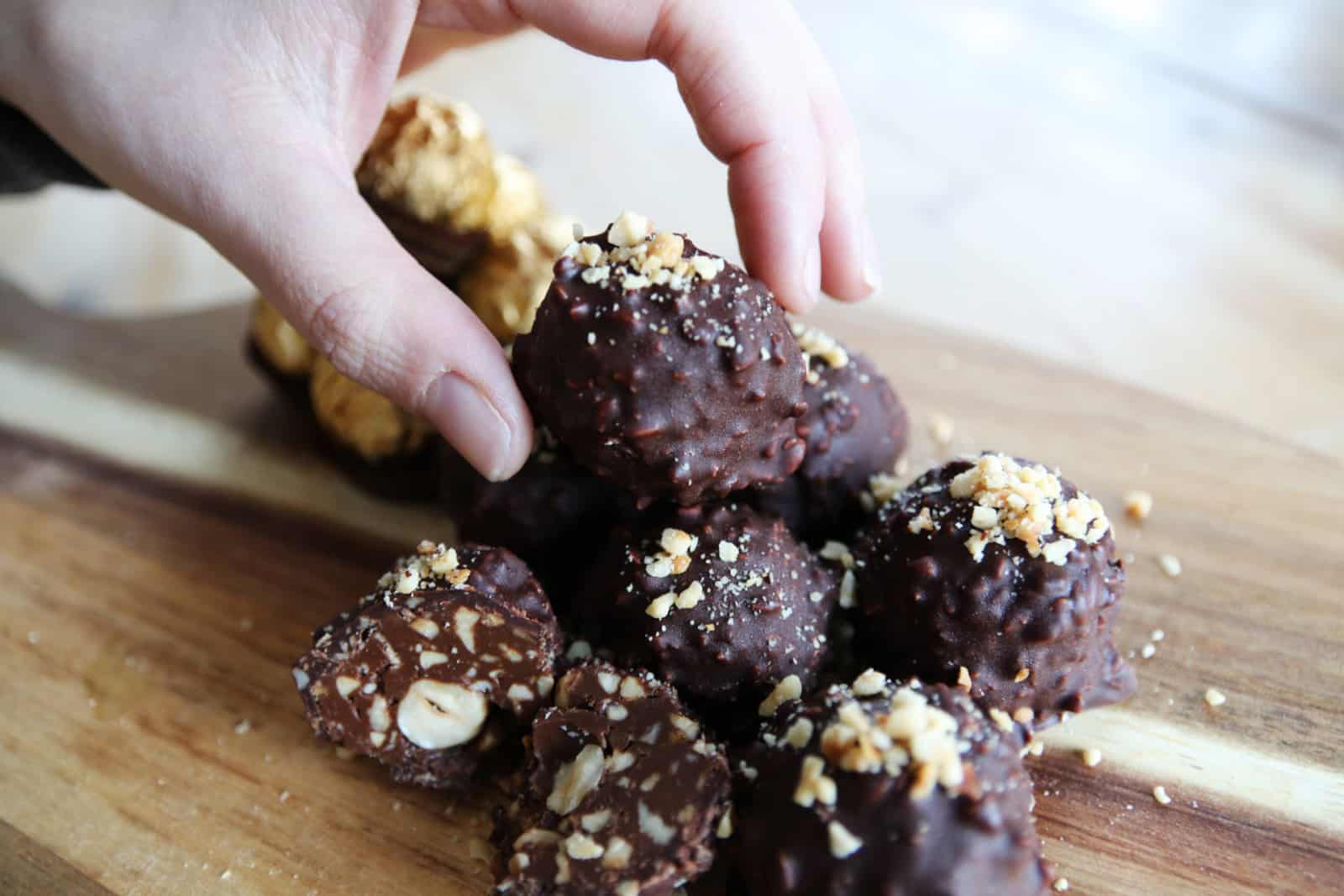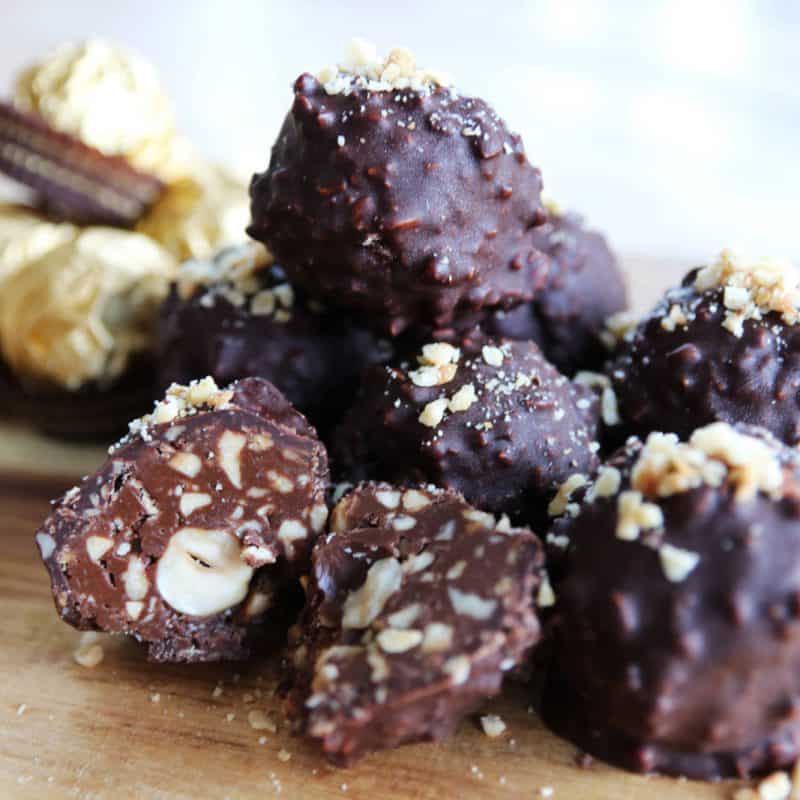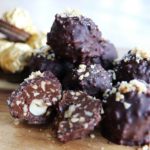 Gluten Free Ferrero Rocher (Dairy Free & Vegan)
Ingredients
5 tbsp free from chocolate spread

you can use my homemade healthy nutella recipe - link in this post

3 tbsp chopped hazelnuts

crushed further (if you use my chunky nutella recipe no need to add extra)

whole hazelnuts

gluten free wafers

to crush (I used gluten free ice cream wafer cones - you probably only need a couple)

50g chopped hazelnuts

to mix with the melted chocolate (you can add more or less measurement for this is aprox)

200g dark chocolate

to melt
Instructions
Place your chopped hazelnuts in a bag and crush further with a rolling pin.

Spoon 5 tbsp of chocolate spread into a freezer proof bowl and add around 2-3 tbsp of your chopped/crushed hazelnuts, mix very thoroughly. (If you are using my chunky, healthy, vegan chocolate spread recipe then you don't need to add additional hazelnuts as there are plenty in it!)

Place in the freezer for about 45 minutes

Bring out the freezer and allow to soften a tiny bit for around 10 minutes (so that it's more workable and not so solid).

Grab a small amount of the mixture and place a whole hazelnut in the centre. Roll the mix in your hands into a ball (your hands will get messy - make sure your hands are cold - if they get too hot, clean your hands up and cool with cold water)

Place your balls on a baking sheet and place in the freezer for around 20 - 30 minutes (until they are solid)

Whilst your balls are freezing crush up some gluten free wafer, I used gluten free ice cream cones for this (anything light like a wafer will work here).

Remove your balls from the freezer and leave for about 5 minutes.

Next, roll your balls in the gluten free wafer, it should stick really well because you left the balls out for 5 minutes. Then just put them back in the freezer whilst you do the next step.

Melt some dairy free dark chocolate in a glass dish over a saucepan of simmering water, once melted allow to cool for 5 minutes.

Add some chopped hazelnuts to the melted chocolate and mix in thoroughly.

Remove the balls once more from the freezer and coat them in the melted chocolate.

Back onto the baking sheet and leave to set in the freezer - this shouldn't take long.

When you want to eat them, they are best served chilled from the fridge rather than straight from the freezer or room temp - so keep them in the fridge!
Notes
Dairy Free, Vegan, Gluten Free & Refined Sugar Free Nutella Recipe: http://glutenfreecuppatea.co.uk/2016/12/11/recipe-homemade-crunchy-dairy-free-nutella-vegan-gluten-free-no-refined-sugar-healthy/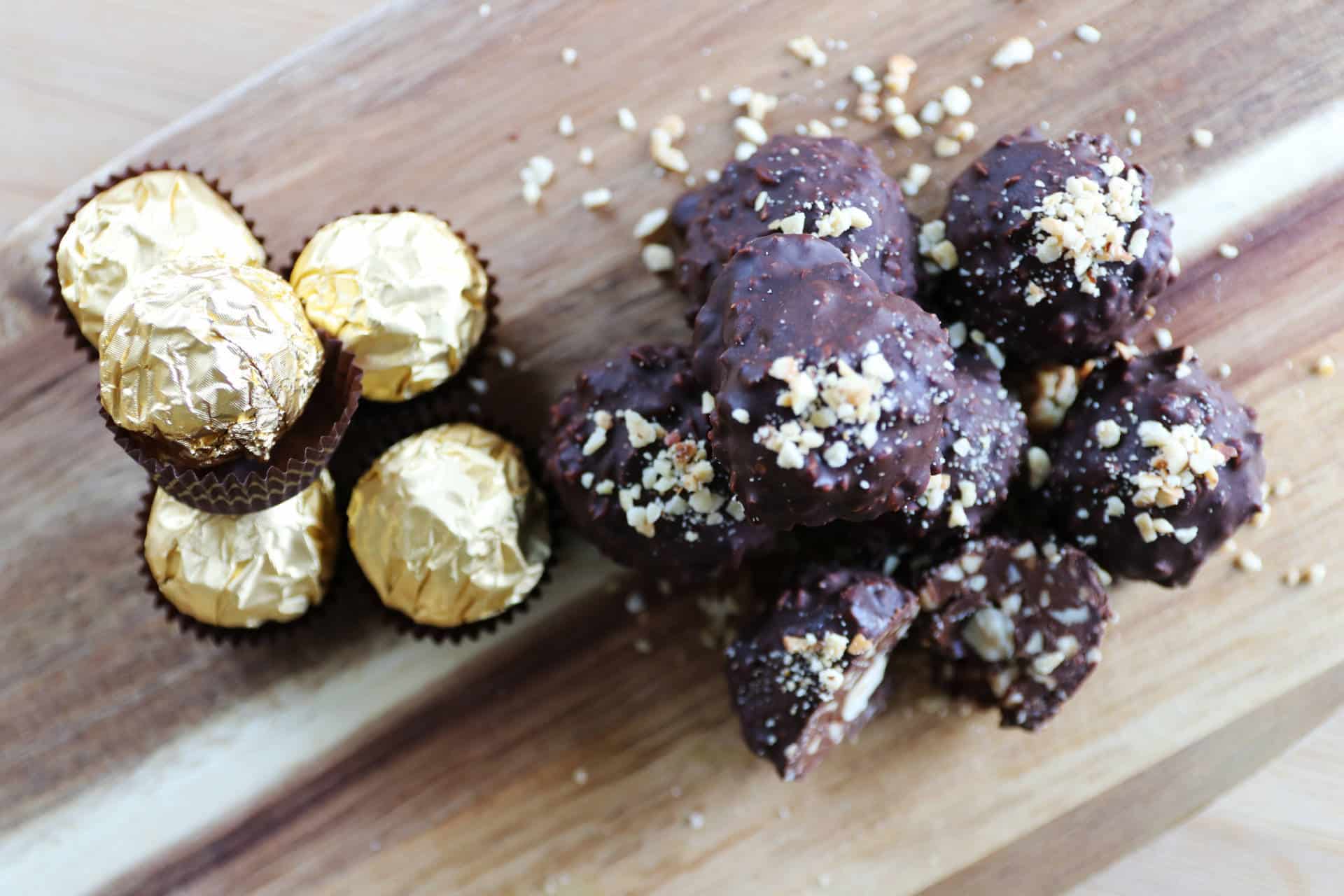 So there you have it my gluten free ferrero rocher recipe! Don't forget it's also a dairy free ferrero rocher recipe & a vegan ferrero rocher recipe! I mention that it is a lower in sugar ferrero rocher, because it is… when you make it with my healthy, vegan nutella recipe the 'nutella' contains no refined sugar, only maple syrup. I also melt a very dark chocolate which is much lower in sugar them your standard milk chocolate ferrero rocher. I guarantee everyone will love these gluten free ferrero rocher, whether you are a coeliac, gluten intolerant, vegan or can eat absolutely everything I swear down these will be a favourite!
Let me know if you give my gluten free ferrero rocher recipe a try. I'd love to see your pictures and hear what you think! Just drop me a comment below or on Facebook/Twitter.
Thanks for reading,
Becky xxx
Oh and don't forget to pin this before you leave!