What do you do when you need to quickly provide a thank you present? Or guests are coming round?! You bake! These gluten free banoffee brownies with a biscuit base were super simple to make, especially with the help of the wonderful Betty Crocker!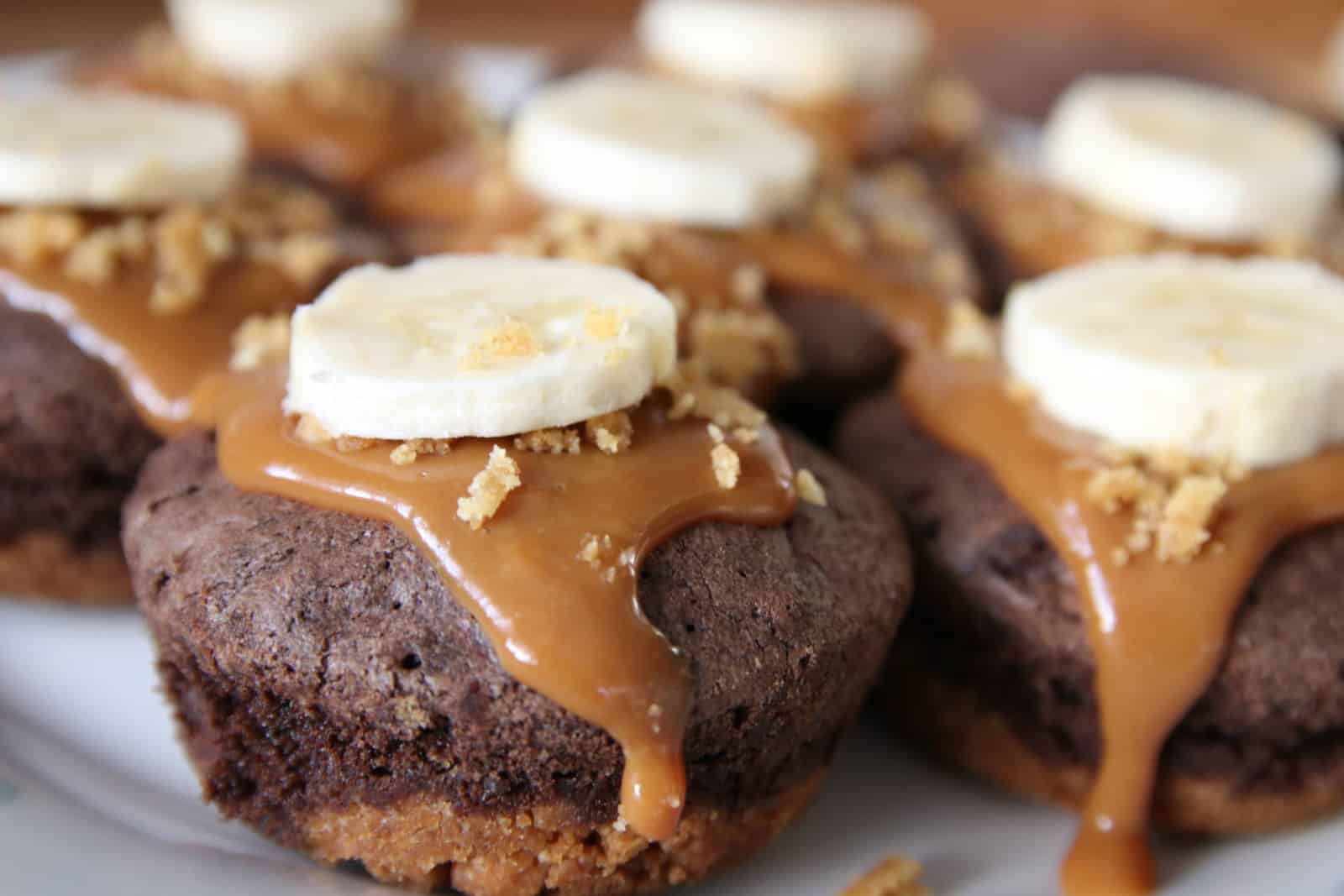 I love baking my own gluten free brownies at home. Knowing that they are a fresh, perfectly moist, gooey, chocolatey mess is exactly what I desire. Even still, a plain brownie doesn't cut it for me, and I always like to make something a little different. I'm sure you're the same, but when I bake brownies I always add or change something from the recipe. I want my gluten free brownies to be the ultimate.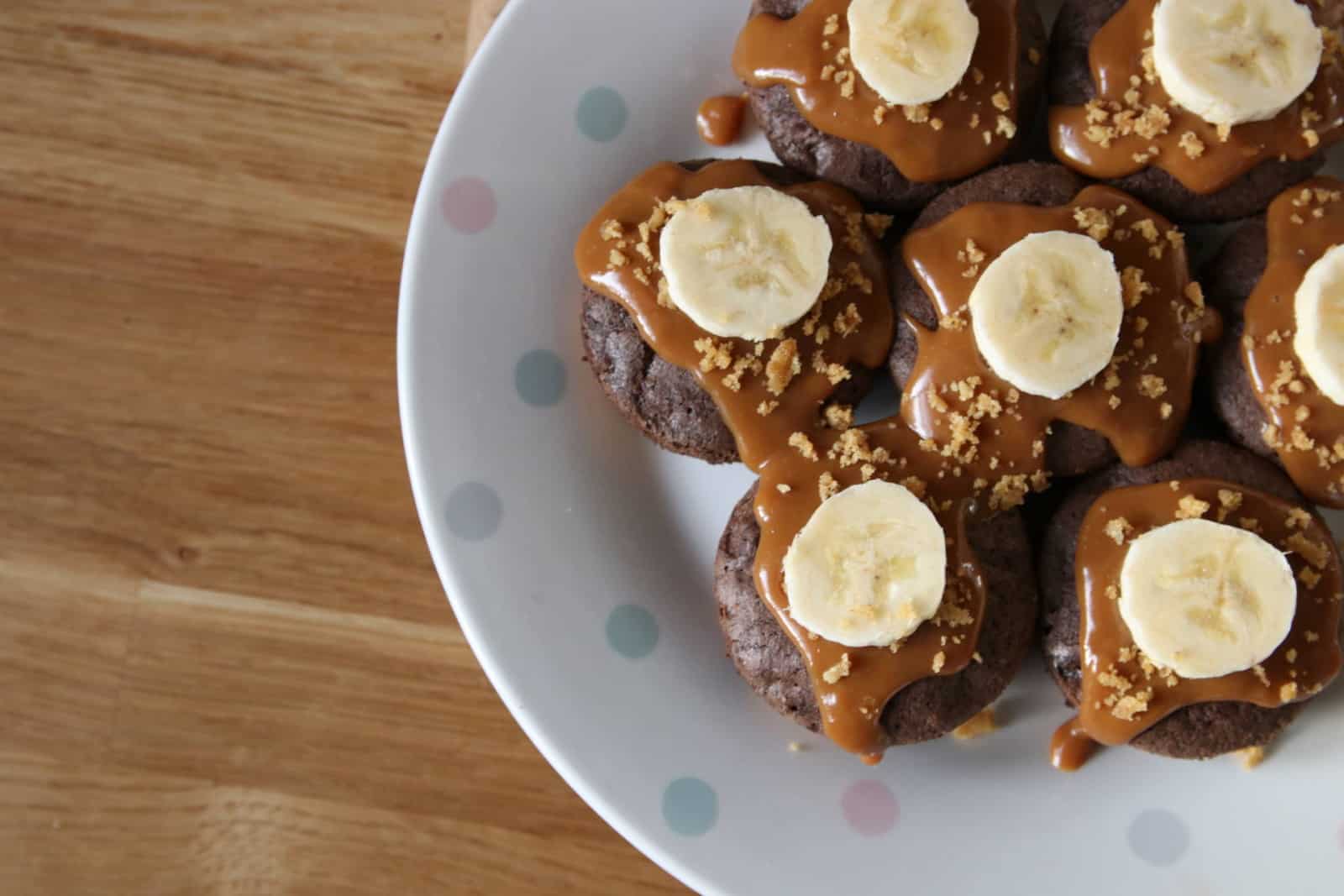 Last weekend, my parents came round to help out a little bit in our new garden. They have a lovely garden themselves so it's great to get advice from both of them about what plants we should feature in our new space… our first garden!
I felt like to say thanks I would bake them something tasty, I mean who doesn't like a sweet treat on a Sunday afternoon?!
We don't have a huge amount of baking products in the house yet – it's not long since our kitchen got completed, but I did have the new Betty Crocker gluten free chocolate fudge brownie mix & a packet of gluten free digestive biscuits… what more do you need in life?! I initially thought I could just make standard brownies but then, as I said earlier, I don't really like doing that, so instead I invented something in my mind & gave recreating it a go!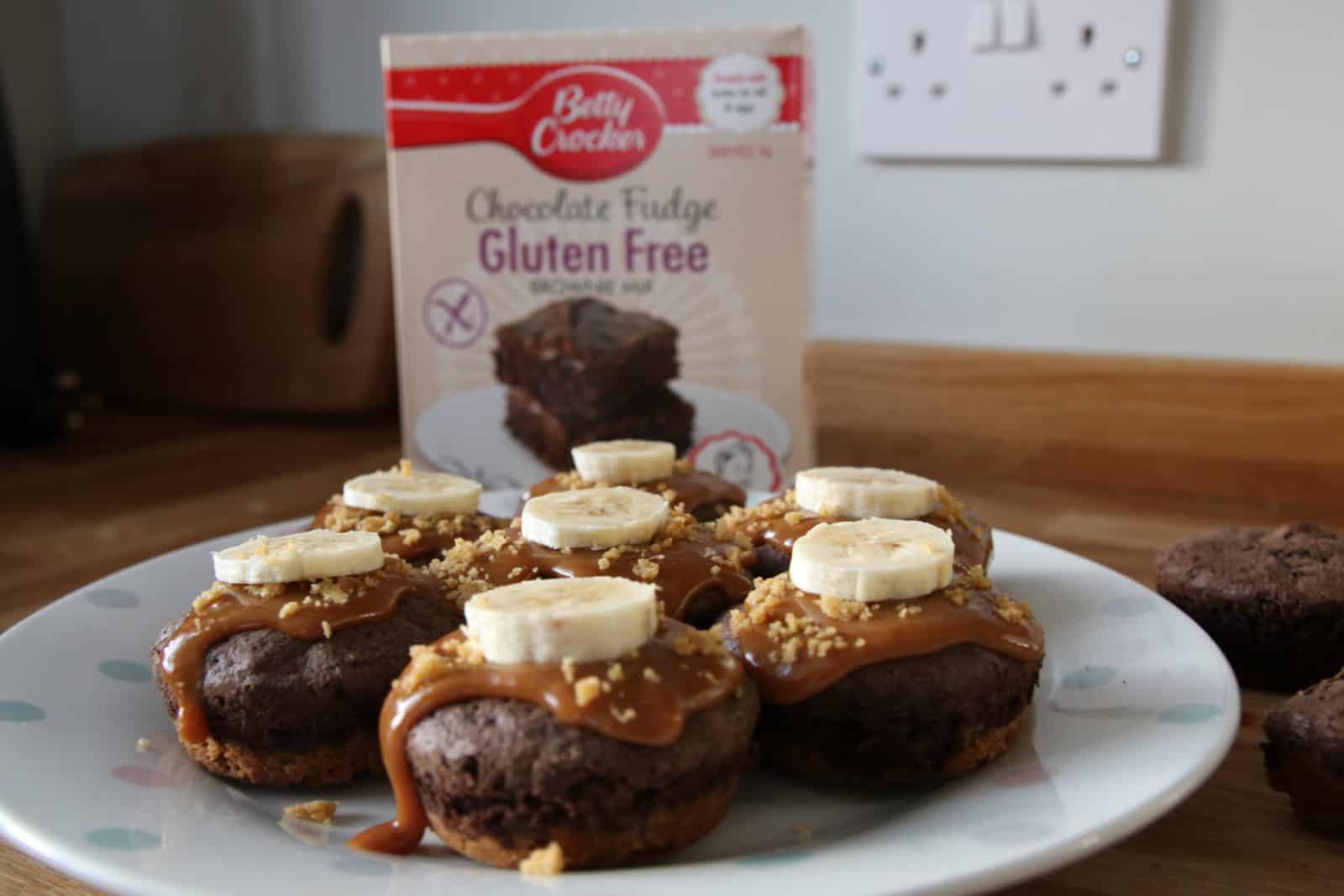 Right, imagine… a buttery biscuit base topped with chocolate brownie, caramel & banana… you didn't see that coming did you? Nor did I, I just made it up as I went along & it just became this heavenly biscuit based banoffee brownie. I guess seeing as I used the Betty Crocker gluten free mix I should call it Betty's biscuit based banoffee brownie, but I'm going to go with Becky's biscuit based banoffee brownie, it sounds better! Gluten free banoffee brownies… just imagine… mmm!
I'm a massive buttery biscuit base fan, I think it makes any dessert/cake better. Any opportunity for me to get a biscuit base into a bake, I'm there! Placing a dollop of brownie batter on top of this was just the best idea as well. Once cooked, it was that perfect balance of biscuit crunch alongside a moist brownie. I loved the contrast in colour as well, layers are pretty aren't they!
I added some banana and caramel to the top (again, banoffee is a favourite thing of mine), & suddenly such basic separate components had come together to make gluten free banoffee brownies.. with a gluten free biscuit base!
Right so here's the recipe for gluten free banoffee brownies, it's really simple and you should definitely give it a go.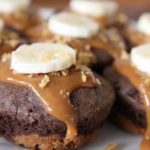 Gluten Free Banoffee Brownies
Ingredients
250g gluten free digestive biscuits

100g margarine / butter

melted (for the base)

1 pack of Betty Crocker chocolate fudge gluten free brownie mix

or your own brownie mixture

2 medium eggs

60g margarine

for the brownies

soft caramel

slightly warmed so easy to drizzle (ready made for convenience of course!)

1 banana

sliced
Instructions
Lightly grease a muffin or cupcake tin & preheat your oven to 180c (160 fan).

Place your gluten free digestive in a plastic bag, seal and crush - I give them a bash with a rolling pin!

Pour your crushed biscuits into a bowl and add your melted margarine. Combine the two.

Press a little of your biscuit mix into the bottom of each cup firmly to make a biscuit base.

Place in the oven for 8 minutes to firm up, remove and leave to completely cool.

In a new bowl place your gluten free brownie mix, 2 eggs and margarine. Mix together thoroughly with a hand whisk.

Dollop chocolate brownie mix on top of each biscuit base.

Bake for a further 20 minutes.

Remove from the oven and leave to completely cool in the tin. Ease the brownies out gently once cool.

Drizzle caramel on top of each of your brownies.

Place a slice of banana in the centre of each.

Sprinkle some extra gluten free digestive biscuit crumbs on top.

They're ready to eat, enjoy!
These went down really well with my parents, they absolutely loved them. My mum (an avid baker) was amazed that the brownie part actually came from a mix. She has always been sceptical about anything that has mix in the title. She always thinks she can do it better. However, I think I might have converted her! My mum always ends up feeling guilty if I pop round and there is nothing gluten free on offer. So instead of having to remember to buy some pre-made (& frankly not as good) gluten free cakes from the supermarket, she is just going to keep a Betty Crocker gluten free mix in the pantry ready for my visits!
My mum has finally realised that gluten free is actually becoming more convenient. And… both my parents had no idea until they started eating one of my gluten free banoffee brownies that they were actually gluten free! They thought I had made them with gluten just for them! How times have changed on the gluten free scene. I feel like saying, 'it makes me proud to be gluten free', but that's the wrong thing to say.. you know what I mean though!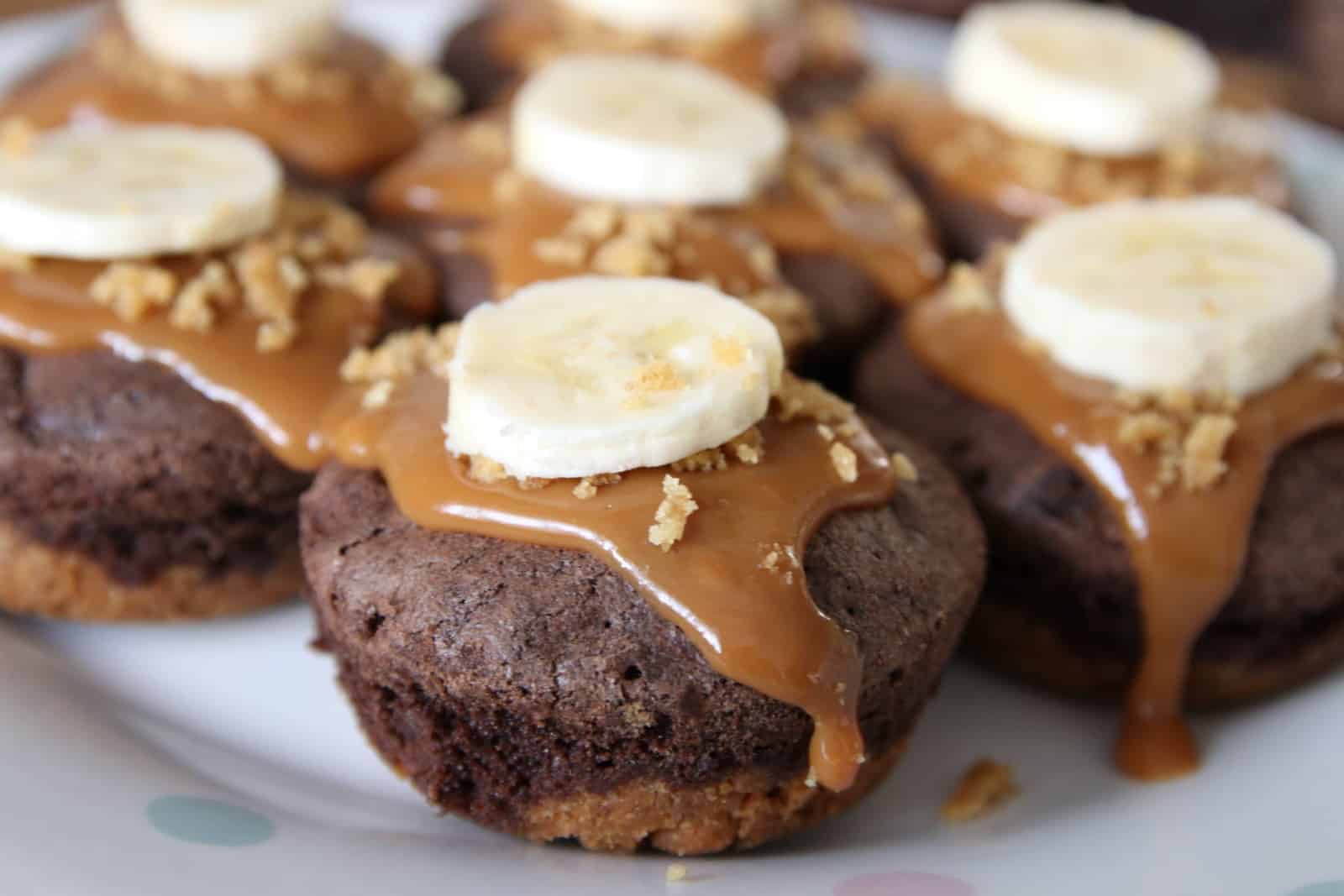 I'm definitely going to grab another one of these Betty Crocker gluten free mixes sometime. It's the perfect thing for me to have in the cupboard when I've forgotten a last minute charity bake sale at work – I always bring the gluten free options, we have quite a few coeliacs where I work too.
Im already trying to think up what I could make next time round. These gluten free banoffee brownies were delicious, but you know I love a bit of change. Who knows what I will make next time. AND… I wonder what my Mum will make when she tries out the mix!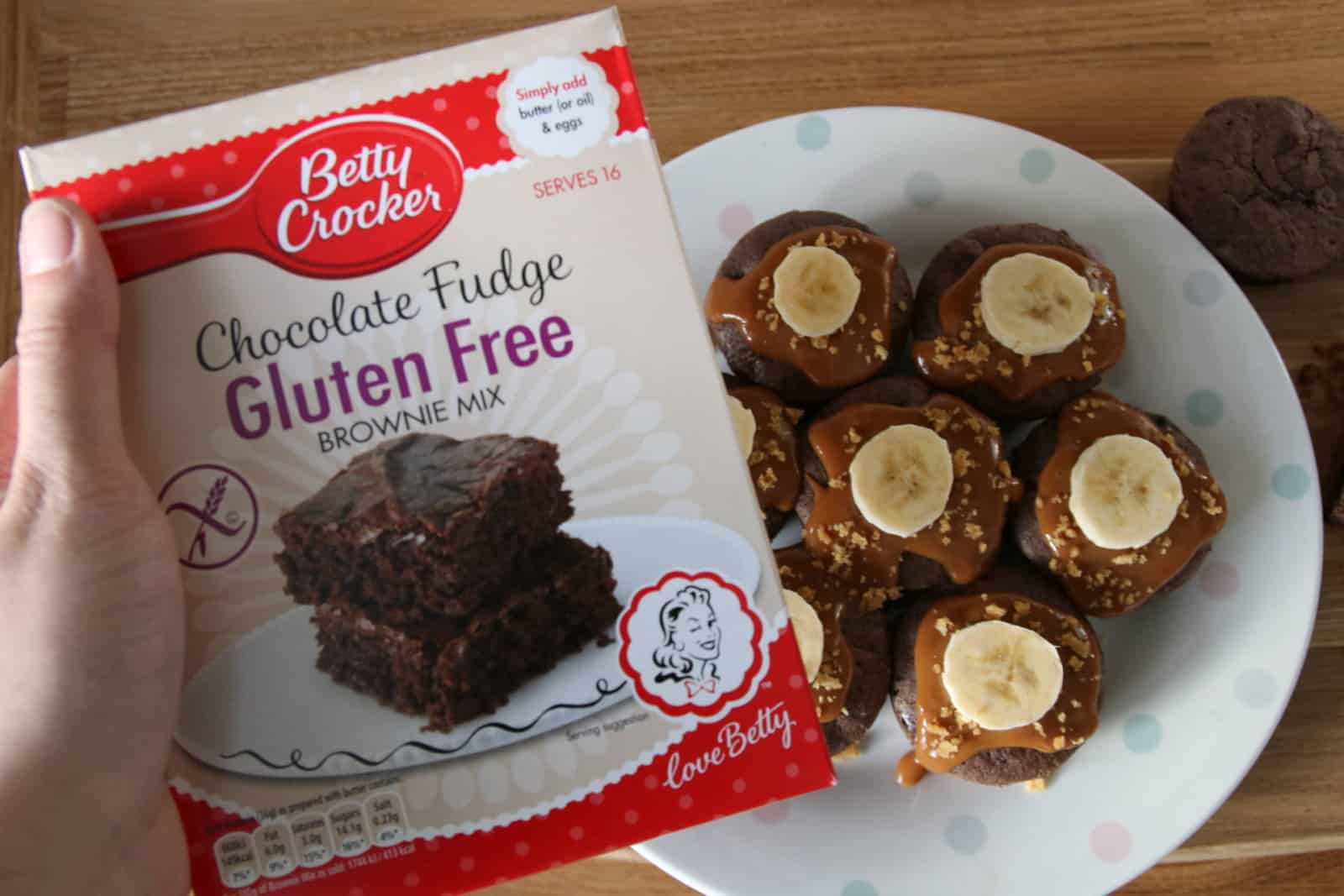 Let me know if you've tried any of the Betty Crocker gluten free mixes before, what did you make? What did you think of them? The Betty Crocker gluten free range is growing and I'd love to get some more ideas of how to make their mixes even more awesome. If you get the chance to make my gluten free banoffee brownies please let me know as well – I'd love to see you pictures on Instagram! Feel free to leave any comments you might have below, or on Facebook/Twitter. & finally, a massive thanks to Betty Crocker & the team at General Mills who this post was in collaboration with 🙂 – you guys saved the day!
Thanks for reading,
Becky xxx
Comments