With Halloween coming up I thought it would be fun to create something fun/spooky & edible. After much deliberation… I decided on Gluten Free Halloween Emoji Cookies! Essentially pumpkin shaped emoji cookies that are both gluten free & dairy free. Mwhahaha 🙂
We've never been big Halloween celebrators in my family. I think as a child I went round someones house once for a halloween party and dressed up as a witch, but we never did anything much at home. I remember dressing up at university for Halloween a couple of times and carving a pumpkin! One thing I've never done though is make any Halloween bakes!
For me I wanted to make something that was really obviously Halloween. Something that I could imagine sitting on a Halloween Party table. Something that was very obviously Halloween! The first thing that came into my head was pumpkin… but then, I'm not actually a fan of the taste of pumpkin (or the smell) so I decided against using pumpkin as an ingredient… instead I decided I would use the pumpkin shape to make my gluten free halloween cookies.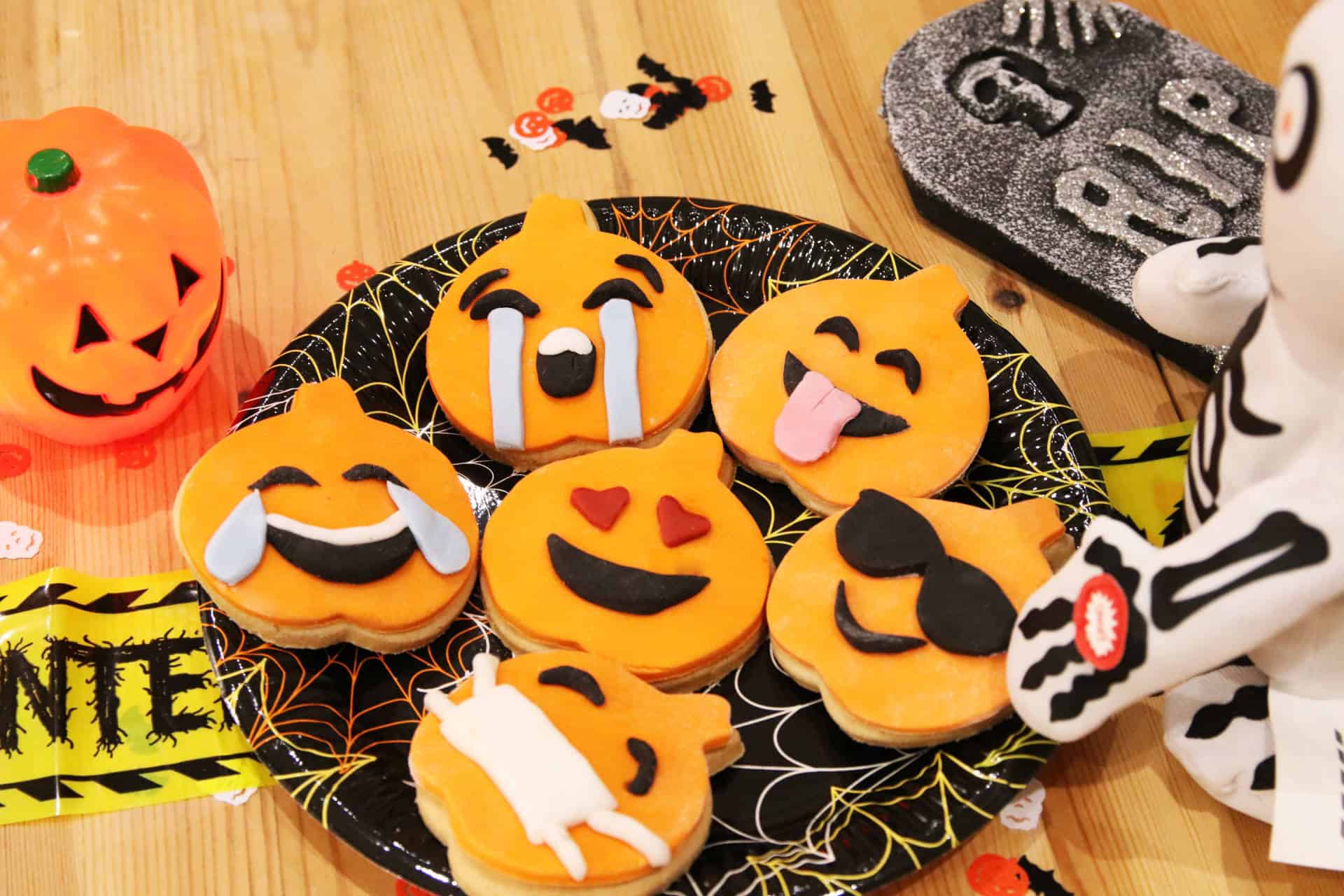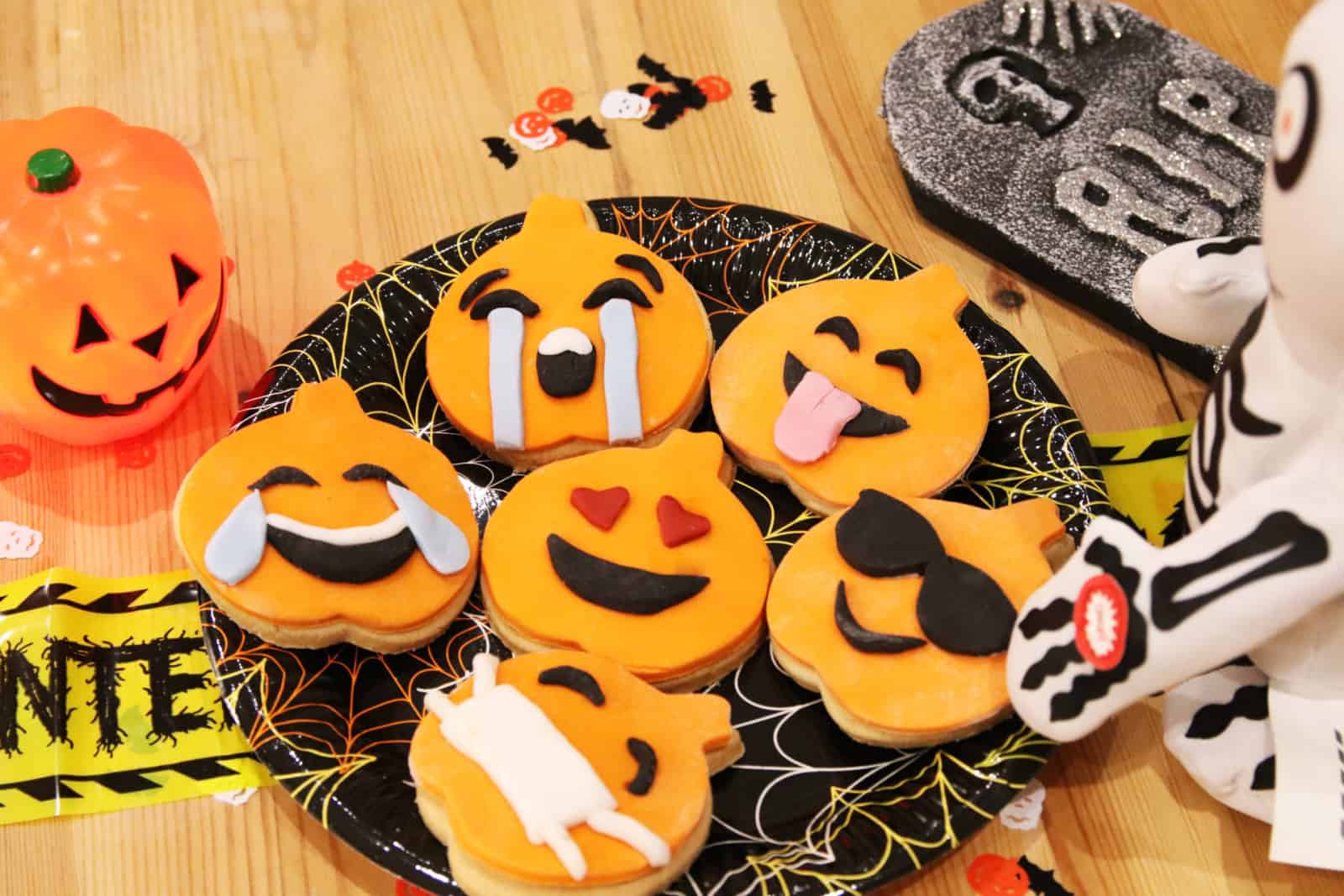 Having found the cutter I was just planning on using my very simple but delicious cookie/biscuit recipe and just icing the biscuits very simply. However, Mark had other ideas! I don't know where his idea came from, but he thought it would be really cool to make gluten free Halloween emoji cookies… I agreed!
As I said the cookie/biscuit recipe I used in a fool proof one I have used on my blog before, it just never fails. I've used it in my gluten free party rings recipe before. It's very quick to do and is perfect for any gluten free iced biscuit. Whatever shape you want to cut out, however you want to ice them, I would definitely recommend it.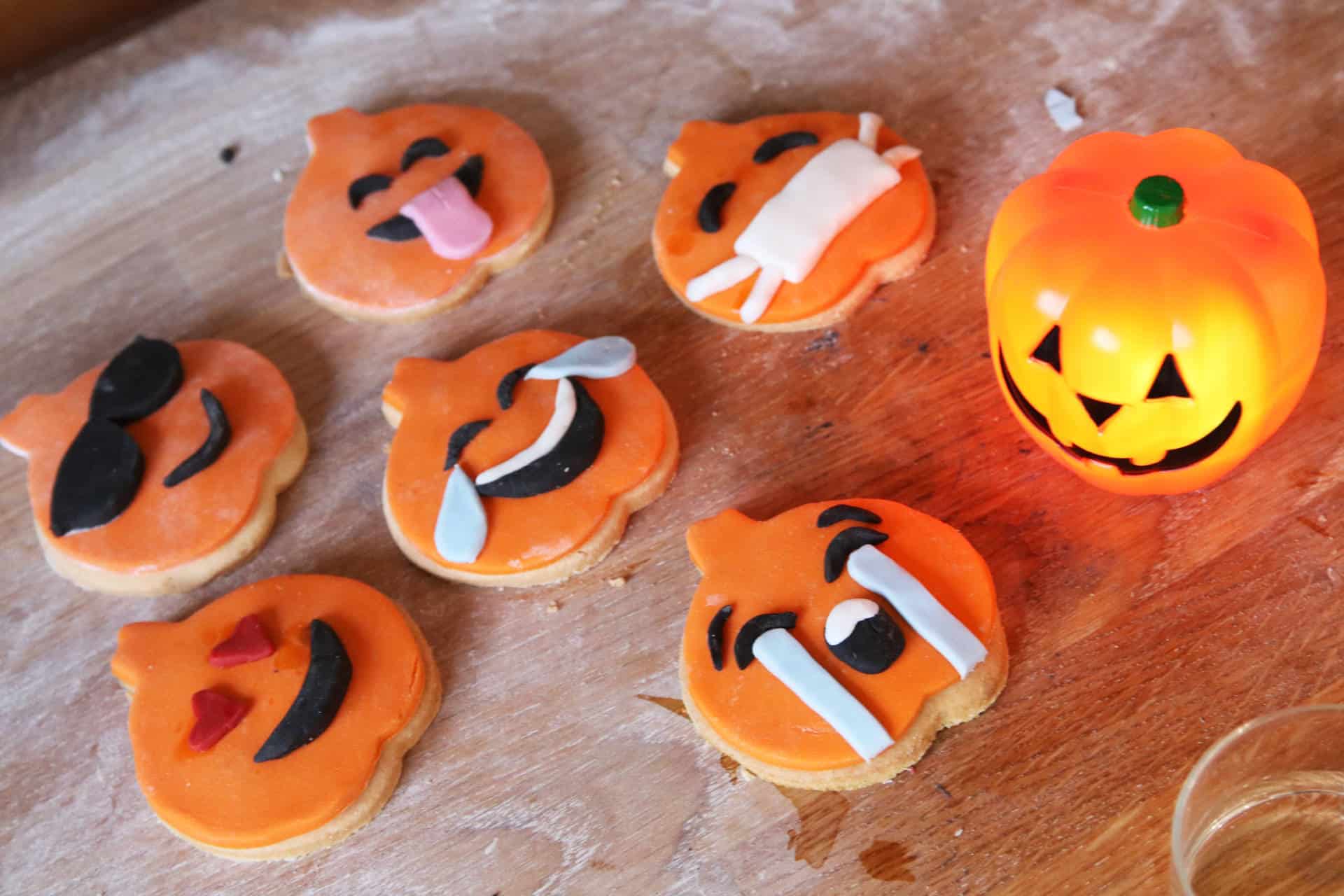 For icing the gluten free Halloween emoji cookies I wanted bright colours. I wanted to choose some of my favourite emojis and turn them into pumpkin shapes rather than the standard yellow circle! I bought some of the ready to roll fondant icing for ease and it worked really well. You could ice the biscuits however you want to really, but I found for these Halloween emoji cookies the colours worked amazingly, plus it took a little longer than expected to cut out all the little shapes (eyes, mouth etc) so I was glad that we had some easy icing to use.
Sticking the icing to the cookie can be done in a number of ways so do whatever you are most comfortable with. I've used all methods before but this time round I chose to just brush the back of the icing shapes with water and stick them to the cookie. As there is quite a lot of icing in the designs I didn't want to add anything else, I thought they might become a little sickly. You could however stick your icing using a thin layer of jam, or even a thin layer or butter icing. It's up to you.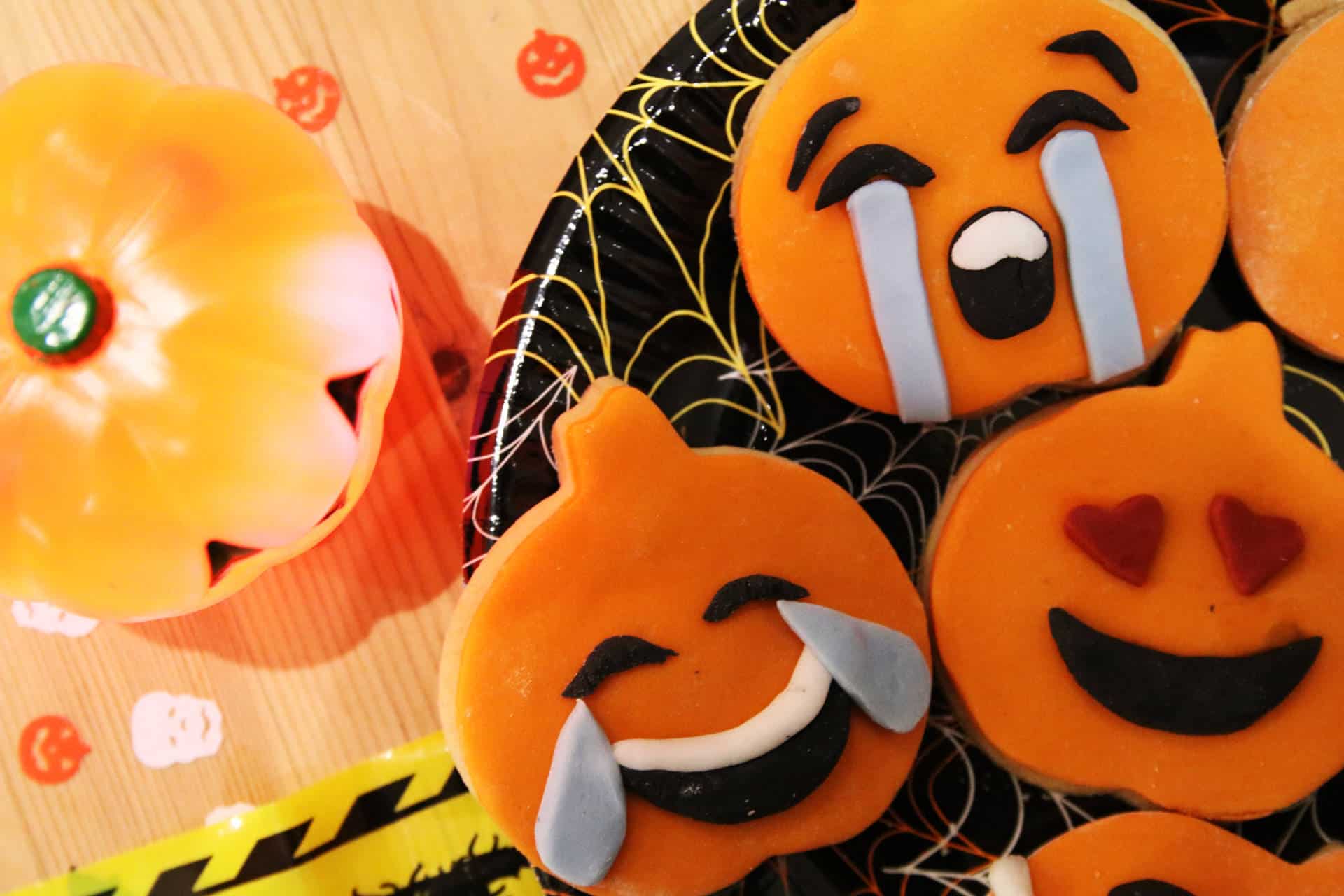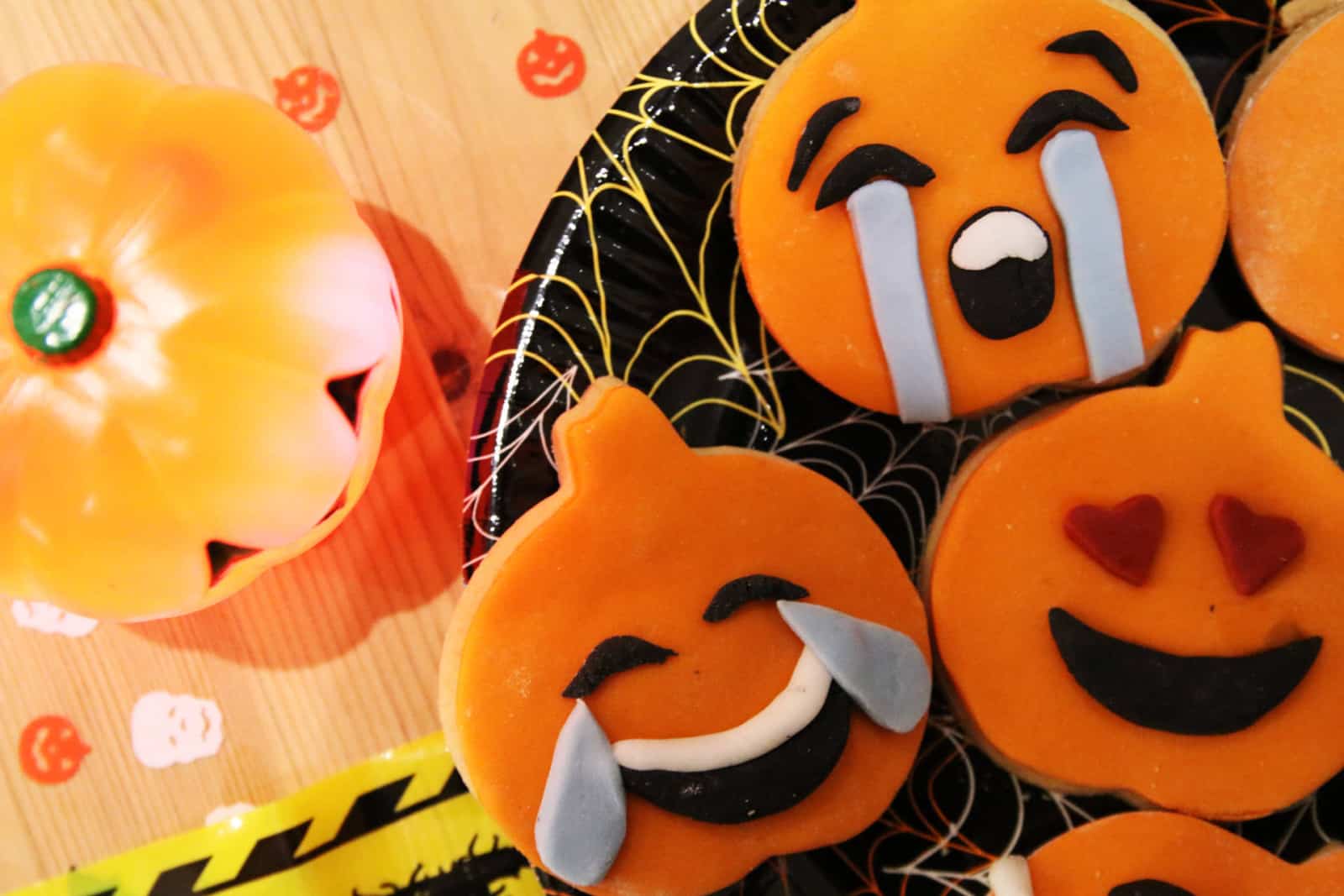 Anyway, this recipe is really simple and lots of fun to do. The results look really cool! Here it is: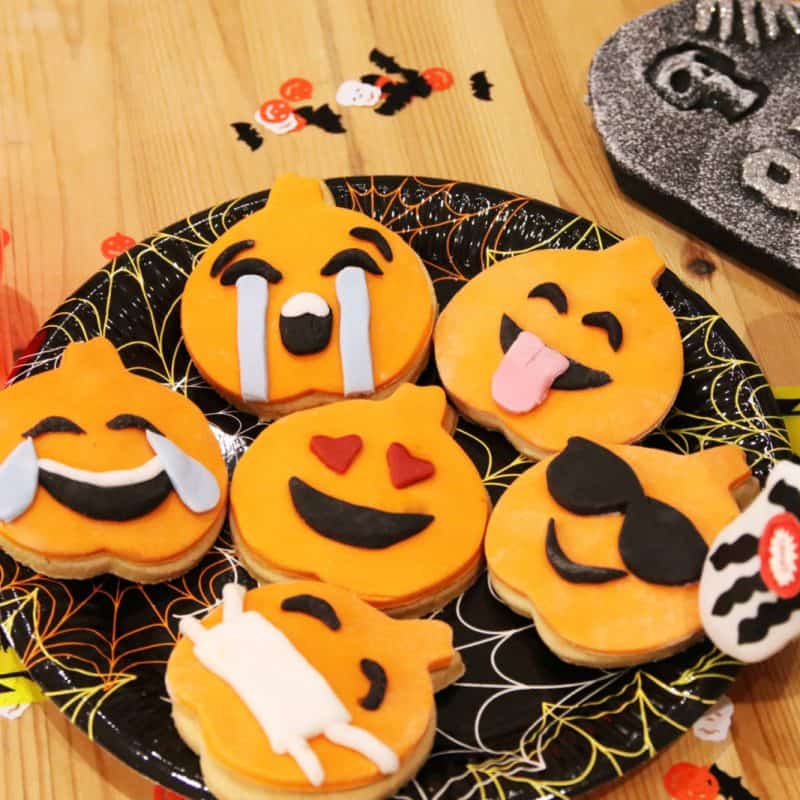 Gluten Free Halloween Emoji Cookies
Ingredients
200g gluten free plain flour

1/4 tsp xanthan gum

100g caster sugar

100g dairy free margarine

1 medium sized egg

1 tsp vanilla extract

mix of coloured fondant icing

I use ready roll
Instructions
Place all your ingredients into a mixer (gluten free flour, xanthan gum, caster sugar, dairy free margarine, egg and vanilla extract). Combine thoroughly. (you can do the same with a hand mixer if you prefer)

Remove from mixer and bring the dough together into a ball.

Wrap the dough in clingfilm and chill for 30 minutes.

Preheat oven to 180c (160 fan)

Grease a couple of baking sheets.

Remove the dough from the fridge and roll it out on a lightly floured surface.

Roll it out to about 1/2 cm thickness & then, using a cutter to cut out your shape - Halloween Pumpkin preferably! Place your shapes on your baking tray.

Place in the oven for around 12-15 minutes, until lightly golden.

Once slightly cooled, transfer to a cooling rack.

Whilst your biscuits are both in the oven & cooling get your icing prepared.

Roll out your icing on a surface lightly dusted with icing sugar. Make sure its fairly thin.

Cut out your shapes with both, if you have cutters/templates it might be easier!

Stick your icing to your biscuits. I lightly brush the icing with luke warm water and stick it to the biscuits. (be patient & be gentle!!)
Notes
If you prefer you can stick the icing to the biscuits using either a light layer of jam OR by making a little dairy free butter cream and spreading it on the biscuits first.
I love how these gluten free Halloween emoji cookies turned out. They turned out better than expected! I think I might even make this style of cookie again on other occasions throughout the year… Christmas Emoji Cookies anyone?! It's just a lot of fun!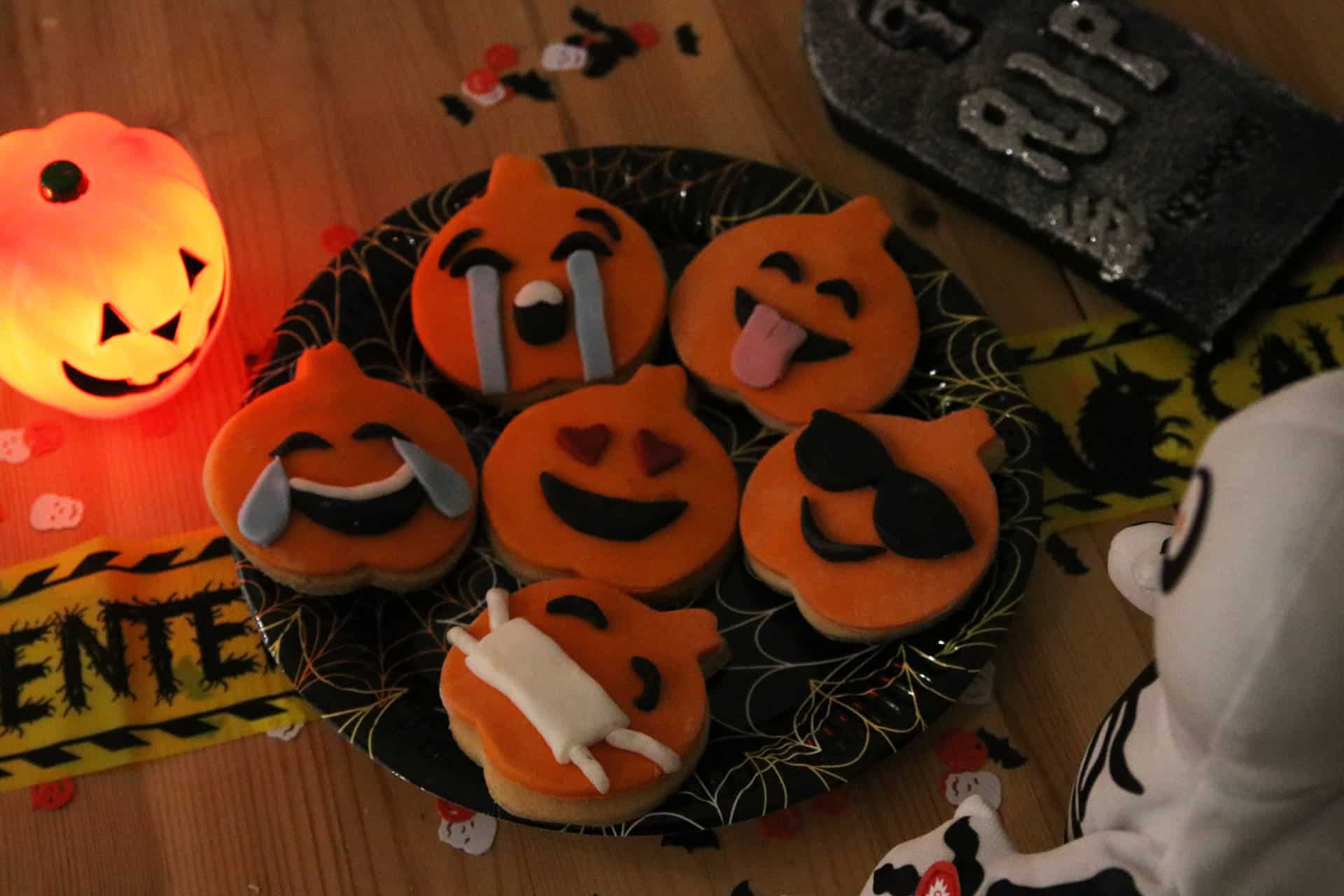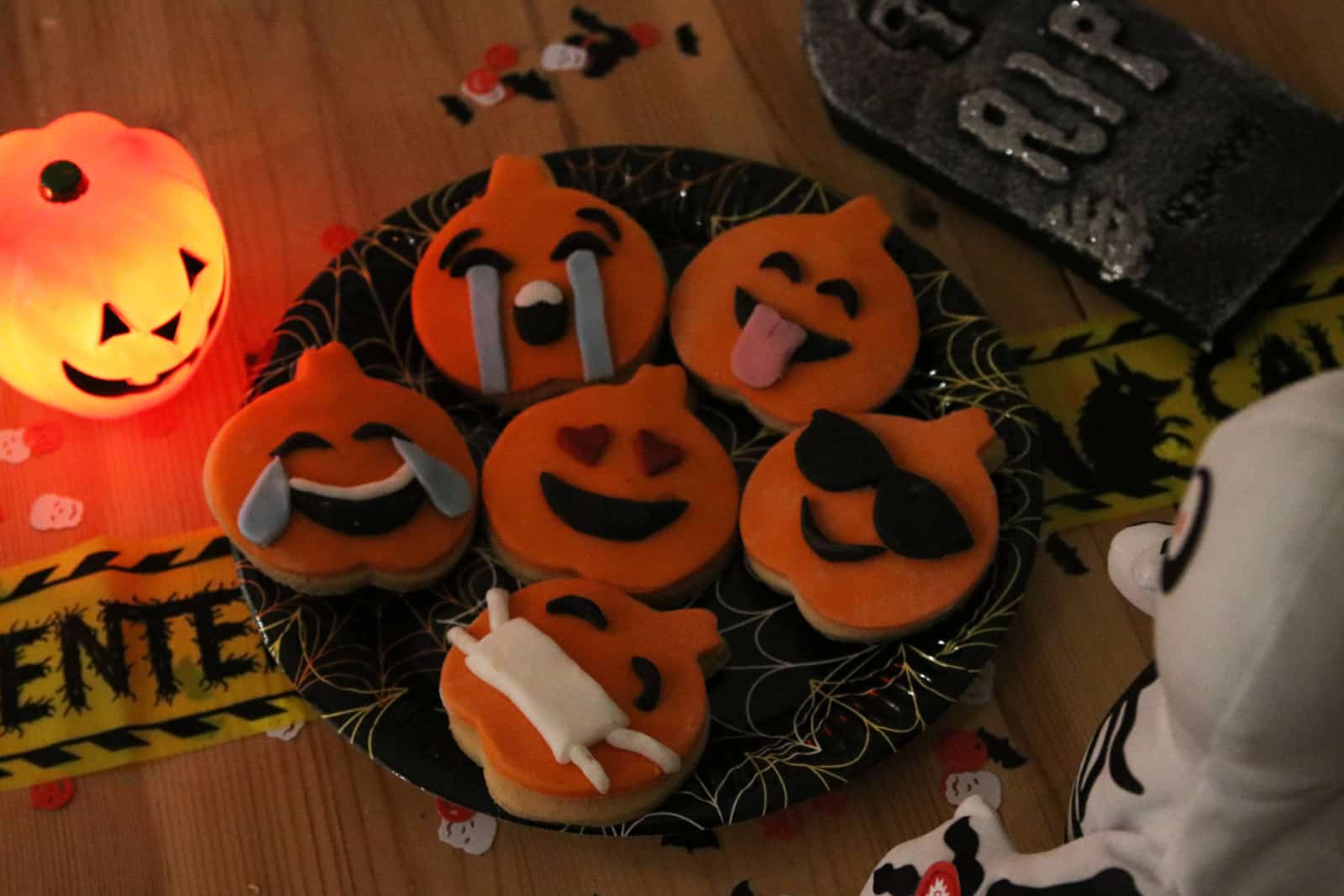 Let me know if you had the chance to give these gluten free Halloween Emoji cookies a try! Which emoji faces did/would you try out? I really want to make one of the little smiley poo sometime!! I'd also love for you guys to share your favourite Halloween recipes, I feel like I'm missing out on some classic Halloween recipes just because I've never really celebrated it very much. Leave your recipe ideas or just general chatter in the comments below, or on Facebook/Twitter. If you make my gluten free Halloween Emoji cookies, send me a picture as well!
Have a spooky Halloween!!
Thanks for reading,
Becky xxx