It's time to bust the myth of the gluten free Hobnob… do they really exist or are they like the LochNess monster? Well, I've got great news for you… gluten free Hobnobs are 100% coming to our supermarkets this month!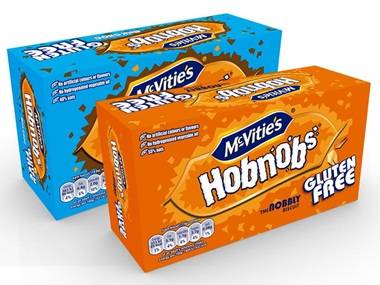 As posted in The Grocer earlier this morning, United Biscuits announced two brand new products in the UK: McVitie's gluten-free original Hobnobs and McVitie's gluten-free milk chocolate Hobnobs. Yes that's right, I did say milk chocolate! But the next question on everyone's lips is of course, when will I be able to eat an entire packet of gluten free Hobnobs?
We can expect to see gluten free Hobnobs in our supermarkets as soon as next week. They'll be sporting the easily recognisable Hobnobs style packaging in our local free from aisles and clearly labelled as gluten free, so keep your eyes peeled! In case you didn't know, Hobnobs are predominantly based around oats and the large proportion of naturally gluten-free oats in McVitie's Hobnobs "allowed the recipe to be converted without any compromise" on the biscuit's taste and texture. So it sounds as though we'll be receiving gluten free Hobnobs that'll be just as good as the real deal!
McVitie's brand director said: "The free-from sweet biscuit segment is one that continues to expand, with 55% of UK consumers now open to buying gluten-free products. As the market leader in the main biscuit aisle, free-from is an important sector for us to expand into, to ensure McVitie's moments are open to all of our consumers with specific dietary requirements."
Clearly brands pay a lot of attention to customer buying habits and as we all know, free from has really taken off in the UK over the last few years. It just goes to show that we should never moan about the reasons why people are going gluten free, whether that be for medical reasons or just purely lifestyle choice. Without all the support free from has been getting of late, I'm not sure we'd ever see awesome products like gluten free Hobnobs otherwise! After all, let's not forget that if the whole world went gluten free… then all food would have to be gluten free… and we'd never have to worry about gluten! Well, a girl can dream 🙂
What did you think about the announcement of gluten free Hobnobs? Will you be camping out in the free from aisle with me?! When's the last time you ate a Hobnob? I know that it's been at least 5 years for me! Leave me a comment below or message me your thoughts on Facebook or Facebook.
Keep your eyes peeled for gluten free Hobnobs and I'll let you know as soon as I spot them!
Thanks so much for reading,
Becky xxx
Comments