One of my favourite Asian dishes is satay noodles. However, many are not suitable for those unable to eat gluten. That's why I created my very own gluten free satay sauce! The flavours in this dish are so delicious it's the perfect vegan satay meal too. It's up to you whether you want to put meat in or not.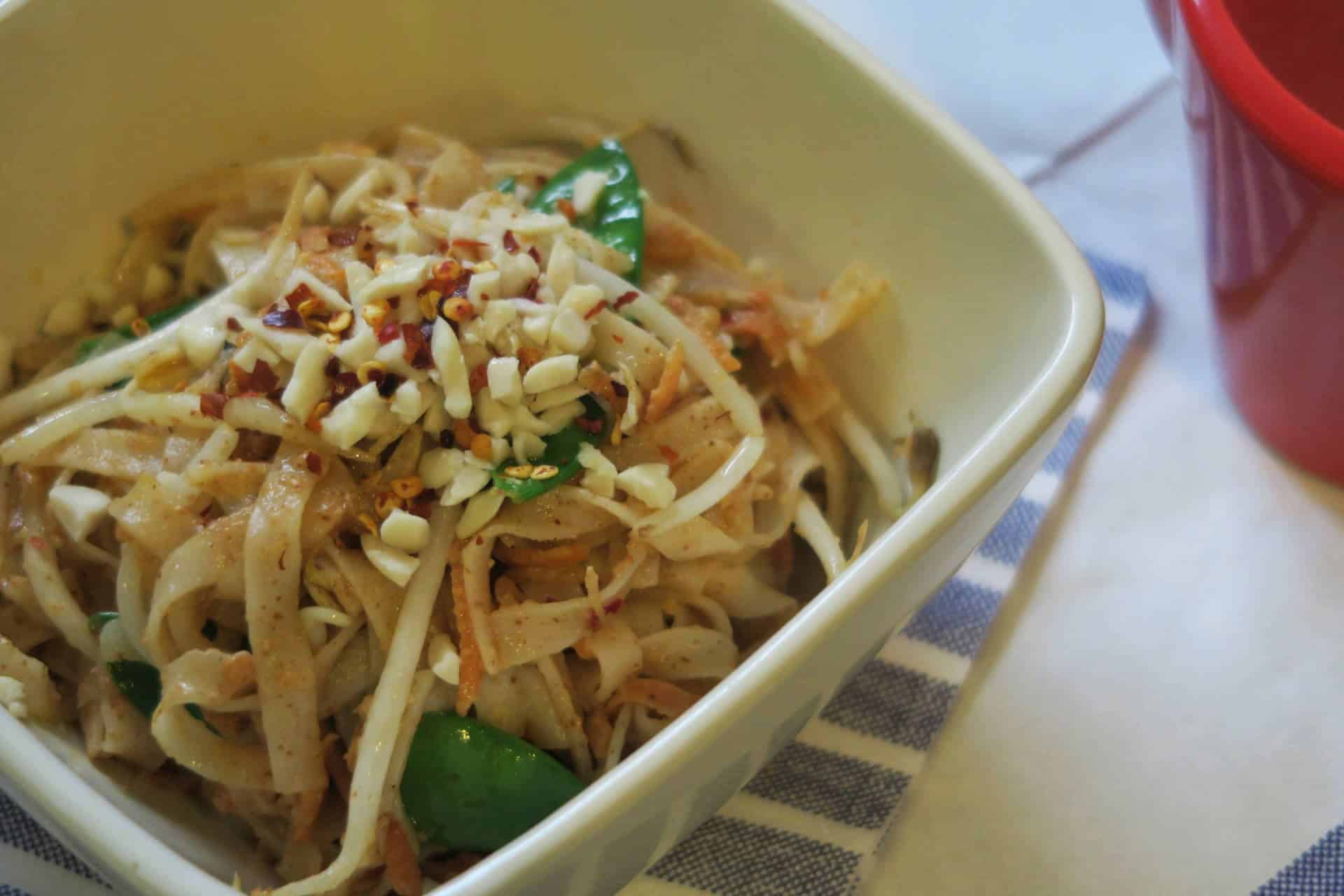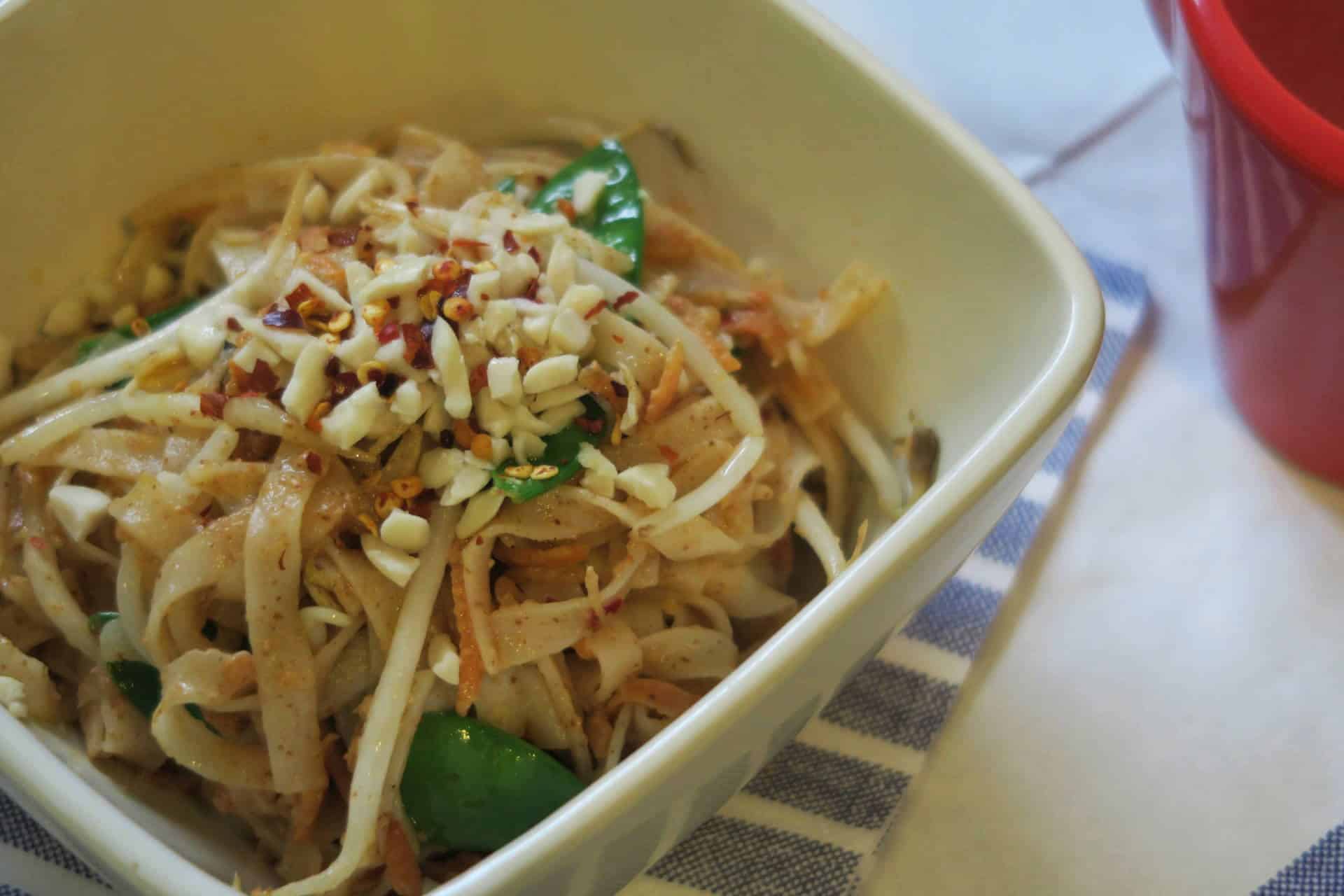 I absolutely love satay. Essentially, to me it seems like I'm just getting to cover my food in a spicy peanut butter! Actually, that doesn't make it sound all that great, but it is! I hadn't really eaten a lot of satay dishes until sometime last year, but now I am addicted.
A turning point for me with satay was visiting Amsterdam. For some reason Amsterdam seems to be the home of satay… for one there seems to be an influx of Indonesian restaurants, but as well as that, a huge amount of eateries seem to offer satay as standard. I don't know why they do, but I visiting Amsterdam is even more awesome as a result! (On that note… check out my Guide to Eating Gluten Free in Amsterdam!)
Anyway, a good satay sauce will usually contain soy sauce which of course isn't gluten free as standard. So, to make a gluten free satay sauce you will require some gluten free soy sauce (very accessible these days!). Other than that, all you need is some good quality peanut butter, coconut milk, a little garlic infused oil & some chilli to taste.. it tastes great with a bit of a kick.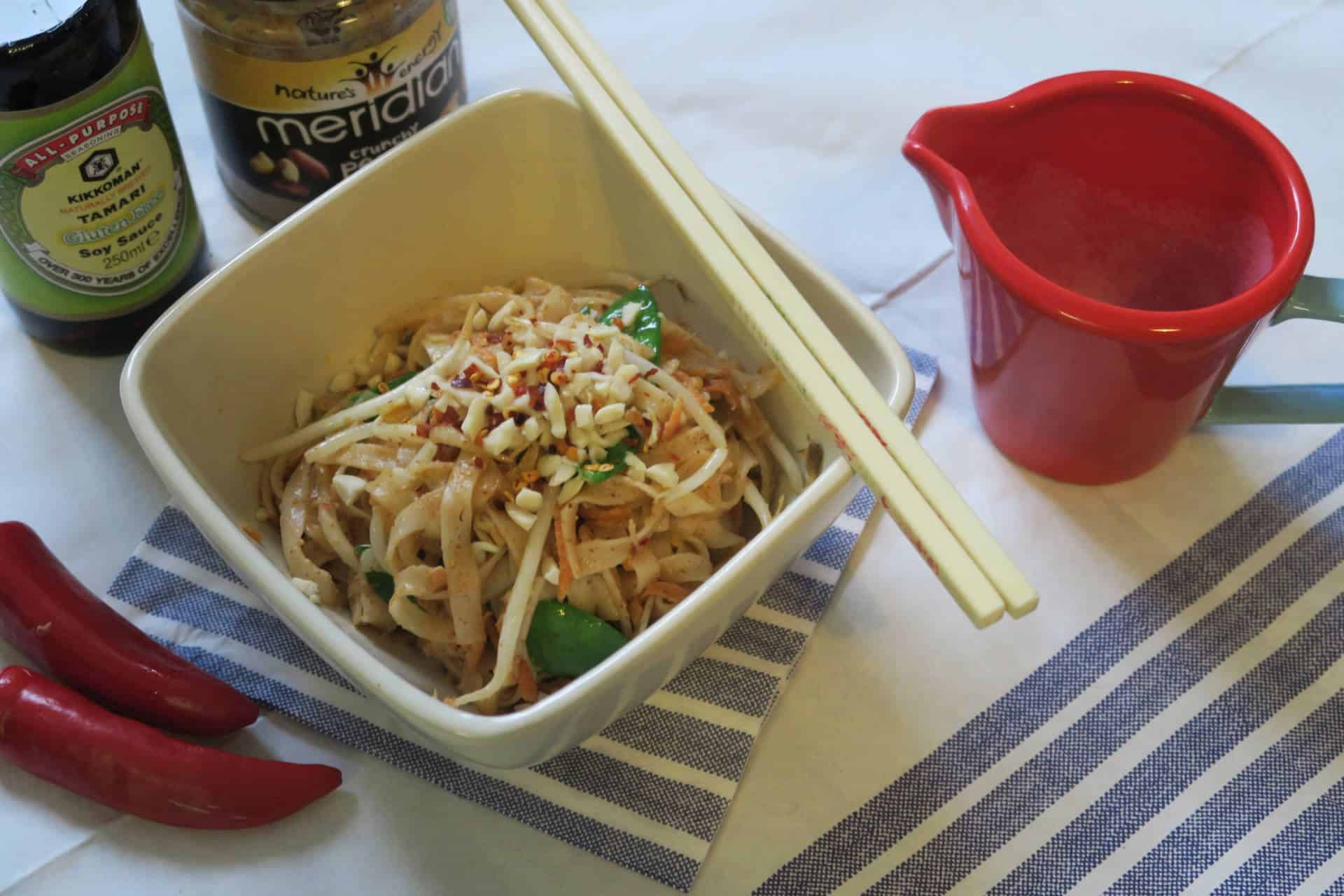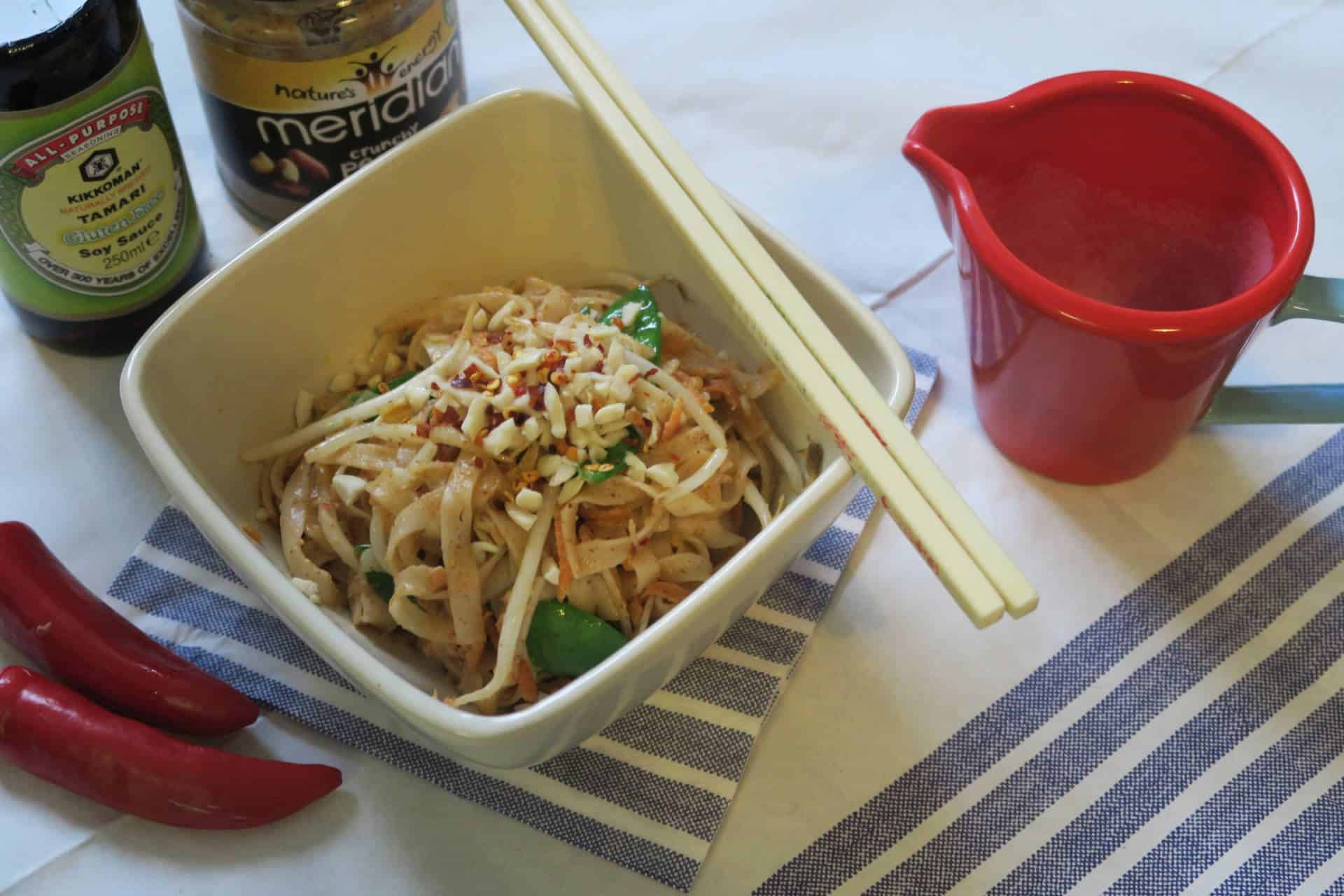 In terms of noodles, I like to buy noodles fresh which you can do in Tesco. Rice noodles are the way forward, & you can use the very thin ones or flat ones. Personally, I prefer flat noodles, so I usually go for them.
Veg wise, literally go mad (or not), choose whatever you fancy. As I mentioned this can very easily be both a vegan satay noodles recipes & a gluten free satay noodles recipe, but… it can also just as easily contain chicken. Chicken Satay in my opinion is delicious so feel free to give that a try too!
So, lets get stuck into this very simple recipe for gluten free satay noodles!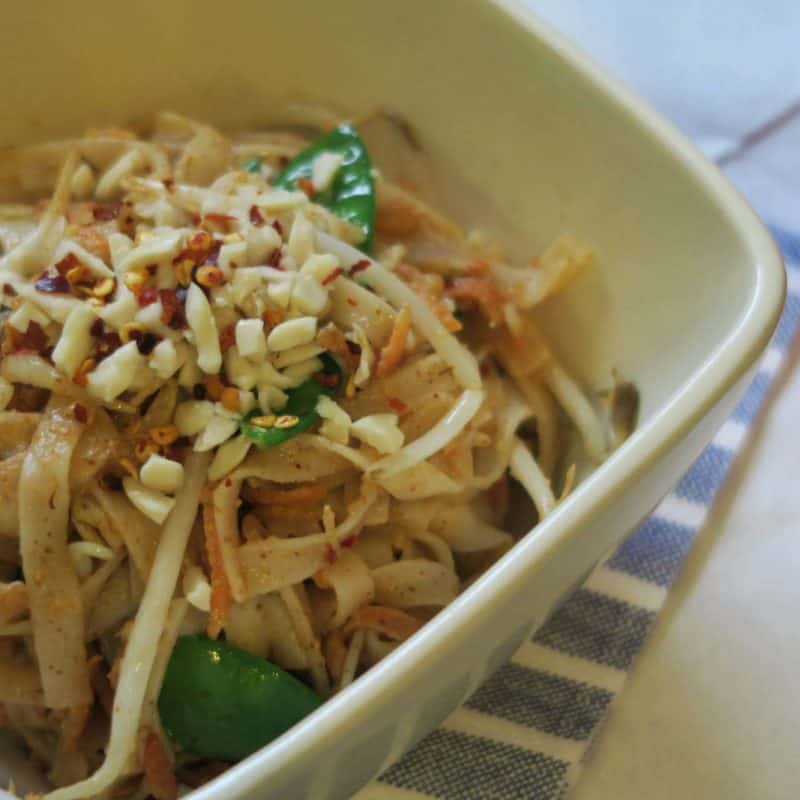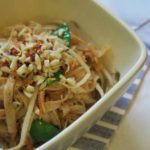 Gluten Free Satay Noodles
Delicious Gluten Free Satay Noodles with the option of having it veggie/vegan or with chicken!
Ingredients
150

g

Peanut Butter

1

Tsp

Gluten Free Soy Sauce

200

ml

Coconut Milk

1

Tsp

Garlic Infused Oil

1

Tsp

Chilli Paste

or finely chopped chilli to taste

Flat Rice Noodles

I buy mine fresh in Tesco

Stir Fry Vegetables

Whatever you fancy, I used 1/2 Carrot & a handful of Mange Tout

Generous handful of Bean Sprouts

Crushed Peanuts

for serving

Chilli Flakes

for serving

Lime

2

Chicken Breasts

optional
Instructions
Mix together your peanut putter, gluten free soy sauce, garlic infused olive oil, chilli paste & coconut milk in a bowl. (You can add some extra chilli flakes for a little extra heat if you fancy!)

Pour your mixture into a small saucepan & heat gently for about 10 minutes until reduced a little, but not too thick. (Keep warm on a very low heat till needed)

Heat up your wok & add the peanut oil.

Once heated, add your stir fry vegetables (if you are using chicken add at this stage chicken and cook until sealed)

Once vegetables are to the level you like them cooked, add your rice noodles. Leave to cook for a few minutes, tossing them in the wok with your veg all the time.

Next pour over your satay sauce, stir it into your noodles & veg. (I often find it easiest to use chop sticks or tongs to move the noodles around to make sure the satay sauce spreads and is well incorporated) Cook at this point for a couple of minutes.

Add a handful or two of bean sprouts, cook for a further minute or so.

Take off the heat & serve immediately.

I like to squeeze lots of fresh lime juice, add some crushed peanuts & chilli to the top.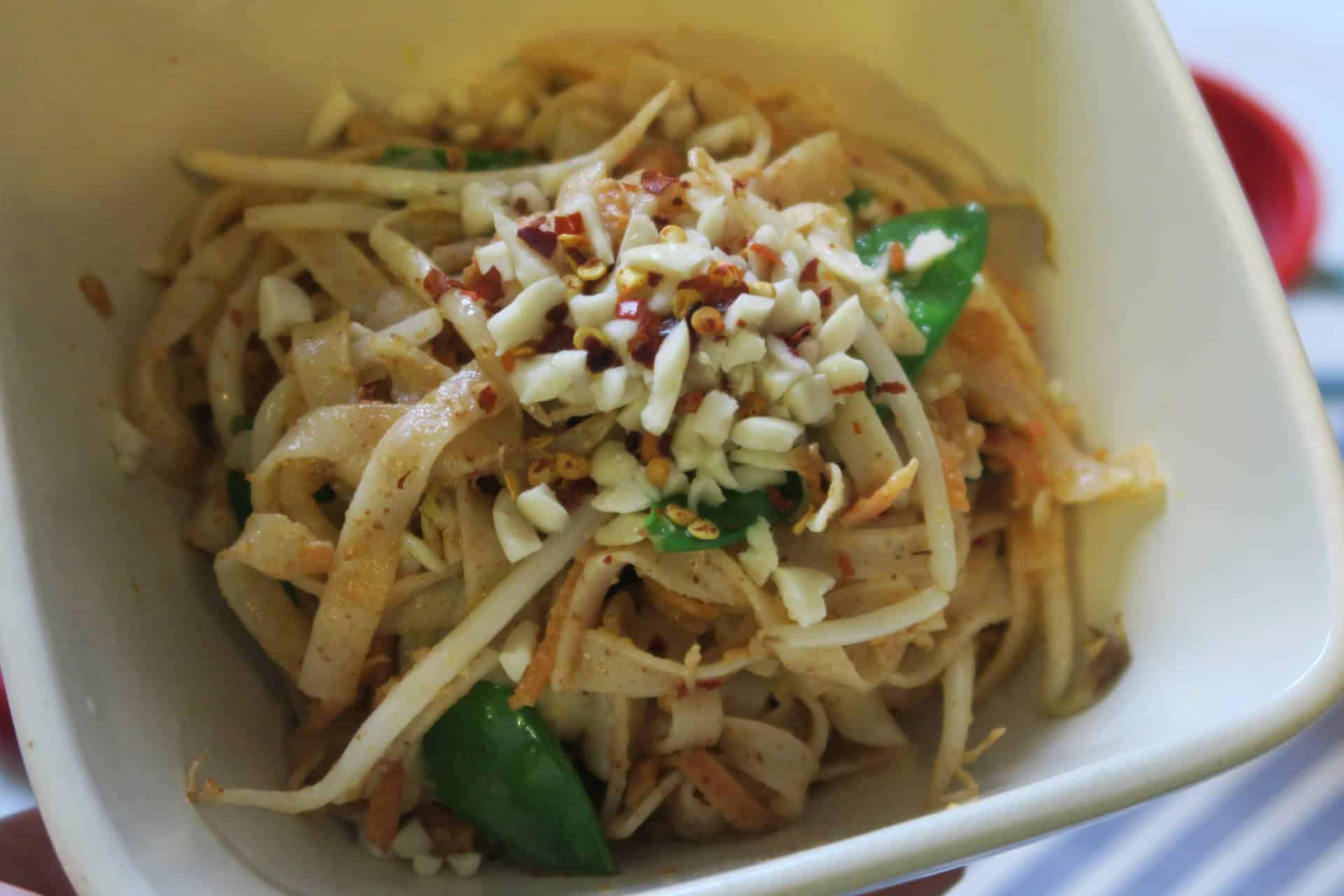 So there you have it, this is such a simple recipe that is very quick to rustle up. It's perfect for a quick dinner after work, but equally it makes for a delicious meal if you have friends coming round. I guarantee they will be impressed. I've made this for a few people & they all love it.
Let me know if you get the chance to try out my gluten free satay noodles. It's certainly a firm favourite in our dinner menu schedule! What's a firm favourite dinner in your house? Share your recipes! Just drop a comment below, or on Facebook/Twitter.
Thanks for reading,
Becky xxx