What I Eat In A Day Time! My Favourite type of post! So here's what I've eaten today. Welcome to the weekend, everything is gluten free, healthy, simple, delicious & there are plenty of vegan choices too!
It feels like I haven't done one of these posts in ages, yet every single day I ask myself the question 'What should I eat today?' … thus every day is a What I Eat In A Day right?!
Today definitely felt like the sort of day to make an April Edition of What I Eat In A Day. I mean, it's the weekend for goodness sake; who doesn't love the weekend?! At the weekend it's nice to change it up a bit from some of the super quick, fairly standard meals I have in the week. At the weekend I want to be eating delicious food that makes me feel good, but is also simple to make… the weekend is for having fun & getting out and about; I don't want to spend all day in the kitchen!
Breakfast – a grain free granola bowl!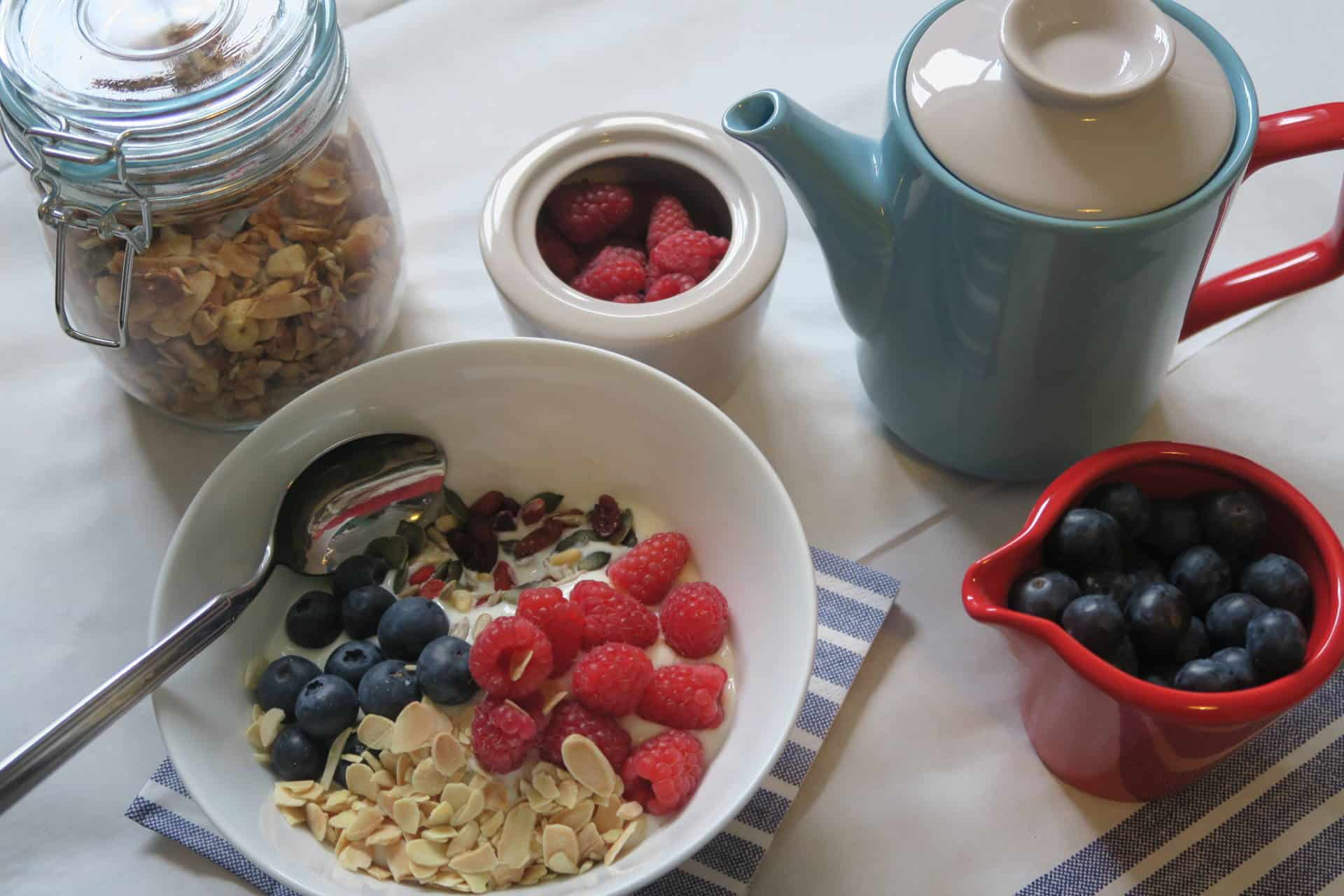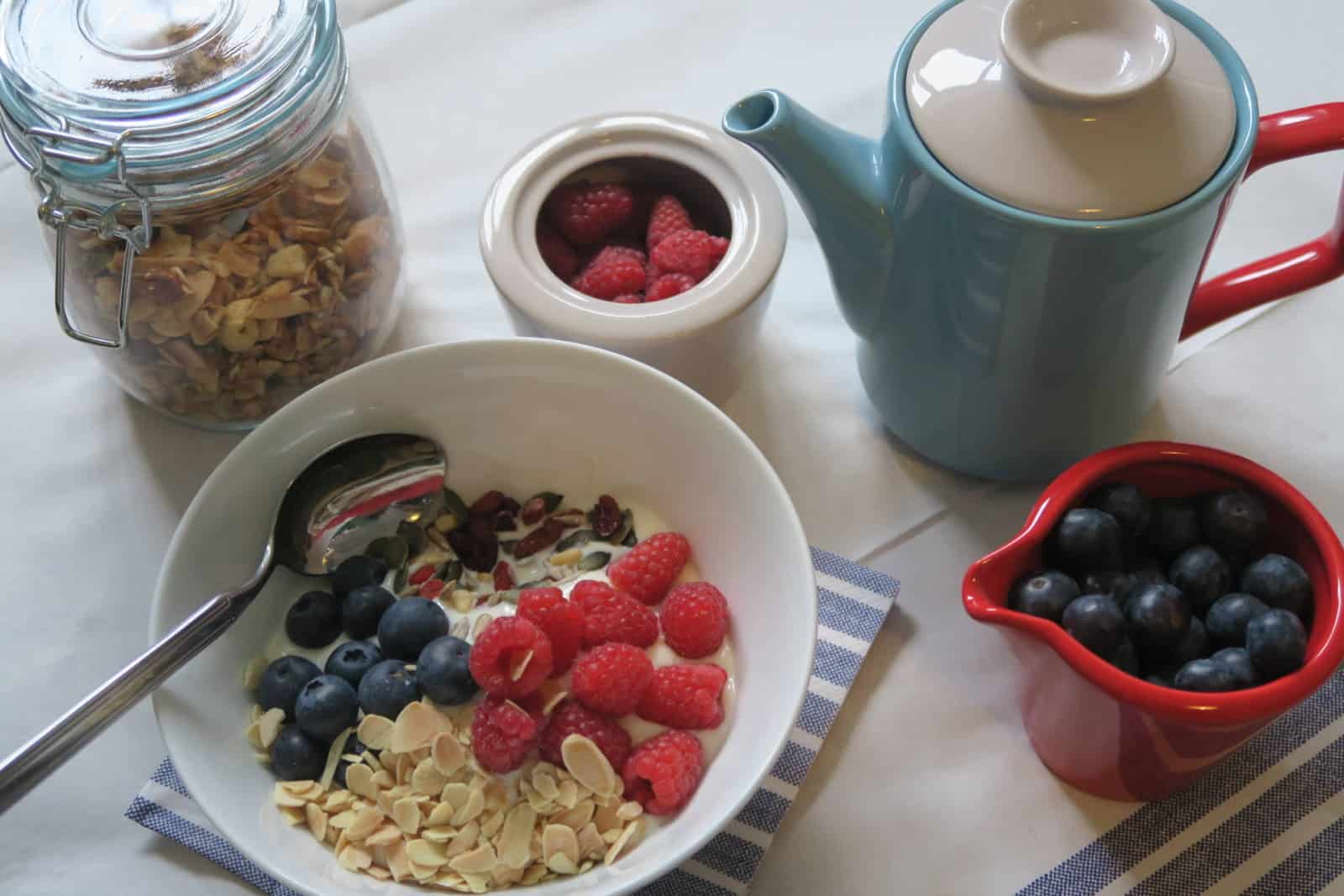 Weekend breakfasts are always a bit more chilled and relaxed than weekdays. Today I decided for my breakfast to make a 'smoothie bowl' … I think that's what some folk would call it anyway! Basically, it's a mix of a few things (one being my homemade grain free granola!) all mixed up in a bowl! It's gluten free, it's dairy free, it's vegan, it's grain free, it's natural & delicious.
So, for starters I pour in some of my homemade grain free granola. Now, I've always loved granola, but, granola generally does not love me. Whether its a gluten free granola or not, I find that the oats in most granola just do not agree with me. I love oats, but oats don't love me. Additionally, I think the reason granola is so god damn moorish, is because so many of the supermarket ones are filled up to the high heavens with unnecessary, excessive sugar. So, I got my kitchen apron on & have created my own homemade granola, that is both grain free & lower in sugar that most of those I see in the supermarkets. All the tasty nuts you get in granola mean that you don't really need huge amounts of extra sugar in it PLUS the stuff you put with your granola will most likely contain extra natural fruit sugars anyway! My grain free granola recipe is destined for another blog post, so watch this space.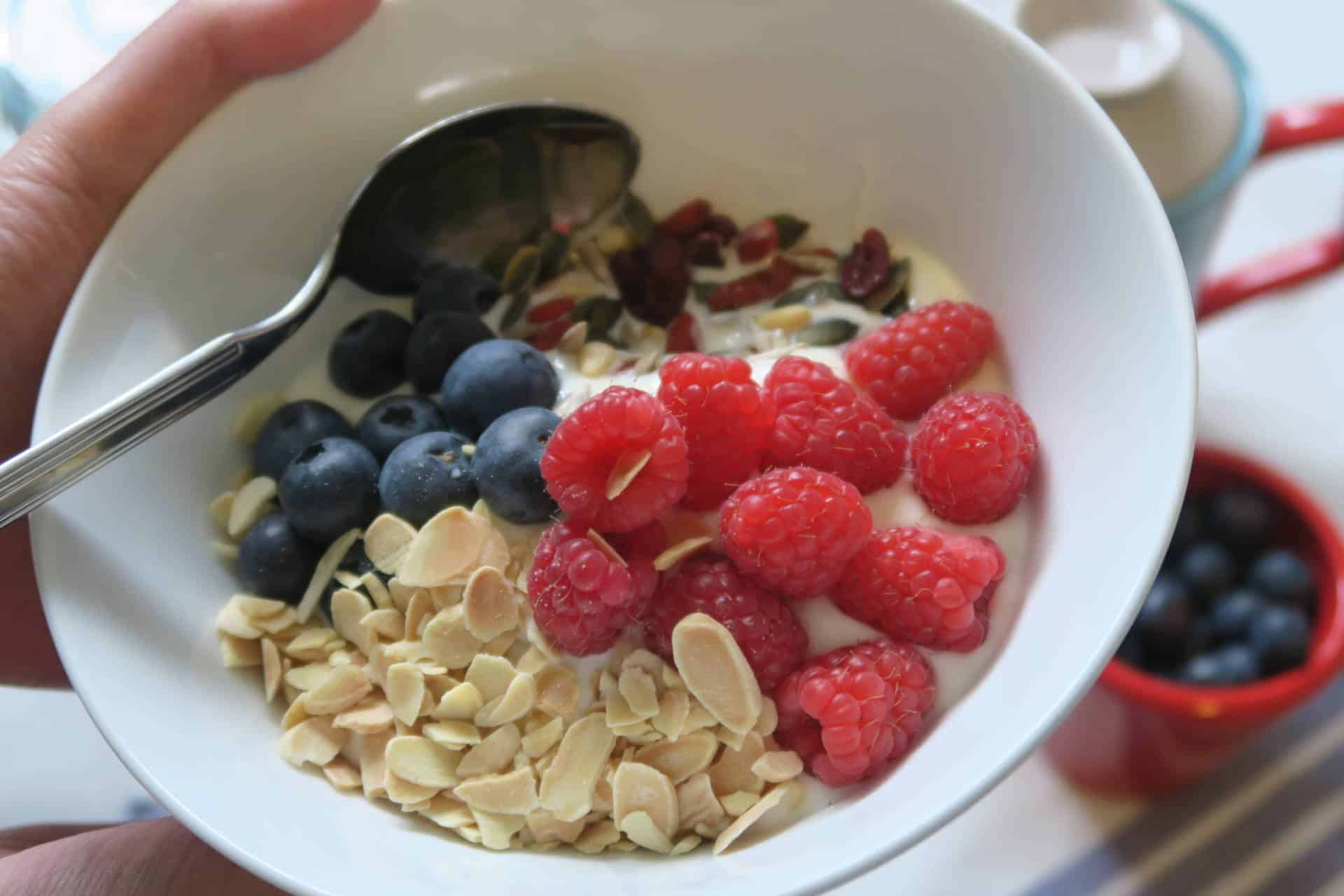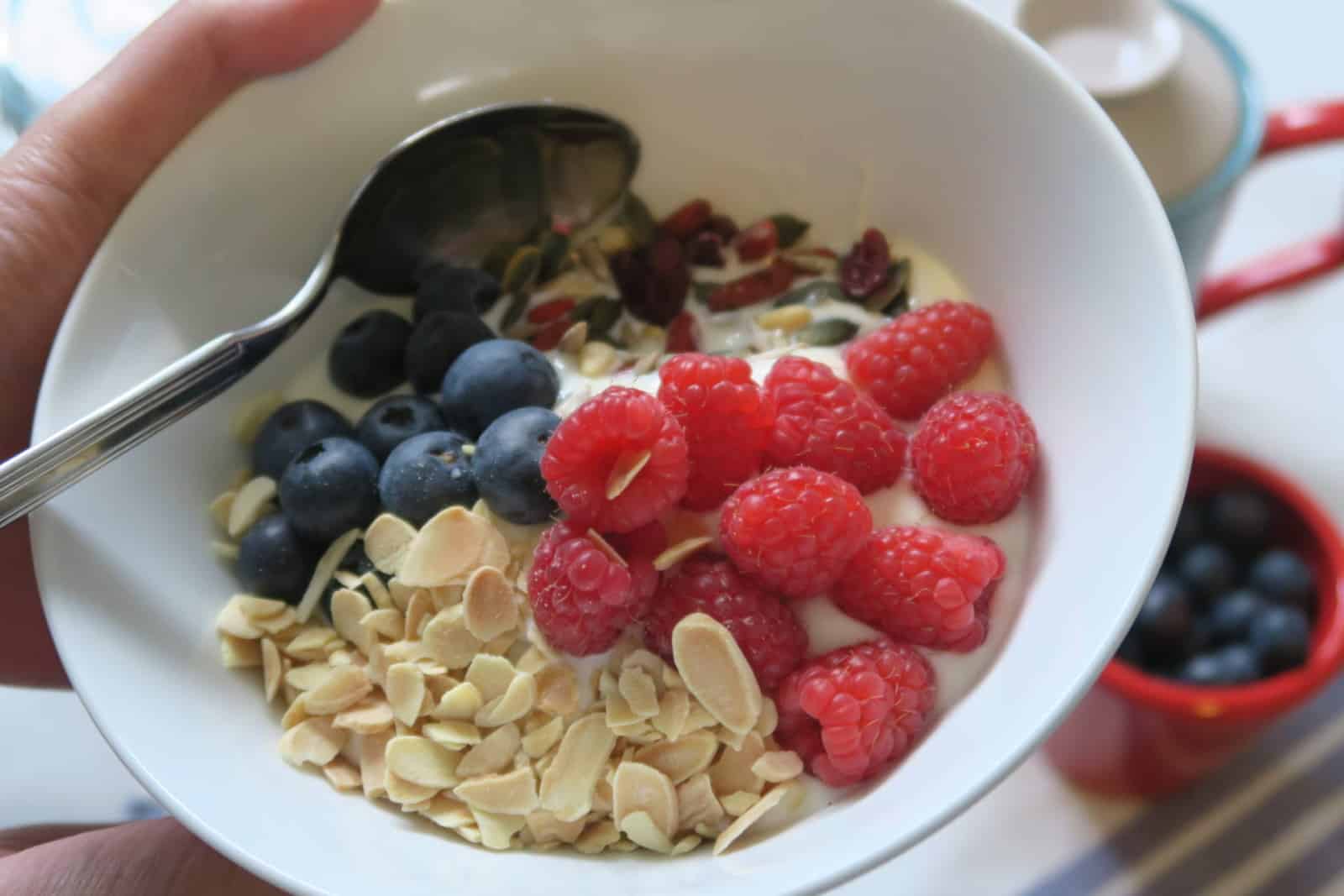 Anyway, after my granola has been placed at the bottom of the bowl, it's time for a layer of dairy free yoghurt. I tend to go for a coconut yoghurt. In most cases I use Coyo or Coconut Collaborative (depending on where I go shopping), but of course you can use whatever yoghurt you like. On top of my yoghurt I then place some fruit. I never have too much, as I try to restrict how much fructose (due to IBS) I have in my diet, which even means fruit is restricted! For me, raspberries and blueberries are perfect here, they are relatively low in sugar, & so long as they are in season… they taste divine!
I then add either some almond or coconut flakes. Whatever I have in the house. Coconut flakes, are somewhat harder to get hold of where I am from, but I prefer them! To finish my tasty breakfast bowl, I add a very small sprinkling of my goji berry & seed mix. These taste great & also, I'm not going to lie, make my breakfast look rather inviting! Although, I could also say that it looks the opposite of inviting, as… I actually think it looks too attractive to eat! Though, my weekends always start fairly late, so by the time my breakfast is ready to eat, however attractive it looks, I am ravenous!
Lunch – avocado on gluten free toast!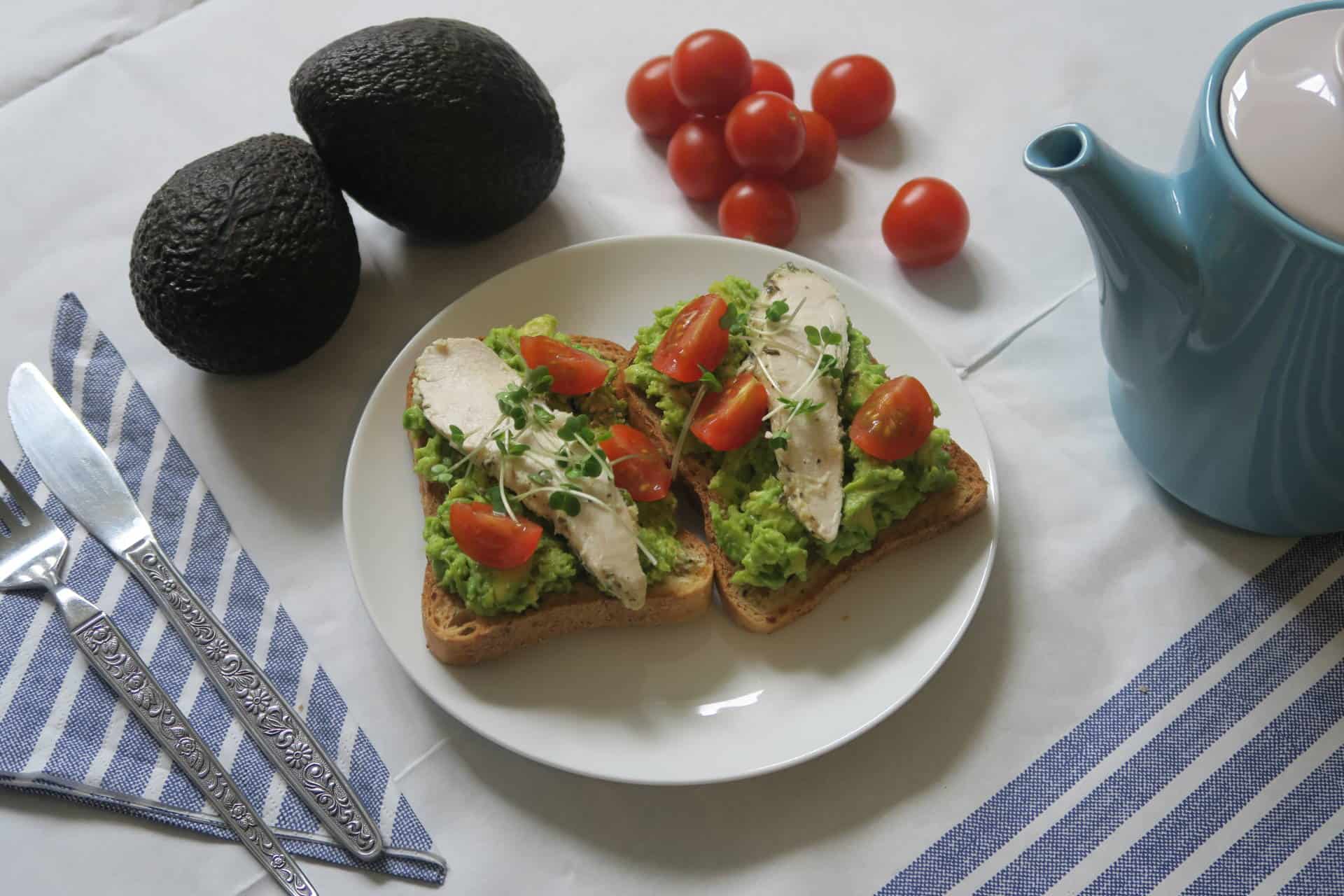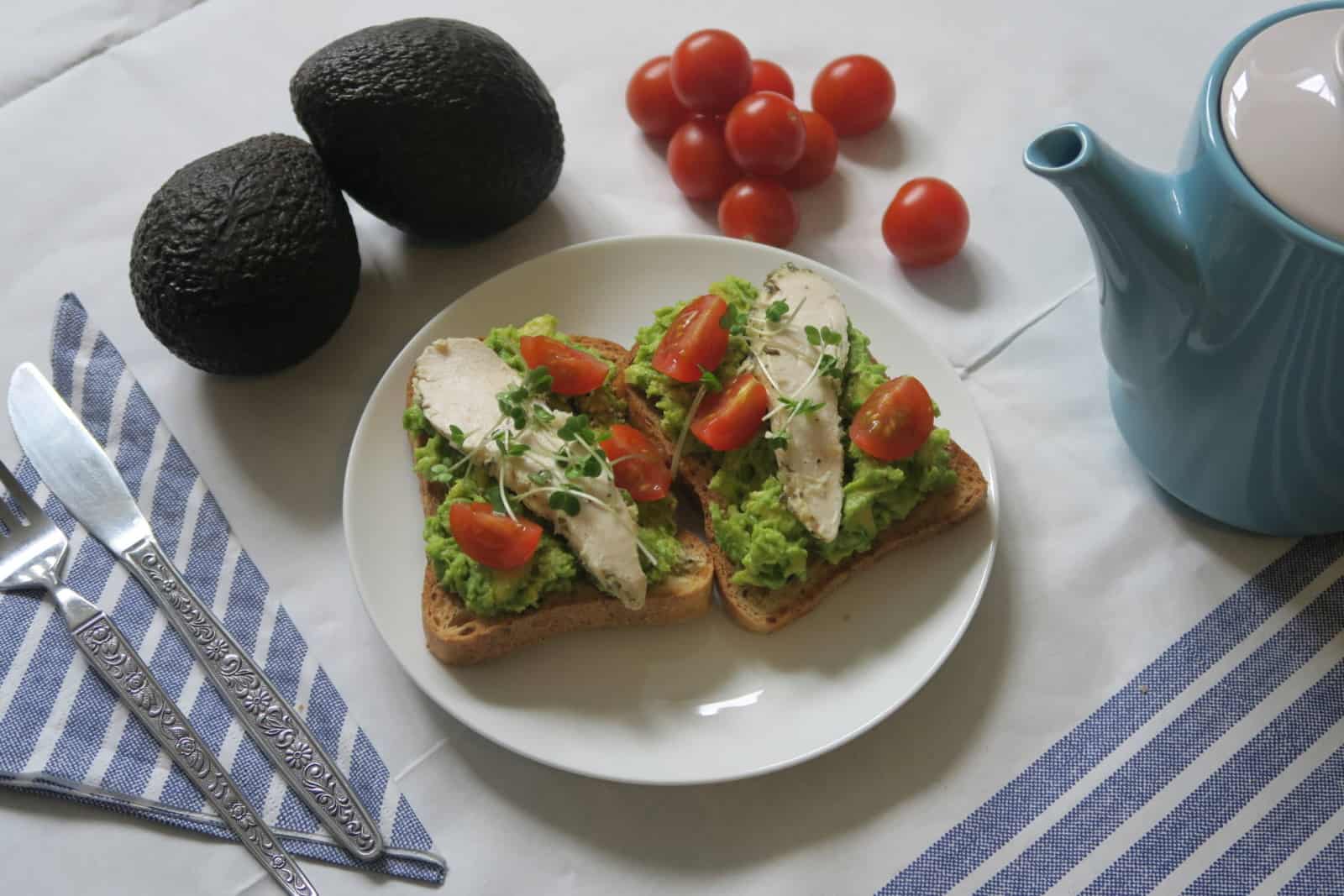 I am a bread lover. I think ever since I stopped eating gluten many years ago & I also went through that silly 'healthy stage' a few years back where bread was bad & salad was good, I've just become incredibly partial to a sarnie. It's been tough of course, because gluten free bread is not usually the best type of bread. But, I have found a few easily available gluten free loaves that have meant chomping down some bread every lunchtime is both possible & delicious. I am particularly fond of the Schär gluten free seeded loaf & the Bergen sunflower & chia seed gluten free loaf – both I would say have very similar qualities to non gluten free bread.
Today I thought, instead of having a sandwich, I'd have some toast. But not just your standard toast with butter & jam. For me the ultimate topping for toast is some battered up, smashed avocado! We love our avocado in this household, my guacamole is always a hit with tacos and fajitas. But for this smashed avocado I just mash & season a ripe avocado (not too smooth as I like lots of texture to it) and spread it across a couple of slices of gluten free toast.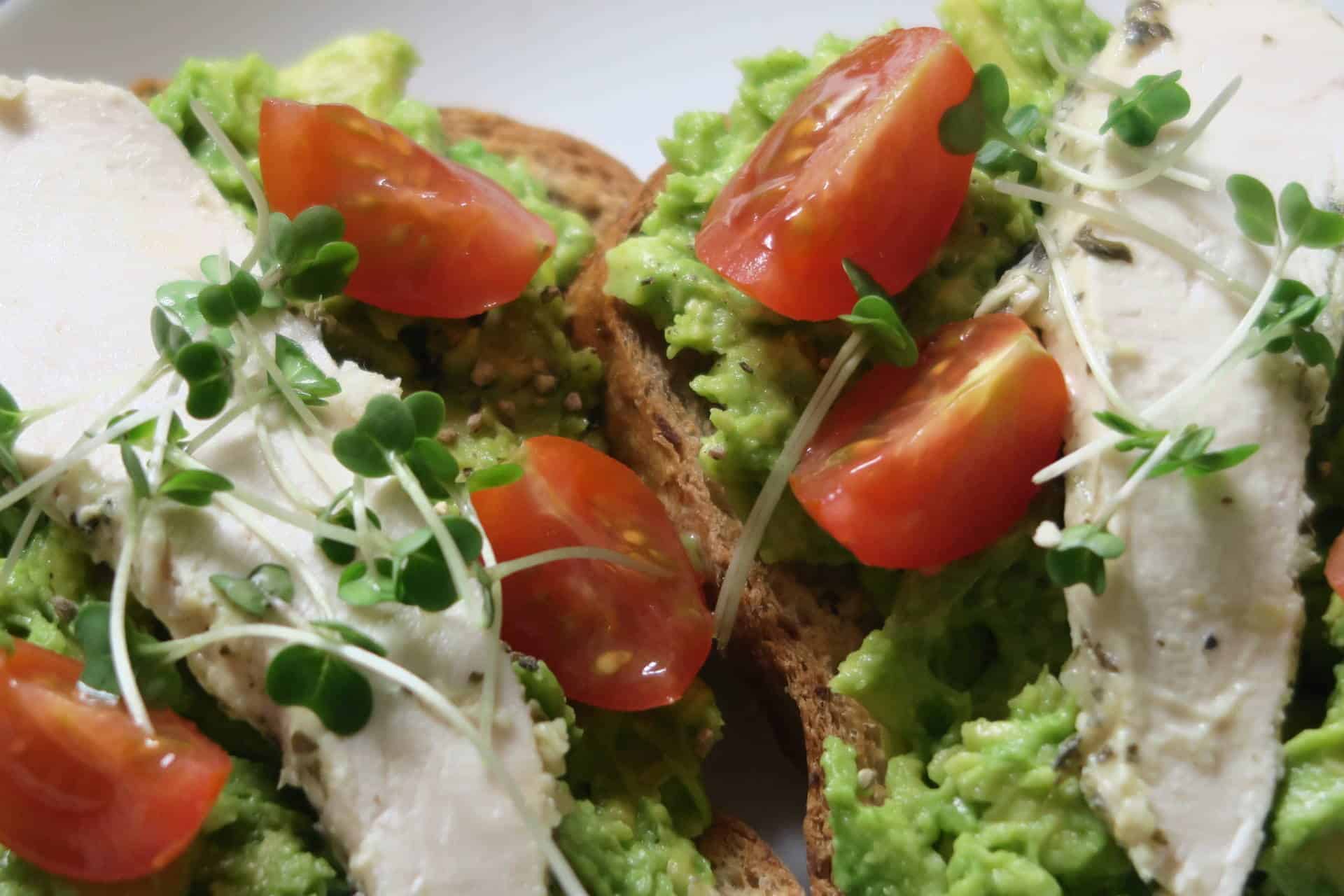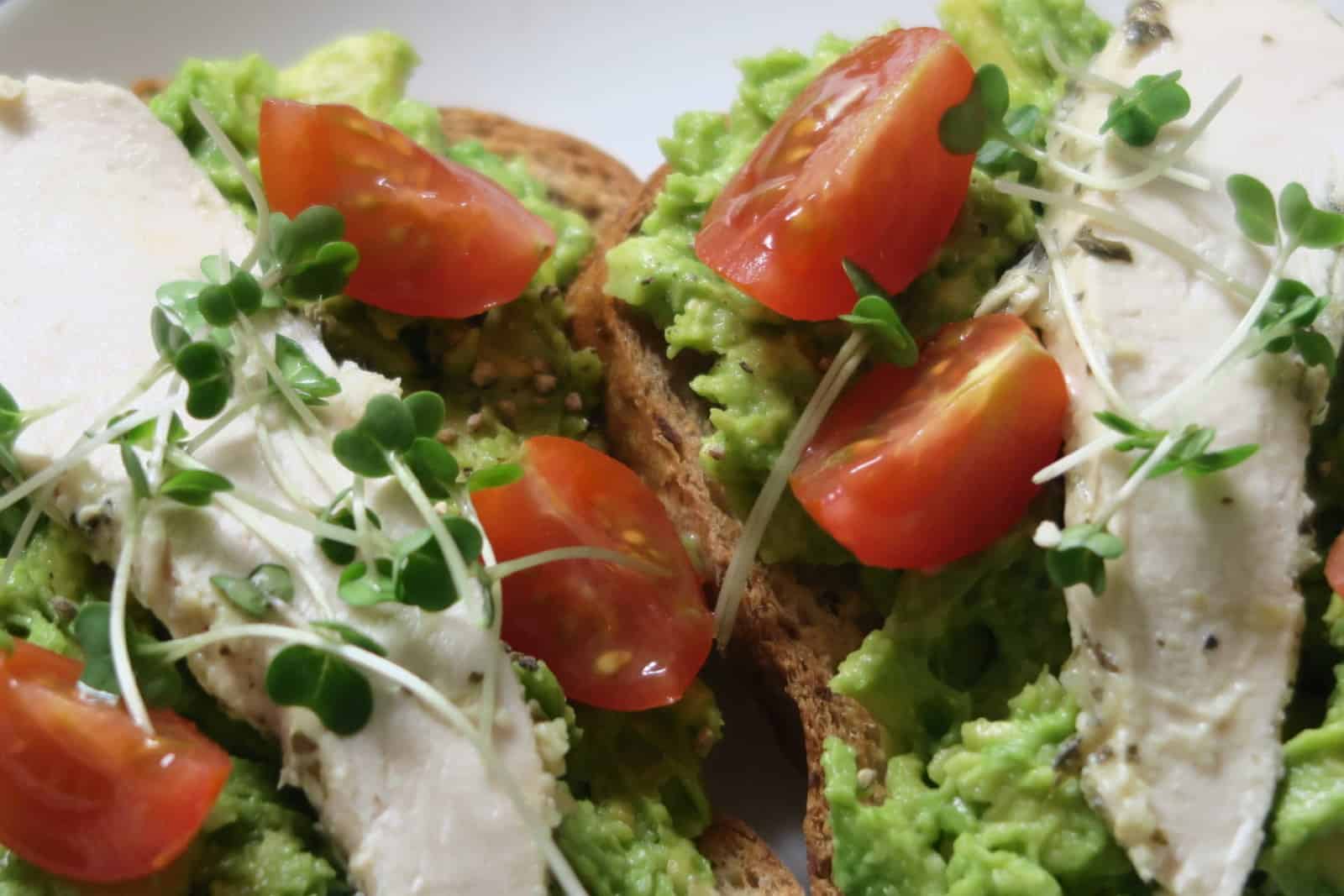 To keep this a strictly vegan & veggie day you could quite easily skip the immediate next step, but I love to add a little bit of roasted chicken to make it a more well rounded lunch. I often have some left over cooked chicken we roast to eat cold, and this is the perfect meal to add it to. Next up I add some chopped up cherry tomatoes and a little cress. It looks great on a plate & tastes even better. If friends pop round for lunch this is often something I rustle up for them, it's so simple, healthy & delicious.
Pit Stop – harris + hoole – vegan hot chocolate time!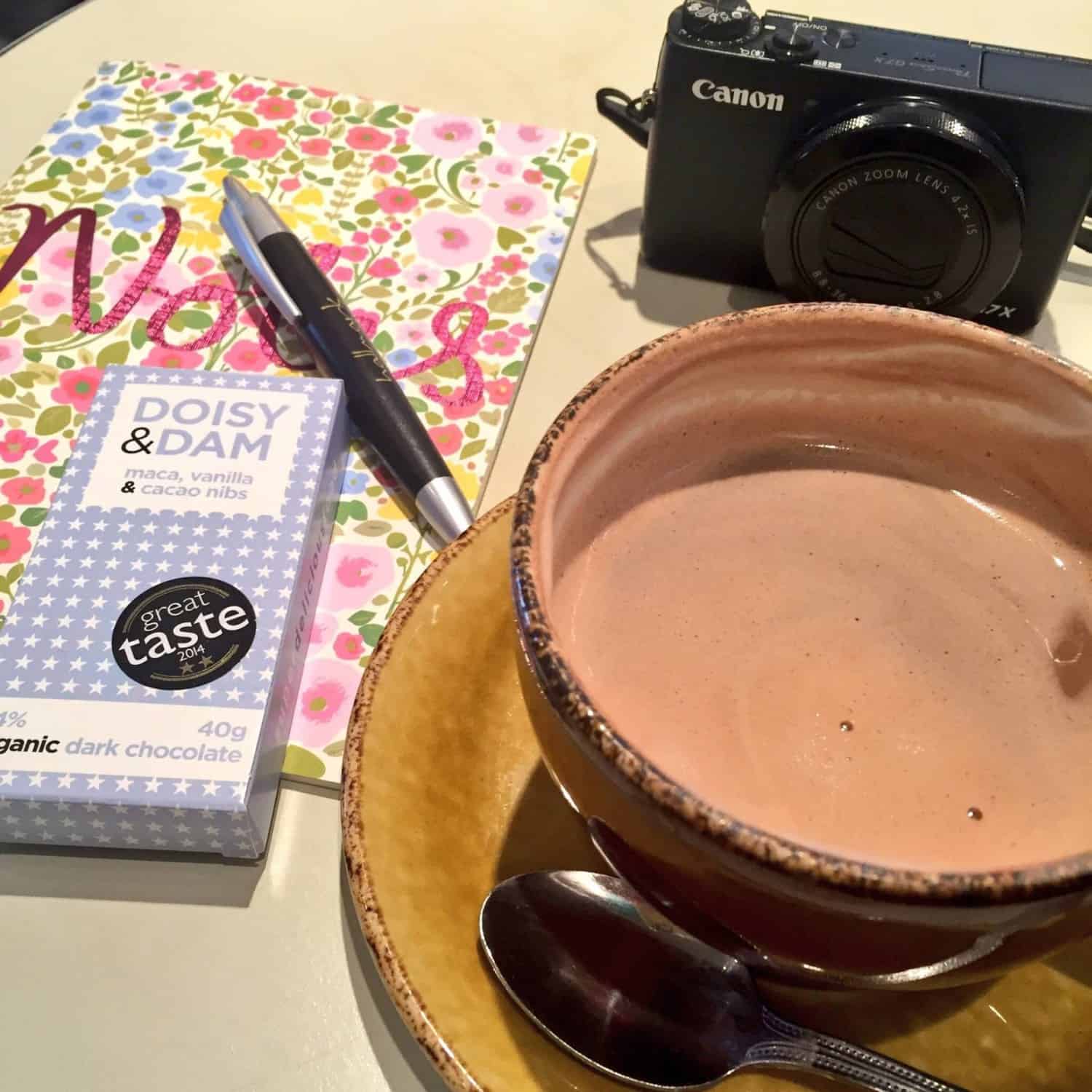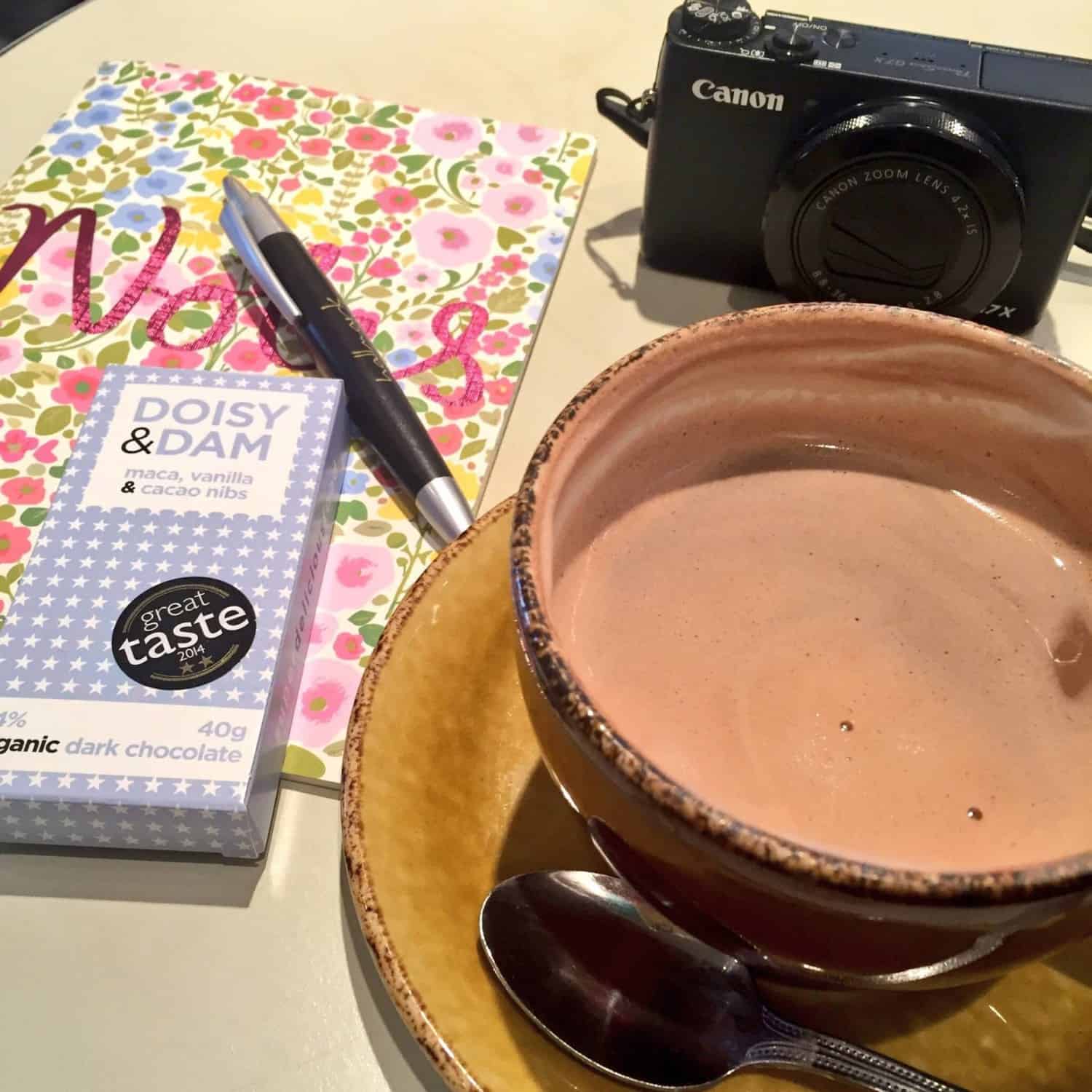 As I mentioned earlier, we keep ourselves quite busy at the weekends. Since we have bought our new house, we have a garden to look after & decorating inside too! I love doing this & could probably keep going for hours and hours without realising the time. However, we have a lovely coffee shop just down the road from us called Harris + Hoole. It's the perfect place to have a little pitstop after some hard work in the garden or a little shopping trip in town.
I mentioned harris + hoole in my March favourites post recently & in a previous blog post from a year or so ago… but I must just mention it again. It really is a lovely cafe which serves up the perfect vegan hot chocolate with soy milk. I can't recommend harris + hoole enough & I also can't recommend enough just getting out for a drink at a cafe. Sometimes it's just the nicest thing to relax, out & about surrounded by people. People watching, chatting, getting some work done using the free wifi & of course, having a tasty hot (or cold!) beverage. Basically, I couldn't miss this little pit stop trip out of my what i eat in a day post!
Dinner – gluten free vegan satay noodles!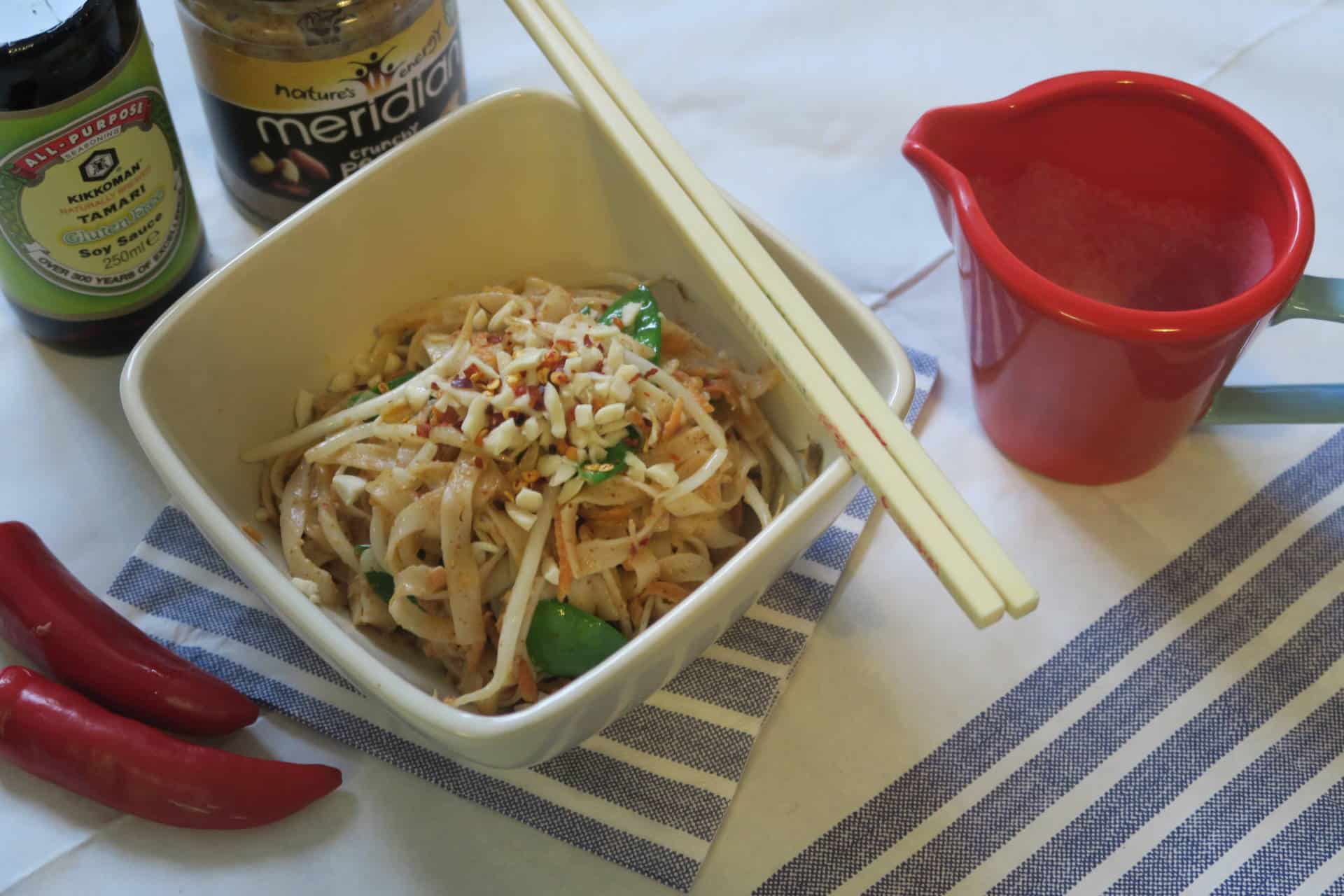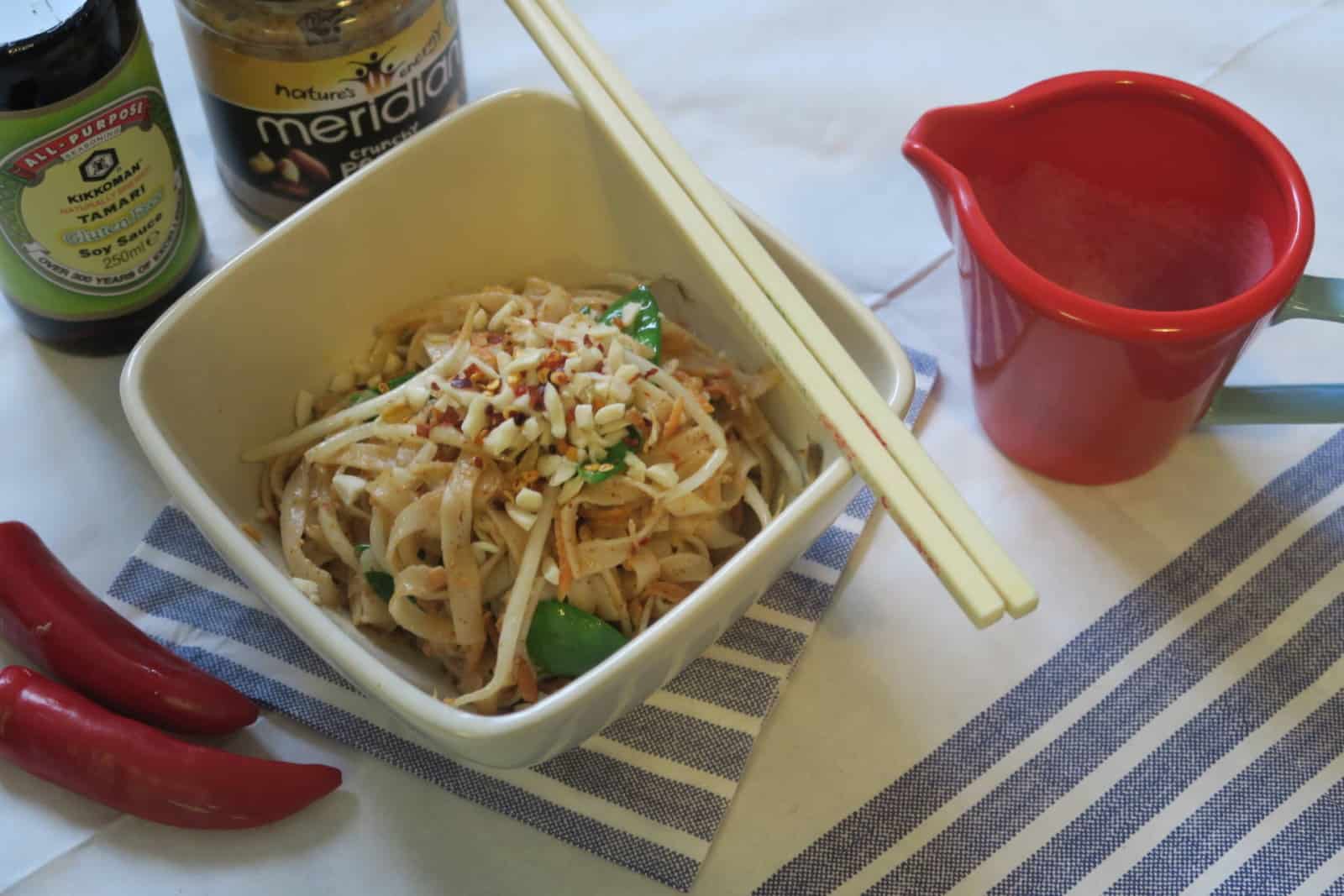 I love asian flavours & satay dishes are some of my favourites. I make my own satay sauce from scratch using just 4 ingredients; I can never buy satay sauces from shops as they so often have some sort of onion, garlic or non gf soy sauce in them. I just add my ingredients for the satay sauce to a saucepan to reduce it down & whilst I'm doing that I fry up everything else in some peanut or garlic infused oil. Firstly frying off the veg, then adding the fresh flat rice noodles (Tesco do my favourite fresh ones) & some beansprouts. The satay sauce is just added to the wok, mixed in & dinner is ready. I always add my crushed peanuts, extra chilli & lime for an extra kick.
It really is one of my favourite dishes & I've cooked it quite a few times for others. You can add chicken or king prawns if you wish, but it works perfectly as a vegetarian dish I think. I end up having a few portions whenever I cook this, so make sure you cook up plenty! There's nothing better than a nutritious, gluten free, vegan bowl of satay noodles, & it has definitely made a great end to my, what I eat in a day post I think!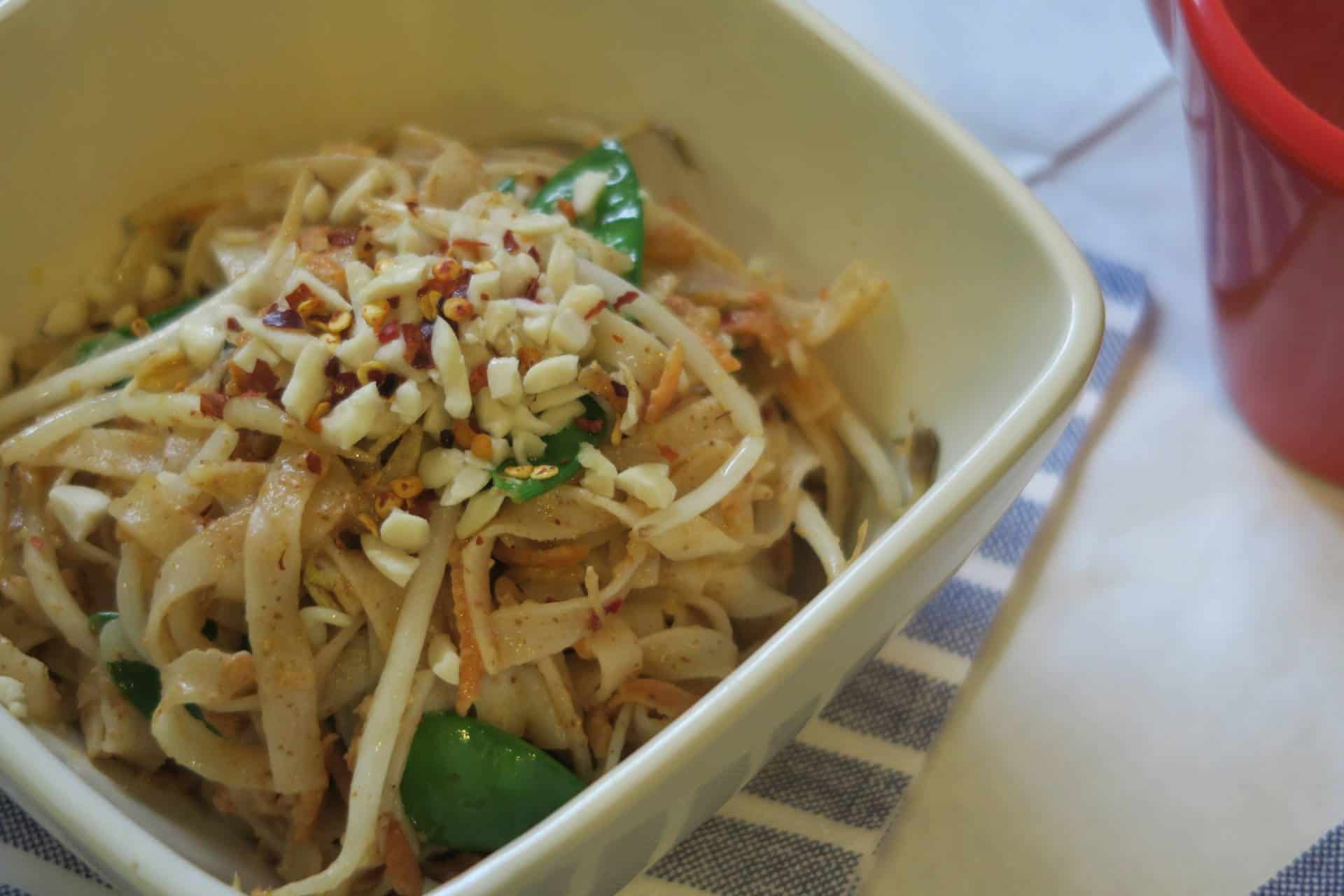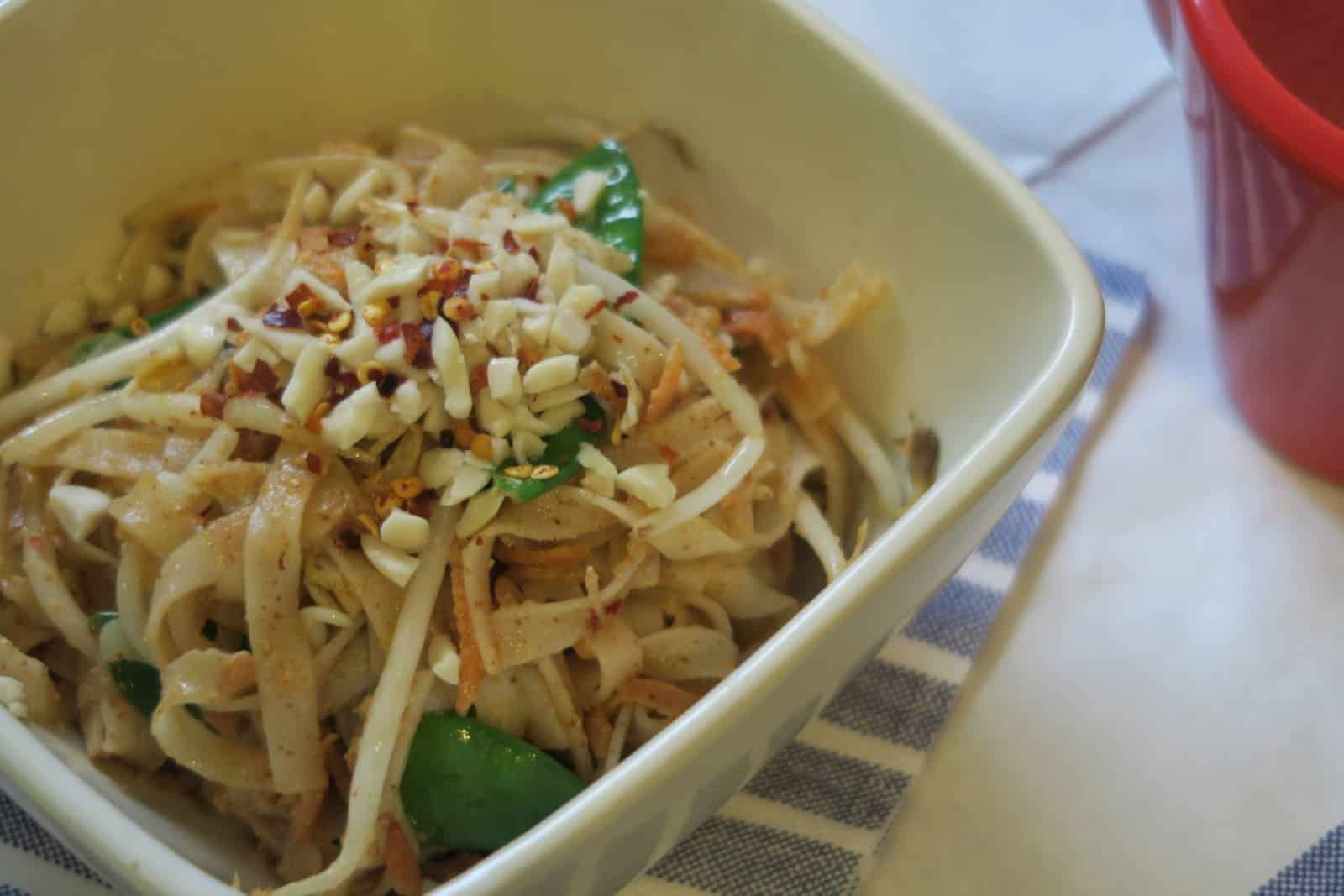 So…
That was what today's What I Eat in a Day! I love sharing my weekend days with you through my meals! I'm definitely going to share a couple of the recipes from this day on the blog soon – I'd love if you would give them a try, as they are really tasty!
I'd also love to know what would be in you What I Eat in a Day if you made a post on it! Be nice to know what you have for breakfast, lunch & dinner. Do you cook mainly from scratch? Do you cook gluten free for the whole family? Do you often cook purely vegetarian or vegan? What are your ultimate dishes? Let me know by leaving a comment below, or on Facebook/Twitter.
Thanks for reading & watching my what i eat in a day!
Becky xxx