Banoffee Pie is one of my favourite desserts. I love it so much so, that I thought I would create my second banoffee pie recipe on the blog today! This time however, I've gone for a Healthy Banoffee Pie! This healthy banoffee pie recipe is absolutely delicious whilst being gluten free, dairy free, vegan, refined sugar free, grain free & completely natural. It's really simple too!
As you know, I absolutely love baking & recently I've been trying out a lot of different methods. As a kid, my baking only went as far as the good old Delia Smith 'All in One Sponge' method, but now I've decided to branch out a little further. I'm saying it's an unwritten New Years Resolution!
I am definitely someone who not only loves to experiment in the kitchen these days, but also I feel that I need to. If I didn't I sure as hell would have a pretty dull diet. There are so many foods I cannot tolerate that I've found the best way to get around it, is to experiment & see what happens! For me, cooking & baking gluten free (& dairy free) has become second nature & I rarely struggle with achieving tasty results that are GF & DF, however removing refined sugar from baking has not always been so easy – I'm getting better though!!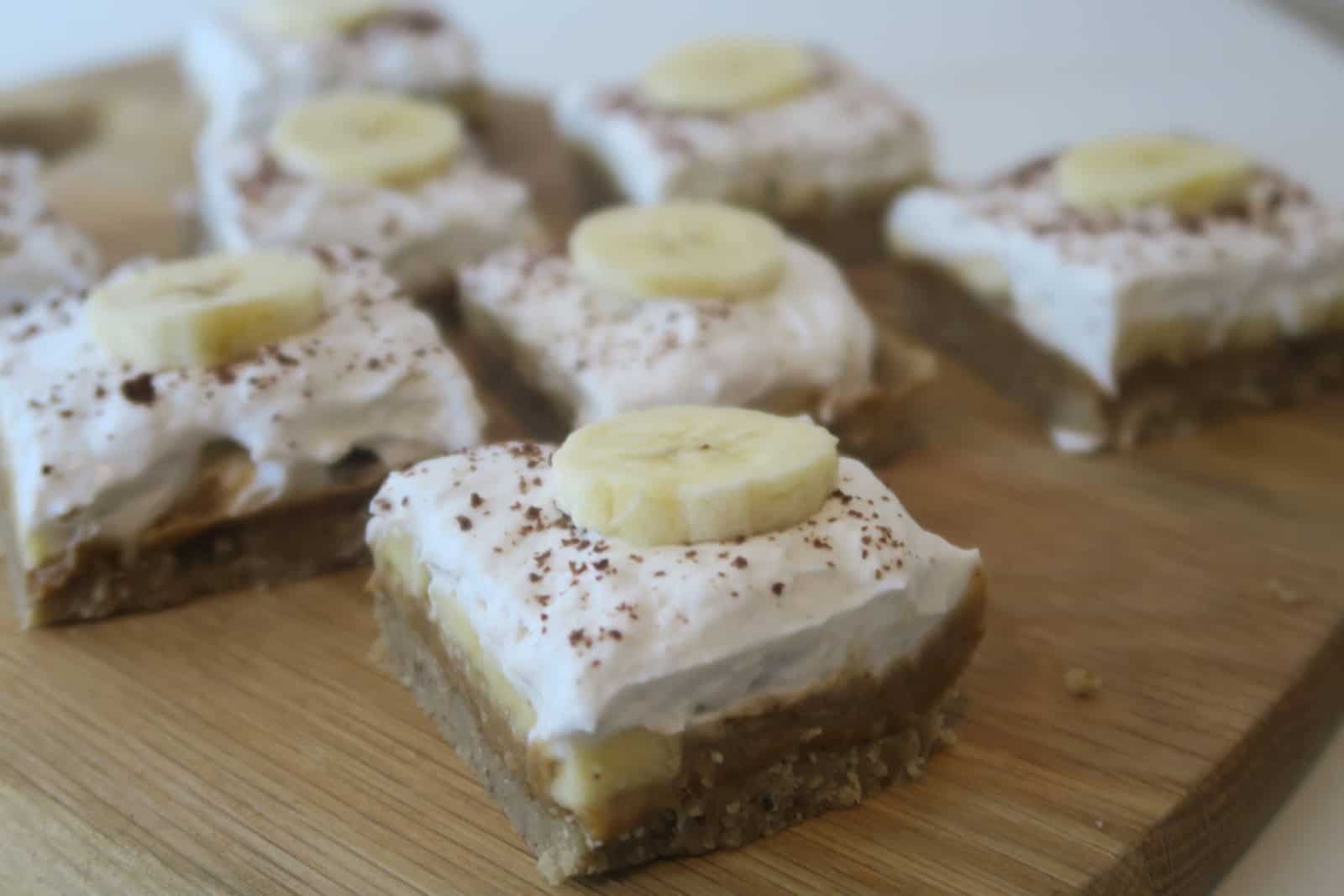 Sugar for me is one of the biggest issues that affects my body the most. Basically sugar doesn't make me feel good in anyway at all, so I basically steer 100% clear of all refined sugars (as much as possible!). It's not an easy task 100% of the time! So when I decided to make us some banoffee pie I suddenly realised there was a lot more than just the caramel that would need changing!
A biscuit base using regular biscuits (or gluten free biscuits) is filled with refined sugar. So I decided to make my own base by just blending a few ingredients together. Pecan nuts are literally amazing with a base layer. They are my favourite nut & also have their own caramel taste within them. Ground almonds is another great ingredient that I have recently decided to use a lot more than just in a frangipane! Basically the base layer of my healthy banoffee pie has more flavour than any base I've ever tried and plenty of texture too. I don't know why I was so surprised when it worked 😀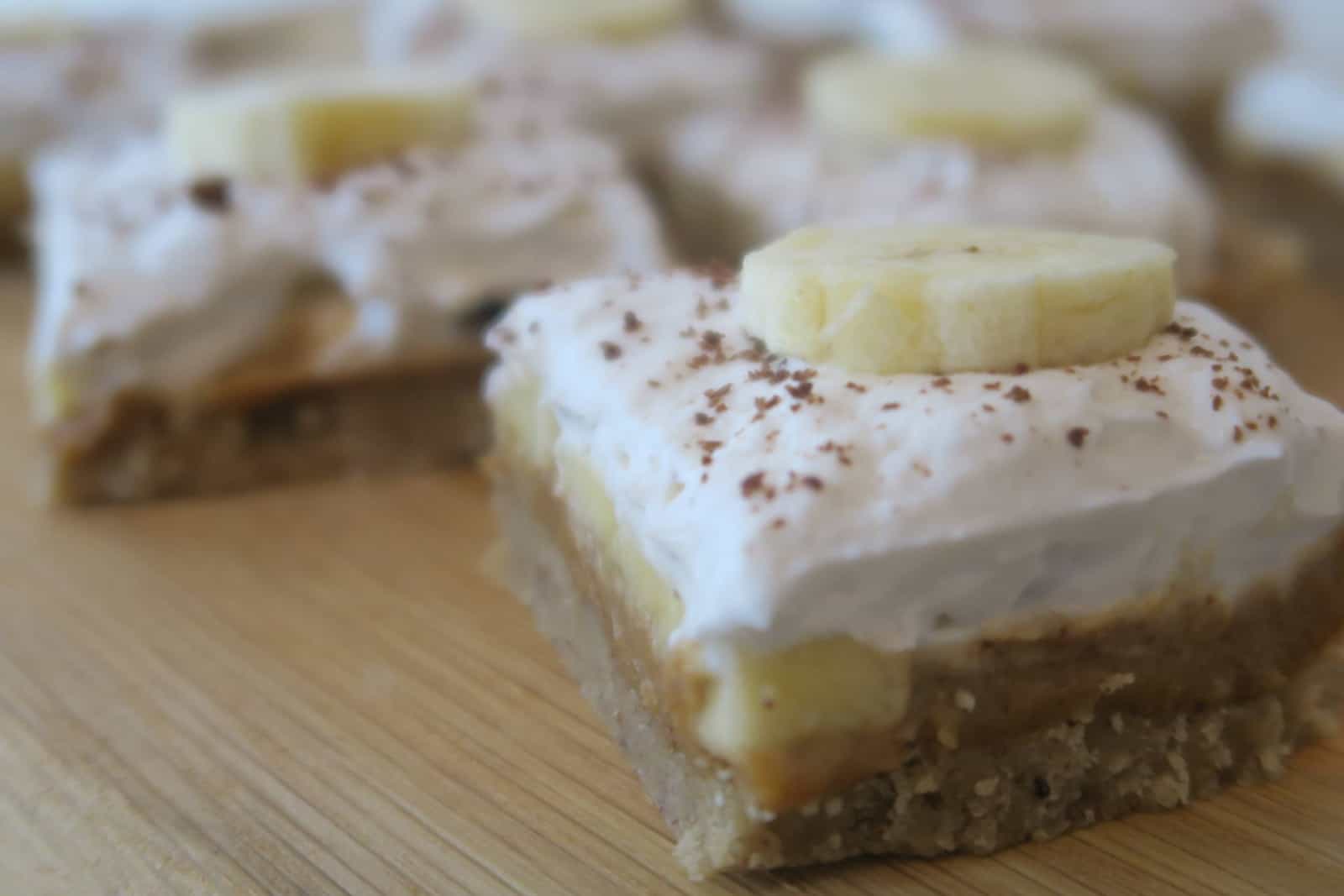 Making caramel with dates is something I have made before. Sticky toffee puddings always contain dates (something that put me off sticky toffee pudding when I was once a fussy eater child!), however it never fails to amaze me how you really can make caramel with just three ingredients & no added nasties. If you haven't tried it before you better.
Coconut milk again, is a great solution for those who don't eat dairy, it's also got the added bonus of being really flavoursome, so there is no need to add any sugar to it.
Basically, I just love Banoffee Pie & kinda just want to eat it on a more regular basis. This is my extremely simple & tasty solution. Seriously try it out & see what I mean, it's well worth it… Healthy Banoffee Pie HELL YES!
My Healthy Banoffee Pie Slices
A delicious Gluten Free, Dairy Free, Vegan, Refined Sugar Free, Grain Free Banoffee Pie. All natural ingredients & no nasties.
Ingredients
For the Base
140

g

Pecans

100

g

Ground Almonds

3

Tbsp

Coconut Flour

4

Tbsp

Coconut Oil

4

Tbsp

Maple Syrup

1

Tsp

Maca Powder

optional
For the Caramel
260

g

Medjool Dates

soaked & stones removed

1.5

Tbsp

Coconut Oil

1.5

Tbsp

Almond Butter

Or another nut butter that you prefer
For the topping
2

Bananas

1

Tin Coconut Milk

chill this in the fridge for a few hours before using

Dairy Free Chocolate

grated
Instructions
So, let's start with the base. Grease/Line a baking tin with baking/parchment paper.

Add all your base ingredients to a mixer & blend until your mix is well combined.

Spoon out your base mixture into your prepared tin & press it down evenly right into the corners.

Place in the freezer for around 30 minutes whilst you prepare your caramel layer.

Now we'll start making the caramel layer. Place your dates in a bowl of hot water & soak for around 5 minutes to allow them to soften. (Also make sure there are no stones in your dates, remove them before soaking if necessary)

Drain the water off of your dates & place in your mixer to blend for a few minutes till smooth.

Add your coconut oil & nut butter to the mixer & continue to blend for a further few minutes till smooth & combined.

Spoon your caramel onto your chilled base layer. Smooth it out using a wet knife, right to the edges.

Place back into the freezer for a few hours to allow the caramel to firm up a bit, it won't need too long.

Now for our topping. Slice up a couple of bananas & cover the entire caramel layer (once firmed up) with banana.

Grab your tin of coconut milk & either use a cream whipper or an electric hand whisk to whip up your coconut milk so it's thick & creamy. (It has a nice flavour but if you want to add a natural sweetener, feel free)

Squirt or spoon on your whipped coconut cream on top of your other layers, smoothing it over to make it even and more attractive!

Sprinkle your grated chocolate over the top & maybe some more banana.

Slice up however you fancy & ENJOY!
Notes
I like to keep mine chilled in the fridge, when they last long enough!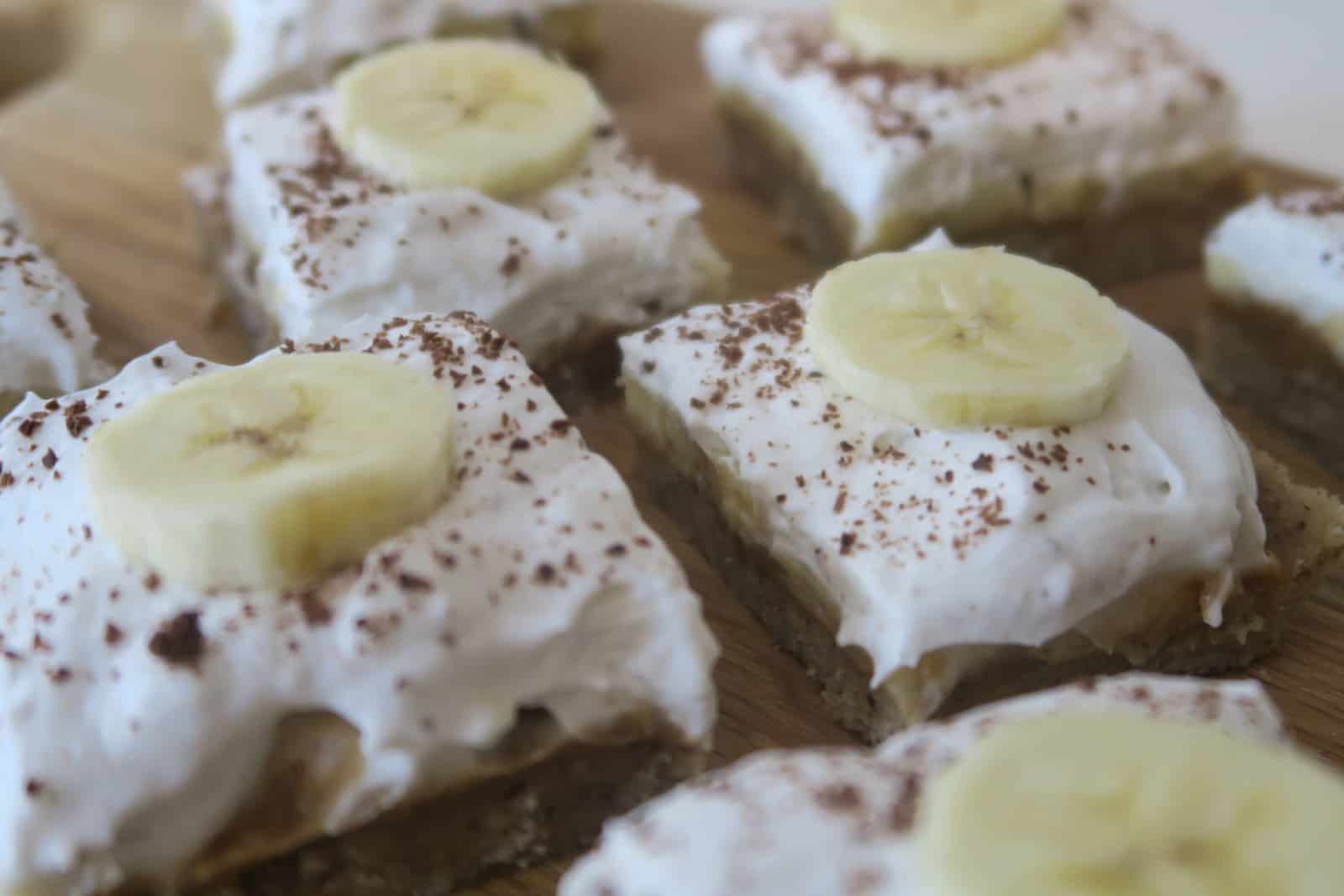 Is Banoffee Pie a favourite dessert in your household? What cakes & bakes do you wish you could eat every single day?! Are there any other recipes you would like me to tackle? Or do you have any questions about my healthy banoffee pie? Just drop a comment below, or on Facebook/Twitter. Oh & if you would be so kind, hop over to my YouTube channel & click subscribe so you can check out my other videos too 🙂
Thanks for reading & watching,
Becky xx