Say hello to my gluten free lemon meringue pie recipe! I first posted this in 2015, so over two years later, it was about time that I came back and updated it, don't you think? It's dairy free and low FODMAP too btw.
Now, a gluten free lemon meringue pie would normally feature gluten free pastry… but not mine! I decided to lose the pastry and instead go for an epic biscuit base. Did I just blow your mind? Trust me, once you've tried it, you won't go back!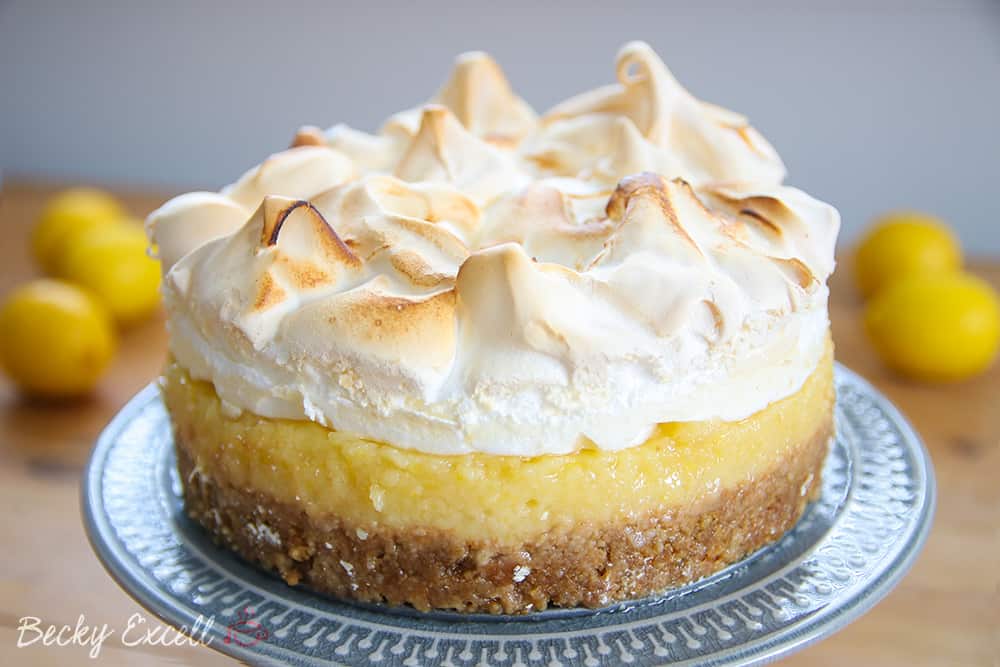 Now, I feel like I've mastered gluten free shortcrust pastry since posting my gluten free pecan pie recipe, but it requires a delicate touch and patience.
Do you know what doesn't require those things? Smashing up some gluten free digestive biscuits in a zip-lock bag and mixing it with melted margarine!
But it's not just because a biscuit base is easier and quicker to make. It just tastes better and feels so right.
Please take note of the proportions of biscuit base, to curd, to meringue. For me, the base is the best bit!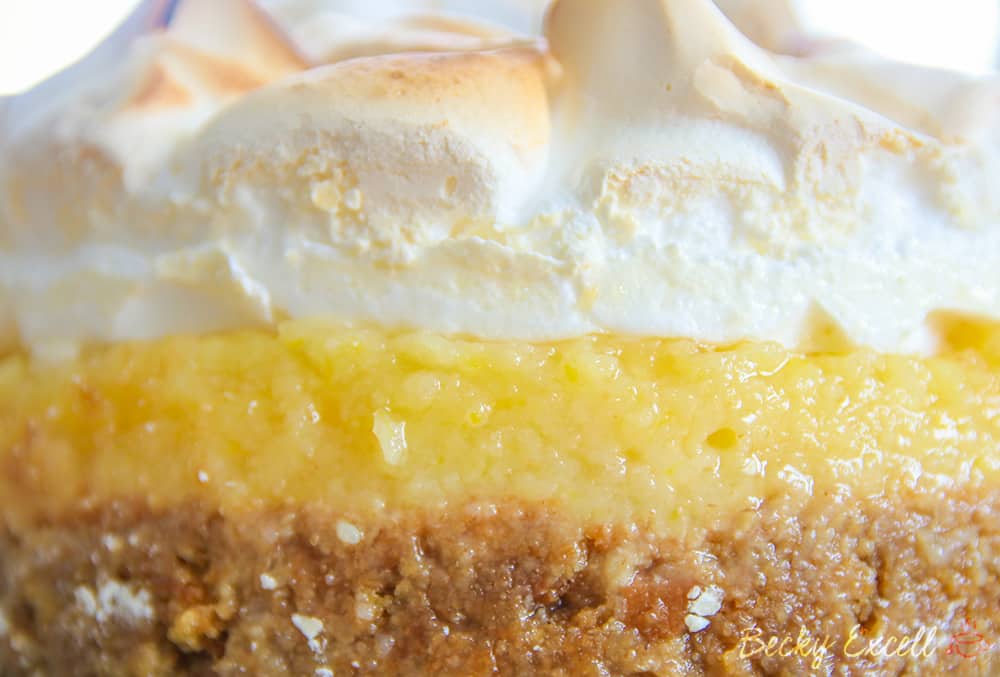 It wasn't until I came back to this post in 2018, that I realised how uncommon a lemon meringue pie with a gluten free base is… back in 2015, I just made this on a whim because I knew Mark would love it!
Turns out, I might have just made something a little special.
But the photos definitely didn't do it justice. Nor did the actual blog post… and the recipe needed a little…
Ok, it was terrible, but the actual gluten free lemon meringue pie was a dream!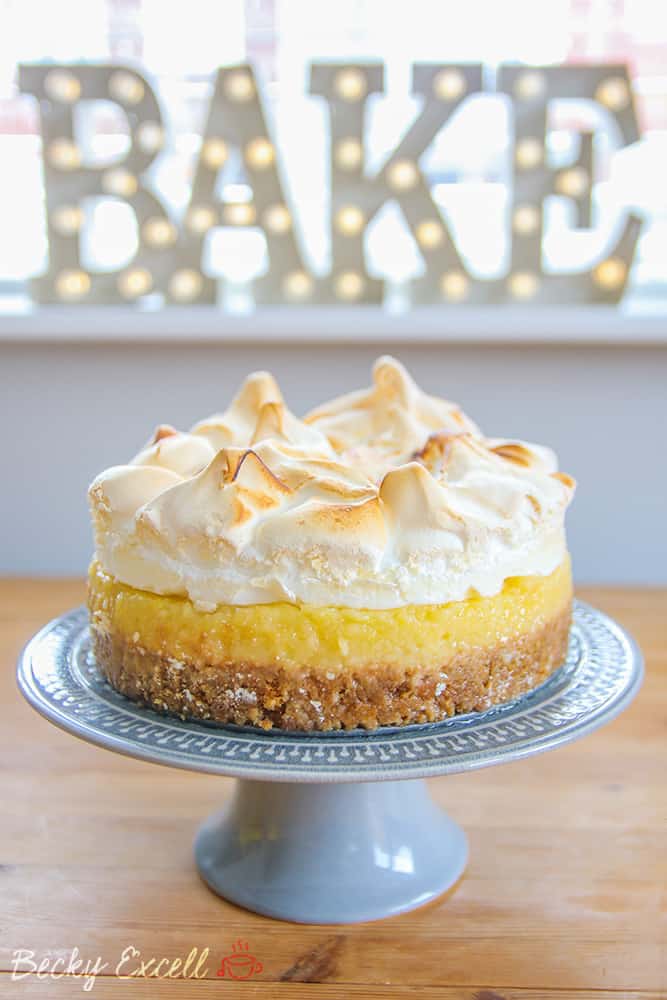 Back when I first made this recipe, I didn't have a kitchen blow torch to give the meringue a nice, crispy outer exterior.
And in 2018, I still don't.
It's definitely not totally necessary, the top will just look like that sort of pale cream colour in the photos, without the darker spots.
But if I still don't have a kitchen blow torch, how did I get those darker spots?
Well, I wasn't really going to tell you guys this, but…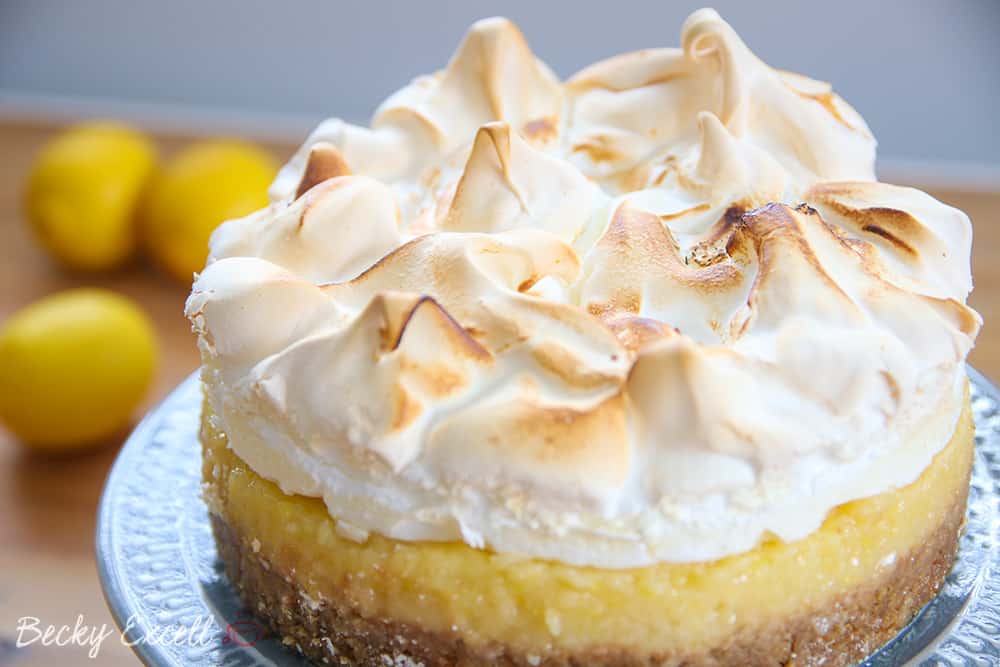 Mark used his blowtorch he uses for plumbing!!
I couldn't be anywhere near him at the time because I was worried he was going to set the whole thing on fire, but I think he did a great job.
(apart from that one overly dark spot spot in the photo above!!!)
I definitely would recommend getting a kitchen blow torch as Mark's blowtorch was waaaaaaaaaay too powerful and hot! But don't mind us, we're just a little bit nuts.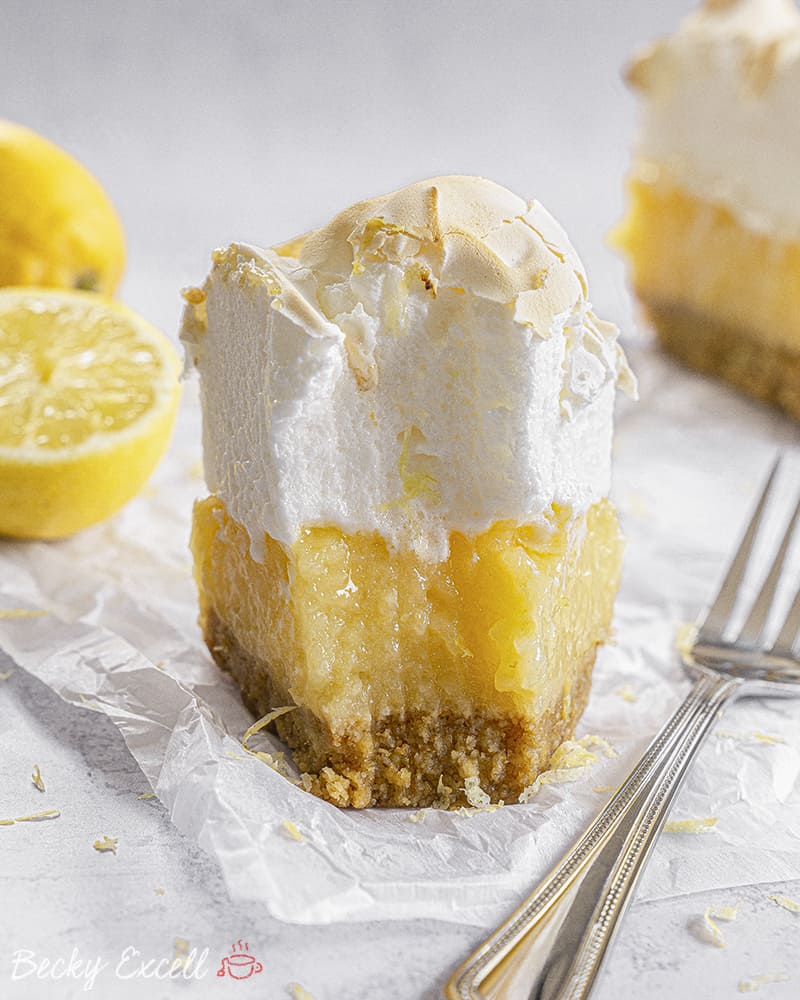 My gluten free lemon meringue pie with it's buttery biscuit base is seriously simple to make. It's literally a matter of making three separate components – the base, the lemon curd, the meringue – and combining them together in a loose bottom tin.
If you've never made your own lemon curd, then now's a good time to start! I wouldn't recommend cheating and buying it before you even think that.
(yes, I can read your mind)
This curd will set with a jelly like consistency which will help your gluten free lemon meringue pie hold its shape when taken out of the baking tin.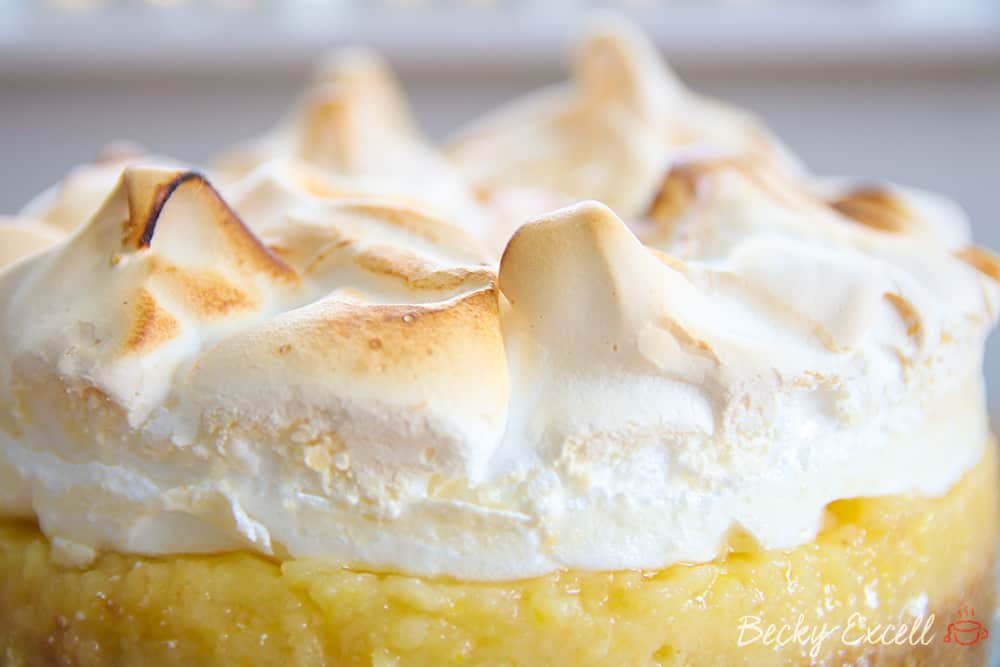 This is quite possibly the most satisfying use of meringue too – it's not like a shop bought meringue at all. In fact it makes shop bought meringues look bad, if I'm honest!
There's a real thin layer of crispy goodness on the outside and the entire inside is totally light, fluffy and like eating a cloud.
Convinced? I hope so, because I'm about to share the recipe! Making this dairy free really makes no difference at all and plus, it's low FODMAP too.
Anyway, here's how to make my gluten free lemon meringue pie! ??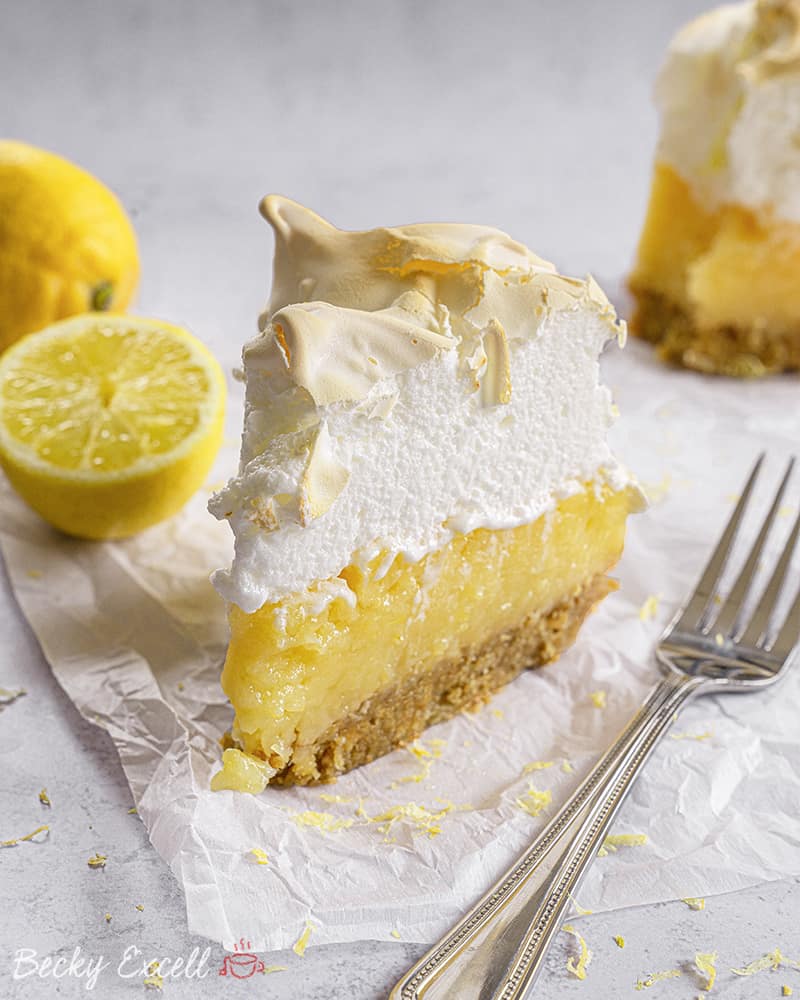 Gluten Free Lemon Meringue Pie Recipe w/ Biscuit Base (dairy free, low FODMAP)
I love lemon in desserts. I also love biscuit bases. So here is a Gluten Free and Dairy Free Lemon Meringue Pie with a biscuit base... simple & delicious!
Ingredients
For the biscuit base
300g gluten free digestives

80g dairy free spread

I use Pure, melted
For the lemon filling
6 lemons

zest & juice

65g cornflour

250g caster sugar

6 egg yolks
For the meringue
6 egg whites

save these from your egg yolks you used earlier

340g caster sugar

3 tsp cornflour
Instructions
Crush your biscuits (I usually place them in a freezer bag & hit them with a rolling pin!)

In a bowl, mix together your crushed biscuits and melted dairy free spread.

Press into a loose bottomed tin & chill in the fridge whilst you make your lemon layer. (minimum 30 minutes)

Zest and juice all of your lemons into a bowl.

Add your cornflour and mix to form a loose paste.

Bring to the boil 440ml of water. Once boiling add your lemon/cornflour paste. Stir until thickened and remove from the heat.

In a separate bowl, mix together your sugar and egg yolks until smooth.

Slowly add your egg/sugar mixture to your saucepan, whisking or stirring continuously. Once all the mixture has been added, plate over a low heat and continue to stir till a little more thickened.

Allow to cool slightly before pouring it over your biscuit base. Put to one side, ideally in the fridge.

To make the meringue add your egg whites to a freestanding mixer (or use an electric hand whisk). Whisk until soft peaks are formed.

Continue to whisk and gradually add your sugar until stiff peaks have formed and it's glossy.

Finally add your cornflour and whisk once more. Make sure your meringue is lovely and thick.

Spoon your meringue on top of the lemon layer. Swirl it around making little peaks as you go.

Bake in the oven for about 15 minutes at 170C.

If you have a cooking blow torch at this point you could gently torch the top to give it a little more colour (optional).

Allow to completely cool in the tin and then chill in the fridge for a good few hours (I always chill overnight) to allow the lemon layer to cool and settle down.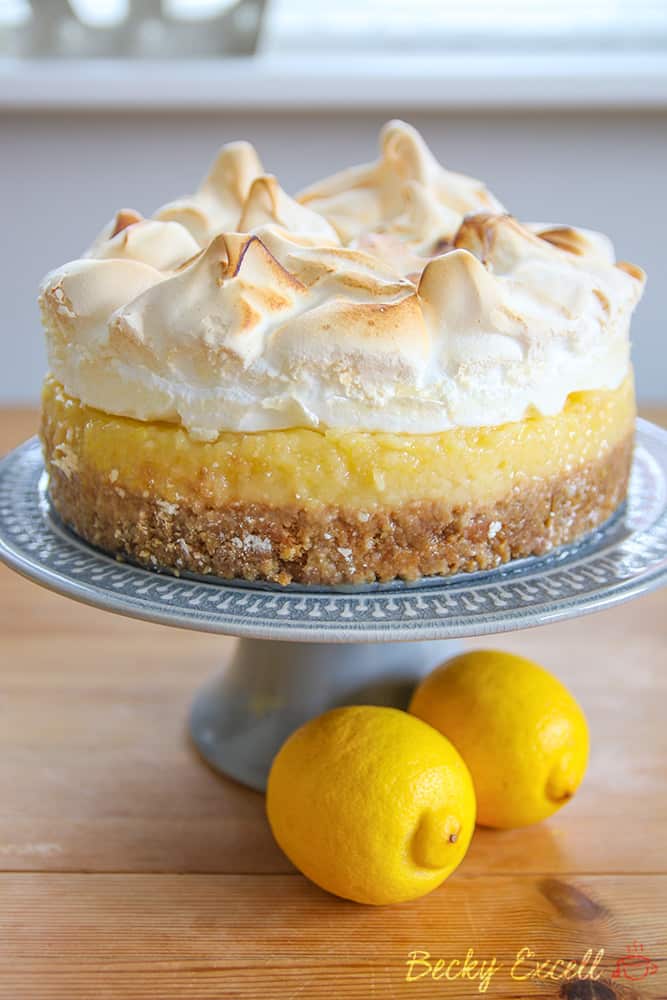 Thanks for reading how to make my gluten free lemon meringue pie recipe with a biscuit base! If you make it, I'd love to see how it turns out. So absolutely make sure that you send me a pic using my social media links below…
Any questions about the recipe? What did you think of the buttery biscuit base instead of gluten free pastry? Please do let me know by leaving a comment below or on Facebook / Twitter / Instagram!
Thanks for reading,
Becky xxx
Oh and don't forget to pin this for later!