Gluten Free Bread and Butter Pudding isn't exactly a common dish! However, it is an incredibly easy dish to make. Here is a delicious Chocolate Bread and Butter Pudding recipe from Genius!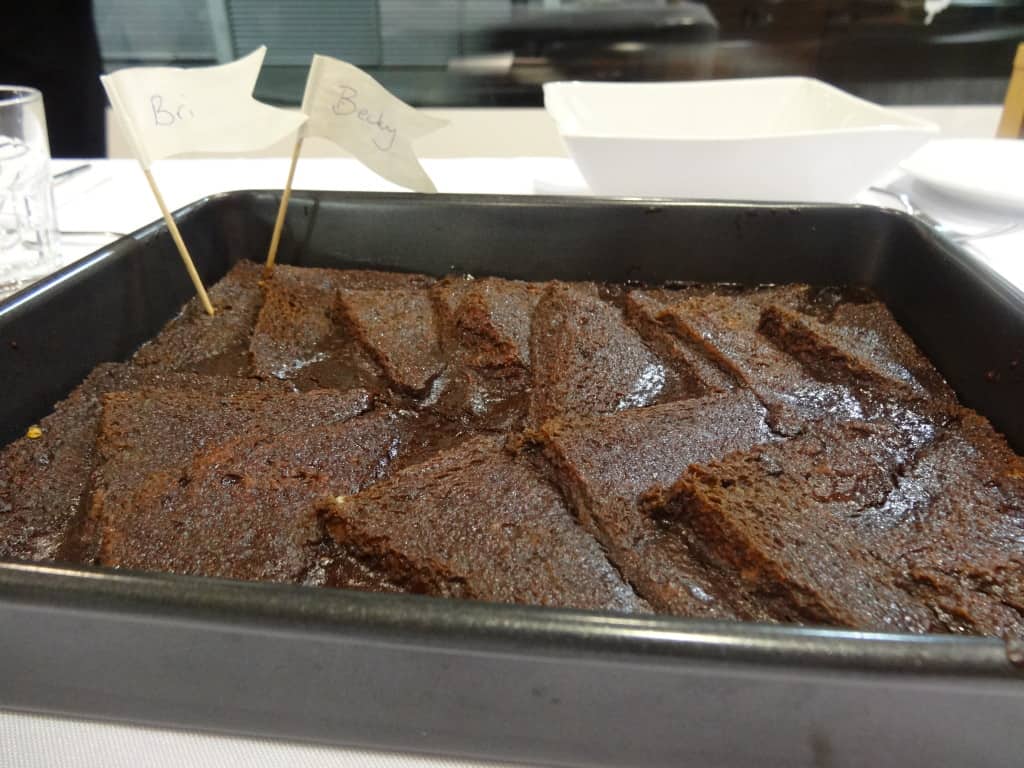 I recently was invited to the launch event of some of the new Genius Gluten Free range. I must admit it was one of my favourite launch events… it took place at L'atelier des Chefs, a cookery school in St Pauls, London. I got to spend my Wednesday evening cooking gluten free! I felt like I was on a Free From British Bake Off… let's get this show onto the BBC!
One of the dishes we made was a chocolate gluten free bread and butter pudding. Of course, we got the chance to sit down and enjoy our dishes afterwards; I enjoyed the gluten free bread and butter pudding SO much… that I thought I would share the recipe with you! It is really simple and we made ours dairy free as well. Bread and butter pudding is an incredibly adaptable dish, I use to often just make a basic one with a regular custard, sometimes I'd make one with bananas too… basically pre gluten intolerance I was a massive bread and butter pudding fan!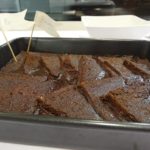 Chocolate Gluten Free Bread and Butter Pudding
A delicious Chocolate Bread and Butter Pudding that is both Gluten Free & Dairy Free from Genius Gluten Free.
Ingredients
6

slices

of gluten free white bread

crusts removed and cut diagonally in two (I used Genius)

80

g

dark dairy free chocolate

broken into pieces

40

g

dairy free margarine

I used Pure

100

ml

dairy free cream

I used Alpro Coconut Cuisine

100

ml

dairy free milk

Soy, Almond or Coconut Milk works fine

2

tbsp

dark rum

completely optional!

Zest of 1 orange

55

g

caster sugar

1

⁄2 tsp ground cinnamon

1

pinch

of chilli flakes

optional

1

⁄4 tsp ground cloves

2

eggs

beaten
Instructions
Preheat the oven to 180°C.

Place the chocolate, dairy free margarine, dairy free cream, dairy free milk, rum (optional!!), orange zest, sugar and spices in a medium sized pan and stir until the chocolate is fully melted and the mixture is smooth and glossy.

Beat your eggs thoroughly in a medium bowl.

Pour the chocolate mixture gradually into the beaten eggs, stirring continuously.

Cut your bread slices into triangles and remove the crusts (you can keep them on if you prefer!)

Overlap the bread triangles over the base of a small greased oven proof dish then pour over the chocolate and egg custard.

Bake in the middle of a preheated oven for 20-25 minutes or until the custard is just set in the centre of the pudding.

Serve warm with dairy free vanilla ice cream.

Enjoy!
Recipe Notes
The spices and alcohol are completely optional in this dish.
You could try adding something different, for example I often add pecan nuts to a bread & butter pudding!
You could add chocolate chips to make this chocolatey dish even more chocolatey!
We all have some left over gluten free bread sitting around from time to time, a gluten free bread and butter pudding really is the ultimate way to use it up (better than feeding the birds!!) I would highly recommend giving this recipe a go. It has the seal of approval from myself and the lovely Lucinda of Genius Gluten Free Foods.
Let me know if you get the chance to try out this recipe. Have you got any tips that you would recommend to make my gluten free bread and butter pudding even better? What's your favourite flavours to add to a bread and butter pudding? So many questions! Just drop me a comment below, or on Facebook/Twitter.
Thanks for reading,
Becky xxx
Comments