Gluten Free Doughnuts that are also Dairy Free, Egg Free, Soya Free & totally suitable for Coeliacs & Vegans… I am NOT lying! Better still, these Gluten Free Doughnuts taste as good as any regular doughnuts.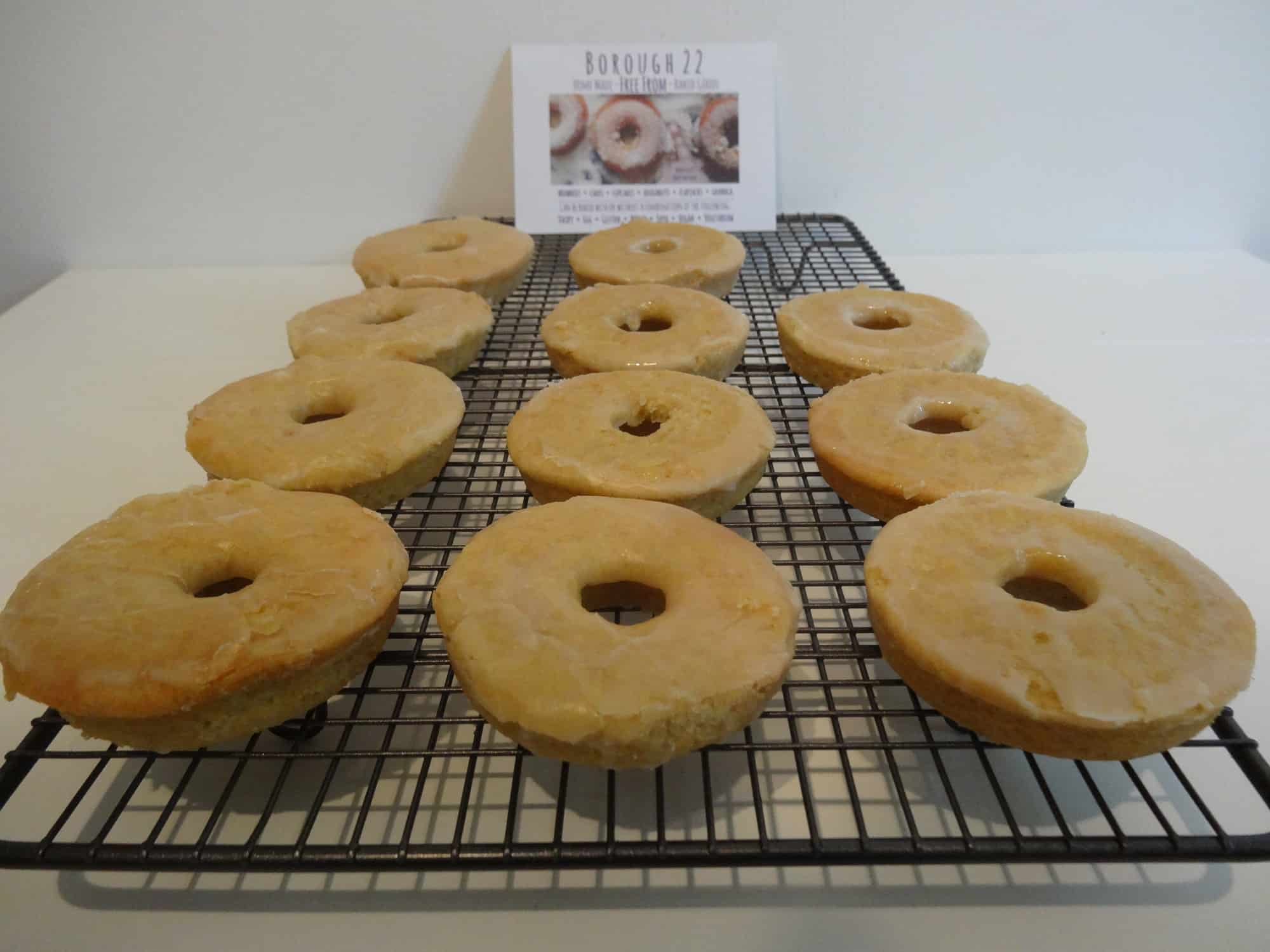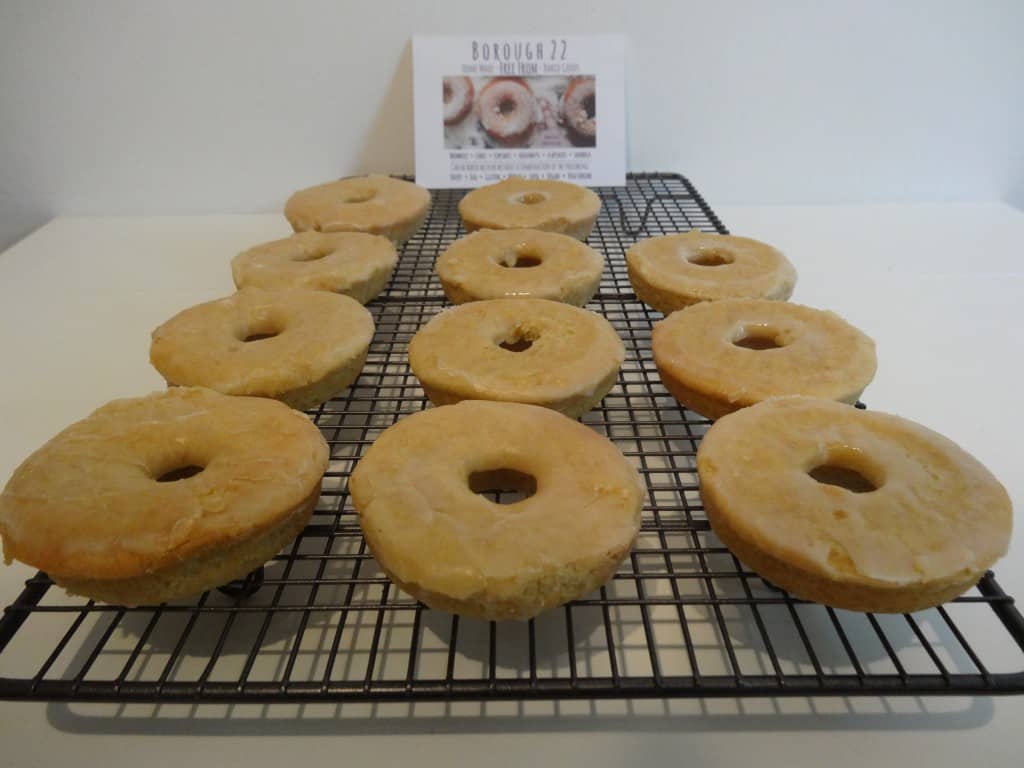 We all love doughnuts but due to one intolerance or another , it is difficult to find doughnuts suitable for everyone. Ryan Panchoo of Borough 22 has been on a mission to change that. Free From in Ryan's view does not mean missing out on the best.
Borough 22 is based in London, where Ryan will happily deliver Gluten Free Doughnuts to you all day long! Fortunately his recent amazing idea… The Gluten Free Doughnut Rally! On 28th May 2015 the Doughnut Dash hit Manchester & I was there to grab 12 delicious Gluten Free Doughnuts (Vanilla Glazed).
I rushed home with my gluten free doughnuts, so excited to try them. When I got back Mark was over the moon to find they were also dairy free doughnuts! We love foods that are both gluten free & dairy free, it is great to be able to eat the same foods, it makes it a bit more special.
They smelt great, & tasted better. They were soft, moist & incredibly light. I often find Gluten Free baked goods are often incredibly dense, these were anything but. The flavour was amazing I really felt like I was eating doughnuts made specially for me. They really tingled my taste buds, I must admit, I ate quite a few!!
I would highly recommend the Vanilla Glazed flavour but furthermore they do Nutella, Salted Caramel, Cinnamon Sugared, Raspberry Pistachio & regular monthly specials. If you get a chance, try them all! I cannot wait to get the chance to indulge in ever single flavour!
The Interview with a Free From Baking Genius… Ryan Panchoo!
I quizzed Ryan Panchoo all about his Gluten Free Doughnut Heaven… & what the future hold. Does he have any new Free From baking ideas?! Find out below!
So, why did you start up Borough 22?
I started Borough 22 in a bid to satisfy my wife and my children's sweet cravings. My wife is both gluten and dairy intolerant and cannot handle processed sugar. My children, at the time, were both dairy intolerant. I have a massively sweet tooth but a sloth-like metabolism so I was getting a little heavy set trying to eat everything I had baked before it went bad. I developed a couple of great recipes that went down really well with my friends and family and so, after much encouragement and several ultimatums, I decided to investigate selling to the public.
What made you decide to do a Doughnut Dash?
I started to get a lot of interest outside of London so l looked at courier services to deliver our goods but the costs were astronomical. We wanted to send our goods as fresh as possible. The solution was The Gluten Free Doughnut Rally. Admittedly Doughnut Dash is easier to say.
What is your favourite flavour doughnut you create? Any flavours you are excited to try out?!
My personal favourite is the most simple. Sugared. I am a firm believer in the simpler the better when it comes to food. A lot of food is getting pimped these days and it just ain't right! It just ain't right! I think you can be too heavy handed That being said raspberry pistachio is our second favourite. The combination is to die for. I am excited to try out a S'More flavoured doughnut… totally disregarding what I JUST SAID!
Who inspired your cooking and baking style? Or were you born super talented?!
I would say that I'm a bit of a sponge. I love food so virtually every TV Chef has inspired me. My favourite baker without a doubt is Bea Vo of Bea's of Bloomsbury. If you ever come to London go and find one of her shops. Please. She is the reason we primarily use Italian butter-cream frosting. She is a legend.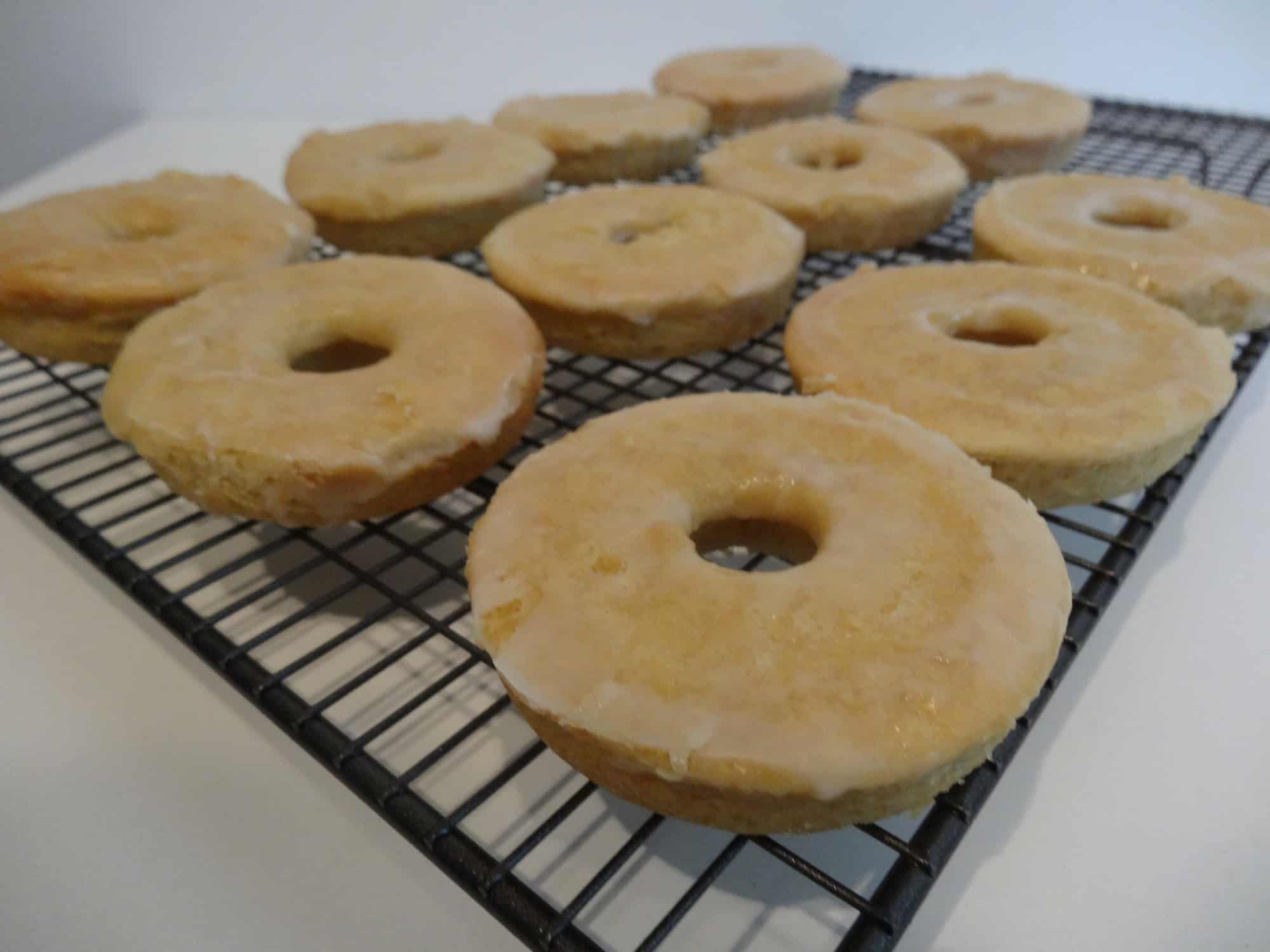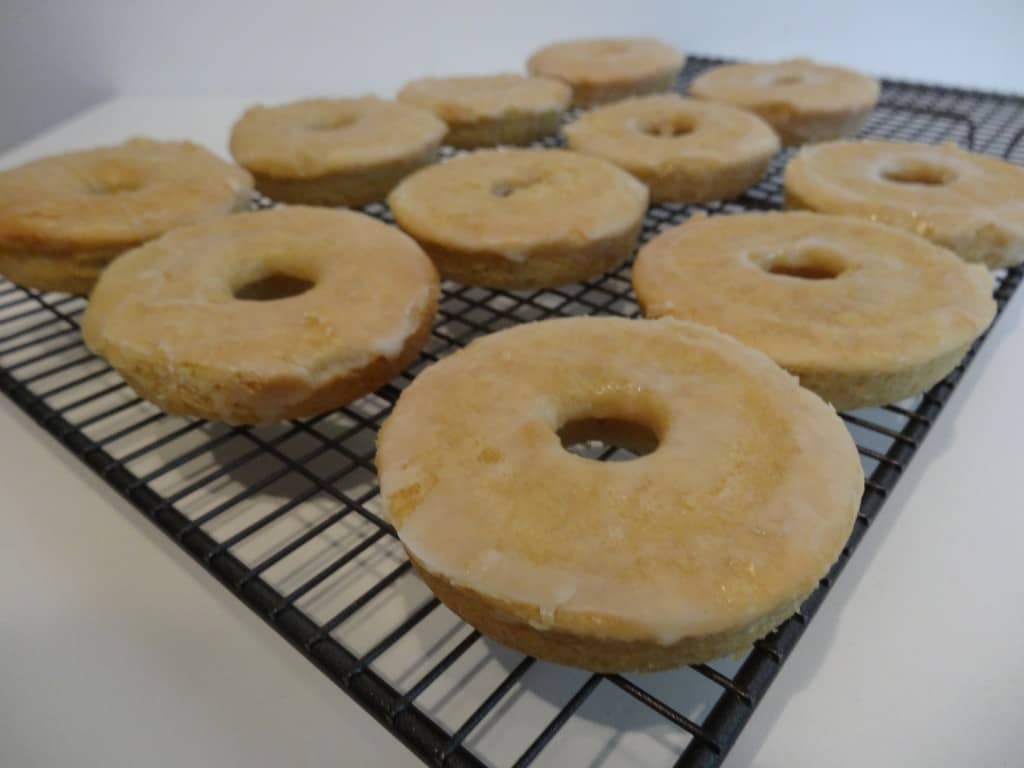 What is the hardest thing about gluten free baking?
The discipline element is hard. Everything has to be carried out meticulously to avoid cross contamination. We are used to it now but at first it was quite exhausting mentally.
What's your top tip for others trying to bake gluten free?
Read the recipe and prep everything first. Oh and buy an oven thermometer and digital scales. Baking is a science. If you stay as accurate as possible you can't really go wrong. If it does go wrong, Google the solution. Its out there.
Have you got any other products in the pipeline you would like to create in the future?
All things crumble. I have created a recipe that uses non processed sugar and contains no egg, gluten, soya or dairy that I am SUPER excited about sharing.
Where do you want to see yourself & Borough 22 in 5 years time, what is the ultimate goal?
In 5 years? I hope to see my products in a nice Food Hall 🙂 and have a small stall somewhere centrally in London with outlets in Manchester, Leeds, Bristol and York and loyal fan base and a killer reputation… for producing the best free from goods in the UK of course. And that is the ultimate goal – to sell quality free from goods. I am passionate about the quality of our products and would like that to remain constant.
Three words that describe you?
Creative, Passionate, Personable!
Will you be my personal doughnut baker forever?
I would love to!
So, as much as I adored eating these gluten free doughnuts simply as they are… I had to turn the heat up & take these doughnuts to the next level. One of my favourite places to eat Gluten Free & Dairy Free in the whole world is Cookies & Scream. One of my favourite things to enjoy there is a Doughnut Ice Cream Sandwich! Sounds crazy, indulgent & epic all in one, right? In truth, no words can describe it.
Using Borough 22's Gluten Free Doughnuts, Dairy Free Ice Cream & Sweet Freedom Choc Shot, I created my very own Free From Doughnut Ice Cream Sandwich. It was insane. I will do this again & again, every single time I get doughnuts from Borough 22.
I cannot recommend Borough 22 & the Gluten Free Doughnuts they make enough. They are seriously delicious. Ryan is an amazing baker & one of the most genuine, kindhearted people you will ever meet. He just wants the best for everyone who has to live without the likes of gluten, wheat, soya, dairy & egg in the diet.
So how do you get hold out of the Gluten Free Doughnuts?
Look out for more Gluten Free Doughnut Rally's near you in the future. & if you in London ever… even just visiting, contact Ryan & I am sure he will be able to sort something out for you. You can order your Gluten Free Doughnuts by emailing them… all the details are on the website. (They currently deliver to all the London Boroughs!) Hopefully in the near future, we will all be able to access these amazing Doughnuts even easier across the whole country. Thank you Mr Gluten Free Doughnut Man, you rock!
Let me know if you have tried Ryan's Gluten Free Doughnuts before by leaving a comment below, or on Facebook/Twitter!
Thanks for reading,
Becky xxx