Is there such a thing as turkey shepherd? Someone who shepherds turkey?! Well, even if there isn't, my gluten free rosti-topped turkey shepherd's pie is here to stay! This recipe is low FODMAP and dairy free too.
This recipe is an awesome remix of a shepherd's pie which not only uses turkey thigh mince, but it also has this insanely crispy potato rosti top. Trust me, once you try my gluten free rosti-topped turkey shepherd's pie, you won't want it any other way ever again!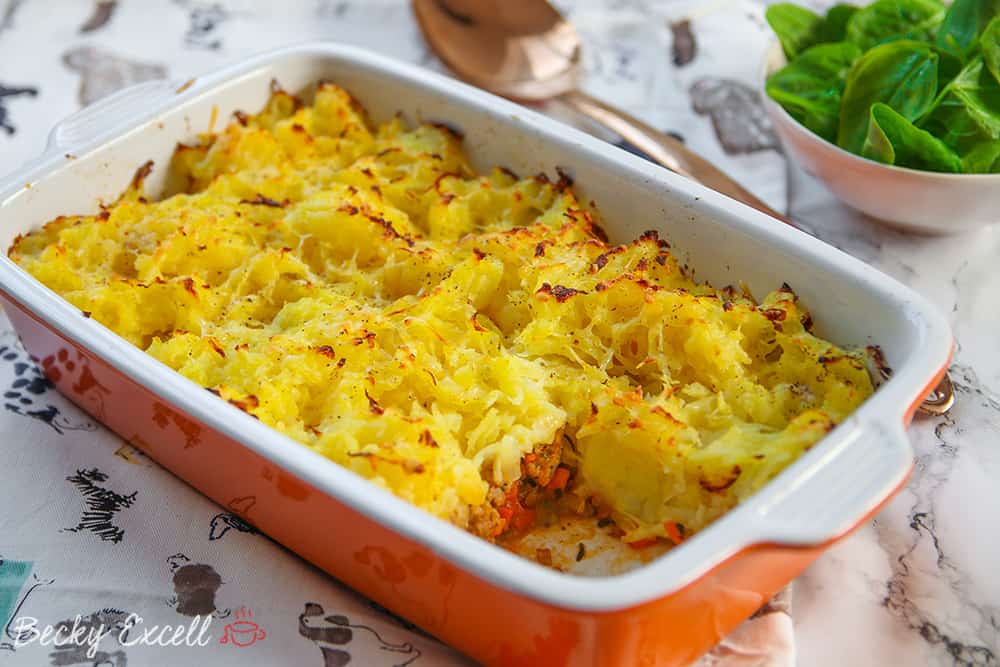 Why turkey mince, I hear you ask?
Well why not?!
Ok – we personally use turkey thigh mince a lot because Mark struggles to tolerate red meat. Let's just say he's made many 'mis-steaks' with red meat and now he's put off for life.
(apologies for my first ever meat pun)
But in a weird 'it's funny how life turns out' way, if Mark could eat red meat, I'd never have created my gluten free rosti-topped turkey shepherd's pie recipe. Now that would be a real shame!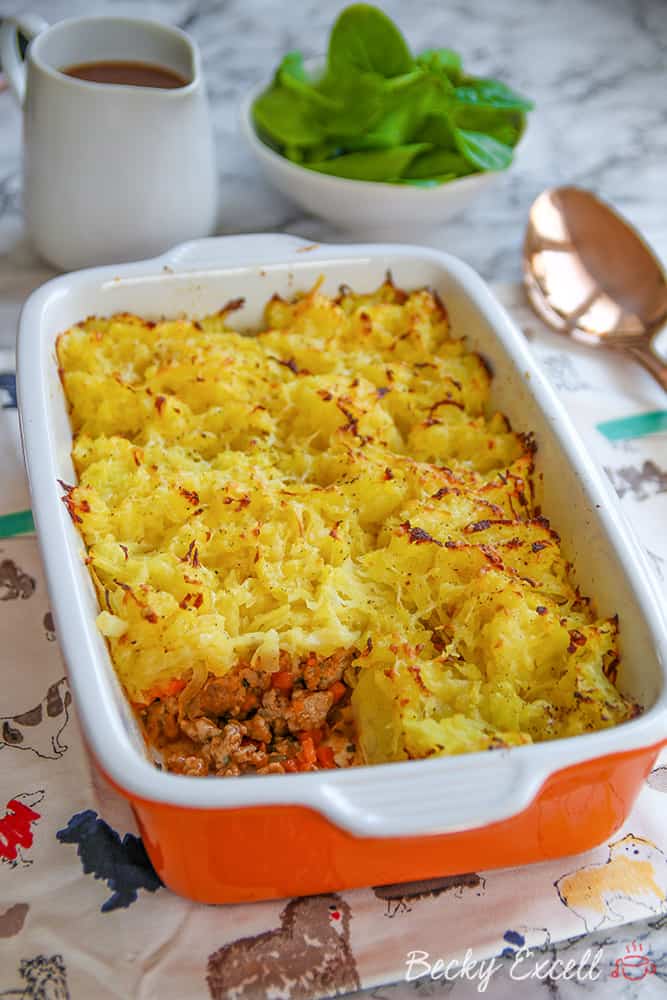 But turkey thigh mince isn't just a good beef substitute. It's so much more than that! It's great value for money compared to beef, it's lean and if seasoned correctly, it's just as good or better.
(obviously you can still just use beef in this recipe if you want to, but trust me, you absolutely have to give the turkey a go first!)
There's a reason that a beef burger usually just contains 100% beef, maybe a little salt/pepper and nothing else – it just doesn't need anything added.
Turkey needs a little more love with herbs and seasoning, but that's one of the best things about it. In this recipe, it sucks up all the flavour from the stock, the herbs, the seasoning and becomes something out of this world.
If I haven't convinced you by now then I give up!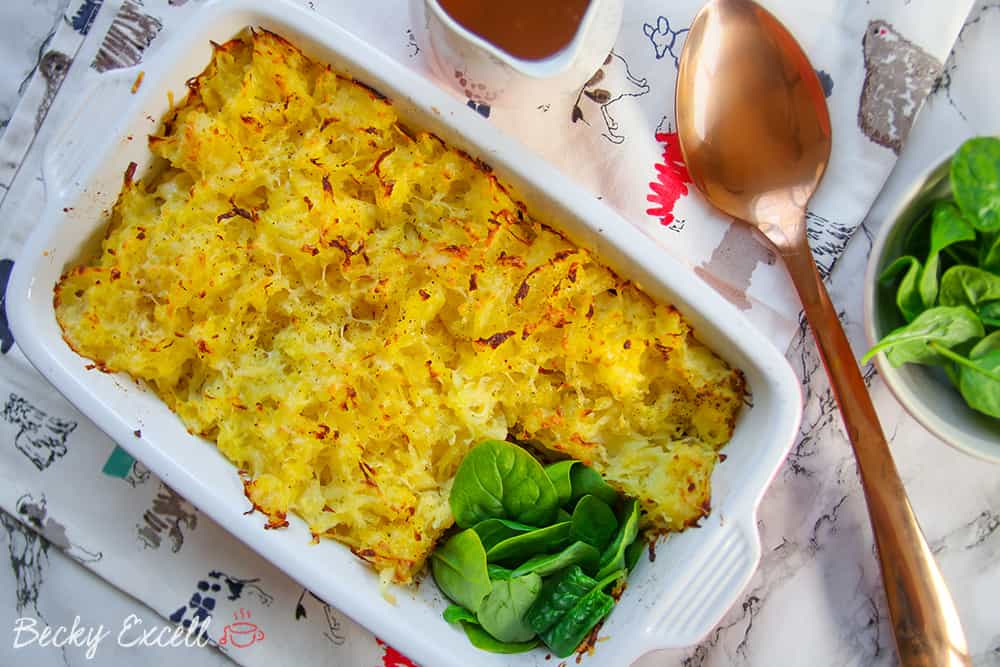 But I haven't even mentioned the rosti top yet… oh boy.
Look, I love a good shepherd's pie no matter what your choice of meat is – but having had it a billion times since being a kid, it's not really something that really gets me going in my adult life.
But having a rosti top instead of regular ol' mashed potatoes makes all the difference for me. For me, it just elevates this to a restaurant standard dish.
(also while we're here – why do you seldom see shepherd's pie on a restaurant menu? It's a bit like toad in the hole, which you never see either!)
The rosti top is basically made from par-boiling potatoes and then grating them, mixing them with butter, cheese, salt/pepper and throwing them on top of your seasoned turkey mince. Perfection.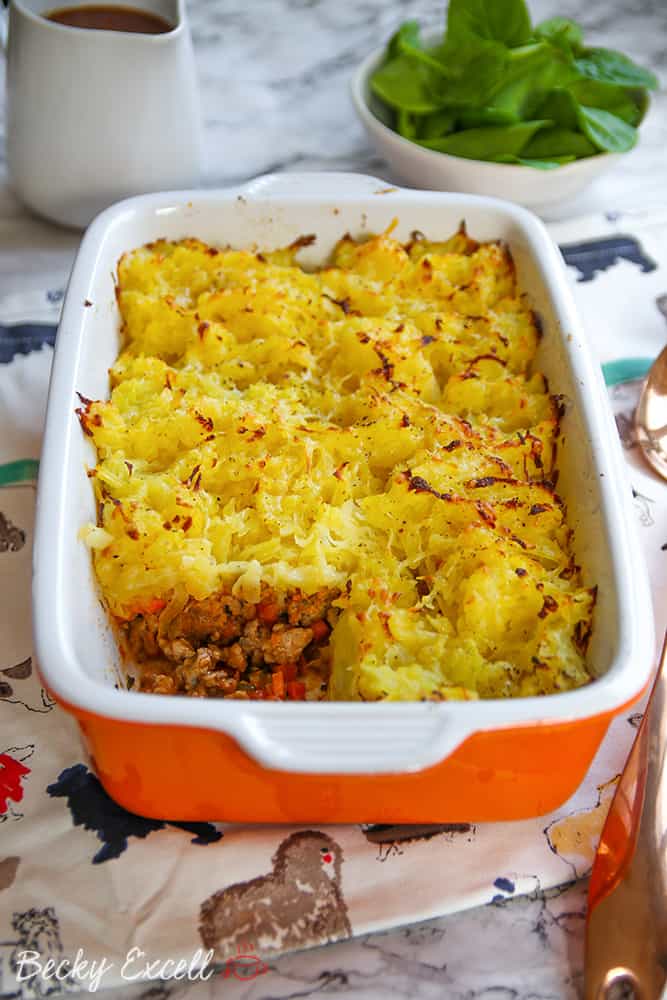 The result is a golden, crispy, cheesy layer of glory which gives a shepherd's pie so much more texture and crunch. Trust me, be generous with your rosti layer… you won't be able to get enough of it!
Combined with beautifully seasoned turkey mince with diced carrot, it's a real winner. Here's how to make my gluten free rosti-topped turkey shepherd's pie…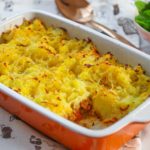 My Gluten Free Rosti-Topped Turkey Shepherd's Pie Recipe (low FODMAP, dairy free)
Ingredients
3 carrots

diced finely

500g turkey mince

a few sprigs of fresh rosemary and thyme

chopped finely

200ml stock

ensure your stock is low FODMAP if necessary

1/2 tbsp gluten free plain flour

1 1/2 tbsp gluten free Worcestershire sauce

Gluten free Worcestershire sauce is confirmed as low FODMAP by Monash

1/2 heaped tbsp tomato puree

2 tsp dried chives

1/2 tsp asafoetida

optional and make sure it's gluten free

salt and pepper

800g potato

50g dairy free spread / margarine

or butter if suitable, melted

cheese

grated (dairy free if necessary)

oil

for frying
Instructions
Dice your carrots and fry them in your pan with a little oil until slightly softened.

Then add your turkey mince to the pan and your finely chopped rosemary and thyme. Allow your turkey to colour and cook down for a short while.

Add the gluten free flour and mix in, followed by your stock, Worcestershire sauce, tomato puree, dried chives and asafoetida.

Allow to cook down till it's the consistency you would like your shepherds pie meat to be. I leave mine usually for around 10-15 minutes. Season with salt and pepper then put to one side until your potatoes are done.

For the potatoes, peel them and only chop in half if they are large. Cook in boiling water for just over 5-7 minutes. The potatoes should have softened slightly but still be very firm for grating.

Drain the water off the potatoes and then pour cold water over them. Keep draining and adding more cold water until they are cool enough to handle.

Grate your potatoes and place them in a bowl. Mix in your melted spread/margarine and season with salt and pepper.

Place your turkey mince mix into your oven proof dish and then place your grated potato on the top. Cover with as much or as little grated cheese as you fancy.

Pop in a preheated oven (180C) for about 15-20 minutes until the potato is golden.

Serve up with some veggies and gravy. Enjoy!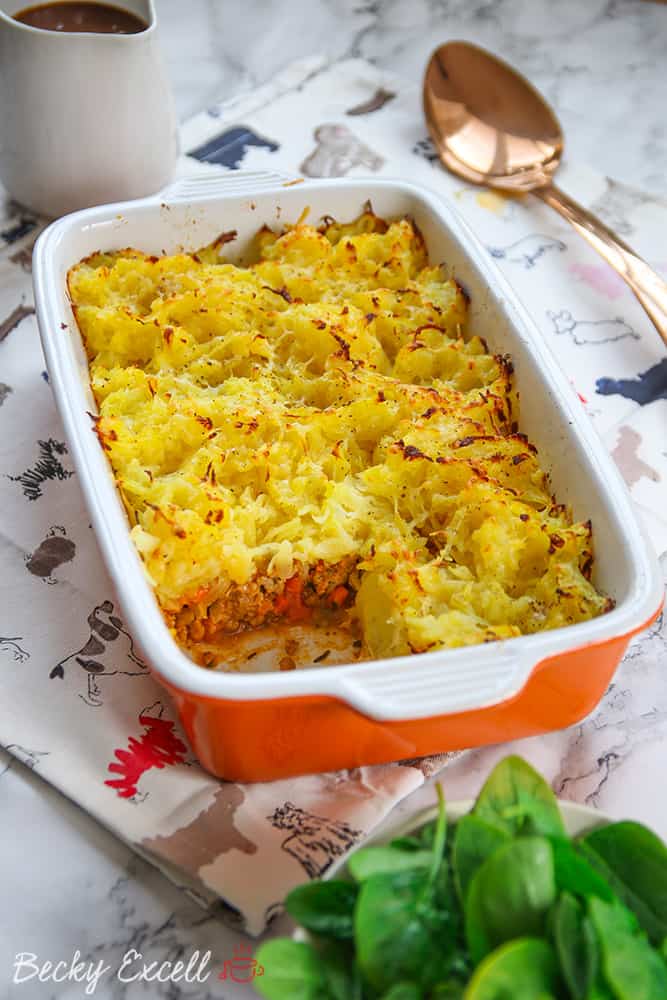 Thanks for reading how to make my gluten free rosti-topped turkey shepherd's pie recipe! If you make it, I'd love to see how it turns out. So absolutely make sure that you send me a pic using my social media links below…
Any questions about the recipe? Please do let me know by leaving a comment below or on Facebook / Twitter / Instagram!
Thanks for reading,
Becky xxx
Oh and don't forget to pin this for later!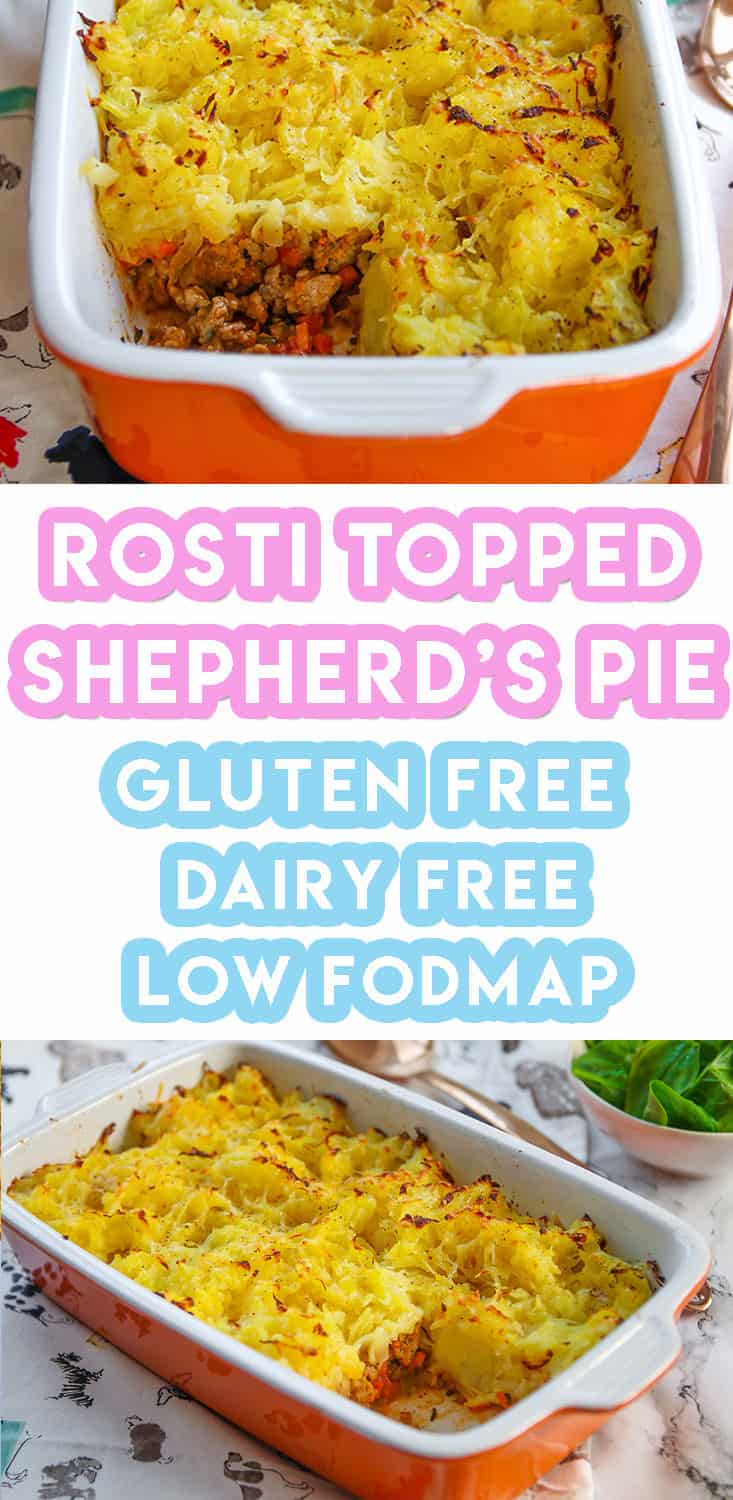 Comments