The Allergy Show Liverpool is a great place to discover some new and exciting brands, so I can't wait to head to Liverpool this weekend for The Allergy and Free From Show North.
As somebody who cannot eat gluten, when I find a new recipe, a new restaurant or a new gluten free brand I get more excited than I once did on Christmas Day. So as I'm sure you can imagine, The Allergy Show Liverpool is just too good to pass on!
If you want to read about my top picks for the Liverpool Show then click here. This blog post however is going to contain a couple of brands from The Allergy Show Liverpool that I am really excited to come into contact with for the very first time. I will of course let you know what I think after the weekend, but I couldn't contain my excitement beforehand!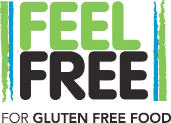 Feel Free For Gluten Free
Now this brand has been around for quite a while but from what I can see 2014 has been a great year for Feel Free For Gluten Free. Their range of products is huge and beyond exciting. You've got to check it out for yourselves, click here to see. What excites me most about Feel Free For Gluten Free is their vast frozen range. If you fancy something Italian they offer Beef Cannelloni and Ravioli, if you're more into your Asian foods they offer Samosas and Spring Rolls. Or if you have a sweet tooth there are Apple Crumble Pies, Lemon Meringue Pies and….. DONUTS! What I have just listed in only a snippet of the many products Feel Free For Gluten Free offer, but that alone is exciting, right?!
I really cannot wait to try out some of their products this weekend and hopefully come away with some great gluten free goodies as well.
I will be sure to let you know how I get on!

When it's Scone it's Gone!
Having a clever brand name is always a good idea or else I would not have even noticed this brand on the website earlier today! I am so glad I checked them out and am very excited to check out some of their delicious baked goods this weekend!
All their baked goods are gluten free, and many are free from other allergens as well. From Chest-bursting Belgium Chocolate Cakes to Chicken Saag Pasties, there is something for everyone. And of course the Scones look great too!
When it's Scone it's Gone has a bakery based in Warwickshire but you can also buy much of their baked goods online which is great news for those of us not so close by. Furthermore all goods can be frozen so if you want to buy a little extra at a time you can just pop your goods in the freezer!
I really can't wait to discover this little bakery at The Allergy Show Liverpool this weekend, I hope not all their Scones will be Gone!
Let me know if there are any other smaller or less well known gluten free brands I might like… I'm always on the hunt!
Can't wait for this weekend now!
Thanks for reading,
Love Becky xxx
Comments