The 1st of January always means a lot of things: back to work/school, healthy diets, new exercise regimes… and my first gluten free What I Eat In A Day of 2017!
I have a permanent resolution to keep a positive attitude to food and to never overly restrict or ban 'unhealthy' food, but there's certainly no harm in trying to better yourself as a new year rolls around. With so many of the cliche 'new year, new you' expectations, I've tried to create healthy recipes that won't leave you crying while munching on a sprig of raw broccoli.
I've decided to make my first gluten free What I Eat In A Day of 2017 100% vegan too. I'm always up for a challenge and cooking without animal-based products was really fun and fulfilling too. My IBS stomach isn't particularly best friends with most vegetables so part of my new year's resolution is to try and slowly slowly sneak in a few here and there to see if reintroducing certain things helps.
But whatever your reasons or motivations, I'd highly recommend trying my new vegan/plant-based recipes (even if you're normally a meat eater) just to see what all the fuss is about. A truly great vegan dish always has a little added sparkle to make up for the lack of meat and these gluten free and vegan recipes are no different – you'd be surprised how little your supermarket bill will total to as well!
I really hope you enjoy watching my vegan and gluten free What I Eat In A Day and that you find a few recipes that'll see you through the whole 'new year, new you' thing. Then we can all go back to eating junk food again in peace! You can watch the video above or by clicking here. Here's all the recipes featured in the video – they're super simple, quick, only need one saucepan and they're all 100% gluten free and vegan too.
Gluten Free and Vegan Banana Porridge
My gluten free & vegan banana porridge is the closest thing you'll get to a rich and creamy dessert whilst still being super healthy and nutritious. Like I said, being 'healthy' for me isn't necessarily about restricting to the least calories or the lowest fat… more about being the most nourishing for body and mind. This porridge will get you started for the day in all the right ways!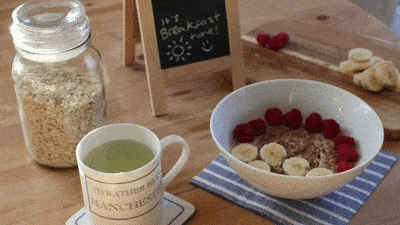 Gluten Free & Vegan Banana Porridge
2017-01-01 12:43:05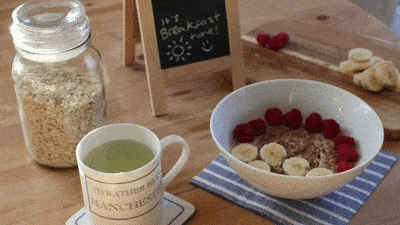 Ingredients
* 50g gluten free oats
* 125ml water
* 125ml unsweetened almond milk
* 1 medium banana (half to stir in & half for topping)
* 1 tsp cinnamon
* 1 tbsp nut butter (whichever you prefer.. almond butter for me!)
* fresh fruit for toppings (as well as banana I went for raspberries)
Instructions
1) Pour your gluten free oats into a small saucepan alongside your water and almond milk.
2) Heat on the stove on a low/medium heat, the oats will absorb the liquids gradually.
3) Chop up half a banana and add that to the saucepan whilst it is still cooking, this will make it lovely and creamy as it breaks down.
4) Add a tsp of cinnamon for extra flavour (this is optional of course!)
5) Once your porridge is thick and creamy pour it in to a bowl to serve.
6) At this stage I like to add a dash of cold almond milk just to cool it a little... then I can eat it straight away!!
7) Spoon on your nut butter and swirl it around.
8) Add any additional toppings, for me this was banana and raspberries... but it's up to you!
9) You're ready to eat, so relax and enjoy!
Gluten Free Blogger, Becky Excell, UK | Gluten Free Cuppa Tea http://glutenfreecuppatea.co.uk/
Gluten Free and Vegan Sweet Potato, Avocado & Quinoa Salad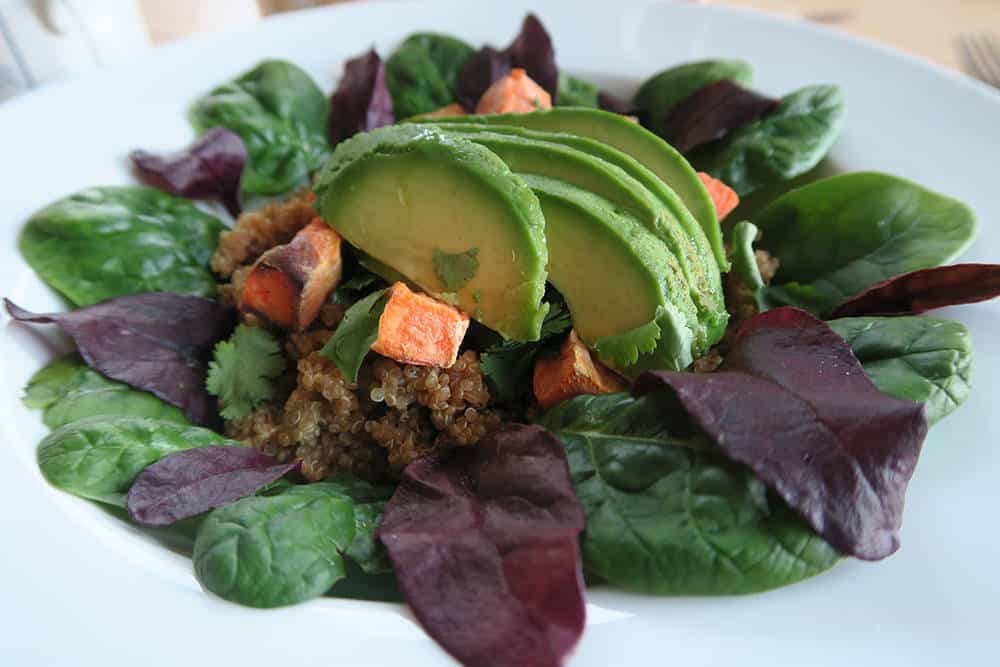 This salad may look a bit fancy, but it's just as easy to bung in a lunchbox as it is displayed in my video! I always find quinoa to be great energy food that keeps me happy for hours and my gluten free What I Eat In A Day wouldn't be the same without it. It's got insane flavour and again, it'll just make you feel good and it's super simple and quick to make.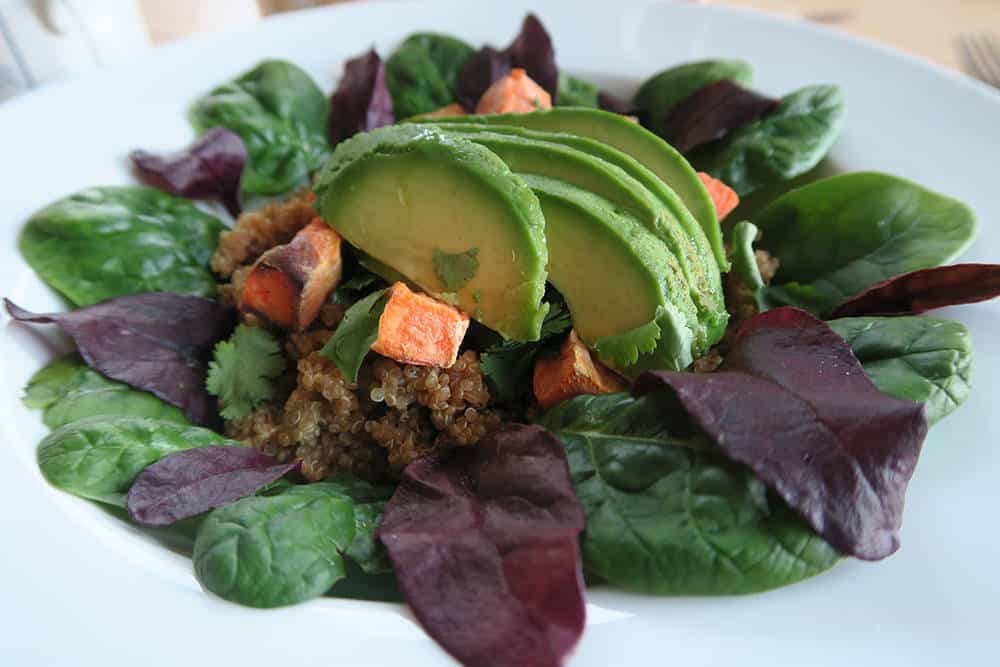 Gluten Free & Vegan Sweet Potato, Avocado & Quinoa Salad
2017-01-01 12:51:55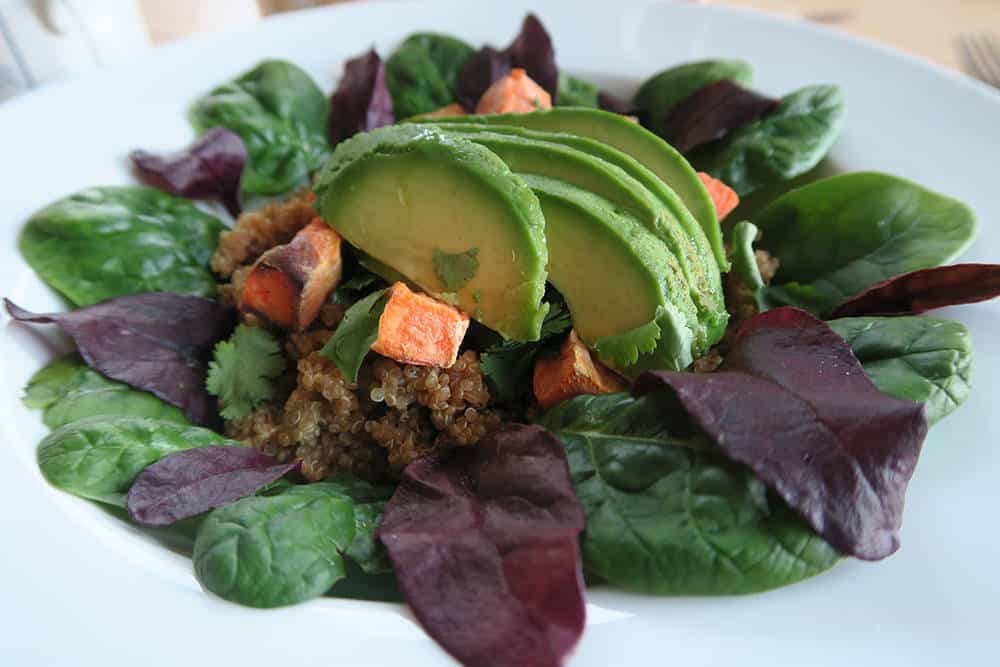 Ingredients
* 70g quinoa (it's a good idea to rinse quinoa before cooking I find)
* 200ml water
* tsp paprika
* sprinkling of cayenne pepper
* salad leaves (in this I used beetroot salad)
* sweet potato chunks, cooked. (I already had some left over from last nights dinner, if you haven't chop your sweet potato into cubes and cook in the oven on 200c for around 25-30 minutes, let cool)
* half an avocado
* handful of fresh coriander, chopped
* dash of lime
Instructions
1) Place your quinoa & water into a saucepan and bring to the boil. Allow to simmer for around 15 minutes, or until the quinoa has puffed up a little and has a fluffier texture.
2) Add a little paprika & cayenne pepper just before your remove your quinoa from the heat, stir it in well for a delicious additional flavour.
3) Once your quinoa is cooked, leave to cool completely.
4) Plate up your salad by placing your salad leave around the edges of your bowl and then add your cooled quinoa to the centre.
5) Add your cooked cubes of sweet potato to the quinoa.
6) Sprinkle on some of your freshly chopped coriander.
7) Place your sliced avocado right in the centre of your salad.
8) Squeeze over a little lime & season as you wish!
9) All done, enjoy!
Gluten Free Blogger, Becky Excell, UK | Gluten Free Cuppa Tea http://glutenfreecuppatea.co.uk/
Gluten Free and Vegan Vegetarian Pho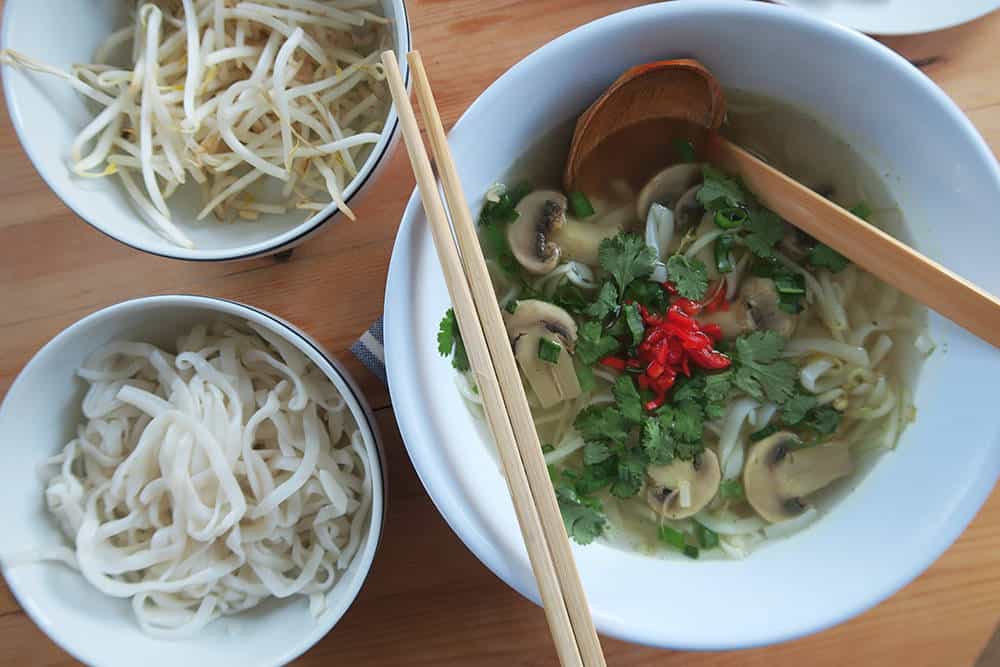 This is one of mine and Mark's favourites all year round, but I've adapted it to be vegan and I really enjoyed the challenge of doing so without compromising on its awesomeness. When you're after a warming, yet lovely and light dinner, I couldn't recommend our vegan and gluten free Pho more. Obviously, it's low FODMAP too for those with IBS and has no onion or garlic – just the green parts of spring onions 🙂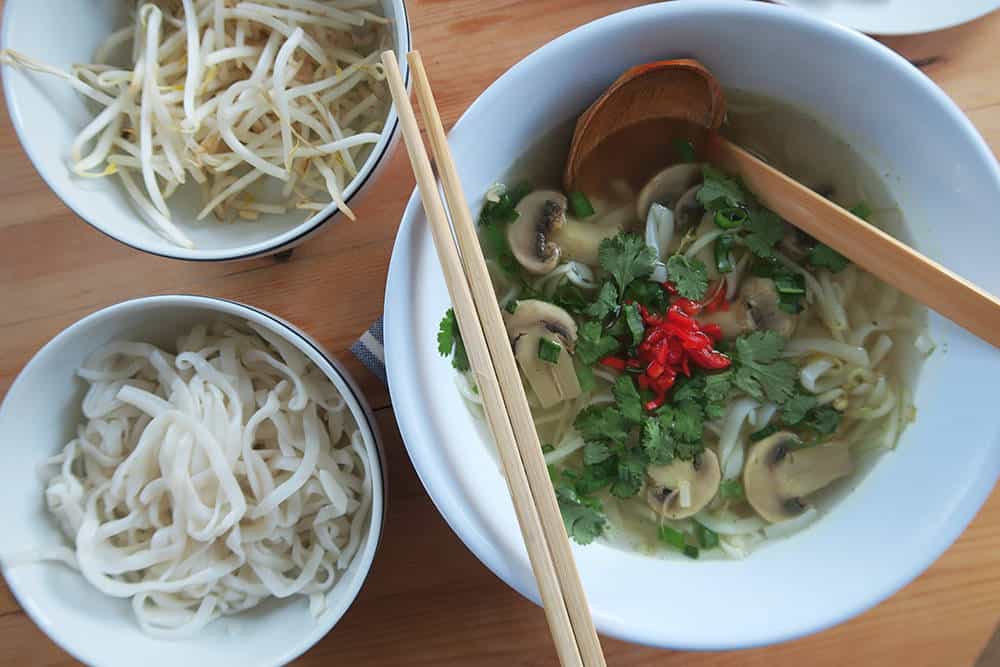 Gluten Free & Vegan Vegetarian Pho
2017-01-01 12:57:48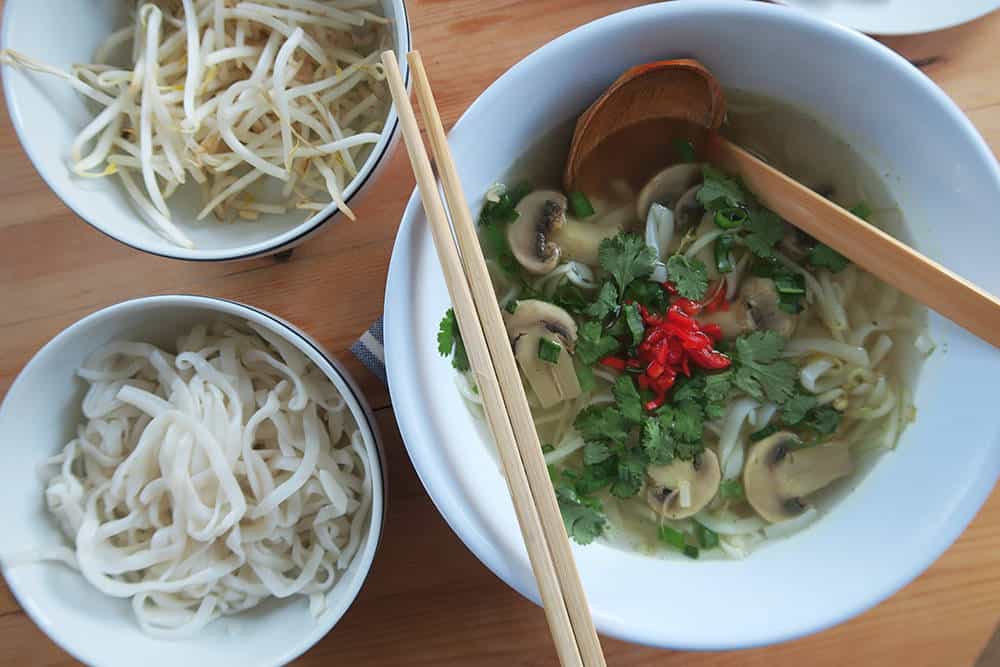 Ingredients
* 300ml vegetable stock (ensure it is gluten free)
* handful of mushrooms, chopped
* gluten free ribbon rice noodles
* beansprouts
* handful of fresh coriander, chopped
* half a red chilli
* spring onions, finely chopped (just the green tops, you could use chives instead as well)
Instructions
1) Place your vegetable stock in a saucepan and heat gently on the stove.
2) Add your chopped mushrooms & allow them to soften a little.
3) Add your gluten free ribbon rice noodles and beansprouts and allow to briefly cook a little more.
4) Remove from the heat and pour into your serving bowl.
5) Add to top of your noodles any additional flavours that you like whilst your noodles are still steaming - for me that was fresh coriander, red chilli and a few pieces of green spring onion.
6) Perfect on a chilly evening, enjoy!
Gluten Free Blogger, Becky Excell, UK | Gluten Free Cuppa Tea http://glutenfreecuppatea.co.uk/
Well that concludes my first vegan & gluten free What I Eat In A Day of 2017! I really hope you found something you enjoyed and wish you the best of luck in a healthier and happier year. I hope you'll all join me too in eating more nourishing and nutritious food as opposed to a diet of low calorie and empty diet foods! Please consider
subscribing to my YouTube channel
if you don't want to miss future gluten free What I Eat In A Day videos!
What's your foodie new year's resolution? What's your philosophy when it comes to being more healthy? Please leave me a comment below or get in touch with me on Facebook and Twitter. I love to hear all your plans and ideas and you guys always inspire me to create and try new things.
Thanks for reading,
Becky
xxx
Comments