My new year's resolution for 2017 was quite simple really: to eat more of what makes me happy. Sometimes that might mean a pizza, but other times it might mean a hearty serving of my nourishing gluten free/vegan Pesto and Sun-dried Tomato Courgetti Salad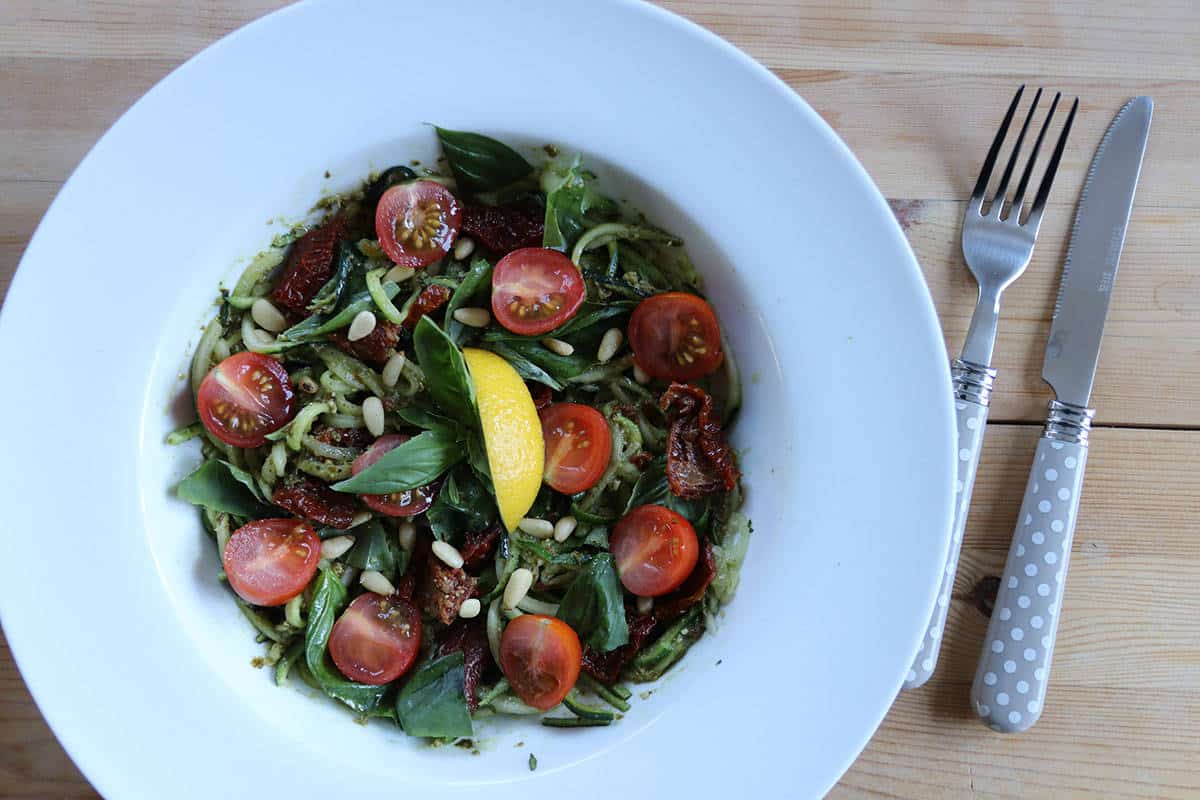 January often means restriction for so many people when it comes to food. That's why I decided to never simply turn to eating less in order to reach a healthier me. I'm a firm believer that restriction can only ever be temporary at best, whereas adopting a healthier lifestyle can easily be maintained for life.
To me, a healthier lifestyle means that whenever I feel like treating myself with my favourite comfort food, I relish the occasion without having to feel guilty about going against my 'diet'. But other days, you'll find me in the kitchen creating something truly revitalising like my pesto and sun-dried tomato courgetti salad with some delicious Sacla' Free From Basil Pesto.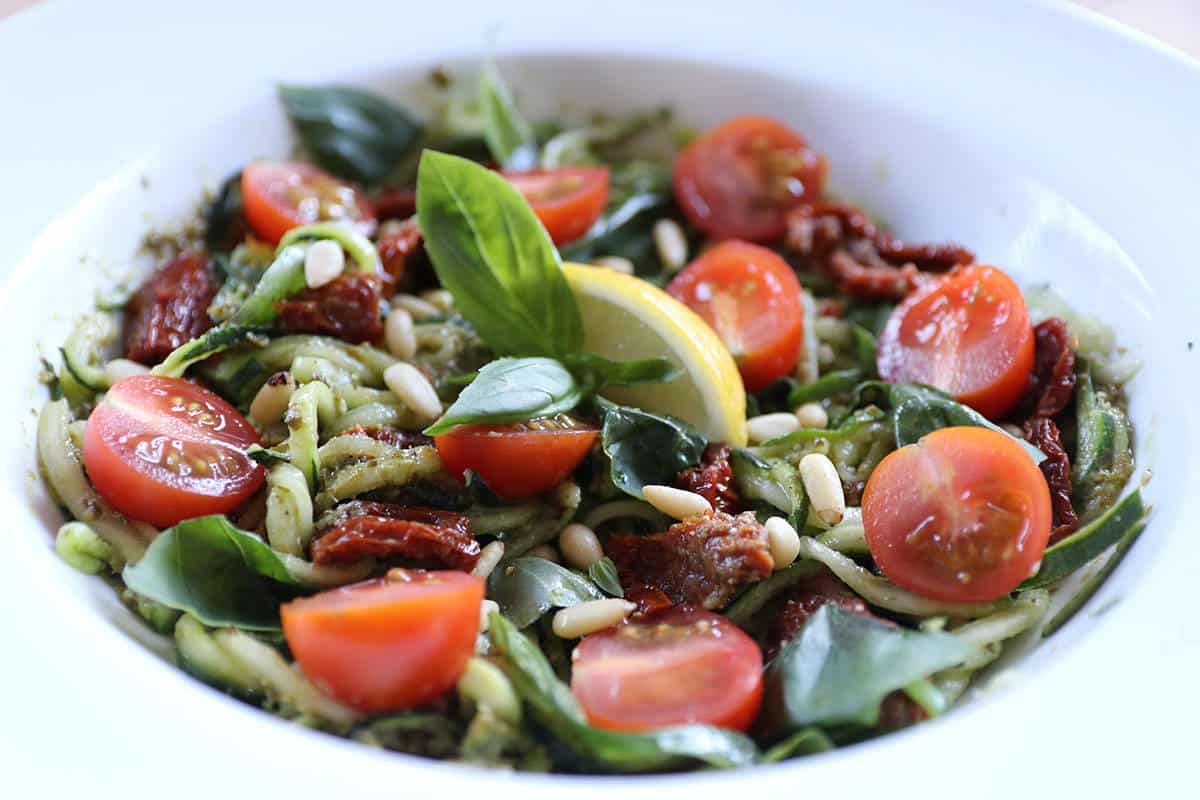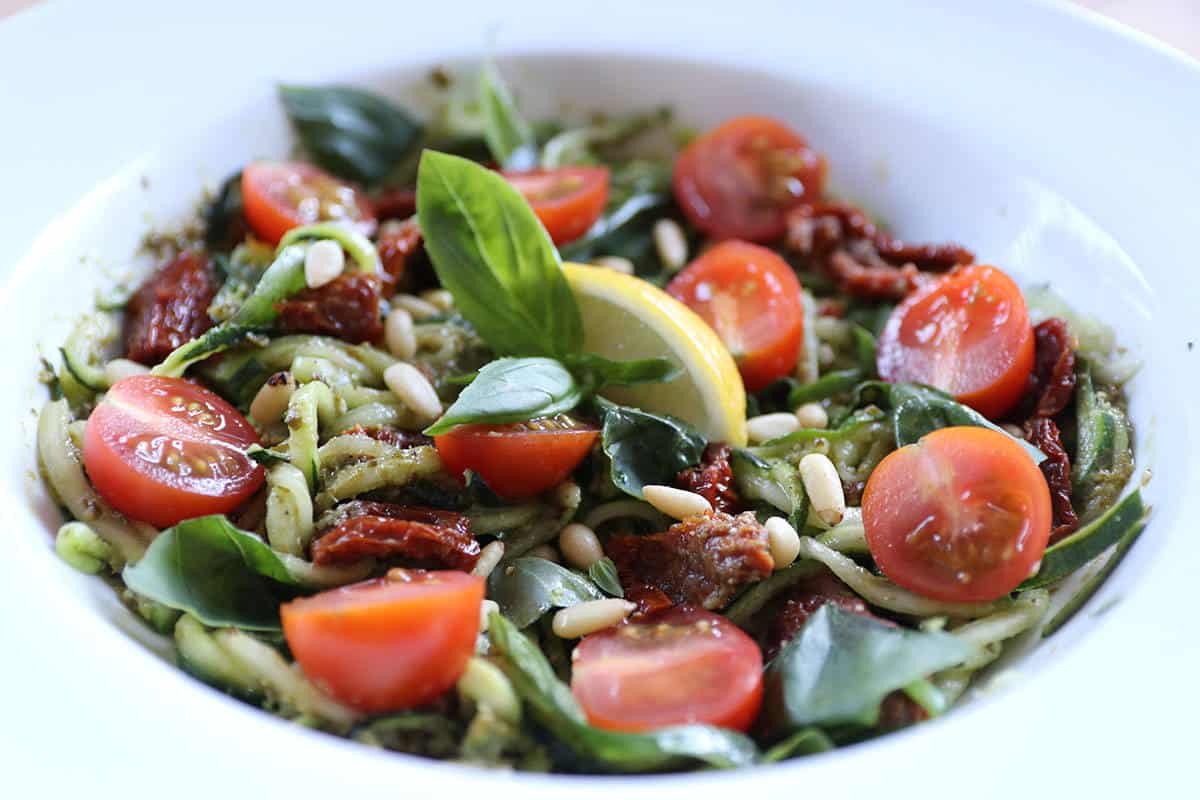 It was my birthday a couple of weeks ago and Mark's Mum got me this awesome spiralizer (I'm a little late to the party I know!) which has allowed me to experiment with something a little more exotic than pasta. After spiralizing every vegetable known to man, I fell in love with the endless variety of possibilities that merely switching in some spiralized veggies could achieve. Me and Mark always enjoy cooking together in the kitchen for dinner, but when it comes to making lunch for one, I'm definitely guilty of falling into the same old gluten free sandwich every day.
I often struggle to liven up my lunch beyond a simply gluten free sandwich (not exactly nutritious or exciting is it?!) so I've decided to opt for taking a little lunchbox of sunshine with me to work every day. I'm always in a hurry in the morning so obviously, I don't want to be cooking up a storm, leaving a path of culinary destruction waiting for me when I get home. Also, lunch for me has gotta be quick and ideally, possible to make whilst brushing my teeth with one hand! So how is it possible to whip up such a beautiful looking dish with limited time in the morning? It's simple, I assure you!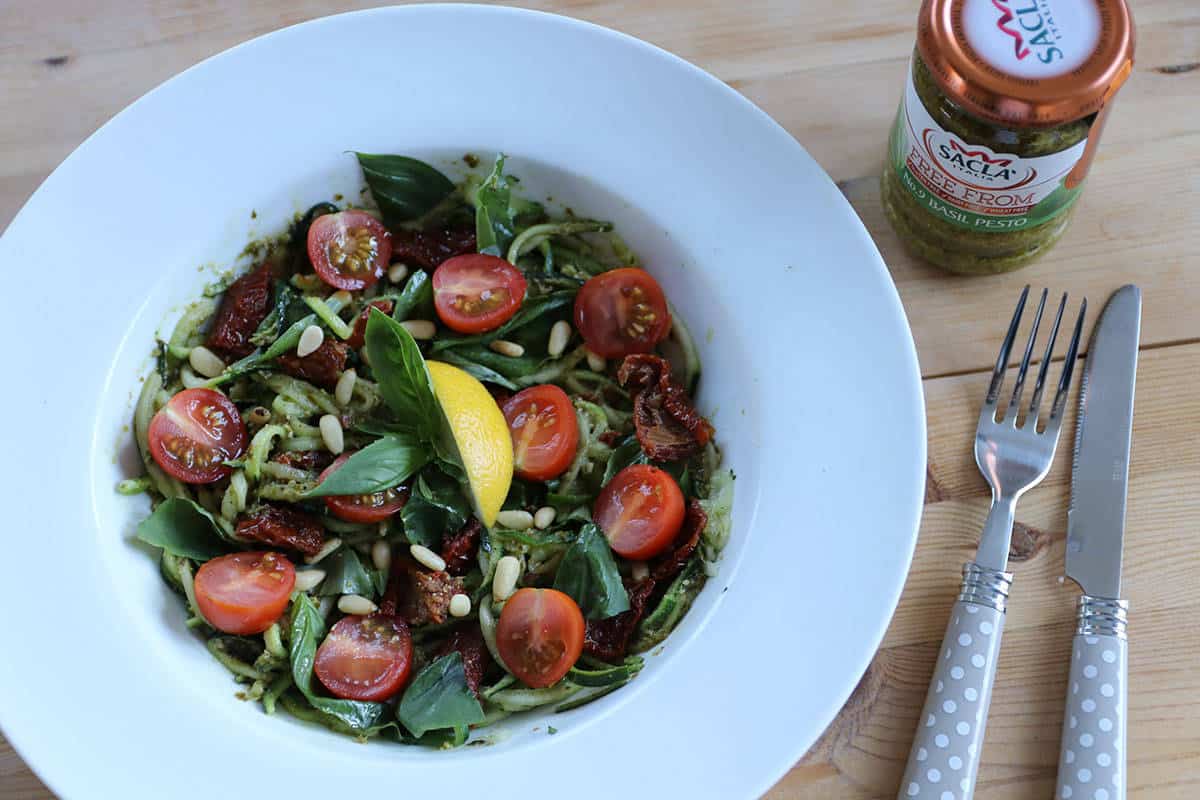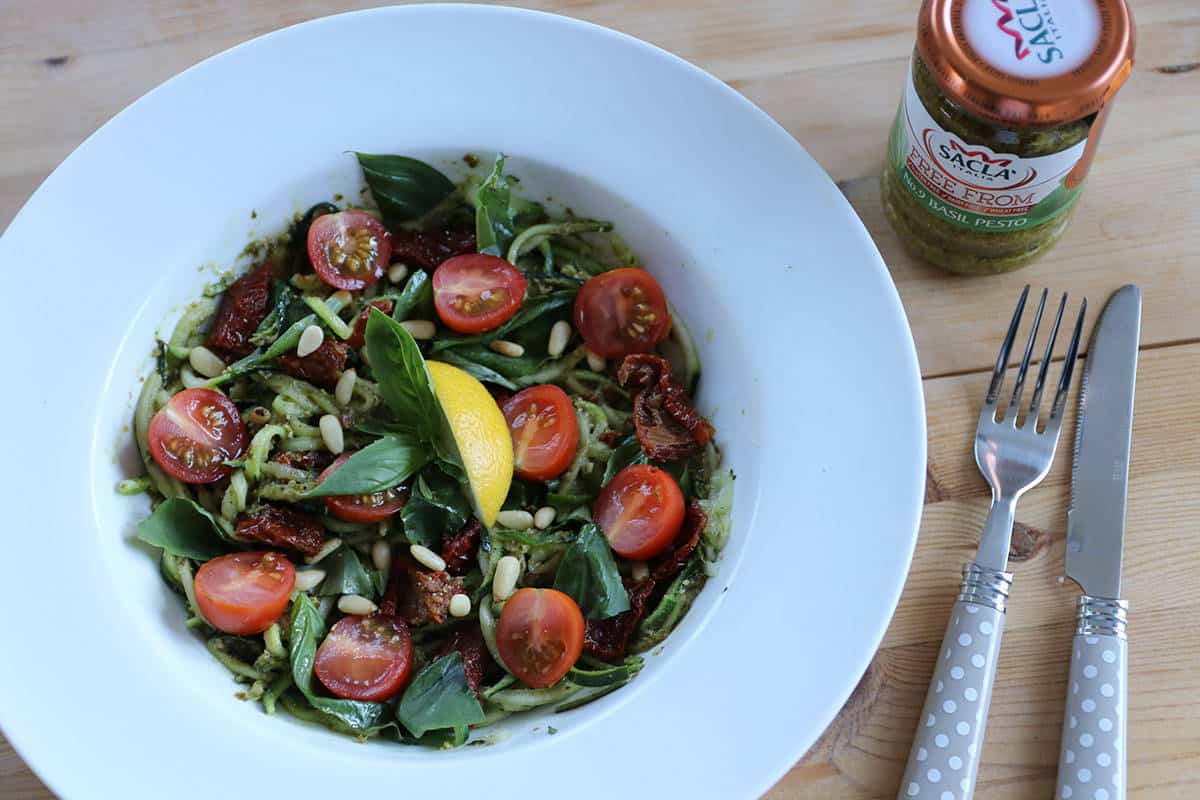 Sacla's Free From Basil Pesto has long-since been a staple item in our store cupboard. We always crack open a jar when it comes to meals in the evening like pesto tuna with gluten free linguine or pesto cheesy garlic bread and loads of other endless variations. With Mark not being able to eat dairy, pesto used to be off the menu for both of us so it's no surprise we've fallen in love with the wonderful, intense flavour (and undeniable convenience) of Sacla's Free From Basil Pesto.
That's why I find it so easy in the morning to whip up a quick batch of pesto and sun-dried tomato courgetti salad whilst still having time to enjoy a few vlogs with my cereal (bonus points if you've already spiralized your courgetti the night before!) I promise you'll really enjoy digging into this recipe every lunchtime and I hope you'll join me in my search for a healthier lifestyle that's easy, convenient and sticks well beyond 2017 🙂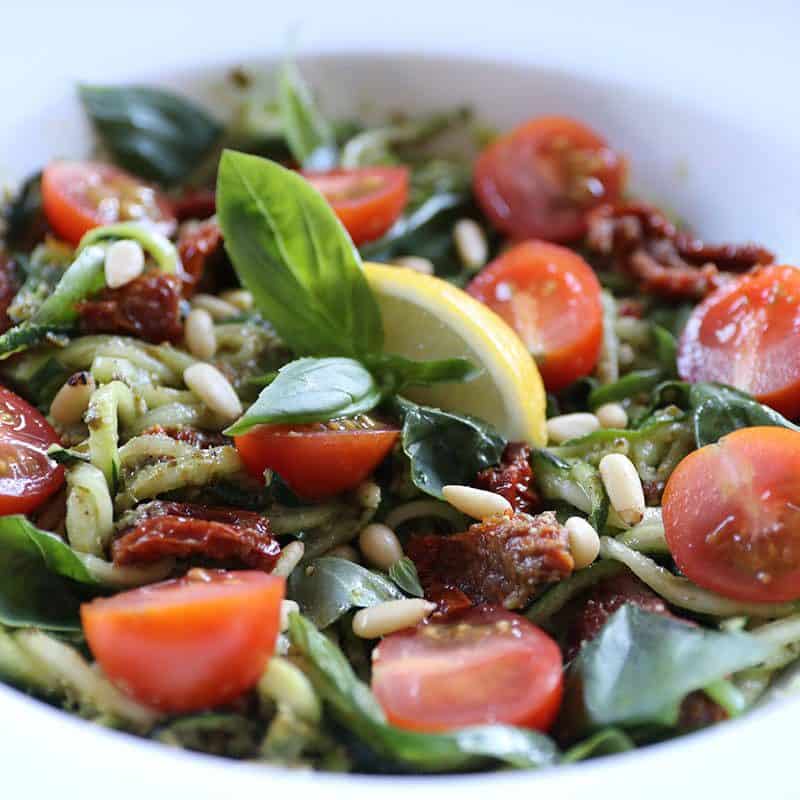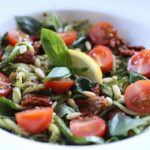 Gluten Free/Vegan Pesto and Sun-dried Tomato Courgetti Salad
Ingredients
1/3 of a jar of Sacla' Free From Basil Pesto

250g Courgette

spiralised

Handful of pine nuts

lightly toasted

Sundried tomatoes

I used 4 chopped

Cherry tomatoes

halved (as many as you like!)

Handful of fresh basil leaves

1/4 Lemon

squeezed
Instructions
Slightly soften your courgetti in a frying pan/wok, this literally takes a couple of minutes. I often find that I don't need to even use any oil, as there is lots of moisture within courgette anyway. However, you could add a touch of garlic infused oil if you wish for flavour.

Remove your courgetti from the heat and stir in your basil pesto. I allow the courgetti to cool at this stage.

Place the courgetti and pesto into your serving dish and mix in your fresh basil leaves, cherry tomatoes and sundried tomatoes.

Sprinkle on a few toasted pine nuts.

Season with salt, pepper and squeeze a little lemon on top.
Notes
You don't have to cook your courgetti at all if you don't want to, I just prefer it slightly softened.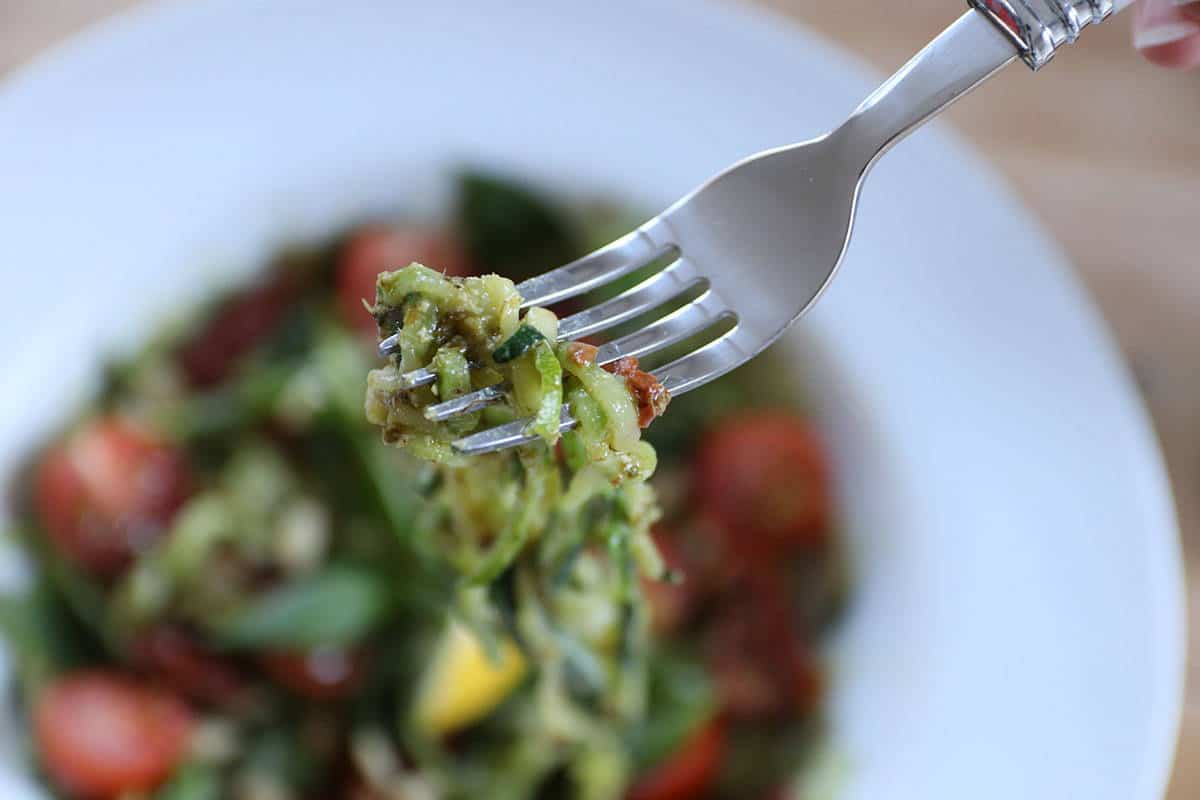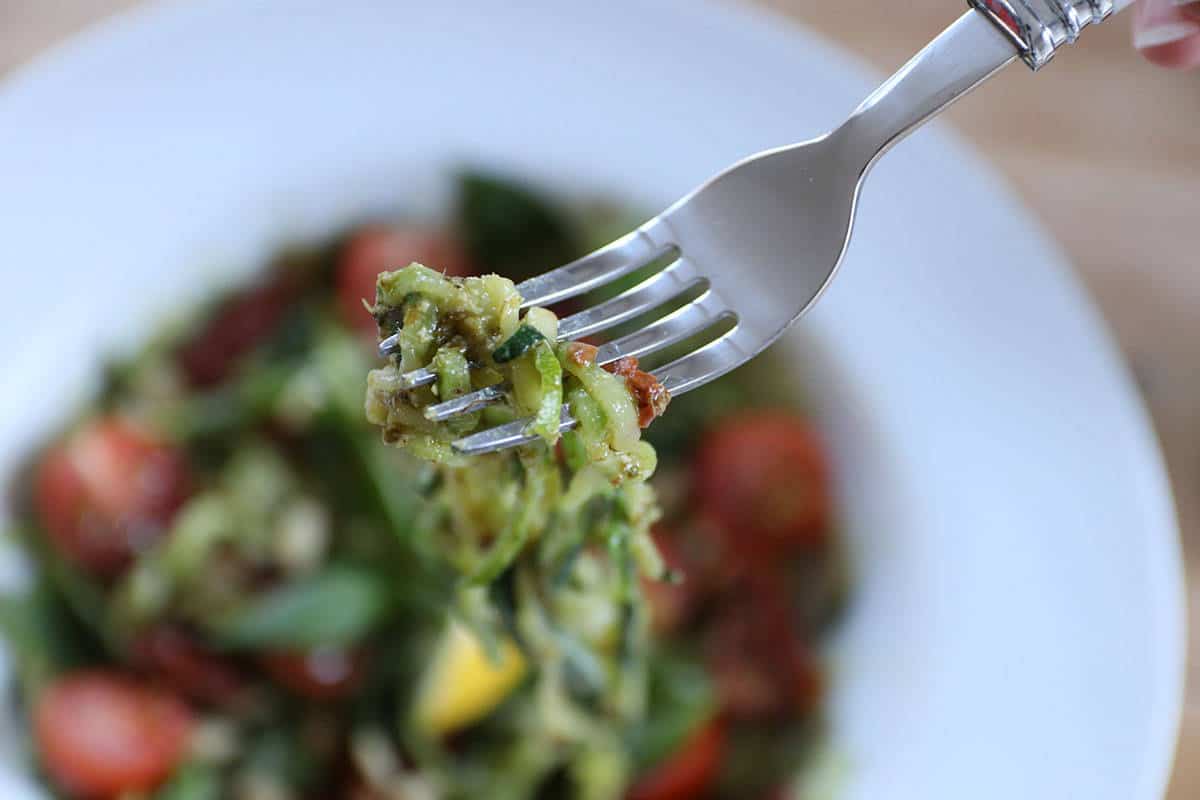 So there you have it my gluten free/vegan Pesto and Sun-dried Tomato Courgetti Salad. It's super simple to make and is so flavoursome. I literally never thought a salad could quite be so delicious. The Sacla' Free From Basil Pesto is great for this, but as I mentioned earlier it's great for so many other dishes too – I'd love it if you guys shared with me your favourite dishes that include pesto, I'd love to try some more pesto dishes too! Of course let me know if you get the chance to try out my gluten free/vegan Pesto and Sun-dried Tomato Courgetti Salad too, just drop a comment below, or on Facebook/Twitter.
Thanks for reading,
Becky xxx