Hi, I'm Becky, your tour guide to gluten free in Florence, Italy! I had such an AMAZING eating experience in Rome for 'senza gluntine' (and lactose free) that I absolutely had to explore more of Italy… starting with Florence.
And yep, eating out in Florence was just as awesome as it was in Rome. Their understanding of how to safely prepare gluten free food wowed me yet again. So I absolutely had to write down a list of aaaall the restaurants, cafes, bakeries, gelaterias and pizzerias that I went to for gluten free in Florence. So here they are!
Just as it was in Rome, the AiC (Italian Coeliac Association) made my life so much easier. Not only did their app/website help me to discover loads of gluten free places in Florence, but they officially accredit so many of them too. So make sure you look out for the AiC logo on the doors of restaurants when you're walking around Florence and hungry!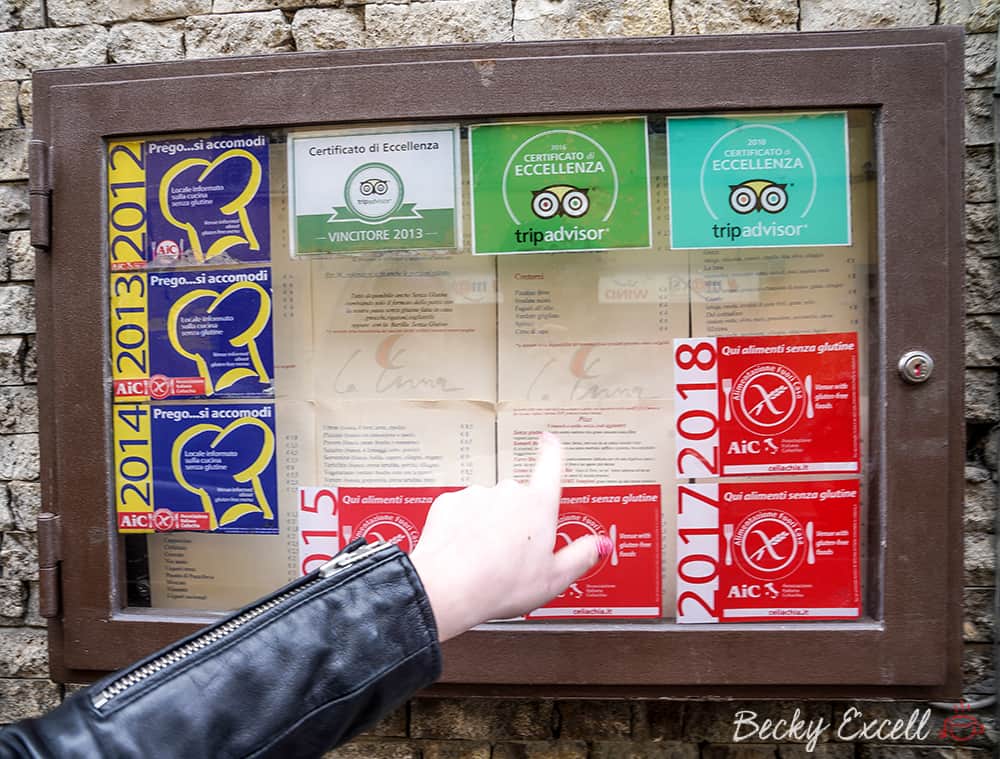 Hungry?! Ok, so here's my guide to gluten free in Florence and I think I saved the best until… first!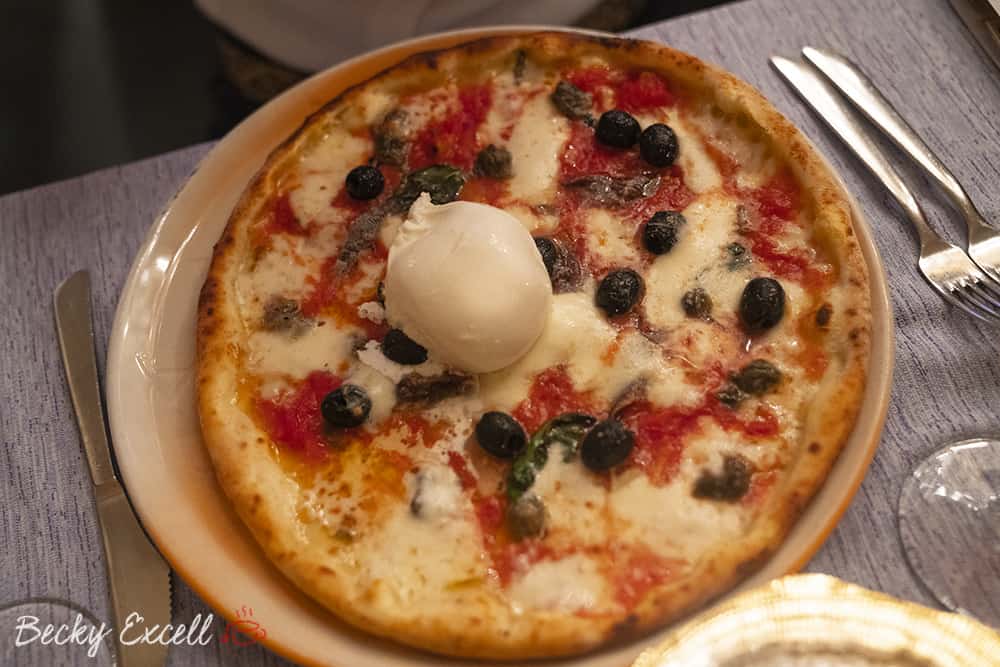 Let's start my gluten free guide to Florence with the very best. If you're going to Florence and you don't go to Ciro and Sons, I can tell you right now – you will miss out.
Pretty much everything on the menu is gluten free and almost everything is lactose free too. The gluten free pizza dough is crazy… it is my favourite I've had so far I think!
I had both a pizza and a calzone at Ciro and Sons and both were unbelievable. Mark opted for gnocchi one time and had pasta the other time. Both were delicious!
I really wanted to try the Florentine steak here, but I couldn't get away from the gluten free pizza dough! We also had some amazing desserts here too. I had gluten free tiramisu, and crepes with Nutella. Mark went for a gluten and lactose free banana caramel cheesecake… the selection was amazing.
Another amazing thing about Ciro and Sons for us was that they were able to offer us everything onion and garlic free. They totally understood and it was never a problem.
On that note, the staff are brilliant here, so so friendly. We booked both times we visited as it was always busy and I would recommend you doing this. It's really central so you can just pop in and pop your name down.
They actually sell their gluten free pizza mix by the bag so I brought a bag home with me. I hope I can do it justice in my little oven at home!!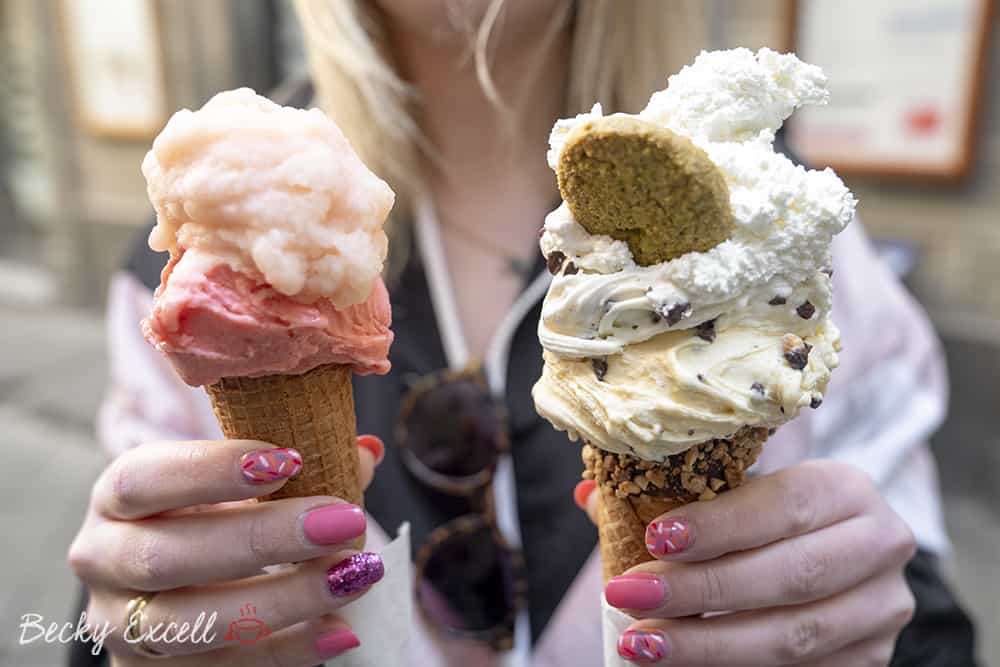 For me, Grom is the best place to enjoy gluten free gelato in Florence as everything they serve is 100% gluten free.
They have a wide selection of cones and some of the best flavours that you can imagine. Whenever I'm near a Grom (they are dotted all over Italy as well as across the world – there is a store in London these days), I always opt for Crema Di Grom (it has gluten free biscuit pieces in it) and I always ask for cream and a biscuit!
Be careful in warmer weather as it melts waaaay too quickly but that's all part of the fun!! They offer some delicious creamy sorbet flavours for those who can't have lactose and/or dairy, including a chocolate flavour.
Better still, in the Florence store, they also offer gluten free ice cream sandwiches! Basically they have gluten free brioche buns that they put a scoop of gelato in the middle of and then pop it in a heated press.
It's amazing and a lovely change from gelato every single day (which has to be done in Italy!!).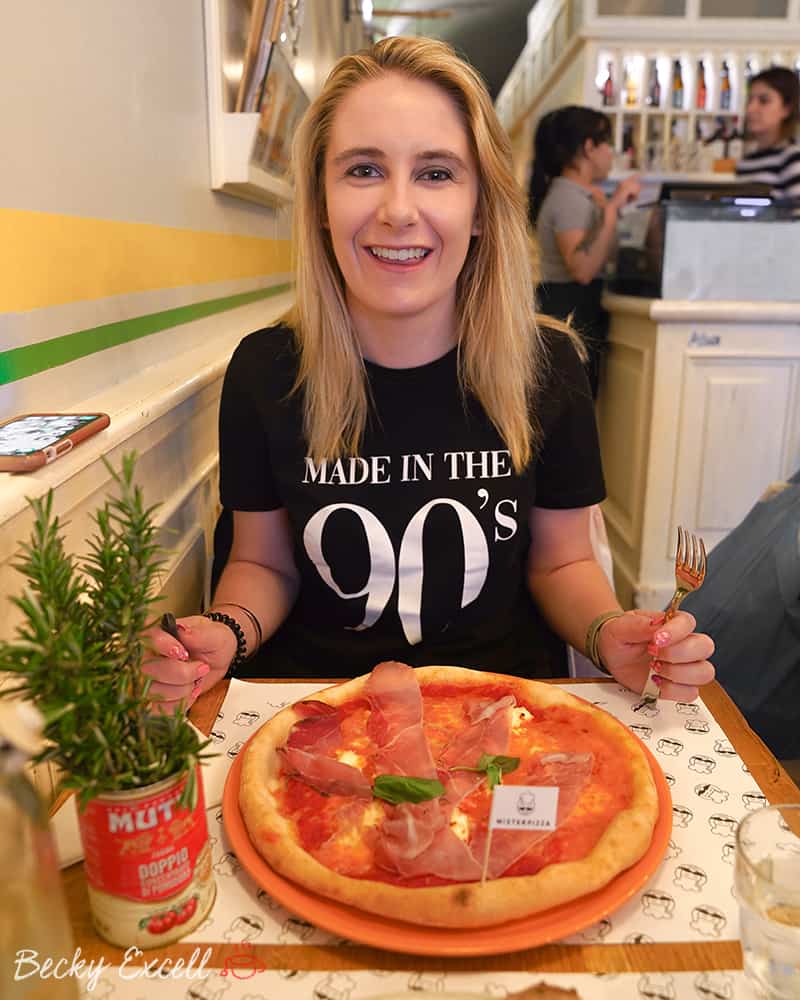 This was our first stop off in Florence being only 3 minutes from our apartment and right by the Duomo (Cathedral of Santa Maria del Fiore).
At Mister Pizza, all the pizzas on the menu (including the calzone) can be made gluten free and they have a dedicated area in which they are cooked. Pizzas that are gluten free come on a different coloured plate to regular pizzas so there can't be a mix up.
The gluten free pizza dough was delicious! It was light and airy and better than anything you will find in the UK by a mile. I would definitely have gone back a second time if we didn't have a few other places we wanted to try.
(as you can see by the amount of places in this guide!)
They also offer plenty of lactose free and vegan options which was great to see. And whilst sitting in the restaurant was perfect for us, you can also get takeaway and delivery which could be the perfect night in option if you're staying in an apartment.
It's a must try for gluten free in Florence!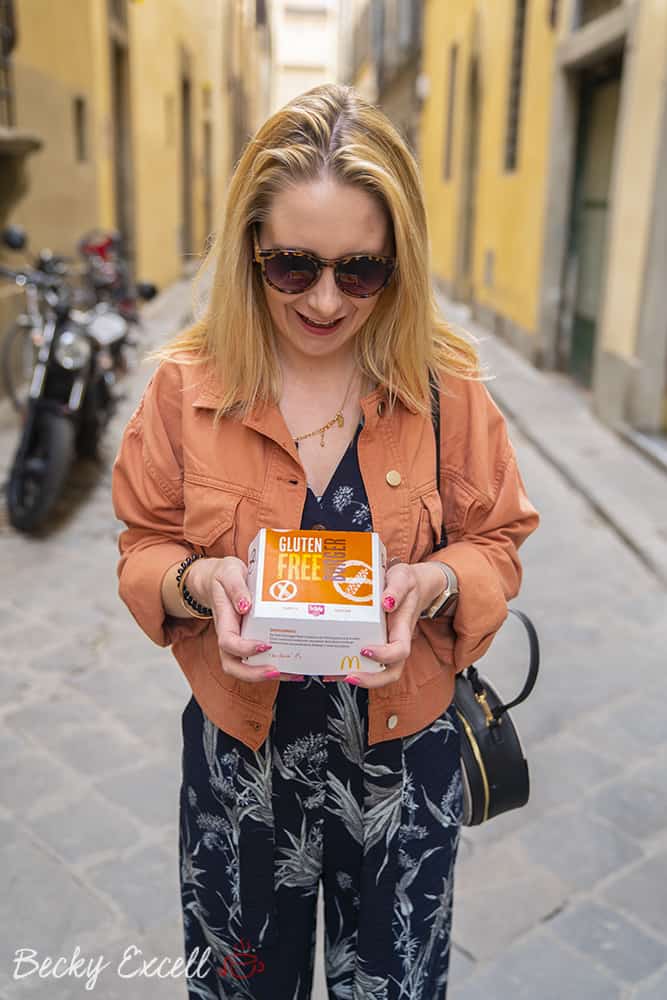 So in Italy, McDonalds offer a gluten free burger which is something I always like to shout about.
It isn't my #1 choice of place to eat as Italy is amazing for gluten free options, and Florence has tons, but it's a novelty for those of us who can't get gluten free McDonalds back in the UK.
It's also super convenient if you need something on the go, as there are quite a few McDonalds dotted around.
The burger is cooked in a bag to remove any cross contamination worries. This does seem like a weird concept and I've heard some say it makes the burger a bit wet.
However, what's most important is to open the bag as soon as you get it and it soon dries out perfectly! For me, it's best they actually have an option that is safe than nothing at all.
They take a little longer to cook than your average McDonalds meal but at least you know it's fresh!!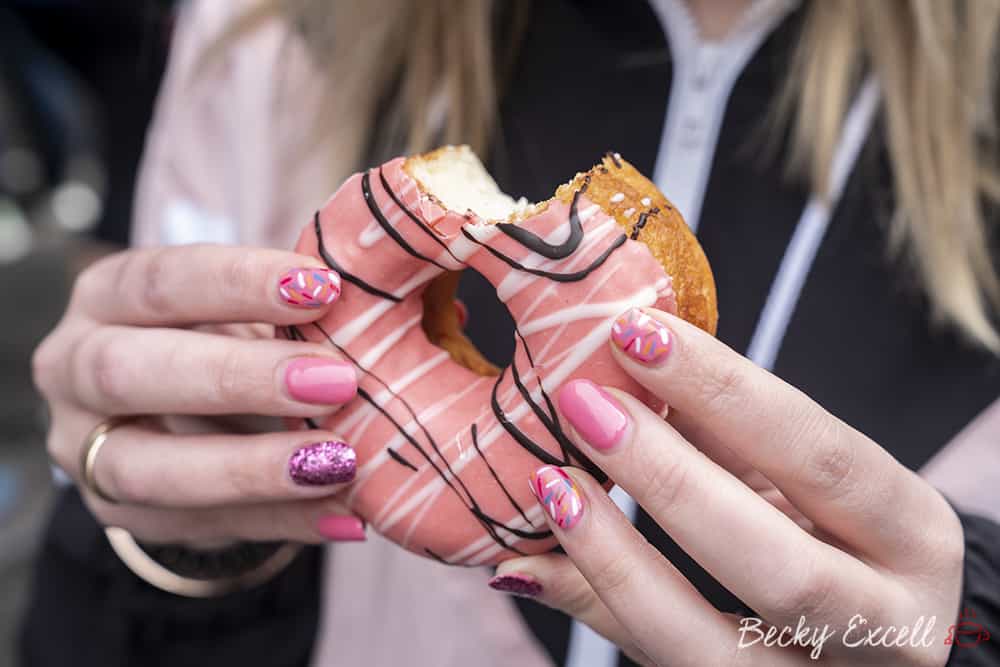 The best gluten free bakery in Florence. There, I said it. PLUS, there's one reeeeally conveniently placed next to the main sights so you don't have to walk far to find it at all.
Starbene is 100% gluten free and has a huge selection of gluten free goodies which are very hard to pick between. We bought lots!
They have a large counter filled with sweet options, ranging from cream-filled croissants to eclairs and doughnuts. There was quite a few bakery items labelled as lactose free and dairy free too which was great for Mark.
(yes, we were actually able to share food for once!)
They have another counter filled to the brim with savoury options on the other side of the shop too, with pizza slices, focaccias, fresh bread and loads more. It's the perfect place to grab something for breakfast or just generally for snacks throughout the day.
I think we went to Starbene nearly every day of our trip to Florence and will definitely be back on our next trip. Trust me when I say this… if you are gluten free you will gasp at the choices available! And it's actually all really good value too.
Oh and before I forget they actually stock loads of prepackaged gluten free goods – more Schar products than I ever knew existed!! Starbene is another must visit for gluten free in Florence.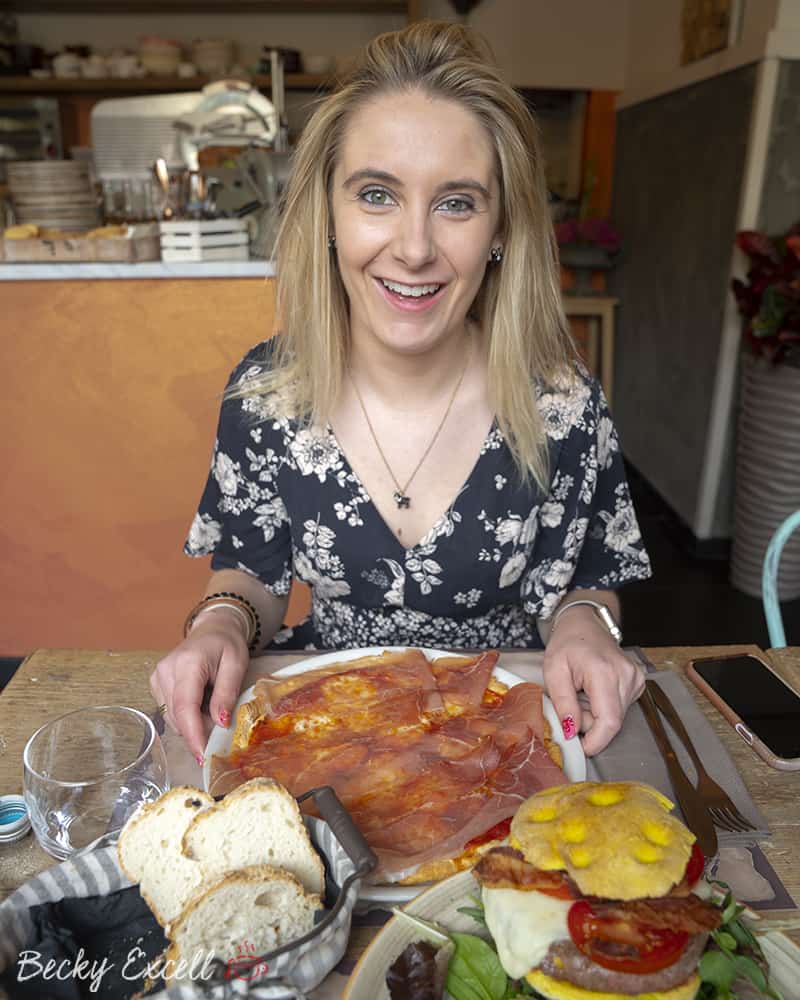 Bottega Artigiana del Gusto (abbreviated to B.A.G) is the next stop in my gluten free Florence guide and it's a little further out from the main sights of Florence. But when we heard it was 100% gluten free, we suddenly both felt like a little stroll through the quaint streets of Florence!
And I'm so glad we did – it was well worth the walk to say the least. Upon entering the restaurant you notice lots of fresh crusty bread which you immediately assume you can't eat… BUT YOU CAN EAT IT ALL!
(I had to remind myself that the place is 100% gluten free!)
Within minutes they cut us a selection of the different flavours of gluten free bread – white, brown and turmeric. They were all amazing and I *wish* I could pick up a loaf every morning from this place.
The menu is all in Italian which I was determined to read without asking for some reason (Google Translate came in handy here!!). I opted for their homemade pizza which was delicious, more of a crispy, bready base compared to Ciro and Sons but absolutely fab.
All the pasta is homemade and cooked fresh too which was very, very tempting. Mark opted for a burger in a gluten free turmeric bun with Tuscan fries which he really enjoyed. There is definitely something for everyone on this menu and some of the stuff can be quite traditional too.
We walked back to the centre along the river which was really lovely but I also saw that there were buses running on the route too so check Google maps for your route options.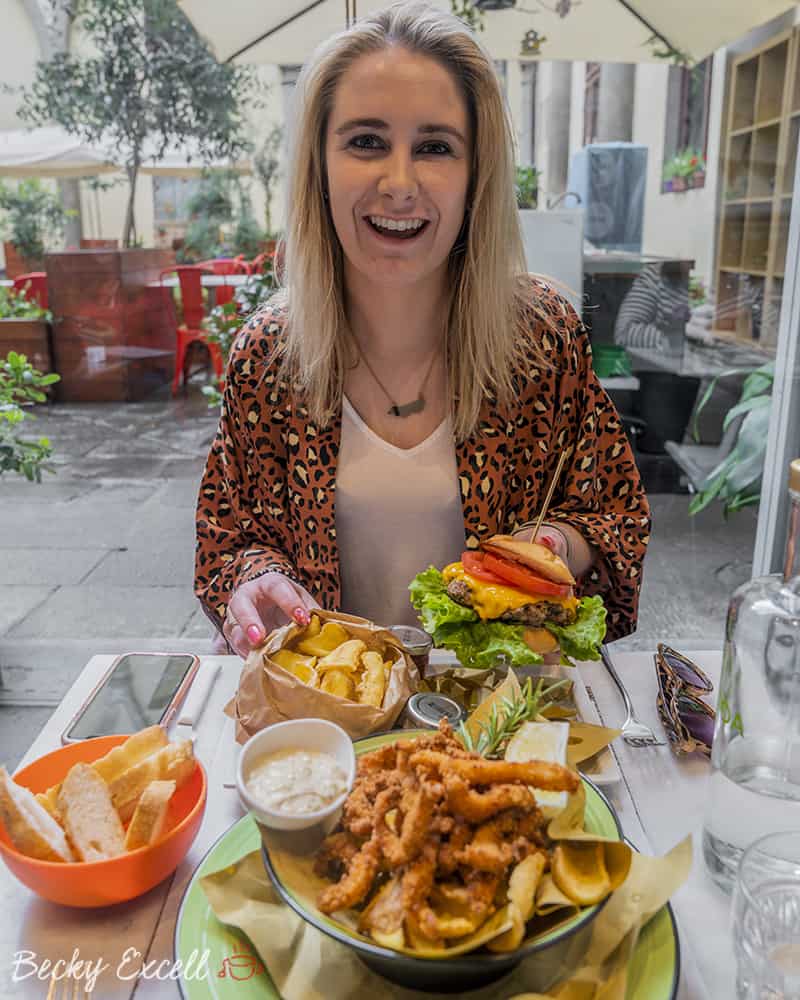 Quinoa! I didn't know what to expect from a name like that… I'm not a massive quinoa eater after all!
Quinoa was actually was *the first ever* fully gluten free restaurant in Florence and one of the best we visited in my gluten free Florence guide.
The setting is beautiful – it's situated down a passage that opens up into a magical courtyard. The restaurant inside is amazing but if the weather is good, I'd always opt for sitting outside.
The menu is really mixed, with some more traditional Italian dishes sitting alongside curry and noodle dishes too. The menu changes regularly with specials, but to be honest, everything sounded good to me.
We opted for the fried chicken which comes with roasted tuscan potatoes (the best!) and a beastly cheese burger. We shared both and I've got to say… the fried chicken was incredible! I would recommend it ANY DAY to ANYONE.
The menu seemed to really cater for vegetarian and vegan tastes too which I thought I'd mention in a city where the Florentine steak is such a big, traditional thing!
There were plenty of desserts to choose from too, but we went for lunch so opted against it… how I wish I had a better behaved stomach with more room sometimes!! I'd definitely recommend Quinoa for gluten free in Florence, but also as a place that anyone would enjoy.
It's defo somewhere that's a little different from your traditional Italian restaurants too.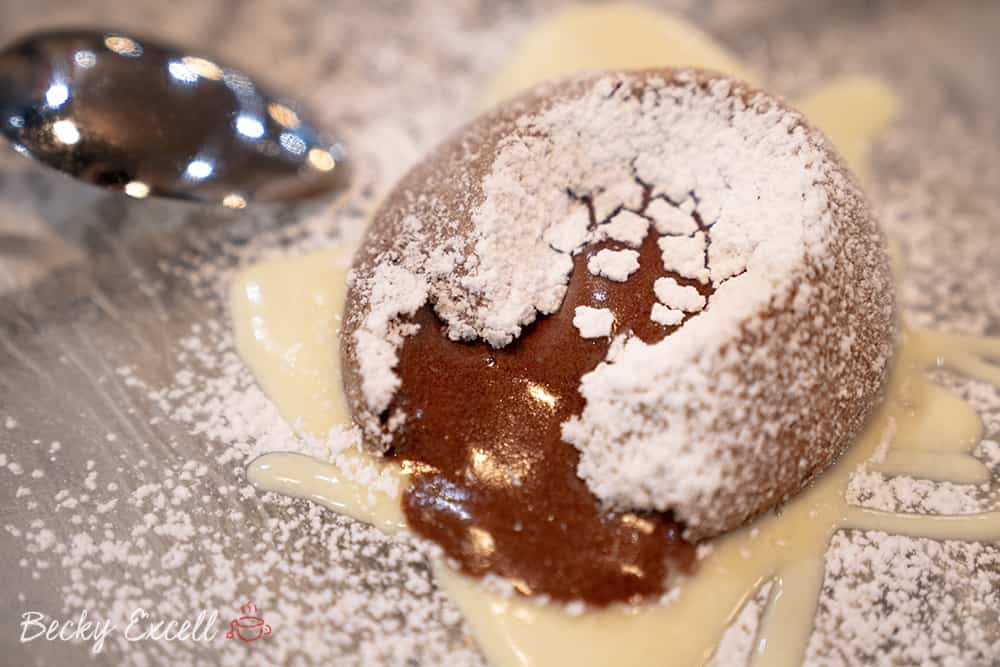 We stayed VERY close to this AiC accredited restaurant (so close I could see the Wifi from our apartment!), so I couldn't believe our luck!
They have a separate gluten free menu here which is reeeeally extensive and very similar to the regular menu. They offer everything that you could want on a menu, with your classic Florentine dishes (including tripe and the Chianina steak which they bring to your table before cooking to inspect) as well as pizzas and pastas.
I fancied pasta the night we came here and went for the seafood spaghetti – they made me a sauce that contained no onion or garlic with it too which was really kind of them. It was absolutely divine.
I saved space for dessert as I saw they had a gluten free hot chocolate soufflé on the menu with white chocolate sauce. It was an absolute game-changing gluten free dessert for me and the perfect end to the night!
It's really centrally located once again so I'd definitely recommend a trip if you're hunting for gluten free in Florence. It's nice to sit in the front of the restaurant and watch the world go by!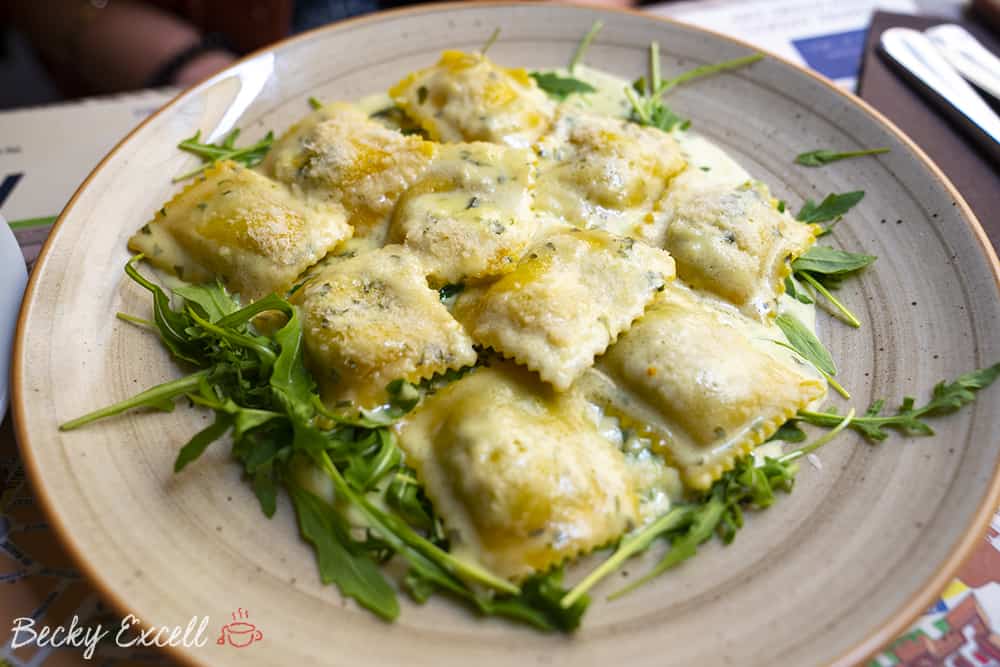 We came across this restaurant completely by chance and I'm so glad that we did.
It is *literally* opposite Ciro and Sons so you absolutely can't miss it! It's actually huge and seems to have loads of different areas to it – we couldn't work out if it was one massive restaurant or loads of little ones at first!
We opted to sit in the front open section which was really nice at lunch time when the sun is shining. The entire menu can be made gluten free and much of it lactose free too. The staff here were super friendly, warm and accommodating too!
The menu is huge and I found it very hard to decide what to have before finally opting for the parmesan ravioli (again without onion and garlic).
It turned out to be one of my favourite dishes of the trip and the perfect portion size too. As with nearly every restaurant we visited for gluten free in Florence, they always brought us gluten free bread to the table free of charge.
I really like this touch, another sign of how understanding everywhere seems to be in Florence and in Italy generally. I would definitely recommend visiting here for lunch or dinner. It's well worth it and such a nice surrounding too.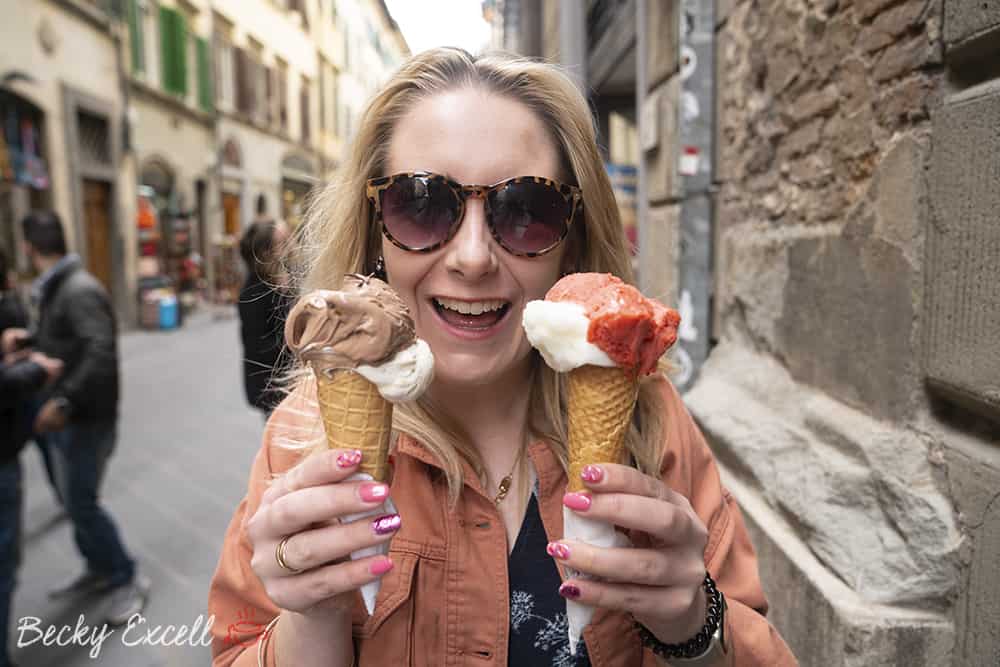 Another gelato place that I would definitely recommend is Antica Gelateria. They offer gluten free waffle cones that are sealed to prevent cross contamination. Every flavour of gelato is gluten free here which is great as it removes risk further for us gluten free folk. They have a great selection of flavours too. My favourite flavours were the biscotti and the chocolate hazelnut, although there were tons that I didn't get to try that looked great too.
A lot of ice cream places in Florence do offer the prepackaged gluten free waffle cones which is great and everyone I visited made sure they used separate scoops too. However, be careful if they do have ice cream that contains any gluten as I did notice a couple of places where gelato from one flavour got flicked into another flavour. That's why I loved Antica Gelateria so much, no need to worry!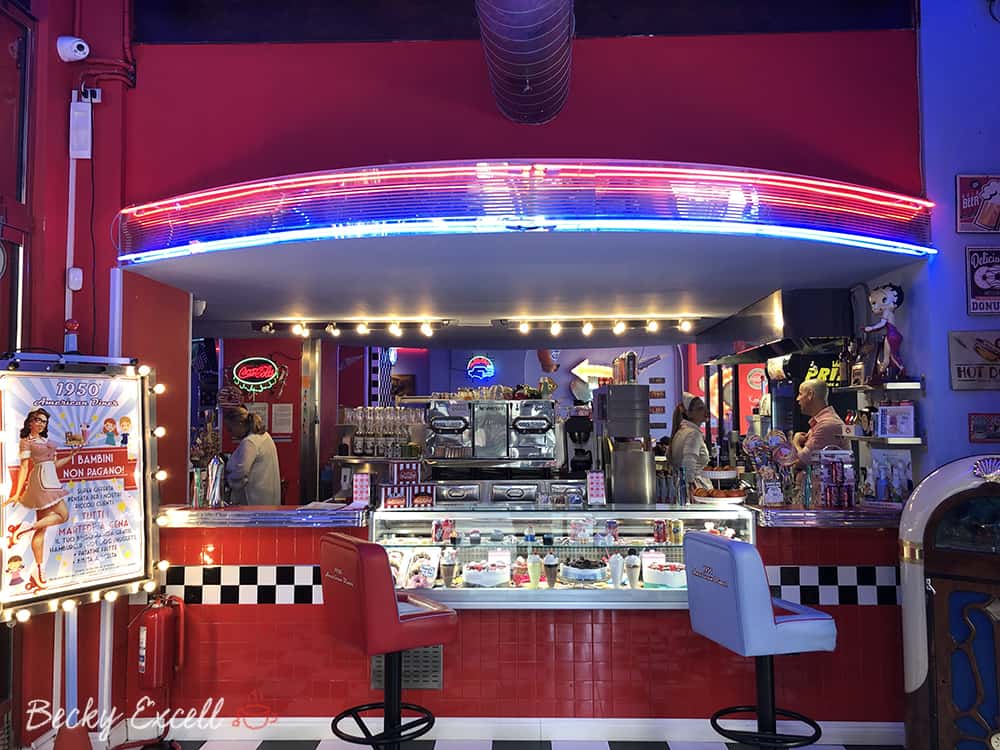 Oh my, you have to visit this place to believe it. It's so different from anywhere else we went in Florence by a mile. This is a proper american diner and it's amazing. The waiting staff serve you whilst wearing rollerskates… have I sold it to you yet?!
Anyway to the food. This place is again AiC accredited like most of the places in this guide and it has a very extensive separate gluten free menu. As you can imagine it is all very American rather than Italian. Think huge cheeseburgers, fried chicken and Philly Beef wraps – all gluten free! They also offer lots of gluten free desserts which include gluten free doughnuts (there's a reference to Homer Simpson on this part of the menu, so they must be good!).
This place isn't far from where you can see the Statue of David, so it might be a good spot to head to before/after.
One of the best locations of any restaurant I've mentioned in this guide. It's literally right outside the Duomo so if you get the right seat (most of the seats!!) you can have the most amazing view.
They have a separate gluten free menu filled with plenty of choices. Gluten free ravioli, pizzas and well as proper florentine bruschetta and polenta. Oh, and I almost forgot about the selection of gluten free homemade desserts too! If you get the chance and the weather is warm enough, definitely get down to Le Botteghe Di Donatello and sit outside. Do some people watching, enjoy safe and delicious gluten free food, and relax.
I've come to realise in Florence that quite a few of the hotels are great places to find gluten free restaurants that are AiC accredited. Whilst I'd imagine these are amazing places to stay (so if you are looking for a hotel maybe check this one out!), we prefer to stay in our own apartment (cheaper and more space!). However, just because you aren't staying at a hotel doesn't mean you can't use their restaurants!
The Albergo Londra has a full gluten free menu at their One Lounge and Restaurant which includes ravioli, other pastas, risotto and tiramisu. So well worth a visit.
If you were to actually stay at the hotel they offer a full gluten free breakfast to your table. Just make sure you let them know.
One of the best places you'll find for gluten free pizza, especially if you are also looking for it to be dairy free and/or vegan. They offer most of their menu as gluten free and have dedicated ovens once again. They absolutely love a burrata at this place and I'd totally recommend having one in Florence whenever you can on a pizza – it makes it even better! The vegan options are amazing as well with not only vegan cheeses but also vegan salami and sausage.
This place is very centrally located and also near Starbene (the gluten free bakery). Another amazing thing about Ti Do Una Pizza is that they actually do pizza making courses specifically for gluten free. They're not the sort of thing that you would embark on whilst on holiday in Florence, but it just shows this restaurants true understand of gluten free pizza. I actually would love to do the course… maybe one day!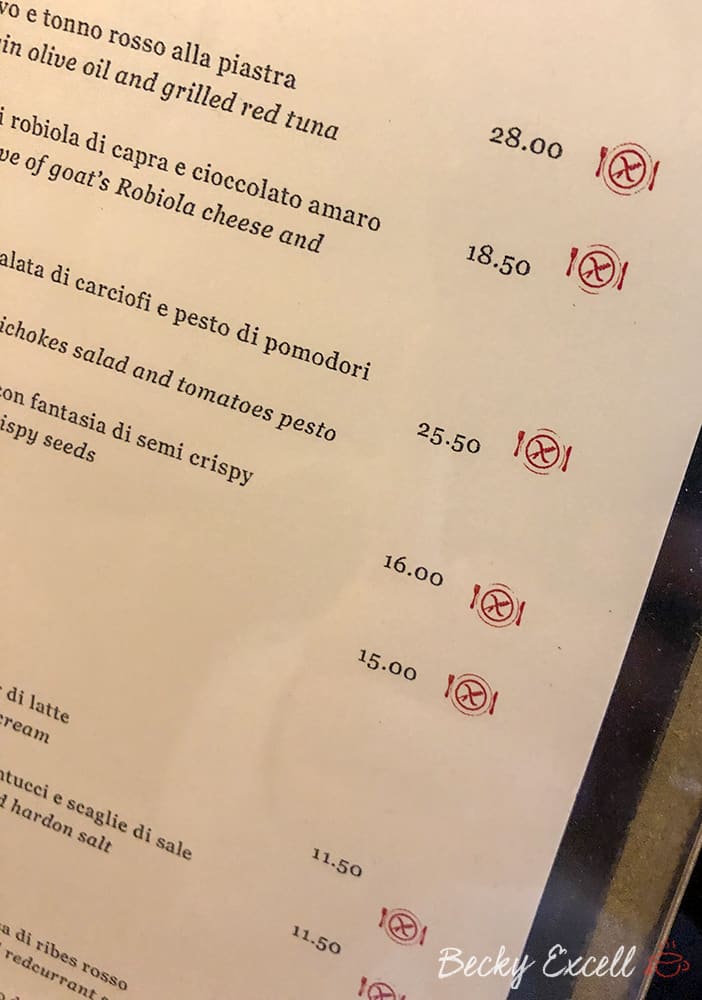 Another hotel with an AiC accredited menu! The stunning Grand Hotel Baglioni has a beautiful restaurant up on the top floor which we went to explore. It has a large outdoor roof terrace which you can see for miles from and when we were up there, a live band was also playing!
The restaurant, as with so many others in Florence, takes Coeliac Disease very seriously and understands the procedures that need to be in place. Their main menu clearly states what dishes are suitable with an AiC accreditation logo. It's definitely not a cheap place to eat with fish and meat mains being around €32 so definitely one for a special occasion! They have some quite unusual dishes on the menu such as 'fried brains' and this is also gluten free!!
We came across this gelato place whilst walking towards Bottega Artigiana del Gusto and I'm so glad that we did. There are SO many gelato places in Florence, you won't find a street without any, but only a handful are AiC accredited. As I mentioned earlier whilst many places might offer the gluten free cone their procedures need to be on point as well.
At Cantina del Gelato thankfully they are. I say thankfully even more so because they do some amazing (and crazy) flavours that we shouldn't have to miss out on. Of course they do the more classic flavours but then the likes of black rice and figs sound like must tries too. The gluten free cone is also vegan so they also offer vegan gelato for those who need it. All in all, if you're in the area it's well worth a visit.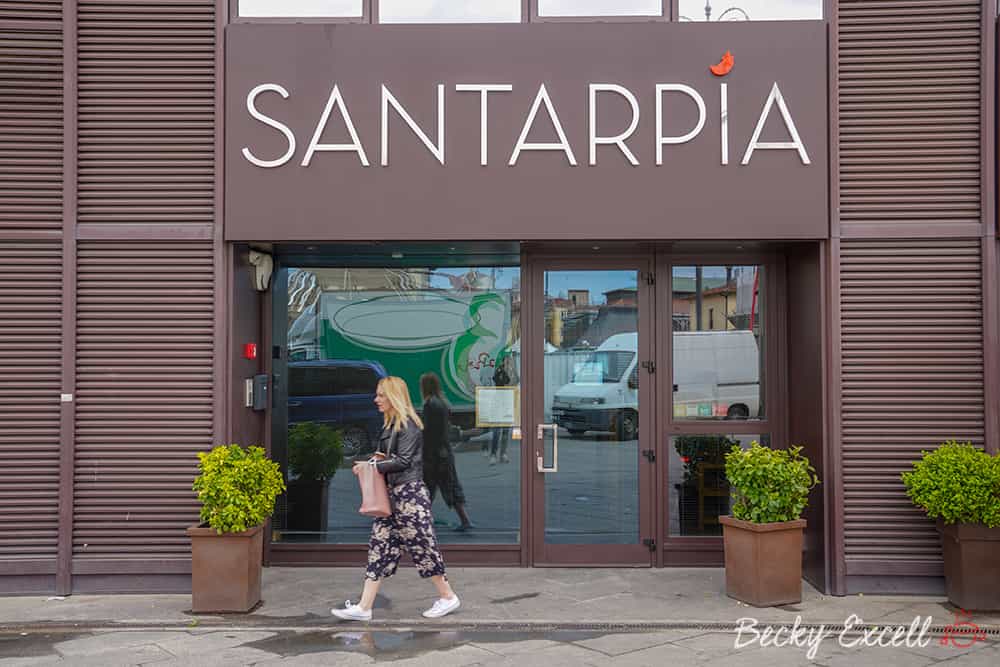 We really enjoyed wandering the streets of the Sant'Ambrogio neighbourhood of Florence. This is where we came across Santarpia, another restaurant with AiC accreditation. Santarpia offers up nearly the entire menu gluten free including their pizzas. They make the gluten free pizza dough themselves with the same care and attention as the regular dough – they understand! They're also great when it comes to lactose free too, with lactose free cheese and well as desserts available.
This is a place that needs to be booked as it gets really busy so if you want to visit make sure you do. It's also only open in the evenings (except for that the weekends when it opens at lunch). They always ask that you mention that you are gluten free when booking too.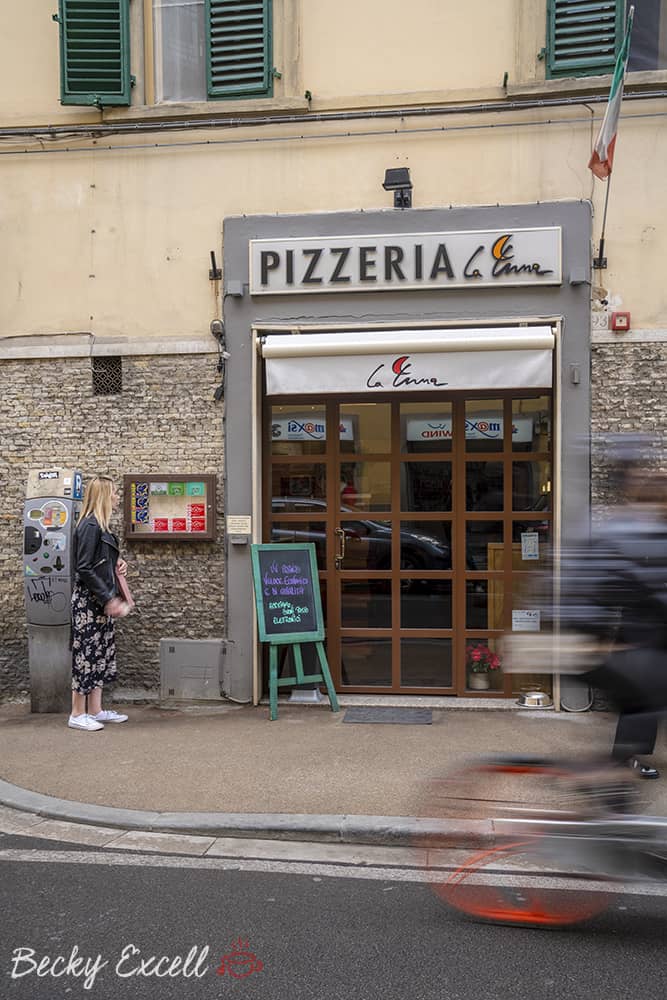 When we came across La Luna we knew it was special. It had the AiC accredited gluten free stickers on the door dating back to 2012 – the most we'd seen! I feel like because this restaurant is slightly further out of the centre (not much, we walked there pretty easily through a lovely market), it could easily be missed by so many. And you definitely don't want to miss out on this place if you have the time. It's not too touristy like other places more centrally are, and they have a terrace to sit out on in the warmer months.
They specialise in gluten free food and as a result basically everything can be made gluten free. The pizzas are cooked in a proper wood fire oven, the offer gluten free pasta, gnocchi and plenty of fried food as well such as croquettes. But definitely try to make room for dessert, gluten free nutella filled calzone are is on the menu!! They also have more than one gluten free beer. Seriously there is something for everyone, and both gluten free and non gluten free folk will enjoy themselves.
This is a big ol' restaurant that is very popular and centrally located in Florence has amazing gluten free options too. It's often the case that only one person in a group needs to eat gluten free and whilst every restaurant I've mentioned in this guide definitely suits everyone, it's nice to find one of the well known restaurants in the centre catering well for us gluten free folk. They actually are AiC accredited too.
In my opinion it might not be the place to have gluten free pizza (but they do offer it just incase), instead I would opt for some of their amazing meat dishes here. The Florentine steak is a must for all meat eaters in Florence and this might just be the place to have it! Although saying that, they offer gluten free ravioli as well as plenty of other classic Tuscan dishes, so there's plenty of choice for everyone's tastes.
This is a very traditional Tuscan restaurant that's been around since 1954. It focusses on regional specialities whilst always making sure that us gluten free folk don't miss out. It's small and romantic, so definitely one that you would be wise to book at. They really understand gluten free here, and as we stood gazing at the menu, without asking, they offered us a gluten free one!
They offer plenty of meat and fish alongside pasta all of which can be made gluten free. A homemade gluten free bread basket comes as standard, which as always is a real treat! It's a real hidden gem, down a side road but very close to the centre too. Definitely worth a visit!
There are 5 Pizza Man's across Florence all serving gluten free pizza. They aren't that central but they seem to have one on every corner of Florence. If you happen to be staying further out or are travelling out of the city for the day this is the place for you. They offer all of their pizzas gluten free with dough they make themselves.
They also offer takeaway which again is a big bonus. I know on holiday eating out is great, but sometimes after a long day exploring, I just want a takeaway!
A restaurant not far from where you will find the Galleria dell'Accademia (where the statue of David can be found). This restaurant is 100% organic as well as being AiC accredited. What I loved was that all the produce comes from their family farm in the Florentine Hills! They don't use any food that's been frozen and as a result the menu can change from lunchtime to dinner, and from month to month to ensure everything is as fresh as it can be. The dishes are all very creative and there are plenty of options for vegetarians and vegans here too.
It's the perfect place for delicious, fancy but homely food in a cosy setting. Prices aren't too bad either. With well over 90% of the menu being able to be made gluten free (or is gluten free as standard), this is definitely a place to go for a special Tuscan experience.
We came across this lovely little Trattoria as we were rushing back from the other side of the river (it was raining at the time!). We sheltered underneath the front of Trattoria Cammillo out of the rain. The front of the restaurant is very unassuming and the menu on the outside doesn't mention anything about it having gluten free options. However this was a situation where you just need to ask!
They can make nearly all of the menu gluten free on request and are in-fact AiC accredited. It's a restaurant opened in the 1940's and still run within the family. If you are looking for a true Tuscan dinner down by the river, this is where you need to head.
This organic pizza takeaway offers both gluten free and lactose free options. It's a little bit further out of the centre across the river but if you are looking for a takeaway pizza this place is definitely an option. When we were in Florence they came up on my Just Eat app so it looks as if they deliver further afield too.
You can find their full menu on their website which shows all the options that are available gluten free. On some of the dishes gluten free increases the price by a couple of euros, which is a shame but I did find that quite a few places did this. They have both vegan and vegetarian pizzas available gluten free too. As well as pizza you can order gluten free burgers, gluten free beer and gluten free desserts (tiramisu and cheesecake!). If you can get a delivery this might be a nice place to try out 🙂
So L'OV – L'Osteria Vegetariana is a vegetarian restaurant, something that I found quite hard to find in Florence (I wasn't really looking, but didn't come across any!). Whilst it's main focus is on being vegetarian with lots of vegan options as well, it pays special attention to detail on gluten free too.
I really love this quote I found on their website: 'But the OV is for everyone above all because its menu has dishes that can be eaten by everyone, vegetarians, vegans, celiacs or gluten intolerant. No difference at the table, same taste.' That's the sort of place I want to eat at!!
The menu is definitely different from anything else you will come across from this guide, but sometimes that's a good thing. It's nice to have different styles of meal across a holiday!
I had to pop the Hard Rock Cafe onto my list because I've always loved it! Once upon a time Mark and I planned our holidays around if there was a Hard Rock Cafe! We don't do this anymore but if there is one in a city we are visiting we will always go. I like to go mainly for the drinks (the cocktails are always amazing!) but they also have an extensive gluten free menu. The Hard Rock in London is Coeliac UK accredited and whilst the Florence one hasn't gone for AiC Accreditation, I spoke to the manager whilst having a drink and he went to how careful the chefs are in the kitchen and the procedures they go through to reduce the risk of any cross contamination.
With so many amazing places to eat in Florence this is definitely more of a place I would go to for a drink, however, if you fancy a Hard Rock dinner rest assured there is one in Florence and it's beautiful inside too 🙂
Another restaurant really centrally located (close to Ciro & Sons) that offers great gluten free options. All the dishes except the stuffed pastas can be made gluten free and they serve up fresh gluten free bread with each meal. The have some delicious gluten free desserts as well. A good one to visit, especially if you are staying for a few days… I would always choose Ciro and Sons before anything else, but then after that you have so many amazing places close by to explore too! Florence has too much choice but Osteria Cipolla Rossa is right up there.
If you are staying a little further outside of the centre of Florence then this is the perfect place for you to grab some gluten free shopping, especially if you are staying in an apartment. You can pick up fresh bread as well as lots of gluten free products. They again have tons of Schar products but lots of other brands that we don't find in the UK too. They also have a small gluten free cafe here, so if you have travelled out you can relax with a coffee and a bite to eat before heading back into the centre.
29. General Supermarkets across Florence (Conad, Aldi, Carrefour Express, Coop)
Florence has lots of small express style supermarkets dotted around the centre. We went into quite a few to check out their gluten free options. All of them had a small section for gluten free that carried the basics. From experience of visiting large supermarkets, I would imagine the bigger ones have a large free from aisle, but if you are staying centrally in Florence like we were, you are unlikely to venture out far enough to reach a big supermarket.
The smaller supermarkets are deceptively large anyway, they look tiny from the front but keep winding round the corners!
30. Airport (Pisa Airport and Florence Airport)
We flew into the main airport in Pisa for our trip to Florence. It was very easy to then get across to Florence (we tried the bus on the way and the train on the way back – no complaints with either method). Pisa airport is pretty small and doesn't have a huge amount going on. However as with all airports in Italy they always seem to have some gluten free options available. Pisa Airport had premade gluten free sandwiches in a separate chiller – the same sort which I saw when I was at the airport in Rome. I haven't actually been to Florence airport itself, but looking at the website I can see they have a few restaurants/cafes which would definitely have some options within them. It's definitely not something you would need to be concerned about. Additionally, both airports are pretty close to Florence themselves so you could always grab something there… I'd highly recommend something from Starbene the gluten free bakery in Florence – that's what I did!
Overall thoughts on gluten free in Florence…
I mean, the bar was set pretty high in my gluten free guide to Rome, but Florence did not disappoint one bit!! I had everything from pizzas, to fresh pasta, gnocchi, gelato in cones, fresh donuts, foccacias, tiramisu and everything I could have ever dreamed of eating in Italy! All gluten free and again – with lactose free options for Mark too.
And similarly to Rome, the amount of AiC accredited places just made it even better. I found that places approved by AiC had amazing knowledge and practises on cross-contamination, ingredients and everything gluten free.
If you're like me and the only gluten free person in your party, then don't hesitate to drag your whole group to any of these restaurants/bakeries/cafes. Gluten free in Florence is so great that a. nobody would ever notice anything is gluten free and b. tons of places in this list serve gluten free and regular, gluten-containing food as they understand how to serve both safely.
There wasn't as many lactose free options for Mark as in Rome, but still, they had an amazing understanding of what cheese is and isn't naturally lactose free. Sadly, we didn't find Mark a lactose free tiramisu this trip!
Unlike in Rome, a lot of restaurants (including many in this list) shut after lunch from around 2:30 – pm until 7pm when they open up for dinner. It threw us a little when we first got there, but after realising, it wasn't much of a problem for us.
Also a lot of restaurants are often shut on a Monday so if you're only going for a day or two then bear that in mind!
If you go to Florence, I really hope you enjoy yourself, take lots of snaps, post them on Instagram and then tag me! Nothing makes writing this all this down more worth it than seeing all you guys enjoying yourself.
Go book a trip to Florence now!
I really hope this has been a useful guide to gluten free in Florence. If you find anymore places that you would recommend just drop me a message in the comments below, or on Facebook / Twitter / Instagram. Also if you have any other questions please do the same!
I really can't wait to go back to experience some more gluten free in Italy asap! And who knows where my next trip will be, let me know where I should go next!
Thanks for reading,
Becky xxx
Oh and don't forget to pin this for later!