Coconut veggie curry recipe – a healthy, veggie curry in a hurry that costs less than £1 a portion. Nobody would ever know its gluten-free and Coeliac-friendly!
Coconut veggie curry recipe, anyone? This, healthy budget-friendly meal is incredibly easy to throw together in one pot, which you can then serve with rice. Plus, you can make it in 25 minutes or less!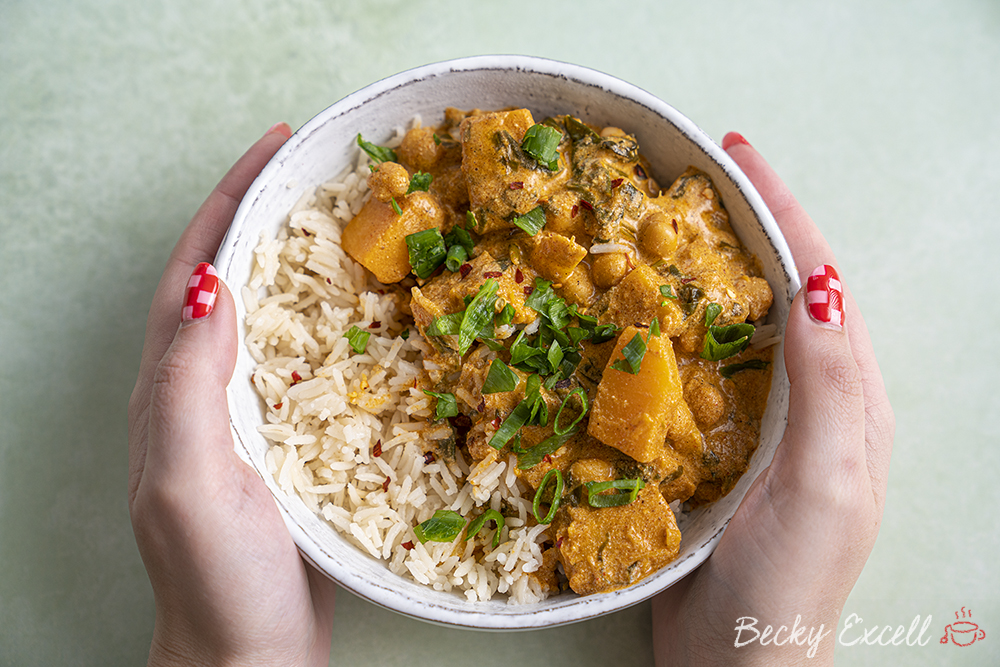 This is also yet another budget meal plucked right from my 'How to turn a £25 shop at Aldi into 5 dinners for the week' series over on Instagram and TikTok.
I want to show the world that you can eat gluten-free on a budget, whilst still enjoying all the meals that you love eating – no free from aisle required for this one. Oh and also, they have to be meals that the rest of your gluten-eating family will love too!
I hope you're enjoying the series and if you don't have Instagram or TikTok (which I'd highly recommend you sign up to if you haven't already – it only takes 1 minute) to view this series as it goes up, never fear as I'll be posting the recipes here on the blog too.
Here's everything you'll need to make it possible:
Coconut veggie curry recipe: What you'll need…
Spices: For this spice blend, you'll need smoked paprika, cumin, garam masala, cinnamon, dried chilli flakes and ginger.
Garlic-infused oil: An instant injection of wonderful garlic flavour – no chopping or pre-frying of fresh garlic required. And if your garlic oil doesn't have any bits of actual garlic floating in it, then it's low FODMAP too.
Butternut squash: The perfect veg for this recipe, which cooks quick and adds a welcome sweetness to the dish.
Coconut milk: A simple can of coconut milk works here – full-fat is preferable for thickness and flavour, but light coconut milk works well too, however the sauce may be a little thinner.
Salt and pepper: These flavour enhancers make more of a difference that you think, so please don't skip adding these – they're the fighters of bland flavour!
Tomato puree: Not only does this ramp up the tomato flavour, but it also helps to thicken the sauce too.
Chickpeas: Simply drain a can of chickpeas and add them in when instructed.
Spinach: It cooks/wilts super fast and is good for you!
Lemon juice: I like to add a little for a flavour flourish, but it is essentially optional.
Plain yoghurt: This adds a lovely creamy element to the sauce and a slightly sour, yoghurt flavour.
Spring onion: This is used as a garnish, yet adds an instant hit of onion flavour. If you use just the green parts, then it'll be low FODMAP too.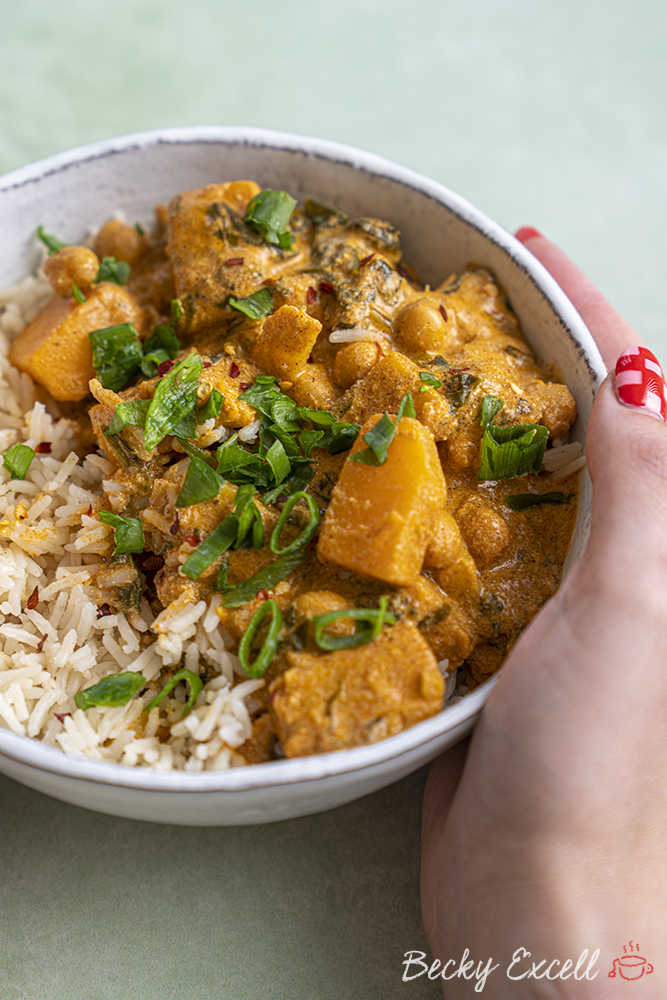 So, what does it taste like? The sauce is thick, creamy with a bold, punchy flavour that compliments the sweetness of the squash and is also packed with chickpeas that soak up all the wonderful, mildly spicy sauce.
Simply serve with basmati rice and maybe even a gluten-free naan!
Here's a few frequently asked questions before you get started:
Coconut veggie curry recipe: Frequently Asked Questions
Can I make this recipe gluten-free? Is it suitable for Coeliacs?
It is gluten-free, though nobody would know just by tasting it – trust me!
Bear in mind that minimising cross-contamination is hugely important if you're Coeliac or making this for someone who is. Here's some tips from Coeliac UK on minimising the risk of cross contamination.
Also, make sure that all ingredients used don't have any gluten-containing ingredients. Then make sure that they also don't have a 'may contain' warning for gluten, wheat, rye, barley, oats (which aren't gf), spelt and khorasan wheat (aka Kamut).
Here's some more info from Coeliac UK on identifying safe gluten-free products.
Can I make your coconut veggie curry recipe dairy-free?
Just use dairy-free yoghurt – that's it!
Can I make your coconut veggie curry recipe vegan?
If you use dairy-free yoghurt, then it is vegan!
Is this recipe low FODMAP?
Unfortunately, this recipe would need so many swaps to make it possible that it would be an almost entirely different recipe! The FODMAP serving sizes for butternut squash (45g), chickpeas (42g) and coconut milk (60g) are too small to create a reasonable single serving for 1 person.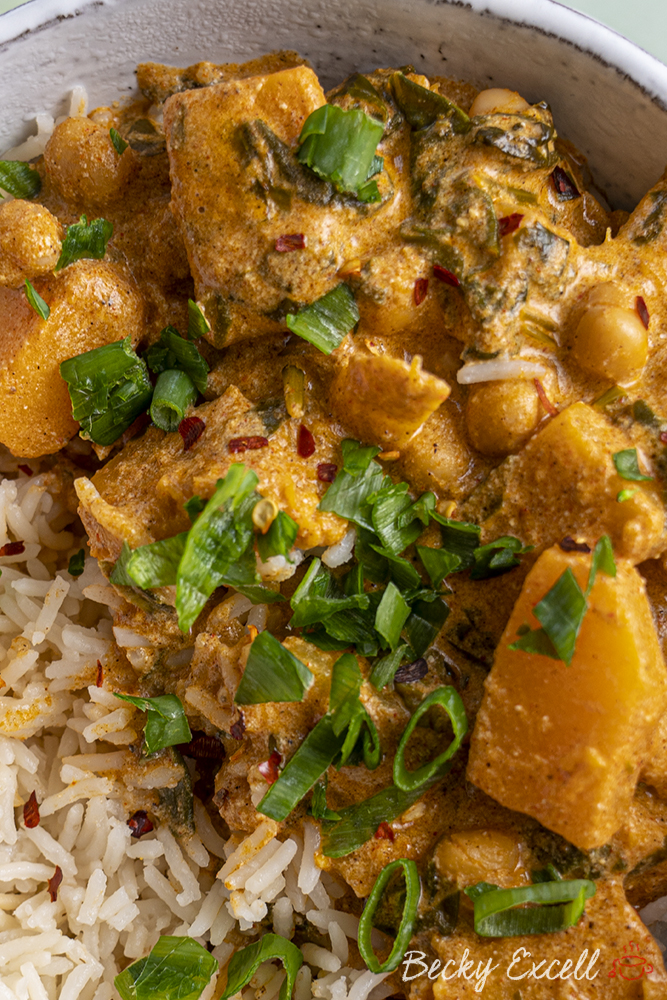 Can I swap up the veg?
If you're not a fan of butternut squash, you could always use sweet potato – just ensure it's fully cooked through before serving.
How can I make this healthier?
This is already a very lean, healthy meal! But if you want to make it even healthier you can always:
Use a low calorie garlic-flavoured cooking spray instead of garlic oil
Use light coconut milk
Use low-fat yoghurt
Using light and low-fat equivalents may mean that your sauce isn't as thick as it should be – if that's the case, you could always add 1 tbsp of cornflour mixed with 2 tbsp water into the sauce and immediately stir in.
Simmer for a few minutes and you should find that the sauce has thickened nicely.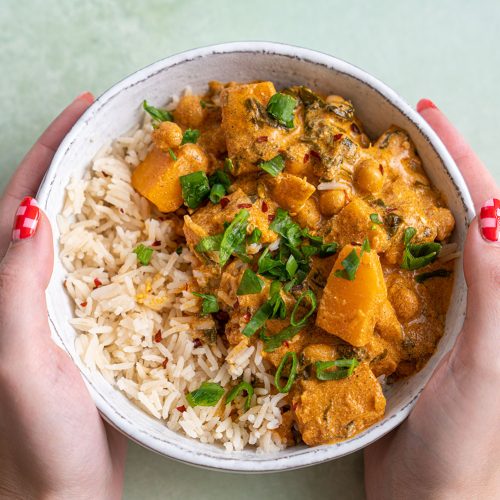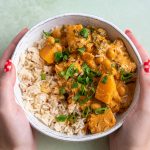 Coconut Veggie Curry Recipe
Coconut veggie curry recipe – a healthy, budget-friendly dinner that takes less than 25 minutes to make. Gluten-free and Coeliac-friendly.
Ingredients
1

tbsp

garlic-infused oil

400

g

butternut squash

chopped into 1cm cubes

1

tbsp

smoked paprika

0.5

tbsp

ground cumin

1.5

tbsp

garam masala

1

tsp

ground cinnamon

0.5

tsp

ground ginger

1/4

tsp

dried chilli flakes

400

ml

coconut milk

1

tbsp

tomato puree

pinch of

salt and pepper

1

tin

chickpeas

(drained)

2

handfuls

spinach

1

tbsp

lemon juice

optional

200

g

plain yoghurt

(use dairy-free yoghurt if necessary)

1

handful

spring onion greens

rice

to serve
Instructions
Heat the garlic oil in a pan on a medium heat, and then add the butternut squash – allow it to fry a little in the oil.

Add the paprika, cumin, garam masala, ginger, dried chilli flakes and cinnamon and mix to coat the squash. Cook for a minute until you can really smell the spices.

Pour in the coconut milk, tomato puree, salt and pepper, stir well, then add in the chickpeas. Cook until the squash is cooked through which should take about 10 minutes.

Stir in the spinach (and optionally the lemon juice) until wilted.

Mix in the yoghurt and allow to thicken to your liking on a low heat.
Thanks for reading all about my coconut veggie curry recipe! If you make it, I'd love to see how it turned out so don't forget to take a snap of your creations and tag me on Instagram!
Any questions about the recipe? Please do let me know by following me on Instagram and leaving me a comment on a recent photo!
Thanks for reading,
Becky xxx
Don't forget to pin this for later!