Creamy tomato chicken pasta recipe – a 30 minute meal that costs around £1.50 per portion. Nobody would ever know its gluten-free and Coeliac-friendly!
Creamy tomato chicken pasta recipe, anyone? The ultimate comfort food has never been quicker or easier to make, using simple ingredients from the supermarket.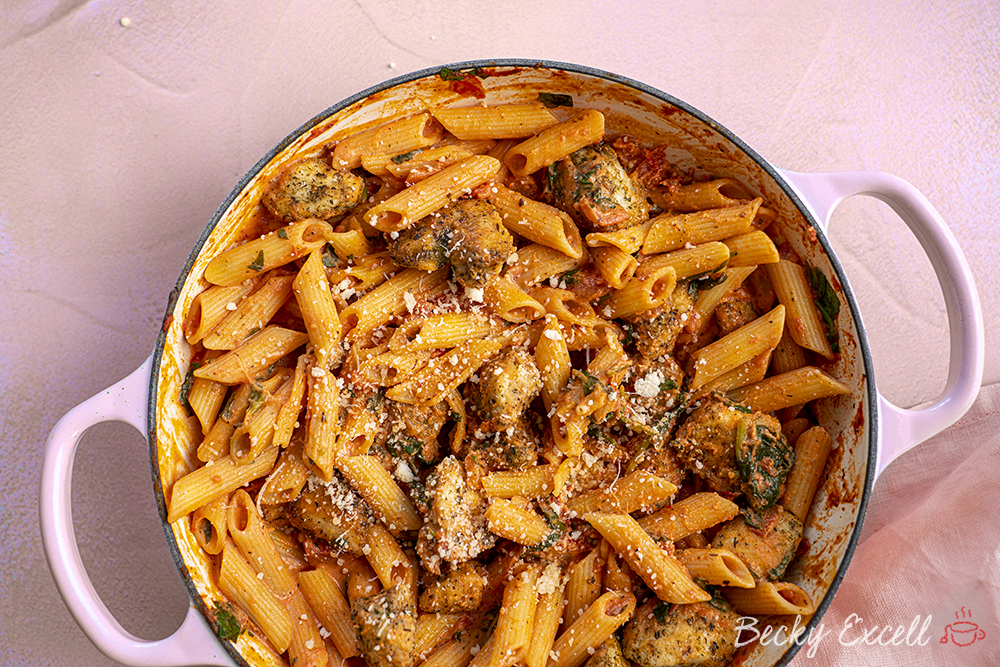 No exaggeration: Mark and I have been enjoying this meal at least once a month for the last 5-6 years. How crazy is that?!
It's something that I essentially just made up! But there's two big reasons we've loved it for so long: firstly, it tastes out of this world and secondly, it takes less than 30 minutes to cook.
And this recipe made me realise that, when a recipe is so quick and easy to whip up, you're more likely to actually make it… maybe even for years and years!
Here's all the super simple ingredients you'll need to make it possible:
Creamy tomato chicken pasta recipe: What you'll need…
Gluten-free pasta: I used gluten-free penne pasta from the free from aisle, but any gluten-free pasta will do.
Chicken breasts: As this is a quick meal, chicken breast is perfect as it doesn't take long to cook.
Cornflour: You'll find this with all the 'muggle' flour in supermarkets.
Dried mixed herbs: This is a simple blend of thyme, marjoram, parsley, oregano, sage and basil that you can find in supermarkets. Italian seasoning works too.
Salt and pepper: These flavour enhancers make more of a difference that you think, so please don't skip adding these – they're the fighters of bland flavour!
Garlic-infused oil: An instant injection of wonderful garlic flavour – no chopping or pre-frying of fresh garlic required. And if your garlic oil doesn't have any bits of actual garlic floating in it, then it's low FODMAP too.
Chopped tomatoes: A humble tin of chopped tomatoes forms the base of our sauce.
Tomato puree: Not only does this impart a more intense tomato flavour, it also helps to thicken the sauce.
Spinach: This is perfect in a quick meal as it literally takes around 30 seconds to wilt in a hot pan.
Cream cheese or mascarpone: This is the perfect finishing touch, instantly giving the sauce a creamy taste.
Cheddar: This is essentially optional as it's just to sprinkle on top before serving. Parmesan, Grana Padano or Pecorino works well too, or whatever you have in the fridge.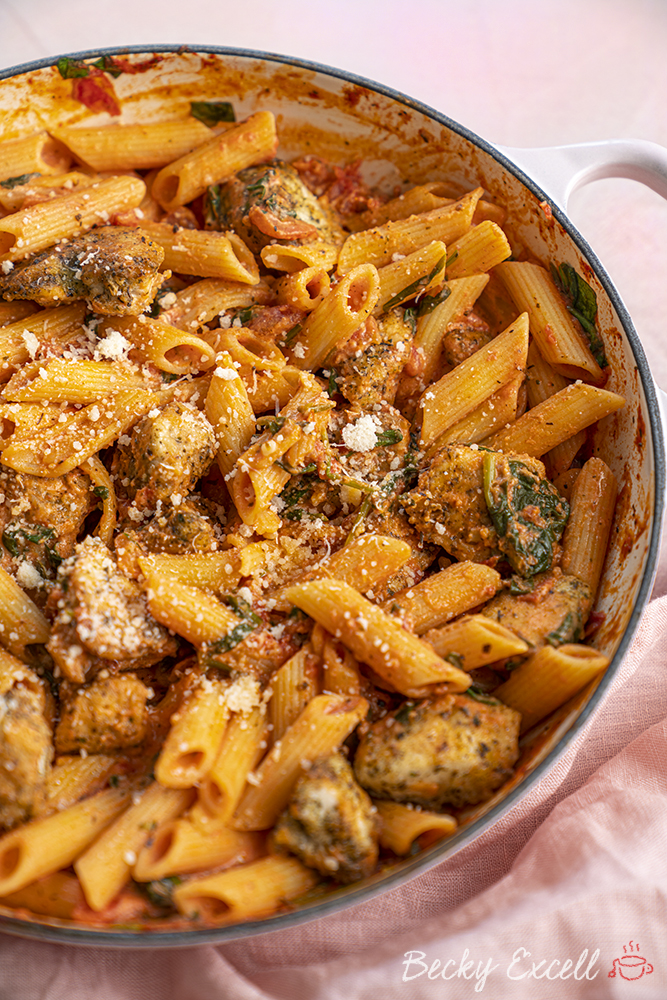 So, what does it taste like? This is basically the best tomato pasta dish I've ever eaten! The ingredients are so simple, yet make such a rich flavour with amazing textures.
The sauce is herby, tomato-y and creamy, packed with al dente gluten-free pasta, wilted spinach and crispy, herb-coated, tender chicken. Simply beautiful!
Here's a few frequently asked questions before you get started:
Creamy tomato chicken pasta recipe: Frequently Asked Questions
Can I make this recipe gluten-free? Is it suitable for Coeliacs?
It is gluten-free, though nobody would know just by tasting it – trust me!
Bear in mind that minimising cross-contamination is hugely important if you're Coeliac or making this for someone who is. Here's some tips from Coeliac UK on minimising the risk of cross contamination.
Also, make sure that all ingredients used don't have any gluten-containing ingredients. Then make sure that they also don't have a 'may contain' warning for gluten, wheat, rye, barley, oats (which aren't gf), spelt and khorasan wheat (aka Kamut).
Here's some more info from Coeliac UK on identifying safe gluten-free products.
Can I make your creamy tomato chicken pasta recipe dairy-free?
Simply use dairy-free cream cheese or even just dairy-free cream instead of cream cheese and this recipe will be 100% dairy-free!
Can I make your creamy tomato chicken pasta recipe vegan?
Yes! Follow the dairy-free advice above and use extra-firm tofu instead of chicken.
Is this recipe low FODMAP?
It can be! Here's the swaps you'd need to make:
Ensure your garlic-infused oil doesn't have any actual bits of garlic floating in it (the one in Tesco is safe, but sadly the one in Aldi is not, for example)
Use lactose-free cream cheese
A finished low FODMAP serving size would be no more than a quarter of the finished dish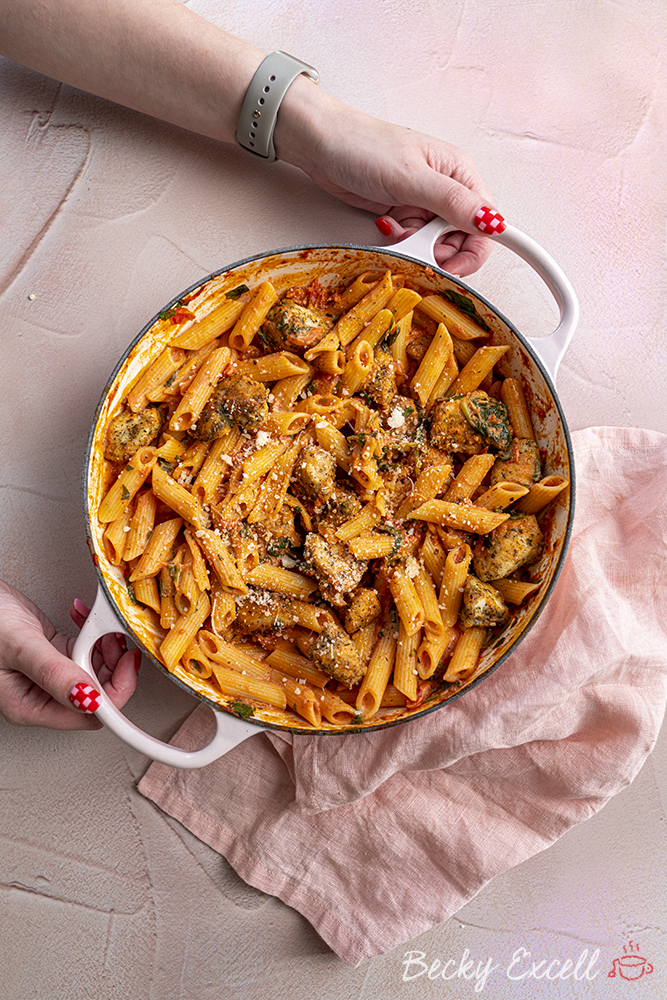 I've made it – what do I serve it with?
Exactly as it is – though a few sides wouldn't hurt! A little gluten-free garlic bread would a long way too, as would some fresh rocket on the side.
Can I use chicken thighs instead of chicken breast?
You can, but if so, I'd advise cooking them a little longer than chicken breast – potentially an extra 3-4 minutes would suffice.
How can I make this healthier?
If you want to make it even healthier you can always:
Use low-fat cream cheese or creme fraiche instead of regular cream cheese.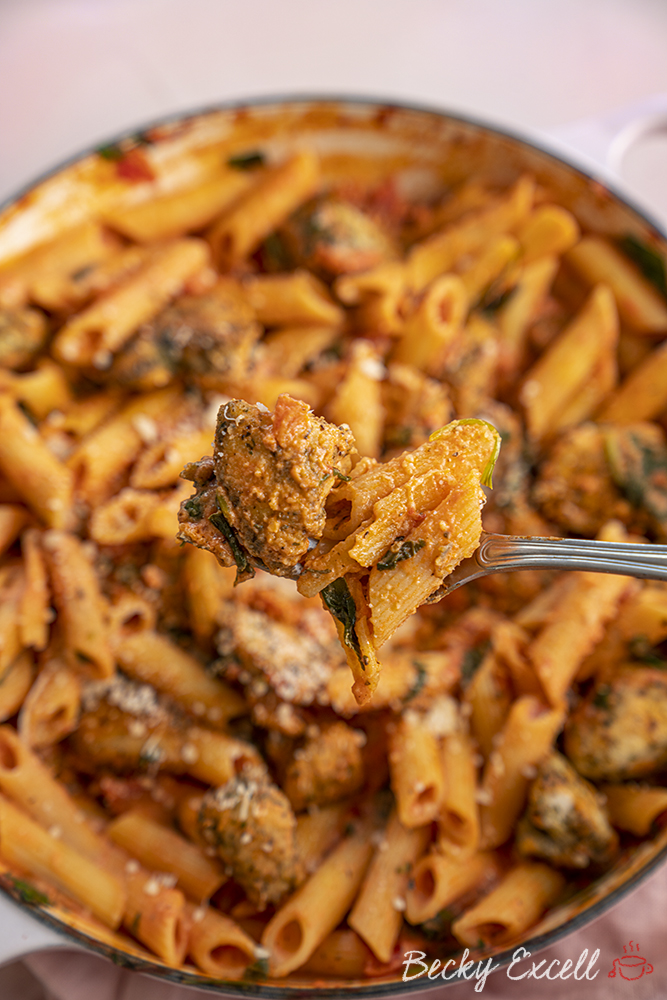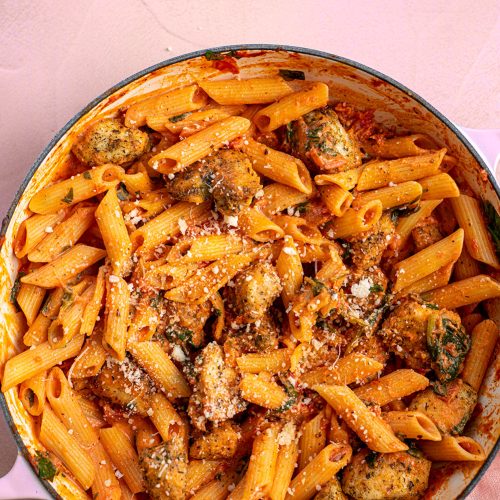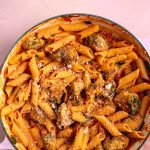 Creamy Tomato Chicken Pasta Recipe
Creamy tomato chicken pasta recipe – an easy 30 minute meal that nobody would know is gluten-free and Coeliac-friendly.
Ingredients
175

g

gluten free pasta

2

chicken breasts

diced into 1in chunks

40

g

cornflour

1

tbsp

mixed herbs

salt and pepper

2

tbsp

garlic-infused oil
For the sauce:
400

g

chopped tomatoes

1

tbsp

tomato puree

2

tsp

dried mixed herbs

1

tbsp

garlic-infused oil

1

big handful

spinach

roughly chopped

1

tbsp

cream cheese or mascarpone

(dairy-free if necessary)

1

handful

cheddar cheese

grated
Instructions
Cook your gluten free pasta as per the packet instructions. Drain and put to one side.

Place the chopped chicken breasts into a small bowl and mix in the cornflour and mixed herbs so the chicken is well coated. Add a generous pinch of salt and pepper.

Heat 2 tbsp of garlic infused oil in a medium frying pan on a medium heat. Fry the coated chicken until crisp, coloured and cooked through. Put to one side whilst you make the sauce.

In a separate larger pan, add chopped tomatoes, puree, mixed herbs and the rest of the garlic oil. Cook on a medium heat briefly.

Add in the spinach and cook until it starts to wilt, then add in the cooked gf pasta. Stir it in so the pasta is well coated.

Stir in a spoonful of cream cheese, mix it through so the sauce gets nice and creamy.

Finally add in the herby coated chicken, stir it through.

Finish with a sprinkling of grated cheese.
Thanks for reading all about my creamy tomato chicken pasta recipe! If you make it, I'd love to see how it turned out so don't forget to take a snap of your creations and tag me on Instagram!
Any questions about the recipe? Please do let me know by following me on Instagram and leaving me a comment on a recent photo!
Thanks for reading,
Becky xxx
Don't forget to pin this for later!