Gluten-free reindeer cupcakes recipe – never have cupcakes looked so good but been so simple to decorate! Best of all, nobody could EVER tell that they're Coeliac-friendly and wheat-free.
Gluten-free reindeer cupcakes recipe, anyone? You'd be surprised what you could do with a few gluten-free pretzels, edible eyes and red caramel M&MS!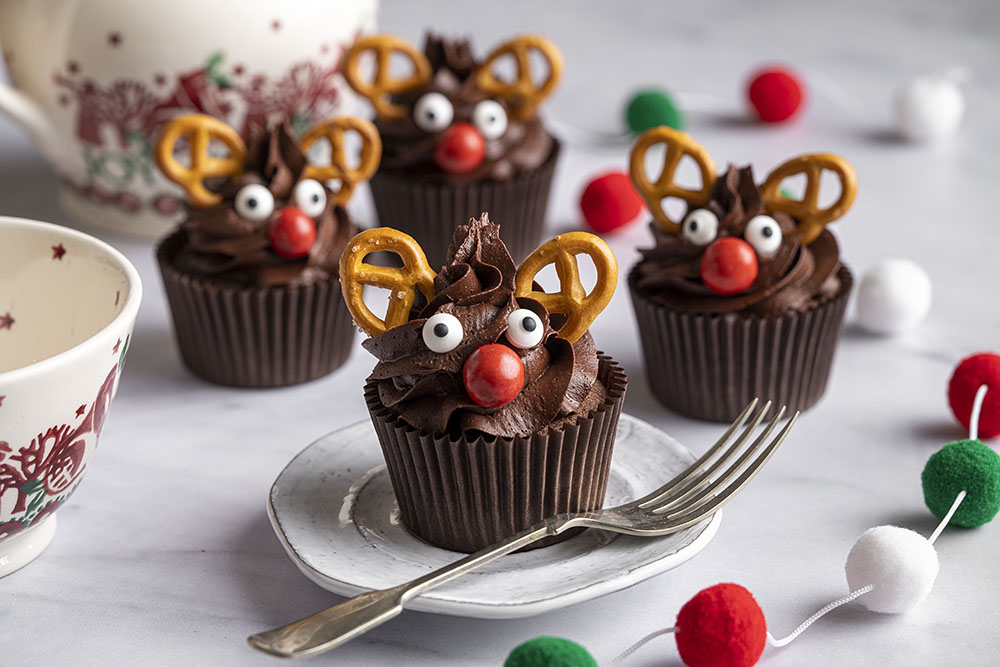 Does it get any better than reindeer cupcakes? Oh it does because, for once, you can actually eat them!
All it simply involves is making cupcakes and buttercream, then throwing it all together. That's literally it.
And of course, if you've never piped buttercream in your life, don't panic. Simple see the video in the top 5 tips above the recipe and you'll be piping beautifully in no time!
Here's everything you'll need to get started…
Gluten-free reindeer cupcakes recipe: What you'll need…
Butter: Salted or unsalted is totally fine (I use unsalted), but whichever you go for, make sure it's softened first.
Caster sugar: Sugar isn't just for sweetness – it helps to achieve a lovely crisp exterior and helps the cupcakes to form a perfect crumb.
Medium Eggs: I use medium eggs for this recipe, but large works fine too. If you can't tolerate egg, check the vegan section of the FAQ for some simple swaps you can try.
Gluten-free self-raising flour:

I use a simple commercial blend from the free from aisle in the supermarket. If you can't find a blend like this where you live, you can always make your own using my gluten-free flour recipe.
Gluten-free baking powder: Not all baking powder is gluten-free so make sure you read the ingredients list first!
Cocoa Powder: Ideally sieve before using or it can be quite lumpy.
Xanthan gum: This helps to bind the cake crumb together so it doesn't become crumbly, replacing the gluten that would otherwise do the same job.
Vanilla extract: The better quality yours is, the better your buttercream will taste.
Icing sugar: You'll need this for the buttercream as caster sugar won't work here.
Dark chocolate: Don't worry if you don't like dark chocolate, when mixed with the butter and icing sugar, it doesn't taste like dark chocolate at all! It just adds a more intense flavour.
Gluten-free pretzels: Yes, they do exist and you'll find them down the free from aisle. See the FAQ below for links.
Gluten-free edible eye decorations: The perfect finishing touch! I found mine down the baking aisle in the supermarket, but whatever you use, ensure they're gluten-free.
Red coloured chocolate balls: These are for the nose of course! I used caramel M&Ms from the supermarket which are gluten-free – see the FAQ below for links to what I used.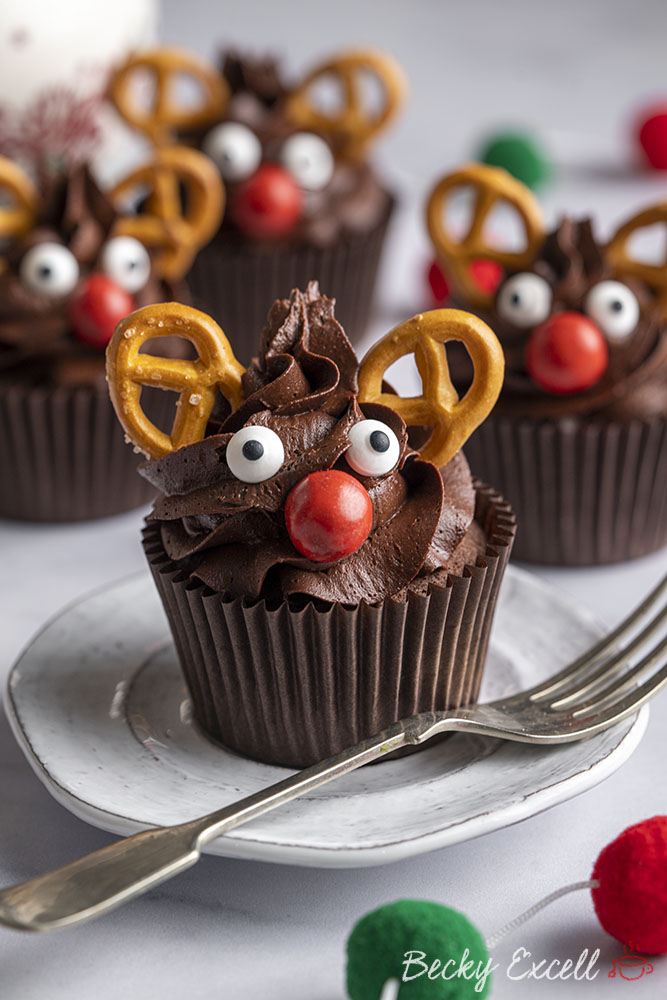 So here's the fun part for me: describing what my gluten-free reindeer cupcakes taste like!
The sponge is delightfully chocolatey, soft, light, fluffy and sweet. Something that I very rarely find when I eat a cupcake that I haven't baked myself!
Then, it's all topped with my secret weapon: whipped chocolate buttercream. Every bite is like biting into a big chocolate cloud.
And of course, they're then finished with gluten-free pretzels, crunchy eyes and a delightful caramel M&M for a nose. See the FAQ section below for links to all the decorations I used…
Gluten-free reindeer cupcakes recipe: Frequently Asked Questions
Can I make this recipe gluten-free? Is it suitable for Coeliacs?
It is gluten-free, though nobody would know just by tasting it – trust me!
Bear in mind that minimising cross-contamination is hugely important if you're Coeliac or making this for someone who is. Here's some tips from Coeliac UK on minimising the risk of cross contamination.
Also, make sure that all ingredients used don't have any gluten-containing ingredients. Then make sure that they also don't have a 'may contain' warning for gluten, wheat, rye, barley, oats (which aren't gf), spelt and khorasan wheat (aka Kamut).
Here's some more info from Coeliac UK on identifying safe gluten-free products.
How do I make this recipe dairy-free?
Easily, with a few simple swaps!
Use Stork hard margarine instead of butter.
Ensure your cocoa powder is dairy-free.
Use dairy-free dark chocolate.
Instead of using M&Ms, use small balls of red fondant icing for the noses.
Can I make your gluten-free reindeer cupcakes recipe vegan?
Yep! If you follow the instructions above to make this recipe dairy free, then all you've got left to contend with is the eggs.
Here's a few ideas you can use as egg replacements in the cupcakes, so each of these = 1 egg.
3 tablespoons of aquafaba – water from a can of chickpeas. Make sure you whisk it up until frothy before adding.
Egg replacement powder – I'd recommend using Orgran as it's gluten free.
1 tablespoon of chia/flax seeds mixed with 2 tablespoons of water and left for 10 minutes in the fridge.
3 tablespoons of applesauce.
I haven't tested all of these egg alternatives so let me know how you get on in the comments below.
Is this recipe low FODMAP?
It can be! Use lactose-free dark chocolate and simply swap the M&Ms for small balls of red fondant icing for the noses.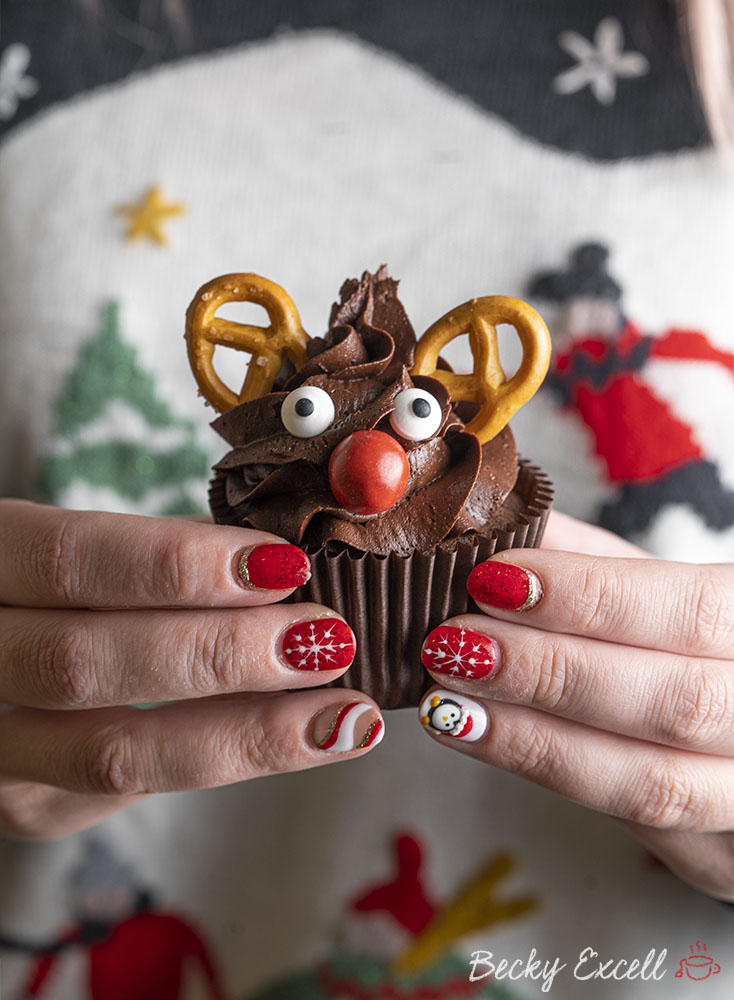 What did you use to decorate the cupcakes?
I used three simple finishing touches that go a long way! Best of all, you'll easily find them in supermarkets:
Do I need any special equipment to bake your gluten-free reindeer cupcakes?
Certainly not! You will need a good quality muffin tray, so here's a link to the one I use.
Of course, you will need a piping nozzle and piping bags if you want to finish them like I have in the photos. I use the 1M star nozzle in this set to pipe cupcakes and piping bags like these.
Can I use gluten-free flours like almond flour or coconut flour to make this recipe?
Certainly not using this recipe. This recipe uses gluten-free plain flour which is easily available in supermarkets here in the UK.
If you can't find it where you live, you can always make your own using my gluten-free flour recipe.
The reason you can't use flours like almond or coconut in this recipe is because gluten-free plain flour is a blend of lots of different gluten-free flours and starches.
So to ditch a carefully made blend and try to substitute them all for ONE flour… it's just not going to work!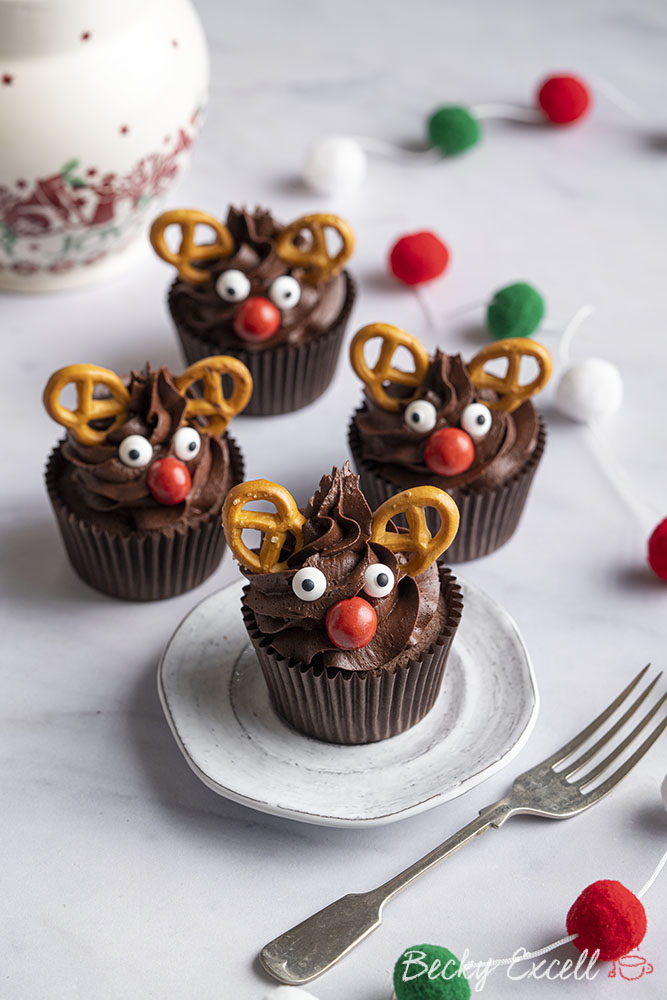 Gluten-free reindeer cupcakes recipe: Tips for perfection!
Spoon an even amount of cupcake batter per cupcake case – that way, they'll all bake at the same speed.
Don't overdo the baking powder, or it can make your cupcakes sink in the middle. Be careful when measuring it out!
Once you've made the cupcake batter, bake it ASAP. The rising power of the baking powder will degrade quickly, resulting in denser, less risen cupcakes.
Allow your cupcakes to fully cool before piping on the cream or buttercream – it will melt otherwise!
If you're new to piping buttercream – watch a YouTube video first! The first half of this video will tell/show you everything you need to know for this recipe.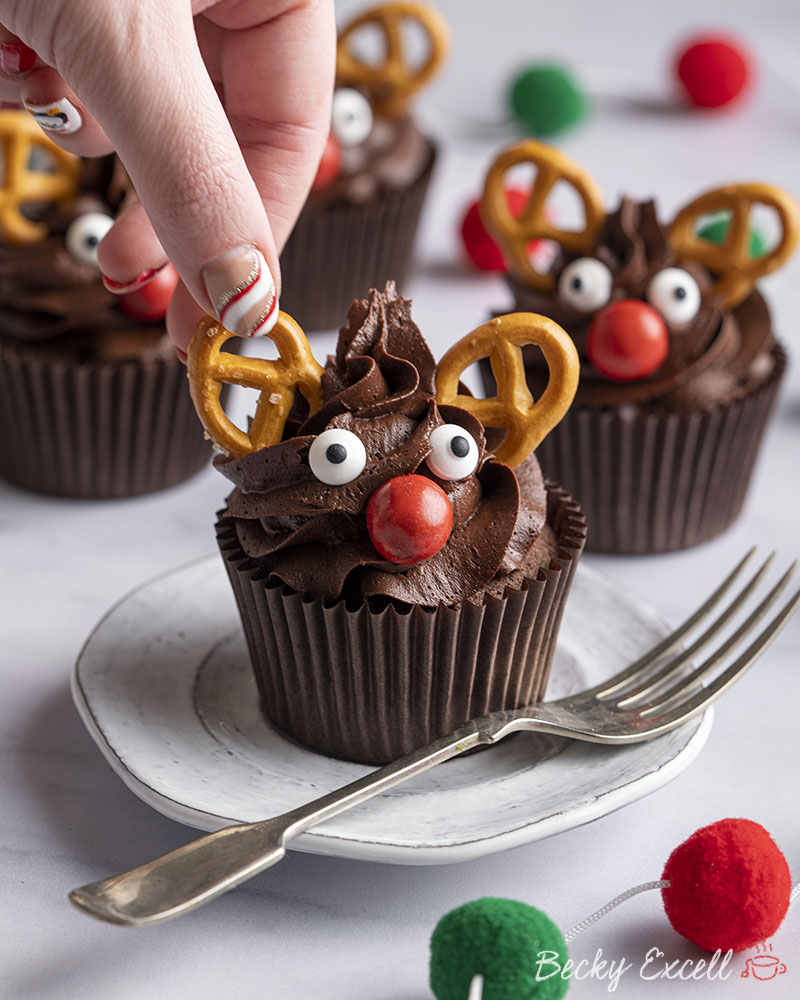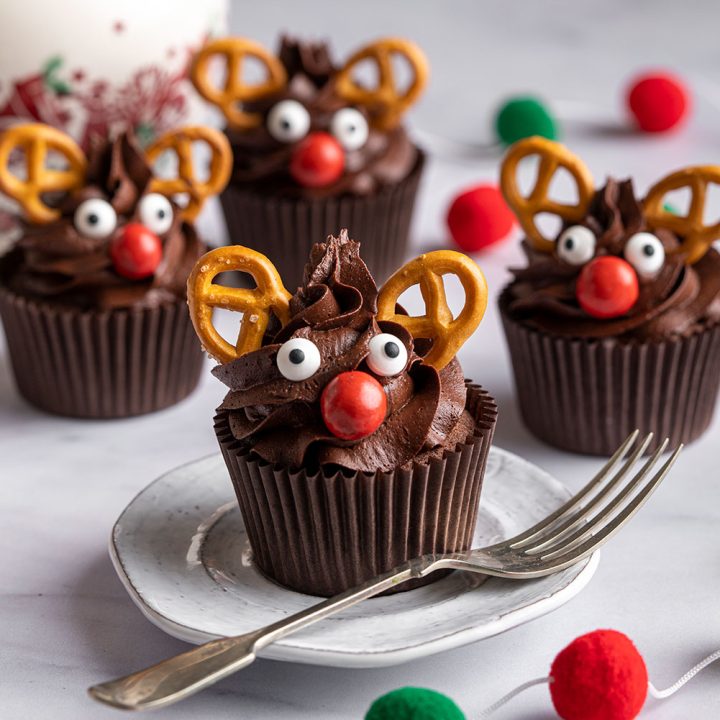 Gluten-free Reindeer Cupcakes Recipe
Gluten-free reindeer cupcakes recipe – a fun festive baking project that nobody would ever know were Coeliac-friendly and wheat-free!
Ingredients
For the cupcakes:
200

g

butter

softened (use Stork hard margarine if dairy-free)

200

g

caster sugar

4

medium eggs

165

g

gluten-free self-raising flour

25

g

cocoa powder

1/4

tsp

gluten-free baking powder

1/4

tsp

xanthan gum
For the icing:
250

g

butter

softened (use Stork hard margarine if dairy-free)

185

g

icing sugar

55

g

cocoa powder

110

g

dark chocolate

dairy-free if necessary
To Decorate:
gluten-free pretzels

see FAQ section for links

edible eye decorations

red coloured chocolate balls

I used M&M's – see FAQ section for links
Instructions
For the cupcakes:
Preheat your oven to 160C Can / 180C and place cupcake cases into your cupcake tin. I sprinkle a little rice into each hole before the case as this helps reduce unwanted moisture.

Cream together your softened butter and sugar using an electric hand whisk. Do so until lighter in colour and fluffier in texture.

Gradually add your eggs (I whisk briefly in between each addition) and mix in.

Sift in your flour, cocoa, baking powder and xanthan gum and then mix with your electric hand whisk until combined.

Spoon your mixture into your cupcake cases and place in the preheated oven for 20-22 minutes.

Remove from the oven and allow to cool very briefly in the tin, then move the cases to a cooling rack.
For the icing:
Melt your dark chocolate (I do this is the microwave in 20 seconds bursts), put to one side to cool whilst making the rest of the buttercream.

To make your icing, place your butter in a stand mixer (or electric hand whisk if you don't have a stand mixer), mix on its own on a high speed for about 5 minutes. The butter should change from a more yellow colour to being a lot more pale.

Add your icing sugar gradually to the butter (I do this in two stages). I mix each addition of icing sugar for around 3 minutes before adding the second half.

Sieve in your cocoa powder and then mix again until fully combined.

Add in your cooled melted chocolate and mix until dispersed evenly, the colour is a lovely rich chocolate colour and it's a nice thickness to spread. If it needs to be thinned out, add a drop of milk.
To assemble:
Transfer your chocolate icing into a piping bag with a large star nozzle. Then pipe your buttercream on top.

Push a couple of gluten free pretzels in for the antlers, edible eyes and a red chocolate for the nose.

Thanks for reading all about my gluten-free reindeer cupcakes recipe! If you make it, I'd love to see how it turned out so don't forget to take a snap of your creations and tag me on Instagram!
Any questions about the recipe? Please do let me know by following me on Instagram and leaving me a comment on a recent photo!
Thanks for reading,
Becky xxx
Don't forget to pin this for later!