Gluten-free flapjacks recipe – it only needs 4 easy-to-find ingredients and has 4 simple steps. Best of all, nobody could EVER tell that they're Coeliac-friendly and wheat-free.
Gluten-free flapjacks recipe, anyone? It's recipes like this that'll come in handy for years to come and it only asks for 10 minutes of effort and 25 minutes in the oven!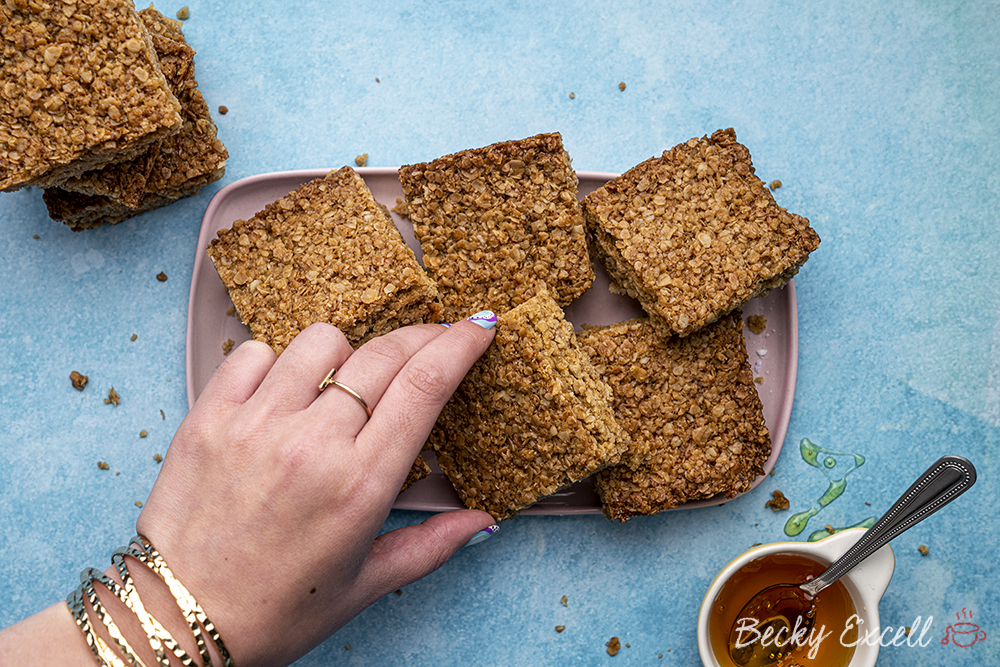 Here's another absolute classic that, even to this day, I can very rarely find to eat when I'm out in the wild. Why are they hardly ever gluten-free? To say this recipe is long overdue would be a massive understatement!
(oh and if you're dairy-free, egg-free or vegan – this recipe is also very good news for you too!)
This is actually the recipe you'll find in my second book 'How To Bake Anything Gluten-free' as the base for my DIY flapjacks.
If you're looking for variations on how to make these more than classic, plain flapjacks then turn to page 58 in that book for these 5 epic variations:
White chocolate and cranberry flapjacks
Triple chocolate flapjacks
White chocolate and raspberry flapjacks
Blueberry flapjacks
Fruity flapjacks
OR you can use the measurements on page 58 to create your own variations!
Or if the classic version is good enough for you, then keep on scrolling for the recipe, which you'll find in this post…
Gluten-free flapjacks recipe: What you'll need…
Butter – Salted or unsalted is totally fine (I use unsalted).
Light brown sugar – The natural molasses in light brown sugar bring a lovely caramel-like flavour to these flapjacks. Caster sugar works too but has more of a neutral flavour.
Golden syrup – Not only does this bring a 'buttery' flavour, but it's integral to the lovely stickyness which binds the flapjacks together.
Gluten-free oats – You'll find these down the free from aisle in supermarkets. Remember: regular oats are NOT gluten-free, so always buy gluten-free oats!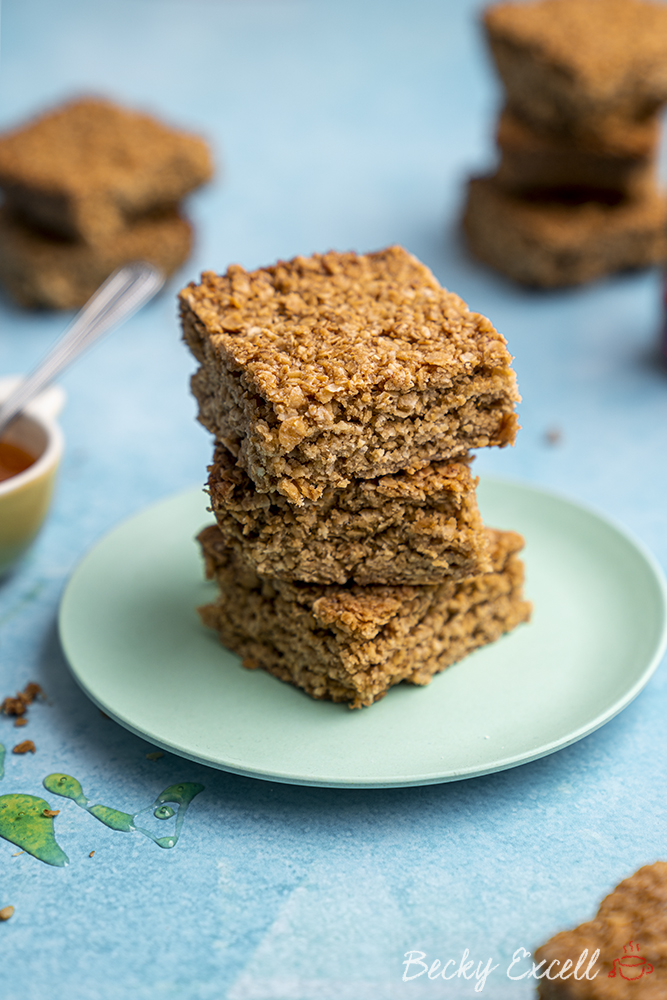 So here's the fun part for me: describing what my gluten-free flapjacks taste like!
They're buttery, slightly sticky and sweet with a little hint of caramel from the brown sugar, all packed into a wonderfully chunky flapjack texture. Oh and little crisp on top too!
Honestly, it's a flavour and texture I've missed so much for years as only homemade flapjacks taste this good. Trust me!
So since my flapjacks only call for 4 simple ingredients and has 4 easy steps… I think it's time you gave it a go, don't you think?
Gluten-free flapjacks recipe: Frequently Asked Questions
Can I make this recipe gluten-free? Is it suitable for Coeliacs?
It is gluten-free, though nobody would know just by tasting it – trust me!
Bear in mind that minimising cross-contamination is hugely important if you're Coeliac or making this for someone who is. Here's some tips from Coeliac UK on minimising the risk of cross contamination.
Also, make sure that all ingredients used don't have any gluten-containing ingredients. Then make sure that they also don't have a 'may contain' warning for gluten, wheat, rye, barley, oats (which aren't gf), spelt and khorasan wheat (aka Kamut).
Here's some more info from Coeliac UK on identifying safe gluten-free products.
How do I make this recipe dairy-free?
Making these flapjacks dairy-free is simple. All you need to do is:
Use Stork hard margarine instead of butter.
That's it!
Can I make your gluten-free flapjacks recipe vegan?
If you follow all of the above advice to make it dairy-free, then that would also make it vegan too.
Is this recipe low FODMAP?
Unfortunately, due to the amount of golden syrup in this recipe, it isn't suitable for the low FODMAP diet.
Maple syrup would be my first substitute I'd recommend, but I haven't tried using it in this recipe myself yet!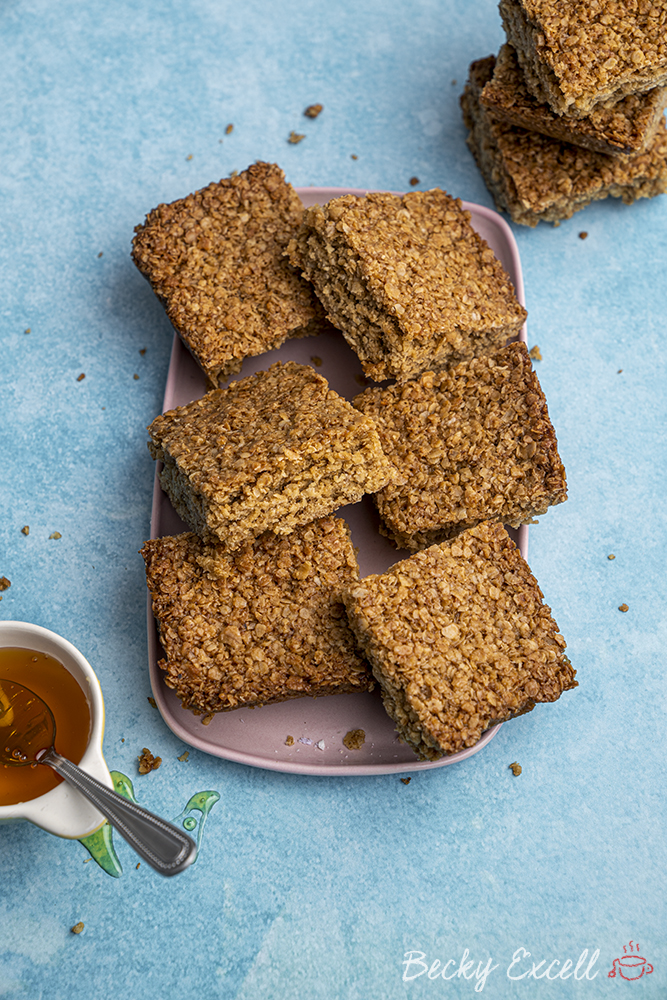 What size baking tin did you use? Can I use a different tin like a 9in tin?
I used an 8in baking tin for this recipe – more specifically, this one!
You can use a 9in baking tin, but bear in mind that your flapjacks will be thinner and likely need a little less time in the oven.
I can't find gluten-free oats in my country, how come?
In some countries (like Australia), there is actually no such thing as 'gluten-free oats' – they're referred to as 'wheat-free oats'. Why? Well it's because some gluten-free eaters still react to even gluten-free oats due to the fact that they naturally contain a protein called avenin. You can read more about Australia's stance on gluten-free oats here.
However, as regulations are different in Europe and the USA, you'll easily find gluten-free oats in supermarkets if you look in the right aisles.
Do I need weighing scales to make your gluten-free flapjacks recipe?
In short… yes, yes and yes! And I wouldn't advise attempting any my recipes without them. One of the worst things you can do in any recipe is alter the quantities by mistake or on purpose.
(unless you know what you're doing of course)
Why? Well, you're sort of just gambling with the recipe and praying that it turns out ok, don't you think? And I've generally already done the hard work there for you, so you don't have to do the guesswork with measurements!
A lot of work went into fine tuning ratios and quantities so I wouldn't mess around with them unless you really know your stuff. I'd recommending using digital cooking scales like these so you know you're getting an accurate measurement and replicating my recipe as accurately as poss.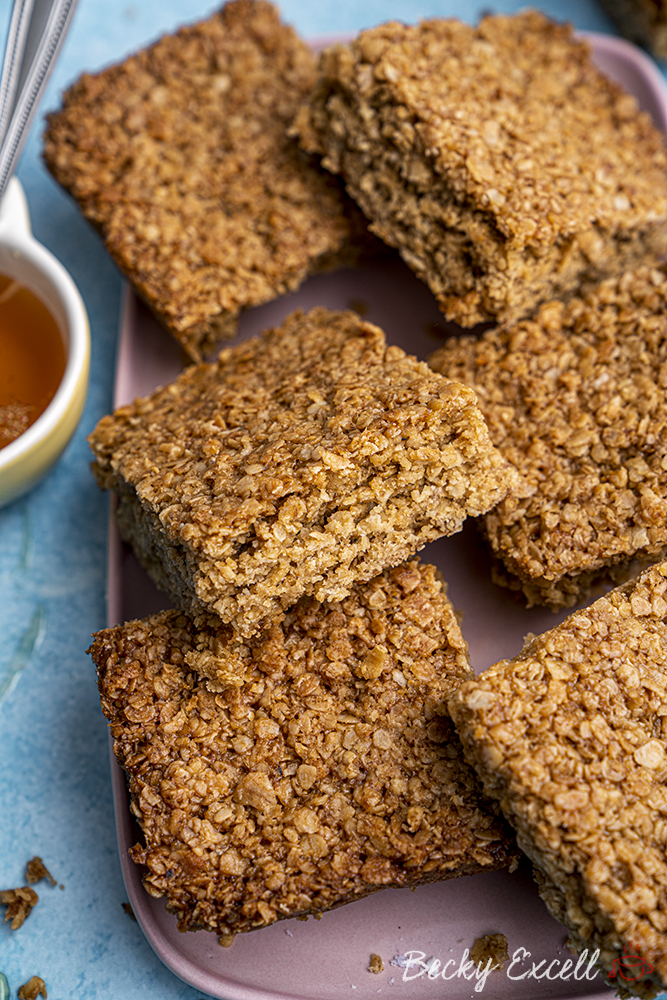 Gluten-free flapjacks recipe: Tips for perfection!
Measure out your ingredients for accuracy and don't reduce the sugar or syrup amounts. Not only are the sugar and syrup for flavour, but they bind the oats together to form a flapjack… instead of a crumbly mess!
When you press your flapjack mixture into the tin, ensure it's as flat as possible. If your mixture is thicker in some places and thinner in others, it will bake unevenly.
Ensure you allow your flapjacks to cool once baked. As the butter and sugars cool, they'll set and the oats will hold together. Until cooled, they'll fall apart very easily!
Add your own favourite additions to this recipe, such as vanilla extract, cinnamon, or even nuts and fruit! Check out my second book for a DIY version of this recipe on page 58 which lists measurements for 5 different variations.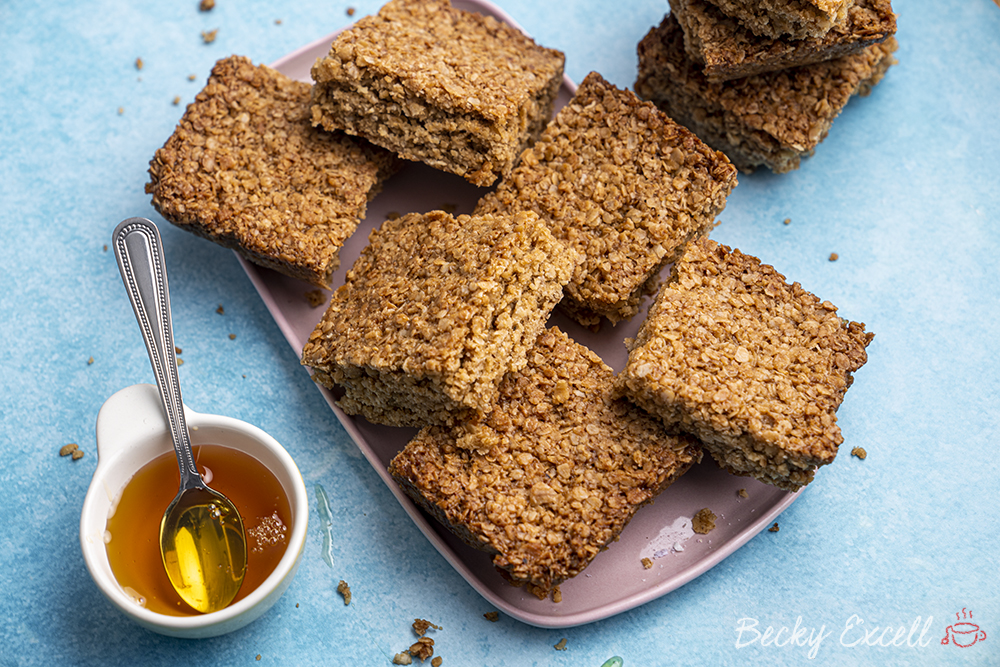 Gluten-free Flapjacks Recipe (dairy-free/vegan option)
Gluten-free flapjacks recipe – using just 4 ingredients! Nobody would ever know they're Coeliac-friendly or wheat-free.
Ingredients
160

g

¾ cup minus 2 tsp butter (or Stork hard margarine if dairy-free/vegan)

115

g

⅓ cup light brown sugar

115

g

½ cup plus 1 tbsp golden syrup

300

g

3 cups gluten-free oats
Instructions
Preheat your oven to 160C Fan / 180C and prepare a 8 inch square tin with non stick baking paper – leave some overhang so you can lift the flapjacks out.

Place your butter, light brown sugar and golden syrup into a saucepan and melt till smooth. Remove from the heat and add in your gluten free oats. Mix in so all the oats are thoroughly coated.

Press the mixture into your prepared tin and bake in the oven for about 25 minutes until golden.

Remove from the oven and allow to cool in the tin to firm up before lifting out. Once completely cool, slice into squares or smaller squares for flapjack bites!
Notes
If you are using a 9 inch square tin your flapjacks will be thinner and need less time in the oven.
Remember you can mix these flapjacks up or even add some spice – maybe a tsp of ground ginger and some lemon zest?!
Thanks for reading all about my gluten-free flapjacks recipe! If you make it, I'd love to see how it turned out so don't forget to take a snap of your creations and tag me on Instagram!
Any questions about the recipe? Please do let me know by following me on Instagram and leaving me a comment on a recent photo!
Thanks for reading,
Becky xxx
Don't forget to pin this for later!