BBQ sticky chicken skewers recipe – a super simple recipe that's perfect for the BBQ or for popping under the grill. It's sweet, sticky and takes 10 minutes to prep.
BBQ sticky chicken skewers recipe, anyone? We're always on the hunt for more flavours we can bring to our BBQ sessions, so I thought I'd give my Mum's famous sticky chicken recipe a little remix!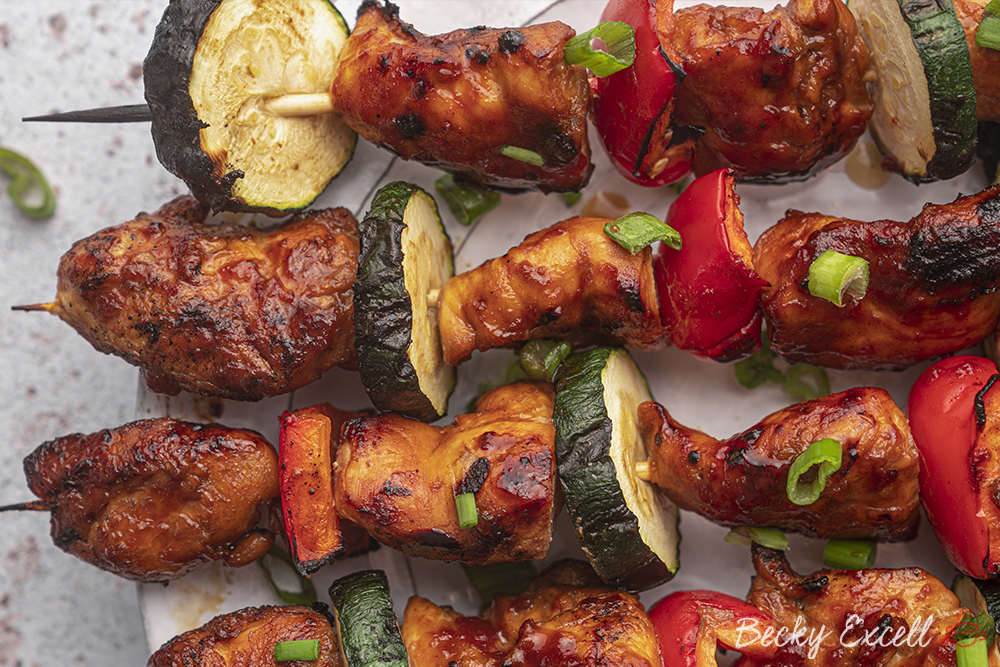 Everything tastes better on a skewer, right? I think we can all agree on that!
Well, this recipe is no different and it's one you absolutely need to try ASAP. After all, you only need 5 simple ingredients for the marinade and the rest is just veg and chicken… how much easier could it be?!
Here's a few reasons why you need to make this if you weren't convinced already… ??
Why make my BBQ sticky chicken skewers?
Once you've got everything skewered, you can either toss these onto the BBQ or place them under the grill, the choice is yours.
It's naturally gluten-free and dairy-free, which is never a bad thing when you've got a stomach like mine! See the FAQ section on how to adapt this recipe to be low FODMAP.
You can prep these with just 10 minutes effort and the marinade only requires 5 ingredients.
Each chunk of chicken is sweet and sticky, with a mild heat and a subtle fruity flavour. Trust me, you just need to try them!
These are a real crowd pleaser and so easy and quick to make. Just double the quantities of everything if you're feeding a crowd! (this recipe makes 5 skewers)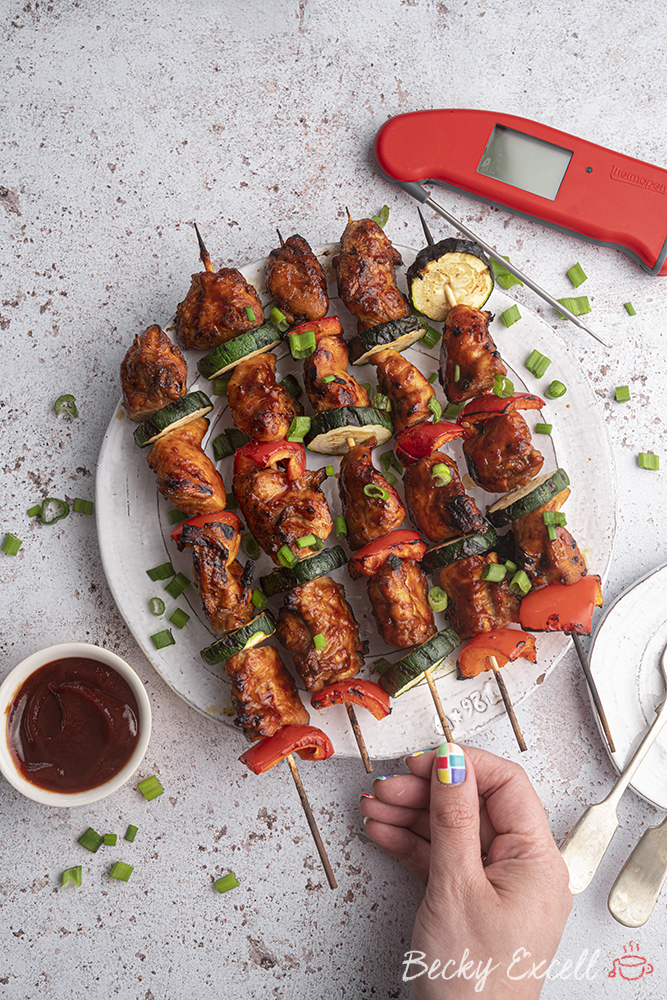 So, what do my BBQ sticky chicken skewers taste like?
Each meaty chunk of chicken is sweet and sticky, with a mild heat and a subtle fruity flavour. It's such an amazing combo of flavours that all work harmoniously together.
Then, if you BBQ them (which I recommend that you do) you'll get a lovely smoky, charred finish which only adds to the flavour.
Throw that perfectly singed veg into the mix and you're onto a real winner!
Here's everything you'll need for this recipe, keep scrolling until you see the recipe card for the measurements and method ??
BBQ sticky chicken skewers recipe: What you'll need…
Chicken Breast: I always use chicken breast, but chicken thighs (skinless and boneless, chopped into chunks) also work really well here too. The choice is yours!
Courgette: Of course, I use courgette, but you can use whatever you like! As we're grilling/BBQing, the veg won't be completely cooked through, so just make sure your choice of veg doesn't take too long to cook.
Red Pepper: You can't beat pepper when it comes to flavour, but the colour doesn't matter too much. Red, green or yellow bell peppers are fine too.
Spring Onion: I like to sprinkle these on at the end for an onion-like taste, but of course, these are optional.
Tabasco: The amount in this recipe gives a mild heat, but feel free to increase if you like it hot.
Orange Juice: This adds a fruity, citrus flavour to the chicken which is undoubtedly the secret ingredient here. You could also use orange squash (undiluted) too. If it's double-concentrated squash, be sure to just use half the measurement instead.
Black Treacle: It's sweet and almost caramelises the chicken and of course, adds a distinct flavour that can't be beat.
Honey or Maple Syrup: Again, this works so well in bringing another flavour to the table as well as caramelising the chicken.
Dijon Mustard: Last but not least – this is the final flavour that's subtle, but works so well with the sweet, fruity, mild spiciness of everything above.
Recommended Products…
Thermapen: This is not only a super handy gadget in the kitchen full-stop, but it's also so incredibly vital when BBQing. It's essentially a digital food thermometer that eliminates all the guesswork out of cooking – myself and Mark actually never BBQ without it! Why? Well, instead of having to cut open a piece of chicken to check if it's done in the middle, we can simple poke it with the probe – if it registers at 74C, then it's done. Click here or the photo below to check it out.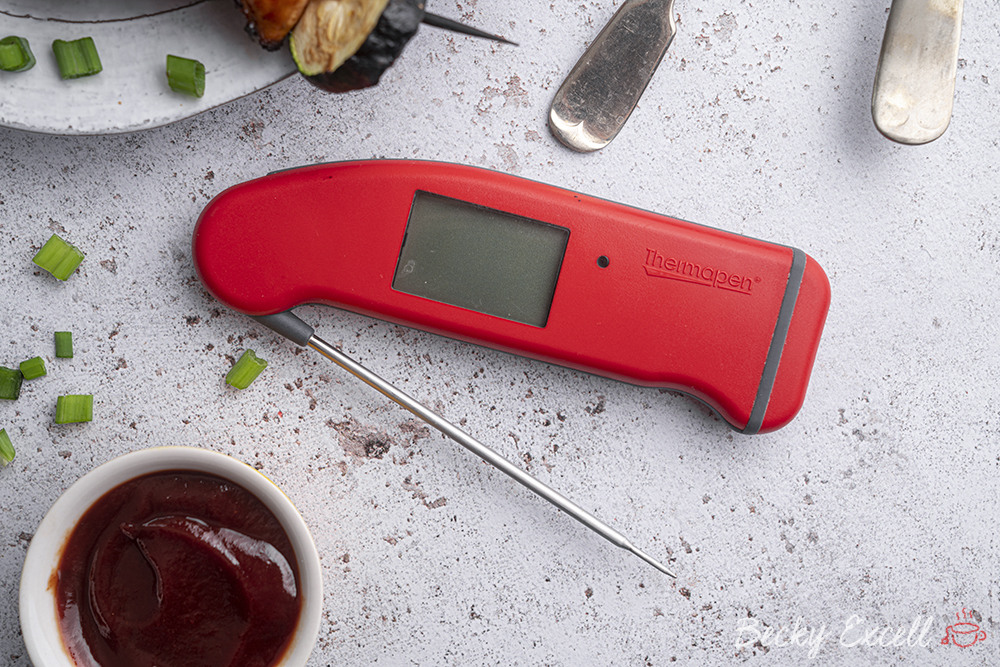 So I thought I'd kick things off with a little frequently asked questions section – if you just want the recipe, then keep scrolling.
But I've thrown in some tips here that will be really helpful if this is your first time making this, or you want to adapt it. So here they are!
BBQ sticky chicken skewers recipe: Frequently asked questions
Is this recipe gluten-free?
Yes it is, but make sure you double-check all your ingredients for 'may contain' warnings for gluten, wheat etc. as they can pop up in the weirdest of places.
Bear in mind that minimising cross-contamination is hugely important if you're Coeliac or making this for someone who is. Here's some tips from Coeliac UK on minimising the risk of cross contamination.
Also, make sure that all ingredients used don't have any gluten-containing ingredients. Then sure that that they also don't have a 'may contain' warning for gluten, wheat, rye, barley, oats (which aren't gf), spelt and khorasan wheat (aka Kamut).
Here's some more info from Coeliac UK on identifying safe gluten-free products. Double check your sprinkles to make sure they're gf too.
Can I make your BBQ sticky chicken skewers recipe dairy free?
It is dairy-free!
Is your BBQ sticky chicken skewers recipe nut-free?
Yep, this is a nut-free recipe as far as ingredients go, BUT make sure you check the ingredients label on ALL the products you use just to be safe.
Even if the products don't contain nuts, they may have a 'may contain nuts' warning due to being produced in a factory that handles nuts.
You can never be too careful so always read the labels on everything first.
Is your BBQ sticky chicken skewers recipe low FODMAP?
Unfortunately, because of the black treacle used, this recipe isn't suitable for the elimination phase of the diet without making a few swaps.
You can always substitute the black treacle for gluten-free soy sauce, as well as ensuring you use more maple syrup instead of honey. Though it would differ in flavour, that would be an easy way to make a low FODMAP alternative!
Finally, ensure you only use the green parts of the spring onion, if using.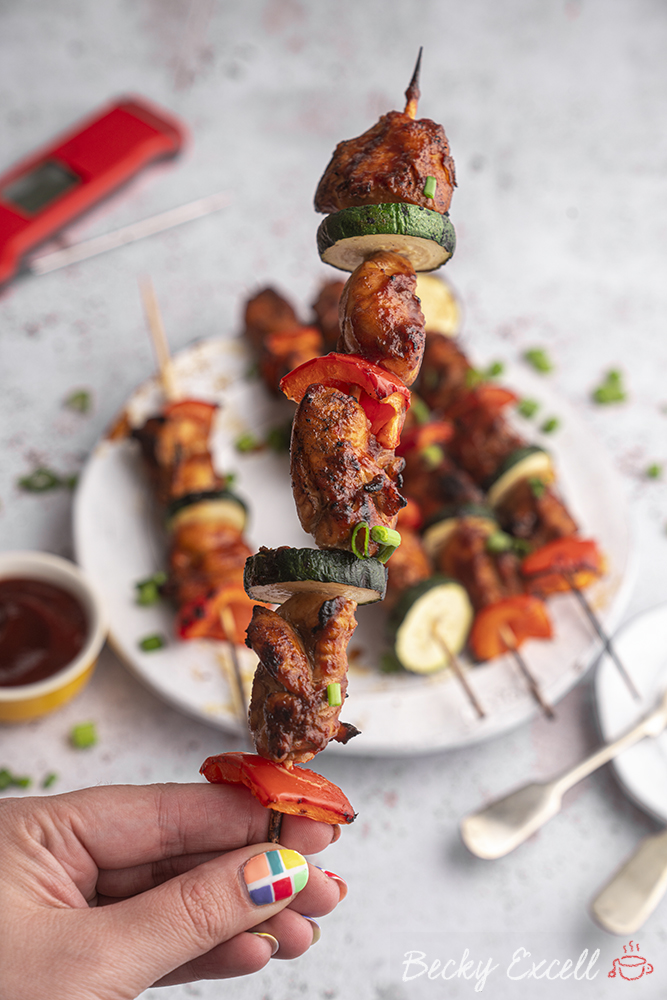 Can I use beef instead of chicken?
Yes, of course! I'd recommend buying a sirloin steak and chopping it into 2cm cubes, then proceed with the marinating/cooking steps as normal.
Can I use chicken thighs instead of chicken breast?
Of course! Just ensure they're skinless and boneless first.
Can I use different veg in your BBQ sticky chicken skewers recipe?
Of course – just use veg that will reasonably soften and be ready to eat in 20 minutes. Why?
For example, big chunks of carrot will still be pretty hard in the middle even when grilled/BBQ'd for 20 mins (chop carrots into small thin slices if using) and though aubergine/potato will soften on the outside after 20 minutes of grilling/BBQing, they won't be anywhere near cooked through and probably be slightly unpleasant to munch on.
Onion cut into cubes works well here, if you can tolerate it of course – I sadly cannot!
What should I serve my BBQ sticky chicken skewers with?
Think BBQ sides – so coleslaw, potato salad and just any salad in general. For me, I wouldn't mind some potato wedges / spicy baked potato wedges alongside these!
Can I cook my BBQ sticky chicken skewers in an air fryer?
You can (providing your air fryer basket is big enough to fit the skewers) but I wouldn't overly recommend it. Why?
The marinade is wet and can get stuck to your air fryer basket – it's unlikely to get 'stuck stuck' but you might lose all the lovely sticky coating on the outside when you turn them.
How long can I keep your BBQ sticky chicken skewers for?
Once cooked, allow to cool and store in an airtight container in the fridge for anywhere from 3-4 days.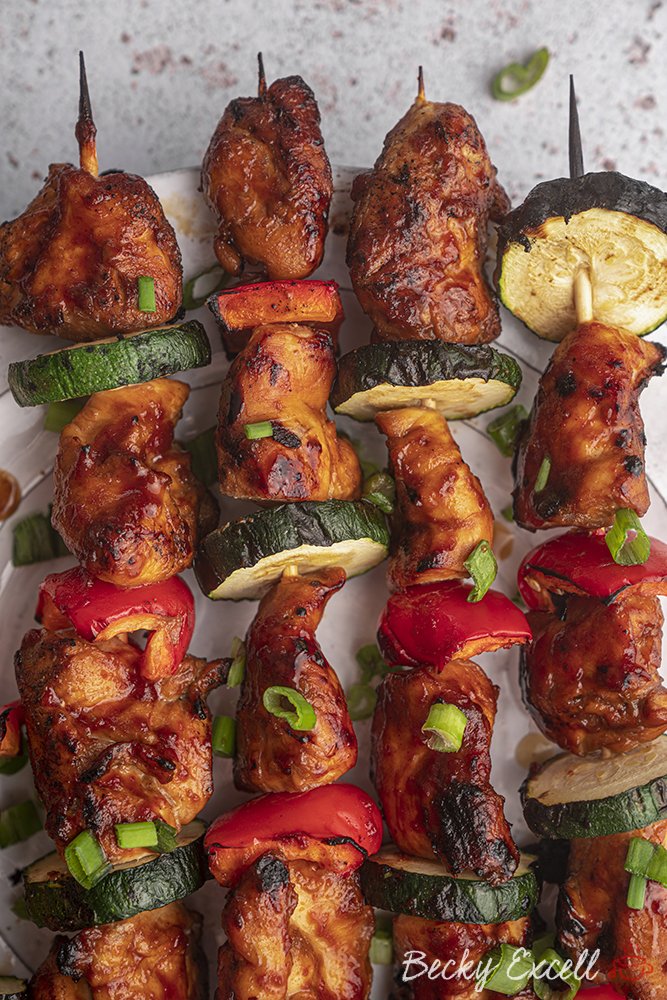 How spicy is your BBQ sticky chicken skewers recipe?
With all my recipes, I tend to go for a mild spiciness to suit everyone. Plus, that's what we prefer.
If you prefer things hot, then I'd recommend doubling the amount of tabasco.
BBQ sticky chicken skewers recipe: Method
Ok, so here's a printable version of my BBQ sticky chicken skewers recipe. Please remember to give it 5 stars if you tried it and enjoyed it as it helps people know it's worth trying too! ⭐️ Feel free to leave your written reviews in the comments below this post.
Sticky Chicken BBQ Skewers Recipe (dairy-free)
BBQ sticky chicken skewers recipe - perfect for the BBQ or just under the grill. A sweet and sticky marinade with tons of flavour!
Ingredients
400

g

chicken breast

about 2-3 fillets, chopped into chunks

1

courgette

1

red pepper

spring onion greens

roughly chopped
For the marinade:
4

tbsp

orange juice

2

tsp

tabasco

2

tbsp

black treacle

2

tbsp

honey or maple syrup

2

tbsp

dijon mustard

salt and pepper
Instructions
In a large mixing bowl, add all of the ingredients for the marinade and mix together until well-combined. Use a whisk of the mustard remains a little 'bitty'!

Remove around a third of the mixture and transfer to a small bowl - cover and place into the fridge for later.

Add all of your chopped chicken breast chunks to the remaining marinade and mix until well-coated. Cover with clingfilm and place in the fridge for anywhere from 30 minutes to overnight.

Once marinated, chop your courgette into 1cm thick discs and slice your red pepper into squares.

Grab your skewers and thread on a piece of courgette or red pepper, then chicken, then alternating veg and chicken until the skewer is full. Repeat until you've used up all your chicken chunks.

If BBQ'ing, once heated, place onto the rack and turn every 4-5 minutes. Once nicely browned on all sides, brush the extra marinade onto the chicken chunks and BBQ until cooked through.

If grilling in the oven, preheat your grill to a medium-high heat. Place the skewers onto a grill pan rack and place under the grill for 10 minutes, then turn and cook for another 10 minutes. 5 minutes before they're done, brush the extra marinade onto the chicken chunks and grill until cooked through.

Plate up and scatter the chopped spring onion on top. Enjoy!
Thanks for reading all about my BBQ sticky chicken skewers recipe! If you make it, I'd love to see how it turned out so don't forget to take a snap of your creations and tag me on Instagram!
Any questions about the recipe? Please do let me know by following me on Instagram and leaving me a comment on a recent photo!
Thanks for reading,
Becky xxx
Don't forget to pin this for later!