Whoever said Christmas was 'the most wonderful time of the year', clearly wasn't gluten-free. Is the gravy gluten-free? What about stuffing? Pigs in blankets… and oh no, what about dessert?!
Yes – it can be an absolute minefield and the LAST thing anyone wants is to be feeling unwell on Christmas day. That's why I asked the lovely members of my Facebook group for their BEST Christmas survival tips… and here they are!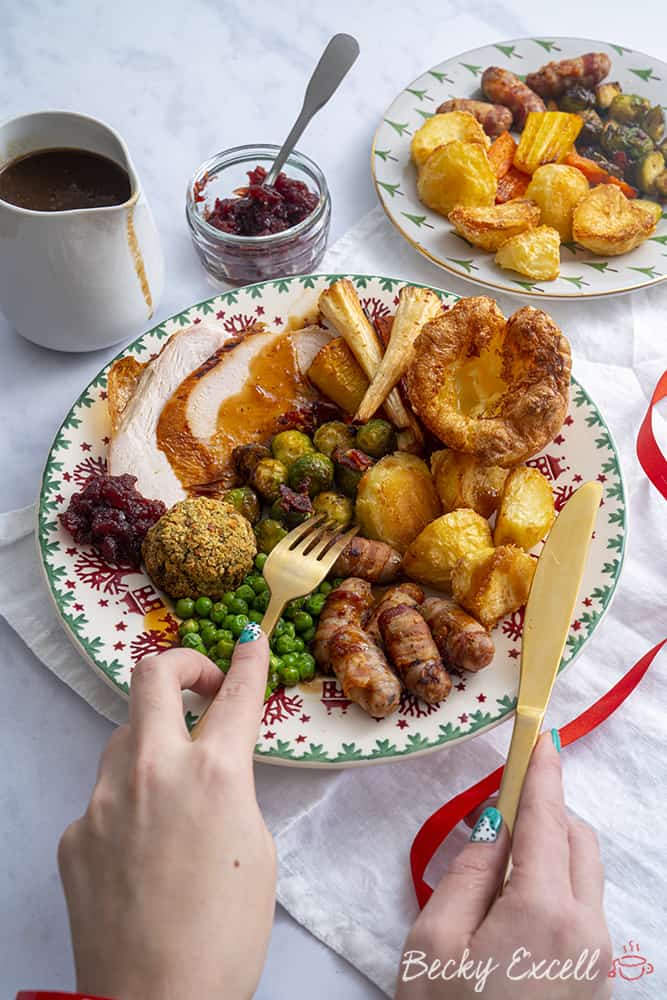 If it's your first gluten-free Christmas, after reading these tips, you'll realise there really is no need to stress! And even if you're a veteran gluten-free Christmas survivor, it never hurts to remind yourself of all the common pitfalls too.
All you need is a little knowledge of not only what to avoid, but also how to navigate those tricky social situations where you may not necessarily be preparing or buying the food.
15 Gluten-free People Share Their BEST Christmas Survival Tips:
Kate: Don't panic! There are so many easy to purchase gluten-free items. You can have an excellent dinner that will feel completely like a normal one. Meat and veggies and potatoes are all fine, and it's super easy to get gluten-free stuffing, pigs in blankets, and gravy. If somebody else is cooking, ask them far in advance and if they don't understand, don't be afraid to bring your own food. I've brought my own stuffing and piggies to Christmas dinners, nobody will be offended! Also, if word hasn't got out yet and one of your Aunties buys you a box of muggle biscuits.. be polite, say thank you, explain you won't be able to eat them, but that they won't be wasted, you'll offer them to guests or donate them to a food bank or whatever. They might be a little embarrassed, but it's not your fault. And they won't do it again
Lindsay: Don't know how useful it is but I would say try and make the whole meal GF. It is only my husband that is Coeliac but I prefer everything to GF on Christmas Day so that we are not worrying about cross contamination or having to say you can't have that etc…
Karen: If you are hosting a GF person, please remember to be inclusive. Top tip is not to serve them a dinner without stuffing, gravy, Yorkshire's, pigs in blankets … they can all be found quite easily now! If you are shopping for yourself, don't just look down the FF isle, so much lovely stuff is accidentally GF anyway!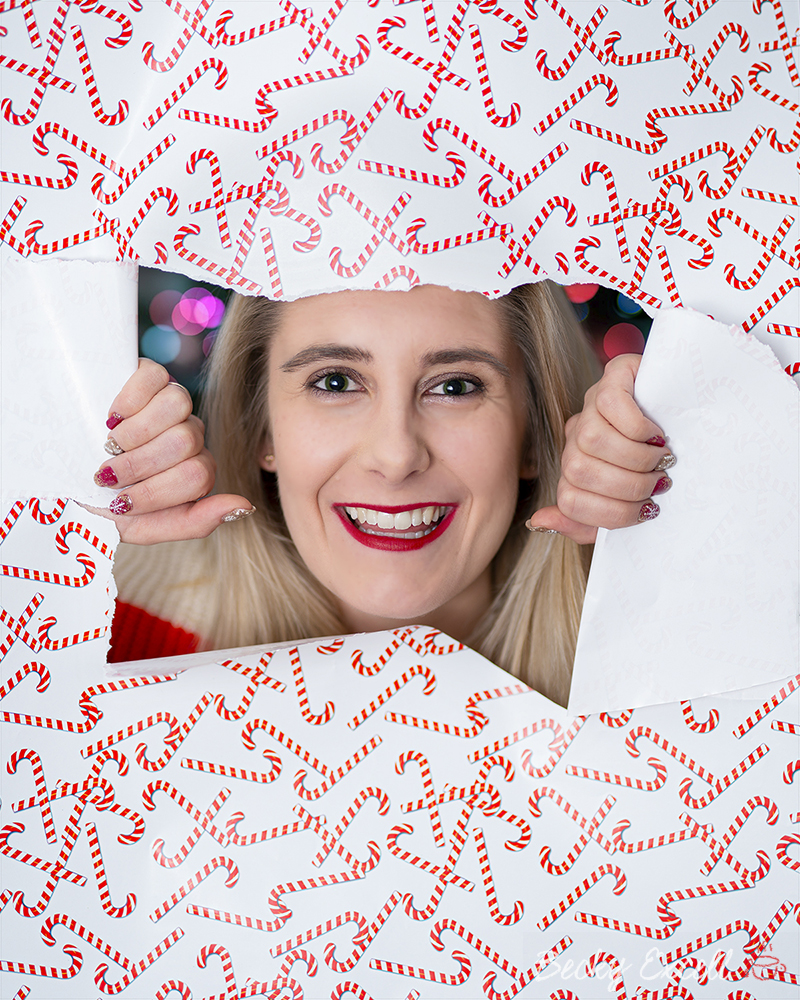 Simon: It can be tempting to cheat as it's your first GF Christmas, especially after a few drinks but it's really not worth it. Learned this the hard way!!
Wendy: Definitely take your own desserts as nothing is too much worse than someone going to the trouble to make you a fresh fruit salad and you sobbing in to it as the others tuck in to delicious creamy boozy desserts! Its devastating for you whilst also making you look ungrateful!!
Heather: Question everything. Never assume a product is GF because it 'should be' because you will find gluten in the craziest of things. Never assume a dish someone made is GF because they said it is. Ask questions about ingredients used, preparation methods, cross-contact, etc. I know someone who went to the effort to make a GF cake for someone, then dusted the pan with regular flour to prevent sticking (it was force of habit and they didn't even think about it). A family friend tried to make GF peanut butter cookies for my mom but didn't think about the fact that they used the same jar of peanut butter that they had all been using for their sandwiches (so it was highly contaminated with gluten crumbs).
Esme: KIS… Keep it simple… I panicked the first year buying whatever trimmings I could. But I realised it is so much better and less stressful (not to mention more tasty) to scale it back and keep it simple. The staples are already gluten free… turkey, ham, veg. Then just tweak to make the trimmings gluten-free – make simple but tasty gluten-free stuffing with gf breadcrumbs. butter, onion and mixed herbs, Becky's Yorkshire puddings, M&S pigs in blankets, shop-bought gluten-free gravy and voila! Don't reinvent the wheel, just keep the wheel and remove the gluten
Sue: I always make an 'emergency' food pack if going out to friends/relatives, just in case, nothing worse than watching everyone tuck in and you're starving.
Rachel: Definitely take your own stuff like gravy / stuffing /pudding. I have to remind my mum even after 5 years and other people. M&S gravy / bread sauce are lovely and everyone can enjoy the same. Tell the person and offer to bring your own food. Glad to find Becky's recipes the last few years!
Mandy: If you aren't making everything GF, watch for cross contamination – like the serving spoons, butter etc. Either serve the GF person first or give them separate cutlery.
Hazel: 1) Don't make it complicated. If you are cooking at home make everything GF. Don't try and cook some of each. It will get confusing, cause way too much stress and mistakes can be made. 2) Prepare a few weeks ahead. List what you need, research whether a gf version is available (and in stock) and shop around to make sure you have everything that needs to be GF well in advance. 3) If you going to a relative or somewhere where they don't understand your requirements, take time beforehand to educate them as best you can. Don't try it a few days before because they will have other things on their mind and it will be too late to go out and get substitutes. If you think they are going to struggle, you can easily pop some of your own stuffing in the microwave or make up your own gravy.
Debra: I explained to my mum that I could not eat wheat, barley, oats or rye rather than just saying 'gluten-free'. I now make the sponge for the trifle, provide the stuffing mix, buy the sausages for the pigs in blankets and cornflour for the gravy / cauliflower cheese / brandy sauce, etc. She is now great at checking everything (like the chocolate she grates on top of the trifle) and we have gf Christmas pudding! She just makes the whole Christmas gf so there is no cc worries
Sarah: My best tip would be to make everything gluten-free and, unless your family know, don't tell anyone. Absolutely no one will know the difference as it only takes a couple of tweaks to most things for them to be GF, plus no risk of cross contamination. Also, if there is no 'fuss' about what your GF family or friends can or cannot eat whilst at the table, they will not feel a 'burden' or 'special snowflake' as my daughter refers to herself
. Since my daughter's Coeliac diagnosis in November 2019, the whole house is now GF as it's far easier and reassuring for her. And don't forget, enjoy those that are around the table. Goodness knows we've all had a year of it!! xx
Louise: Make your own cakes. The temptation is horrendous when everyone has cake at work. I just take my own, feels weird at first but not as weird as every one chowing down and me sitting there miffed.
Donna: If you're visiting family for dinner perhaps remind them of the need for gluten free. My husband is coeliac we were eating with his brother and his family. I took our own pigs in blankets, stuffing and gravy which was just as well because his sister in law was so stressed about the large gathering and forgot about my husband's GF needs. I dished up our dinner to ensure no cross contamination. I realise perhaps not everyone can do this or maybe doesn't feel comfortable doing that. Year two we celebrated with another family member and they made everything GF. As did I when it was our turn. We'll be alone this year and all will be GF. I agree with others, plan ahead and keep it simple. Don't stress about it, and enjoy x
And last but not least…
Wow. What AMAZING tips! I just wanted to say a a massive thank you to everyone in the Facebook group who contributed.
Sorry I couldn't include all of your tips, but I tried to select the ones that summed up everyone's advice as a whole.
Oh and what about my personal tip? Well, I think you guys have pretty much said it all, so here's one I was going to say (which was also mentioned a couple of times too)…
Me: Quality Street and Cadbury Roses are BOTH gluten-free. You can thank me later for that one! If you're not sure about other chocolate selection boxes then either check the ingredients carefully or don't risk it. Have a Merry (gluten-free) Christmas!
And that's all 15 gluten-free Christmas survival tips that you need to know before the big day! Did we miss anything out?
What tips have helped you to survive Christmas day without gluten? Let me know in the comments below this post ??
Don't forget to follow me over on Instagram so you never miss one of my new Christmas recipes!
Thanks for reading,
Becky xxx