Gluten free Belgian buns recipe – it's FINALLY here! This recipe couldn't be easier to make as it needs no yeast or proving. Plus, you can easily make it dairy free and vegan if you fancy!
Gluten free Belgian buns recipe, anyone? It's not like my DMs on Instagram aren't full of people asking for the recipe already ? But thanks for being so patient whilst I wrote this one up. Sometimes I genuinely have no idea if you guys will like something or not, so I like to ask first!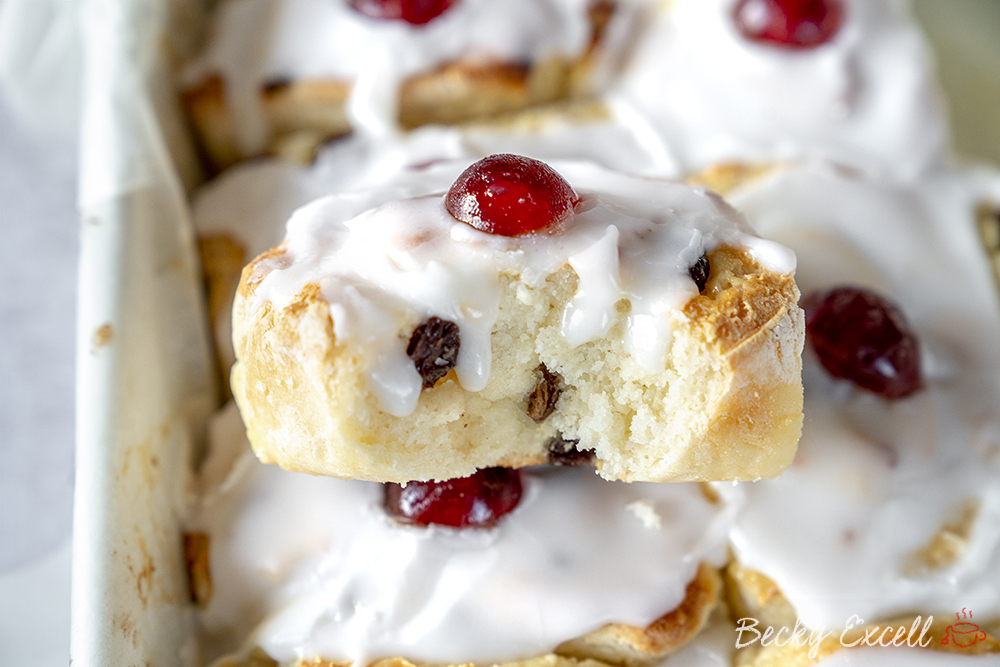 But I mean, when I really think about it… who wouldn't love a Belgian bun? I seem to keep calling them 'Belgium buns' as that's what I've always called them my whole life… have I really been wrong all these 29 years?!
For me, I haven't one in something crazy like 20 years. But my memory of eating one came from grabbing a pack of two in plastic packaging from the supermarket bakery.
(in case you've forgotten, the supermarket bakery is that part of the supermarket that's full of everything you wish you could eat… but never visit for obvious reasons ?)
They're soft, squidgy and sticky buns with a lovely sweet icing drizzled over them and a cherry on top. What more could you want? But obviously, they've never gluten free.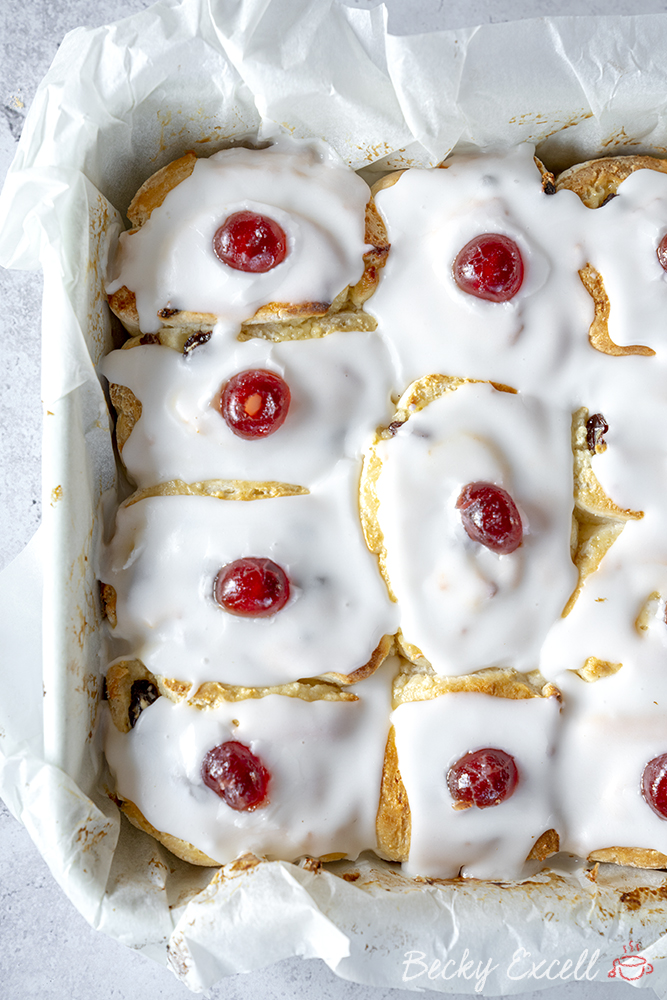 Until now! Yep, that's right, I've finally managed to perfect my gluten free Belgian buns recipe to the point that it's ready to share here on the blog.
And all the words I used to described the 'real deal' muggle Belgian buns… I would definitely use to describe mine too!
Mine are a little different as there's no yeast or proving required in this recipe. That means you can make them in a quarter of the time it would usually take. Not bad, right?
However, that does mean you either need to eat them when they're freshly baked OR heat them up a little in the microwave to make bring them back to life.
I find that a minute or so on full-power does the trick, but your microwave might be different to mine so see how it goes.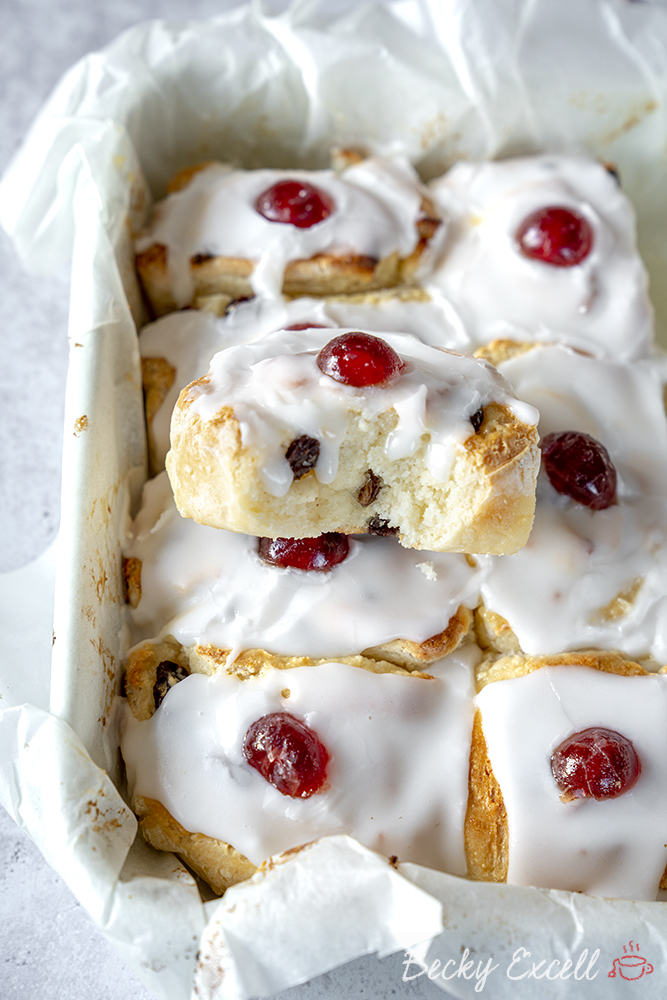 Until I was making these, I only then realised that I never truly knew what was actually in a Belgian bun or how it was made AT ALL.
Basically, it's a lovely swirl of dough that's filled with lemon curd… yes, lemon curd. I'm not sure I ever knew that lemon curd was even in one of these. It just tasted like a Belgian bun to me! Am I the only one who never realised?!
Even the swirl was news to me! It just shows how much I paid attention to the food I was eating when I was 10 ?
Ok, here's a few tips and frequently asked questions about my gluten free Belgian buns recipe. I strongly urge you to at least scan read these just in case any are relevant to you as they'll ensure you don't end up wasting a whole load of ingredients! It also includes info on what products to use.
Gluten free Belgian buns recipe: Frequently asked questions
Can I make this recipe gluten free? Is it suitable for Coeliacs?
It is gluten free, though nobody would know just by tasting it – trust me!
Bear in mind that minimising cross-contamination is hugely important if you're Coeliac or making this for someone who is. Here's some tips from Coeliac UK on minimising the risk of cross contamination.
Also, make sure that all ingredients used don't have any gluten-containing ingredients. Then make that that they also don't have a 'may contain' warning for gluten, wheat, rye, barley, oats (which aren't gf), spelt and khorasan wheat (aka Kamut).
Here's some more info from Coeliac UK on identifying safe gluten free products.
Can I make your gluten free Belgian buns dairy free?
Yep! Simply use dairy free yoghurt – I often use Koko dairy free plain yoghurt to make this recipe dairy free. If using shop-bought lemon curd, make sure it's dairy free like this one.
Can I make this recipe vegan?
If you use Koko dairy free plain yoghurt to make the dough itself dairy free, the next thing you have to contend with is the egg-wash. Simply replace the egg-wash with a little soy milk and brush the dough before baking with it instead.
Lemon curd commonly contains egg, so you can always buy a vegan alternative like this one, or make your own using 5 simple ingredients.
Is your gluten free Belgian buns recipe nut free?
Yep, this is a nut-free recipe as far as ingredients go, BUT make sure you check the ingredients label on ALL the products you use just to be safe.
Even if the products don't contain nuts, they may have a 'may contain nuts' warning due to being produced in a factory that handles nuts.
You can never be too careful so always read the labels on everything first.
Is this recipe low FODMAP?
As a serving size, one Belgian bun would be suitable for those on the low FODMAP diet during the elimination phase. According to Monash University, the safe serving size of raisins is 13g and the serving size for cherries is 20g.
There would be less than this in one Belgian bun. Also, use lactose free Greek yoghurt and you should be all good, FODMAP-wise.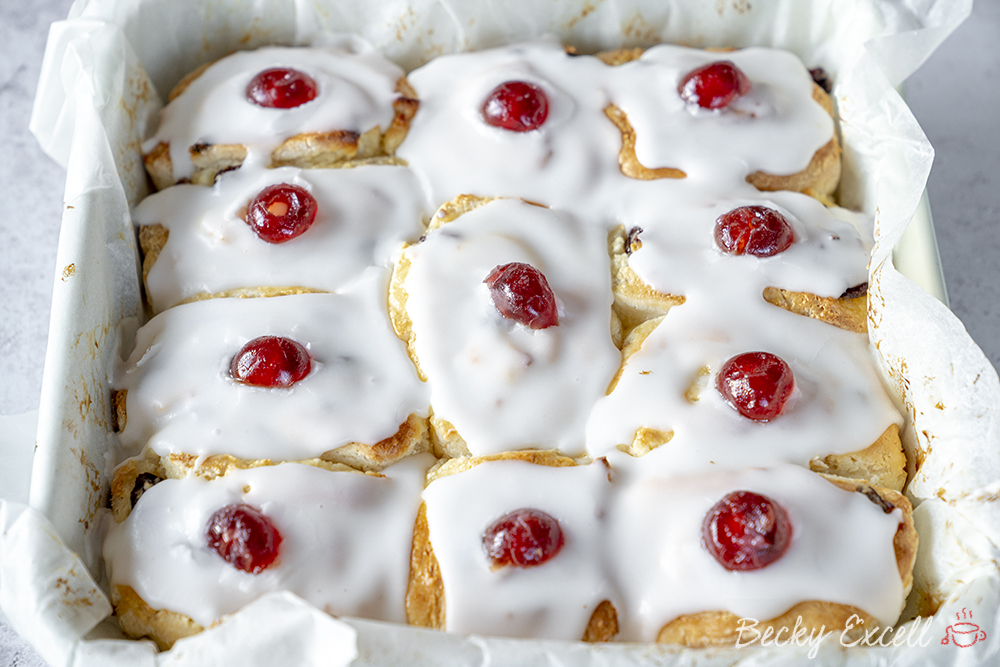 What yoghurt should I use to make your gluten free Belgian buns recipe?
If you're just gluten free, then use greek Yoghurt ideally – that's what I use! Any other natural yoghurt works too as long as it's nice and thick. And if your yoghurt is a little runnier, you'll need a little extra flour to compensate.
If you're low FODMAP or lactose free, then use lactose free Greek yoghurt – it's easy to find in supermarkets.
If you're dairy free or vegan, I've made this recipe using Koko dairy free plain yoghurt and you'd never notice the difference.
What lemon curd should I use?
Any shop-bought lemon curd is totally fine, though you can always make your own if you fancy, using 4 simple ingredients.
Can I make your gluten free Belgian buns in a food processor or standing mixer?
You really don't need to! You can bring the dough together using a simple wooden spoon or spatula in a mixing bowl. That's all you'll need.
Do I need any special equipment to bake your gluten free Belgian buns?
Certainly not! You will need a 9″ square baking tin – here's the one I use. Apart from that, you'll just need a little baking paper too!
Do I need weighing scales to bake your gluten free Belgian buns?
In short… yes! And I wouldn't advise attempting any of my recipes without them. One of the worst things you can do in any baking recipe is alter the quantities by mistake or on purpose.
(unless you know what you're doing of course)
Why? Well, you're sort of just gambling with the recipe and praying that it turns out ok. And I've generally already done the hard work there for you!
A lot of work went into fine tuning ratios and quantities so I wouldn't mess around with them unless you really know your stuff.
Can I bake your gluten free Belgian buns with less sugar?
You can happily omit the caster sugar in the dough but as for reducing the lemon curd and icing on top… well, I wouldn't recommend it.
Why not? Well, the curd is what gives the dough a lovely, sticky, moist texture and sweet flour. Without it, the dough will be much drier and pretty flavourless.
The icing on top also helps to soften the dough by keeping it nice and moist as well as again, giving that lovely sweet finish. Remember, there's no yeast or proving in this recipe, so the moisture of the curd and icing really helps to soften the dough.
Can I leave out the raisins/sultanas or glace cherry?
Of course, a real Belgian bun has both of these things! But if you really dislike them, you can happily omit them or substitute with something else – they aren't a big deal.
Can I make this recipe without xanthan gum?
If you're using gluten-free self-raising flour which naturally has a little xanthan gum in it, then yes. The extra xanthan gum is entirely optional.
But I wouldn't overly recommend making this gluten free plain flour (which has no added xanthan gum) and then also omitting the extra xanthan gum.
You can attempt this recipe using gluten free plain flour, but in that case, the xanthan gum and baking powder both go from being optional, to mandatory.
Can I make this recipe using other gluten free flours like buckwheat flour or coconut flour?
No! There's a big difference between 'gluten free plain/self-raising flour' and a *singular* type gluten free flour. When I say 'gluten free plain or self-raising flour' in a recipe, I mean a BLEND of gluten free flours, not just one, singular flour.
Most gluten free flour you buy in the supermarket typically contains a blend of rice flour, potato flour, maize flour, tapioca flour AND buckwheat flour. That's a lot of different flours!
In gluten free self-raising flour, there's usually even a little baking powder and xanthan gum in it too which always helps.
So to replace it with just one specific type of flour… that's not going to cut it at all. Definitely go for a gluten free flour blend.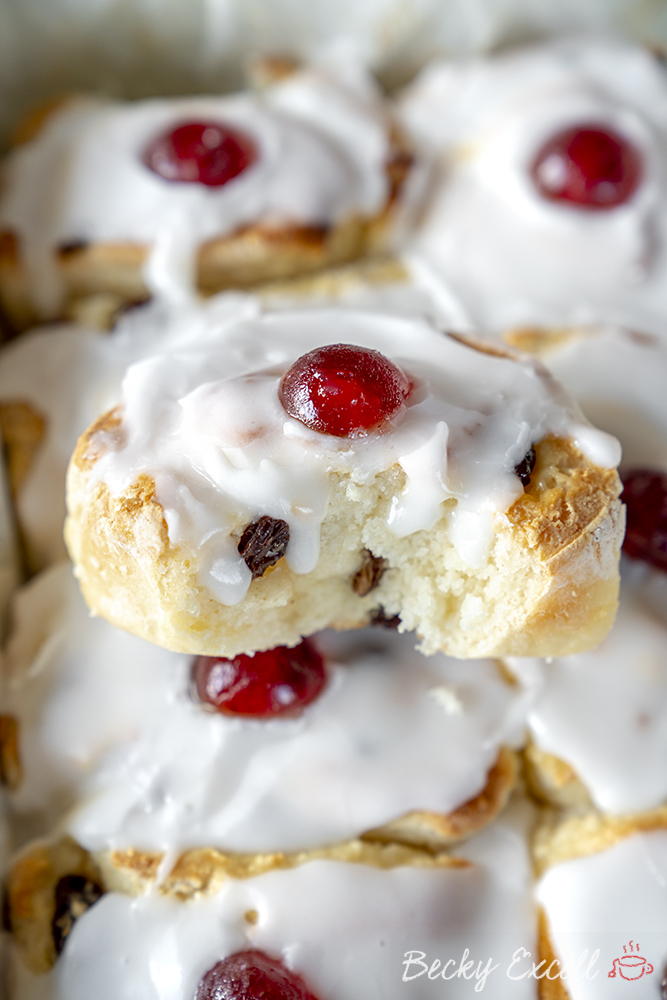 How long can I keep your gluten free Belgian buns for?
I've kept mine for around 2-3 days in an air-tight container but you must bear in mind that they need to be reheated before you eat them. They'll get a little dense once cooled.
As there's no yeast in the recipe, that means they're best eaten fresh out of the oven or warm.
Can I freeze your gluten free Belgian buns?
Of course! I've frozen them for up to a month and after allowing them to fully thaw, you'd never know they were frozen. I'd recommend freezing them individually so you can defrost one at a time.
A single Belgian bun will take around 3-4 hours to defrost at room temperature. Make sure you reheat them in the microwave once defrosted of course as these are best enjoyed warm.
Can I print your gluten free Belgian buns recipe?
Yes! Just hit the print button located on the recipe below ?? (otherwise you might end up printing this entire post which would probably make your printer go into early retirement)
Ok, so here's my gluten free Belgian buns recipe. Please rate it 5 stars if you liked it as it helps others to know it's a recipe worth trying! Feel free to leave your written reviews in the comments below this post ??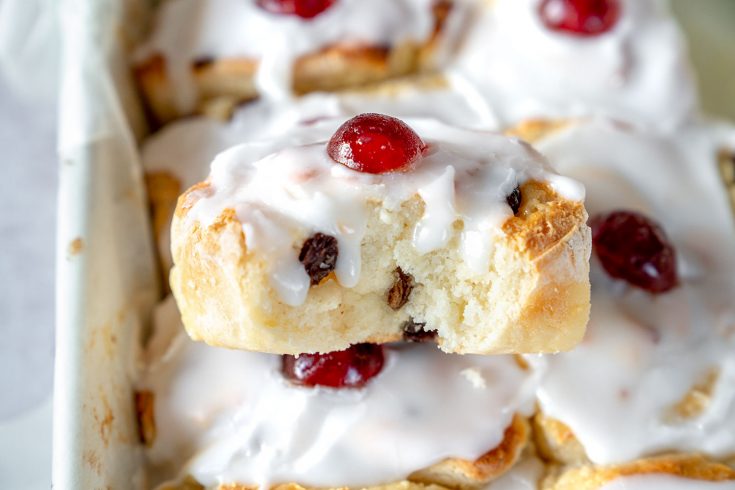 Gluten Free Belgian Buns Recipe (low FODMAP, vegan option)
Prep Time: 15 minutes

Cook Time: 25 minutes

Total Time: 40 minutes

Gluten free Belgian buns recipe! They couldn't be any simpler to make - no yeast or proving required. Easy to make dairy free or vegan too.
Ingredients
For the buns
580g gluten free self raising flour
600g plain yoghurt (I use lactose free greek yoghurt but any plain thick yoghurt works)
1 tsp baking powder (optional)
1/2 tsp xanthan gum (optional)
70g caster sugar
zest of 1-2 lemons
For the filling
3 tbsp (approx) lemon curd (homemade or shop bought), make sure its chilled
75g raisins or sultanas
For the icing
200g icing sugar (add more if your icing is too runny)
2 tbsp water (add more if your icing is too thick)
glace cherries, halved
Other
1 egg, for egg wash (melted butter or any milk could be used instead)
Instructions
Preheat your oven to 160C Fan / 180C and prepare a 9x9inch square tin with baking paper (allow the paper to go over the sides to help when lifting them out).
Add all your ingredients into a large bowl and mix together. I initially just do this with a spatula and then as it starts to come together I use my hands to ensure it's all pushed into a big ball. This is a larger amount of mixture than usual so really try to make sure it all combines. You could also do this in two halves and then bring it together if easier.
Knead the dough briefly so it's smooth and combined (you might need a little more flour if its sticky or if you are using a thinner yoghurt, add until you feel happy with the texture).
Lightly flour your work surface (make sure you've got a decent amount of room). Flour a rolling pin and roll out for dough into a rectangular shape (mine is usually around 30cm x 35cm ish!!). It should be between 1cm and 1.5cm in thickness ideally.
Spread a thin layer of lemon curd all over your dough and then sprinkle with your dried fruit.
Carefully roll up your dough away from you on the longest of the rectangle sides. If you've floured your worktop enough, it shouldn't stick at all, brush off any excess flour though. Make sure the dough is seam side down so when you cut your rolls they stay together. A little lemon curd might squeeze out but that's fine.
Measure out about an inch per roll and with a sharp knife cut down (the very ends on each side aren't always the best roll to look at, but still delicious). Place your rolls into your tin, they should be the perfect size to squash 9 into your tin.
Brush them with some beaten egg (or milk, melted butter etc).
Place in the oven for 20-25 minutes until only slightly golden.
Remove from the oven and allow to cool whilst you make your icing.
To make the icing simply mix the icing sugar and water together until you have the right thickness. If you think it's too thin, add a little extra icing sugar. If you think it's too thick, add a little extra water.
Drizzle and spread your icing all over your buns. Top each with half a glace cherry! Enjoy!
Notes
You can add a little lemon juice to the icing instead of water if you want a lemon icing on top of them.
Nutrition Information:
Yield:
9
Serving Size:
1
Amount Per Serving: Calories: 506Total Fat: 4gSaturated Fat: 2gTrans Fat: 0gUnsaturated Fat: 2gCholesterol: 50mgSodium: 907mgCarbohydrates: 106gFiber: 3gSugar: 51gProtein: 14g

Nutritional info is estimated and not always accurate.

Thanks for reading all about my gluten free Belgian buns recipe! If you make it, I'd love to see how it turned out so don't forget to take a snap of your creations and tag me on Instagram!
Any questions about the recipe? Please do let me know by following me on Instagram and leaving me a comment on a recent photo.
If you want to send me a photo of how your bake turned out, you can request to join my Facebook group and post it there. Myself and everyone else would love to see it!
Thanks for reading,
Becky xxx
Oh and don't forget to pin this for later!
Comments