Tesco's gluten-free range has been packed with new products recently, but they're only gone and brought out even MORE products too!
Tesco's gluten-free range just got bigger AND better with these 25 new products that are all out today. So let's take a look…
Oh and tap here to follow me on Instagram where I post all my latest gf finds first – that way, you'll always know all the most recent finds and never miss any!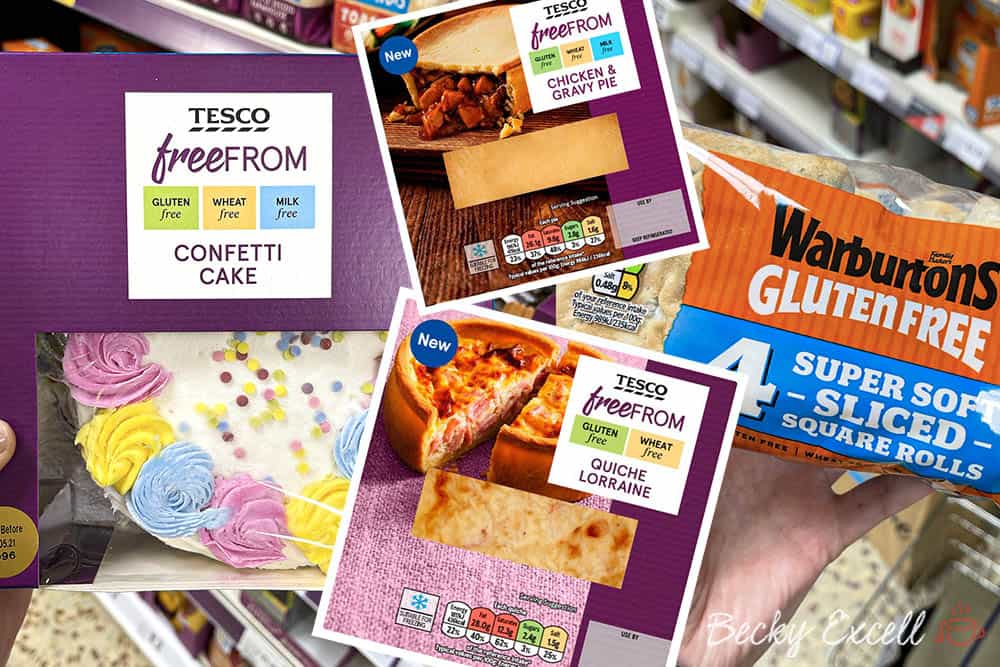 Tesco's gluten-free range 2021: Where can I find these products?
Almost all of these products were in the free from aisle in Tesco. Of course, frozen products will be in the frozen free from section and some of the Wicked kitchen cake slices were in the 'muggle' cake section.
And as someone who hunts gluten-free products for a living – here's by biggest tip: make sure you head for a Tesco Extra for the best chance of finding these!!
It's very unlikely that you'll find these in a smaller Tesco – especially not something like a Tesco Express. So find your nearest Tesco Extra and get hunting.
These products popped up in my local Tesco very recently so they should be in all Tesco supermarkets right now or in the coming few days.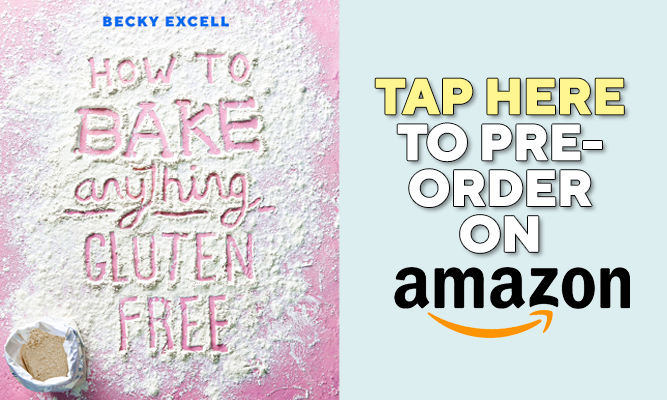 1. Tesco Free From Confetti Cake
Can you ever have enough gluten-free celebration cakes?
I think we all know the answer to that question!
Also, can I please have a little appreciation for how neat the Genius loaves are displayed in my local Tesco?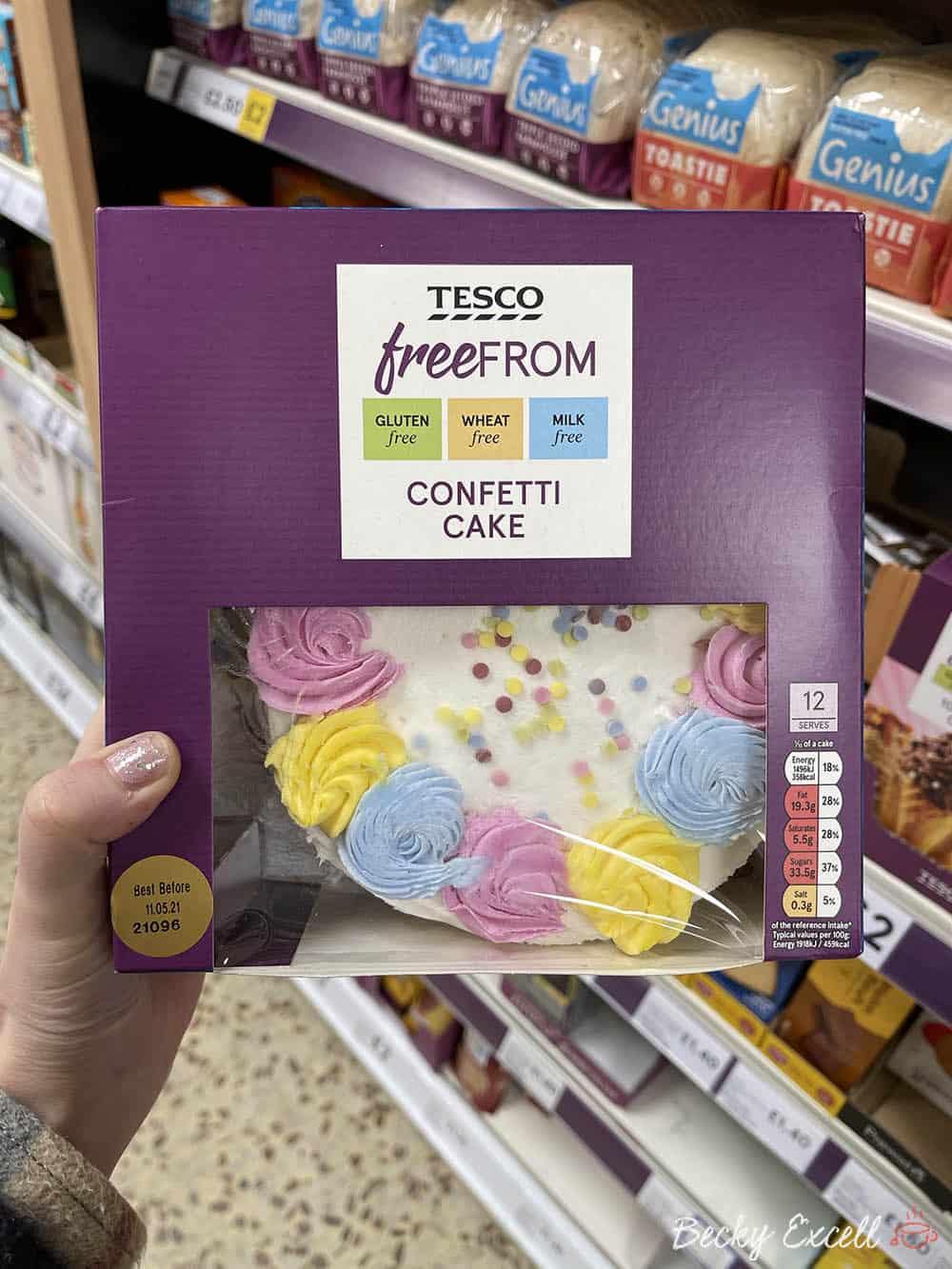 2. Tesco Free From Quiche Lorraine and Cheese and Onion Quiche
If I'm not wrong, I've only really ever seen stuff like this in the free from chillers in Sainsbury's.
However, now you'll find two mini quiches to choose from! These are really recent discoveries (hence no photos from in-store) but keep your eyes peeled as they should be in-store very soon.
3. Tesco Free From Chicken and Gravy Pie
The same goes for mini pies – and remember, this is chilled, not frozen! (though you can freeze it if you'd prefer)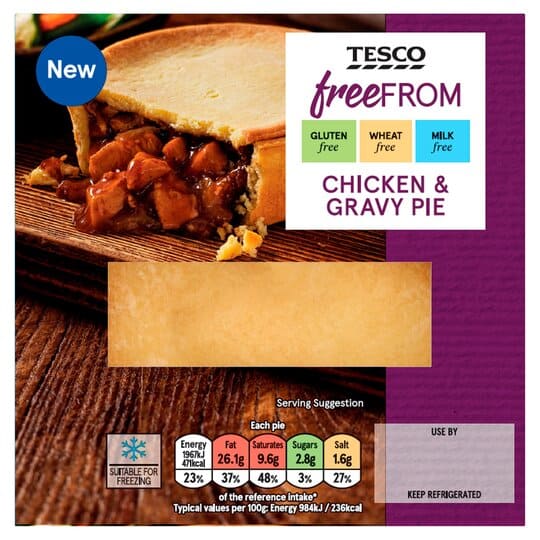 4. Tesco Free From Bacon Rashers
Gluten-free frazzles anyone? We've had to rely on 'accidentally' gluten-free versions of frazzles up until now, so it's nice to have a clear cut 'this is gluten-free' version!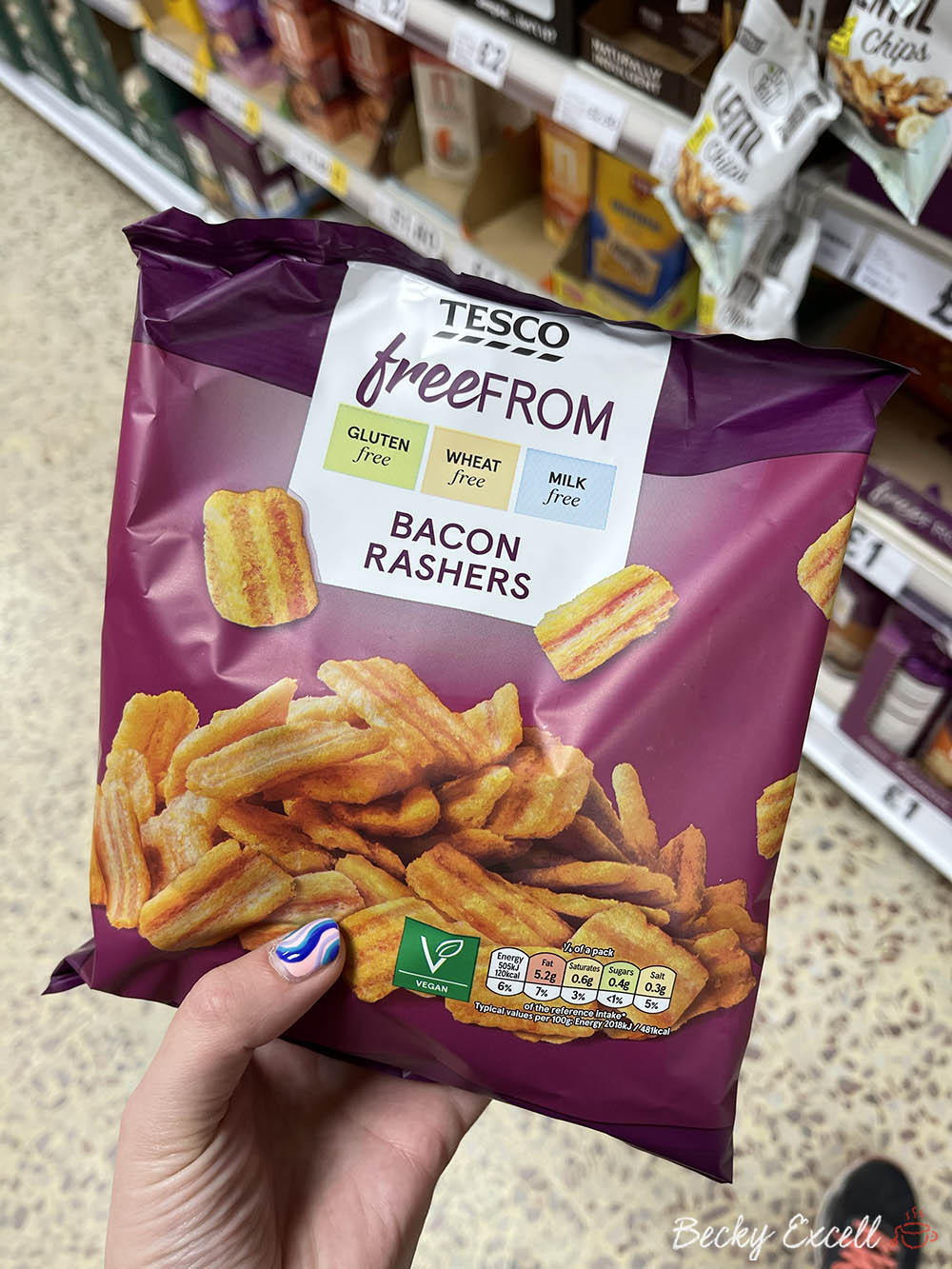 5. Tesco Free From Garlic and Parsley Flatbread
This is gluten-free, wheat-free, milk-free, egg-free, vegan and I still can't it 😂 (I struggle to tolerate garlic)
But hopefully you can enjoy it for me instead!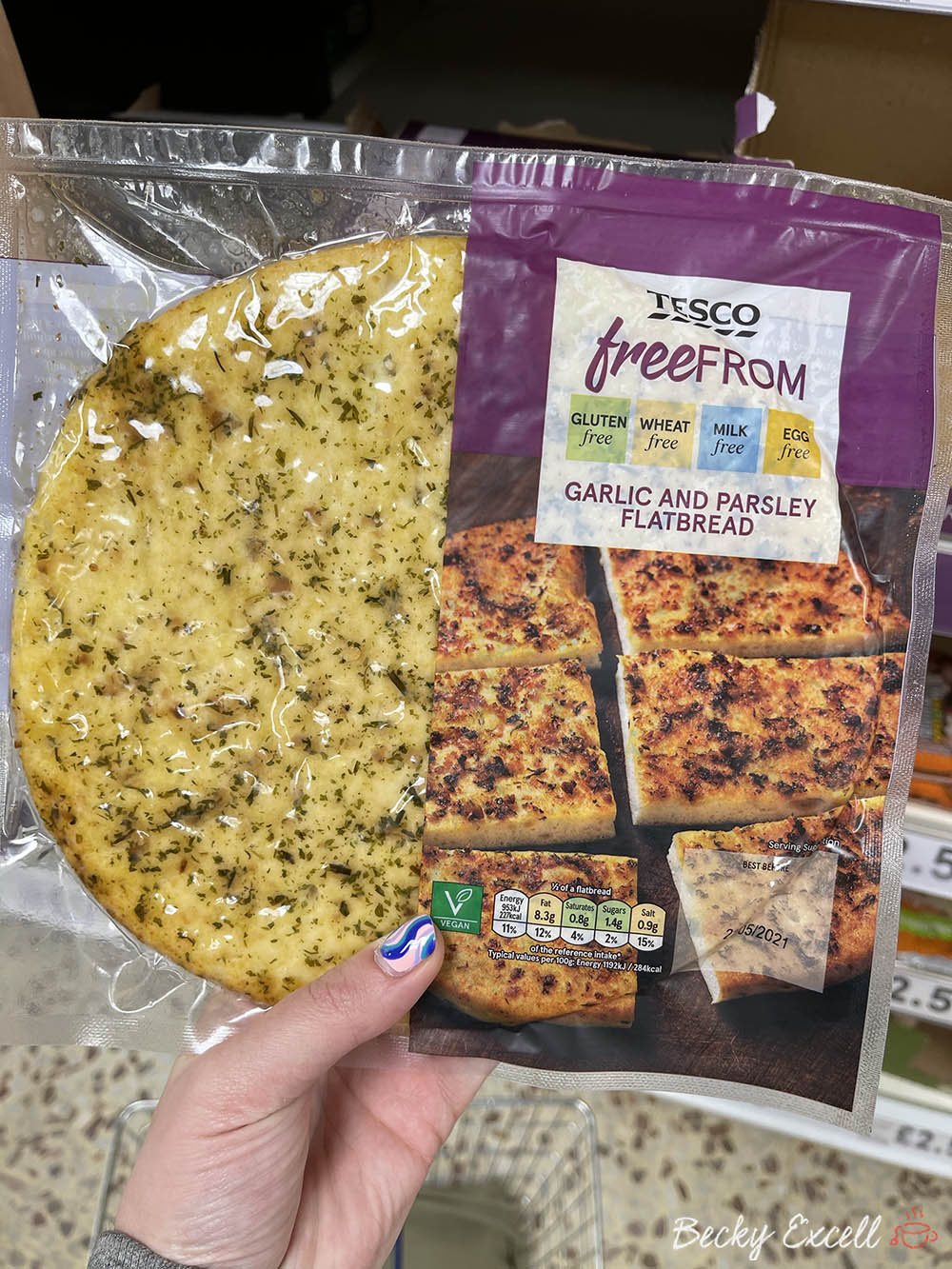 6. Tesco Free From Surprise Cupcake Kit
No, the surprise isn't that you can actually eat this!
It looks like you can hide sprinkles in the middle and as sprinkles aren't always gluten-free, I'd call this one a win.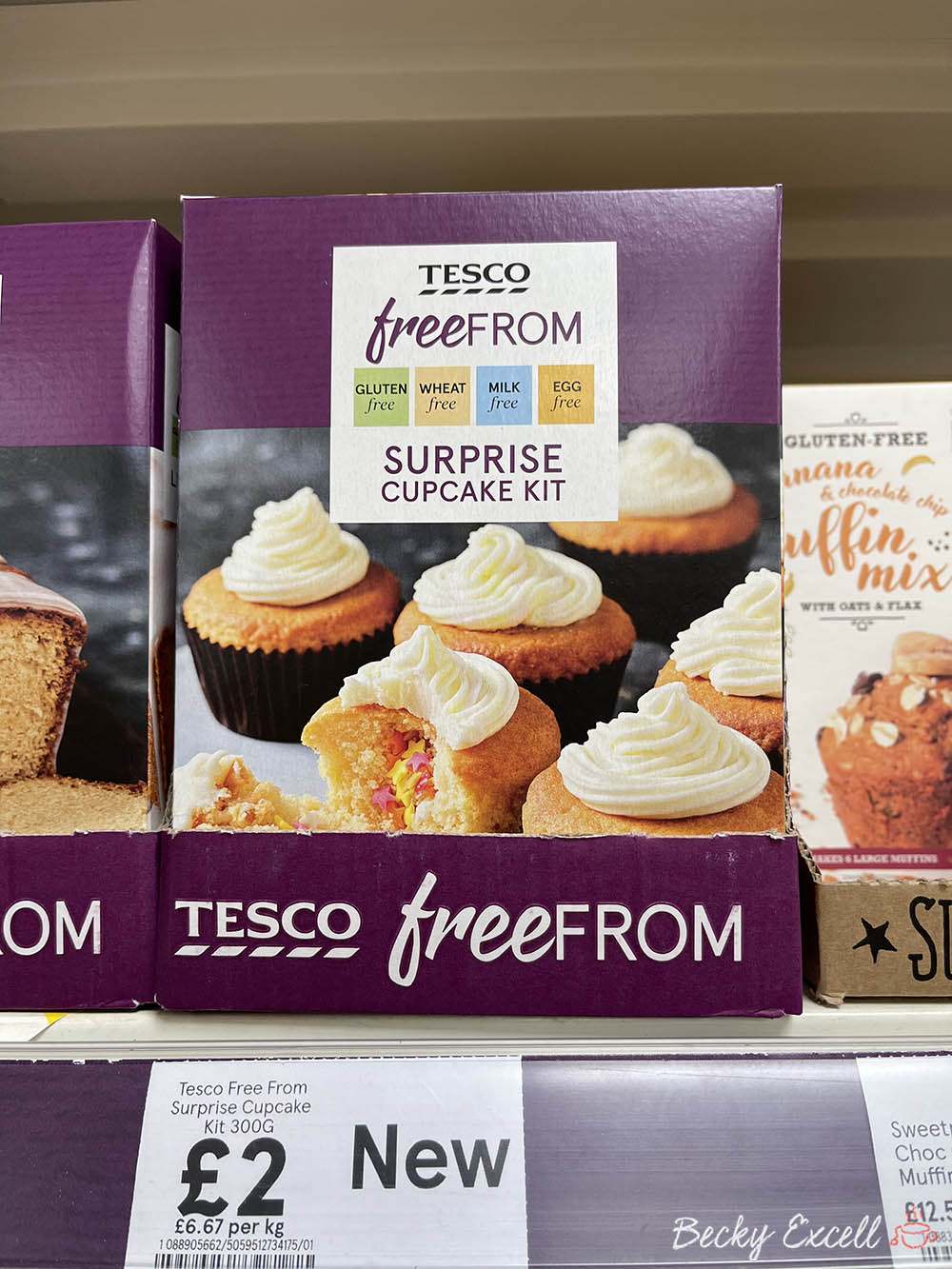 7. Tesco Free From 2 Mature Cheddar Cheese Twists
I will certainly never turn down anything to do with gluten-free puff pastry!
Please remember with these that you have to heat these in the oven first.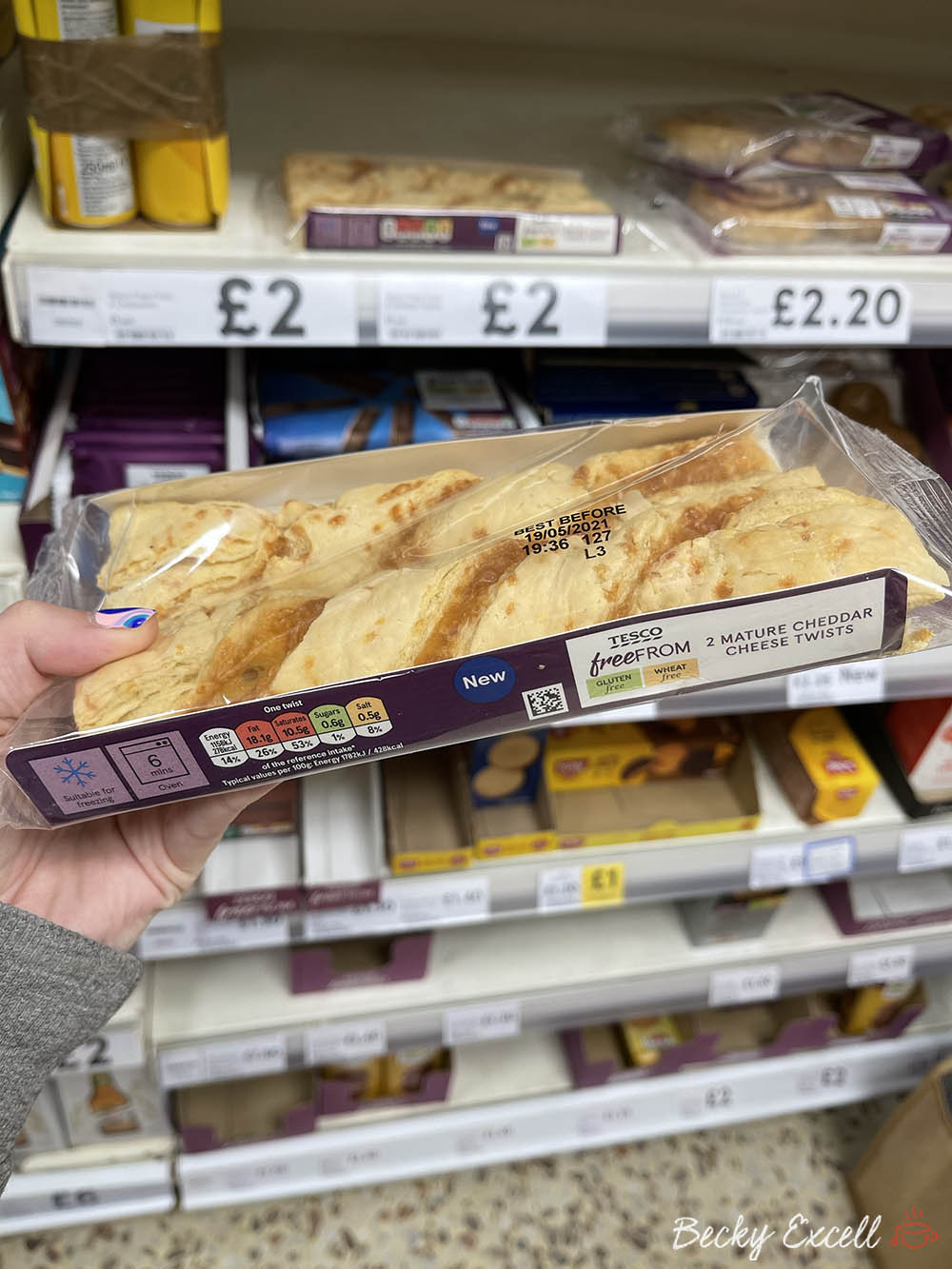 8. Tesco Free From Lemon Drizzle Cake Kit
Here's another new bake-at-home cake kit to add to the collection 👇🏻
Anyone tried this one yet?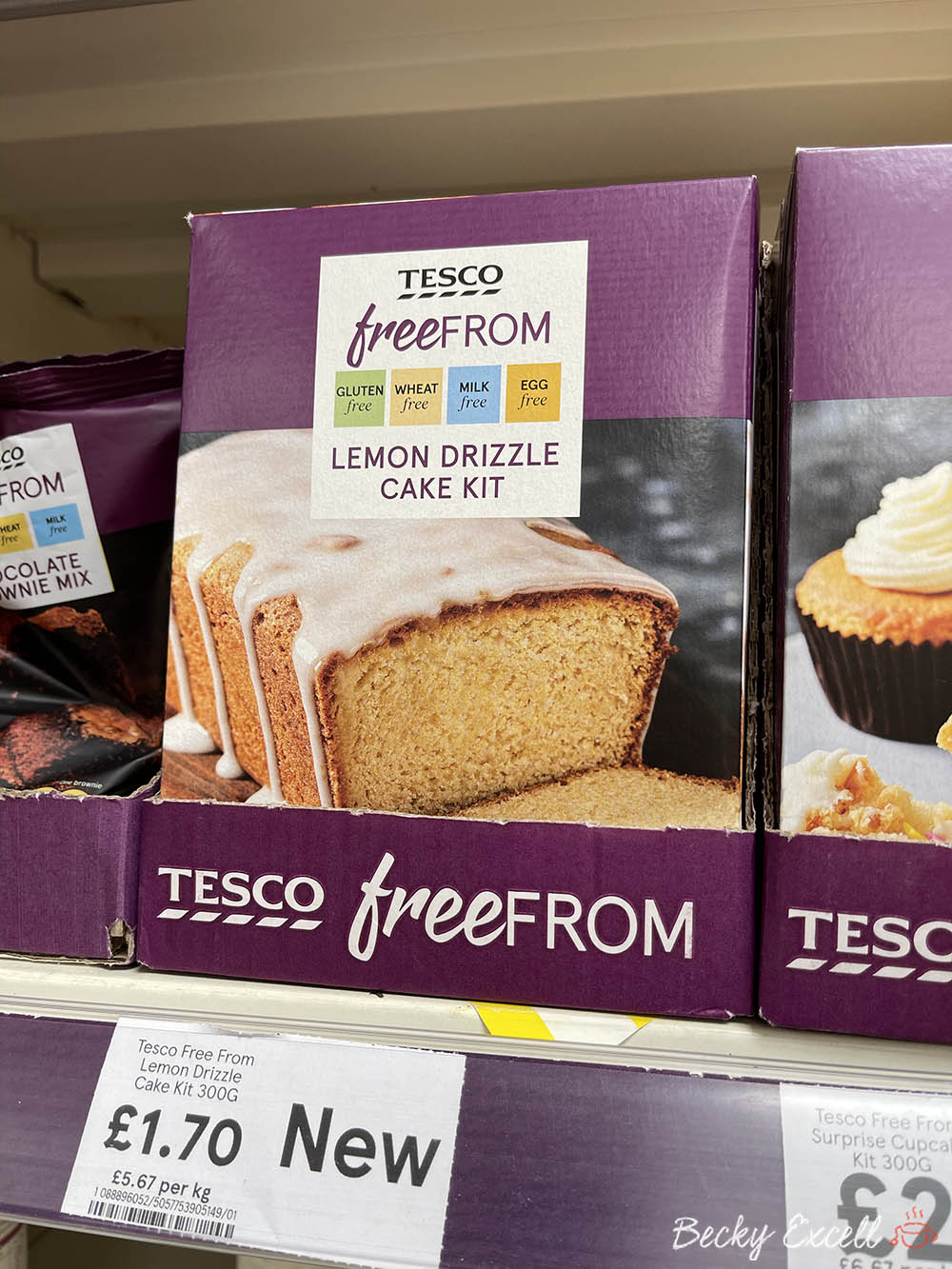 9. Genius Super Powered 4 Seeded Rolls
You'll see a few new/newly rebranded Genius products in this post and this is the first of them: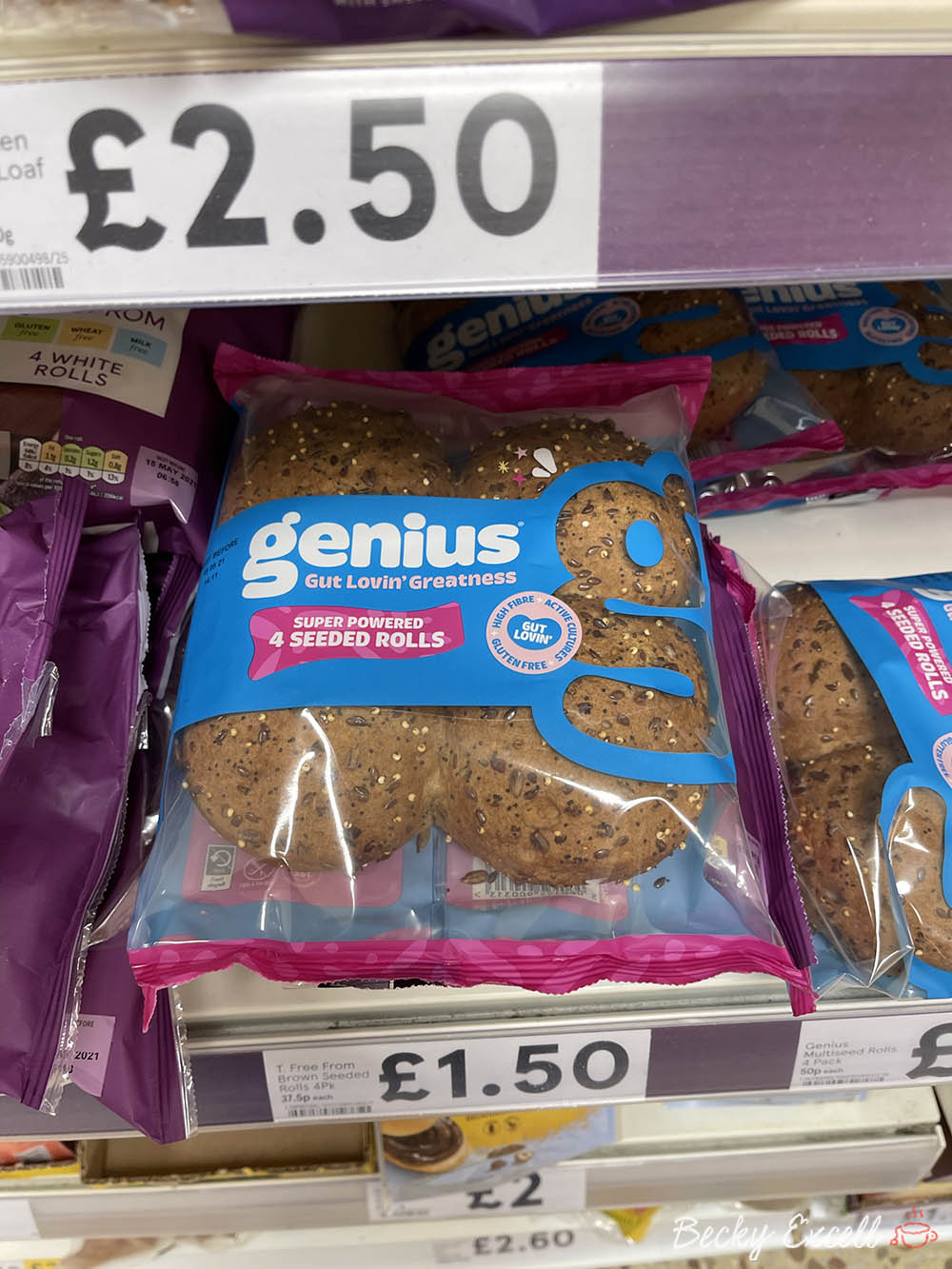 10. Genius Boosted 2 Brioche Buns
And the second…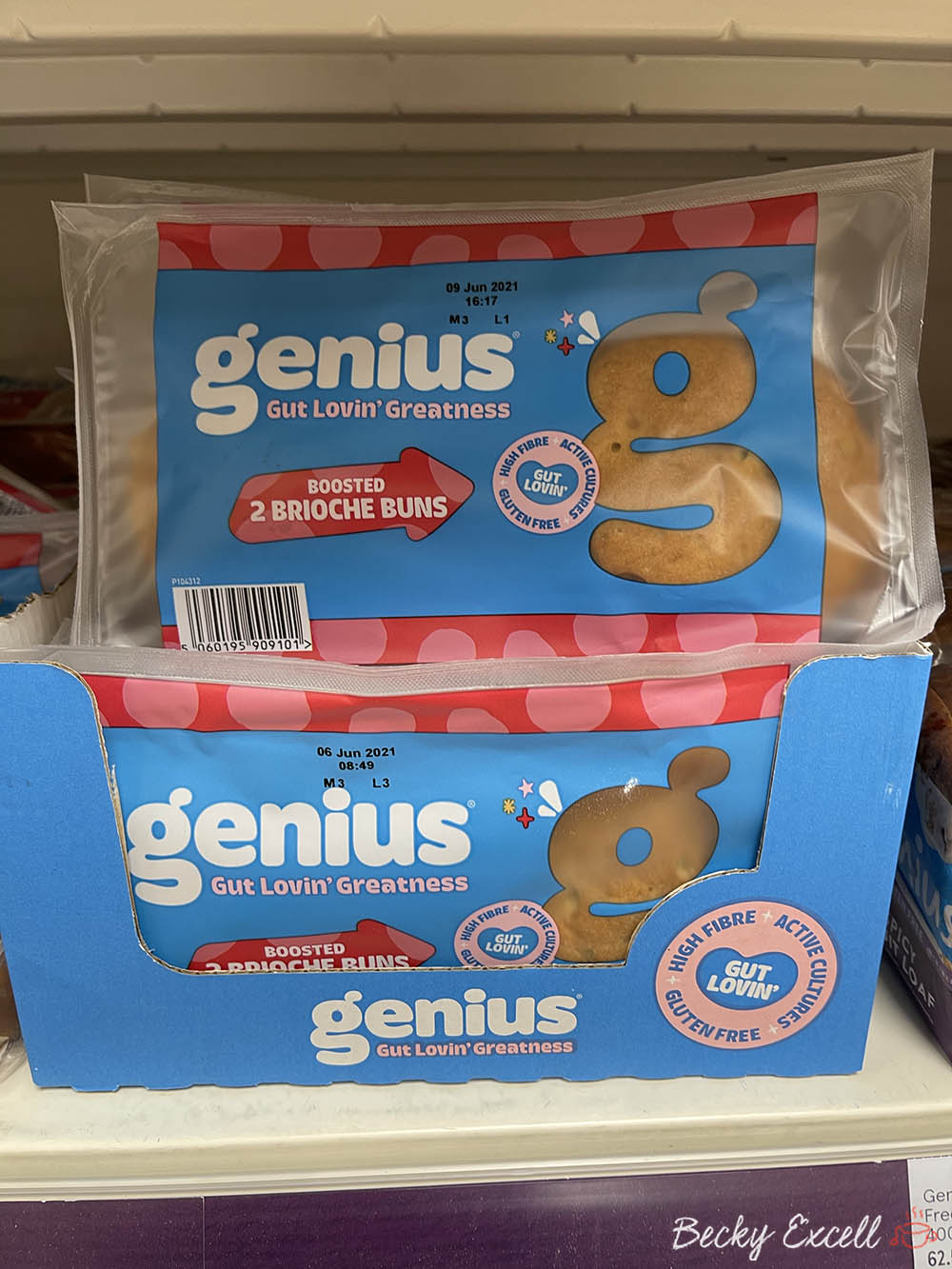 11. Tesco Free From 5 Oaty Bakes
Believe it or not, these aren't the only oaty bakes in this post! I'm sure you know that old saying about waiting for oaty bakes, then two come at once, right?
Or is that about buses?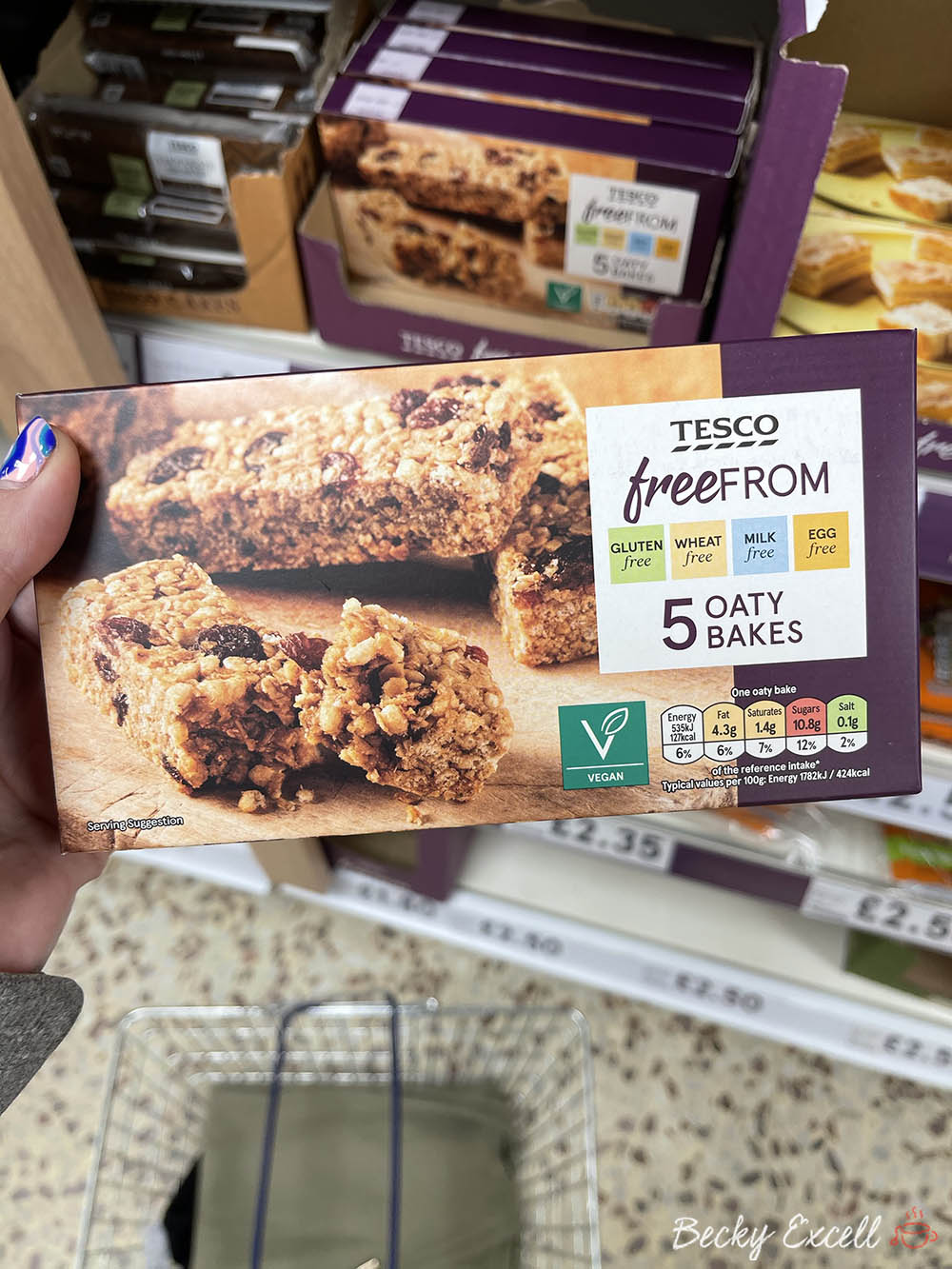 12. Tesco Free From 4 Chocolate Cupcakes
And if you don't fancy making your own cupcakes, these are a nice easy option which *shock horror* have a nice kid-friendly design which you seem to never see in gluten-free products.
I'll take a giraffe, thanks.
13. Tesco Free From Triple Choc Truffles
I've been wanting to try these since I saw them, but we opted for the next product instead (otherwise we'd probably eat both!)…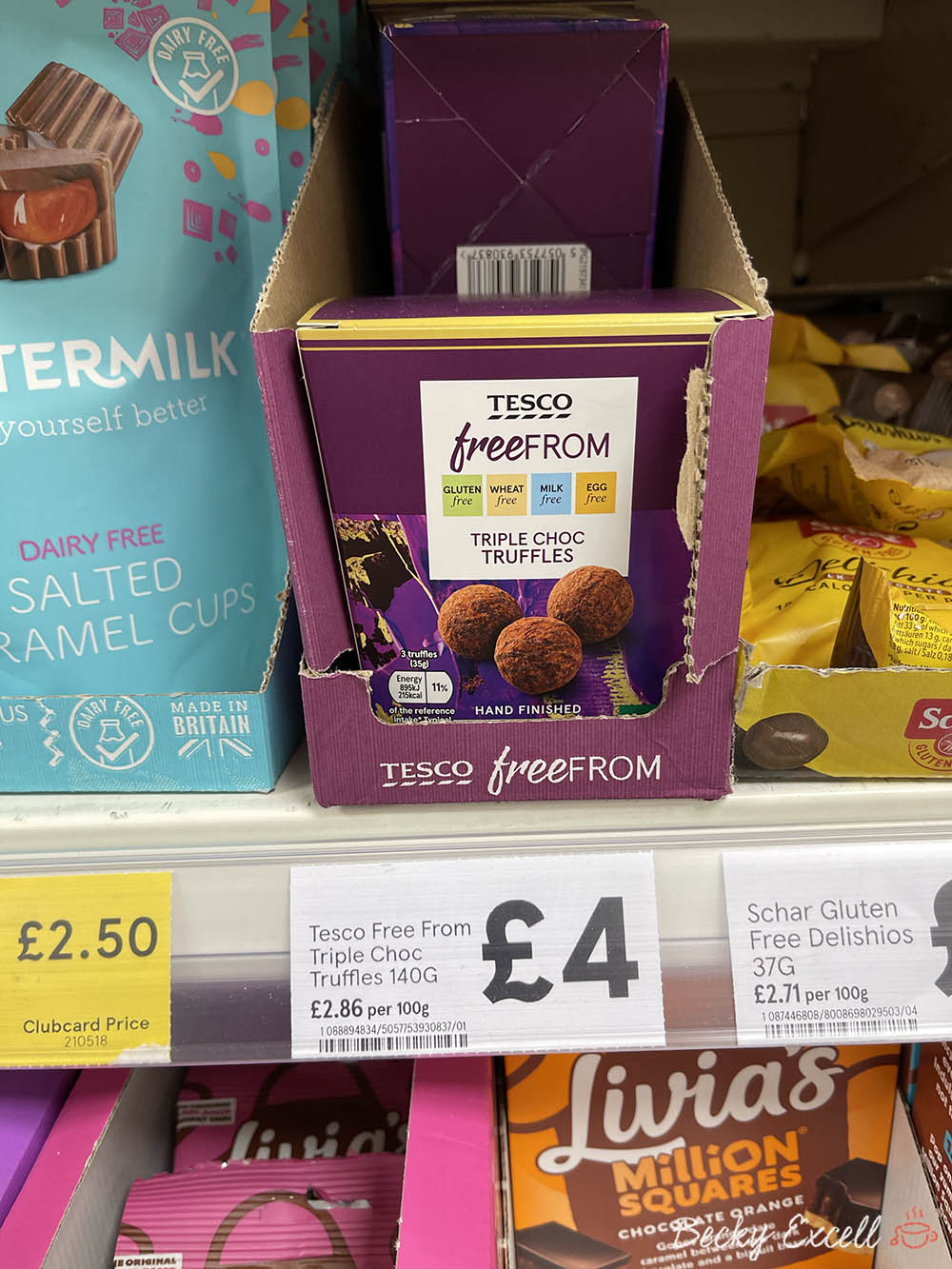 14. Tesco Free From Choc Coated Honeycomb
I thought this would be an amazing dairy-free substitute for crushed up Crunchie bars in my recipes and I wasn't wrong!
They taste exactly like Crunchie bars, though I wouldn't have minded a little thicker chocolate. But they taste amazing.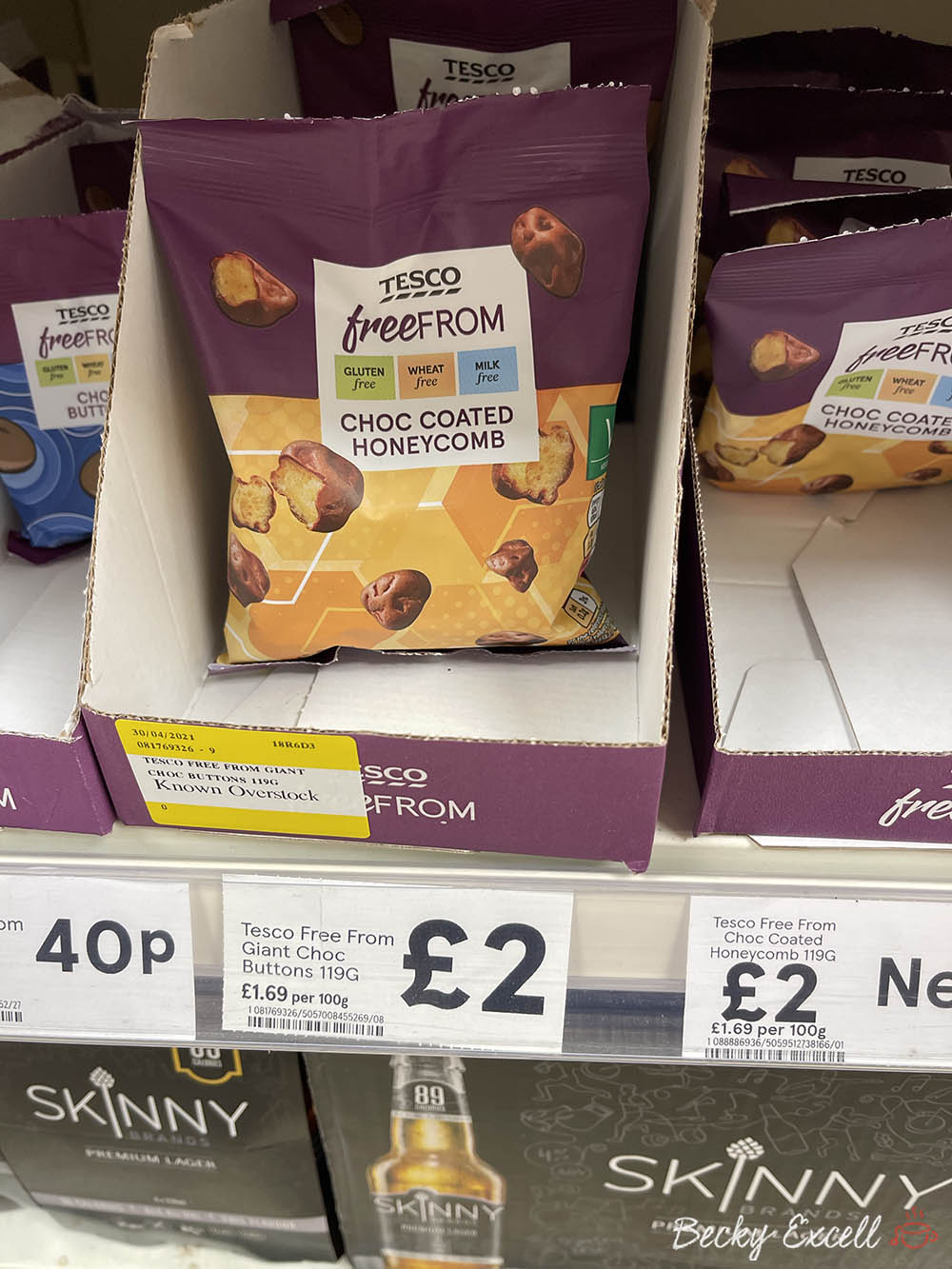 15. Tesco Free From Choc Bars
Dairy-free chocolate that isn't plain?! The free from aisle has become a great place for exciting dairy-free chocolate these days and I'm definitely all for it!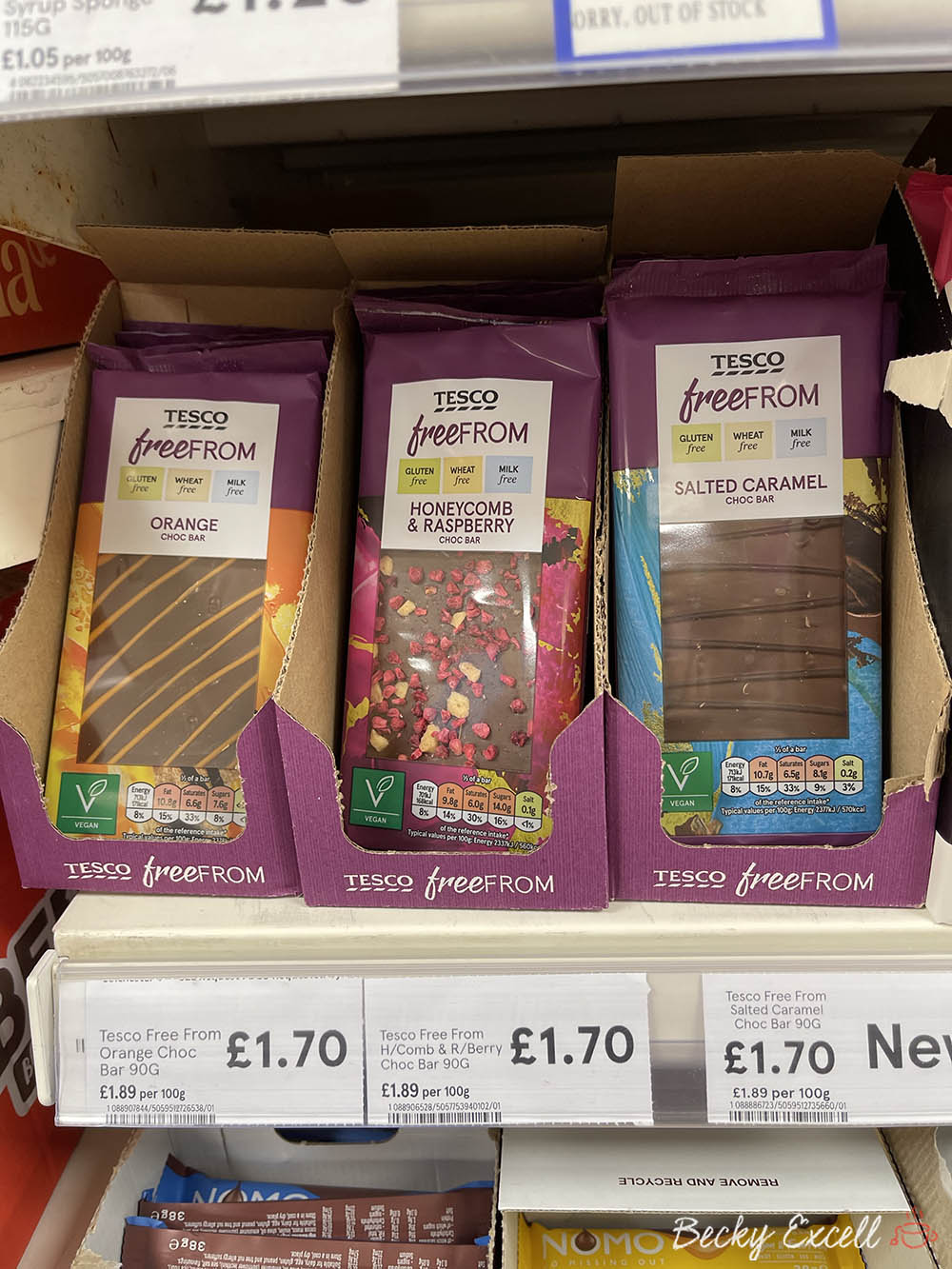 16. Tesco Free From 4 Cinnamon and Raisin Bagels
We've had regular gluten-free bagels in free from aisles for a while now, so it's nice to see a few different variations pop up over time!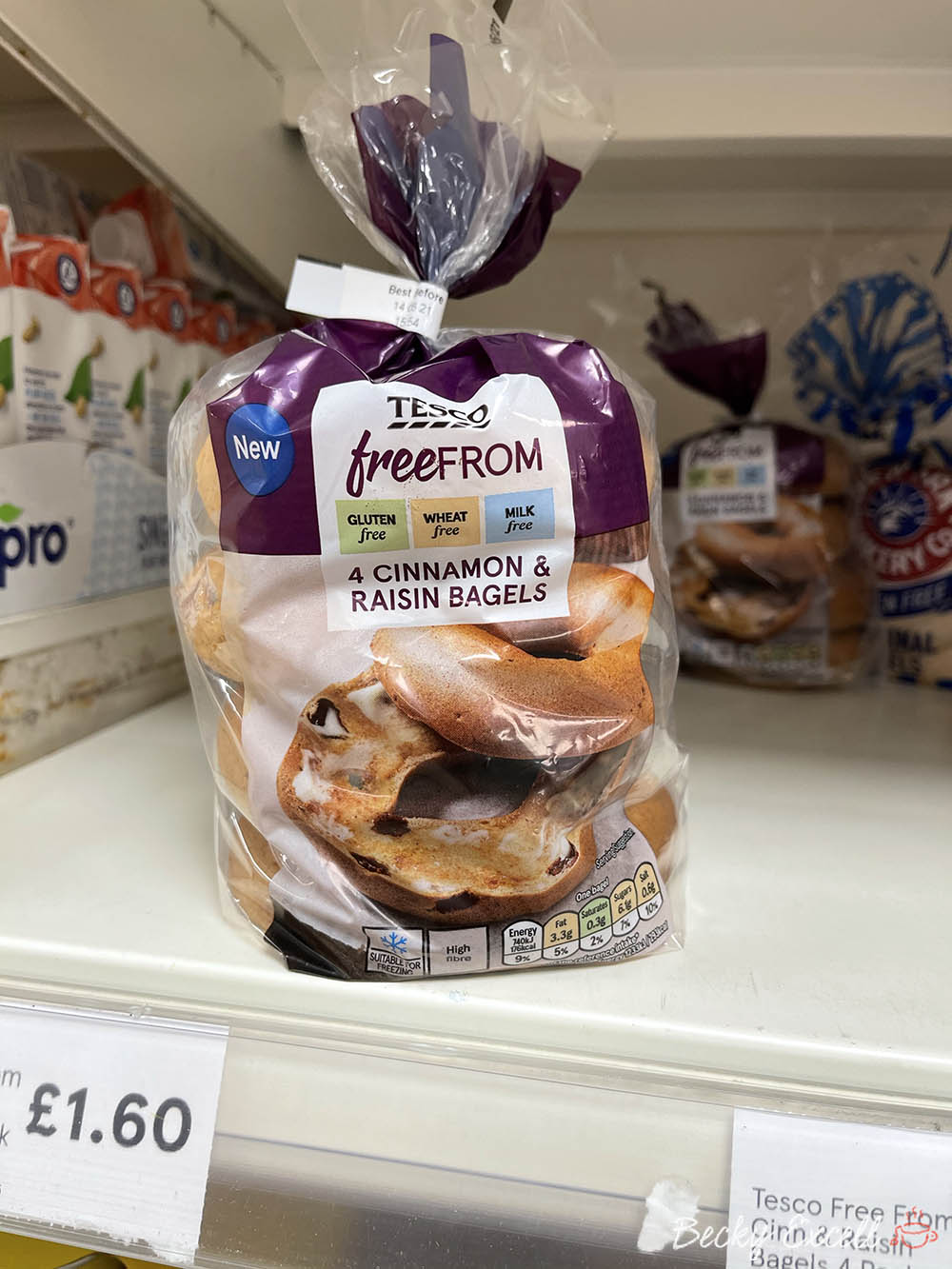 17. Warburtons 4 Super Soft Sliced Square Rolls
I haven't had the chance to try these yet, but they are some of the lightest and fluffiest rolls I've ever felt – even just when picking them up in the packaging!
These are definitely top of my 'must-try' list next…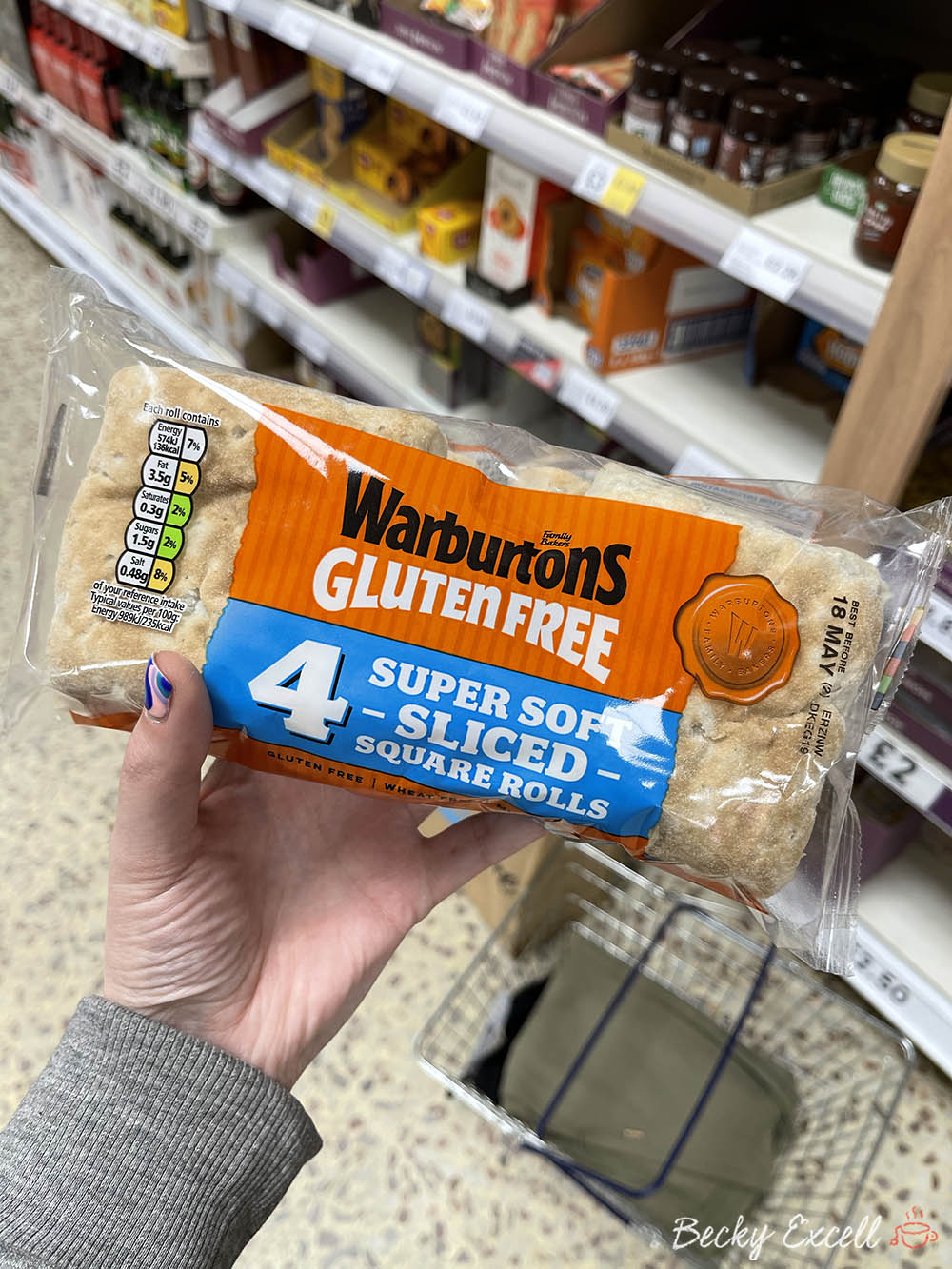 18. BFree Avocado Wraps
Is there anything that BFree can't make a wrap out of?
Clearly not!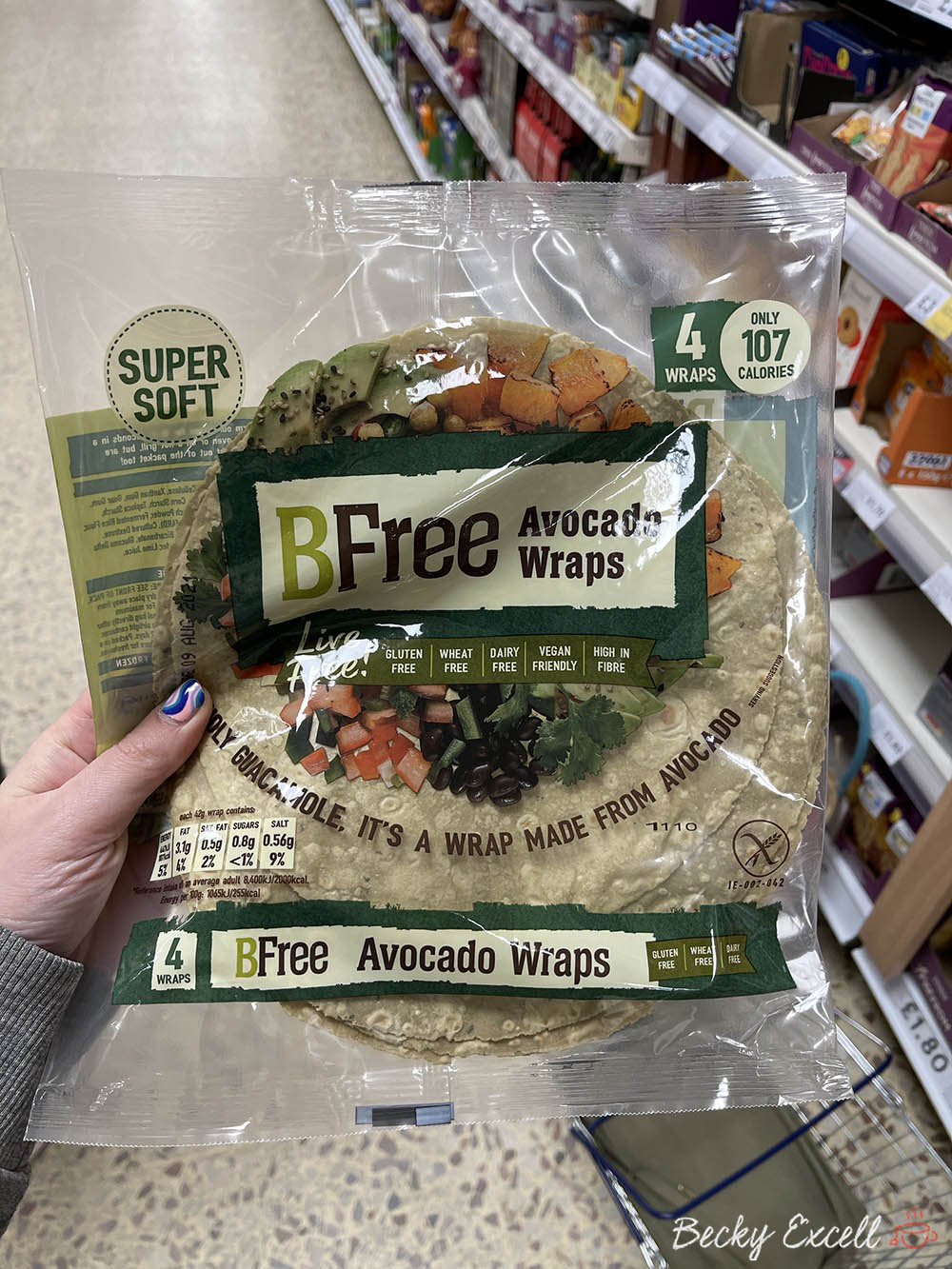 19. Wicked Kitchen Cake Slices
These are in the 'muggle' cake section, but as you can see on the packaging, they're also gluten-free too.
Result!
20. Genius Joy-Full Artisan Loaf
Yep, that's right – more Genius!
21. Tesco Free From 2 Decorate Your Own Gingerbread Men
As someone on my Instagram said recently – a gingerbread man isn't just for Christmas!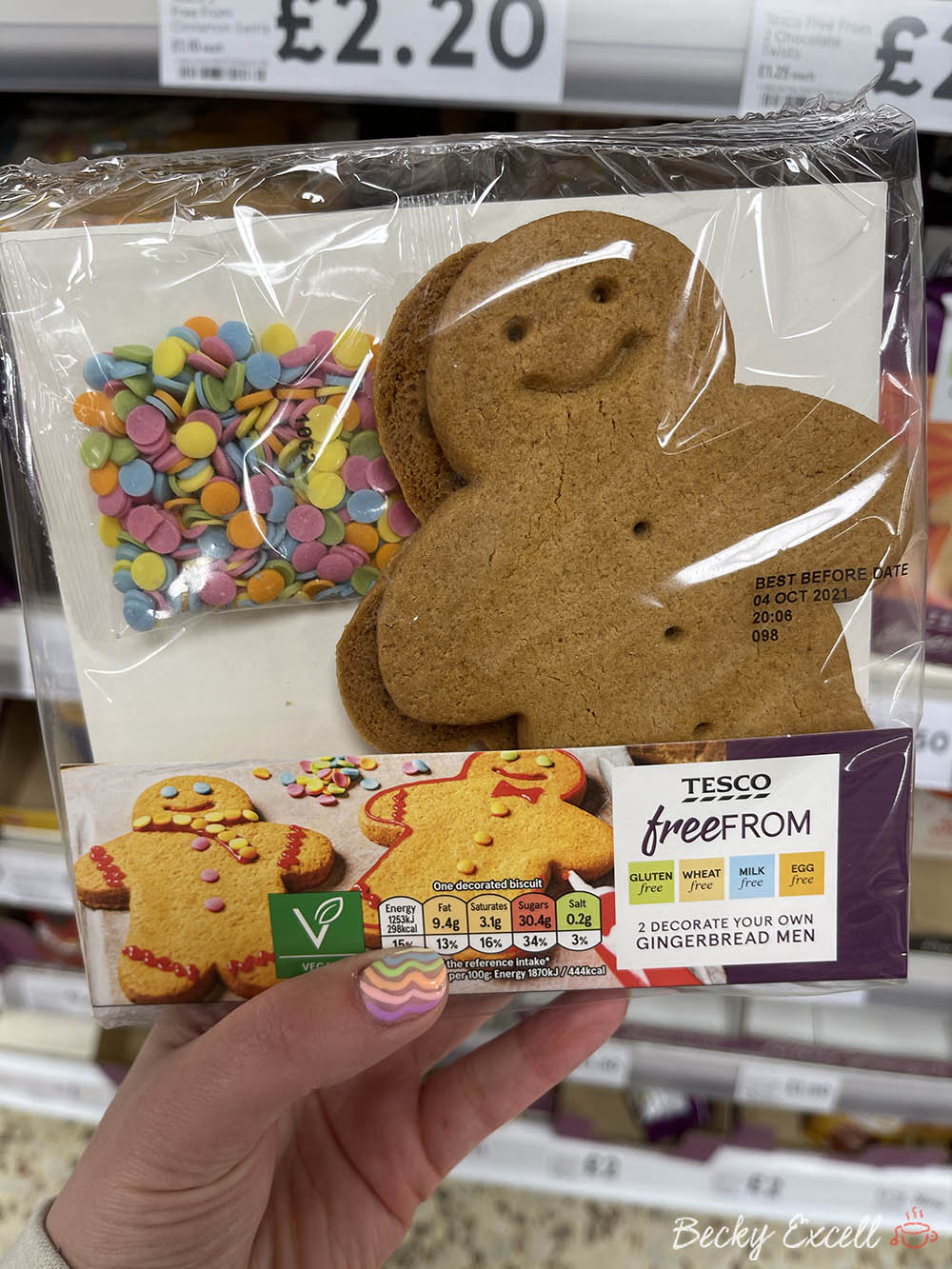 22. Tesco Free From Ginger Nuts, Bourbons and Custard Creams
A lot of gluten-free biscuits seem to have disappeared from the free from aisle for a few months, but they're back and better than ever now…
23. Tesco Free From Vanilla and Salted Caramel Iced Dessert
Mark has been enjoy this all week, so he can confirm that this is amazing!
Not surprisingly, he said that he wishes there was more salted caramel, but he says that about everything involving dairy-free caramel 😆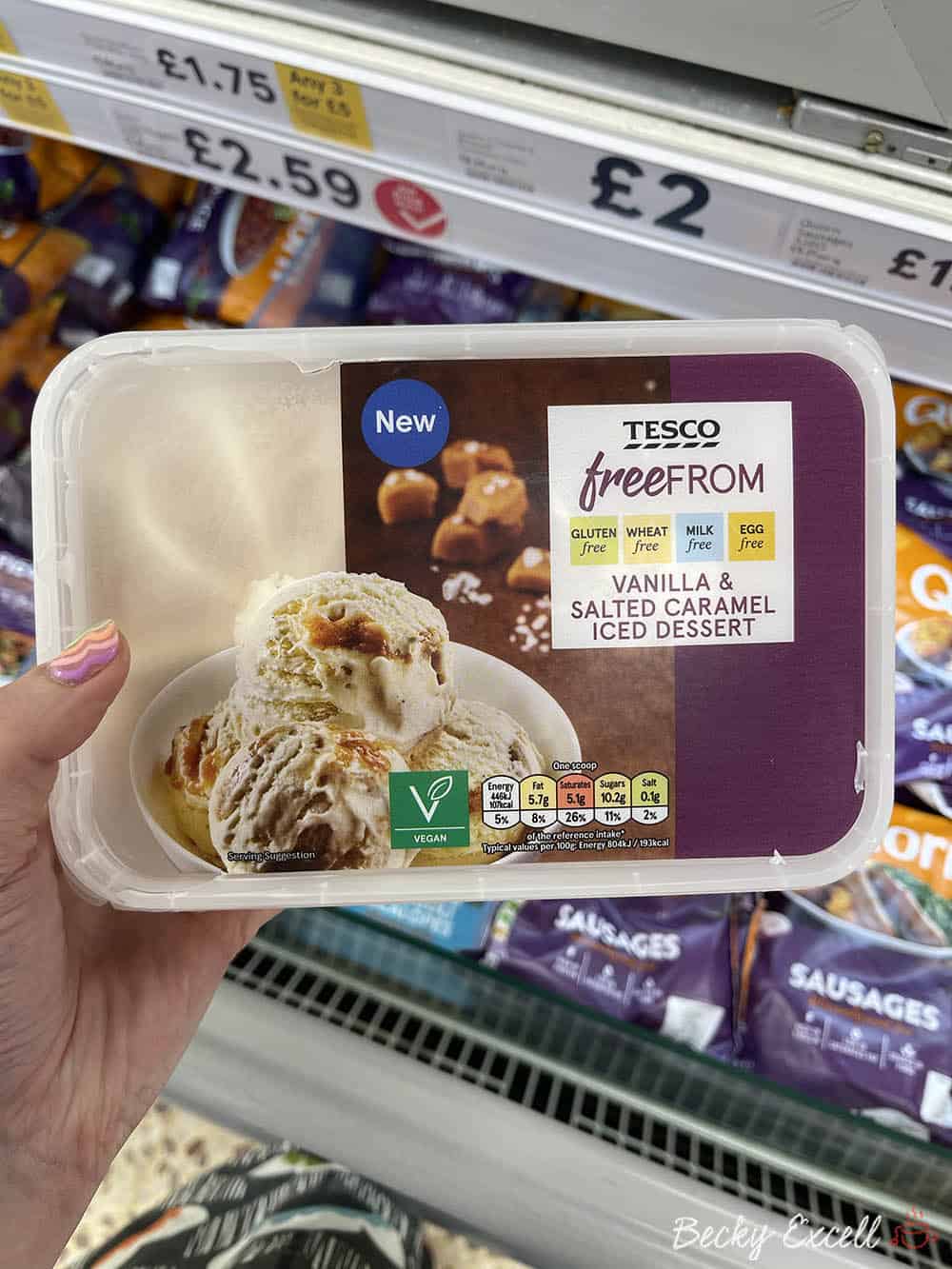 24. Tesco Free From Profiteroles
I thought this existed in Tesco already, then I realised I was thinking of the eclairs which had been in the frozen free from section for a while… right?
So I guess this is new after all!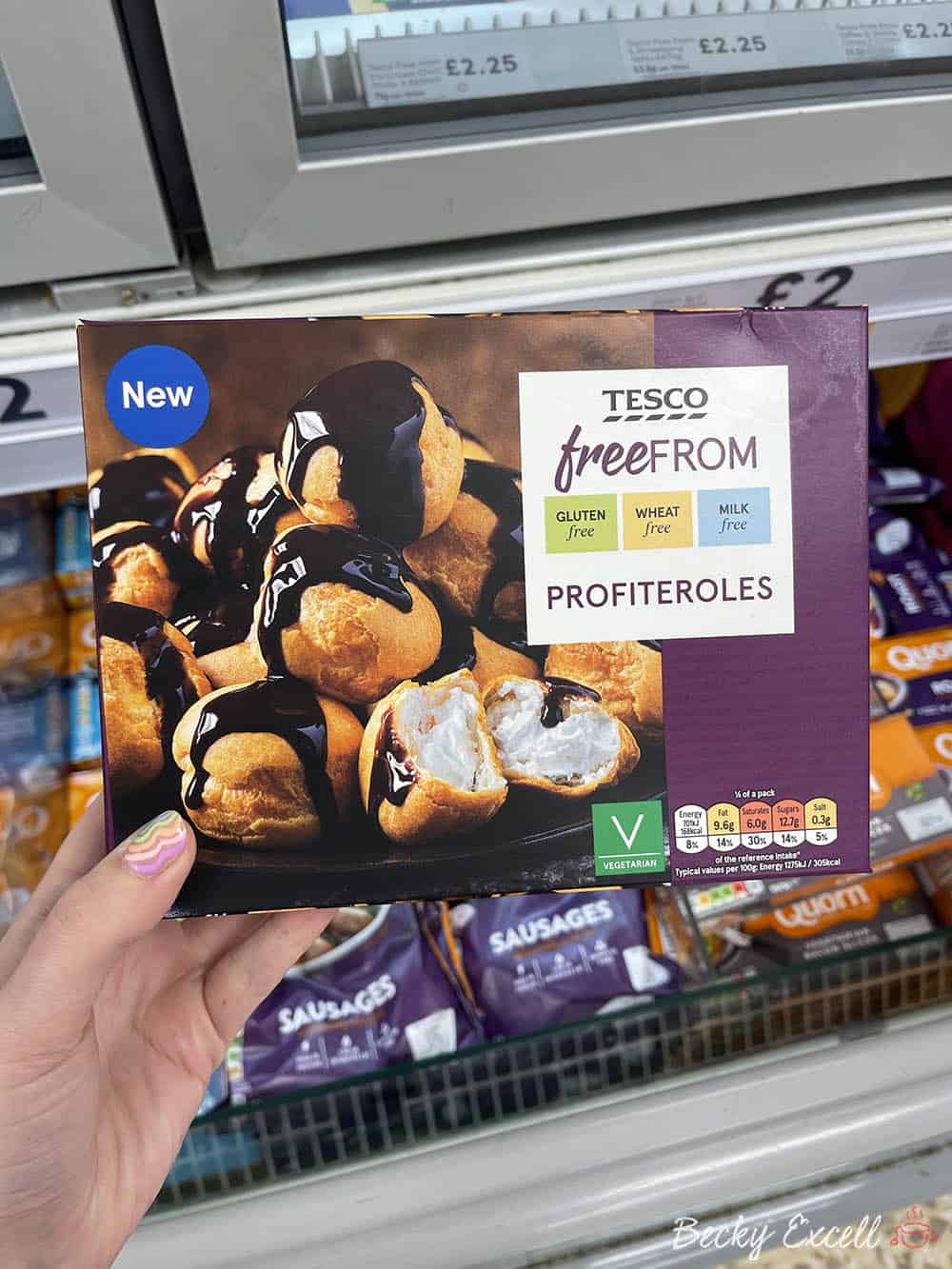 25. Wicked Kitchen 4 Chocolate and Red Berry Cones
I'm not sure if vegans mind their desserts also being made gluten-free, but I certainly don't mind!
And for those of you who are gluten-free AND vegan, please take a moment to celebrate finding something you can actually eat.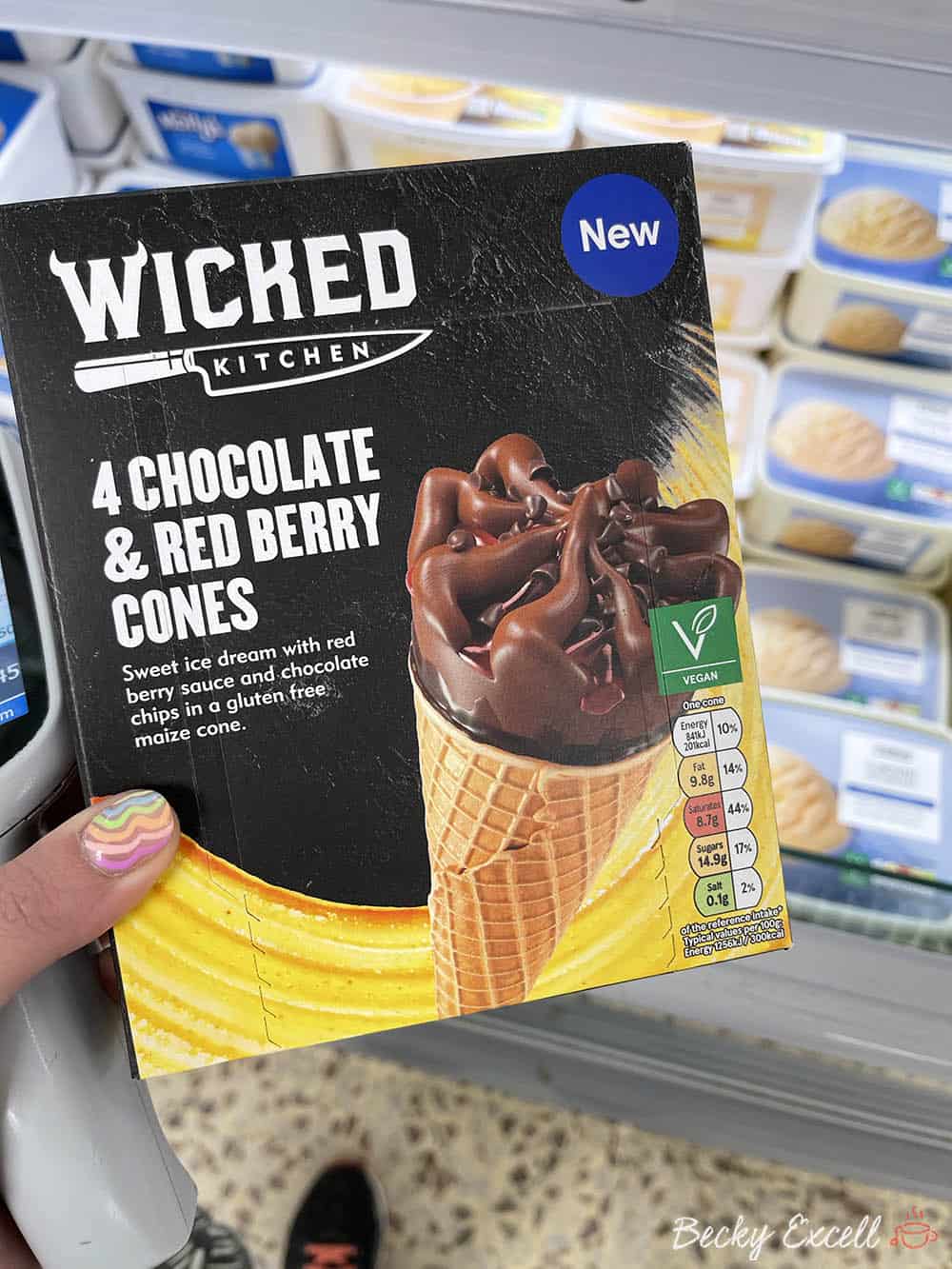 26. Tesco Free From Breadcrumbs
These aren't new at all! But they have been out of stock in my local Tesco for a while, so I thought I'd include them because apparently, they're back.
We use these a lot, so it's good news in our house at least!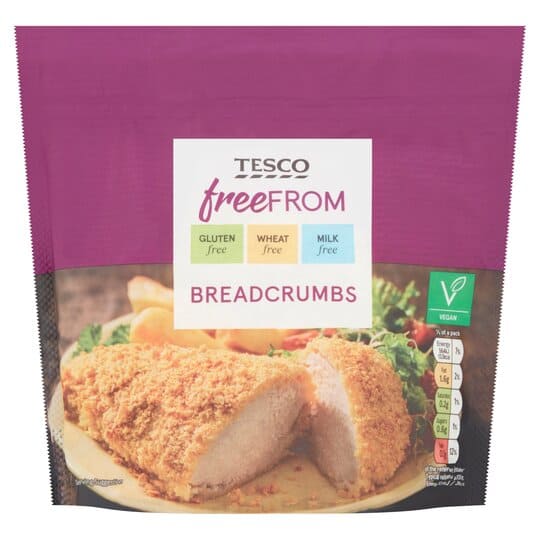 27. Tesco Free From Chow Mein, Black Bean, Hoisin and Garlic Stir Fry Sauce Sachets
I think some (if not all) of Tesco's stir fry sauces were/are gluten-free in the fresh veg section, but now we've got three of our own in the free from aisle!
They're 80p each, so make sure you don't miss these…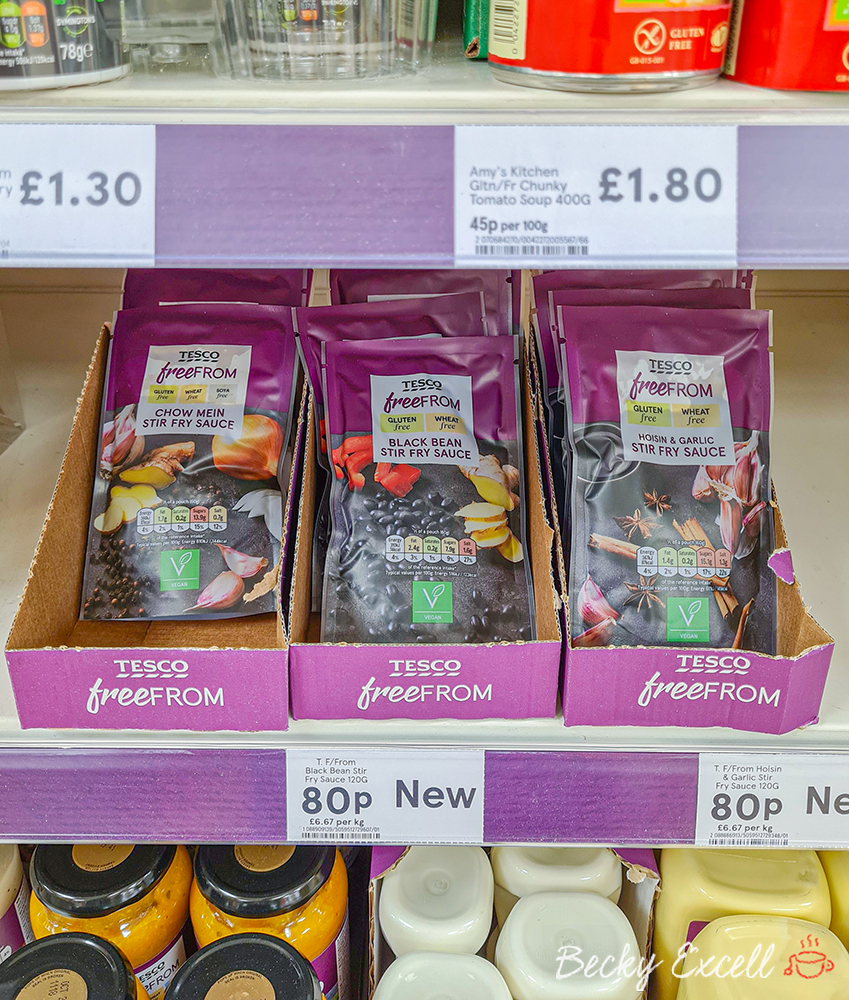 That's the 25 NEW products in Tesco's gluten-free range that are all out from today!
Thanks for joining me in checking out what's new in the Tesco gluten-free range! What did you think? Which one was your favourite? What products are we still missing?
Anyone else here craving more dairy free AND gluten-free products? Let me know by leaving a comment below this post 👇🏻
Thanks for reading,
Becky xxx
Comments