Rise and shine! I've finally written up my 5-ingredient gluten free toasted brunch cups recipe (wow that now seems like a very long name now that I read it back)! It's simple to make dairy free and low FODMAP too.
Brunch is such a big deal in London, but once you leave that bubble – it's hard to find a decent place for brunch around where I live! So I decided to make my own at home for my boyfriend and I and with just 5 ingredients, I created my gluten free toasted brunch cups recipe!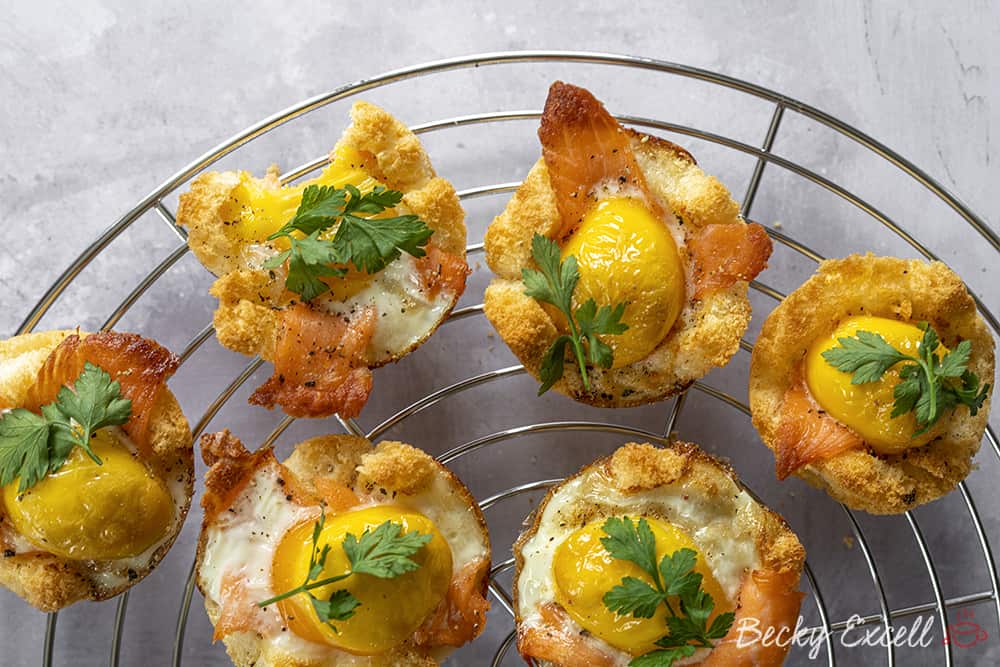 I actually made this in my most recent 'what I eat in a day' video and everyone seemed to really like it!
So I thought I'd better get my skates on and write it up – even though it's actually reeeeally simple.
But it most definitely satisfies all of my brunch cravings and since they're so easy to make… I find that I'm having brunch at home a whole lot more often now!
Just in case you haven't watched my video though, here's what they actually are…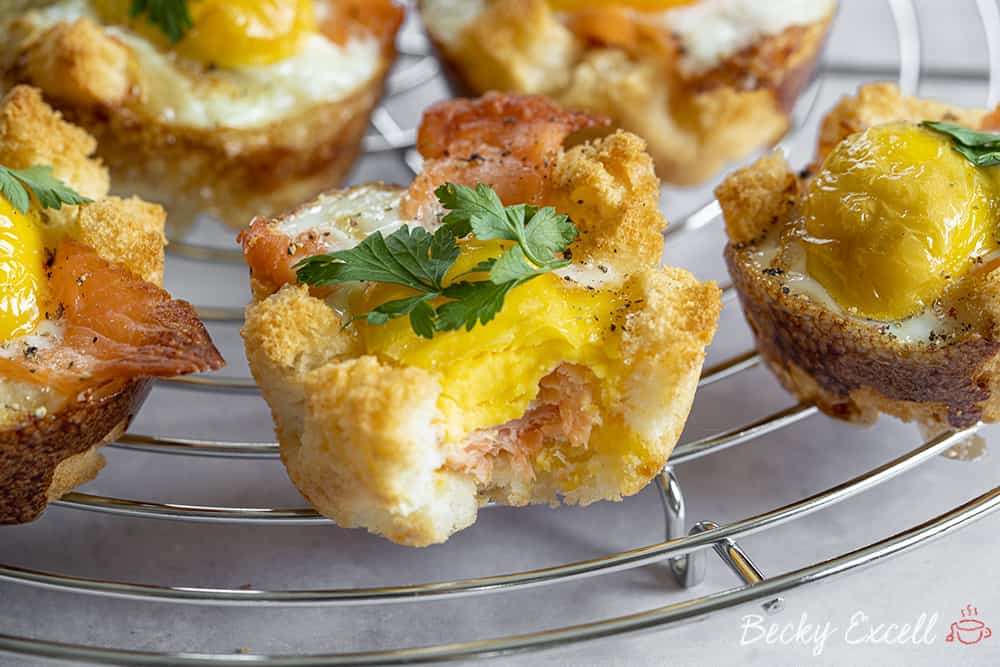 Basically, they're little cups of toasted bread, filled with smoked salmon, egg and a little black pepper. That's it!
(oh and the fifth ingredient is just a little oil)
It's so simple and every bite is a combo of all my fave brunch options – I even make a little hollandaise sometimes as a dip for these and it's pure bliss.
Let me know if you want my hollandaise recipe btw – it's not too difficult!)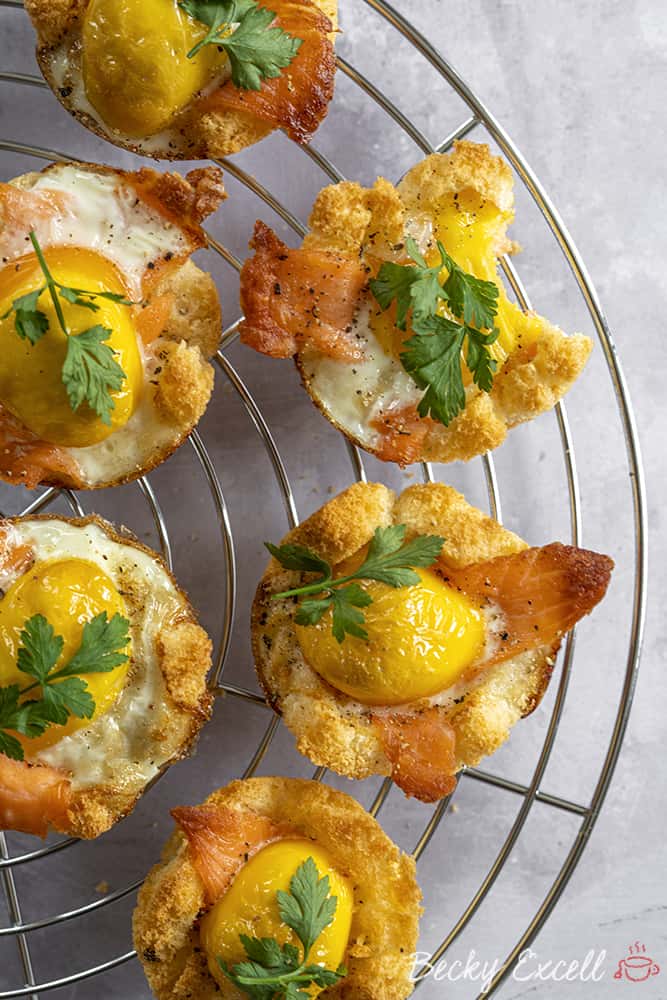 But what gluten free bread should you use for my gluten free toasted brunch cups recipe?
I actually used Juvela gluten free bread in this recipe for two reasons:
1. It's actually really soft and fluffy so it's really mouldable to your muffin tray holes.
2. With the crusts sliced off, they're the perfect size to fit into my muffin tray.
Oh and plus, you'd never believe this bread was gf! If you've never tried it then make sure that you do and let me know what you think ??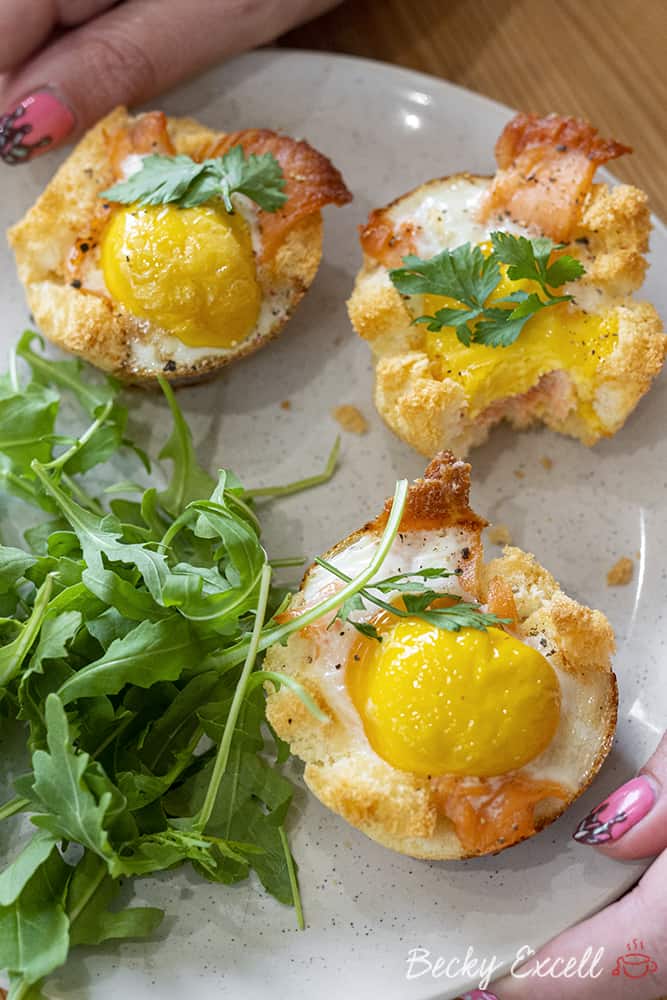 So yeah, you will need a muffin tray for my gluten free toasted brunch cups recipe, but that's the only special equipment you'll need!
And if smoked salmon isn't your fave, why not substitute it for a little bit of crispy bacon? Or ham? Or if you wanna go veggie, why not add in a little wilted spinach?
It's so easy to chop and change this recipe to your liking, so don't be afraid to do so! Just make sure your filling is cooked before using it in this recipe ✅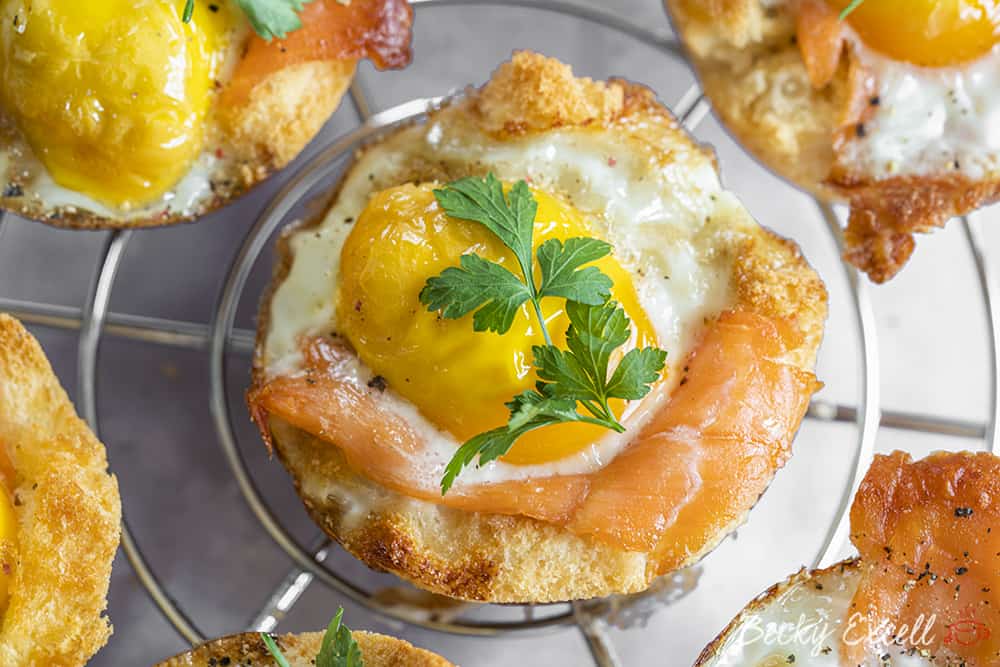 Ok, so here's my gluten free toasted brunch cups recipe with just 5 ingredients…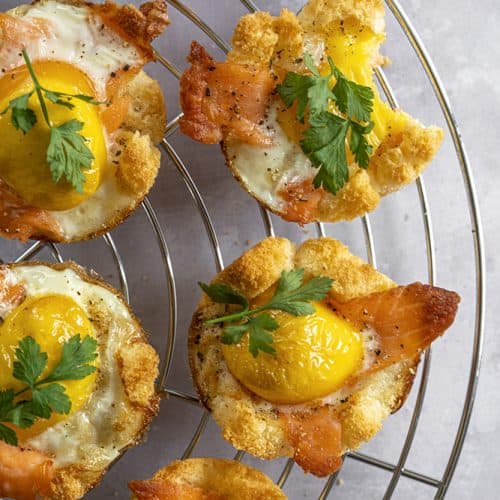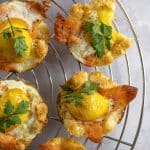 5-Ingredient Gluten Free Toasted Brunch Cups Recipe (dairy free option, low FODMAP)
My gluten free toasted brunch cups recipe is such a quick and easy way to whip up something a little different for breakfast, brunch or lunch!
Ingredients
6

slices

gluten free bread

I used Juvela Gluten Free

2

tbsp

garlic infused oil

6

eggs

50

g

smoked salmon

black pepper
Instructions
1. Cut the crusts off of your gluten free bread - this will help them fit better into the muffin holes. Juvela gf bread is perfect for this as the slices are the right size for my muffin tray!

2. Grab your muffin tray and stuff your bread into the holes, pressing and firming them into the hole. Don't worry if the bread breaks a little, but try to be careful!

3. Brush them with a little garlic-infused oil and pop in the oven at 200C (fan) for about 10 minutes - or until they're slightly golden.

4. Take them out of the oven and put a little portion of smoked salmon into each of the toast cups.

5. Then, using a jug, pour in one egg at a time into each toast cup. I had to remove a little egg white per egg as you generally don't need it all. You don't want the egg to overflow out of the muffin hole! You just want the yolk and a tiny bit of egg.

6. Sprinkle a little black pepper on each egg.

7. Pop them back in the oven for around 5-10 minutes.

8. Top them with a little parsley if you fancy and enjoy for brunch, lunch or breakfast!
Notes
To make this suitable for the elimination phase of the low FODMAP diet, just use low FODMAP bread.
Nutrition
Serving:
1
g
|
Calories:
190
kcal
|
Carbohydrates:
16
g
|
Protein:
10
g
|
Fat:
10
g
|
Saturated Fat:
2
g
|
Polyunsaturated Fat:
7
g
|
Cholesterol:
188
mg
|
Sodium:
382
mg
|
Fiber:
2
g
|
Sugar:
3
g
Thanks for reading all about my gluten free toasted brunch cups recipe! If you make it, I'd love to see how it turned out so don't forget to take a snap of your creations and tag me on Instagram!
Any questions about the recipe? Please do let me know by following me on Instagram and leaving me a comment on a recent photo!
Thanks for reading,
Becky xxx
Oh and don't forget to pin this for later!