This has taken me a good while to perfect… but here's my gluten free lemon tart recipe! I guess if you're feeling fancy you can call it a tarte au citron, but either way, it still tastes just as good, so don't fret.
I have to say, I never thought I'd perfect a gluten free lemon tart recipe that I could actually post. Basically, I'd tried to create one in the past but whilst the gluten free shortcrust pastry tasted great, it was an absolute nightmare to work with… basically more fragile than me after a particularly emotional Eastenders episode.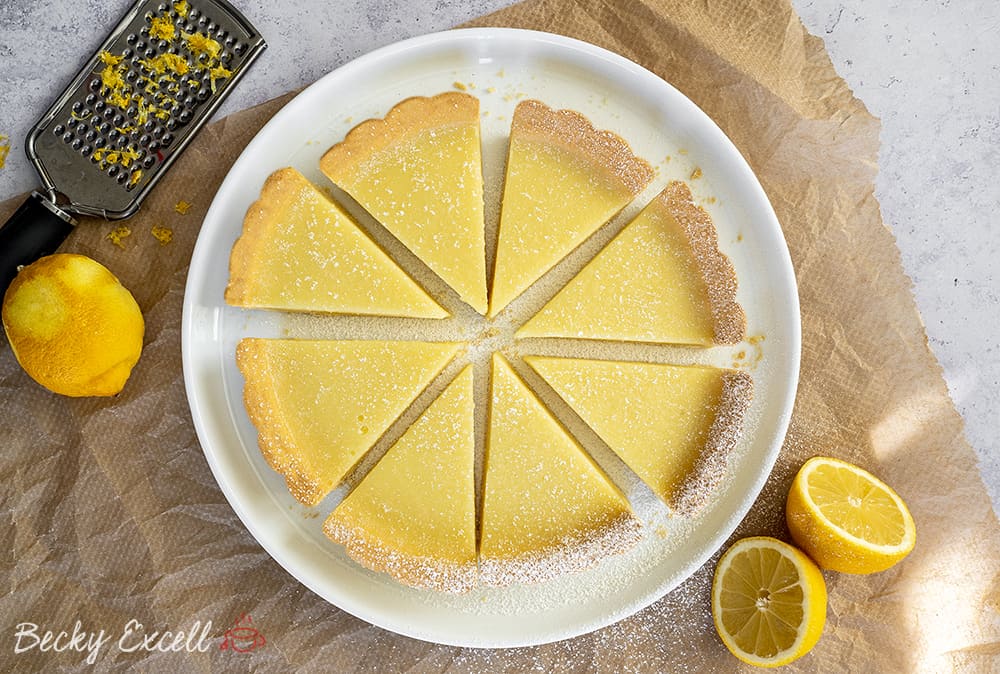 And even though my Mum says 'it's just a case of mind over matter' whenever I say I can't do something, she clearly hasn't tried to make a gluten free shortcrust pastry before.
But thankfully I've done all the hard recipe testing and creation so you don't have to!
I've finally come up with a recipe where the pastry not only tastes great, but it's *awesome* to work with too… because that part is pretty important you know.
What makes it so much better to work with is chilling your dough before handling it. Trust me, the cool temp of the dough makes this recipe function!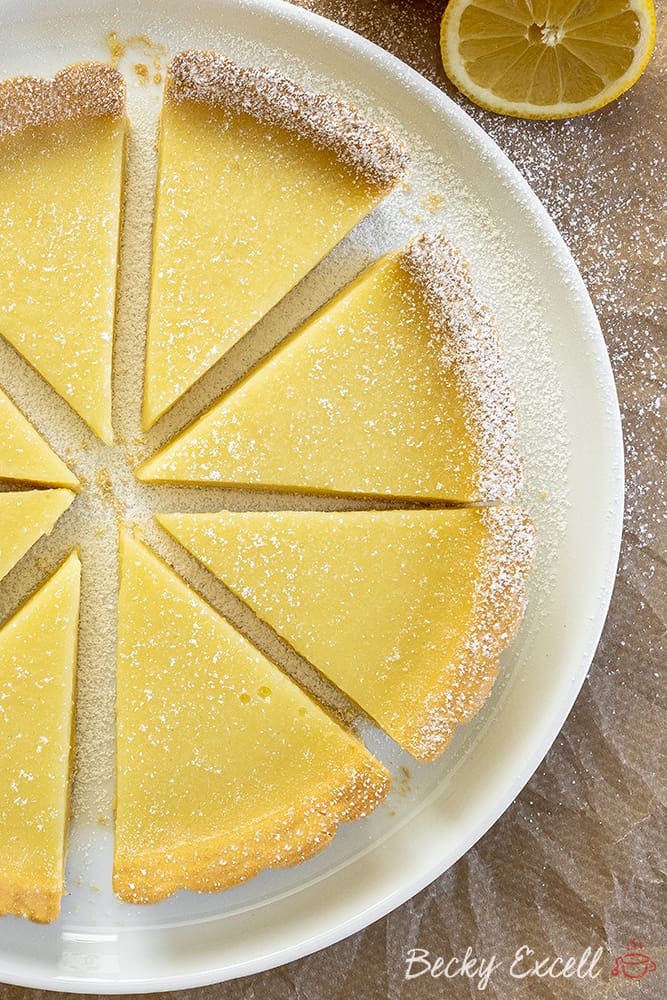 I'd like to also issue an apology that this recipe couldn't be dairy free…
(c'mon guys, every good recipe should always have an apology section, right?)
But as I said, it took sooooo long to perfect the pastry (which is actually very easy to make dairy free by using hard margarine) that the thought of further tinkering to make the lemon filling dairy free just wasn't going to happen today – sorry again!
Rest assured, I will be working on a dairy free version because my boyfriend (who's lactose intolerant) won't let me rest until I do.
I'm thinking it's going to have be some sort of coconut milk-based filling to make it dairy free, just in case you guys wanted to experiment yourselves.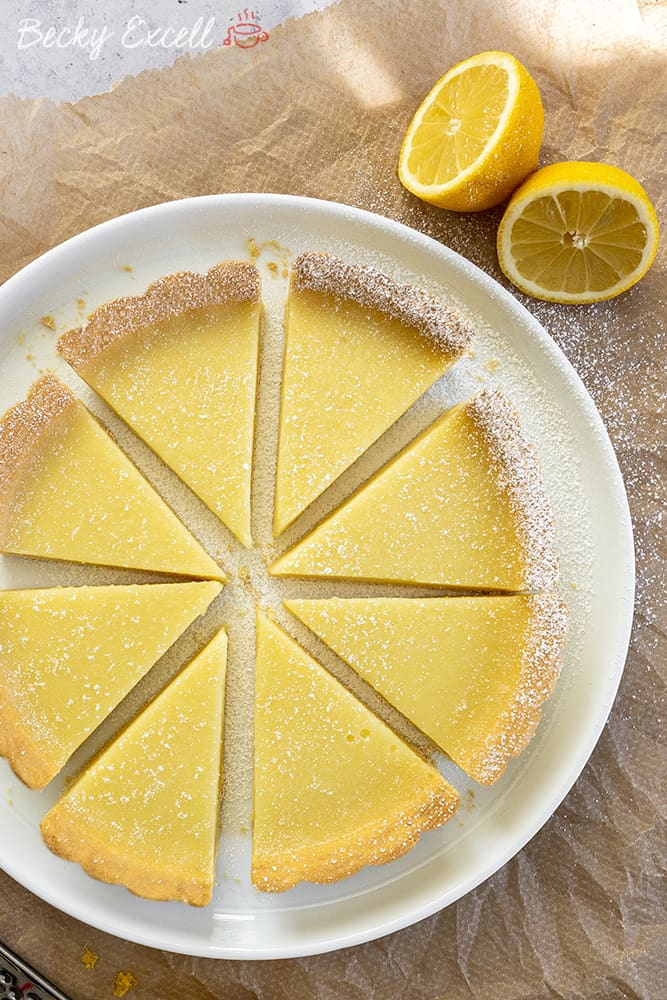 So yeah, most of my gluten free lemon tart recipe just involves creating the pastry and then the filling is an absolute doddle. I promise that you'll love it!
Here's the recipe ??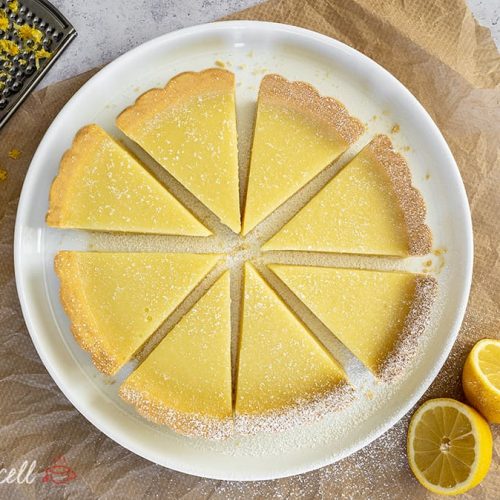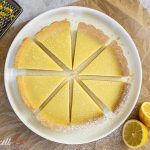 Gluten Free Lemon Tart (Gluten Free Tarte au Citron)
My gluten free lemon tart is the the perfect dessert for all times of year. You will need a 23-25cm loose bottomed pastry tin.
Ingredients
For the shortcrust pastry
300

g

gluten free plain flour

1 1/2

tsp

xanthan gum

3

tbsp

caster sugar

pinch of salt

145

g

unsalted butter

2

large eggs

1

additional egg

(to egg wash the pastry)
For the filling
5

large eggs

4

lemons

225

g

caster sugar

125

ml

double cream

icing sugar

(to dust the finished tart)
Instructions
Place your flour, xanthan gum, caster sugar and salt into a bowl and mix. Make sure your butter is cold, cut it into small cubes and rub it in till the mixture resembles breadcrumbs.

Beat your 2 eggs together and gradually add them. Use a fork to bring it all together. It should form a ball and not be very crumbly. The ball might be a tiny bit sticky but very minimally.

Wrap your pastry in cling film or place in a sandwich bag. Place in the fridge for 30 minutes (or the freezer – if I have space I always pop mine in the freezer).


Put your oven on 160C Fan.

When your pastry is cold enough, roll it out either straight onto a floured work surface, or, my preferred way is to roll it out between two pieces of floured cling film. I roll mine to be just under 1cm thick.


Remove the top layer of cling film and gently roll the pastry around the rolling pin itself. Lay your pastry over your tin with the bottom piece of cling film now on the top. Then gently peel off the cling film and press it into the tin. You do have to be very careful and it's completely ok to have to patch up any cracks (I make enough pastry so there is plenty left for you to do this). Allow some overhang as pastry has a tendency to shrink!


If you have handled your pastry quite a lot now briefly pop it in the fridge in the tin (covered loosely with cling film) for about 20 minutes.


Next, use a fork to prick the base of your pastry and then place either foil or baking paper onto the pastry and weigh it down with baking beans (or rice, anything that you would use to blind bake). Blind bake for about 15 minutes.

Remove the baking paper and beans from the pastry. Beat your final pastry egg and using a pastry brush give the entire pastry case a light egg wash. Then pop the pastry back in the oven for another 7-10 minutes.

Take out of the oven and allow to cool. Carefully remove any overhanging pastry. I often do this by rolling my rolling pin over the top of the tin.

Reduce the oven temperature to 150C fan.


To make the lemon filling, whisk your five eggs together by hand. Then zest and juice all of your lemons and add to the mixture.

Add the rest of the filling ingredients and whisk until combined.


Place your pastry tin onto a baking sheet and then pour your lemon mixture carefully into the tin.

Pop into the oven for about 35 minutes until just set.


Remove from the oven and wait for the tart to cool before removing it from it's tin. Serve up warm or cold and with sifted icing sugar sprinkled on top.

Thanks for reading all about my gluten free lemon tart recipe! If you make it, I'd love to see how it turned out so don't forget to take a snap of your creations and tag me on Instagram!
Any questions about the recipe? Please do let me know by following me on Instagram and leaving me a comment!
Thanks for reading,
Becky xxx
Oh and don't forget to pin this for later!