Gluten free coconut and lemongrass curry recipe, anyone? And yep, this recipe is totally vegan and low FODMAP too.
It may be tough, but I pride myself on creating beautiful gluten free dishes that often confuse gluten-eating family members into saying 'this doesn't taste horrible like most of your gluten free food' (their words, not mine!!) But this month, I'm doing that… and trying to make them all vegan too. Is it even possible? Well give my gluten free coconut and lemongrass curry recipe a go and find out…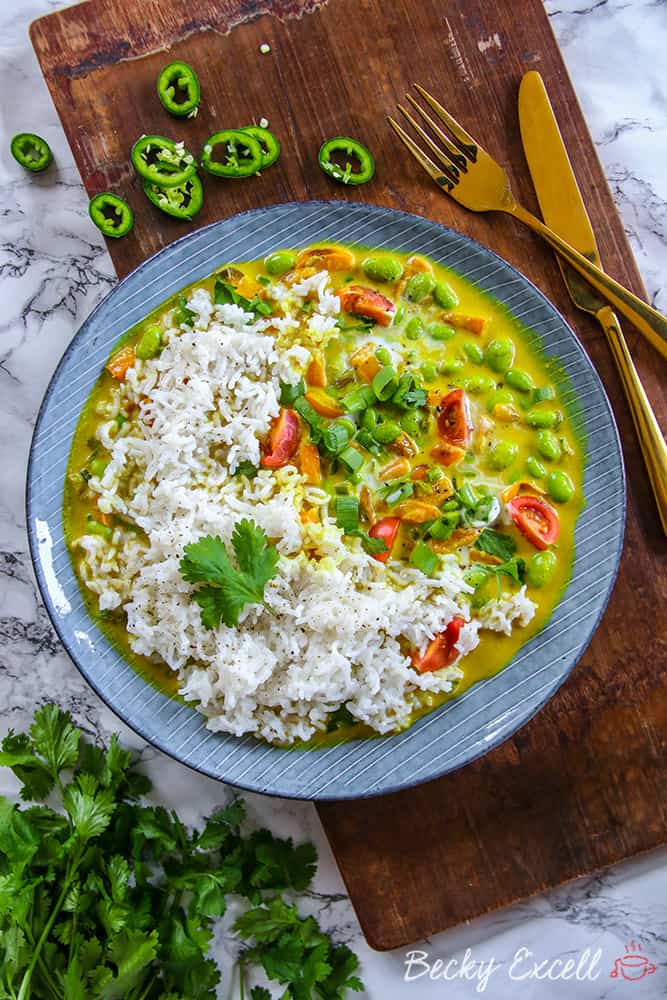 Ok, I was pretty nervous about creating recipes that are both gluten free AND vegan too.
(I mean, meat is usually one of the few parts of a dish that I can actually safely eat!!)
But have you ever had a dish that just happens to be vegan or veggie and not really ever missed the meat being there?
I mean, it's a bit like eating Bombay potatoes for example – you don't really think "gosh, I wish there was beef mince in this". It's just good as it is!
And that's how I think I'd best describe my gluten free coconut and lemongrass curry recipe to anyone who's skeptical about cutting down on meat this month or beyond.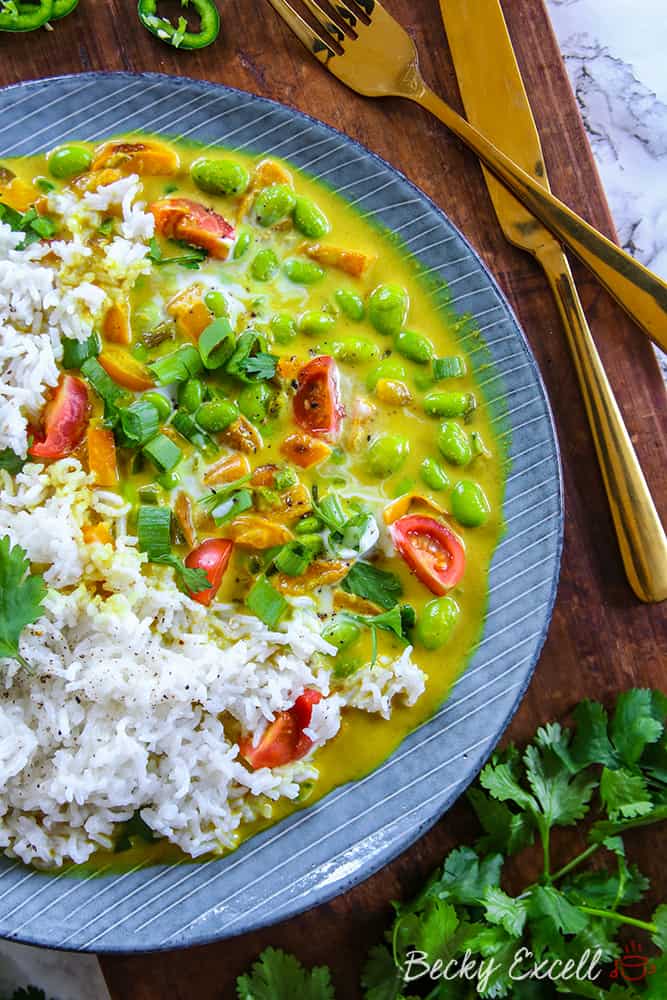 It just doesn't need meat or dairy, full stop. Yet whenever I'm deciding what to have for dinner, I always base it around what type of meat I fancy – just out of pure habit! Anyone else do that?
But then you really miss out on great meals like this, which don't even need meat in the first place.
All those fresh veggies are tied together by that lovely creamy, lightly spiced coconut and lemongrass curry sauce. The edamame soaks up all the flavour and they're good protein too!
All in all, it's vibrant, colourful and tastes every bit as good as it looks.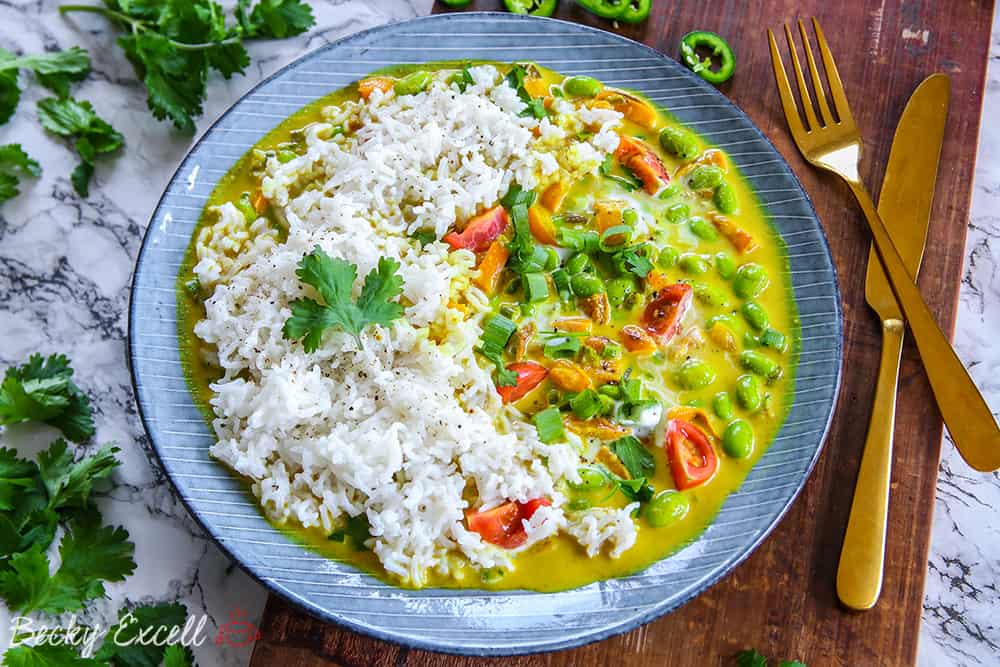 Plus, it's such a quick and easy meal to make during the week and it freezes really well too. Just wait to add your tomatoes, spring onions and coriander once you've reheated it!
So here's my gluten free coconut and lemongrass curry recipe…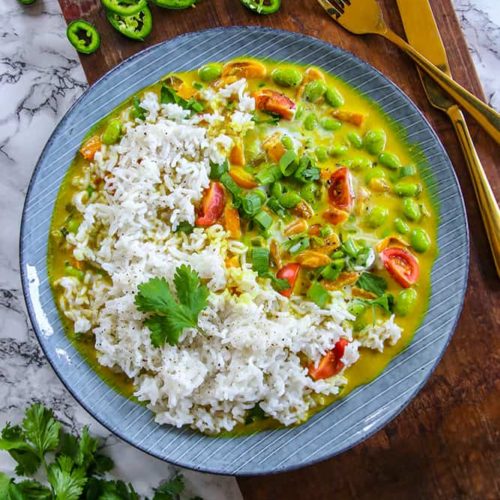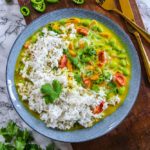 My Gluten Free Coconut and Lemongrass Curry Recipe (vegan + low FODMAP)
Ingredients
400

ml

coconut milk

3

tsp

garlic infused olive oil

(make sure there's no bits of actual garlic in it if you're low FODMAP)

1

tsp

lemongrass puree

1/4

tsp

salt
Fresh veg etc.
75

g

edamame beans

1/2

orange/yellow pepper, diced

3

green chillis, finely chopped

3-4

cherry tomatoes, halved

(optional)

handful

fresh coriander

(optional)

handful

chopped spring onion

(green parts only if low FODMAP)
Spices
1/2

tsp

cayenne pepper

1

tsp

turmeric

2

tsp

garam masala
Instructions
Start by frying your diced pepper in garlic-infused olive oil in a large frying pan for 1-2 minutes.

Add all of your spices and green chilli to the pan and stir for 30 seconds.

Add your coconut milk, along with the lemongrass puree and salt.

Bring to the boil and simmer until the sauce has reduced and is looking thick and creamy.

Lastly, add your edamame beans and stir in and heat for a further 3-4 minutes.

Finish by garnishing with halved cherry tomatoes, freshly chopped coriander and chopped spring onion greens.

Serve with boiled rice and enjoy!
Notes
Half of this recipe is a safe low FODMAP serving size during the elimination phase of the low FODMAP diet.
Thanks for reading how to make my gluten free coconut and lemongrass curry recipe! If you make it, I'd love to see how it turned out so don't forget to take a snap of your creation and tag me on Instagram!
Plus, I'm giving away a £50 supermarket voucher every month to my fave pic – result.
Any questions about the recipe? Please do let me know by following me Instagram and leaving me a comment!
Thanks for reading,
Becky xxx
Oh and don't forget to pin this for later!