If you're trying to cut down on the amount of meat that you eat this January, then this gluten free teriyaki tofu recipe is defo the one for you! It's vegan, dairy free and low FODMAP too.
My gluten free teriyaki tofu recipe is soooo easy and quick to make and you probably have most of the ingredients in your cupboards already. For Veganuary this month, I'm on a bit of a mission to create gluten free, vegan and low FODMAP recipes this month that taste even better than muggle options.
Is it even possible? Well, you'll just have to try this and find out!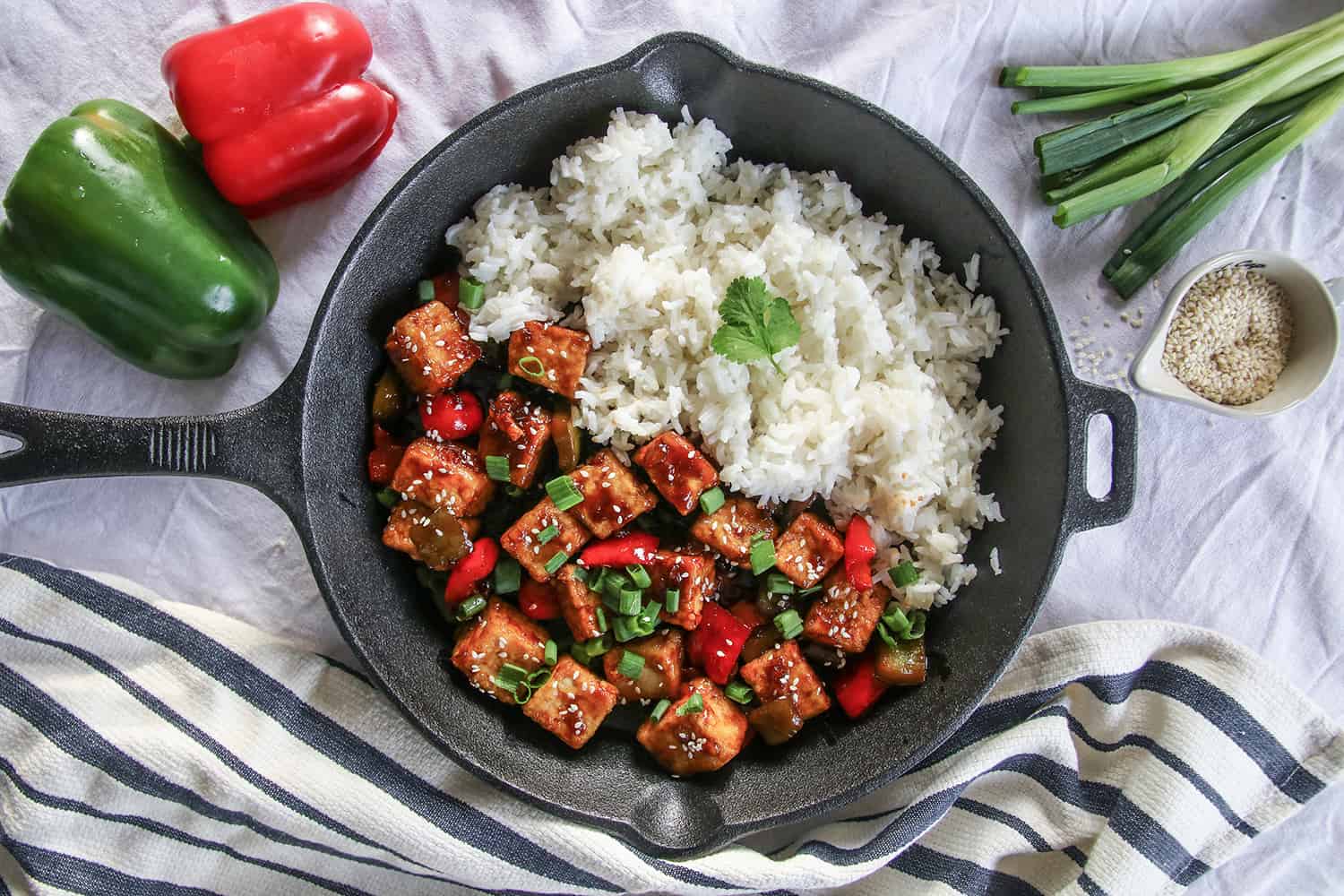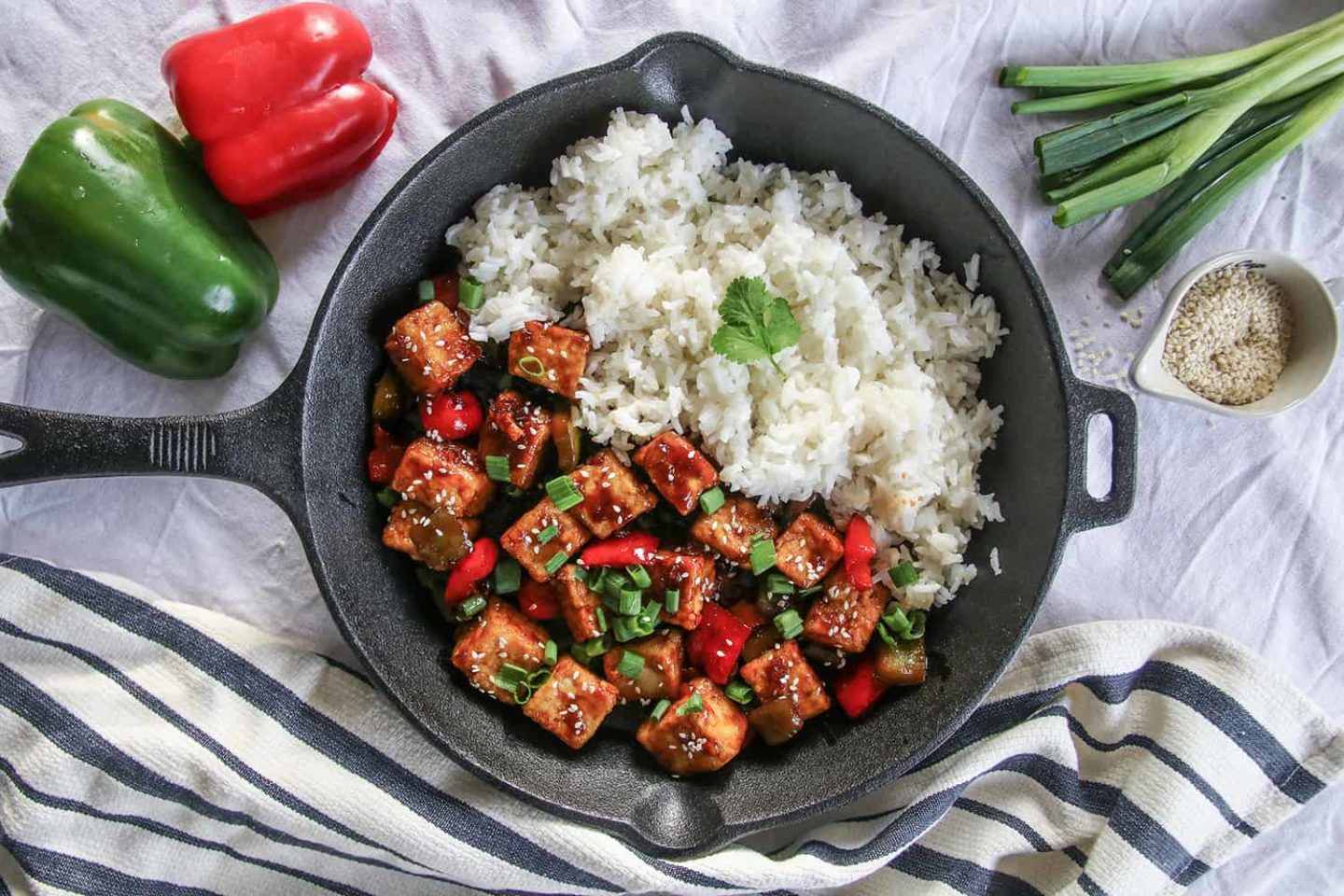 But cutting down on meat is actually a really big ask for someone like me who has multiple food intolerances.
(my main offenders are gluten, garlic, onion and a bunch of other random evil things like beans and lentils. Oh and my boyfriend is also lactose intolerant too!)
And meat is one of the few things I can actually safely eat! When you can't eat soooo many things already, it seems quite daunting (and potentially a bit crazy) to purposefully cut out something you can eat…
Why would I do that to myself by choice?!
But I always try my best to never let my food intolerances control me, so I was determined to not let them stand in the way of participating Veganuary. It's something I really love being a part of for many, many reasons that I won't bore you with right now!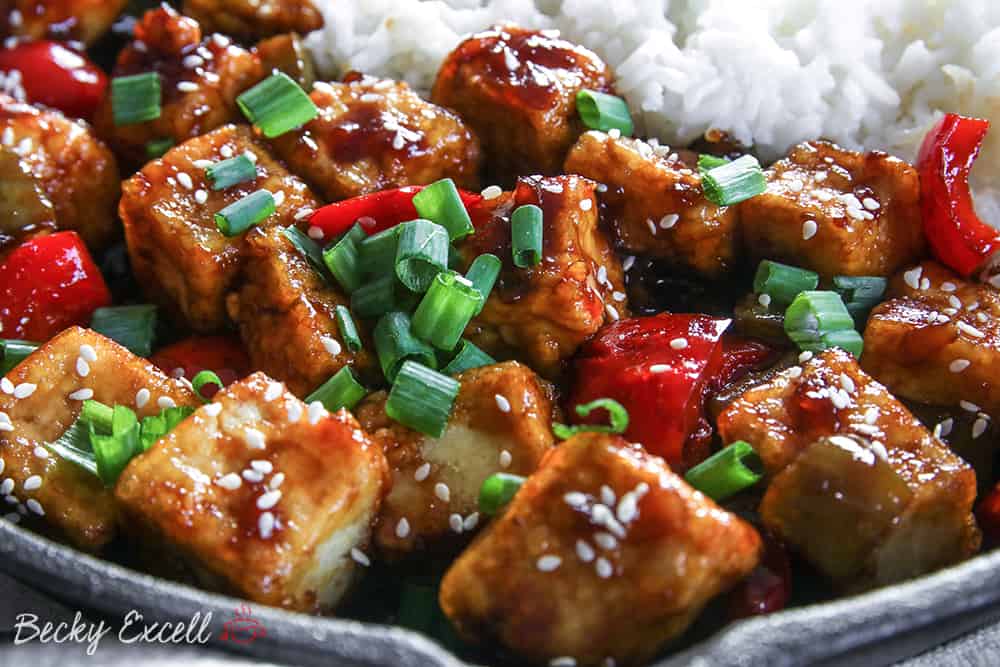 Plus, I just want to prove that despite having a long list of things I can't eat, it is still possible to create gluten free, vegan and low FODMAP dishes that make you say 'well that's just bloody lovely, isn't it?'
And that's exactly what my gluten free tofu teriyaki recipe is.
The tofu has such a lovely, crisp exterior and it soaks up aaaaall that sticky and sweet teriyaki sauce. With vibrant, chunky red and green pepper hiding in the mix too, all you need to do is top with spring onion greens, sesame seeds and you're good to go.
I really pride myself on trying to create meat-free and vegan options for people who love eating meat. I mean, I don't think me or Mark even liked tofu before I created this recipe!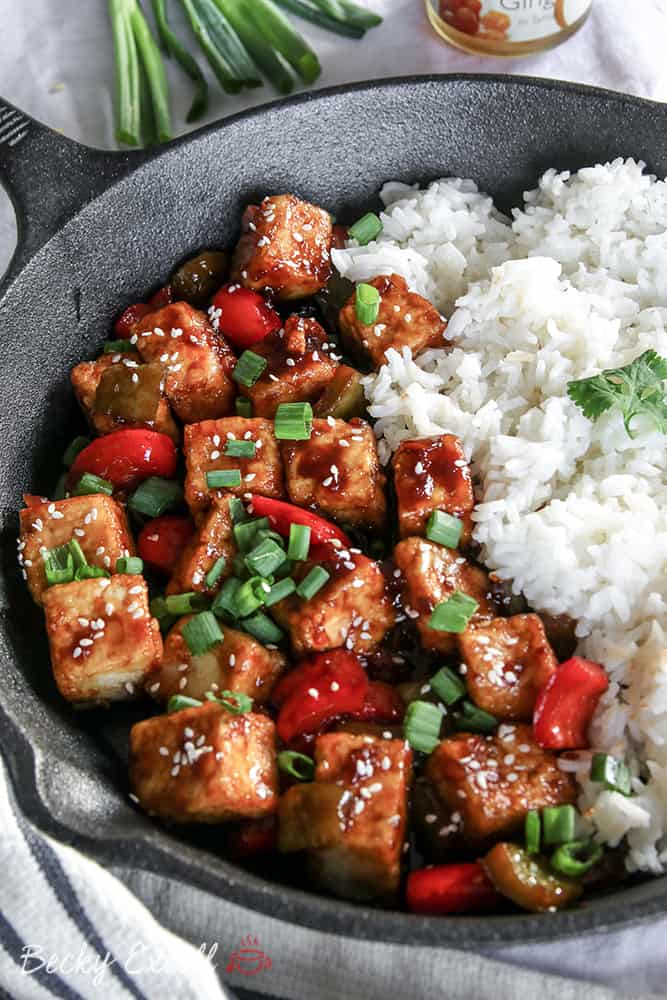 After all, if people who eat meat love this recipe, then that's the ultimate seal of approval isn't it?
They don't need to eat it, they don't want to like it for any ethical reasons… they hopefully just want to eat it because it tastes nice! And that's my ultimate goal whenever I create any gluten free, vegan or low FODMAP recipe.
And whilst I'm really into the idea of eating less meat during Veganuary… but my boyfriend definitely isn't! So just knowing that he's asked me to make this again next week is all the approval this recipe needs for me.
So here's my gluten free teriyaki tofu recipe…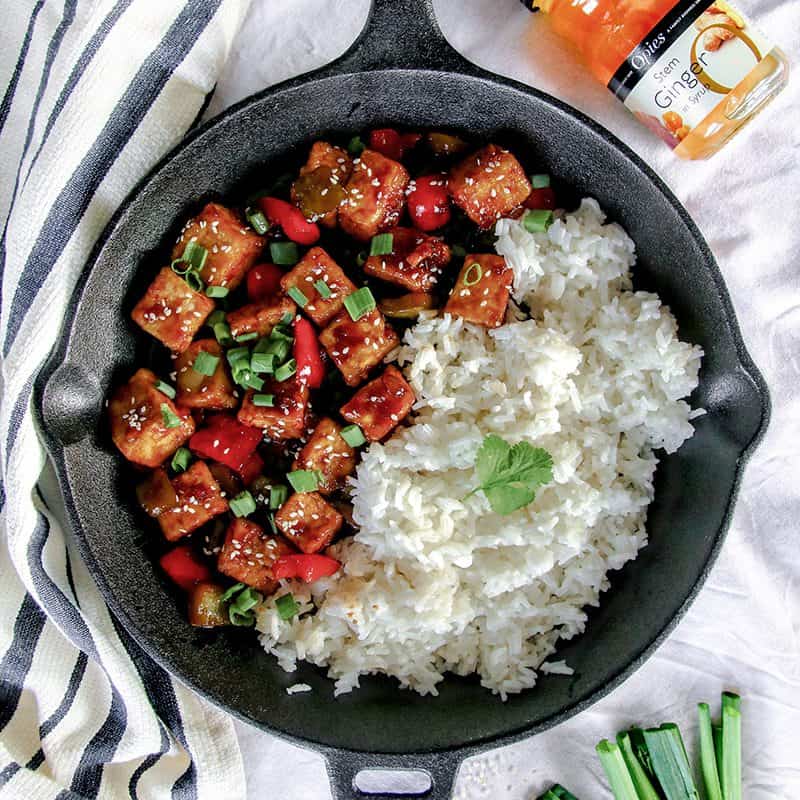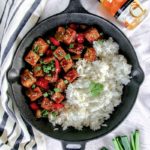 My Gluten Free Teriyaki Tofu Recipe (vegan + low FODMAP)
My gluten free teriyaki tofu recipe is an easy vegan option that's super easy and quick to make. Plus it's low FODMAP too!
Ingredients
280

g

extra firm tofu

1

red or green pepper (or half of each)

(chopped into chunks)

30

g

cornflour

4

tbsp

garlic-infused olive oil

(make sure there's no actual bits of garlic in the oil if low FODMAP)

1

handful

spring onion

(only use the green parts if low FODMAP)

2

tbsp

sesame seeds

(optional)
For the Teriyaki Sauce
2

tbsp

rice wine vinegar

150

g

water

4

tbsp

gluten free soy sauce

1.5

tbsp

brown sugar

1

ball

stem ginger

(finely chopped)
Instructions
Start by preparing your tofu. Once opened, dab it dry with some kitchen roll. Then cut it into cubes slightly smaller than an inch square.

Add 30g of cornflour to a plate and roll your tofu cubes in it until well coated.

Grab a medum-sized frying pan. Fry your tofu cubes in 4 tbsp of garlic-infused olive oil until lightly browned on all sides. Add a little extra if the tofu seems to have soaked it all up whilst cooking.

Once all sides are nice and golden, place aside on a plate - preferably with some kitchen roll on it to allow the tofu to drain.

Now for your gluten free teriyaki sauce. In a bowl, add all of your ingredients and stir until nicely mixed together.

Using the same frying pan that you fried your tofu in, add your chopped pepper and lightly fry on medium heat for 2-3 minutes.

Then, add your gluten free teriyaki sauce mixture. Bring to the boil and then simmer for 5 minutes. Lastly, mix 1 tbsp of cornflour in a small bowl with 2 tbsp of water and add this to the frying pan. Mix in thoroughly. It should now be thicker and nice and sticky looking.

Lastly, add in your fried tofu and mix around so it's all nicely coated.

Serve up with boiled rice and top with spring onion greens and sesame seeds. Enjoy!
Notes
100g of extra firm tofu is a safe low FODMAP serving size during the elimination phase of the diet. So just over a third of this recipe would be safe to eat.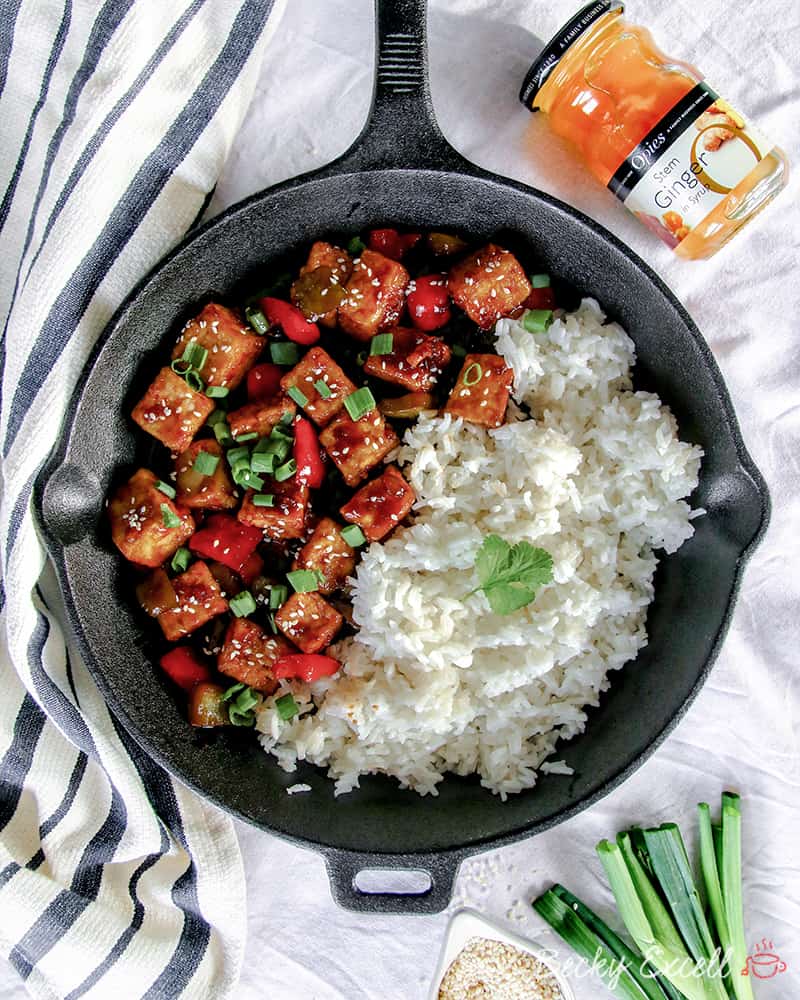 Thanks for reading how to make my gluten free teriyaki tofu recipe! If you make it, I'd love to see how it turned out so don't forget to take a snap of your dinner and tag me on Instagram!
Plus, I'm giving away a £50 supermarket voucher every month to my fave pic, so get cooking!
Any questions about the recipe? Please do let me know by following me Instagram and leaving me a comment!
Thanks for reading,
Becky xxx
Oh and don't forget to pin this for later!