My gluten free cheesy pasta bake recipe is just what you need during Veganuary 2019. It's thick and cheesy (a bit like me) with a crispy breadcrumb top (not so much like me). Oh and it's totally nut-free and dairy free too.
But what's my secret ingredient when it comes to creating the ultimate gluten free cheesy pasta bake without any dairy in sight? Read on to find out! Oh and if you're looking for my gluten free and vegan mac and cheese recipe, head over to my new recipe here.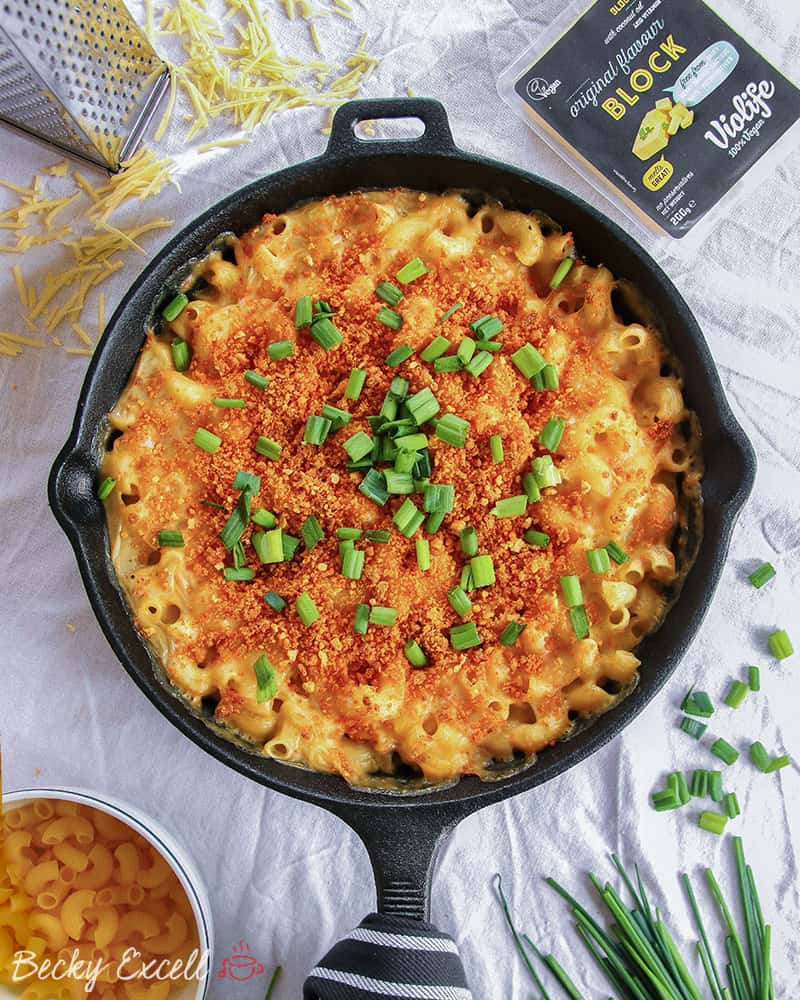 Well, I guess the secret is out now – it's Violife!
(It's a vegan and dairy free alternative to cheese FYI)
It's cheesy, it melts and it makes the best thick and creamy vegan cheese sauce – no soaking/blending cashews and no nutritional yeast required!
If you're trying to cut down on dairy products during Veganuary, then Violife is the perfect place to start. Oh and this recipe is too I guess!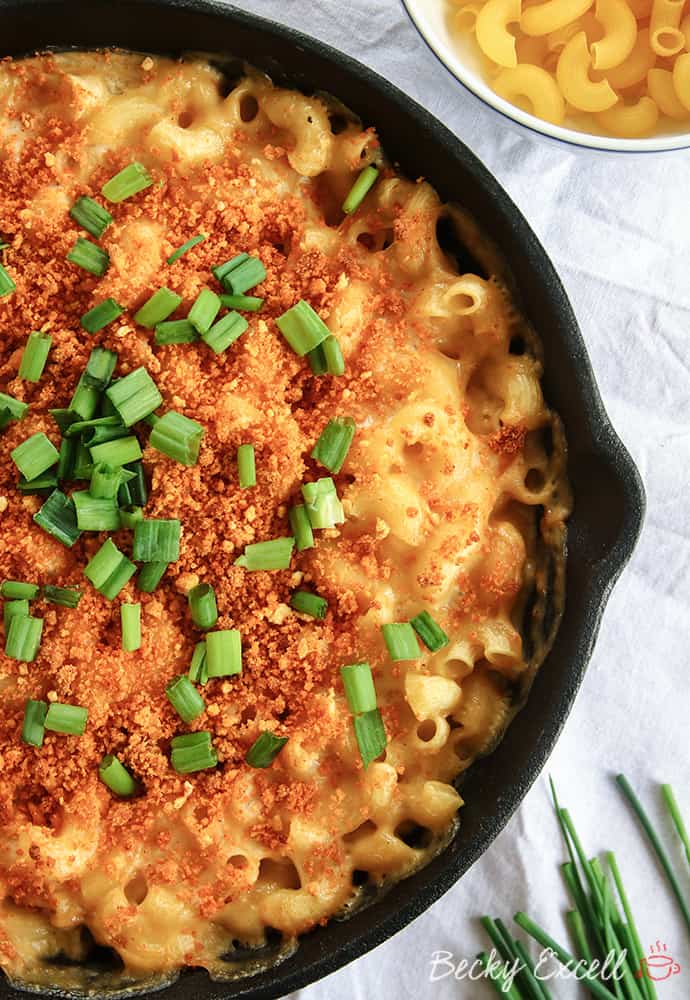 As my boyfriend is intolerant to dairy products, mac and cheese is something we've both been missing for a very long time. But neither of us expected to rediscover it during Veganuary of all times and places!
And that's exactly the inspo behind my mission during Veganuary. I just really wanted to create gluten free and vegan versions of recipes that we missed eating – no meat or dairy required.
Thanks to Violife, I think I've hit the nail on the head with this one!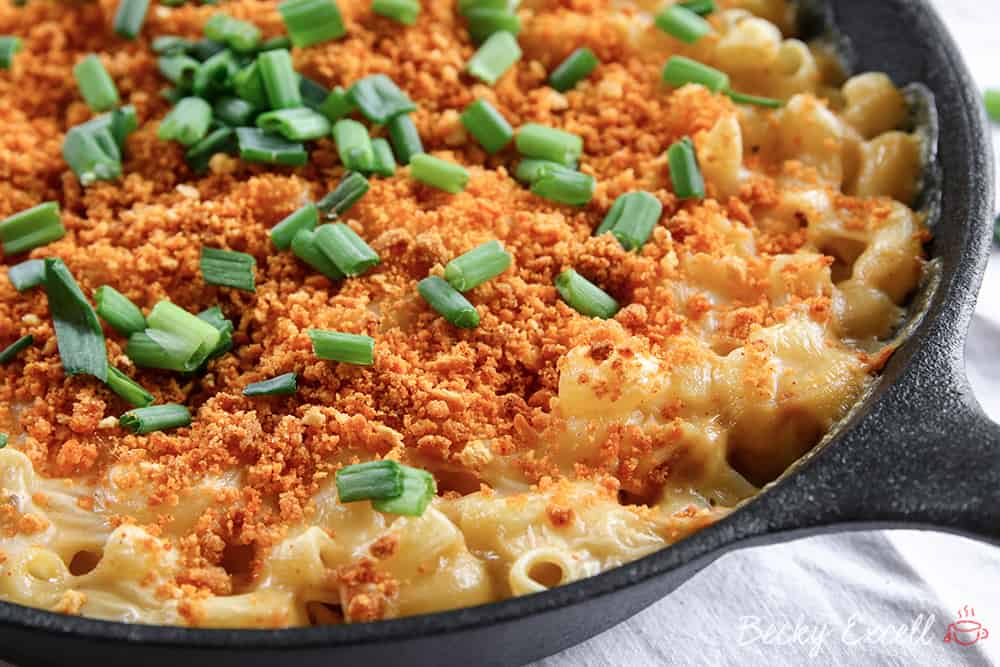 I mean, it's creamy, thick, cheesy with lightly spiced crunchy breadcrumbs and fresh spring onion on top. What more could you want?
So if you're gluten and vegan… then great! This recipe will probably make all your cheese cravings go away.
But if you're not gluten free and vegan… then this recipe will probably still make all your cheese cravings go away!
But don't take my word for it! Here's my gluten free and vegan mac and cheese recipe…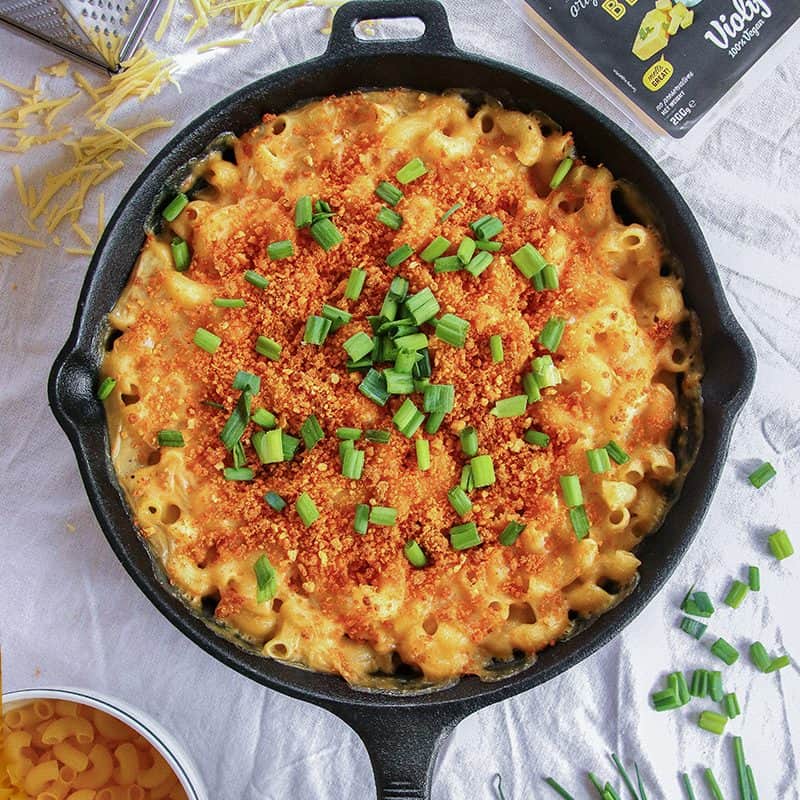 The ULTIMATE Gluten Free and Vegan Mac and Cheese Recipe (dairy free + nut free)
My gluten free and vegan mac and cheese recipe is super-easy to make with a lovely crispy breadcrumb top. It's 100% nut free and dairy free too!
Ingredients
250

g

gluten free macaroni

spring onion greens

(chopped)
For your crispy breadcrumbs
50

g

gluten free breadcrumbs

1/2

tsp

smoked paprika

30

g

non-dairy spread
For your 'cheese' sauce
35

g

gluten free plain flour

50

g

non-dairy spread

650

ml

non-dairy milk (I use unsweetened almond milk)

1/2

tsp

mustard powder

1/2

tsp

smoked paprika

salt and pepper

200

g

Violife Original Flavour Block

(grated)
Instructions
Cook your macaroni in salted boiling water until almost cooked (I leave it a little undercooked as gluten free pasta has a tendency to break up more – it will finish cooking in the oven). Drain the pasta and put to one side whilst you make your sauce.

Preheat your oven to 180C fan.

Add your non-dairy spread, gluten free plain flour and non-dairy milk to a saucepan together. Continuously stir on a low/medium heat - the spread will melt and then the sauce will eventually thicken a little. It doesn't need to thicken as much as a standard white sauce does, so don't worry if it seems thin – it's fine!

Stir in your mustard powder, smoked paprika as well as some salt and pepper to taste. Once combined, remove your sauce from the heat. For reference, I keep the sauce on the heat for about 12 minutes in total.

If you haven't already, grate your Violife and then add to your sauce. Stir it in so it melts and briefly put to one side.

Melt 30g of non-dairy spread in a small frying pan and then add your breadcrumbs and paprika. Mix the breadcrumbs in until they are a nice golden colour – it'll only take a minute or so.

Put your cooked macaroni into an ovenproof dish and then pour over your cheesy sauce. Gently stir it in so that all the macaroni is covered. Spoon over the breadcrumbs.

Place in the oven for 20-25 minutes until it starts to look golden.

Sprinkle with spring onion greens and serve up. Enjoy!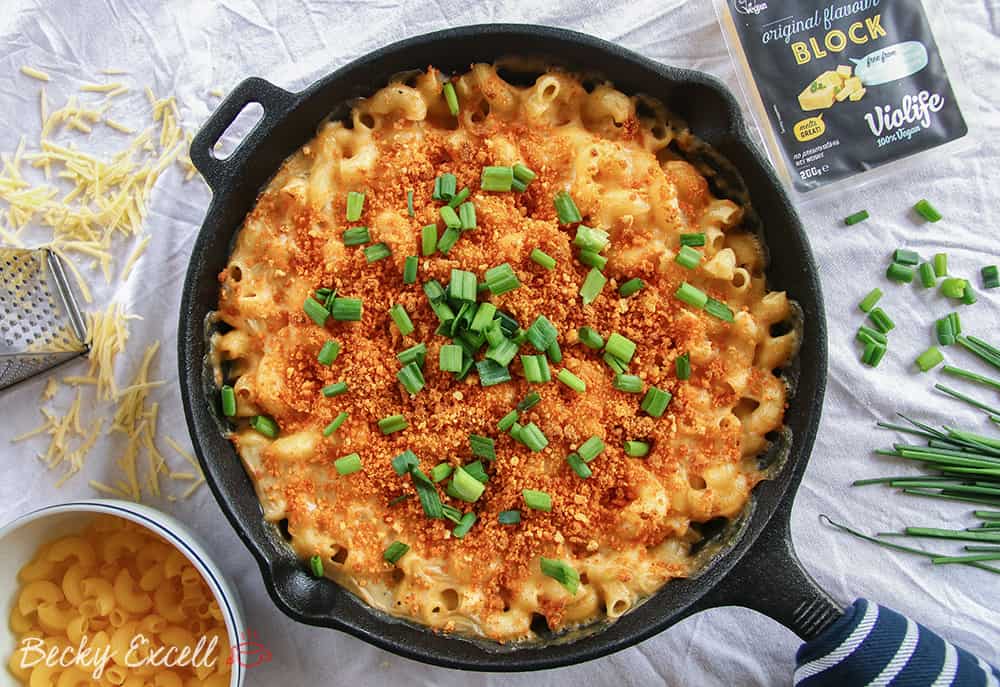 Thanks for reading how to make my gluten free and vegan mac and cheese recipe! If you make it, I'd love to see how it turned out so don't forget to take a snap of your creation and tag me on Instagram!
Don't forget to head to Asda, Co-op, Ocado, Morrisons, Tesco and Waitrose and pick up your Violife Original Flavour Block before giving this a go.
Any questions about the recipe? Please do let me know by following me on Instagram and leaving me a comment!
Thanks for reading,
Becky xxx
This is a sponsored post with Violife.
Oh and don't forget to pin this for later!