Who'd have thought that you could turn your Christmas leftovers into my gluten free festive bubble and squeak recipe so easily? It's perfect for breakfast, brunch or lunch and my recipe is onion/garlic free too.
What's the secret ingredient in my gluten free festive bubble and squeak recipe?
(No, it's not 'love' or 'festive cheer' but good guesses!)
It's my homemade gluten free crispy breadcrumbs which totally transform this dish! So absolutely make sure you've got a loaf of Juvela Gluten Free handy before we get started…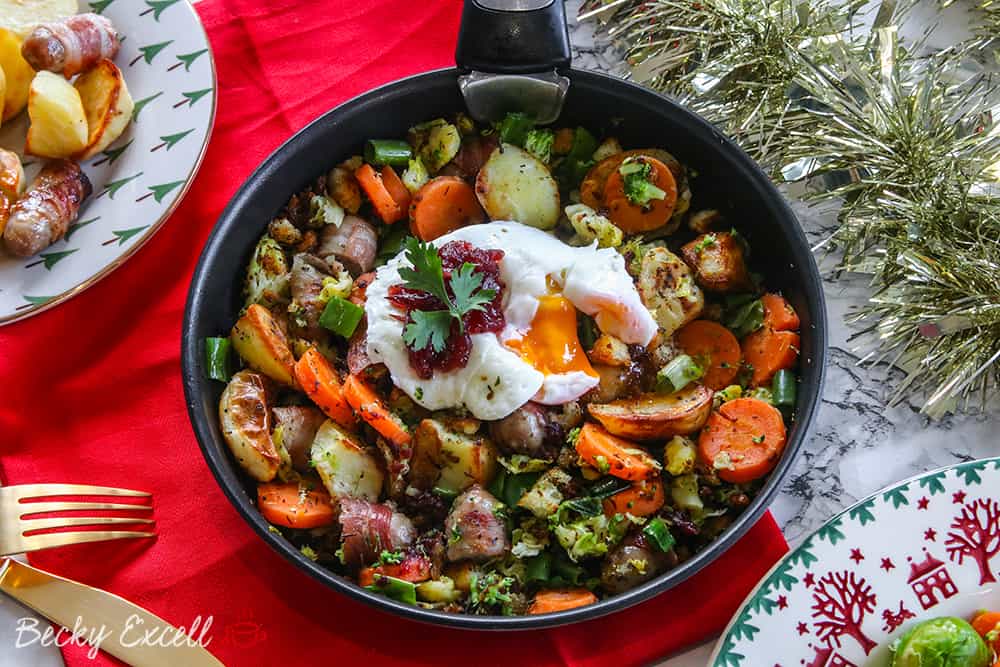 Are we all familiar with a hearty bubble and squeak? Show of hands please!
(I only asked this as Mark had heard of it, but never knew what it actually was!)
It's basically a one-pan dish where you can throw in all your leftovers from a roast dinner and create a totally new dish. It's like a roast dinner hash, if that makes sense!
In my house, Christmas means lots of leftovers that we either just graze on, or they end up sadly going to waste. That's why I created my gluten free festive bubble and squeak recipe, to give new life to those cold leftovers in the fridge!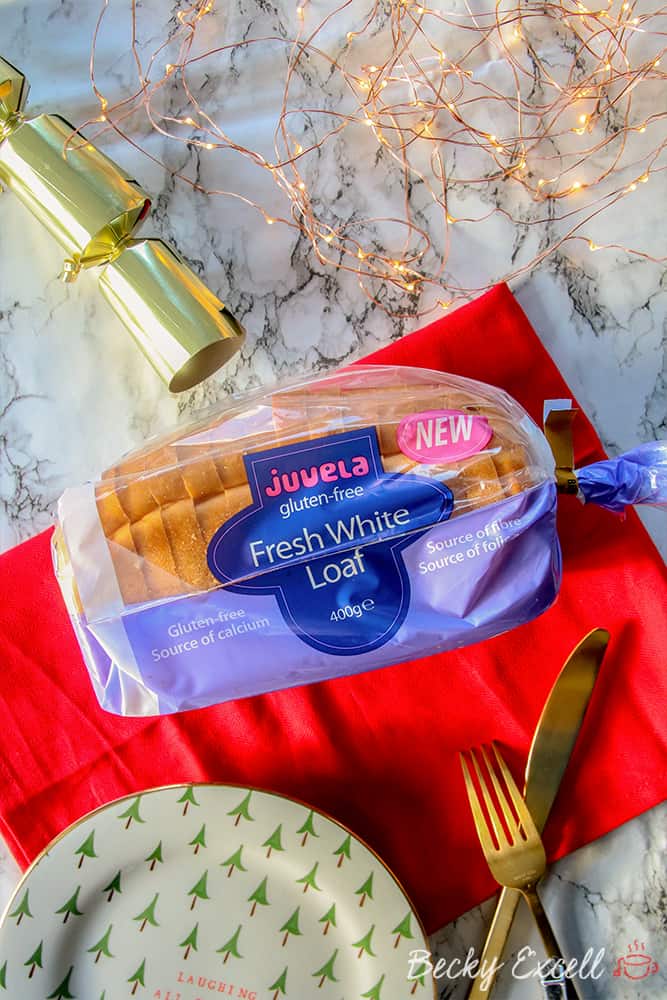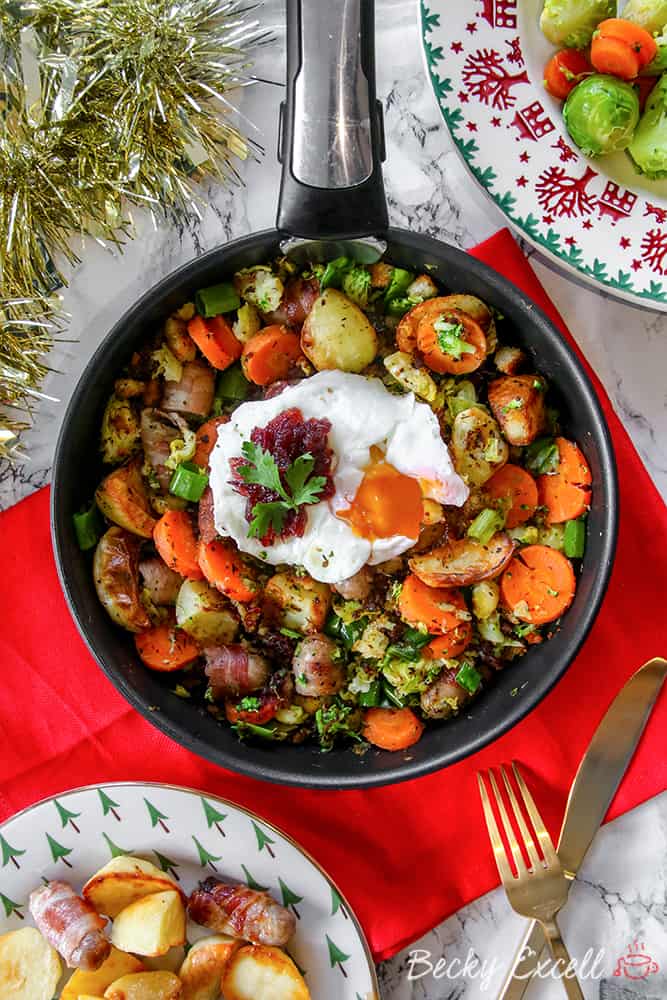 So what leftovers did I throw into my gluten free festive bubble and squeak?
Ok so – you've got brussels sprouts, carrots, broccoli, roast potatoes, pigs in blankets, then a couple of tablespoons of cranberry sauce too.
(This is a great way of using up half-empty jars of cranberry sauce that will probably sit in your fridge until next Christmas before going straight in the bin!)
Of course, there's those crispy chunks of Juvela Gluten Free breadcrumbs in there too, giving you a lovely crunch in every bite. Their bread is so light and soft and it's perfect for whizzing into fluffy breadcrumbs that soak up so much flavour.
Then, I topped it all off with some spring onion greens, a poached egg and a dollop of cranberry sauce. And it all cooked in under 10 minutes flat because well… everything is already cooked!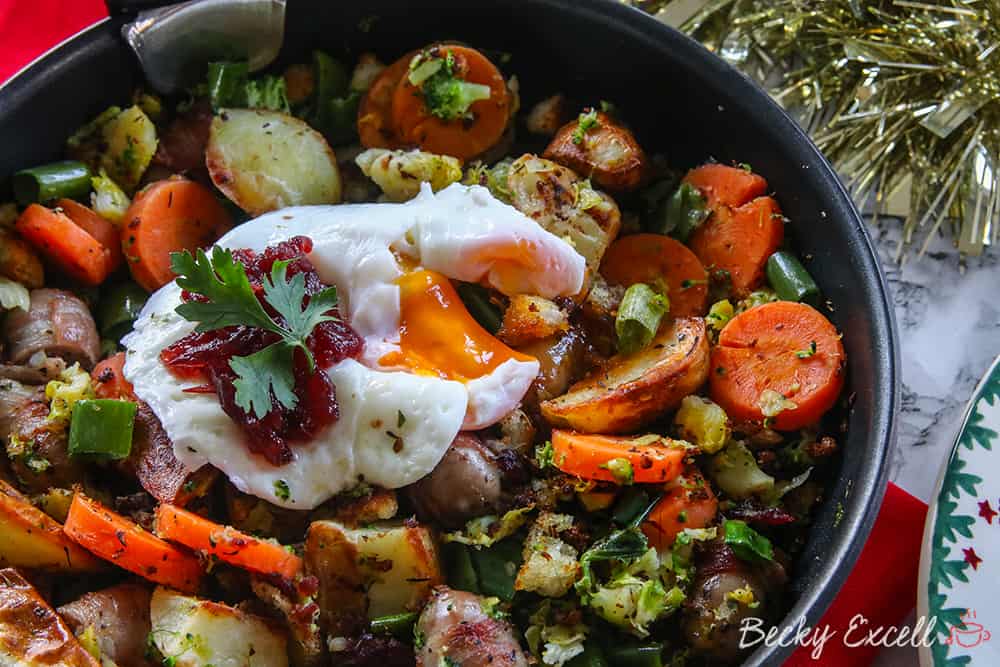 Of course, if you didn't even have any Christmas leftovers because you either a) didn't have any or b) ate them all… then this is definitely still worth cooking regardless!!
The only extra step you need to do is boil your veggies and roast your potatoes/pigs in blankets before starting the recipe. Then you can just continue following this recipe as per usual.
I don't know about you, but I'm definitely going to be making sure I cook a little too much on Christmas day now… just to be sure I can make this on Boxing day. "What do you mean we'll never get through 180 pigs in blankets, Mum?" 🙂
Ok, so here's how to make my gluten free festive bubble and squeak recipe…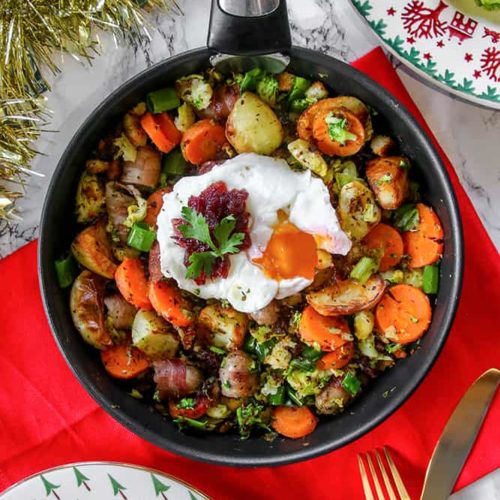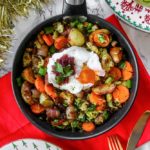 My Gluten Free Festive Bubble and Squeak Recipe with Crispy Breadcrumbs
Ingredients
3

slices

Juvela Gluten Free Bread

(white)

3

tbsp

garlic-infused olive oil

15

g

spring onions (about a handful)

green parts only

100

g

leftover roast potatoes

about 8-10

85

g

leftover brussels sprouts

about 6

6

leftover pigs in blankets

(make sure they're gluten free)

3

sprigs

leftover broccoli

2

tbsp

cranberry sauce

2

tsp

mixed herbs

2

eggs

(for either poaching and frying on top)
Instructions
Start by placing 3 slices of Juvela Gluten Free bread into a food processor and pulse until they resemble chunky breadcrumbs.

Then heat up 3 tbsp of garlic-infused olive oil in a medium-large sized frying pan.

Whilst this is heating up, roughly chop up your leftover brussels sprouts and cut your leftover pigs in blankets in half. Chop your spring onion greens into 1cm sections.

Throw in your Juvela Gluten Free breadcrumbs into the frying and toast until they're only just starting to turn golden. Add 2 tsp of mixed herbs and mix around until evenly dispersed.

Next, add in your chopped leftover pigs in blankets and heat thoroughly. Then throw in your brussels sprouts, carrots, roast potatoes and crumble in your broccoli by hand.

Toss this all around in the frying pan until everything is warmed through. Then add your 2 tbsp of cranberry sauce and stir until it's well-mixed in.

Add your spring onions and stir in too. You can now turn off the heat.

Then, you can either add a fried or a poached egg on top. I've got a blog post on how to make the perfect poached egg every time if you fancy making one! Check the blog post above for the link.

Add a little salt and pepper and enjoy!
Notes
Make sure all your veg and pigs in blankets have been cooked before you start the recipe!
(If following low FODMAP and in the elimination phase you are allowed up to 75g of Broccoli and 38g Brussel Sprouts)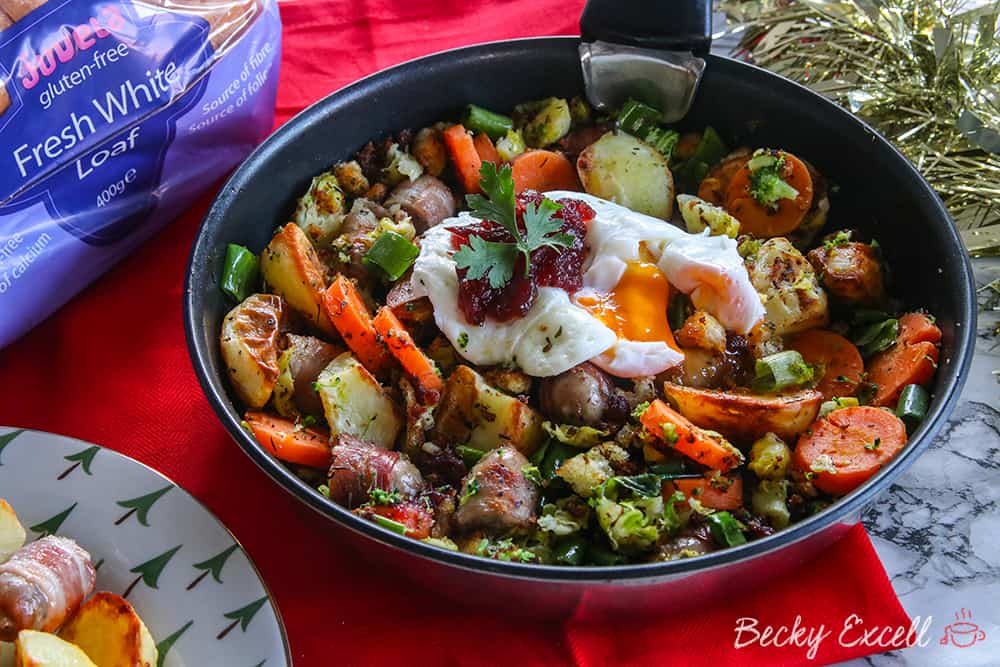 Thanks for reading how to make my gluten free festive bubble and squeak recipe! If you make it, I'd love to see how it turned out so don't forget to take a snap of your creation and tag me on Instagram!
Need to pick up a loaf of Juvela gluten free to recreate my recipe? You can find their lovely loaves in Tesco across the UK.
Any questions about the recipe? Please do let me know by following me on Instagram and leaving me a comment!
Thanks for reading,
Becky xxx
This is a sponsored post with Juvela Gluten Free.
Oh and don't forget to pin this for later!