Rise and shine! (sorry if you're reading this at 9pm) If you're looking for a little more adventure in the a.m, look no further than my gluten free french toast recipe with Nutella.
Christmas is right around the corner and I've already been looking for a warming, wholesome breakfast for the winter months. What could be better than gluten free French toast, served with Nutella, fresh banana, berries and toasted seeds? A breakfast fit for Santa himself!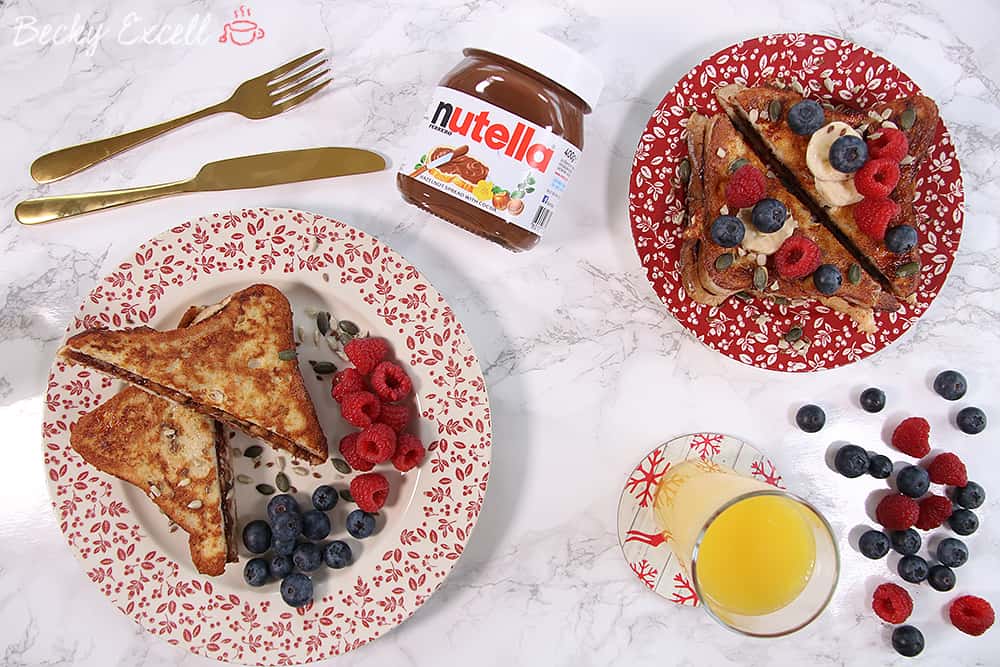 But is it called French toast or eggy bread? Mark and I have debated this at length and we can't seem to agree! He's adamant that he's never eaten french toast, but he has eaten eggy bread. I'm certain that they're one and the same… what do you think?!
Either way, my gluten free French toast recipe is the perfect morning pick-me-up this festive season. I couldn't imagine it without Nutella too, my all-time favourite French toast buddy. A heaped teaspoon (which equates to 15g if you're asking) of Nutella is all you need to spread a little ray of sunshine onto your french toast.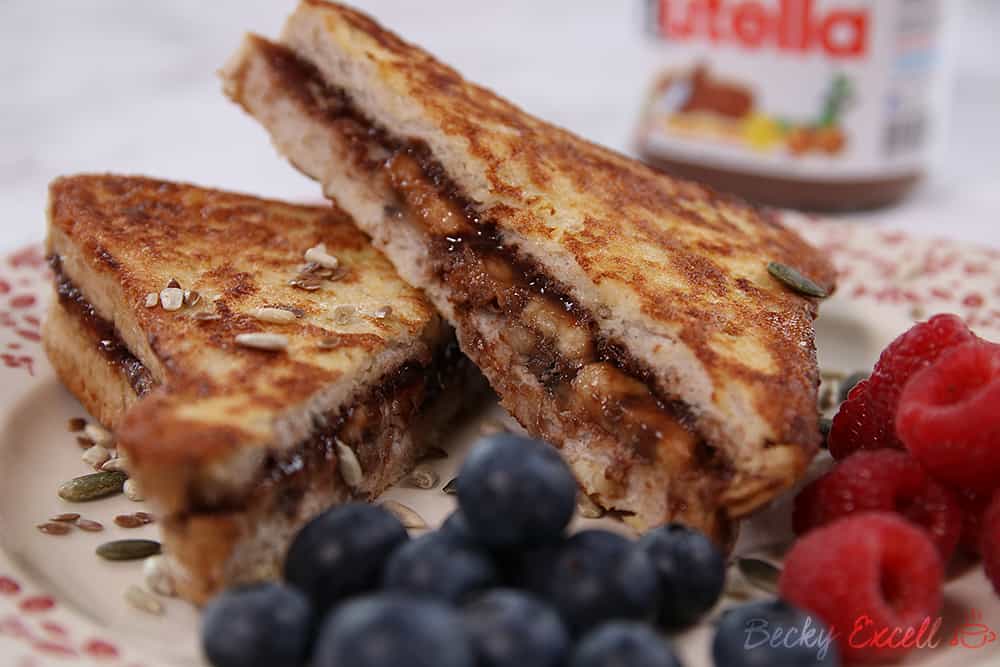 Making gluten free French toast (or eggy bread, just to appease Mark) is so simple. First of all, you just beat together egg and milk in a shallow dish. Give your slices of bread a good dunk/soak in that mixture on both sides. Then, fry your soaked slices in rapeseed oil for the ultimate crispy, golden exterior. Easy peasy.
Then, spread 15g of Nutella on one side of your French toast and top with fresh banana. Place the other slice on top and your gluten free French toast sandwich is done!
It's hard to believe that gluten free bread could ever look this good, but you had better believe it! I then serve mine up with fresh berries and a mixture of toasted seeds for a little added fibre.
It looks beautiful and can be done in a flash. The exact opposite of how I'd describe my Christmas wrapping skills!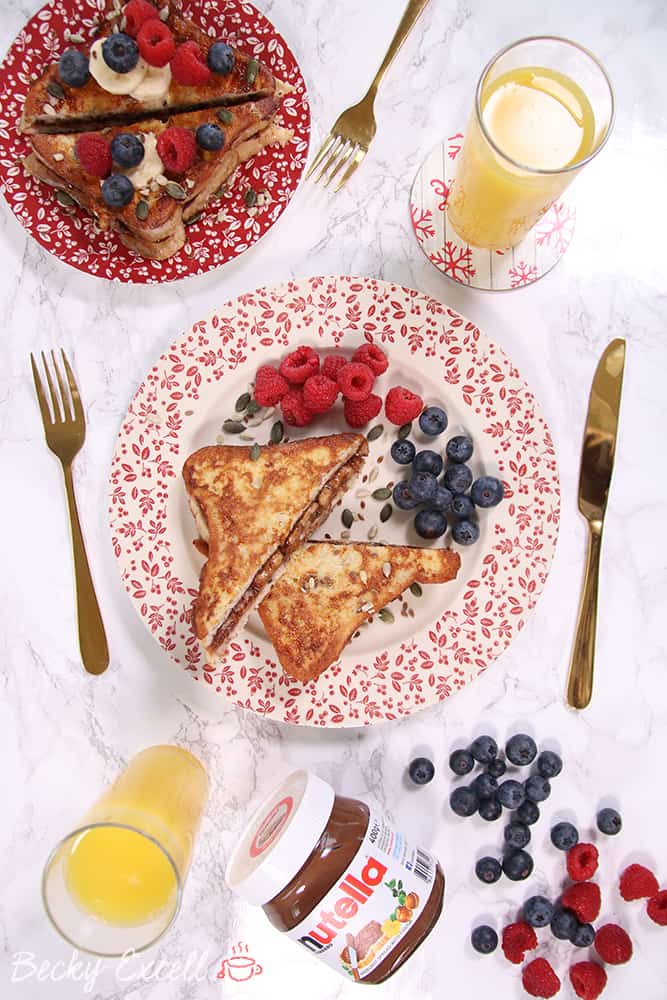 As to what you pair with your Nutella filling… that's totally up to you. Obviously, banana is a great tag-team partner, but there really is no limit when it comes to French toast fillings.
I recently found that my local supermarket has just put on an amazing selection of festive nuts ready for toasting and roasting. I picked up some chestnuts, pecans, hazelnuts and walnuts (still in their shells) and I'll no doubt have a 'cracking' time opening them all up!
Once toasted, I'll simply chop them all up and sprinkle them into the middle of my next gluten free French toast with my usual portion of Nutella. Trust me, there's nothing like the smell of freshly toasted nuts throughout the house to make you feel festive!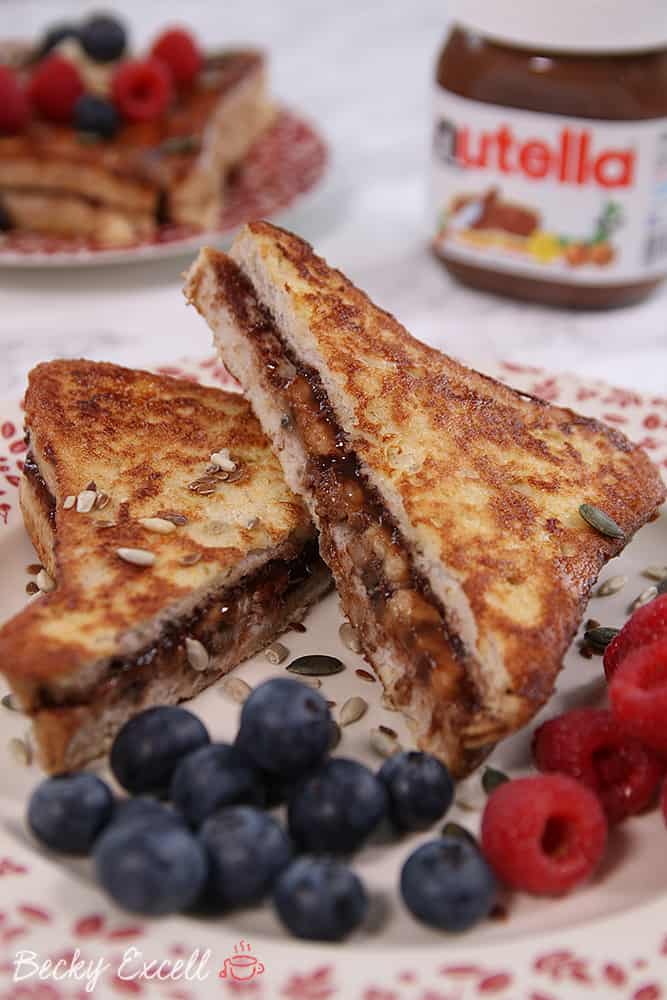 Apart from a serving suggestion of fresh berries and toasted seeds, I'd also recommend Christmas music and/or Christmas movies on repeat. As well as inordinate amounts of tinsel and decorations that your Dad first bought in 1998.
I mean, if we're going to get all Christmassy, we might as well do it properly, right?! You won't be surprised to hear that my Christmas tree is on standby until one minute past midnight on November 30th… I am so ready!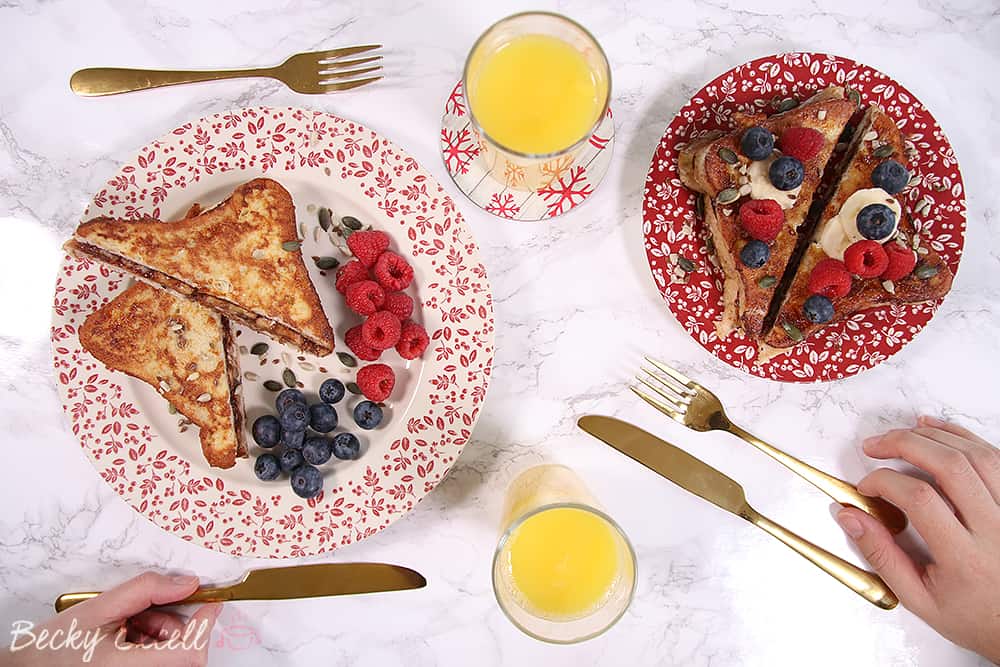 And I guess you're now ready to make my gluten free French toast recipe with Nutella! Here's the recipe…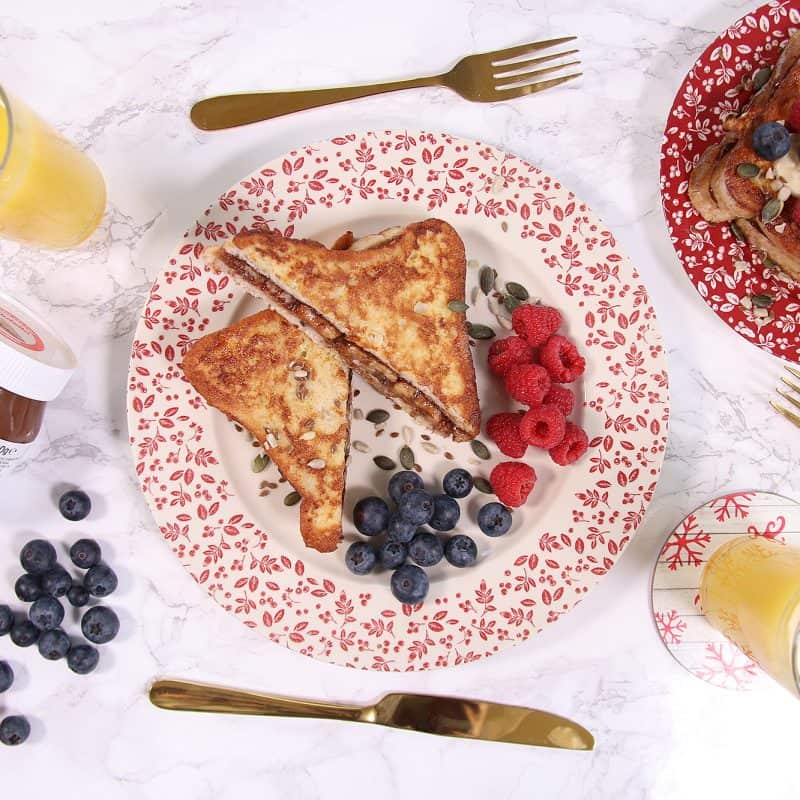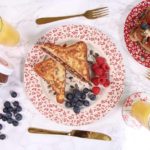 Nutella and Banana Gluten Free French Toast
Ingredients
15g of Nutella

1/2 ripe banana

handful of fresh raspberries

handful of fresh blueberries

1 large egg

30ml milk

2 slices of gluten free bread

look for one that is high in fibre

2 tbsp rapeseed oil

to cook the french toast in

handful of mixed seeds and/or nuts

optional

dollop of fromage frais to serve

optional
Instructions
In a shallow bowl whisk your milk and egg together.

Dip your gluten free bread into your mixture, coating it on all sides thoroughly.

Heat the oil in your frying pan.

Carefully place your slices of bread into the frying pan (together or one by one depending on the size of your frying pan). Cook on both sides until lovely, crisp and golden.

Remove the french toast from the pan and add one heaped tea spoon of Nutella onto one slice of your french toast followed by slices on banana. Place your other slice of french toast on top.

Cut your Nutella and banana french toast sandwich in half and serve up with fresh blueberries, raspberries and any leftover banana.

You might like to add a mixture of seeds and/or nuts for an extra crunch or a dollop of fromage frais to serve.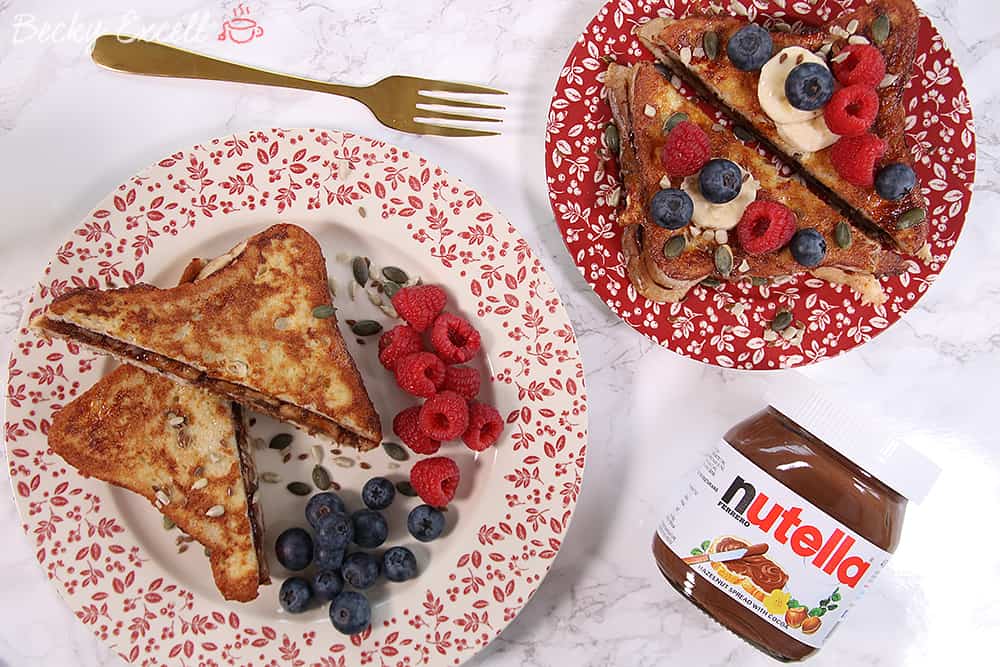 Thanks so much for checking out my gluten free French toast recipe with Nutella! It really is my favourite way to enjoy Nutella during the festive season. I'm sure you can guess what my breakfast will be on Christmas day!
Did you try this recipe? Any questions? Is it French toast or eggy bread?! Please do let me know by leaving a comment below or on Facebook / Twitter / Instagram!
Thanks for reading,
Becky xxx
This is a sponsored recipe with Nutella.
Oh and don't forget to pin this for later!