Boo! Did I scare you? In all fairness, I think it's pretty tough to make someone jump through the medium of writing. Well, at least my gluten free Halloween party rings are scarily good whilst being dairy free and low FODMAP too!
Yep, it's that time of year where it's ok to leave the house dressed like a jilted zombie bride and/or destroy perfectly edible pumpkins. Or as most people call it: Halloween. Plus, it also brings my gluten free Halloween party rings recipe, which is perfect for trick or treaters!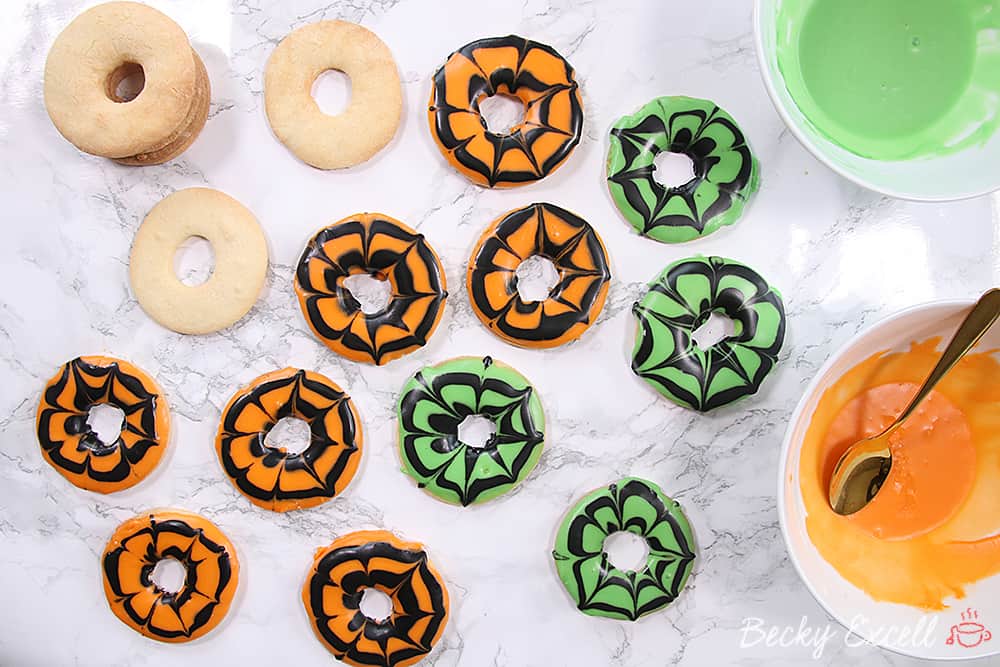 But Halloween does mean one awesome thing this year especially… the return of Stranger Things season 2! Now if you've never watched Stranger Things, go watch it immediately, because it'll turn your life upside-down, get it? No? Nevermind…
But apart from that, Halloween is probably the best time of year for baking. Forget beautiful, classic bakes, it's all about gruesome, nightmarish concoctions that that either resemble a pumpkin or ooze slime of some sort. Forget Mary Berry and think more Scary Berry!
But I guess that my gluten free Halloween party rings aren't that scary… but they are frighteningly free from gluten, dairy and low FODMAP! Ooooo, scarily safe to eat!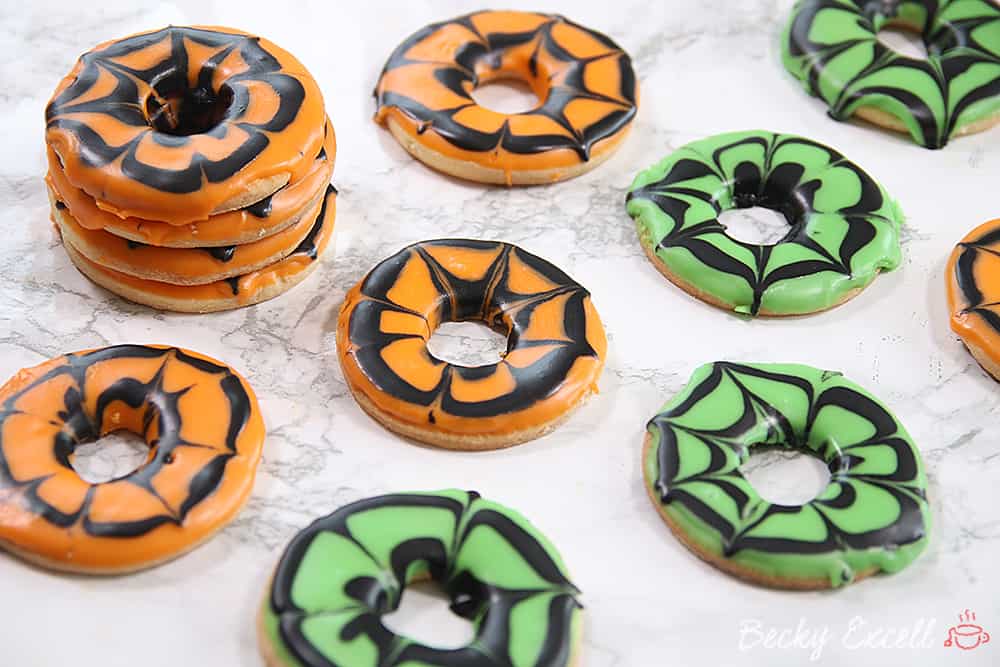 Using classic Halloween colours, I decided to make a spiderweb design on my party rings which is really simple to recreate. Just make sure you've got some cocktail sticks handy and a piping bag.
Once you've dipped your party rings into the base colour of your royal icing, simply leave it to set slightly for a couple of minutes. Then, with a piping bag and a thin nozzle, pipe a circle around the centre of the party ring with black icing.
Lastly, pipe a second, larger circle around that. Then, using a cocktail stick, feather the icing into a spiderweb pattern. It doesn't need to be especially neat or pretty, because that's just not Halloween after all!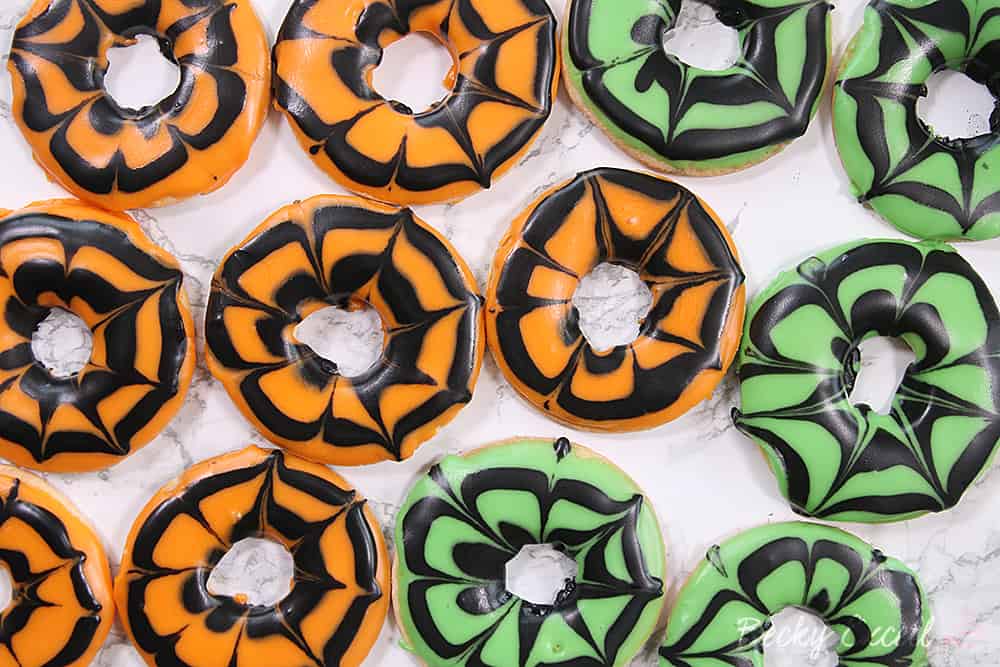 Most importantly, make sure you've got couple of round cookie cutters to shape your dough into a party ring shape. Trust me, there's nothing like starting a recipe, then wasting an hour searching around the kitchen for a makeshift biscuit cutter.
I ended up using the lid of a bottle of gin to cut out the centres of mine. I simply couldn't find a cookie cutter small enough, even in the shops! Anyway, armed with one biscuit cutter and the lid from a bottle of gin, I made my gluten free Halloween party rings about 6-7cm in diameter. The bigger size definitely makes it much easier to pipe icing onto, compared to the size of real party rings.
If you've never had a party ring before, they're a lovely, light biscuit with a satisfying snap, finished with a sweet touch thanks to the icing. You basically never see out them outside of kids birthday parties… until now! Sadly, party rings are not gluten free, but look on the bright side – my gluten free Halloween party rings are!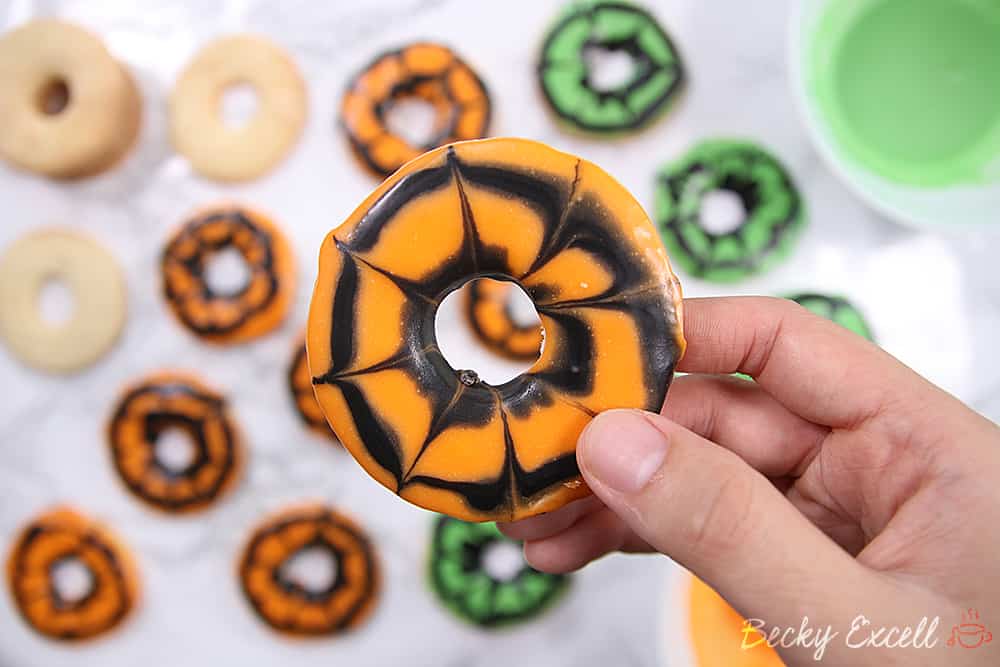 The gluten free biscuit dough is easy enough to prepare by hand or in a mixer. The choice is yours. I tend to do everything by hand, but a mixer certainly comes in handy for not just the dough, but when mixing and colouring the icing too.
Anyway, I really hope you enjoy making my gluten free Halloween party ring recipe!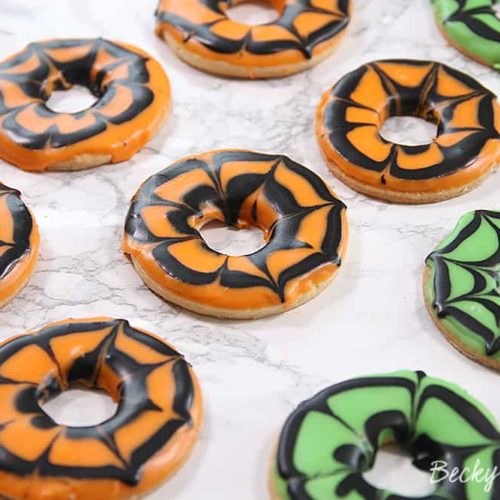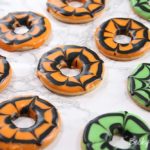 Gluten Free Halloween Party Rings Recipe
A spooky treat that's gluten free, dairy free and low FODMAP!
Ingredients
200g gluten free plain flour

1/4 tsp xanthan gum

100g caster sugar

100g dairy free hard margarine

I use Stork Baking Block

1 egg

beaten

1 tsp vanilla extract

300g icing sugar

to mix with boiling water

Selection of food colouring pastes

I used Dr Oetker orange, black and green food colour gel
Instructions
In a large bowl measure out your dry ingredients (gluten free flour, xanthan gum and sugar), mix.

Cube your dairy free hard margarine and rub it into your dry ingredients until it resembles breadcrumbs.

Stir in your egg and vanilla extract. Keep stiring till it it starts to come together into more of a dough.

Use your hands to bring it into a ball of dough. If it's sticky, just add a little extra gluten free flour until it's a nice, firm dough. Wrap it in clingfilm and leave to chill in the fridge for at least 30 minutes.

Remove your dough from the fridge and roll it out on a well floured surface with a well floured rolling pin too. I roll mine out to about the thickness of a pound coin, a little thicker or thinner won't matter though either.

Using a circular cutter, cut out the party ring shapes, then using a smaller circular cutter, cut out the centre circles and remove them. (You can use this to roll out more party rings if you have extra dough left over)

Transfer your party rings to a baking sheet and bake for about 10-12 minutes until slightly golden. (12 minutes is perfect in my oven)

Transfer to a cooling rack to cool completely.

To make the icing, sieve your icing sugar into a bowl and a little boiling water, 1 tsp at a time. Mixing either by hand or with a mixer until it's a smooth and thick enough but still drizzles off the spoon. You don't want it to be runny!

Once you are happy with the consistency of your icing, divide it into 3 separate bowls and use your food colouring gel to colour each (black, green and orange).

Dip your biscuits face down into either your orange or green icing so they are fully covered on top. Let any excess drizzle off. Leave it to set slightly for 2-3 minutes.

Place your black icing into a piping bag and using a small nozzle, carefully draw 2 thin black circles of icing on top of your orange or green icing.

Using a cocktail stick, feather the black icing into a spiderweb design.

Put to one side on a cooling rack so the icing can fully set. Excess icing should be able to drip off.
Notes
* It's useful to also have some cocktail sticks to hand for feathering the icing!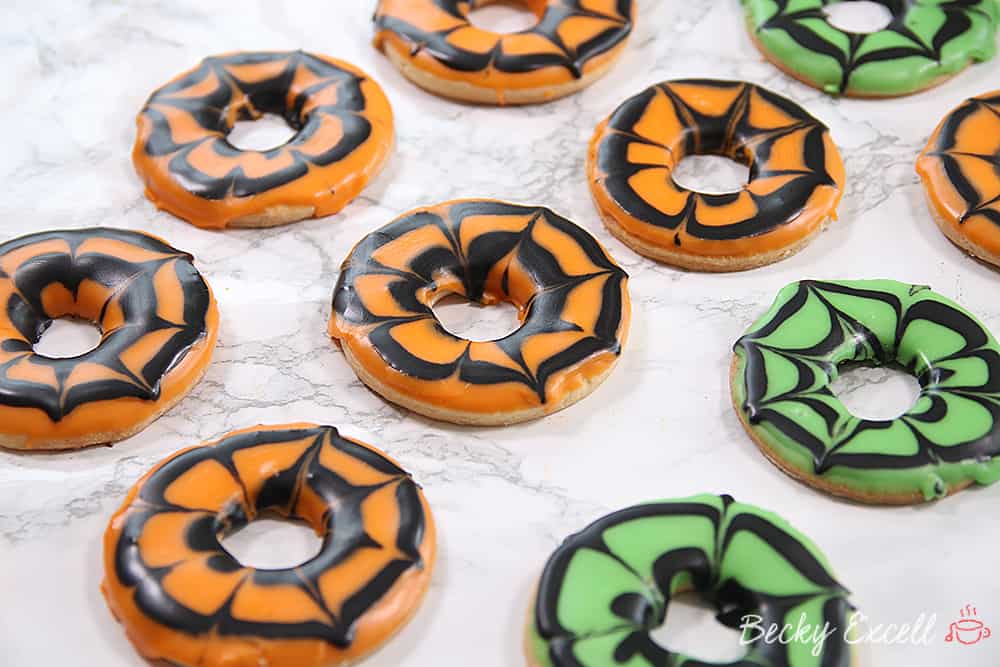 Thanks so much for checking out my gluten free Halloween party rings recipe! They're the perfect treat for Halloween and you can of course enjoy them any time of year with my original recipe.
Did you try this recipe? Any questions? What are you dressing up as this year for Halloween? Please do let me know by leaving a comment below or on Facebook / Twitter / Instagram!
Stuck for Halloween costume ideas? Look no further…
Thanks for reading and happy Halloween!
Becky xxx
Oh and don't forget to pin this for later!