My gluten free raspberry and lemon yoghurt loaf cake combines both of my favourite flavours into a cake that's fit for any occasion! It is also dairy free and low FODMAP too.
So where did the inspiration for my gluten free raspberry and lemon yoghurt loaf cake come from? This summer, Mark and I have been doing a lot of fruit picking at our local pick-your-own. I absolutely adore picking my own raspberries and strawberries but sometimes come back with a few too many to just eat!
So what better way to use my raspberries up but by baking them into a gluten free raspberry loaf cake?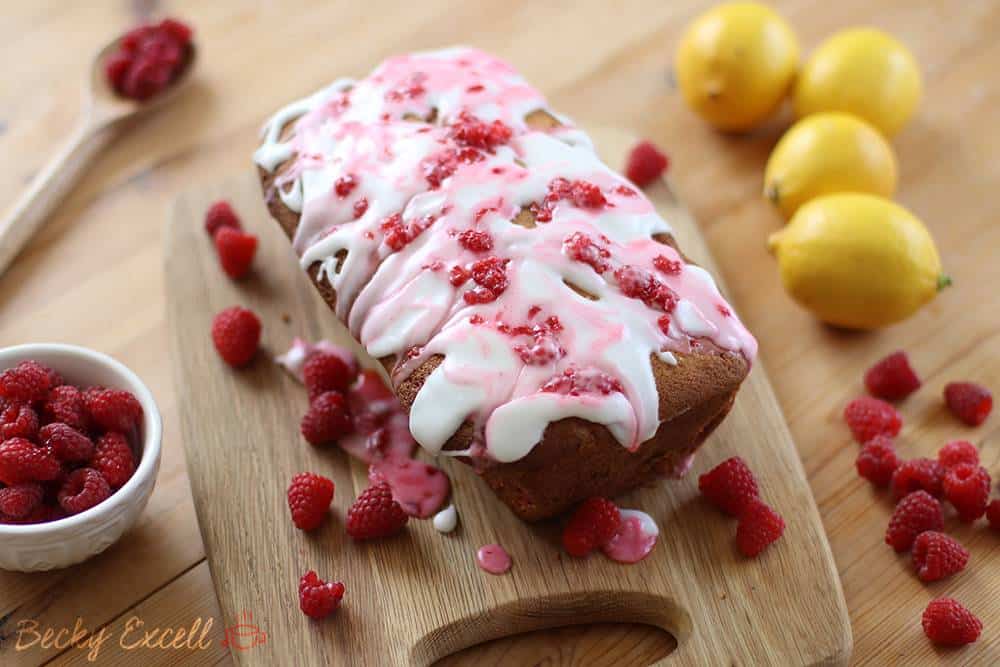 If I had to say my all time favourite cake it would probably be a lemon drizzle cake. I absolutely adore the sharp lemon flavour.
If we're talking desserts though, my favourite would have to be a warm slice of raspberry bakewell tart. It was one of my first really successful bakes in food technology at school and I've been a fan of making it (and eating it) ever since.
My thought process behind creating this gluten free raspberry and lemon loaf cake was basically just combining my love of two bakes and seeing how it turned out! I always find it a little nerve-racking the first time I attempt a new recipe, but I had fresh raspberries to use up so I couldn't delay.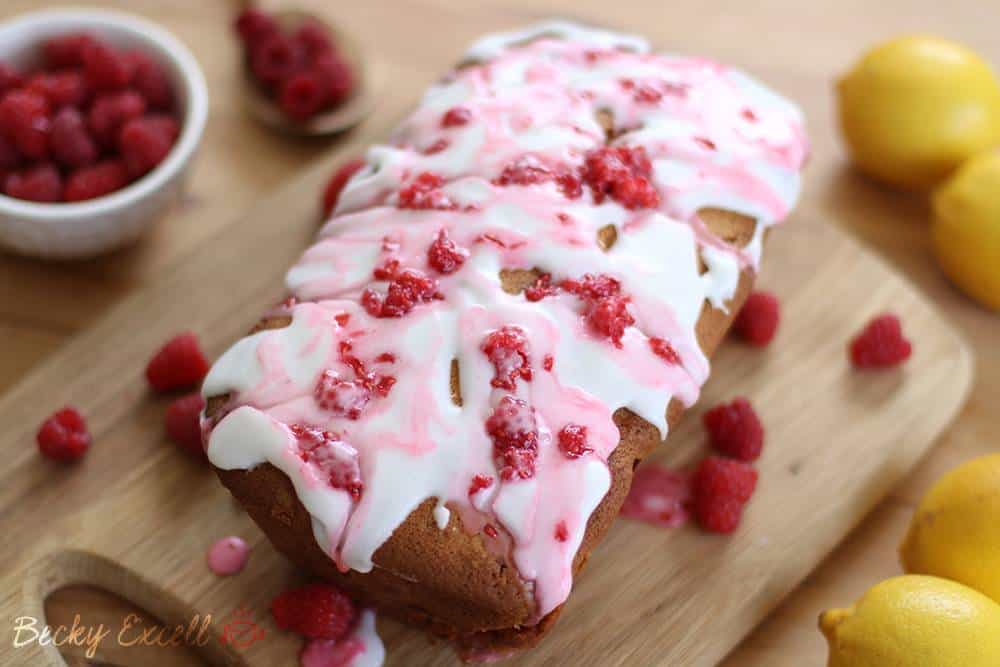 Because I wasn't sure how my gluten free raspberry and lemon loaf cake was going to turn out, I didn't have any plans for it besides Mark and I just devouring it at home.
However, as the bake went on (and especially by the point of icing it) I decided it just looked too delicious and inviting to keep it for ourselves. Adding a few fresh raspberries to the icing really elevated this cake up to be one of my most attractive bakes.
I can never be fully proud of a cake until it gets the seal of approval from the one person who taught me how to bake… my Mum! So of course my gluten free raspberry and lemon yoghurt loaf cake carefully got taken for a ride in the car to meet the parents. Needless to say, it didn't last long!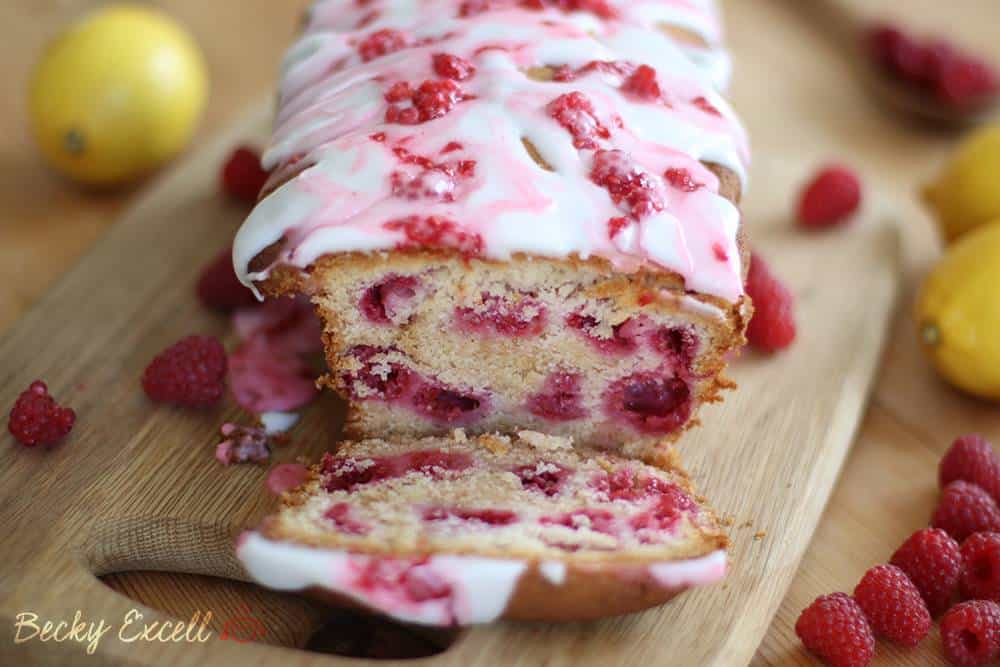 One thing I haven't mentioned is the addition of yoghurt in this cake. I don't often cook with yoghurt I must admit, but I thought by adding yoghurt to my gluten free raspberry and lemon loaf cake, it would make it soft and moist. Almost like how yoghurt works in muffin recipes.
I used dairy free yoghurt in this recipe as Mark is lactose intolerant. However I could have simply used a lactose free yoghurt which would have worked well too. If you are able to consume dairy then regular yoghurt would work in the same way in this recipe, I know that it is usually much cheaper!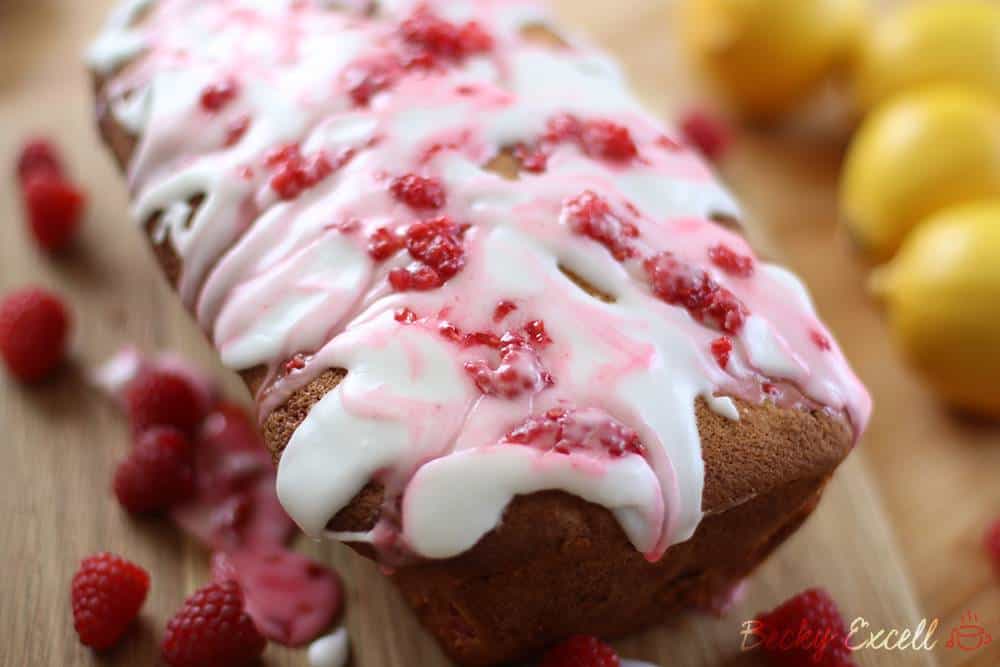 I really do love a cake where you can cut a slice and the inside is even more attractive than the outside. My freshly picked raspberries ran entirely through my gluten free raspberry and lemon loaf cake, meaning that every mouthful gets plenty of raspberry goodness with it.
My biggest tip when using raspberries (or any fresh fruit) in baking is to cover them in flour before adding them. You might think it isn't a necessary step, but trust me it's the most important!
If you don't coat the raspberries in a little flour when the cake bakes, all the fruit will sink to the bottom. I've lost count of the amount of times this has happened to me in the past! So make sure you flour your berries to ensure an even spread of raspberries.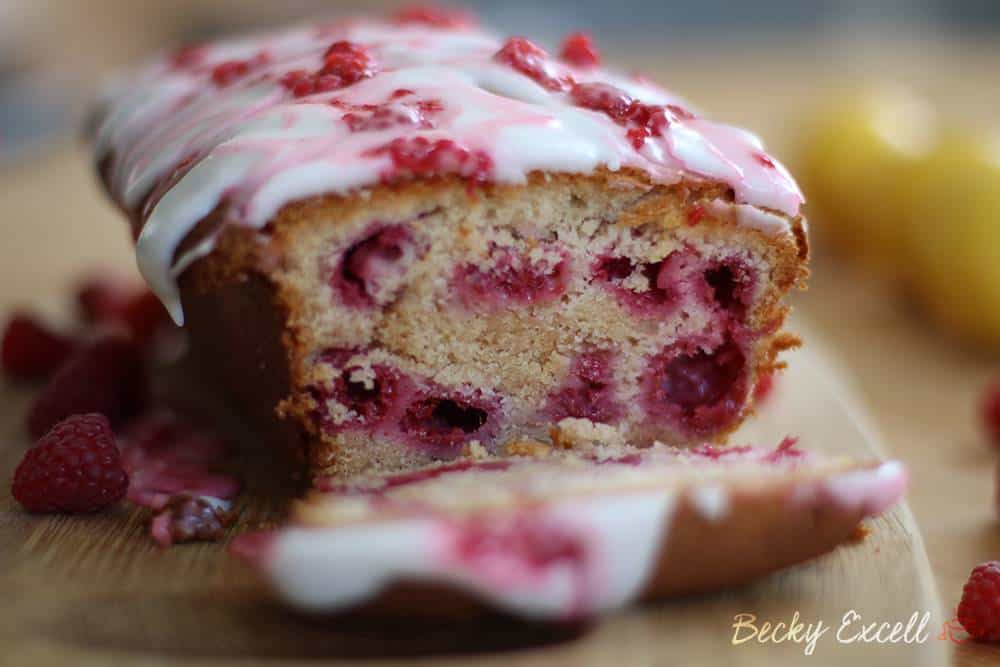 This is definitely now a solid favourite bake for me. I've already written up the recipe below in my personal recipe book that myself and Mark refer to. The texture of the cake is lovely and moist whilst the flavours just compliment each other like you wouldn't imagine.
As I said, I made this cake because I had far too many freshly picked raspberries in the house, but I will certainly be continuing to make it throughout the year. When I think about it, if you are trying to be seasonal with your bakes, this recipe could certainly work with other berries throughout the seasons.
Anyway, on with the recipe for my gluten free raspberry and lemon yoghurt loaf cake!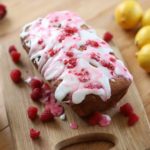 Gluten Free Raspberry and Lemon Yoghurt Loaf Cake
A delicious show-stopping loaf cake filled with fresh raspberries and a sharp lemon flavour. It's gluten free, dairy free and low FODMAP!
Ingredients
For the cake
300g gluten free plain flour

2 tsp baking powder

125g dairy free spread

225g caster sugar

2 lemons

zested

1/2 tsp vanilla extract

2 eggs

beaten

115g plain yogurt

I used a dairy free yoghurt

200g raspberries
For the icing
150g icing sugar

lemon juice

a handful of raspberries
Instructions
Line a 2lb loaf tin (standard size) with greaseproof/parchment paper.

Preheat the oven to about 180C.

Cream together your dairy free spread and sugar until pale, light and fluffy.

Add the lemon zest and vanilla.

Gradually add the eggs a little at a time, beating thoroughly throughout.

Fold in your gluten free flour and baking powder a little at a time. Alternate this with the yoghurt until both the yoghurt and gluten free flour are combined.

Coat your raspberries for the cake in a little flour.

Spoon in about a third of the cake mix into the loaf tin followed by half the raspberries.

Spoon another third of the cake mix on top, followed by the rest of the raspberries. Then add your remaining cake mix.

Bake for about 1 hour, make sure you check it is fully cooked with a skewer as it sometimes take a little longer (I also like to cover the top with foil if the cake looks to be browning too quickly).

Allow to cool in the loaf tin for about 10 minutes before leaving to completely cool on a cooling rack.

Next up make your icing. Mix your icing sugar with lemon juice until silky smooth. Start with a couple of tbsp on lemon juice and then gradually add more if you feel its necessary.

Spread/drizzle the majority of the icing onto the cake. You can do this fairly randomly, it doesn't need to look perfect.

With the small amount of icing you have left add your raspberries and slightly crush them, the lovely pinky red colour should come out. Drizzle this on top of the cake as a finishing touch!

It's now ready to serve, enjoy!
Recipe Notes
* This cake won't last as long as some other cakes due to the fresh raspberries (especially in the icing) but it will last a few days... if you have any left by then!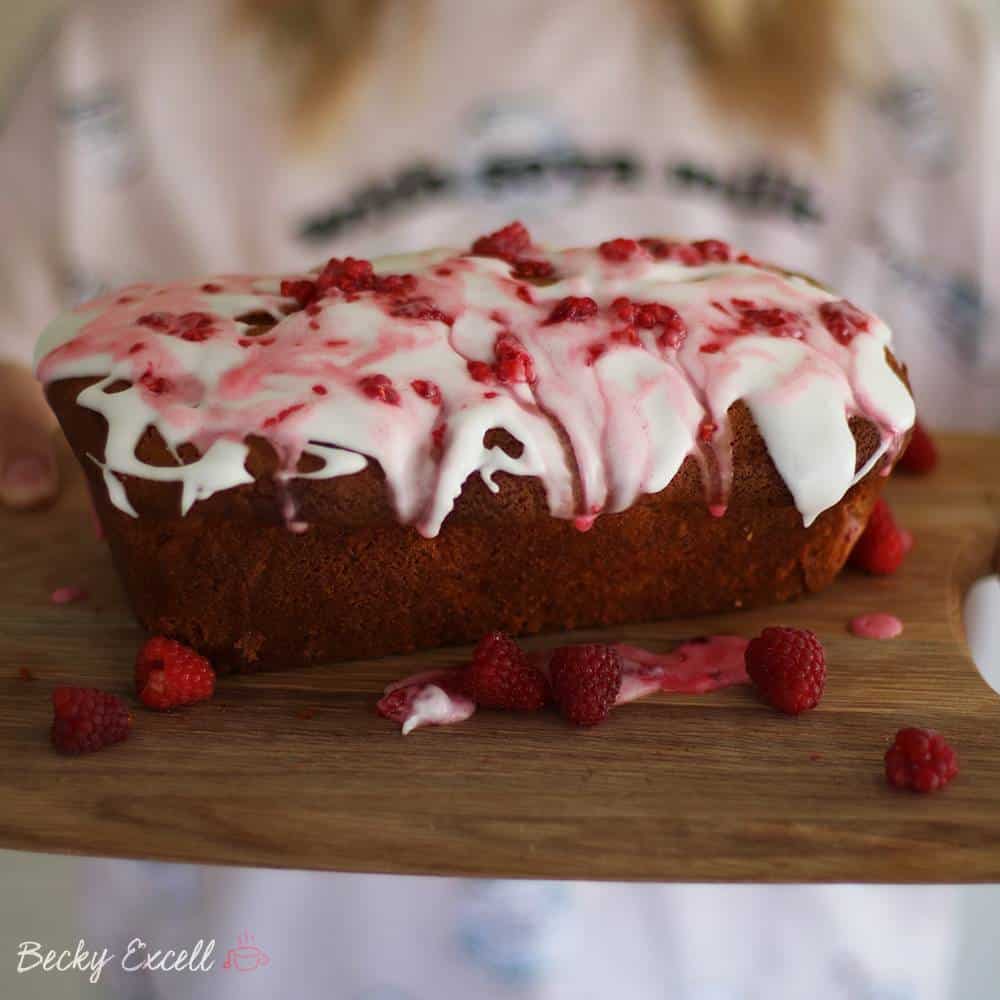 So there you have it, my gluten free raspberry and lemon yoghurt loaf cake. It went down a treat the first time I baked it and I know it will for you too. Let me know if you give it a try or if you have any questions. Just drop a comment below or on Facebook / Twitter / Instagram. Oh, and have any of you guys done pick-your-own? I'd love to know if you have any recommendations of where's best!
Thanks for reading and happy baking,
Becky xxx
Don't forget to pin this!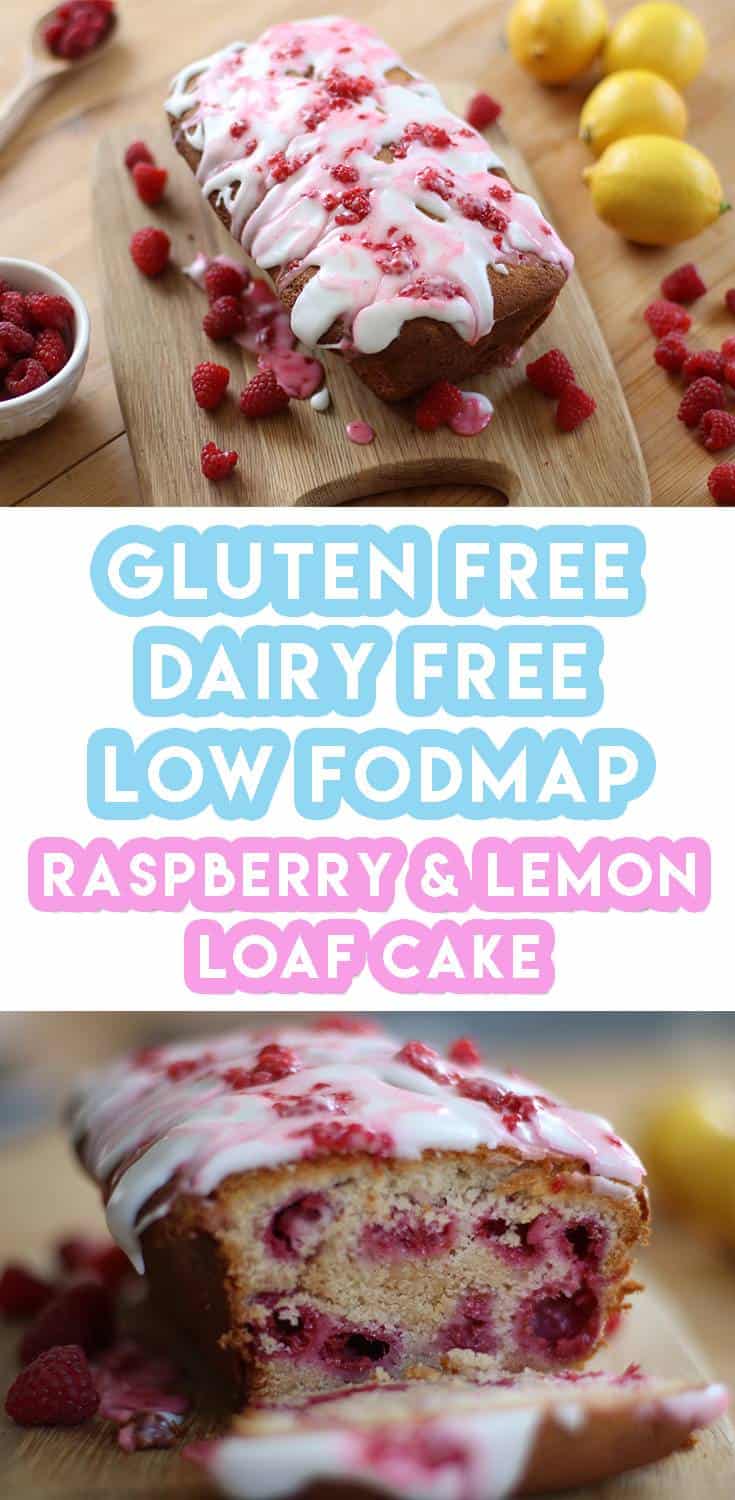 Comments