When it comes to weekend lunchtimes one of my favourite things to make is a gluten free club sandwich. I thought I'd share my gluten free club sandwich recipe with you today using the Newburn Bakehouse by Warburtons tiger artisan bloomer.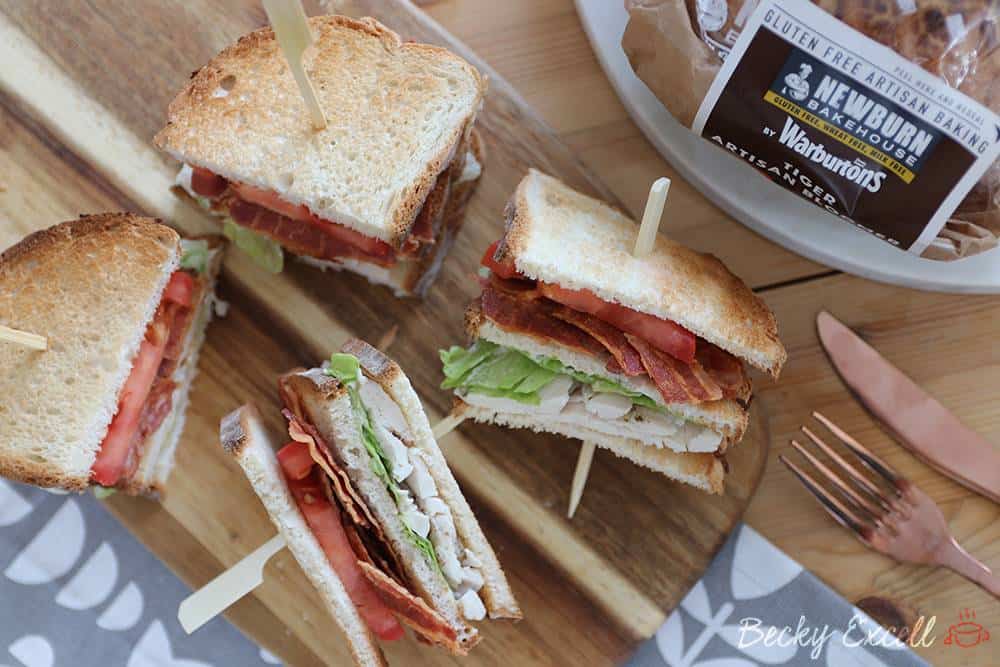 A club sandwich is the god of all sandwiches. For the indecisive folk (like me) it's a joy with more than one filling. And for the hungry folk (often like me), the club is a real sandwich, one that really fills you up at lunch and easily satisfies you at dinner.
Likewise, tiger bread is the god of all breads in my opinion. I never thought I would get the chance to try tiger bread again. I love the taste, I love the smell and I love the tiger (or giraffe) like pattern all over it. The Newburn Bakehouse gluten free tiger artisan bloomer is a welcome addition to the already extensive gluten free range that Newburn Bakehouse offers.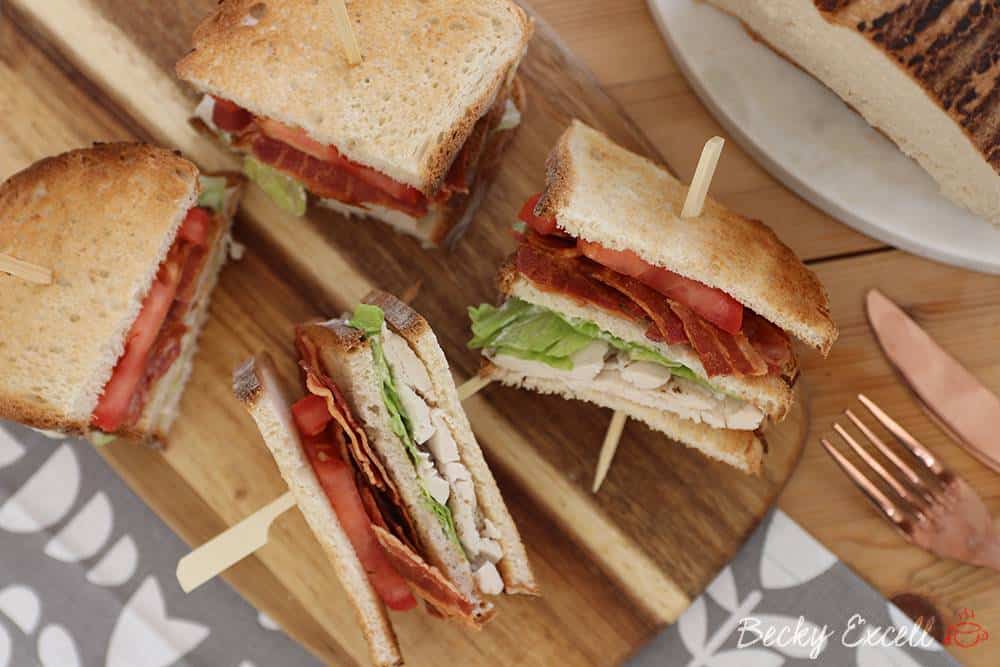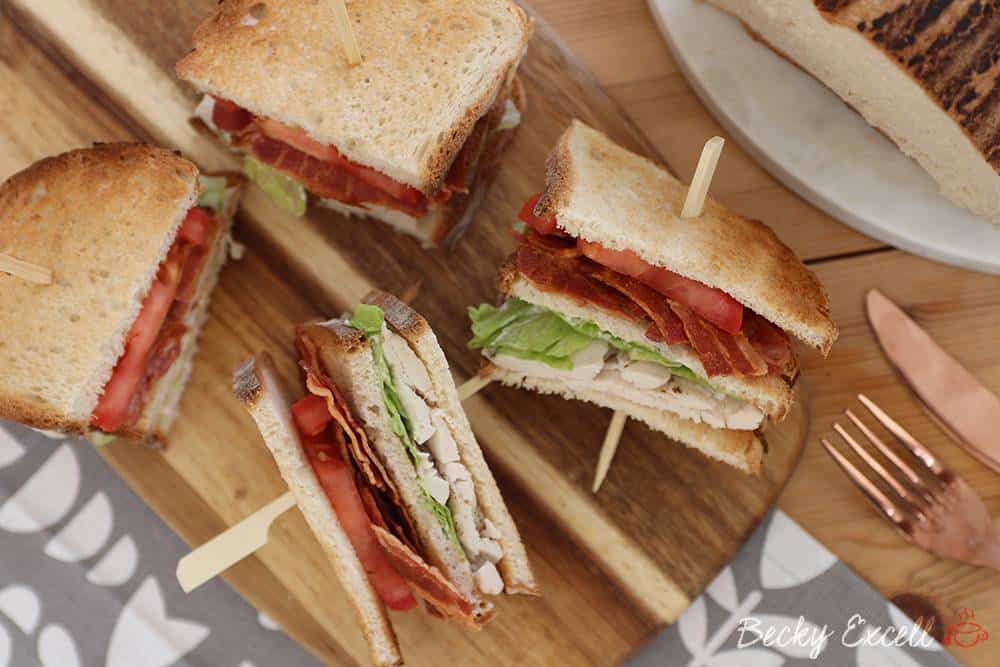 When I got the Newburn Bakehouse tiger artisan bloomer home you should have seen me. Not only did it smell exactly like the tiger bread I used to know and love so well, it also tasted exactly as I remember. I immediately cut myself a slice and lathered it up with butter. Seriously it tasted amazing. Mark said he would happily enjoy a sandwich with it; he very rarely shows any interest in my gluten free bread so I think that says a lot!
The fact that the Newburn Bakehouse tiger artisan bloomer comes unsliced is a massive bonus. I love cutting my own bread because it allows for you to decide exactly how thick you want it. For instance if I am making something like French toast I love to have thickly cut bread that soaks up all the eggy mixture. However, when I'm making a club sandwich which has 3 slices of bread I like to keep the bread relatively thin.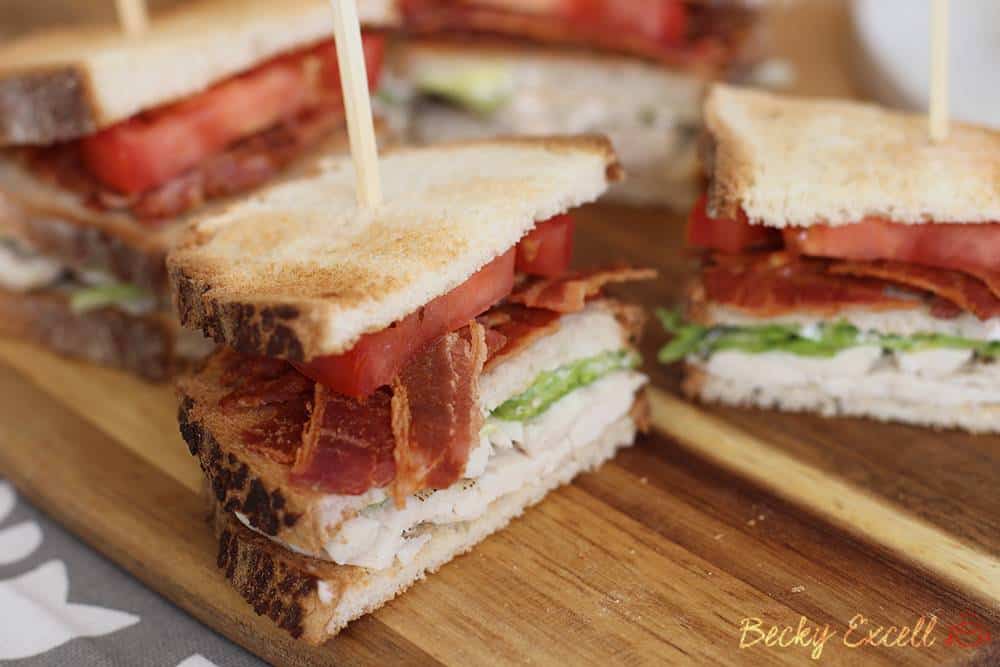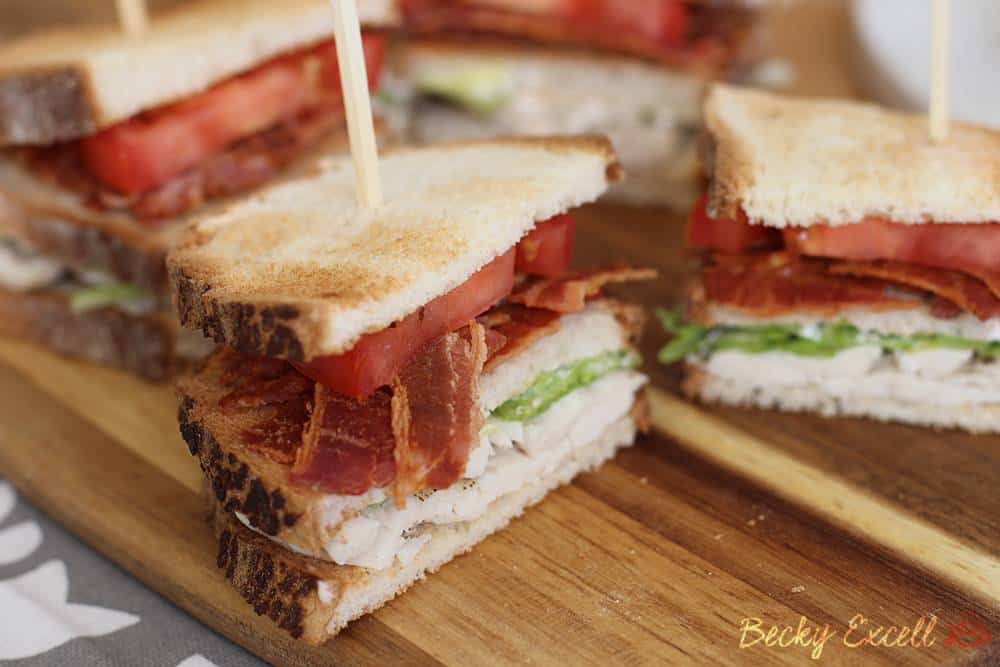 So anyway, back to talking gluten free club sandwiches! I've already mentioned how much I love a club sandwich but there is definitely a very specific time in my life that has made me adore the ultimate three tiered sandwich even more.
8 years ago now, Mark and I went on our first holiday to Amsterdam together. For some reason every single cafe or restaurant we went to for throughout our trip we had a club sandwich. I'm not aware that Holland is famous for club sandwiches, but my god back in 2009 Amsterdam knew how to make an incredible club sandwich! Sadly this was literally a couple of months before I was never to eat gluten again so I don't know what the gluten free club sandwich scene is like in Amsterdam… nevertheless this recipe is a beaut and pretty much all you need in your life to make the ultimate gluten free club sandwich.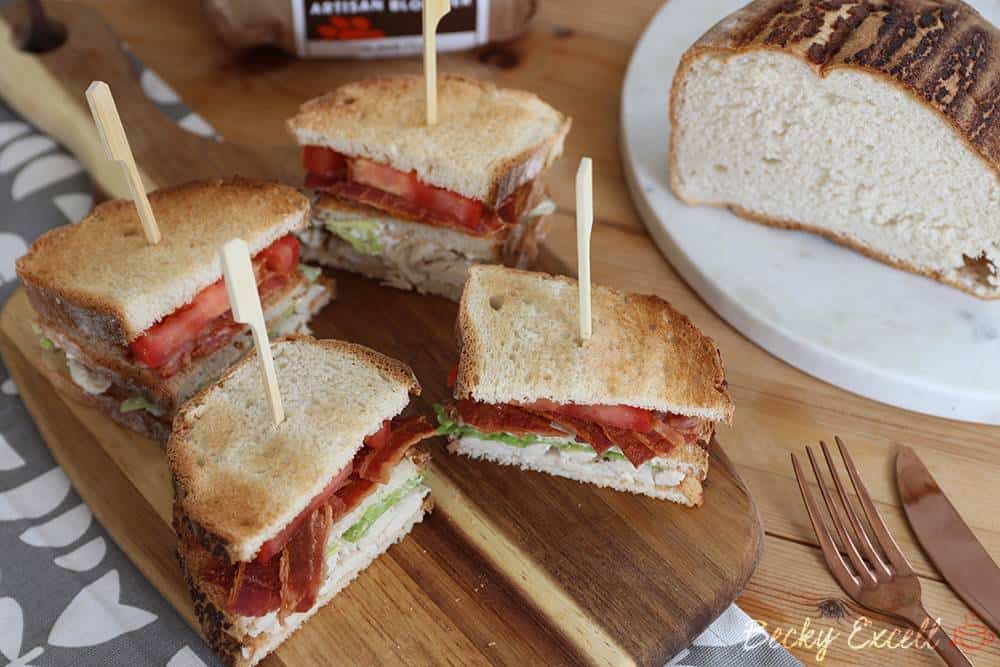 When it comes to a gluten free club sandwich, I like to keep it simple. Nothing fancy, just what I class as the classic club sandwich ingredients: chicken, bacon, lettuce, tomato, mayonnaise. A gluten free club sandwich must have it's bread toasted, it is essential. I also like to have both the bacon and the chicken freshly cooked so it's still warm when it goes into the club sandwich. Oh and of course some sort of cocktail stick or wooden skewer is your friend, a club sandwich always needs support 🙂
Anyway enough waffle, gluten free club sandwich recipe time!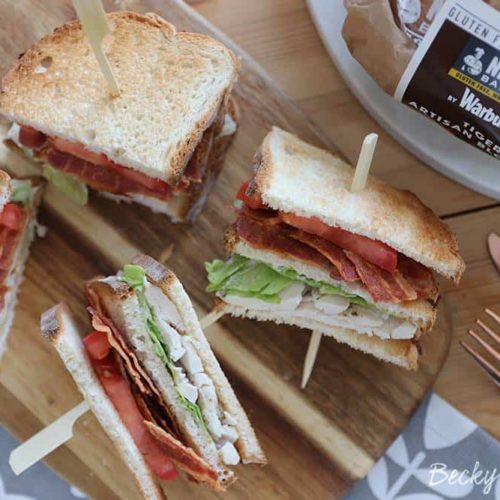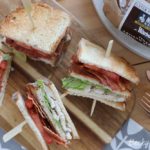 Gluten Free Club Sandwich
Ingredients
3 slices of gluten free bread

I'd recommend the Newburn Bakehouse tiger artisan bloomer

1 chicken breast

3-4 rashers of streaky bacon

iceberg lettuce

fresh tomatoes

salt and pepper

olive oil
Instructions
Place your chicken breast between 2 sheets of clingfilm and bash/flatten slightly with a rolling pin.

Drizzle with a little olive oil and season. (I just seasoned simply with salt and pepper)

Heat up your griddle pan to a high heat and cook on each side for around 3 minutes until fully cooked (check the chicken is no longer pink). Slice your chicken, ready for the sandwich.

Cook your streaky bacon in the griddle pan too (or however you like to cook your bacon).

Toast your bread until golden brown and ready for club sandwich building.

Spread a little mayonnaise on your first slice of bread and then add your chicken.

Add some lettuce and place your second slice of bread on top.

Again, spread a little mayonnaise on this slice then add your streaky bacon and finally some freshly slice tomato.

Finally add your last slice of bread on top, cut into halves or quarters and pierce each with a cocktail stick to hold together.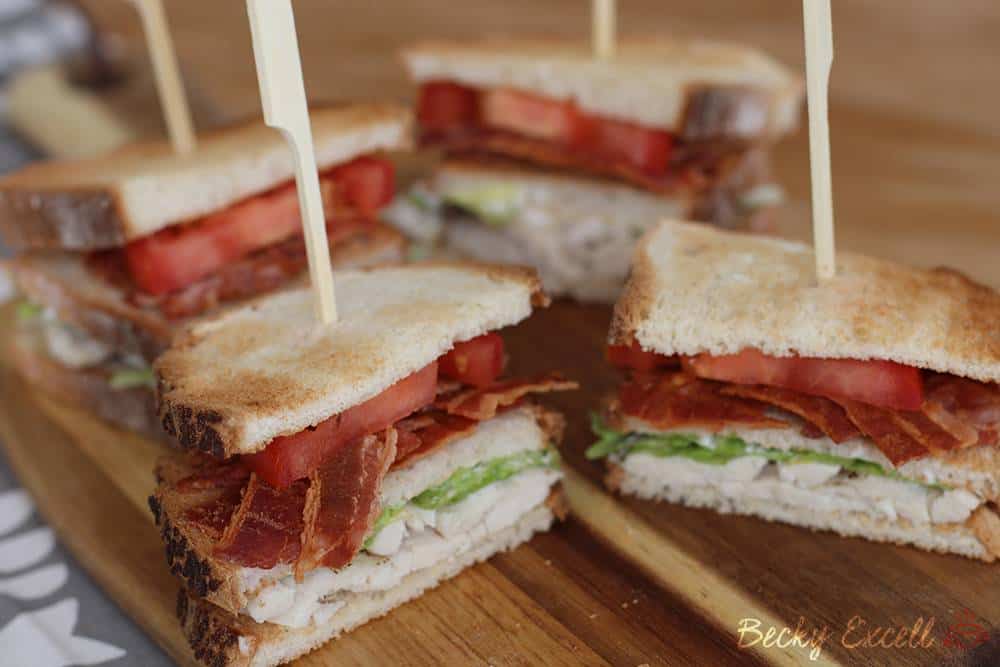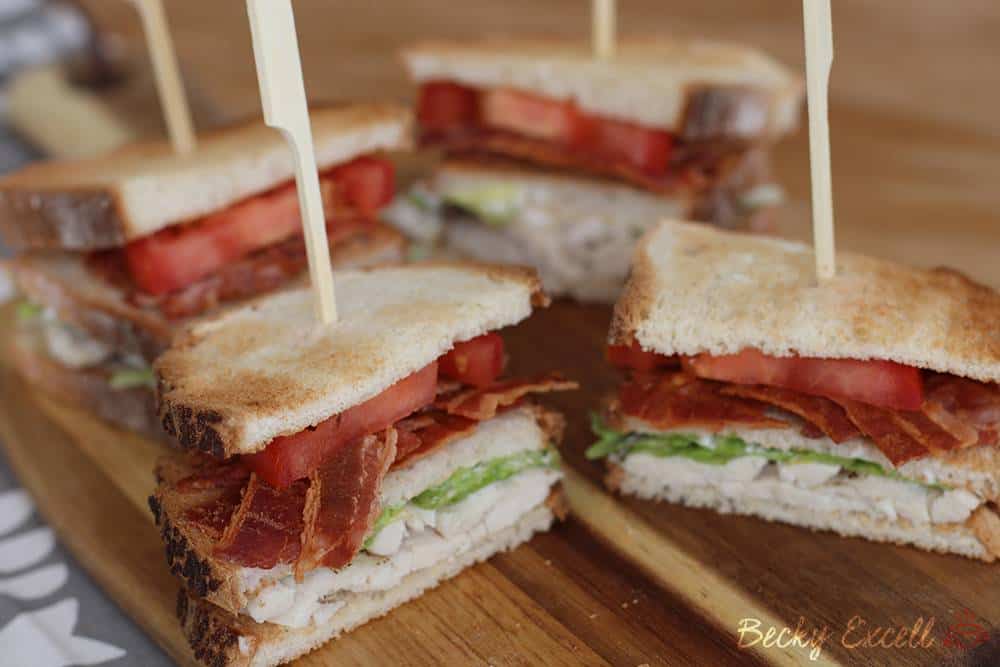 So there you have it, the most delicious sandwich out there has got to be the gluten free club sandwich. There really is nothing like a homemade sandwich like this. The Newburn Bakehouse gluten free tiger artisan bloomer was an amazing addition and I will definitely be using it again for many more club sandwiches as well as for many other lunches. I would definitely recommend grabbing a loaf from Sainsbury's when you get the chance – I have tried every gluten free bread there is and this is definitely right up there as one of the best. It's lovely and soft, it cuts perfectly and also it keeps really fresh for a lot longer than most gluten free breads out there.
Let me know if you get the chance to try my gluten free club sandwich recipe. I would also love to know if you add anything different to your club sandwich, I know I've seem many different variations on restaurant menus before! If you do just drop a comment below, or on Facebook, Twitter or Instagram.
Thanks for reading,
Becky xxx
This is a sponsored post in partnership with Newburn Bakehouse by Warburtons.