Whenever I'm invited to a summer party or BBQ and need to bring a dish with me, I always make my ultimate potato salad. It's not just any side dish though, it is the pride of sides!
For me a potato salad should always be made with in season new potatoes, the type of potato you use can make such a difference to the flavour. Cornish new potatoes are always in season super early each summer and have an amazingly naturally salty flavour. They're the spuds for me!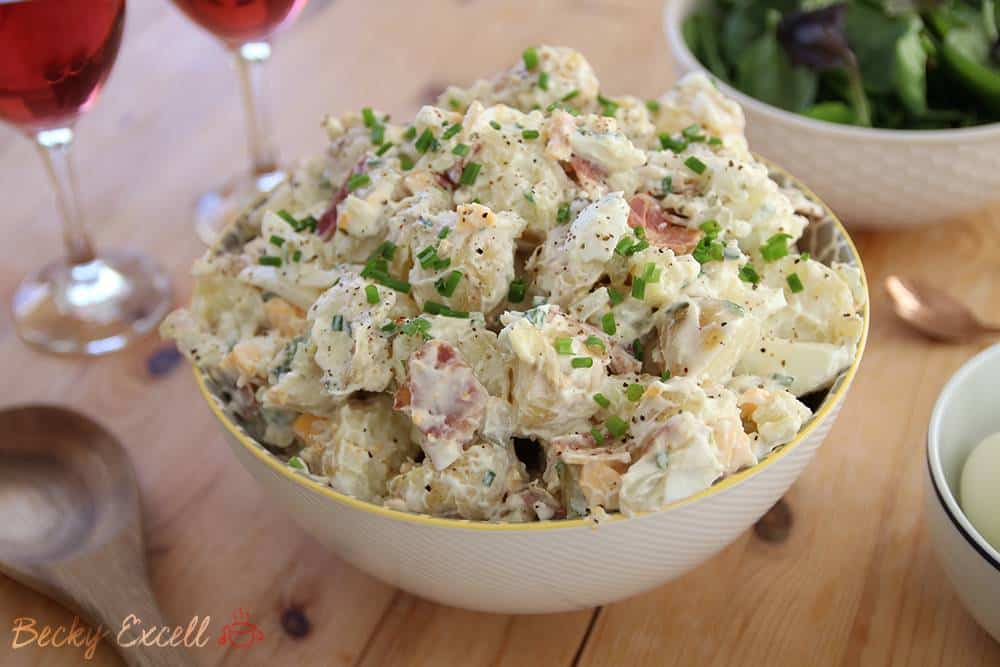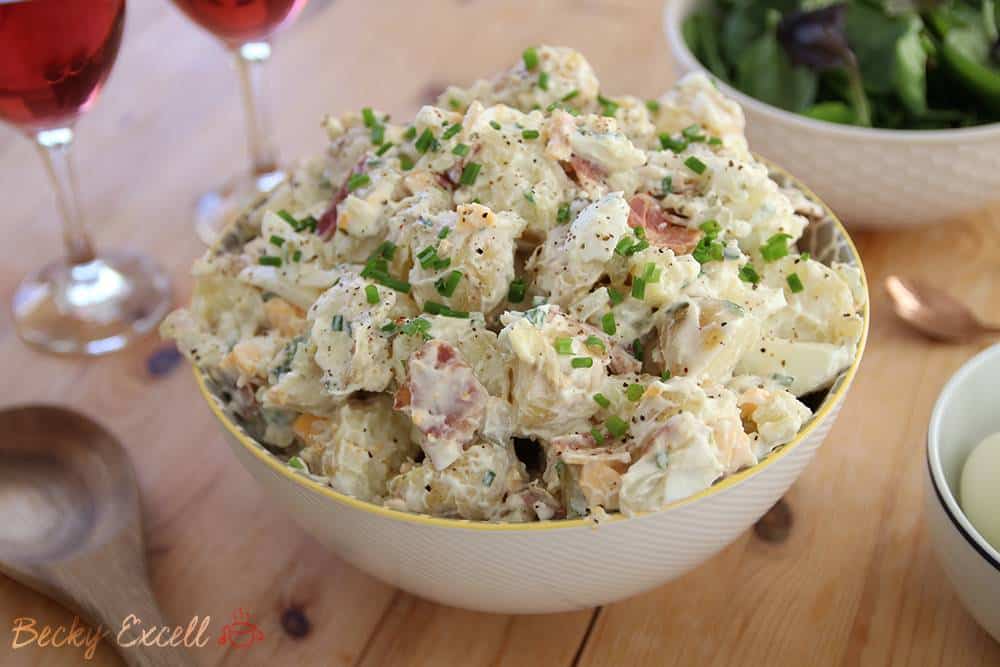 I love the summertime. When the sun is out it instantly puts a smile on my face. Everything just seems to be more simple in summer. Cooking suddenly becomes a whole lot simpler as well. Gone are the stews and puddings that take hours to cook and in comes fresh, colourful dishes that can be put together just like that. I don't know about you, but I feel more social in the summer too. The days are warmer and longer; I just want to sit outside late into the evening with my favourite people and my favourite food.
Of course BBQs are so often focussed on the meat but for me the best part about a BBQ is all the accompaniments. We always bring along a side dish each to a family BBQ which brings such variety and choice. I must admit though I never change what I make, I am the Queen Potato Salad Maker of the family!
I always make a huge amount of potato salad as it goes very quickly, but also so I can keep some in a tub in the fridge to have as part of my lunch for the next few days. It keeps really well.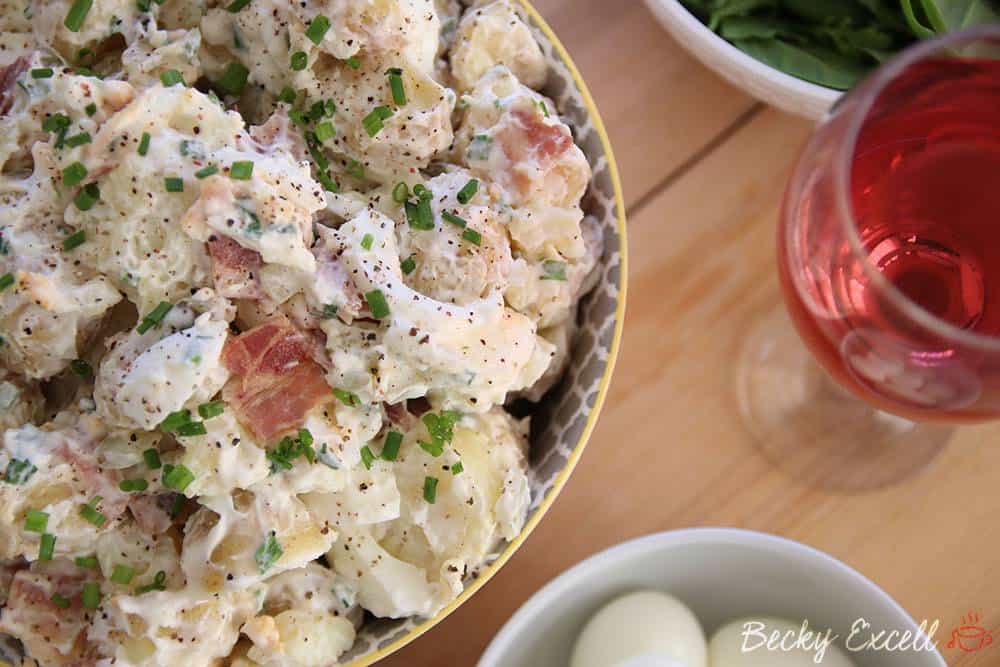 I know everyone has their own ways of making potato salad, there are so many different potato salad recipes out there. However this is my recipe which has developed out of my mum's recipe alongside a few changes to ensure it is gluten free, low fodmap, lactose free and just down right delicious!
As I mentioned earlier I use Cornish new potatoes in this recipe. The potatoes themselves have light, fluffy skins and an overall sweet taste, but because of where they are grown (right next to the sea in Cornwall!), they also have a natural saltiness. They have so much flavour I never even feel the need to cook them in salted water like I so often do with other types of potato.
In my opinion, hard boiled eggs are a must in every potato salad, it's something my Mum has always done so I've never known any different. Egg brings another texture alongside flavour and colour to the dish. If you aren't a 'egg in potato salad' kinda person, I urge you to give this a try!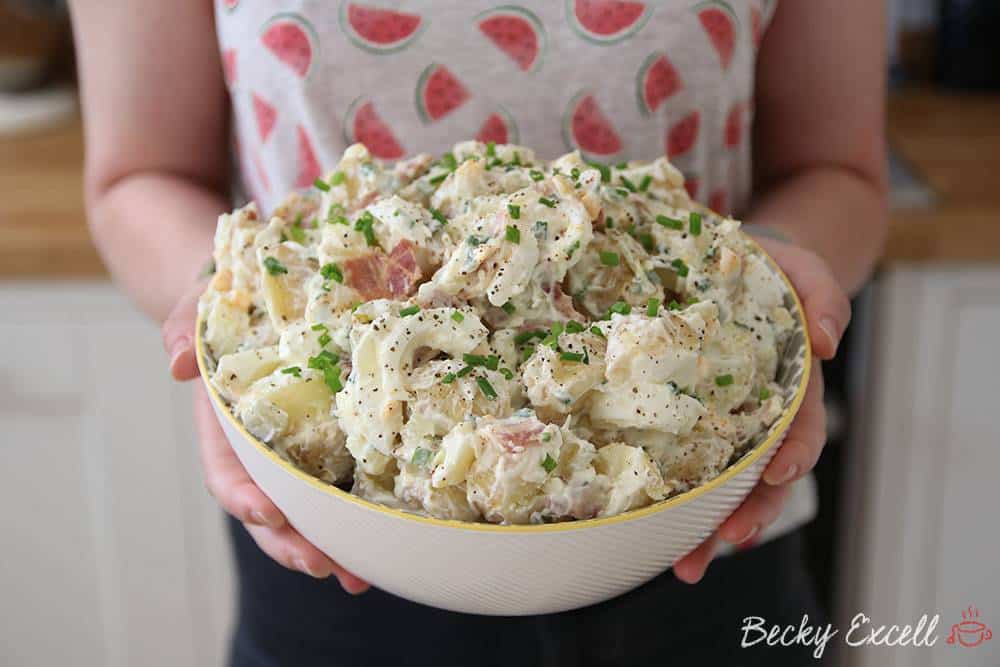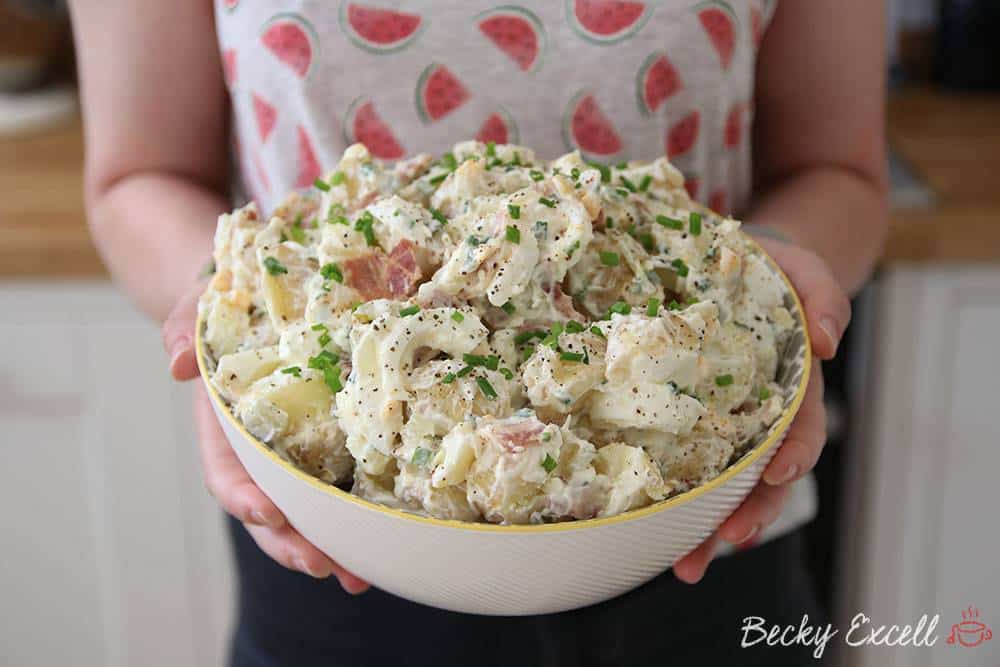 There are a few additions that I've brought into my ultimate potato salad recipe over the years (basically changes from my mum's recipe). I am a massive fan of gherkins, I add them to so many dishes and my potato salad is no exception. Finely chopped, gherkins add another dimension of flavour to the dish that just really works, I'd highly recommend using them.
Equally I've decided that a little salty bacon really goes a long way too. I can understand why many potato salads don't ordinarily have bacon in them when you consider that you often eat it alongside lots of BBQ meat, but once you've added it you won't take it away. Obviously, we all know that egg and bacon is a match made in heaven so having both of these in a potato salad recipe just makes so much sense!
My final must have ingredient that I wanted to mention is fresh chives. Now as someone who cannot eat onions due to IBS (onions are a high fodmap food), I've discovered chives to be the most amazing alternative. Seriously, I question everyday why it's taken me this long to realise how amazing chives are! They provide that fresh almost onion like flavour, and also a recipe that has 'salad' in the name surely needs a little greenery in it!!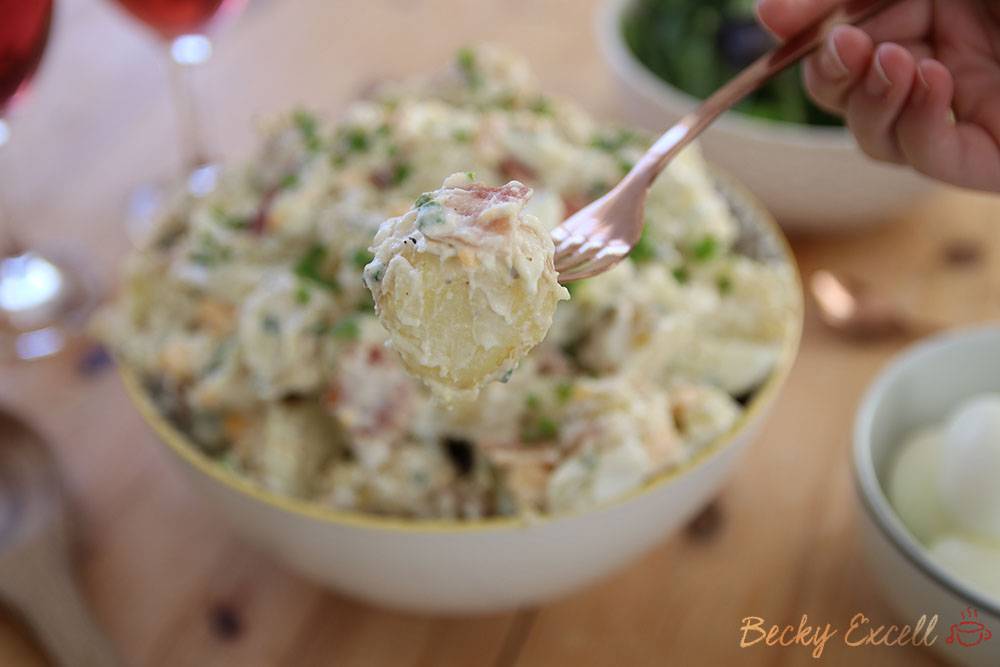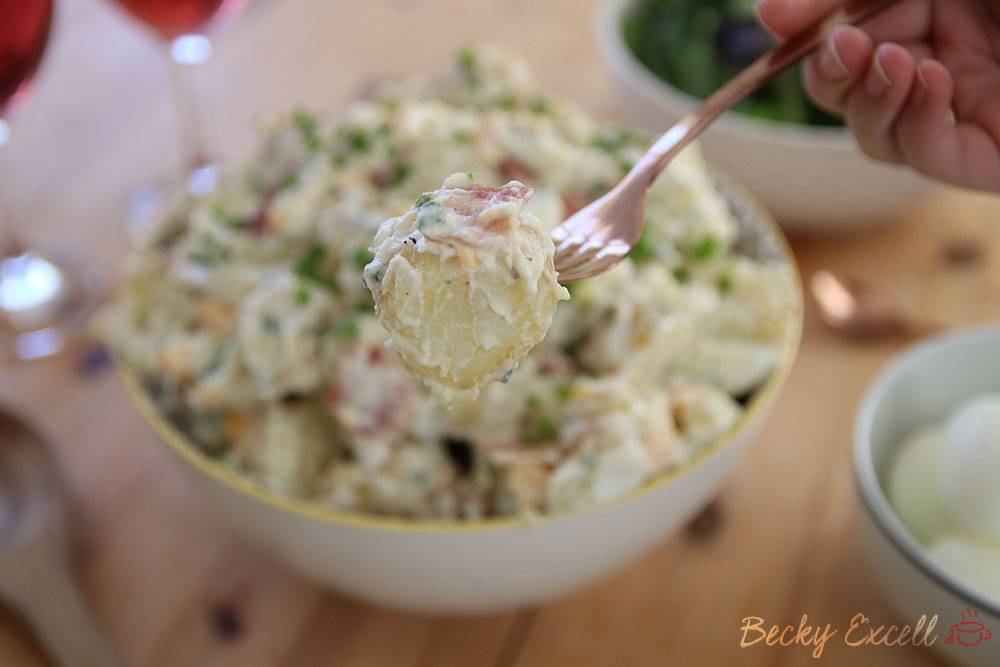 Anyway, enough chat… here is my ultimate potato salad recipe. It's gluten free and low fodmap as well as containing no dairy. The perfect accompaniment – the pride of sides.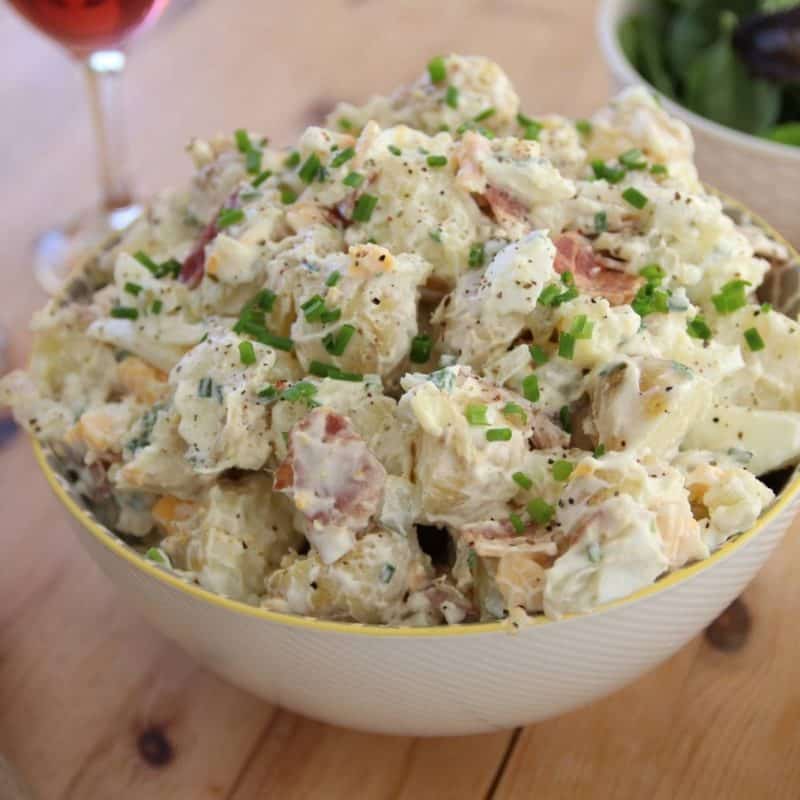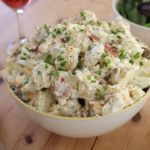 My Ultimate Potato Salad
Ingredients
1kg Cornish new potatoes

250g mayonnaise

I always use a light dairy free version

gherkins

chopped

cooked bacon

chopped

5 eggs

bunch of fresh chives

chopped

salt and pepper
Instructions
Place your new potatoes in cold water and bring to the boil. Gently boil the potatoes until tender (around 15 minutes). Drain well and leave to cool.

Whilst your potatoes are cooking, boil your eggs. Place your eggs in a saucepan and cover with cold water. Bring the water to a gentle boil and cook for about 9 minutes.

Once your eggs are cooked plunge them into cold water, drain and repeat with more cold water. This will prevent the eggs from overcooking.

Once cool, peel your eggs and chop.

Slice your now cooled potatoes and place in a bowl.

Add your mayonnaise and mix thoroughly.

Combine your hard boiled eggs, cooked bacon and chopped gherkins with the potatoes and mayonnaise.

Place your potato salad into a dish for serving.

Add fresh chopped chives and season with salt and pepper.

Keep chilled until serving.
So there you have it, my potato salad recipe. I really do love a potato salad for so many reasons. There is such a variety of flavours embedded within one single dish yet they all go so well together. Equally the combination of textures just makes every mouthful a delight – the soft egg, the fluffy potatoes, the crispy bacon and the crunch from the gherkins and chives all brought together with a smooth, creamy mayonnaise. I am totally craving some right now! Oh and you can't forget the colours, for me this is a seriously attractive dish, it looks great served up in a dish, almost overflowing.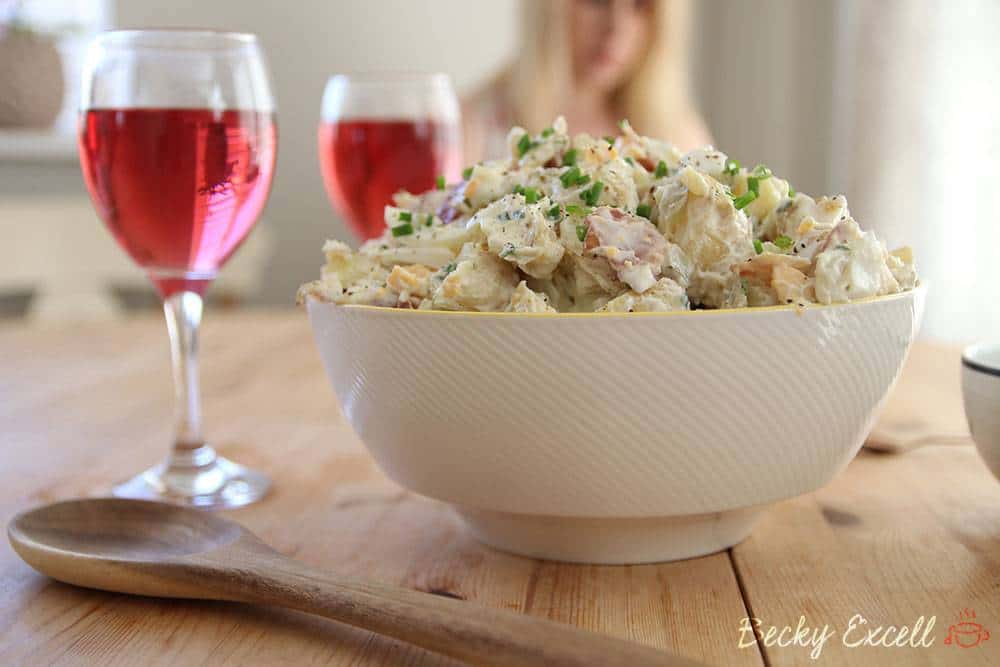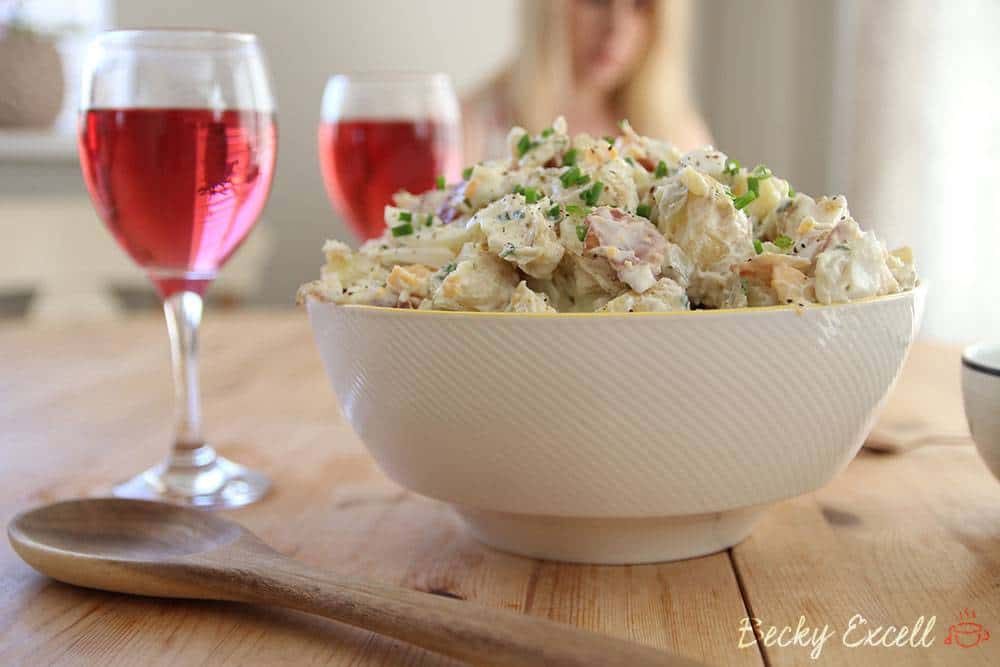 Do let me know if you get the chance to create my potato salad recipe, I'd love to hear how you got on. Do you have any additions or changes you would make? Let me know! If you haven't tried using Cornish new potatoes before, I would definitely recommend it, don't fall into the trap of thinking all potatoes are pretty much the same.. I've definitely come to realise this is absolutely not the case! If you have any questions, want to chat or even send me a picture of your potato salad then please leave a comment below or on Facebook/Twitter/Instagram.
You can grab your Cornish Potatoes from Tesco.
Thanks for reading,
Becky xxx
Disclaimer: This is a sponsored post.
Oh, and don't forget to pin this before you leave!