Something I have unfortunately enjoyed a lot less of since going gluten free is sponge puddings. But wait a minute… surely a gluten free sponge pudding is easy to make? Yes, yes it is. My latest gluten free sponge pudding recipe combines some of my favourite sweet ingredients, maple syrup and pecan nuts to make a delicious pud that I can assure you everyone will love!
My main motivation behind creating a gluten free sponge pudding is Christmas. For me, Christmas Pudding is not the one and never will be whether I'm gluten free or not. Gluten free Christmas Puddings seem to line the free from Christmas shelves of supermarkets every single year, but unfortunately for me, I think Xmas Pud is quite honestly horrible! I wanted to make a gluten free alternative to Christmas pudding… but that kind of still looked like a Christmas Pudding. The shape of a Christmas Pudding is iconic during the festive season, but that doesn't mean it has to taste so god damn awful!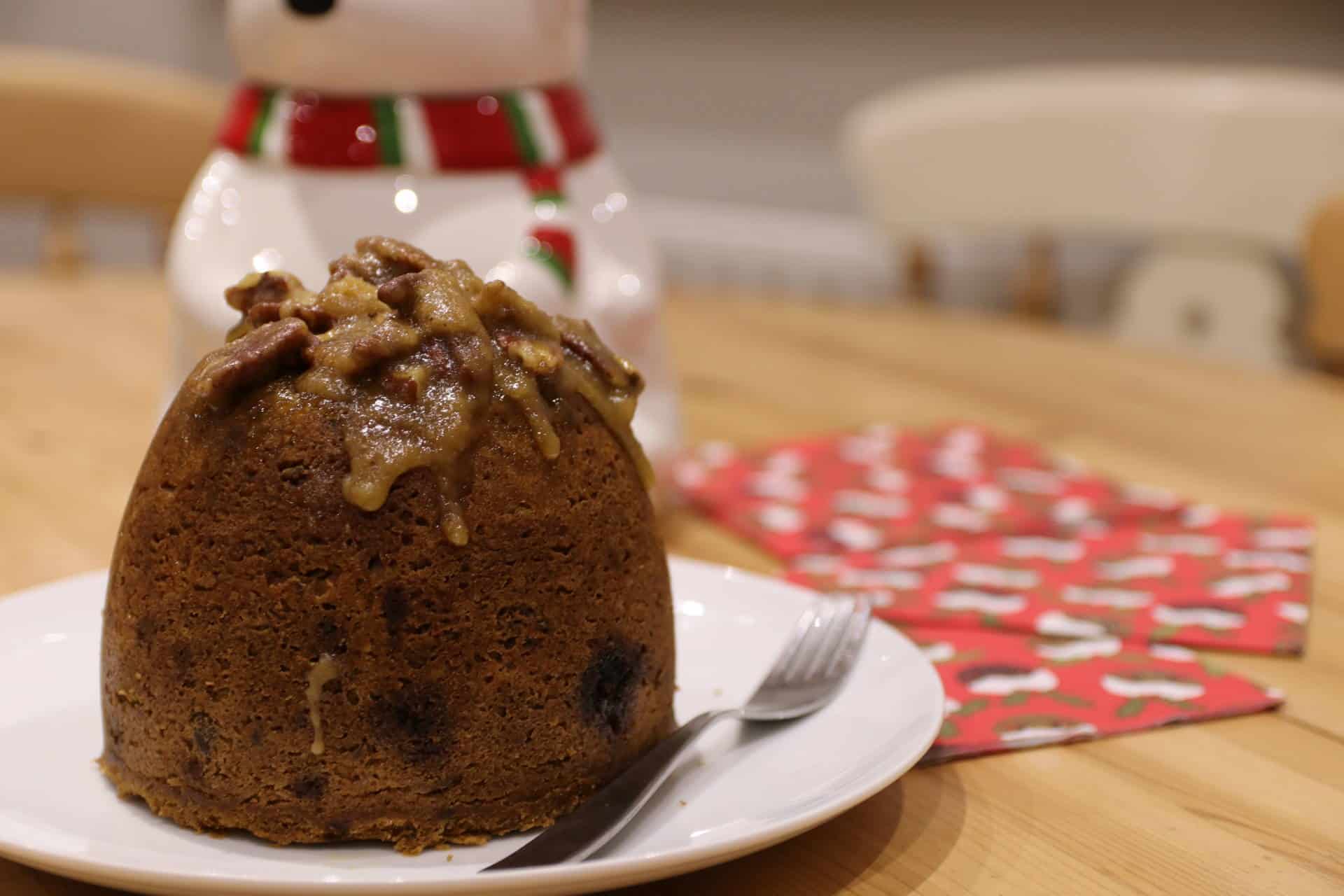 My solution was to create this recipe – a sticky maple and pecan pudding, completely gluten free & completely dairy free. It's incredibly simple to make, it oozes heavenly tastes and served with some custard, cream or ice cream (whatever floats you boat) on Christmas Day, it certainly won't be beaten.
I've actually never made a steamed pudding before so this was something new for me, but it is a very simple thing to do. Essentially it's just making a gluten free sponge, putting it in a pudding basin and placing this is a saucepan of boiling water for 90 minutes to slowly cook. I'm sure most people have steamed a pudding before, but for me it was a new thing I was trying out and for a first attempt it went really well 🙂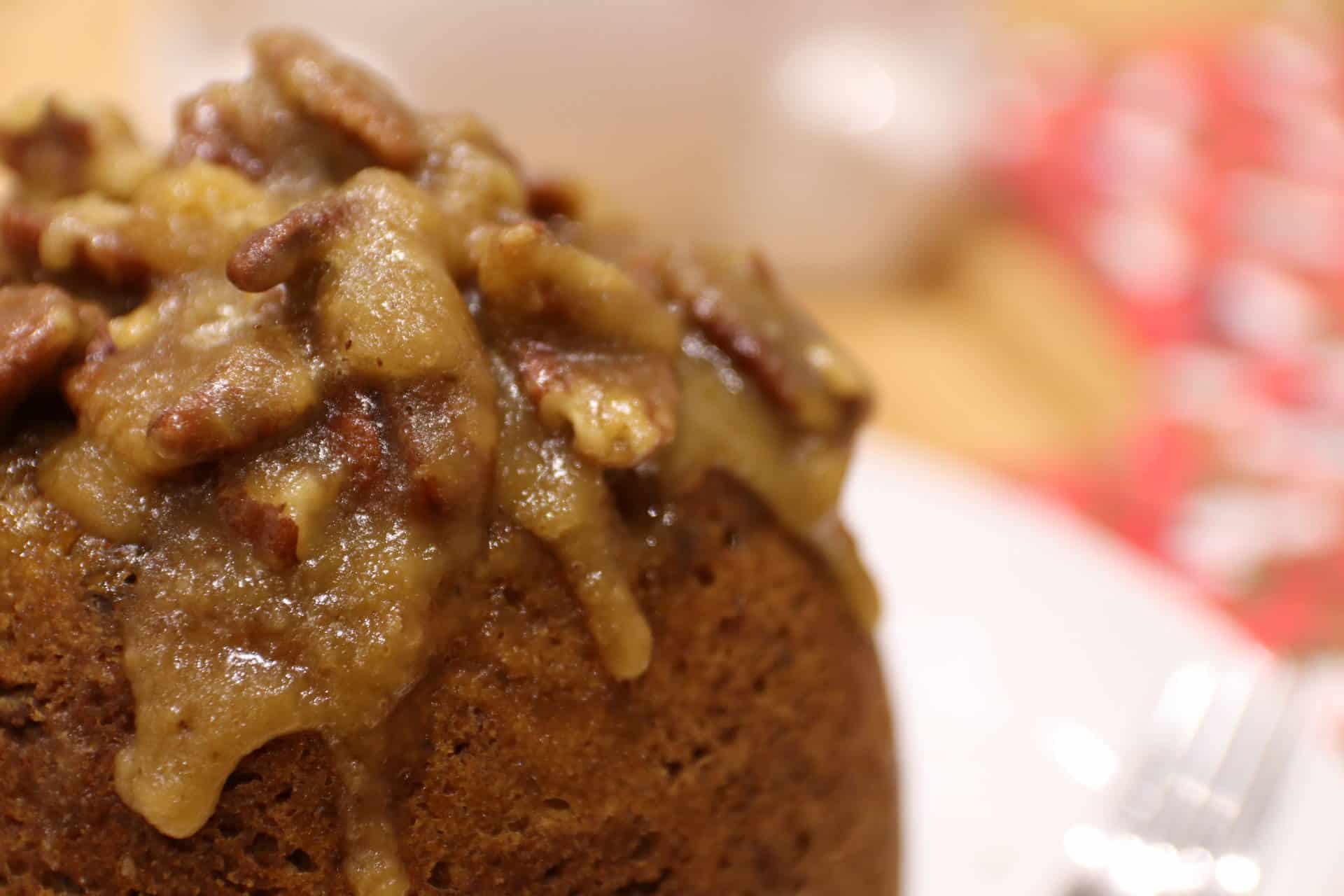 I won't lie, this gluten free pudding certainly didn't last long in our household. When Mark found out it was also dairy free too he was over the moon. So often these days we might find a gluten free sponge pudding but then it has dairy in it. This is a perfect dessert for those who cannot tolerate both, either or neither (e.g. those who can eat everything – they will LOVE this dessert – you would never know it was 'free from'). At the last minute I rustled up some caramelised pecans for the top and it worked really well and definitely finished the pudding off perfectly. The pudding itself is incredibly moist throughout and just how I remember a steamy pudding on a cold winters night. Anyway, I'm sure you just want to know the recipe now.. so here it is!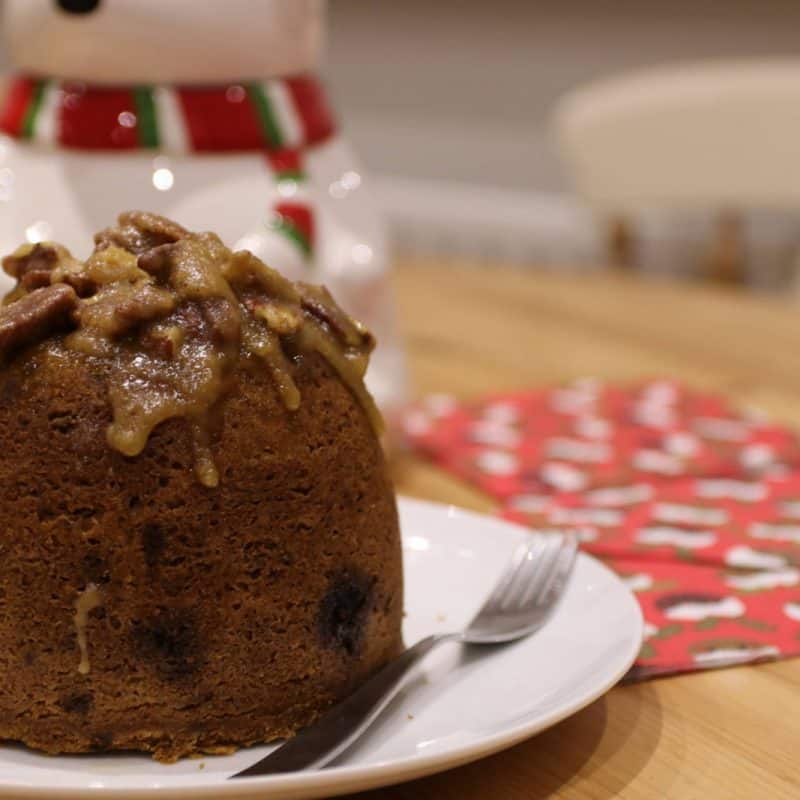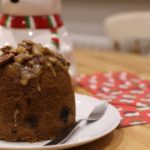 Gluten Free Sticky Maple & Pecan Sponge Pudding
The perfect alternative to a traditional Christmas pudding! Delicious all year round, it's gluten free & dairy free too.
Ingredients
75g dairy free margarine

for the topping

6 tbsp maple syrup

for the topping

9 tbsp dairy free cream

225g dark muscovado sugar

150g dairy free margarine

for the pudding

300g self raising flour

1.5 tsp cinnamon

1.5 tsp ground nutmeg

3 tbsp maple syrup

for the pudding

2 eggs

beaten

150g pecan nuts

chopped

extra pecan nuts

for caramelised pecans on top
Instructions
Grease your pudding basin and place a circle of baking paper in the bottom.

Combine 75g or dairy free margarine, 6 tbsp of maple syrup and your dairy free cream in a saucepan on a low heat. Simmer for 1 minute before pouring into your pudding basin.

Cream together the sugar, 3tbsp of maple syrup and 150g of dairy free margarine until light and smooth.

Add your beaten eggs very gradually, the more careful you are here the less likely it is to curdle.

Mix in cinnamon and nutmeg into your self raising flour in a separate bowl.

Gradually fold in the flour mix into your butter/egg/sugar mixture.

Stir in your chopped pecan nuts.

Spoon your mixture into the pudding basin on top of the sauce.

Make a top for the pudding by cutting out a slightly bigger than the pudding basin circle of foil and baking paper. Stick them together and create a pleat down the middle of the lid. (Check out my video if this sounds confusing.. it's not!)

Tie down your lid on top of your pudding basin with string.

Place the pudding basin into a large saucepan and fill it up with boiling water, to around half way up the basin. Place the lid on and allow to steam for 1.5 hours very gently. (Make sure you check that the water doesn't all evaporate and add more if necessary - you shouldn't need to though)

Take the basin out of the saucepan once complete, remove the lid, and using a pallet knife to ease it out.

Using a plate, turn out the pudding.

I add some additional candied pecans to the top of mine. I just add a little dairy free margarine and sugar to a small saucepan, allow to melt and let some pecans cook in it for a few minutes. Pour this on top or some extra warm maple syrup.

Serve hot with custard, enjoy!
So there you have it, my gluten free sponge pudding. There is something about the cinnamon & nutmeg flavours that just screams Christmas at me, which is why I think its a perfect Christmas Pudding alternative for the 25th December. Saying that however, I really do think its a pudding for the whole year round and a valuable addition to the ol' recipe book! I'm thinking now that I'm on the gluten free sponge pudding recipe train, I might experiment with some different flavours too. I'd love to make a gluten free jam sponge pudding sometime.. maybe that can be next!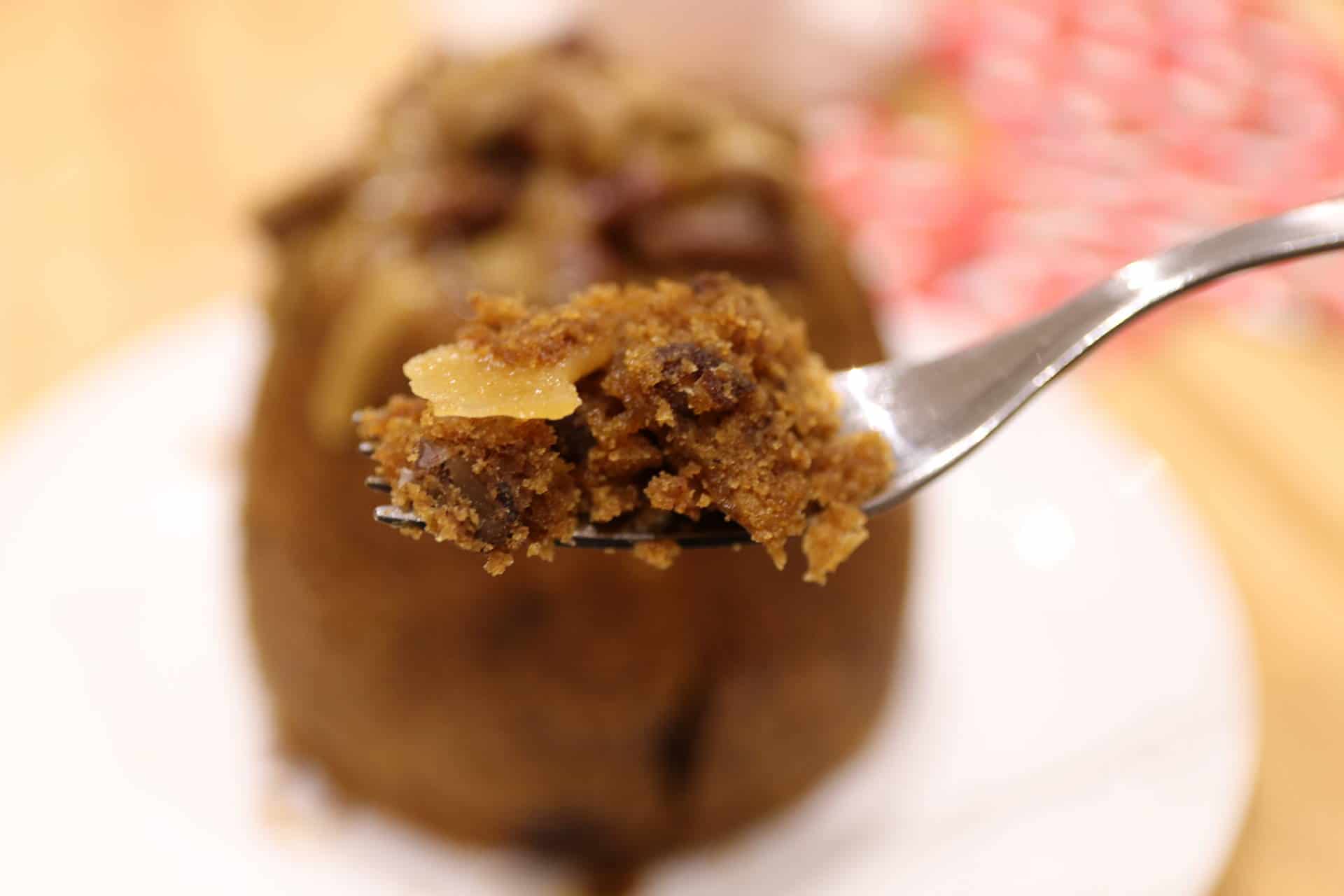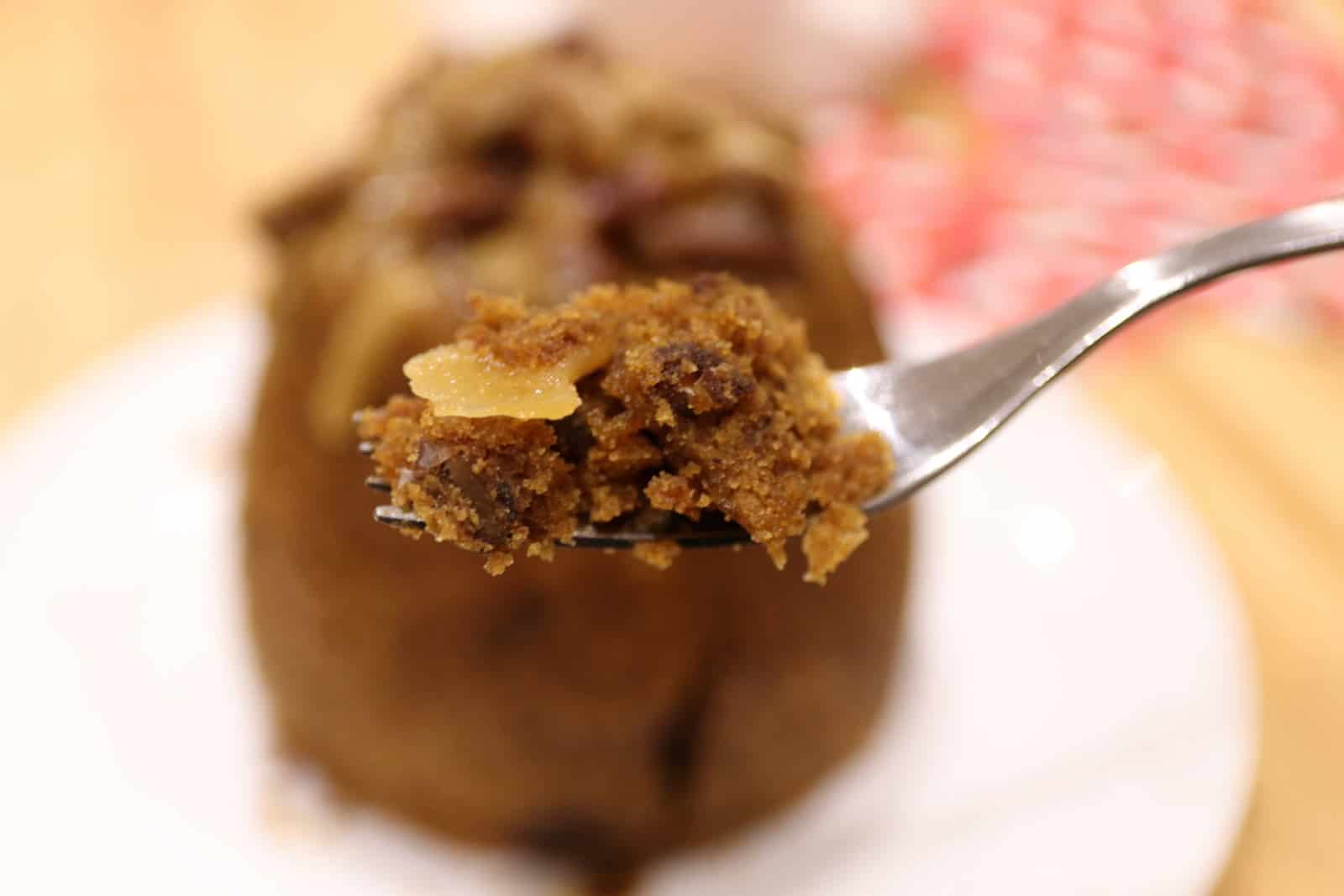 Let me know if you get the chance to try my recipe out, would love to know what you think! We will definitely be making this gluten free sponge pudding for Christmas this year – none of my family like actual Christmas Pudding so this alternative will suit everyone! What is your favourite flavour sponge pudding, have you got any recipes you'd like to share with me? Let me know, just leave a comment below, or on Facebook/Twitter. Also, for more delicious gluten free recipes & gluten free guides make sure you check out my YouTube Channel!
Thanks for reading,
Becky xxx