Gluten Free Gnocchi is one of my favourite new discoveries this year. I mean, I've never tried non gluten free gnocchi so I have nothing to compare it to but I must say it's a delicious change from your standard gluten free pasta dishes. This is my gluten free gnocchi / pasta bake!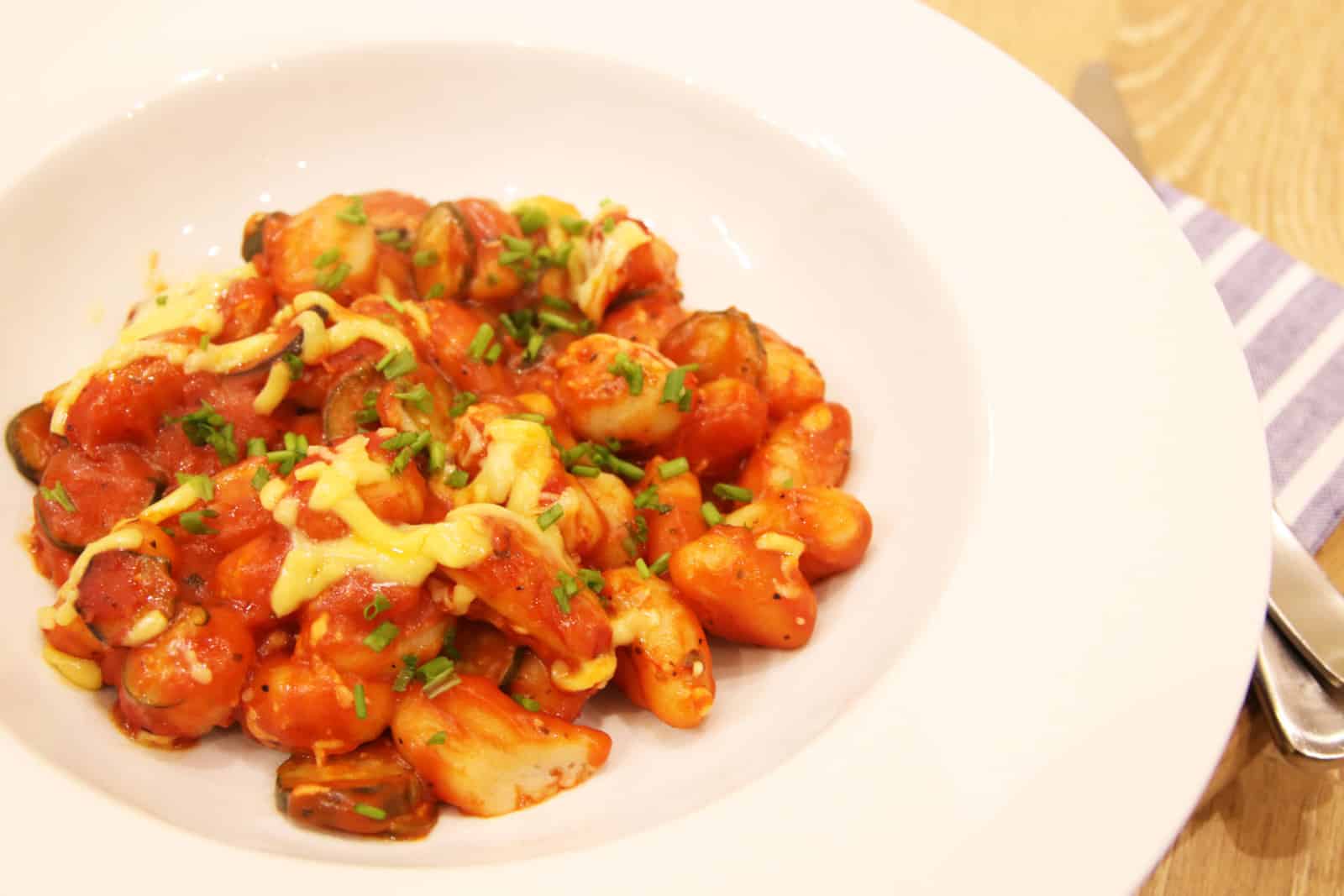 Until a couple of months ago I had never tried gnocchi. I'd never had it when I could eat gluten… I don't think I had ever even heard of it back then. Over the years I've been gluten free I have seen gluten free gnocchi quite a few times in shops and for some reason I never picked it up. So I cannot tell you why recently I decided whilst in the supermarket to pick up a bag and make that purchase! Mark & I didn't even really know what we were going to do with it, but seeing as gnocchi is a type of pasta it made sense to us that we could use tomatoes and cheese and create our very own gnocchi bake!
The gluten free gnocchi brand we picked up is Farabella. Farabella is an Italian gluten free brand that I've only recently discovered. They have such an amazing array of products on their website that I'm dying the try, but have yet to get my hands on. The gluten free gnocchi they produce is just the best, & although I know you can make your own gnocchi, I'm not sure I will ever both now that I've found this brand – convenience and quality wins.
Neither of us had any idea of what texture it would be so we just had to make it and hope it tickled our taste buds. Fortunately we were pleasantly surprised! We actually enjoyed it so much that I thought I would put the recipe up on the blog and share it! I mean, it's crazily simple, I don't even feel like I did anything to make this dinner… but it is so delicious!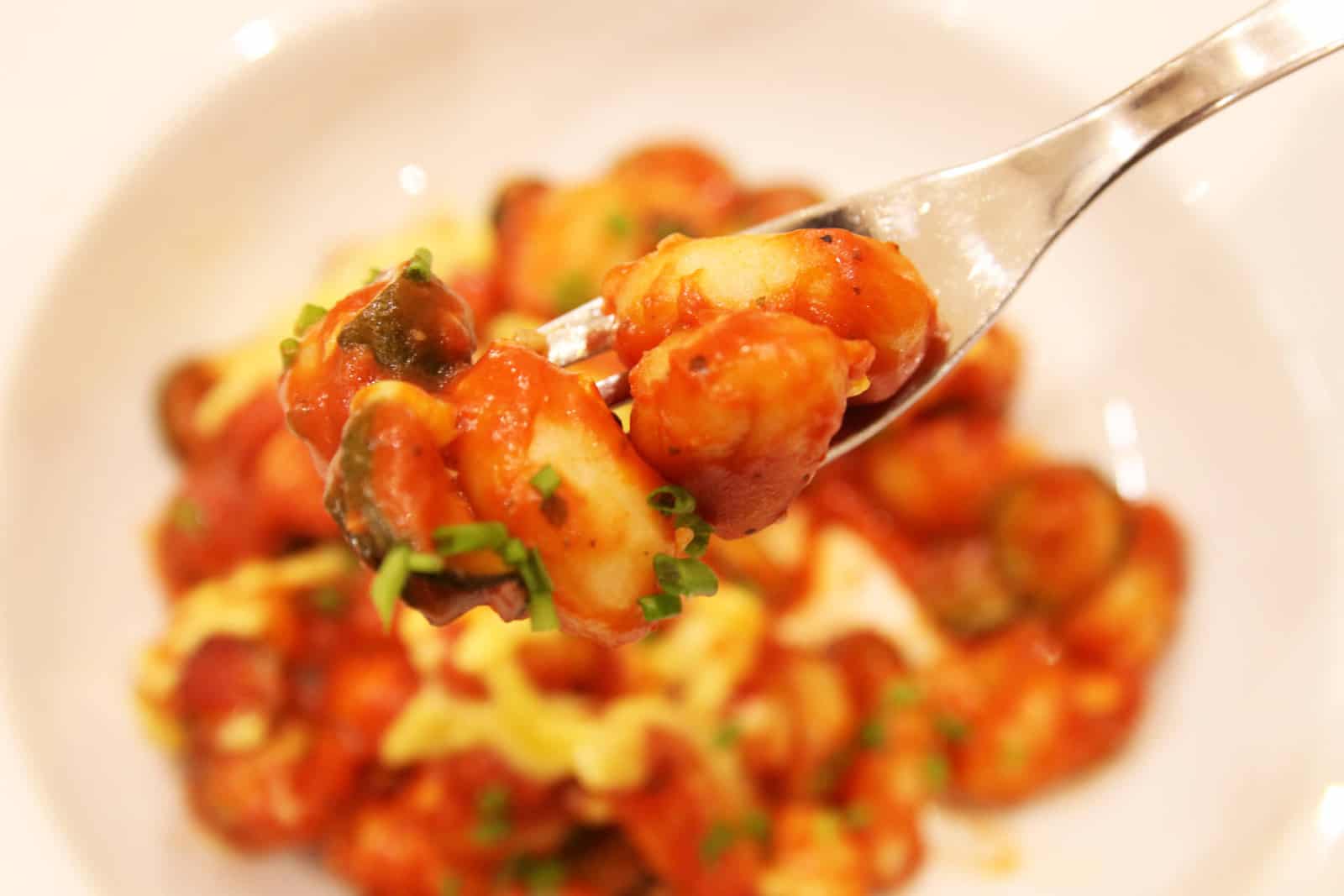 If you are looking for gluten free gnocchi, Tesco seem to now stock Farabella in their free from section which is awesome. Obviously, as I mentioned earlier, you can always make it yourself as well, but for me, this is a simple dinner we have when I get in from work and want something easy. I don't want to be faffing around making stuff! My IBS and ridiculously irritable digestive system mean that we literally cook everything from scratch so when I find any shortcuts, I like to think that I'm allowed to grab them with both arms!
This recipe is also completely vegetarian which is rare for Mark & I, white meat and fish are two things we eat in abundance as they don't seem to have any negative effect on our stomachs, but really if I am honest I love eating vegetarian dishes too. If all vegetables agreed with me, I would happily be a veggie!
For us we always make everything dairy free, so dairy free cheese was in order. Any dairy free cheese that melts will work well here. For me my favourite cheese to use is Mozzarisella, however if I don't have it in the house I just use whatever dairy free cheese I can get my hands on!
Anyway back to the recipe in question our gluten free gnocchi bake! I really don't know if we cook it 'right' but at the end of cooking the food we consume tastes amazing. Really, is there any 'right' way to cook?! The right way is simply the way you like it!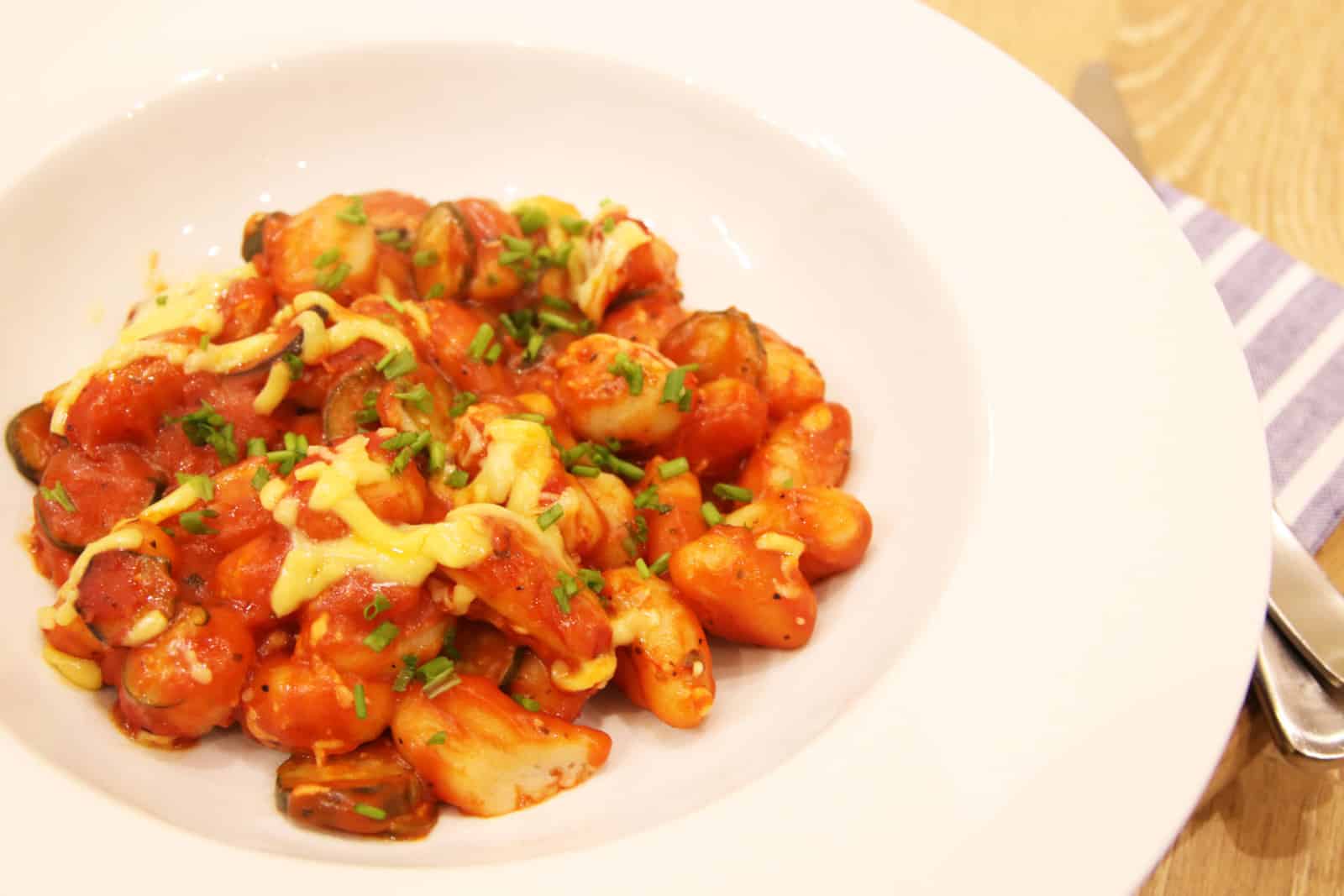 Gluten Free Gnocchi Bake (Dairy Free)
2016-09-25 12:05:01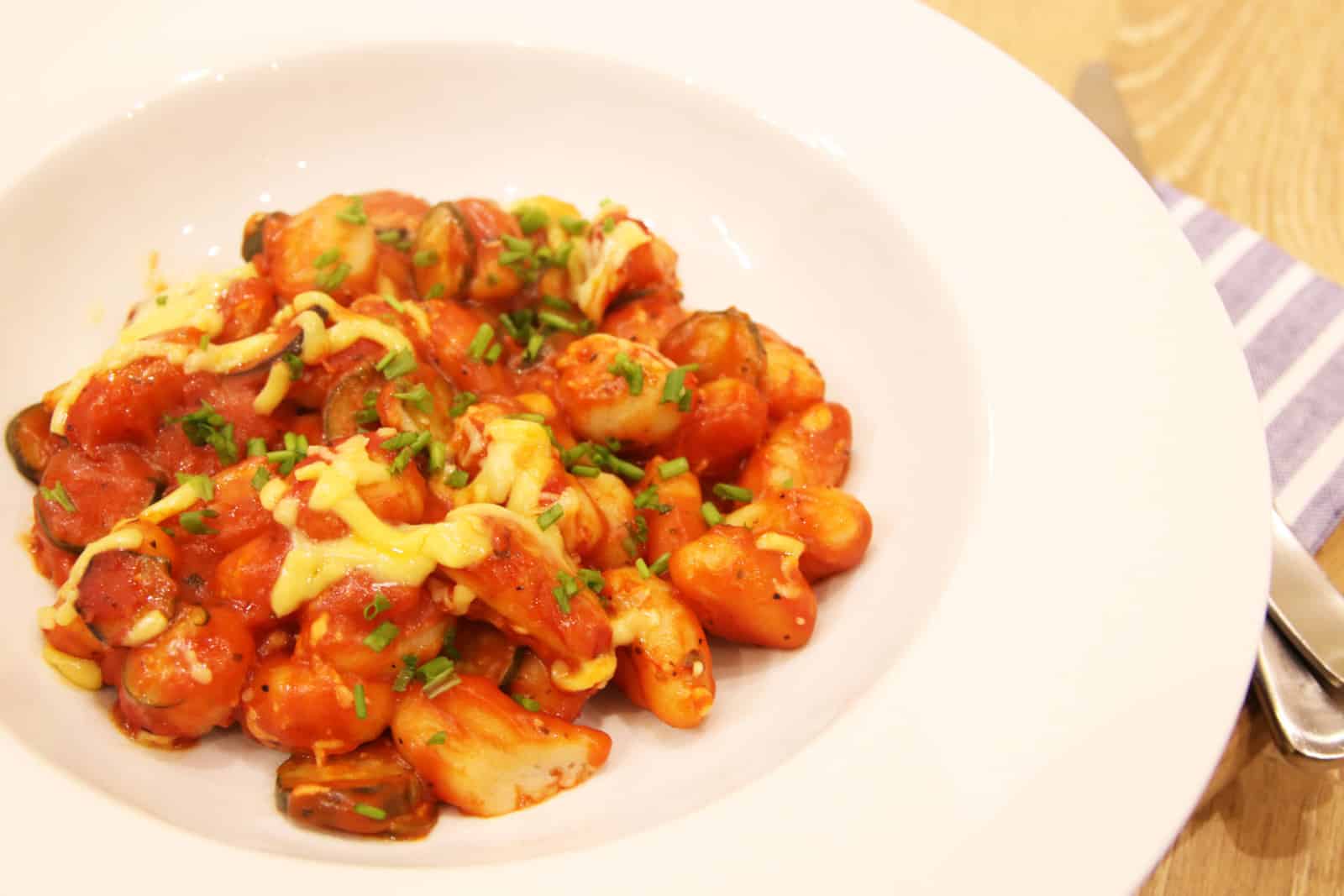 Serves 2
Ingredients
500g gluten free gnocchi (I used Farabella)
500g passata
1 tbsp mixed herbs (you can make your own mix if you prefer... dried oregano, dried basil etc)
1 tsp garlic infused olive oil
4 baby courgettes, sliced
dairy free cheese (enough or as little as you want - I really like using Mozzarisella, but any melting dairy free cheese will do!)
fresh chives (optional)
fresh basil (optional)
Instructions
1) Cut your baby courgettes into slices.
2) Fry them in a little oil until slightly softened in a frying pan (a deeper one, or if you prefer like me a wok - you will add passata to it)
3) Add your gnocchi to the frying pan & fry for a minute.
4) Add your passata & herbs mix to the pan, cook on a medium heat for about 7 minutes.
5) Pour your tomato/courgette/gnocchi mixture into an oven proof dish.
6) Sprinkle on as much dairy free cheese as you want.
7) Place in the oven for about 10 minutes, until the cheese is melted, gooey & even slightly browned.
8) Serve up with a final season & some fresh basil leaves and/or fresh chives (optional)
9) Enjoy!
Gluten Free Cuppa Tea | Food blog based in London, UK. Low FODMAP. Dairy free Recipes.. https://glutenfreecuppatea.co.uk/
We had this only a few days ago and as I was eating it I thought… other people need to know how amazing it is. I'm pretty sure there are lots of you out there who actually haven't tried gluten free gnocchi, well that should change. It is such a nice change from your standard gluten free pasta & I'm always up for jazzing up weekly meal schedules with something new! I think thats one of the reasons we tried it actually, we were totally bored of the meals we usually eat and just wanted something different – it paid off! Let me know how you get on with this recipe; also something else I would love to know is if you have any other recipes you use gluten free gnocchi in, I'm definitely up for incorporating it into more of our meals! Just let me know in the comments below, or on
Facebook
/
Twitter
.
Thanks for reading,
Becky xxx
Comments