My gluten free loaded sweet potato jackets are the perfect snack all year round, they work great as part of a meal or an accompaniment at a summer BBQ… they are cheesy & delicious AND they're vegan too!
With summer quickly creeping up on us, I can't help but think about all the delicious, summery dishes that I am going to be creating & of course indulging in. It's our first summer in our new house (with a garden!), so no doubt we will be having a few folks round for BBQs. I like to host a BBQ as it means I can choose exactly what we cook & cross contamination is nonexistent.
A BBQ for me is more of a summer party, it's not just about grilling sausages & burgers, I like to create some super tasty 'sides' to accompany the smokey feast. A dish that I am definitely going to be making this summer is my vegan & gluten free loaded sweet potatoes. They are epic!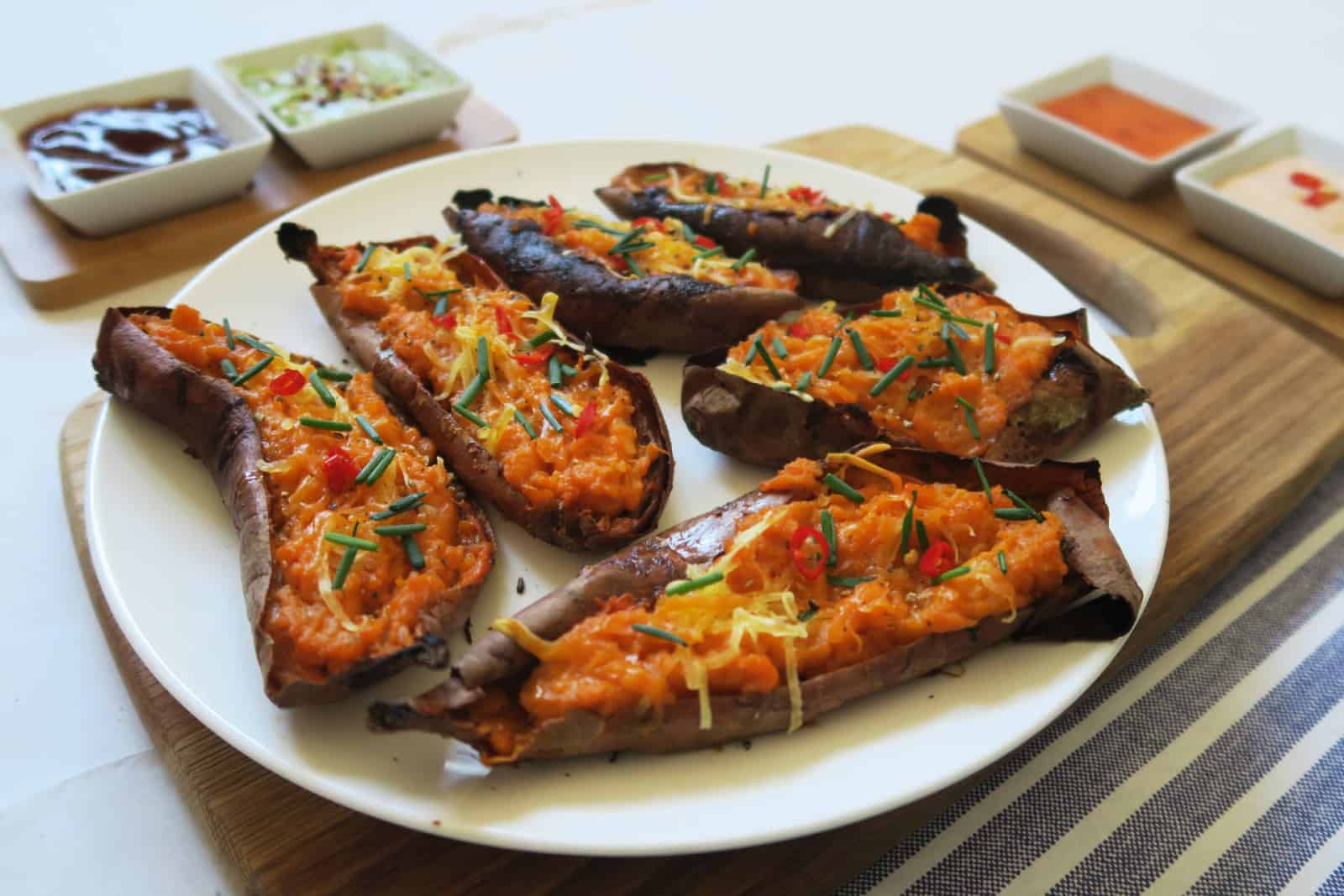 I say they are perfect BBQ food, but really they are perfect for every single day. Basically whenever you fancy some sweet potato.. just try out my gluten free loaded sweet potato jackets! You can of course make a few little changes easily to my recipe, so if you prefer a different style of cheese… feel free! MozzaRisella is a delicious vegan cheese which would work really well in this dish, the smokey flavour especially!
The combination of the super crispy skins & the creamy soft filling is really a match made in heaven. Also, if you are a fan of regular loaded potato skins then these gluten free loaded SWEET potato jackets are definitely going to right up your street. Personally, I think sweet potato have a whole lot more flavour, their sweetness against the rest of the savoury ingredients is just beautiful.
If I'm having folks round I always serve mine with a selection of dips. The dips you can see in the photos include my homemade vegan chipotle mayonnaise, my homemade vegan avocado dip & my homemade gluten free bbq sauce; alongside a sweet chilli sauce as well, these dips definitely ensure you have all bases covered. I'm going to be putting up my recipe for these dips on the blog very soon too!
Anyway, without further a-do, here's how to make your life a whole lot sweeter, whilst being gluten free & vegan at the same time!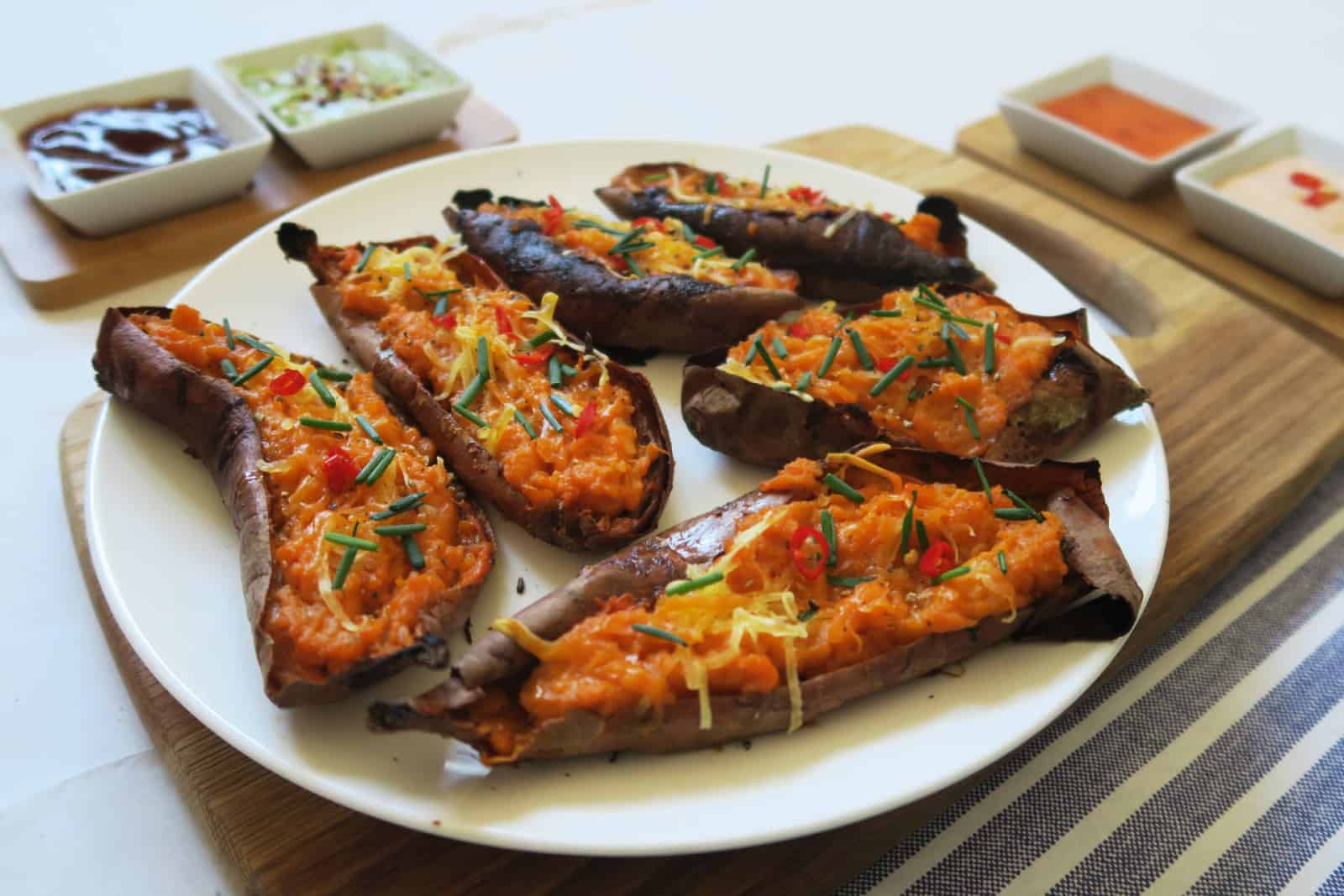 Vegan & Gluten Free Loaded Sweet Potato Jackets
2016-05-05 19:54:21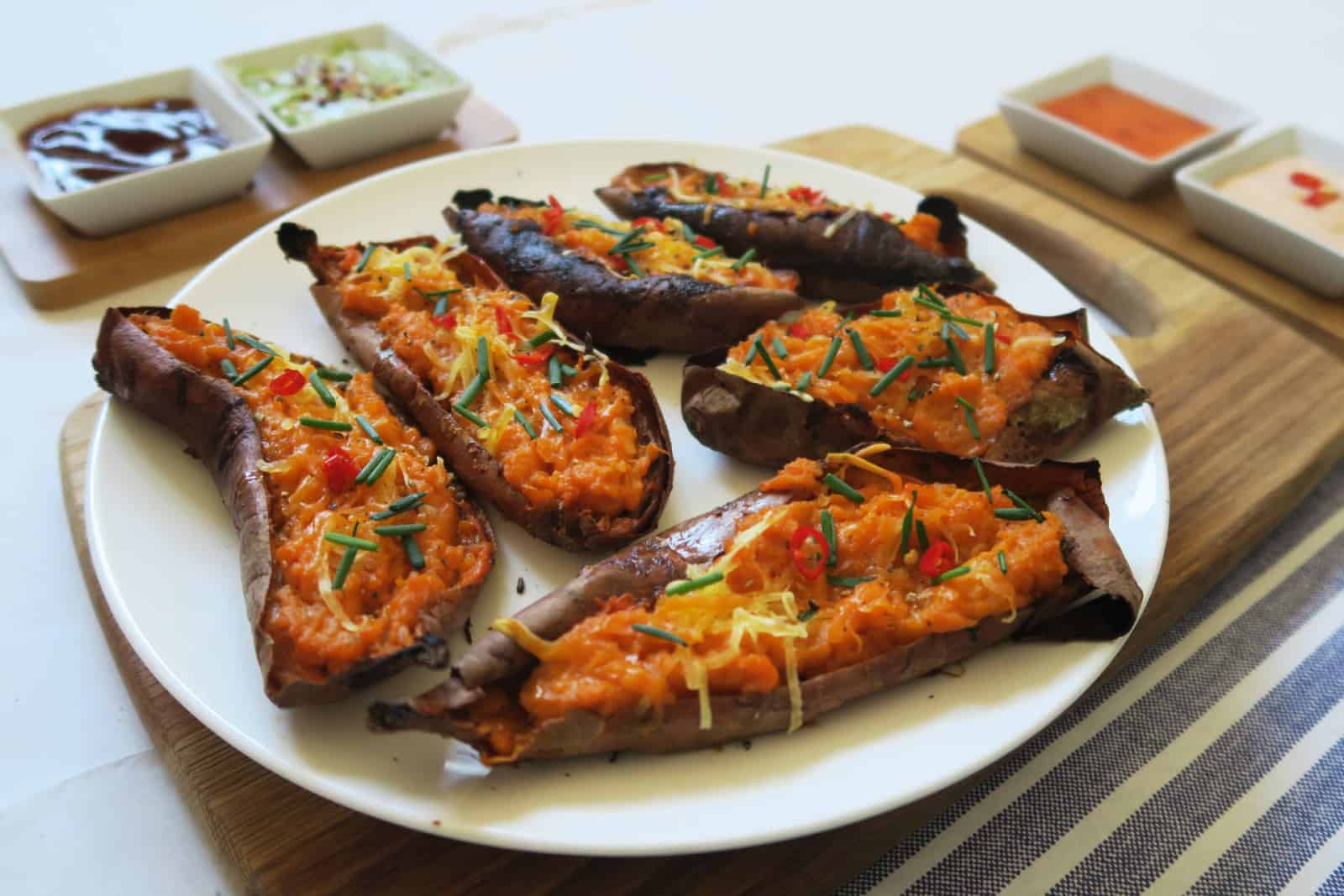 Ingredients
4 medium Sweet Potatoes
1 tbsp Olive Oil (I used Garlic Infused Olive Oil)
50ml Dairy Free Milk
250g Vegan Cheese (1/2 to be used in the mixture & 1/2 for the final topping)
1/2 tsp Cayenne Pepper
Salt & Pepper
Chives (finely chopped, for garnish)
Red Chilli (finely chopped, for garnish)
Instructions
1) Preheat your oven to 200C.
2) Poke & prod each sweet potato a few times with a fork & place on a baking sheet. Bake in the middle of an oven for about 45 minutes, until cooked.
3) Allow the sweet potatoes to cool enough to touch & slice each potato in half with a sharp knife.
4) Scoop out the soft sweet potato flesh & place in a separate bowl, but leave a slim layer of flesh within to support the skin.
5) Place the empty skins back on the baking sheet, drizzle with a little oil & bake for another 10 minutes (this time at an oven temp of 180C)
6) To your sweet potato flesh bowl add dairy free milk, vegan cheese & cayenne pepper, then mash together to make it as smooth as you would like! Also season with some extra salt & pepper.
7) Remove your sweet potato skins from the oven & fill each with your mashed mixture.
8) Cover your sweet potatoes with even more vegan cheese, a couple of different colour cheeses can make it look even better.. put as much as you like on!
9) Bake for another 10 minutes until the cheese has melted and is oozing.
10) Remove from the oven & top with some chopped chilli & chives.
11) Serve up with a selection of dips & enjoy!
Gluten Free Cuppa Tea | Food blog based in London, UK. Low FODMAP. Dairy free Recipes.. https://glutenfreecuppatea.co.uk/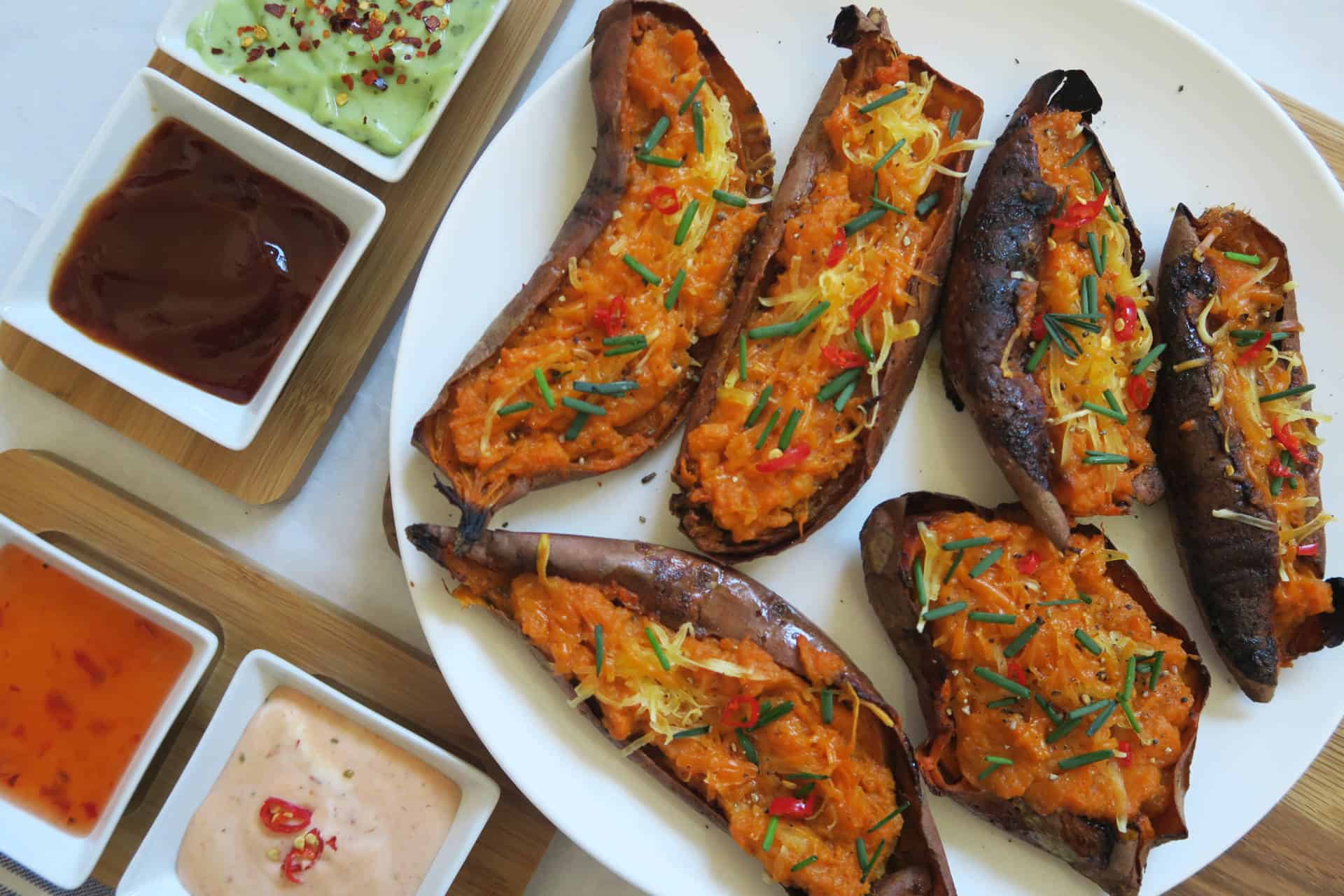 So there you have it, my gluten free loaded sweet potato jackets. I love this recipe for it's simplicity yet awesomeness! It really is perfect for everyone, whether your vegan, dairy free, coeliac, gluten intolerant or… can eat absolutely everything, this is the recipe for you!
Let me know if you get the chance to give my gluten free loaded sweet potato jackets a try. What did you serve them with? Did you make any changes at all? What is your favourite way to eat sweet potato? & what are your ultimate BBQ accompaniment dishes? Just leave a comment below, or on Facebook/Twitter.
Thanks for reading & watching,
Becky xxx
Comments