I believe that carrot cake is the greatest of all the cakes & it is very easy to make both gluten free & dairy free! So here is my gluten free carrot cake with dairy free cream cheese frosting recipe!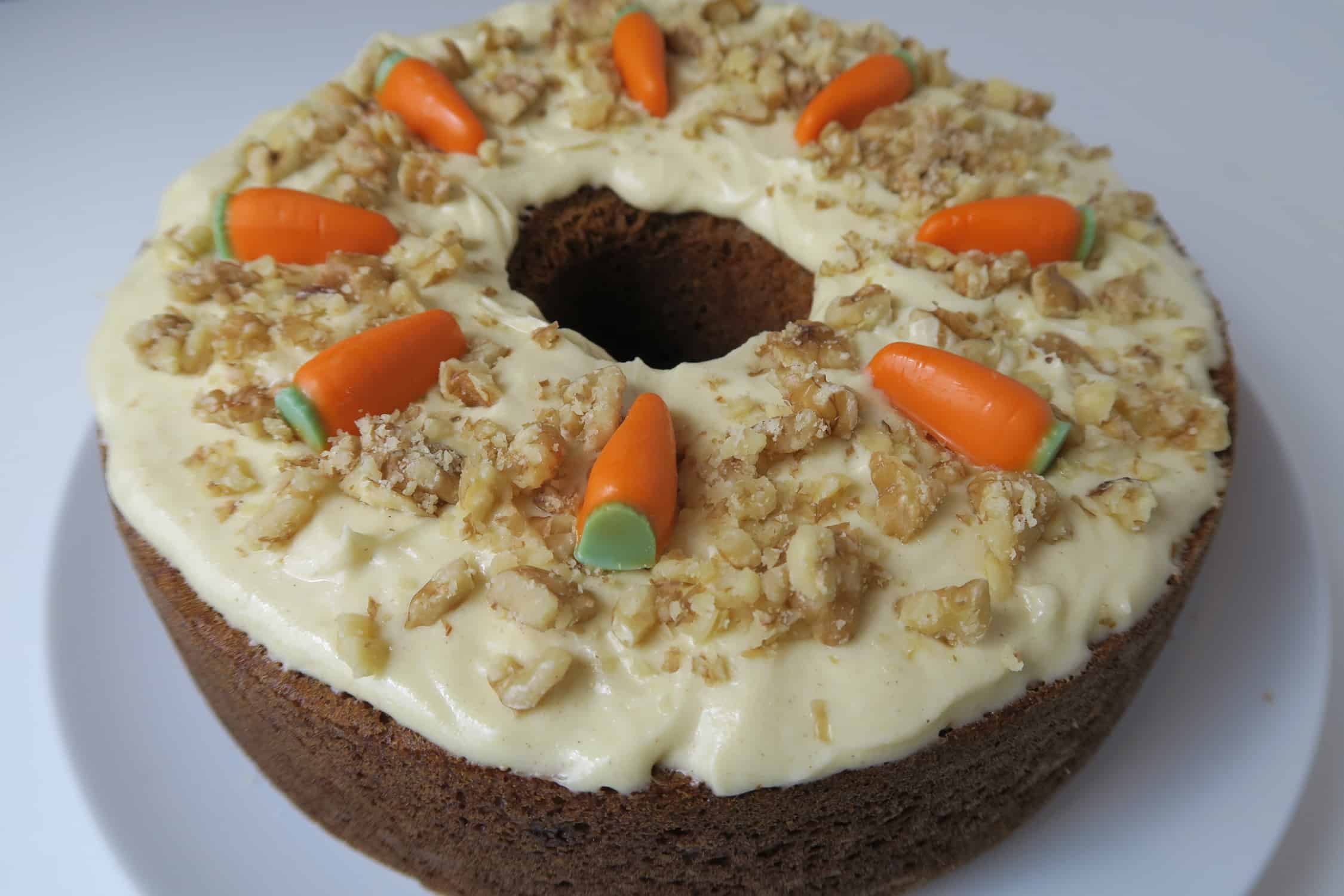 You may or may not know that the way to my heart is through a large slice of gluten free carrot cake. I have always been a carrot cake lover (so long as the cake contains NO raisins – why are they necessary ever?!), I love the cream cheese style frosting, I love the richness of the cake.. I love everything about a carrot cake, yet I've never ever made one!
Seeing as today is actually my birthday, it seemed only right that I should be able to enjoy my favourite type of cake… which means it needs to be a gluten free carrot cake (for me) & a dairy free carrot cake (for Mark).
I wanted to try and make this cake as authentic & tasty as I could, and I believe within this recipe I have done a pretty good job! It's moist & not crumbly, the flavours are perfect & you wouldn't know that it is gluten free or dairy free… but it is! Whilst January is always a time where people are thinking about cutting down after Christmas… I never do, it's my birthday month for goodness sake!! If you can't enjoy a massive slice of your favourite cake on your birthday… when can you?! I always think of my Grandma, in her 89th year on this earth, that means nearly 90 birthday cakes of her own & so many more during other family members birthday celebrations… she's still fit as a fiddle; cake must be good for the body!
Don't forget to check out my gluten free carrot cake traybake recipe too btw! Click here to check it out.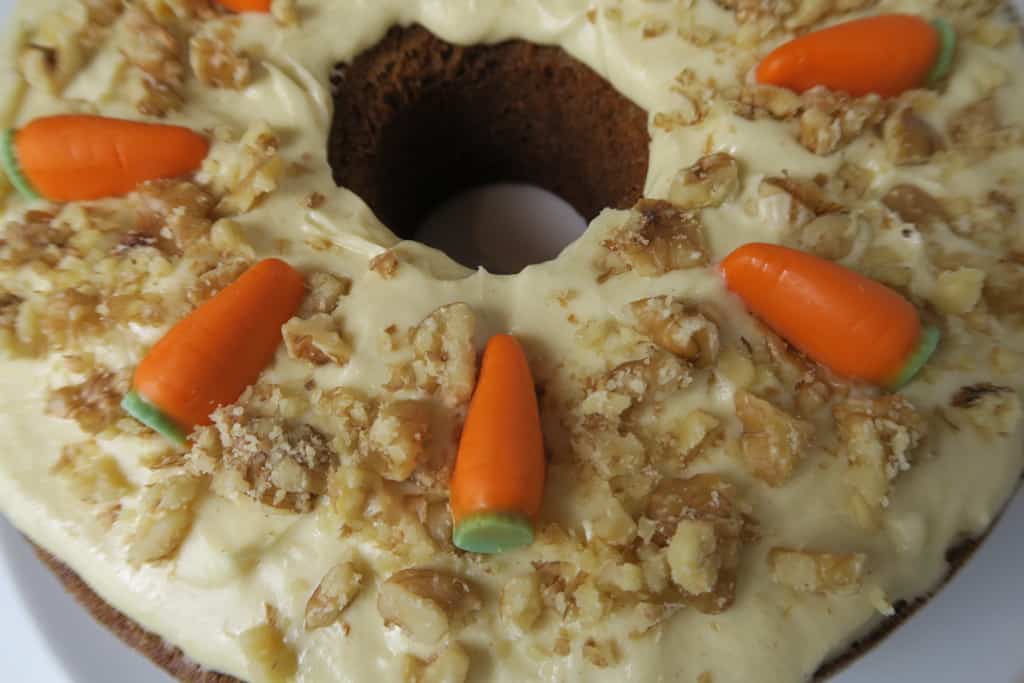 With this recipe I decided to try out a different type of tin that I have actually never used before. I tried out a Chiffon Tin which basically is one of those large tins with a hole in the middle. This worked well, but I think it would be just as good & much easier to use standard cake tins. I think I would just split this mixture into two cake tins, but if you want this quantity would be perfect for a 3 layer cake too.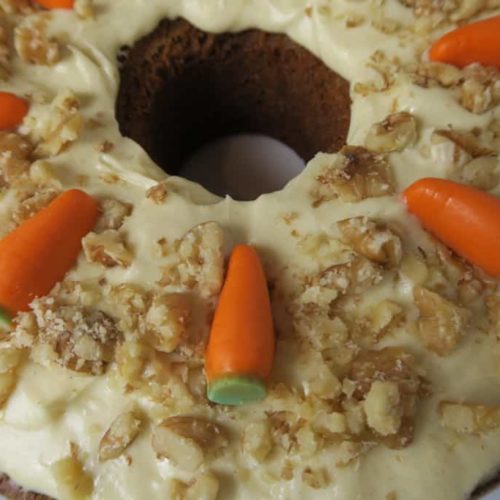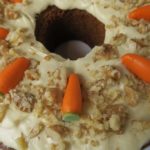 Gluten Free Carrot Cake with Dairy Free Cream Cheese Frosting
Ingredients
300

g

unrefined soft light brown sugar

3

large eggs

300

ml

oil

I use rapeseed oil

300

g

gluten free plain flour

1

tsp

bicarbonate of soda

1

tsp

gluten free baking powder

2

tsp

ground cinnamon

1

tsp

ground ginger

half tsp vanilla extract

300

g

grated carrots

100

g

crushed nuts such as walnuts & pecans

optional

400

g

dairy free cream cheese

I use Tofutti

50

g

dairy free spread

softened

50

ml

maple syrup

Walnut havles

for decorating
Instructions
Preheat the oven to 180°C.

Grease your cake tin(s) - however many cake layers you desire!

Place your sugar, eggs and oil in a bowl (if using a handheld electric whisk) or a mixer (such as a KitchenAid) beat thoroughly until all the ingredients are well incorporated.

In a separate bowl mix together your gluten free flour, bicarb, baking powder, cinnamon & ginger.

Gradually add the flour, bicarbonate of soda, baking powder, cinnamon, ginger mixture; followed by your vanilla extract & continue to beat until fully mixed.

Stir in the grated carrots and nuts.

Pour the mixture into your greased cake tins.

Bake for 20–25 minutes, the sponges should be golden brown.

Leave the cakes to cool for a few minutes in the tins before turning out onto a cooling rack to cool completely.

For the dairy free cream cheese frosting place the cream cheese in a bowl and beat until smooth.

Add the dairy free spread and maple syrup and beat together.

Refrigerate until the cakes have cooled. (I find it's best to allow the icing to refrigerate for a short while anyway)

When the cakes are cold, spread your dairy free cream cheese frosting with a palette knife. (If you are just placing icing on the top of a single cake, do so... OR if you have multiple layers, use the icing to sandwich the layers together.

Place walnuts on top of the icing and if you want you can make your own marzipan carrots like me!
Notes
If you can eat dairy then feel free to use a regular cream cheese & butter in the cream cheese frosting. However, Tofutti is an amazing way to create dairy free cream cheese frosting.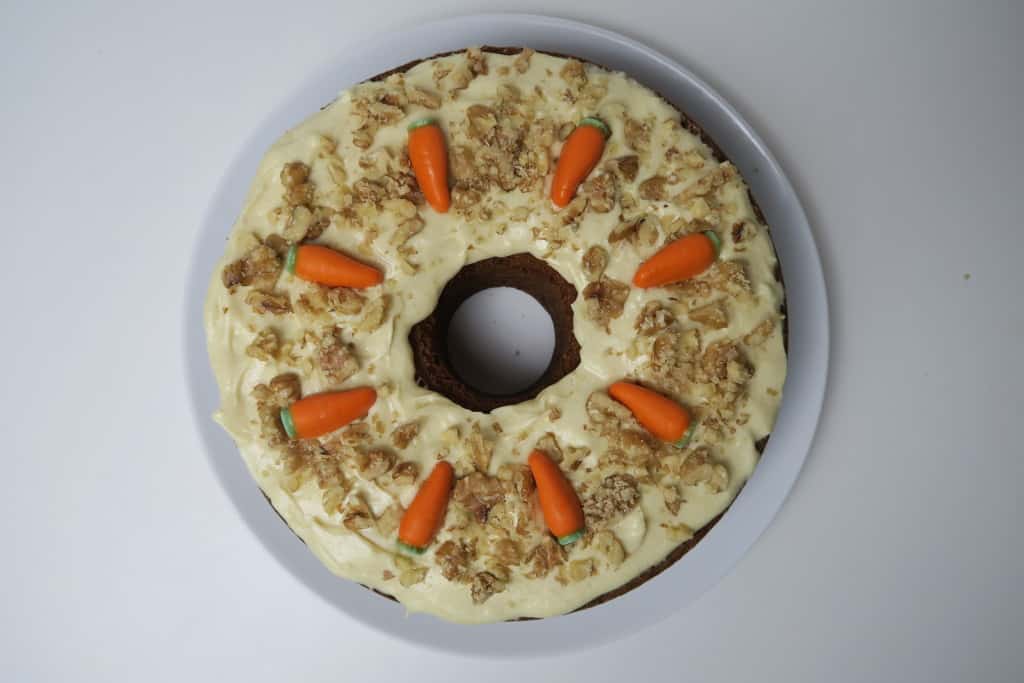 Let me know if you have a try of my gluten free carrot cake recipe. I am definitely going to be enjoying one too many slices of this today; although there is never a 'too many slices' limit on ones birthday! If you have got any other cakes or bakes you would like me to make gluten free and dairy free, please let me know; just drop a comment below or on Facebook/Twitter.
Thanks for reading & happy baking!
Becky xxx