A Gluten Free Tropical Slice… bursting with coconut & pineapple is definitely something to enjoy throughout the summer months, as well as the colder parts of the year. It's delicious & super simple too!

I am a massive fan of all things tropical. I use coconut in a lot dishes both sweet and savoury. I also love everything pineapple. I mean, I have pineapple ornaments in my house as well as a constant flow of fresh pineapples in the kitchen! Pineapple & Coconut are a match made in heaven, so I thought I would combine them into a delicious traybake style recipe & create some mouthwatering gluten free tropical slices. (They are of course dairy free too!)
These gluten free tropical slices essentially have three layers. The first layer is a biscuit base, but NOT a crushed up biscuit style base. Rather, you make your own simple biscuit dough, press it into the tray and cook for around 15 minutes… layer one complete! Layer two is the most simple, just grab a pot of pineapple jam (or make your own) and smother your base layer with it! Finally, layer three completes the gluten free tropical slice in a coconut-erly tasty style. Desiccated coconut toasted off in the oven… perfection!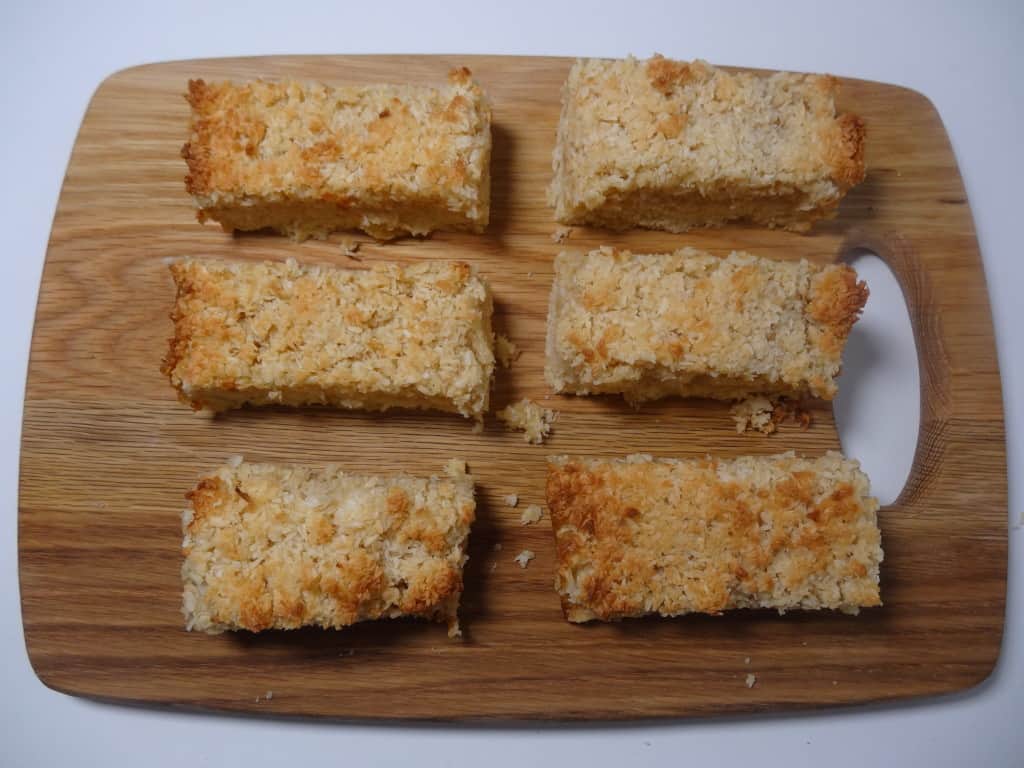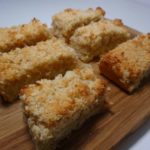 Gluten Free & Dairy Free Tropical Slice
Pineapple & Coconut all mixed up in this delicious slice.
Ingredients
250

g

gluten free plain flour

220

g

golden caster sugar

when measuring split this into 2 separate 110g portions

125

g

dairy free hard margarine

3

eggs

1

tsp

vanilla extract

180

g

desiccated coconut

Pineapple Jam
Instructions
Preheat your oven to 180C.

Grease a square baking tin (around 21cm x 21cm would work well)

Rub together the gluten free flour, 110g of sugar & the dairy free hard margarine until it forms a breadcrumb consistency.

Add 1 egg and the vanilla extract to the bowl & mix until it forms a dough like consistency. (I used an electric whisk for this)

Bring together the dough into a lump with your hands. (I found mine was a little sticky but resist adding extra flour)

Press the dough into your prepared baking tin evenly and bake in the oven till slightly golden.. this will take about 15 minutes. (I pressed it in with my hands!)

After 15 minutes take the baking tin out of the oven and put to one side.

Whisk together the 2 remaining eggs & the other 110g of sugar.

Stir in the desiccated coconut.

Spread your pineapple jam all over your base. (I put mine on when slightly warm which worked well!)

Spread your coconut mixture over the jam.

Put it back in the oven for a further 20 minutes or until golden.

Allow to completely cool in the baking tin before removing and cutting into slices.

Enjoy!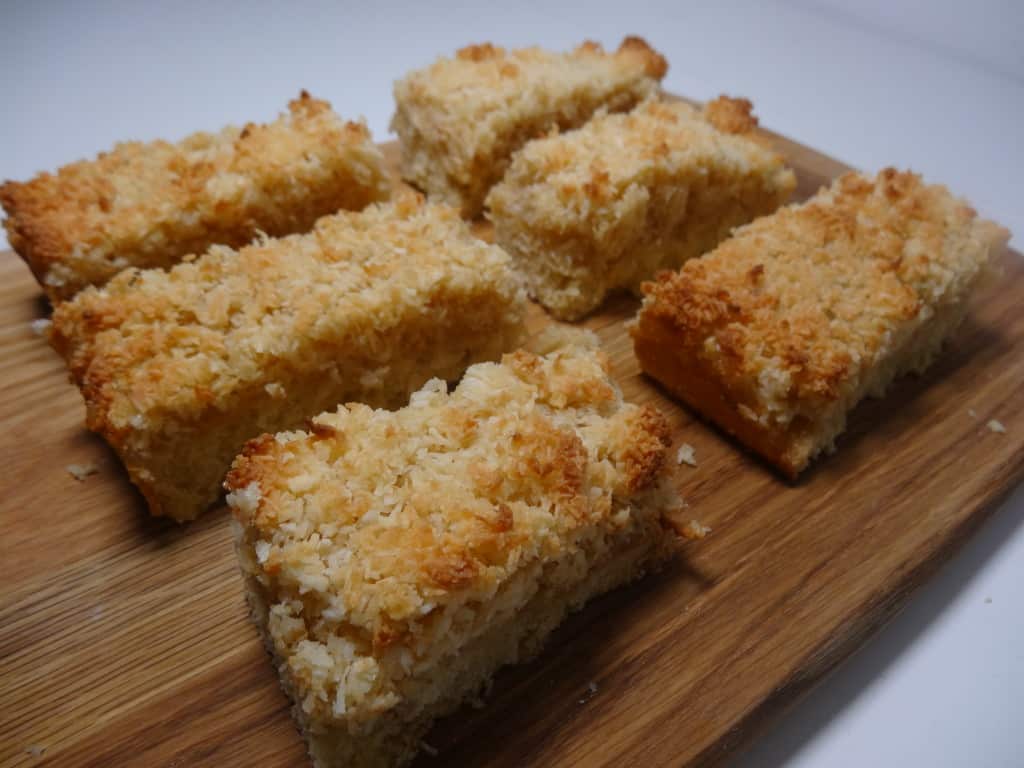 You must give these gluten free tropical slices a try. Whether it's hot or cold weather in the UK we all need a tasty, tropical boost. This really is the perfect way to have one. It's a delicious traybake slice for everyone, melt in the mouth bottom, jammy centre and a soft coconut top. Just make sure you make enough, it really is very moorish!
Let me know if you have a go at making these, they really are delicious and so worth it. Also let me know if you have any favourite tropical flavoured cakes/bakes – I would love to have a go at making them gluten free & dairy free. Just drop a comment below, or on Facebook/Twitter/Instagram!
Thanks for reading,
Becky xxx
Comments