Basically I love chocolate chip cookies, I also love cake. Who doesn't?! It just better be gluten free (for me!) & dairy free (for Mark!). So I thought I would share with you my completely Gluten Free Chocolate Chip Cookie Sponge Cake Recipe! It's very simple & makes a great birthday cake for any Cookie Monster!!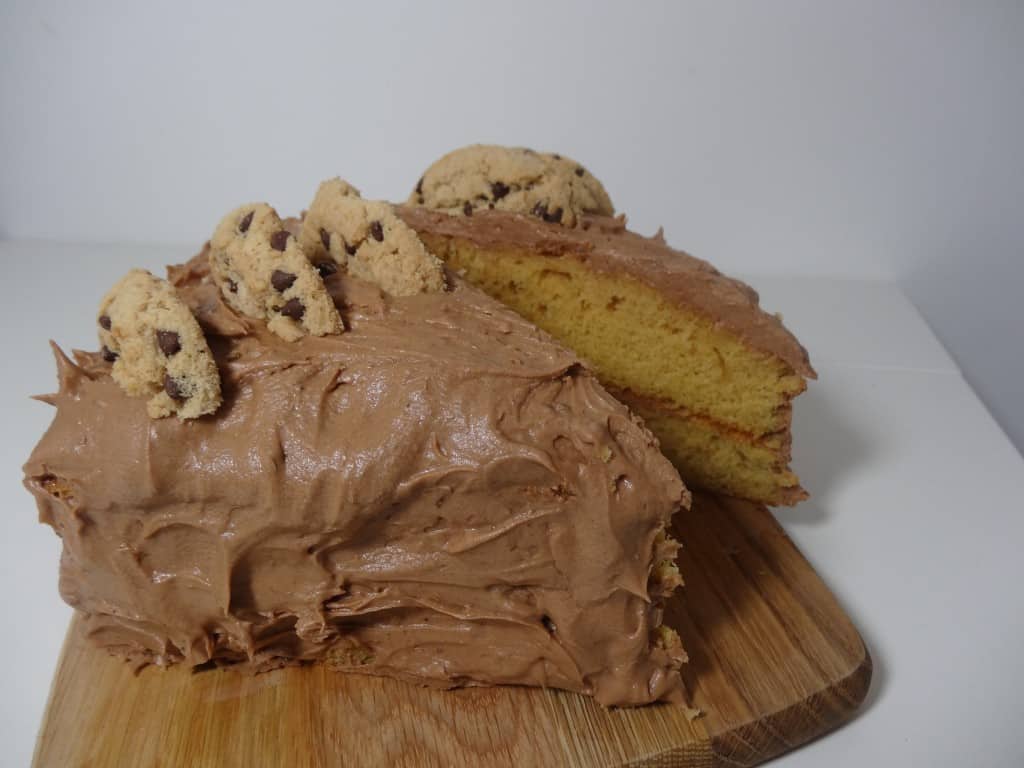 The very first time I made this cake, I had no idea what I was making. I made two sponges & I suddenly realised I didn't know what to do with them! Since that day I have not looked back & this is definitely a favourite with anyone who has tried it!
I am not one for huge amounts of chocolate usually. I sponge cake that is chocolate flavoured, as well as chocolate buttercream can be a bit too much for me. But to have a chocolate buttercream smothering a really delicious, light non-chocolate sponge, is really the perfect cake for me. It's the best of everything in a slice PLUS this cake is topped with chocolate chip cookies!
My gluten free chocolate chip cookies are from a Canadian bakery called Wendels True Foods. I was fortunate enough to be brought plenty of them back from a friend who visited Canada on holiday. They are amazing as they are also Dairy Free & Egg Free, however, they haven't easily made their way across the Atlantic just yet. Any gluten free chocolate chip cookies would do in this instance however. Whether you bake them yourself OR you buy some. Most free from sections in UK supermarkets will always have a range of different gluten free chocolate chip cookies, so that might be your easiest alternative.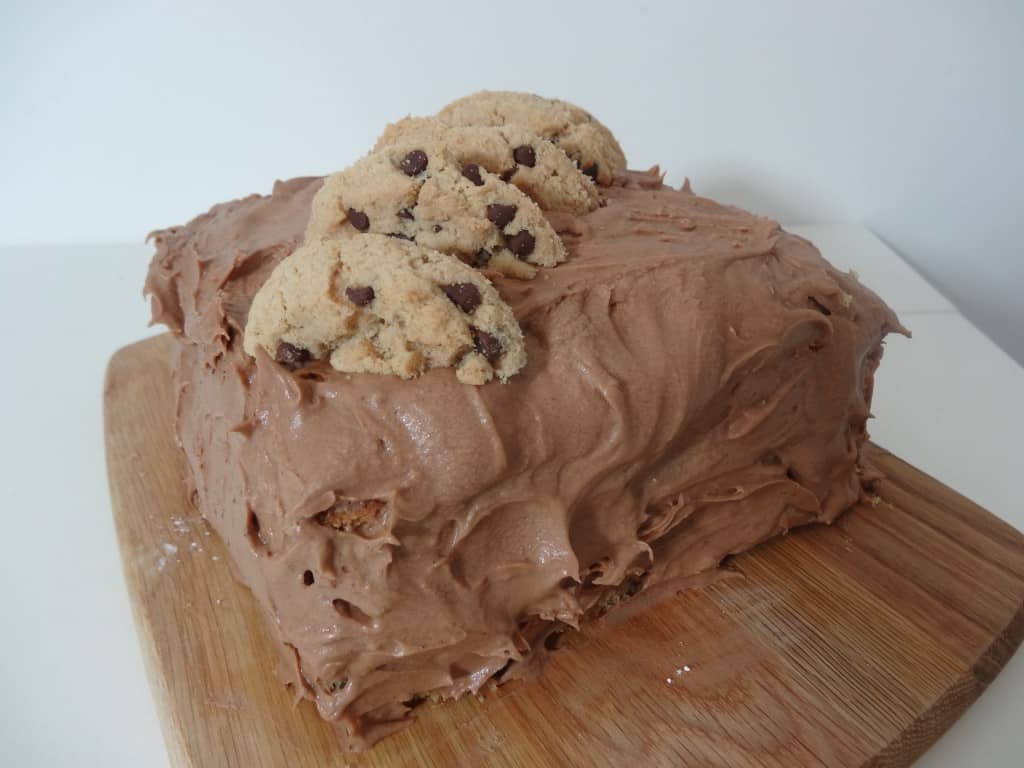 You of course can decorate your cake how you wish, it doesn't need to have the cookies on top, you could get some dairy free chocolate buttons for instance if you liked! It is a very versatile recipe and I love it. I hope you do too!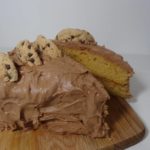 Gluten Free & Dairy Free Choc Chip Cookie Cake
Ingredients
280

g

gluten free self raising flour

1

tsp

gluten free baking powder

100

g

ground almonds

350

g

golden caster sugar

350

g

dairy free margarine

for the cake

6

eggs

1

tsp

vanilla extract

160

g

dairy free margarine

for 'butter'cream

320

g

icing sugar

Few tbsp cocoa powder

most are dairy free but just check.. you can also use cacao powder

Gluten Free & Dairy Free Chocolate Chip Cookies

I use Wendels
Instructions
Heat your oven to 180/160 Fan.

Grease two square 20x20 baking tins. (Feel free to change the shape.. shape doesn't affect taste!)

Measure out into a mixing bowl your flour, baking powder, ground almonds, caster sugar, margarine eggs & vanilla extract. (this is a big batch! you can always make a smaller cake!)

Using an electric whisk or a standing mixer, thoroughly mix all your ingredients together. (Make sure you take time to ensure everything is thoroughly mixed, this is a large amount!)

Once thoroughly mixed spoon/pour the mixture into your two baking tins evenly.

Place in the oven for around 25-30 minutes.

Check that your cakes are cooked & leave to cool in the tins for 10 minutes before removing them to cool fully on a cooling rack.

Whilst they are cooling make your chocolate buttercream.

Cream your 160g of dairy free margarine until soft.

Gradually add your icing sugar, mixing it in as you go. (it seems like a lot at first but it all mixes in!)

Mix in some cocoa powder (taste as you go & make sure it goes a nice chocolate colour!)

Spread some chocolate buttercream on the top of one of your sponges & sandwich them together. (leave most of the buttercream for the outside!)

Coat the outside of your cake with the chocolate buttercream.. no need to be neat!!

Cut your gluten free/dairy free choc chip cookies in half & push them into your buttercream.

Allow to set for a short period... & ENJOY!
Recipe Notes
I used two 20x20 square cake tins for this recipe. Of course you can use any shape you like!
You could very easily half the quantities in this recipe if you don't want such a gigantic cake!
I use Wendels Gluten Free, Dairy Free & Egg Free Chocolate Chip Cookies. But any free from section in a supermarket will usually have chocolate chip cookies!
You can of course decorate your cake how you like, this is just a very simple popular cake that I enjoy making for a special occasion!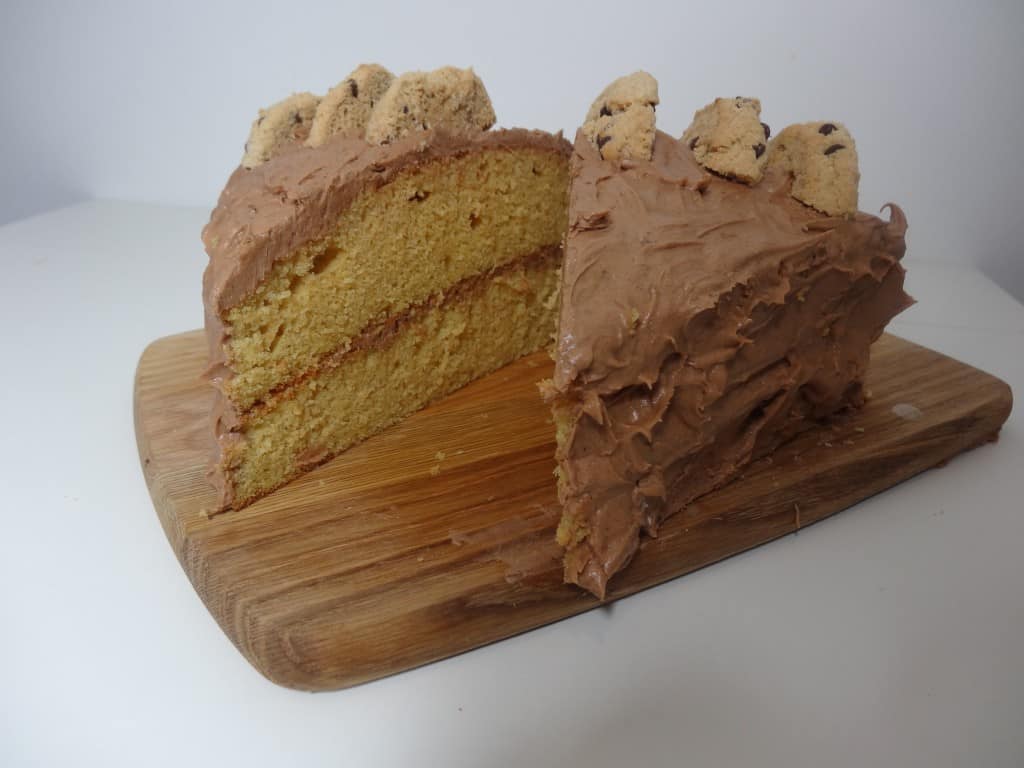 So there you have it a delicious gluten free chocolate chip cookie cake. I guess you could choose to add some tiny dairy free chocolate chips to the sponge as well if you wished. I have never tried this as I don't think it needs it, but that could be an option!
It's a perfect cake for any occasion! Let me know if you give it a try & if you make any alterations… I love other people's ideas! Just drop a comment below, or leave me a message/picture on Facebook/Twitter/Instagram.
Thanks for reading,
Becky xxx
Comments