A Gluten Free Banoffee Pie is a beautiful, delicious heavenly thing. Here is my simple recipe which is also dairy free thanks to a coconut caramel! Perfect for Desserts Week on The Great British Bake Off 2015!
Keep scrolling down for a full detailed method & ingredients list!
1) Place your biscuits into a bag & crush them.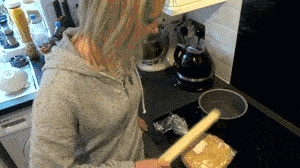 2) Melt your dairy free spread and mix into your crushed biscuits.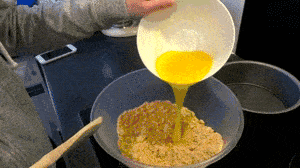 3) Press your biscuit mix into a loose bottomed tin.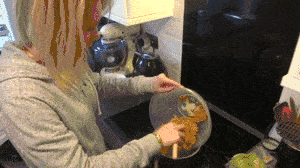 4) After chilling, spread over your Coconut Caramel & chill again!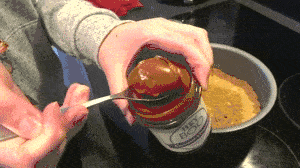 5) Slice up a few bananas!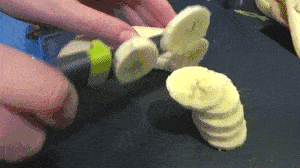 6) Place your bananas on top of the caramel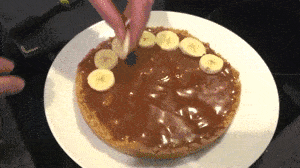 7) Whisk your cream (coconut) until it gets a little stiffer.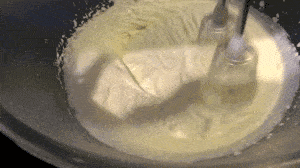 8) Give it a taste of course!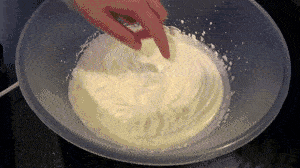 9) Spread your whipped cream over your bananas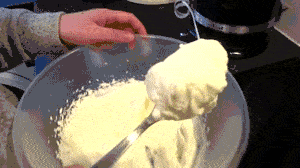 10) Sprinkle some grated dairy free chocolate on top.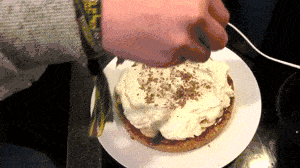 11) Cut a slice (or two!) & enjoy 🙂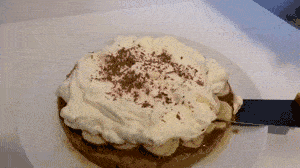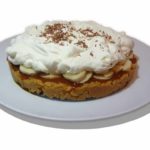 Gluten Free Banoffee Pie with Dairy Free Coconut Caramel
A delicious thick based Gluten Free Banoffee Pie with plenty of bananas, as well as Dairy Free Coconut Caramel & a Dairy Free Cream. So simple, so perfect!
Ingredients
2 Packets Gluten & Dairy Free Digestive Biscuits

I use Schär Digestive Biscuits

120g Dairy Free Spread

4 tbsp Hey Boo Coconut Caramel

or any other coconut caramel... if you can have dairy.. you can use a regular caramel

3 Bananas

sliced

1 400ml can of Coconut Milk to make Coconut Cream

you can chill a tin of coconut milk in the fridge & then scoop out the solid coconut cream, leaving the water behind

Dairy Free Chocolate

grated (I use Cocoa Libre Dairy Free Chocolate)
Instructions
Place your biscuits into a bag & crush them. Using a rolling pin is perfect for this. Once crushed, place in a bowl.

Melt your dairy free spread and mix into your crushed biscuits, coating them.

Press your biscuit mixture into your loose bottomed tin (I like it really thick!).

Chill the mixture for around 10-20 minutes in the fridge or freezer. (I often chuck it in the freezer for a shorter period!)

Spread a layer of your caramel onto your biscuit base to the edges.

Chill your biscuit base and caramel in the fridge for about an hour.

After an hour you can now remove the looser bottom of the tin from the sides, it will make it easier to not have the tin around the pie now.

Slice your bananas and place on top of the caramel. (Because my base is often really thick, I like to double/triple layer my bananas too!)

Whisk your coconut cream till it is fairly stiff and spoon it on top of the bananas. (You probably won't need it all)

Grate a little dairy free chocolate on the top.

Keep chilled until ready to serve...

Enjoy!
Recipe Notes
If you are only Gluten Free then you can make this with regular caramel and regular cream if you wish! (Though I LOVE the coconut caramel!)
You can use 1 packet of digestives for a thinner base HOWEVER, I love a super thick base!
Banoffee Pie has been one of my favourite desserts for ever. I love anything banoffee flavoured. The combination of banana & toffee/caramel is always a winner. It is also so so easy to make yourself. It's simple to make it gluten free & dairy free too!
I used to make Mark & I a gluten free banoffee pie quite a lot a few years ago before Mark realised that he was intolerant to the lactose in dairy. I haven't in a while because of the dairy in both the caramel and the cream. However, the other day I decided, enough was enough & decided to tackle the Banoffee Beast!
A gluten free Banoffee Pie is a very simple thing to make, & is definitely no harder to make than a regular Banoffee Pie… it also tastes exactly the same! Making a Banoffee Pie dairy free too is slightly more complicated. Both the caramel and the cream will need to be adjusted from a regular recipe.
Whilst making your own dairy free caramel isn't necessarily a difficult task (you can opt for using a date based recipe or a coconut milk one); I always think of my gluten free Banoffee Pie as a quick and easy dessert, so I don't often want to spend time making a caramel myself. I don't want to think about it I just want to spread it over that delicious gluten free biscuit base & enjoy it!
Fortunately, I found a delicious Coconut Caramel that you can buy in a jar recently in M&S, by the American brand, Hey Boo Jams. In America you can buy Hey Boo more easily in stores or even directly off their site. In the UK I have only so far seen it in M&S. It might be expensive, but if you don't want to make your own dairy free caramel, I can assure you it is worth it!
The cream on top of the gluten free Banoffee Pie needs to be free of lactose too for Mark. If you are lactose intolerant only, rather than having a dairy allergy, then you could use the LactoFree Cream. You can whip it up very easily with a electric whisk. If however you don't want to use LactoFree Cream you might instead choose to use Coconut Cream instead like we did. Coconut cream is really easy to use, and it tastes great. Just leave a tin of coconut milk in the fridge for a good few hours, scoop out the hardened more solid coconut cream & whisk with an electric whisk until smooth, it won't take anymore than a couple of minutes. Simple!
I really hope you give this recipe a go. It is one of our favourites and I love making it. Let me know if you do. & also let me know if you try out the Hey Boo Coconut Caramel. Oh & if you have any other tips for a great dairy free caramel and whipped cream.. let me know too! Just leave a comment below, or on Facebook/Twitter/Instagram.
Thanks for reading,
Becky xxx
Comments