Gluten Free Cheesecake Brownies have got to be one of the greatest creations. My recipe is also Dairy Free & uses a Brownie Mix from Delicious Alchemy. However I will definitely be making this again in the future without the brownie mix as I make a pretty mean gluten / dairy free chocolate brownie from scratch. (You can make this recipe using a brownie mix too or by making your own brownies from a recipe!)
Ever since I visited Cloud 9 in Brighton for the very first time I have had a huge love of Cheesecake Brownie. They do the most amazing gluten free cheesecake brownies and I have to say they are heavenly. These days I don't get down to Brighton quite as much as I used to (although I will be there for a few days in May!), and so I decided to go about recreating my own.
This being the very first time I have tried to create it means I will definitely make some improvements over time even if Mark says it needs none as he loves my gluten free cheesecake brownies as they are. I guess that is an important thing about my gluten free cheesecake brownies recipe… it is also entirely DAIRY FREE!
The base in this recipe is made using Delicious Alchemy's Gluten & Dairy Free Brownie Mix. It is a tasty mix that is really simple to put together. I thought it was a perfect thing to use when I was going to be making more than just standard brownies. In the future I will probably give making my own gluten free brownie base from scratch a go… I haven't entirely perfected my best recipe for that at the moment; but Delicious Alchemy's Brownie Mix is pretty amazing. As I mentioned earlier you could also use the Delicious Alchemy Brownie Mix if you wish but these gluten free cheesecake brownies would also work perfectly if you used your own brownie mixture as a base & then placed the cheesecake topping on top of it.
I have never attempted to make a dairy free cheesecake topping before. I spent a lot of time looking into what would work best. I found an amazing dairy free alternative in Tofutti's Creamy Smooth 'Soya Alternative to Cream Cheese', it really does taste so similar to cream cheese and when you mix it up with the other cheesecake ingredients nobody would have any idea it wasn't real cream cheese. I'd highly recommend it alongside plenty of other dairy free Tofutti cheeses, they do a real wide selection. The cheesecake topping is fairly runny when you pour it onto the brownie base. However, once it is placed in the oven to bake and set that changes very quickly!
As you can see from the recipe I swirl a little 'Nutritious Nutella' into my gluten free cheesecake brownies topping. This is a recipe I found out about from Deliciously Ella. It is only made of 3 ingredients plus water & literally tastes amazing. We eat it on toast, pancakes & off the spoon. It works great in swirled within the cheesecake topping of the gluten free cheesecake brownies too. Of course you might not want to spend so much time making this for just a few swirls (though I recommend you do as you will never look back after consuming it!), so you could always use a shop bought dairy free chocolate spread instead.
I decided to bake the gluten free cheesecake brownies in a round loose bottomed tin. I wanted it to look like an actual cheesecake where you can cut slices. This worked really well and I would recommend you doing it like this as well 🙂 It is definitely a perfect dessert or a cheeky afternoon snack with friends.
Anyway, enough waffle here is my tasty recipe for gluten free cheesecake brownies… DAIRY FREE TOO 🙂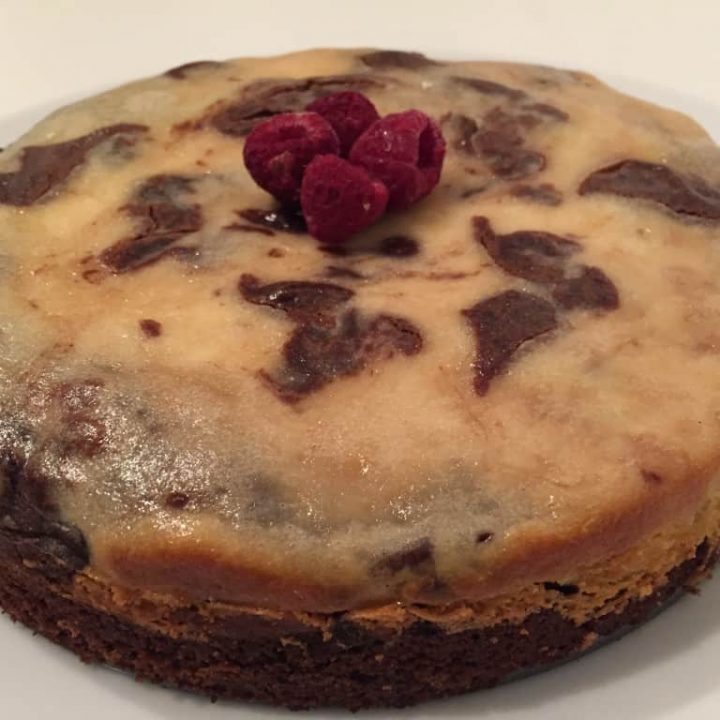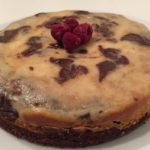 Gluten Free & Dairy Free Cheesecake Brownies
Ingredients
Brownie Mix

I use Delicious Alchemy Brownie Mix but you could use another or make your own Gluten / Dairy Free Brownies from scratch

100g Dairy Free Margarine

melted (for the Brownie Mix)

2 Eggs

for the Brownie Mix

225g Dairy Free Cream Cheese

I use Tofutti

60g Sugar

1 Egg

1 tsp Vanilla Extract

2 Tbsp Dairy Free Chocolate Spread

I make my own using Deliciously Ella's 'Nutritious Nutella' recipe
Instructions
Preheat your oven to 160 degrees celsius.

Grease a baking tin, or like I did a loose bottomed round tin.

Firstly make your brownies.

For me - with my mix this meant pouring the mix into a bowl and adding the melted dairy free margarine, stirring to form an almost batter. Beat the eggs and stir them into the mixture thoroughly. Pour the mixture into your greased tin ready for baking.

Next, make the cheesecake topping!

Use an electric mixer to beat the Tofutti until smooth and creamy.

Next, beat in the sugar and vanilla extract for about a minute.

Beat in 1 egg to the mixture until fully blended.

Pour the cheesecake mixture over the top of the brownie mixture in the baking tin.

Make sure you chocolate spread is fairly soft and swirl a few few splurges of it around your mix. (I love the Nutritious Nutella recipe from Deliciously Ella & would highly recommend it.. healthy nutella made out of 3 ingredients!)

Place in the oven and bake for about 30 minutes or until the top has fully set.

Remove from the oven and leave to cool.

If you are using a loose bottomed tin remove from tin by pushing it up away from the sides, if not gently ease it out.

Cut a slice whenever you fancy it & enjoy!
Notes
We often have a slice with a scoop of vanilla soy ice cream but really it is perfect on it's own too!
Let me know your thoughts on this recipe via Facebook and Twitter & if you make it yourself make sure you take a photo and post it on Facebook, Twitter or Instagram.
Thanks for reading,
Becky xxx